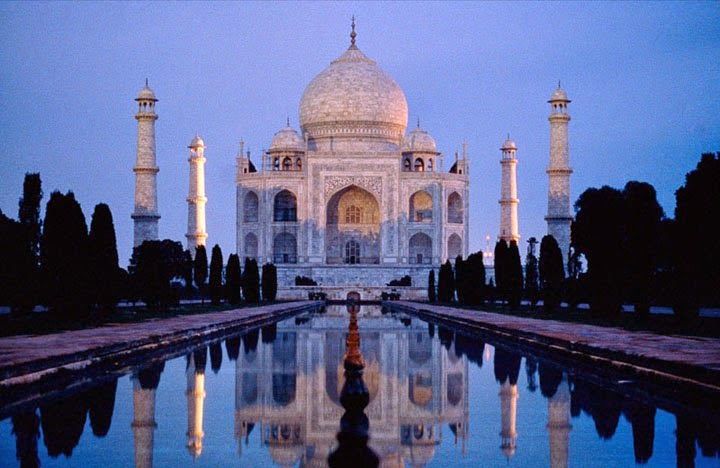 The Taj Mahal of Agra is one of the Seven Wonders of the World.Its the history of Taj Mahal that adds a soul to its magnificence,a soul that is filled with love.Because the Taj Mahal is not for love the world would have been robbed fine example upon which people base theil relationships.The Taj Mahal is an perfect example of every couple that of how deeply a man loved his wife,that even after she remained but a memory and he made sure that this memory would never fade away..This man was the Mughal Emperor Shah Jahan and his dear wife Mumtaz Mahal.She was a muslim persian princess.He met with the Mumtaz at the age of 14 and fell in love with her.They got married in 1612.She was died in 1631,while giving birth to their 14th child,it was in the memory of his beloved wife that Shah Jahan built a magnificent monument as a tribute to her,which we today known as the "Taj Mahal"..The monument was built entirely out of white marble which was brought from all over India and central Asia.An expenditure of approximately 32,000 million rupees.In the year of 1653 The Taj Mahal was finally completed .
The location for Taj Mahal was clearly thought by Shah Jahan who chose a peaceful site about ons and a half miles away from Agra at the southern edge of the city at the banks of river Yamuna.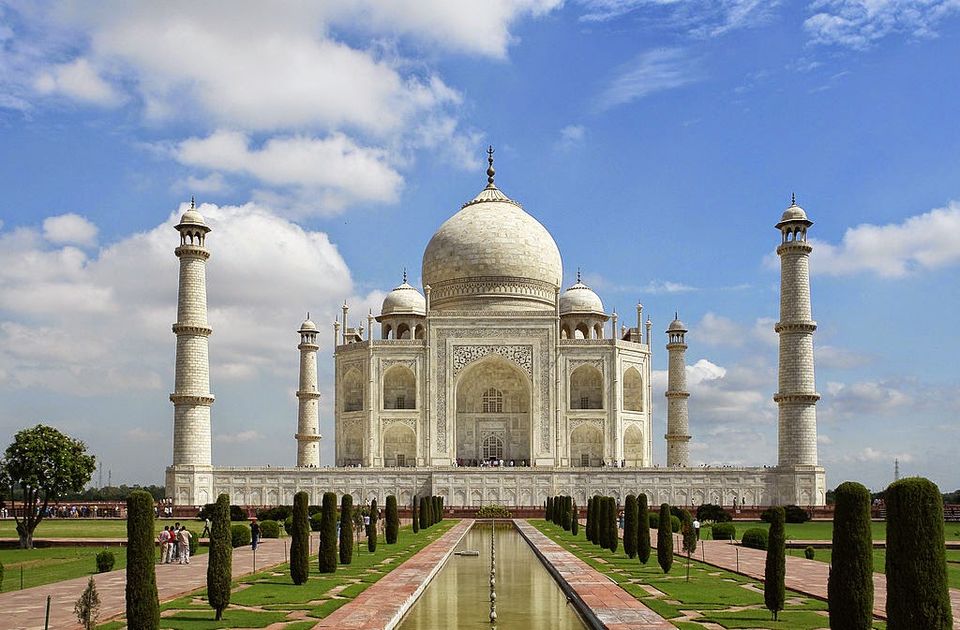 Best Time To Visit
October to March is generally considered a best time to visit the Taj Mahal.The radiance of the Taj Mahal is simply dazzling and changes with every passing hour,reflecting a different aura in different seasons..The visual beauty of the Taj Mahal is at its peak during sunrise,sunset and under the full moon light How To Reach Taj Mahal
By Air: The fastest way of reaching Taj Mahal ,Agra is by air.The city of Taj,Agra has its own airport that is around 7km from the city center.Indian Airlines operates flights to Agra on a daily basis.
By Rail: Apart from the main railway station of Agra cantonment,there are other two stations also that of Raja-ki-Mandi and Agra fort.The main trains connecting Agra with Delhi are palace on wheels,shatabdi,rajdhani and taj express.
By Road: There are regular bus services from Agra to a number of important cities.The main stand of idgah has a number of buses running for delhi,Jaipur,Fatehpur-sikri etc. Near By Attractions
Agra Fort: It is one of the most famous places near Taj Mahal.It is situated nera Taj Mahal.A beautiful example of Mughal architecture made up of entirely of red sandsstone. Fatehpur Sikri: The deserted city of Fatehpur-sikri is situated near Agra.Located 35 km from Agra.It is counted amongst the most majestic cities of Mughal Empire. Mankameshwar temple: Bout 2.5 km from Taj Mahal and less than 1km from Agra fort is located one of the four ancient temples dedicated to Loed Shiva that stand on each corner of the Ahra city. Vrindavan: The holy city of Vrindavan situated near Agra is one of the most revered pilgrimages in India of the Hindus.The city is very closely associated with Lord Krishna.
Frequent searches leading to this page:-
taj mahal day tour from delhi, taj mahal tour packages from delhi india, agra mathura vrindavan tour package from lucknow, agra mathura vrindavan tour package from delhi, mathura vrindavan tour package from delhi by volvo bus coach delhi