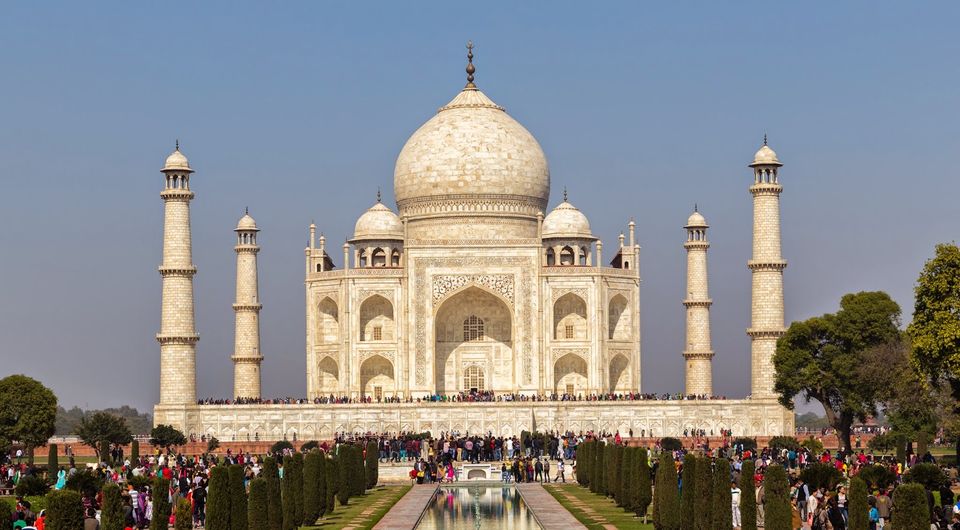 Journey started
Took off at 7:00 am for Agra -the most awaited destination for me as well as the site of the world famous Taj Mahal. It took me 6 hours by car to reach Agra from Rajasthan.I went on this trip with my family.
The town Agra looks just like any other town full of pollution, pits, people until and unless you see that white marble towers of the Taj Mahal at a distance, an island resembling architectural beauty in the mid of that city.
The Taj
There are 3 entrances to the structure,East (reserved for VIPs), South (for locals ) and West ( where most of the tourists enter from). Ther are parking slots also nearby these entrances.Once you park your car, you have to either take a bus, electric car or a tonga to go to the entrance. We preferred to go by tonga as we had never rided on it. At the entrance, you will see lots of guides and it is always good to hire one. You can also listen to the audio guides as per your comfort. Once you step through the main entrance, you'll be simply mesmerized by the first view of marble beauty.Before you approach the Taj, you enter through a structure that it itself is pretty damn magnificent, a red sandstone structure that has some similar architectural features as Taj. Then we headed towards towards tomb and it was simply beautiful. And it was amazing too that, how everything was so symmetric and well calculated by architect. On the wall of that monument, beautifull patterns were carved and they were so fine that one can't explain it. we took some touristy pictures over there but, only outside the tomb, as one is not allowed to take cameras inside. The structure is so huge. 
After taking lots of world class photos, I walked around the Taj and its two sister structure of red sandstone and white marble, and viewed the views of the Yamuna river, which they Border. There is a lot of detail about the architect, gardens,fountains etc.
Driving back
After having this wonderful day, we don't want to go back, but, we have to. So we headed towards back to our home. All through the way the remarkable beauty of The Taj was in my mind. It was an amazing day.