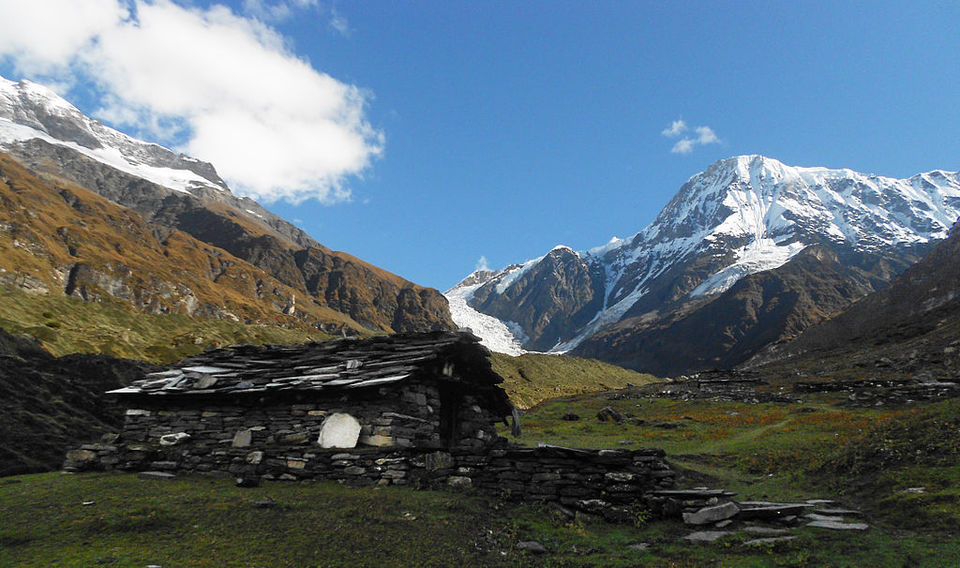 Owing to an overall extreme climate, the onset of summer in India is often associated with the natural idea of escaping to the hills to beat the heat. However, since everyone is busy planning almost the same thing, all it leads to is chaos. Overbooked hotels, expensive flight rates and crowded places of attraction are just the tip of the iceberg.
Located amidst the famed Nainital hills, 40km from Kathgodam is a small village far away from the maddening crowds, waiting to be your next summer getaway. The offbeat village is a small hamlet located in the lap of rocky mountains, gushing waterfalls and expansive meadows. Bid adieu to the hassle of travelling to popular hill towns and unwind in the lap of nature at Uttarakhand's best kept secret!
Banlekhi Village
Why travel to Banlekhi
1. Take a walking tour of Banlekhi
Since Banlekhi is one of the most remote villages in the region, it makes for a great place to learn about the grass root culture of Uttarakhand. To add to that, the people of Banlekhi are extremely sweet and will be more than happy to welcome you into their homes. Explore the village on foot, interact with the locals, ask them about their daily lives and a new world will open up to you!
2. Unwind by the gushing Bhalu Gaad waterfalls
Located at a distance of about 12km from Banlekhi, Bhaalu Gaad falls are a popular tourist attraction and a must visit place if you're in the area. One can embrace the beautiful surroundings, have a small picnic with their loved ones or even take a dip in the crystal clear waters. In addition, Bhalu Gaad falls are also a haven for birdwatchers so don't forget to carry your pair of binoculars!
3. Go paragliding in Bhimtal
While Bhimtal is best known as an offbeat alternate to Nainital, very few know that it is also one of the most underrated spots in the country for paragliding. The rolling hills, vast meadows and a picturesque lake make Bhimtal a gorgeous place to glide over the hills. There are several adventure organisers in Bhimtal that guarantee a safe and memorable experience that you will cherish for a lifetime.
4. Offer your prayers at the famed Mukteshwar Dham
Whether it be a popular hill station or a remote village, there is always a strong spiritual presence up in the hills and the Banlekhi region is no different. There are several famed temples in close proximity to the village such as Shiva Temple, Rajarani Temple, and Brahmeswara Temple. However, it is the Mukteshwar Dham which is the most acknowledged religious spot in the region. The temple is dedicated to Lord Shiva, Parvati, Ganesha, and Nandi, making for an absolute must visit place while in Banlekhi.
5. Capture the rising sun on Nanda Devi Peak
Finally, no trip to Mukteshwar can ever be complete without witnessing the glorious sunrise against the backdrop of the Nanda Devi Peak. The mountain holds the distinction of being the second highest in the country and Mukteshwar is easily the best place to spot it. While getting out of bed early in the morning can come across as quite a task, the gorgeous view is guaranteed to make up for it all!
Cuisine on offer
Being a remote village, there aren't any eating options in Banlekhi. However, one can always head to Mukteshwar and dine at top notch cafes, fine dining restaurants and local eateries. Not only can one indulge in quality world cuisine and North Indian delicacies but also savour traditional Kumaoni dishes such as kappa, sisunak saag, aloo ke gutke and rus amongst others. Here are some of the best joints every foodie must visit on their excursion to Mukteshwar:
When to go
Since Banlekhi enjoys a pleasant weather almost throughout the year, one can easily plan a trip in both summers (March-June) as well as winters (October-March). It is only during the months of July to September that the region experiences torrential rains, making it an unsuitable time to visit Banlekhi.
Getting there
Here's how you can reach Banlekhi from New Delhi:
By road: Delhi is connected to Banlekhi village through NH9. It takes about 9 hours to cover this distance of 325km.
By train: There are daily trains that connect New Delhi to Kathgodam, the nearest railway station to Banlekhi. It takes about two hours to get to Banlekhi from Kathgodam Railway Station in a local cab (65km).
By air: One can also catch a flight from New Delhi for Pantnagar, the nearest town with an airport to Banlekhi. These flights start at ₹4,500. Upon getting down at Pantnagar Airport, hire a local cab to reach Banlekhi in about 3 hours (100km).
Getting around
Since Banlekhi is quite a remote destination, there is hardly any public transport. However, if you don't have access to private transport, you can still commute around in state run buses, whose fares start at ₹5.
Accommodation
A stay for two at Banlekhi Resort starts at about ₹3,500 per night, inclusive of breakfast for the guests. Banlekhi Resort is the only accommodation option within Banlekhi. For more options, one can always book a stay in Mukteshwar. Here are some of the best accommodation options you can consider in Mukteshwar:
Starts at ₹2,500 per night for a tent for two, non-inclusive of any meals.
Ever explored a place that the world doesn't know about? Where was it and how was the experience like? Write in here to share your stories with the Tripoto Community. Also, don't forget to head over to YouTube channel for some crazy travel videos from around the world.
Frequent Searches Leading To This Page:-
Top Nainital Tour Packages With Prices, Nainital Honeymoon Package Price, Top Nainital Tour Package For Family, Top Nainital Tour Packages For Family, Top Nainital Tour Package For Couple From Delhi, Top Weekend Getaways From Nainital, Top Weekend Getaway From Nainital