Do i dream of more money , yes i do to travel more
Do i dream of better health , yes i do to see the world
Do i dream of great companion, yes i do for thirst of adventure
Do i dream of time to stop, yes i do to soak the fun
For an average person, its always important to balance the cost , time and travel. Getting this equation right is not always possible considering i love travel by public transport and usually spend time visiting offbeat places and soaking in the culture. But there was one such trip for which i had luxury of having cab for disposal and thought why not use it to fullest , keeping the usual parameters of offbeat, stay with locals and cultural touch intact.
It was first plane journey for my nephews, so with much enthusiasm we boarded the morning flight to Delhi. As the plane touch down, we could feel the chill in the air. The giggles wont stop about the first flying experience , but soon our cab was waiting for us outside the airport. We hopped on the cab and started to our first destination Qutub Minar. Had seen this places few times , but never so up close. Its was really tall , beautiful and display of architecture.
After clicking ton of photos , the rush to our cab to head to Humayun Tomb. The line for entry was long , but nothing deter our enthusiasm to tick this place from our bucket list. Indeed it was worth the wait. Places like this makes you ponder the fortune you have to be born in country adored with such rich history and structures.
All the walking had made us hungry. And how can we forget the fame of delhi for its yummy food. We devour everything that we plan to enjoy in Delhi and it did live up to our expectations. Then it was the time to visit the famous landmark of country's capital , India gate , parliament house & Rashtrapati bhavan. This place never fail to display its grandeur.Our delhi city tour ended with visit to Red fort. The bicycle ride from the fort to parking was cherry on top. What a day it was. With lot memories we boarded train to Kathgodam. Now was the time for some fresh hilly air & travel on the curvy roads and greener pastures.
we had to wait for a while till our can arrived, which we had booked for next 4 days in Uttarakhand. We freshen up at the station and were ready for day ahead. The first stop , the famous town of Nainital. It was a picturesque just like postcard scene. A beautiful lake nestled between the mountain.We visit the adjoining temple and then started taking strolled around the lake.A friendly looking boat guy asked us to take ride . Initially we hesitate , but it was a really pleasant experience. The last stop in naintal was the zoo. And then we started our journey to the offbeat stay we had booked,in small village of Majkhali.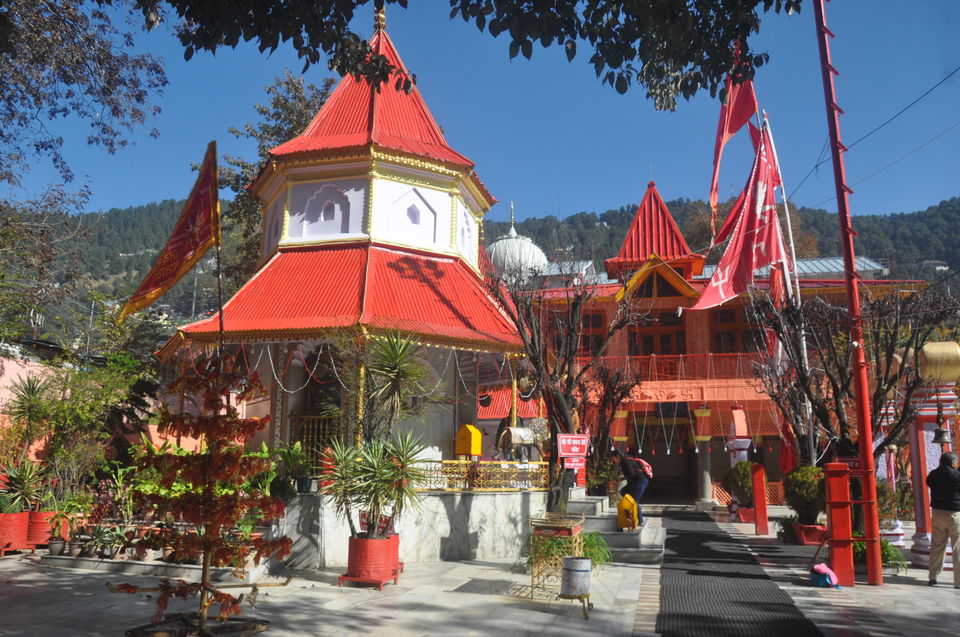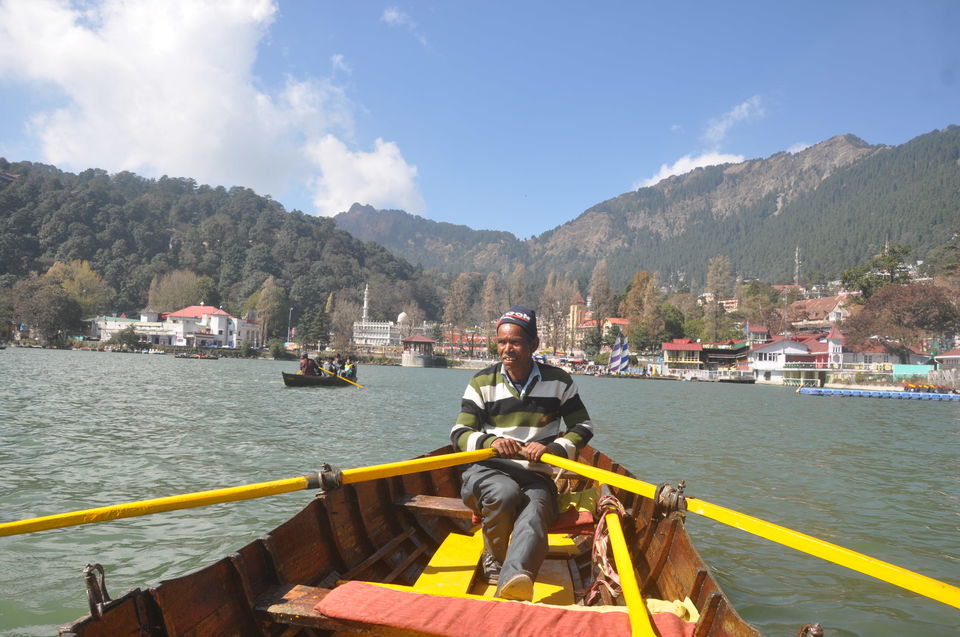 Being too tired for the day, we slept after a quick dinner. The next morning i woke early to get first glimpse of sun and a beautiful vista of Mt.Trishul was waiting to unfold.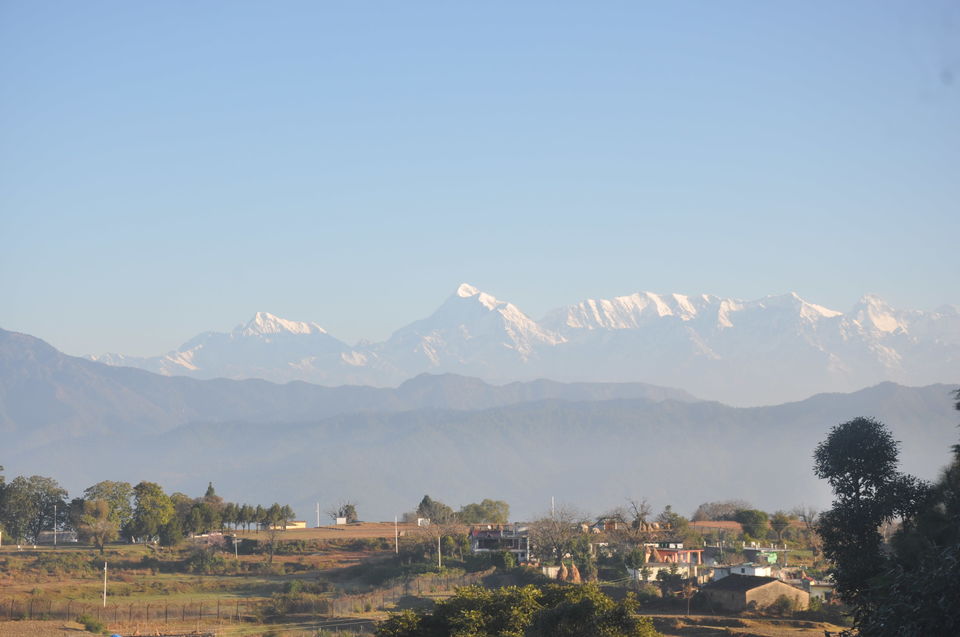 After a hearty breakfast , our destination to explore for today was kausani. This place was loved by Mahatma Gandhi where he stayed at Anashakti Ashram which has one of the beautiful view of Himalayan range. It is the place where he penned Anashakti Yoga and it also houses a small museum. With the prefect backdrop for making profile pictures we headed towards a tea garden. On the way we had stopped for lunch & tasted some local delicacies. Local food tasting is very important part of my travel rituals & i am glad i was fulfilling it.
We took a small trip to the tea garden and Sumitranandan Pant Government Museum in Kausani, visited local shops for some woollen shopping and returned back to our humble Majkhali Kaffal cottage. The day ended with bonfire and chitchat around it. Next day , the plan was the head further to Almora . So we got up early , soaked in the mountain views for while and said bye to our lovely home for last two days.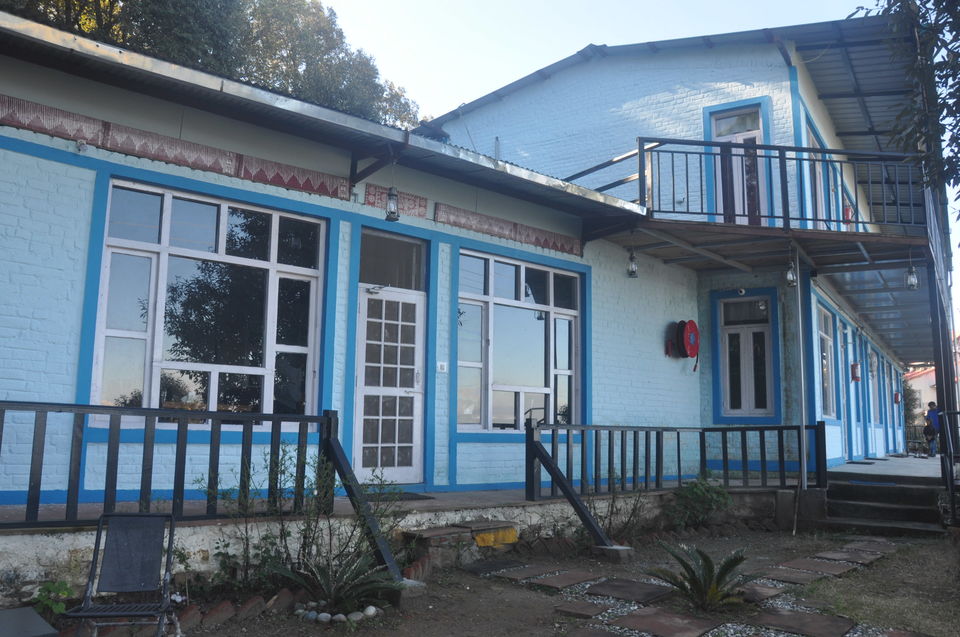 As we headed to Almora , the view of mountains kept us company for while , but then we moved south , the view disappeared making way for dense forest. we even spotted Red Jackal on the way.Now was the time for an offbeat location , katarmal sun temple, located in remote village of katarmal. Its a 9th century rare temple dedicated to sun god and situated on hill which is reachable on foot by about 20 minutes hike.There were not many people around , but the place oozed spirituality and serenity. Do visit if you want to marvel at the architecture from lost pages of history
We reached the town of almora , which was really beautiful. The terrace of farms nestle between hills with indefinite shades of green. A small detour took us to the foothill of kasar Devi temple. The walk towards the temple was steep , but shady path between the pine trees was fun to walk. The place is peaceful and visited by more foreigners than locals. This place has it existence since 2nd century and visited by Vivekanand & many westerners. Kasar Devi's magnetism has drawn writers, artists and spiritual leaders for long time.
Our stay was booked at a cozy cottage / homestay between orchard in village of Peora near Satkhol. It was called Mer cottage. Having seen the pictures of placed , we had decided to spend some quality time at here and make most of our one day stay. The Mer family was so welcoming and humble . There house was just next to cottage & we received the warmest welcome and invite to lit crackles with them on eve of Diwali. The ladies of house dished out the yummiest food for us , the apricot chutney was so delicious. The guys of the house showed us their farm. Around the bonfire we had some real nice discussion about local culture , tourism in the area and the people in the village. It was extremely cold , but i didnt care because the place and people were warmest you could meet. They say " the warmest people are found in the coldest part " . The morning view in these hills have been the best. The city of almora was under blanket of fog , but the golden sunrays had illuminated Mt.Trishul. With promise to comeback , we headed to Mukteshwar.
At Mukteshwar we visited the temple and chauli ki jali. It was rather a touristy place , but the walk in woods added to the charm. We spent the evening at walking around Bhimtal lake. what a trip it was to Kumaon region of Uttarakhand. A lot seen , a lot still to be seen. We reached Kathgodam to board train to Delhi.
The train journey made us tired , but nothing subdued the spirit of visiting our next destinations Mathura & Vridanvan. These are very popular religious places , packed with pilgrims & a lot of temples with religious importance. Do not forget to sample the milk sweets here, they are best you will find in country. Unfortunately there was traffic jam on way to Agra & we reached our hotel rather late. This was last leg of journey so we indulged nice barbecue at hotel and then took stroll around the area tasting the famous petha sweet. I could see Taj Mahal from the room balcony , the place which would be the highlight of trip.
We reached really early that day , around 6AM , but surprising the place was already crowded. Ofcourse its one of the seven wonders of the world & it does live upto its reputation. It was foggy day , but the pleasant one. We spend the morning here taking pictures & marvelling looking at its architecture.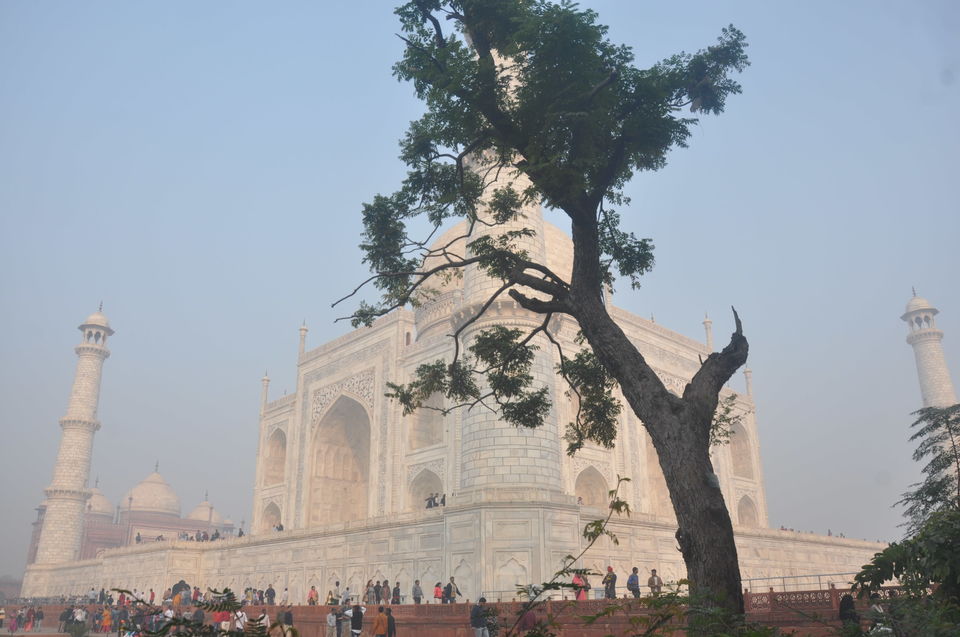 We started the return journey towards Delhi , but not without visiting the UNESCO heritage city of Fatehpur Sikhri. The Mughual architecture was impressive & the place was really huge to explore. The local guides had so many anecdotes about the buildings and area around & they were narrating that with pride. One can just imagine the glory & prosperity of the Mughal regime. How we wish that vacations never end , but it was time to return to more familiar place call home with wish to to review these paths again
Route taken : Delhi-Nainital-Majkhali-kausani-Almora-Peora-Mukteshwar-Bhimtal-Mathura-Vridavan-Agra-Fatehpur Sikhri -Delhi
#TravelOnAClock
Frequent Searches Leading To This Page:-
Top Nainital Tour Packages With Prices, Nainital Honeymoon Package Price, Top Nainital Tour Package For Family, Top Nainital Tour Packages For Family, Top Nainital Tour Package For Couple From Delhi, Top Weekend Getaways From Nainital, Top Weekend Getaway From Nainital