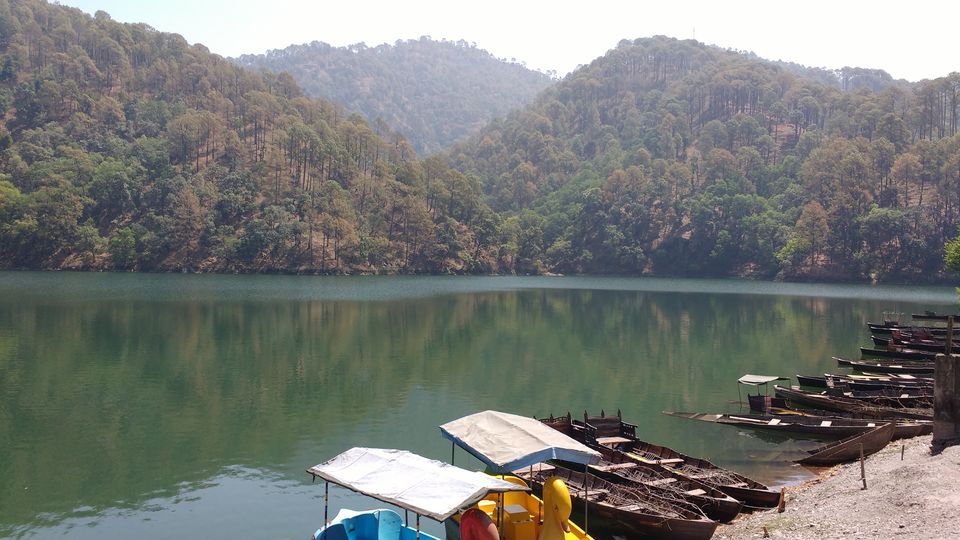 "Himalayas are beautiful, majestic and mythical too."
Widely known as 'Devbhoomi', Uttarakhand is blessed with stunning geography and adventure avenues. The land is not only home to extraordinary natural beauty but also countless myths and legends. Blessed with picturesque vistas and offbeat charm, Naukuchiatal is a gorgeous hill retreat for peace seekers. Secluded from the monotony of urban life, a small getaway to this travel destination in Uttarakhand will rejuvenate your soul.
Positioned close to majestic Bhimtal lake, Naukuchiatal is nestled at an elevation of 1220 metres above sea level and still not known to travellers. Surrounded with gorgeous Kumaon Himalayas, this small hill retreat in Uttarakhand is known for its irregular shaped and pristine nine-cornered lake. Adorned with virgin natural beauty all around, the lake is considered being the deepest (175 ft) among all the Himalayan lakes in Nainital district.
Himalayas are packed with interesting and mythical legends and so is the case with this quiet lake in Kumaon region of Uttarakhand. So, hope on and read few stories that makes Naukuchiatal an amazing place to visit.
Myths Behind Naukuchiatal
Cradled in the lap of Kumaon hills, it is believed that Naukuchiatal was created as a blessing by Lord Brahma (the creator in Hindu Mythology) after a hard penance or tapasya by the locals. A small shrine dedicated to Lord Brahma is situated close to KMVN guest house. According to a local belief, performing a circumambulation or parikrama of Naukuchiatal lake will bring you good fortune by the grace of Lord Brahma.
Another interesting myth associated with this serene lake in Kumaon region will you read it twice. It is believed that no one can ever see all the nine corners of Naukuchiatal in a single stretch on the foot. If someone tries to take a glimpse all the nine corners at once, the person will either die or will attain nirvana (if viewed in a specific time).
Unlike nearby Himalayan lakes Nainital and Bhimtal, the water level in this Himalayan lake remains same throughout the year. Believe it or not, Naukuchiatal is not just packed with scenic charm but also so many mysteries.
When To Go
This beautiful hill retreat nestled in the lap of Kumaon hills can be visited easily throughout the year. One of the best time to visit Naukuchiatal is during Spring (from March-April) and during Winters (October-February). Since, the lake is not situated on high altitude the weather is mostly hot during Summers (May-September).
Getting There
You can reach Naukuchiatal by following ways.
By Air: The nearest airport is at Pantnagar (74 km), take a private or shared cab from the airport towards Naukuchiatal via Bhimtal.
By Train: The nearest railhead is located in Kathgodam (44 km), hire a private or shared cab from the railway station for Naukuchiatal.
By Road: Naukuchiatal is well connected to all the major cities and nearby holiday destinations like Nainital, Mukteshwar, Bhimtal and Almora. Take a bus till Haldwani and then hire a private or shared cab towards Naukuchiatal.
Getting Around & Things To Do
Naukuchiatal is a small hill station and therefore you can commute around in a local cab. You can do various interesting things such as paragliding, boating, trekking, mountain-biking, horse riding, etc. Some places to visit near Naukuchiatal are Nainital (20 km), Bhimtal (4 km), Mukteshwar (36 km) and Ranikhet (55 km).
Accommodation
This stunning lake paradise offers wide range of staycations under different price ranges.
Share your memorable trip experiences here.
Have some tips or travel-related questions? Feel free to ask your questions, get answers, meet other travellers, and share your advice on community forum.
Follow Tripoto on Youtube for a visual treat.
Frequent Searches Leading To This Page:-
Top Nainital Tour Packages With Prices, Nainital Honeymoon Package Price, Top Nainital Tour Package For Family, Top Nainital Tour Packages For Family, Top Nainital Tour Package For Couple From Delhi, Top Weekend Getaways From Nainital, Top Weekend Getaway From Nainital