When u feel bore at times and you got nothing to do, you think of travelling but the purpose of travelling is unknown, it is just a change what you are looking for in current life. Some finds adventurous trips as useful and some finds relaxing vacations as useful. Many of us travel to live new experiences, to meet new people, to feel nature and to bring a change in monotonous routine. This was one of the random trip which we decided just one day prior on a weekend holiday. So we hired a car with a taxi driver and went for Haridwar and Rishikesh.
Day 1 - We left Delhi early morning at around 6 and how a 5 hours drive just got over by 12 noon at Haridwar talking about Haridwar Diaries as my father used to take us to Haridwar once in a year (during summer vacations) and how i have always enjoyed taking dip into Ganges at Har ki Pauri. So, this time i again got super excited to repeat the same thing after a long at the age when you are already occupied in so much in your life where you have almost forget to enjoy those little moments of happiness.
Once we reached Haridwar, our driver dropped us at the hotel and parked his car at specific parking area allotted only for the tourists. Though some hotel offers their own private parking space but area near har ki pauri is quite congested and some areas are not even hygienic. So, we rested for some time and proceeded for lunch at Bazaar. This small bazaar at Har ki Pauri has everything to offer tourist and the locals as well. There is no chinese/ mughlai/ italian or any other cuisines available in fact one will not even enjoy these cuisines when you get the special aalu and puri on a desi pattal (plate made up on leaf) with a natural feel using your hands. But for lunch we chose to have Indian food only and roamed in Bazaar buying stuff for near and dear ones like bangles/ necklaces/ wooden toys. I am sure the stuff you get in this market are surely meant for the kids. They gonna really love the stuff available here. Even after so long the bazaar has the same old charm. So, while roaming and looking after the things we reached Har ki pauri where we decided to take dip and attend the evening prayer. While taking dip, i was reliving those moments again which i might have been lived at the age of 10. This time, i was 26 and the exact feel of taking dip was something else for me. I could feel the peace and relaxation after getting dipped in the Holy Ganga seeing many devotees who would have come across from various other states of India. I could completely sense the feel of being at spiritual place. So, the water was not that cold as it was April month and a late afternoon time where the sun is just shining above you. So, we changed as ladies has a separate ghat for themselves. Now, the time came where in all the pujaris in their dedicated attires gathered at one place on ghat with big lightening diyas and lamps and started the Pooja. All devotees used to gather at pauri and sit there during the Pooja. Ganga flowing with speed crossing and hitting the temples standing inside the river, floating diyas with flowers poured by devotees wishing for betterment and good life for them selves and some have other wishes to get fulfilled, one can imagine how much there is an importance of our Gods in our life. That moment I realized some of your actions should not be taken thinking about it conclusions. If you are right, the things will get sorted out and if not, the things were not supposed to be made in that way. So, there is a power out there who is watching us every second and whose fear will not let us do something wrong in life. You got to believe in that power - God and pray for everyone's happiness. Post the pooja we had the famous Aalu puri at Mohan Ji Puri Wale and went to our hotel walking down the lanes of Haridwar after enjoying our Kulhar ka Dudh.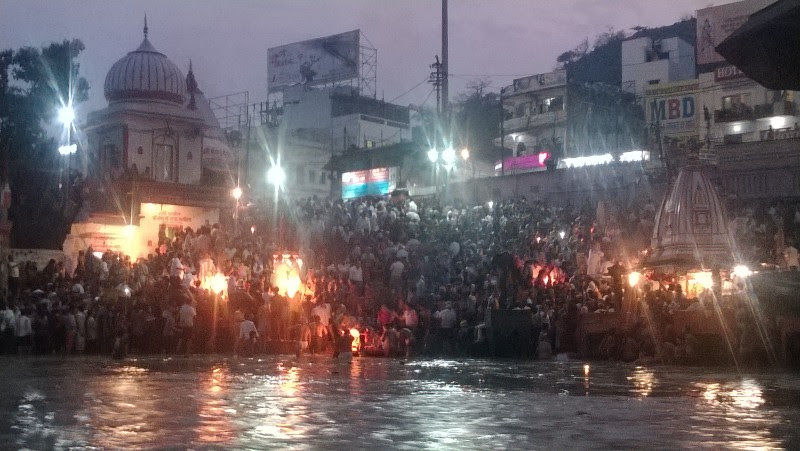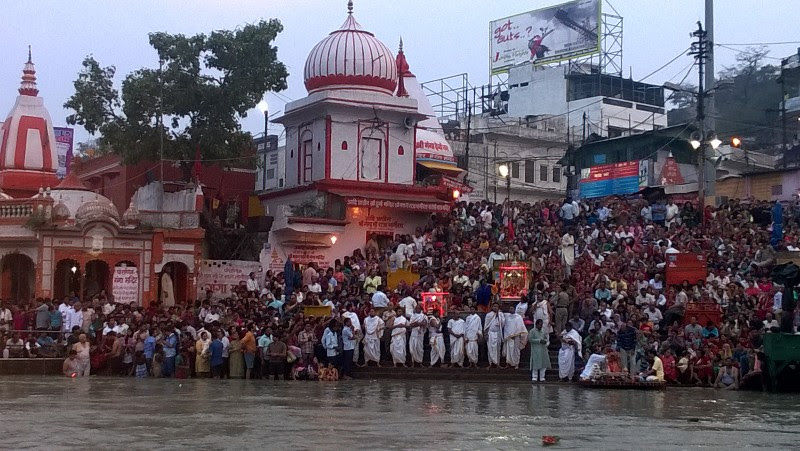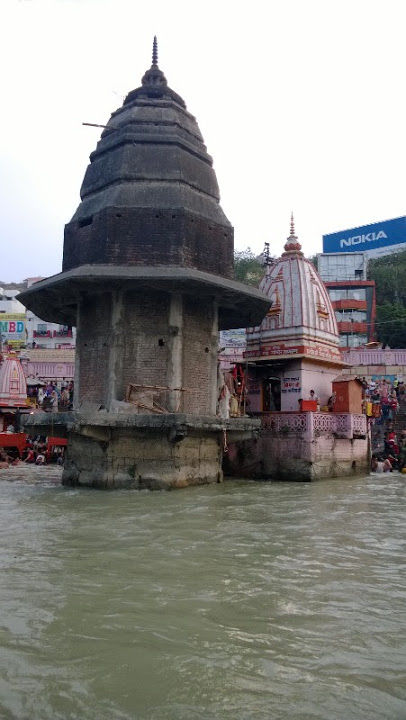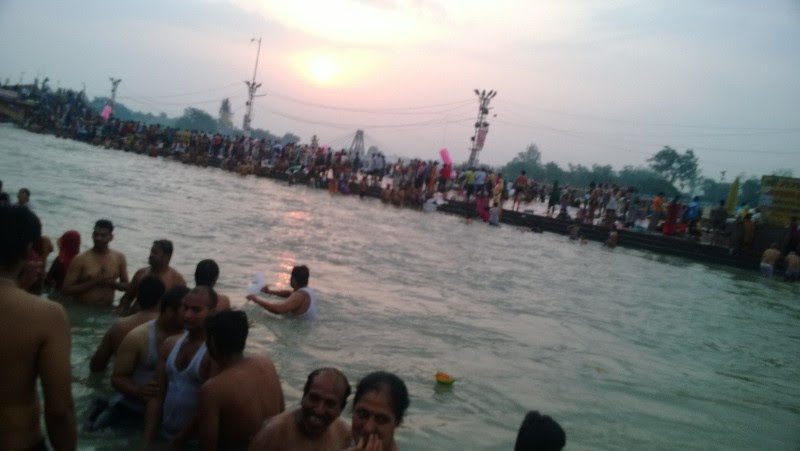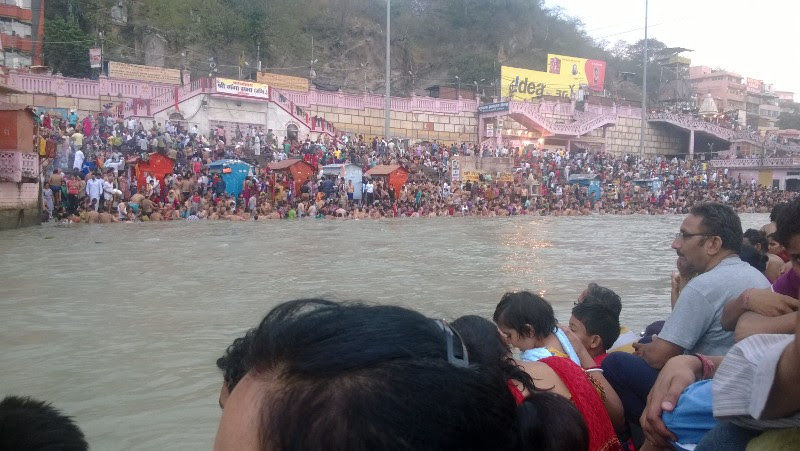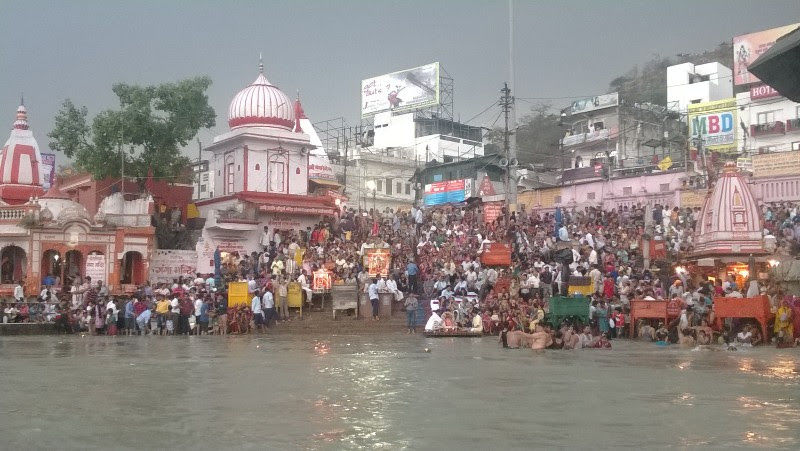 Day 2 - We took early morning dip at Har ki Pauri (water was pretty cold and the flow of the river was high) but the enjoyment was even more with this experience. Post attending the morning Pooja at Ghat and breakfast , we routed towards Laxman Jhula at Rishikesh which was almost 45 minutes drive from Haridwar. So we had lunch at Choti Wala Restraunt and enjoyed some time at the river bank just below the Jhula. We all really had a good time there and got clicked in many poses. LOL!!! And the special thing that Laxman Jhula is a suspension bridge which let you cross the Ganga river to reach the temple. And Rishikesh is just the beginning for traveling ahead to Kedarnath and Badrinath.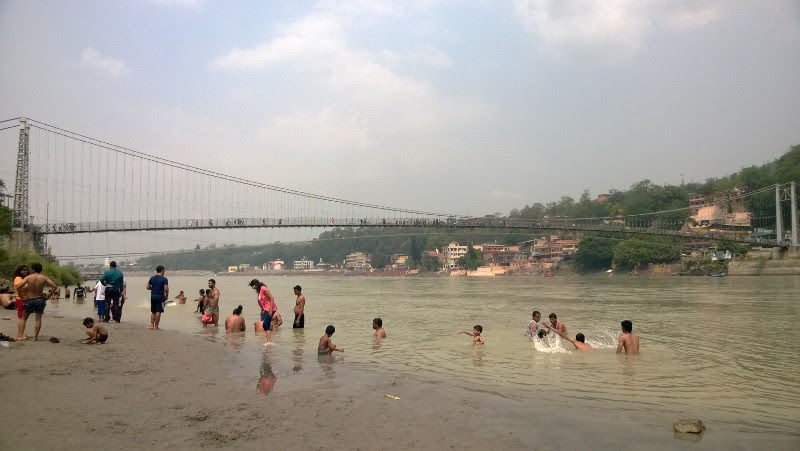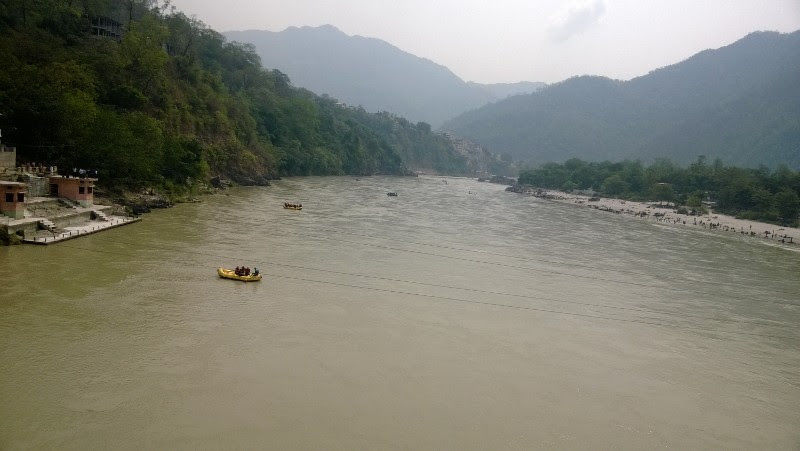 The Ganga river starts from Gomukh and travels to Haridwar covering almost 280 kms. Haridwar is just a starting point where one can start journey to look after the holy shrine place "GOMUKH". Uttarakhand has unique and spiritual places to offer us. One can enjoy the trekking as well. I thought that time if given a chance in life will surely do a trekking in this belt. So my purpose for this travel which was unknown before coming to this place came across that now i believed that there are some powers who will protect us, guide us if you believe in them and in yourself. You just need to do your work rest leave all upto them. And surely the next trek most probably would be my Gangotri Gomukh trek if i will able to manage long leaves from my office ;)
Frequent searches leading to this page:-
rafting camping adventure rishikesh, best river rafting packages in rishikesh, camping and rafting in rishikesh shivpuri, rishikesh camping packages in shivpuri, camping & rafting package in shivpuri rishikesh