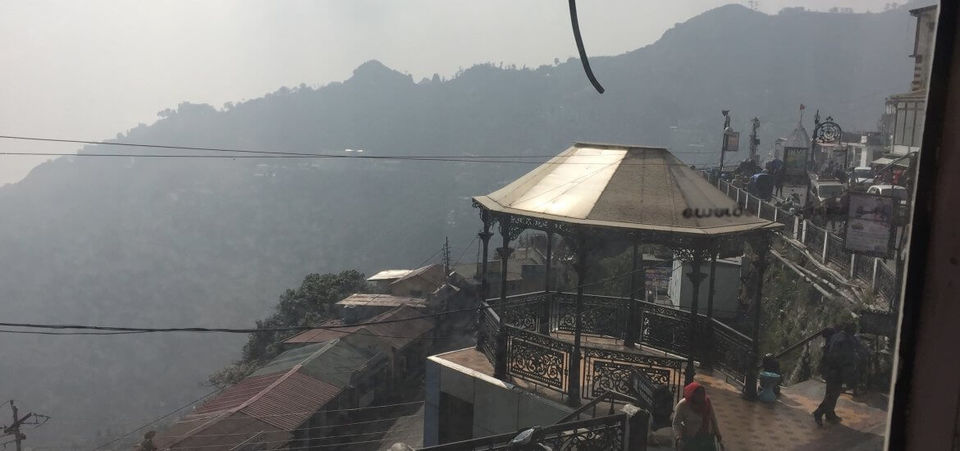 Time spent in Mussorie - 6 hours
How to reach - We took the local bus leaving from the railway station in Dehradun. One way costs INR 60 - the fastest and cheapest way to get to Mussoorie. The bus drops you at the entrance of the town from where you can take the bus back to Dehradun.
Journey - not bad at all! Drivers are familiar with the sharp turns, may speed up sometimes. But then what else can you expect from a local bus journey. While going back downhill, it hardly took us an hour. To reach Mussoorie, it took us an hour and a half in which the last 30 min was the hilly drive. Pretty safe and not at all crowded (best to come on a weekday), it is way better than paying INR 1100 one way to cabs, if you are traveling in a small group.
From Delhi, it takes 5 hours by train to reach Dehradun.
What all you can do in Mussoorie - Visit the Kempty Falls and Happy Valley Explore Landour Cable car from JhulaGhat to Gun Hill What we actually did -
We could just manage a day trip to Mussoorie from Dehradun and had a train to catch at night. We preferred starting early around 6 pm from Mussoorie to descend safely. This left us with only 6 hours. And since I had food belly as my companion, we prioritized food over everything else - so here is our food journey:
Our first stop was at a maggie point. Finger-licking good hot Maggie at INR 40. Perfectly complemented the chill in the weather.
Second stop was to enjoy the best cold-coffee ever. This was at the Mountain Cafe on the Mall Road. Must go! Priced at 150, a bit over the top for just a cold coffee but then you take the first sip and realize it totally justifies the cost. This place has an extensive menu, so you can plan a good breakfast.
Done with our starters, we decided to have our lunch at Kalsang Friends Corner - a two-storeyed Tibetan themed restaurant offering lip-smacking momos and a variety of options on the menu. Won't lie but this was the best momo experience ever. Ordered flat mutton noodles, chicken momos, and fruit beer. In our quest to find the perfect closure, we landed up at Cafe De Tavern to enjoy a warm brownie and coffee. This wooden joint is at the end of the mall road. It had a wide selection to choose from - what caught our eyes was the special Pahari dishes they offered.
We ended our food journey at the Himalayan Herbs to digest our food with a hot cup of ginger honey green tea. Refreshing and much needed.
All this in just 6 hours and proving to be a lot better than doing all the touristy stuff. We still missed out on a lot of good places we wanted to go to - Cafe By the Way ( looked pretty interesting and cute from outside), Doma Inn ( heard it's next to Ruskin Bond's house), Lovely Omelette ( how many times we crossed this one, but had no space in our tummy to relish it's world best cheese omelette).
Of course, we did pick some pretty warm shawls from the streets and a pre-signed Ruskin Bond book from the Cambridge Book Depot ( heard he comes there to sign the books every weekend from 3-5pm). 6 hours spent on the Mall Road was worth every calorie consumed!
Tell us all the other lovely places we missed out; would surely come back to hog again!