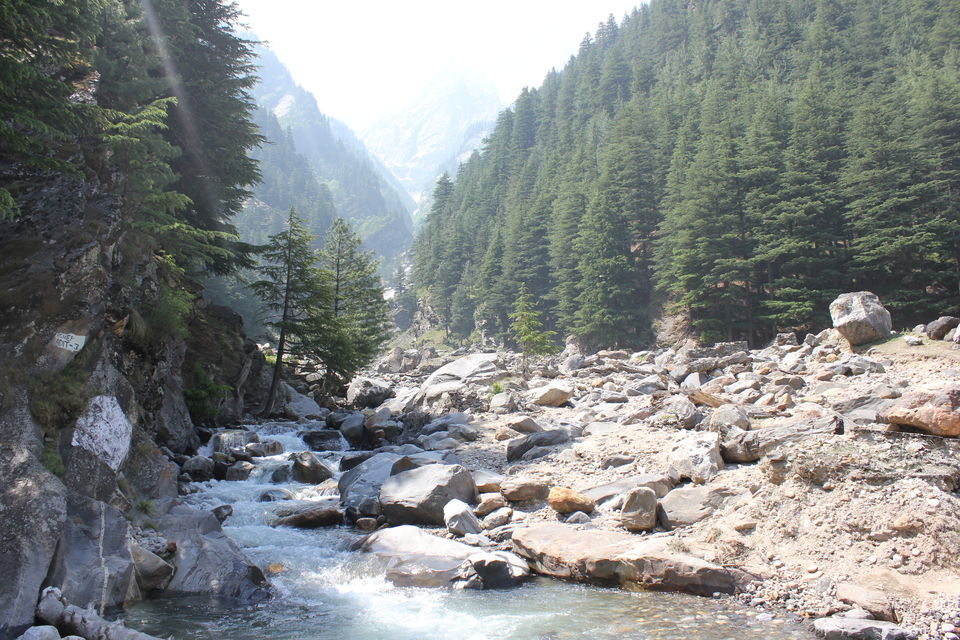 Well how can i forget that time, There was sumthing going inside me. I was not feeling good on my office chair. There was a rush in my mind. Sumthing was calling me. I was missing sumthing. But missing wat..? i was missing myself. So, i decided to go for a himalayan trek with my friend. But this time nobody was ready to go with me. So, do i have to go alone. That was not easy for me to go for a solo trip to Himalayas. It was quite difficult for a person like me because i always hang out with my frnds. But i had to go on. So, i backpack with all the necessary things which i need to survive for a Himalyan trek. I started my royal enfield and start my journey to the Land, where mountains meets d sky & water reaches to land. Yes i was going for Gaumukh Tapovan trek & this time solo. it was quite adventurous for me. Can i do this, i was asking myself every minute, while riding on Royal Enfield. I said myself, we'll see whatever happens
As i work in Uttarakhand State, So its easy for me to do necessary arrangements for me on my way. That was the positive sign for me. My first stopage was Uttarakashi, where i had to spend the first day. After riding 05 hours to the beautiful road full of deodar & pine trees, i reached Uttarakashi.
i was feeling very tired after a hectic ride. So, i rest myself at my friend house, who live at uttarakashi. we both work at same department :) At evening i went to Kashi Vishwanath Temple for Darshan. its was so devotional for me. जय भोले नाथ की....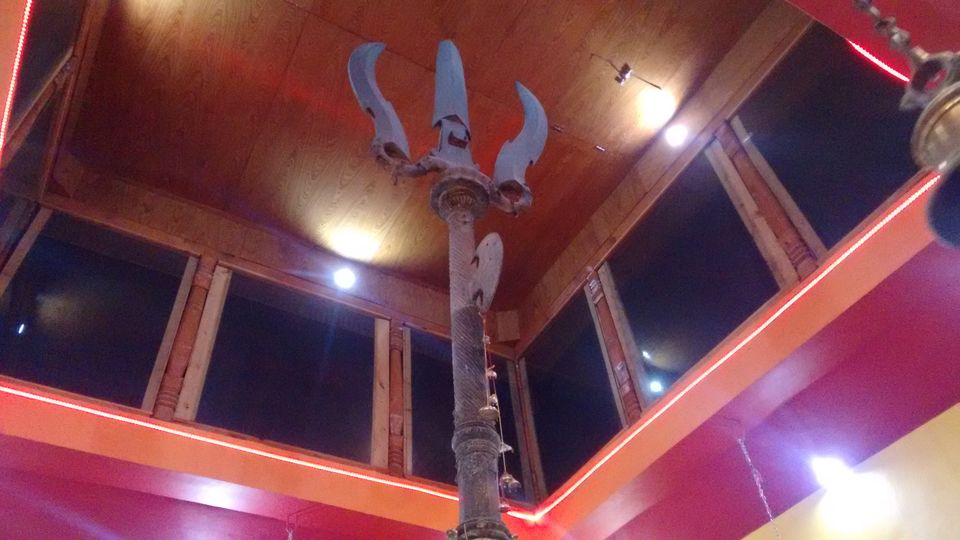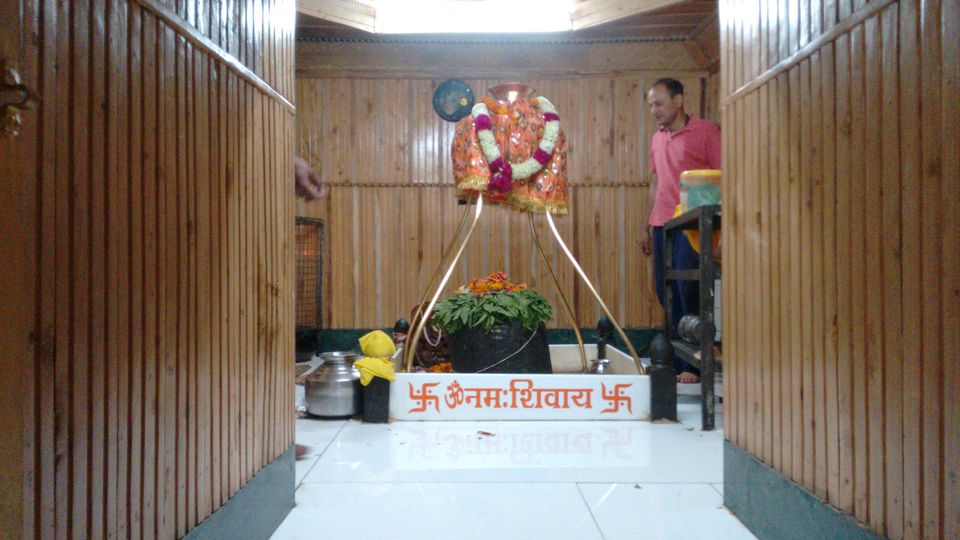 At the end of day, i was so tired, i planned to leave early for Gangotri tomorrow. so that i could trek to Bhojhbasha earliest.
Me any my bullet was so excited for this unforgottable journey. i started early tomorrow at 6:00 am for Gangotri. There was so peace, calm, nature beauty everywhere without the hustle and bustle of city. i was feeling so exicited while riding my bullet on Highway. Beautiful roads thanks & a big salute to the BRO for doing this fantastic work. By reaching to Harshil, a beautiful valley . i fell in love with this place. Scent of deodar trees everwhere. Most Beautiful Hill Station, Nature lover will love this place.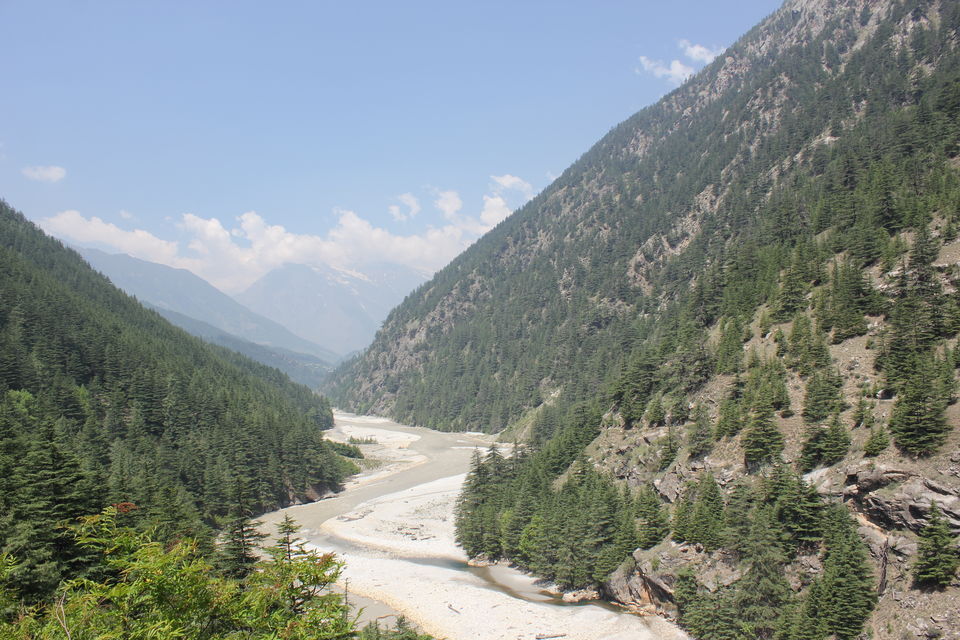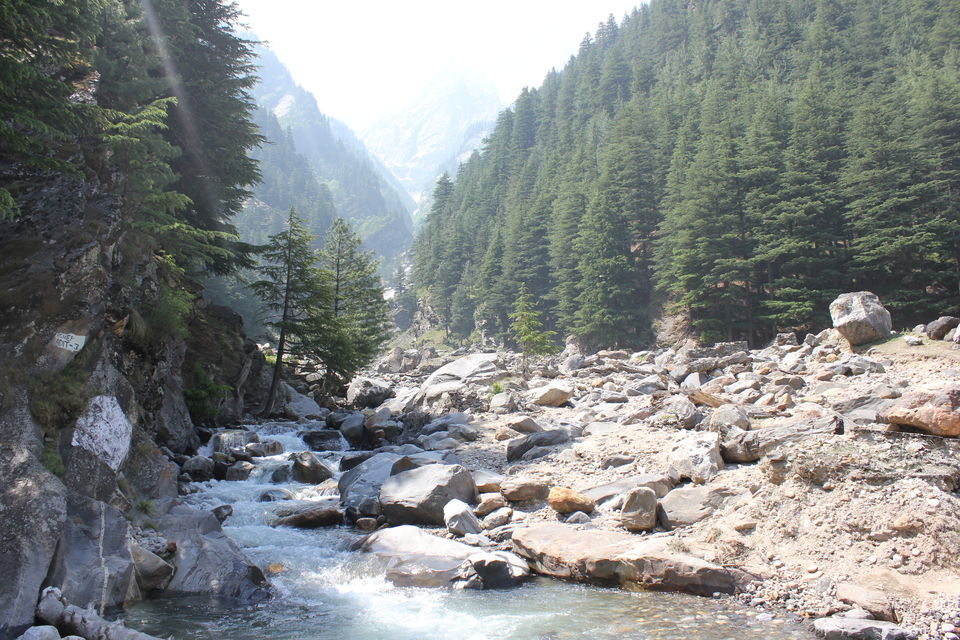 it was so magnetic. Around 11.00 or 12.00 noon i reached Gangotri. जय गंगा मैय्या की ....
After reaching to Gangotri, i did sum breakfast cum lunch and started my trek to Bhojbhasa by hiring a Guide cum Potter (Nepali bhai) who will guide me to the Tapovan. It was a new trek for me so, it is not easy for a new person like me, who never trek to tapovan. Thanks to my Uttarakashi Frnd who did all this arrangement.
Before this trek i did sum survey at internet & i concluded that upto Gaumukh its ok to trek but if you want to trek upto the tapovan then you must carry sumone who knows the trek. because its not easy to cross the Gaumukh Glacier alone.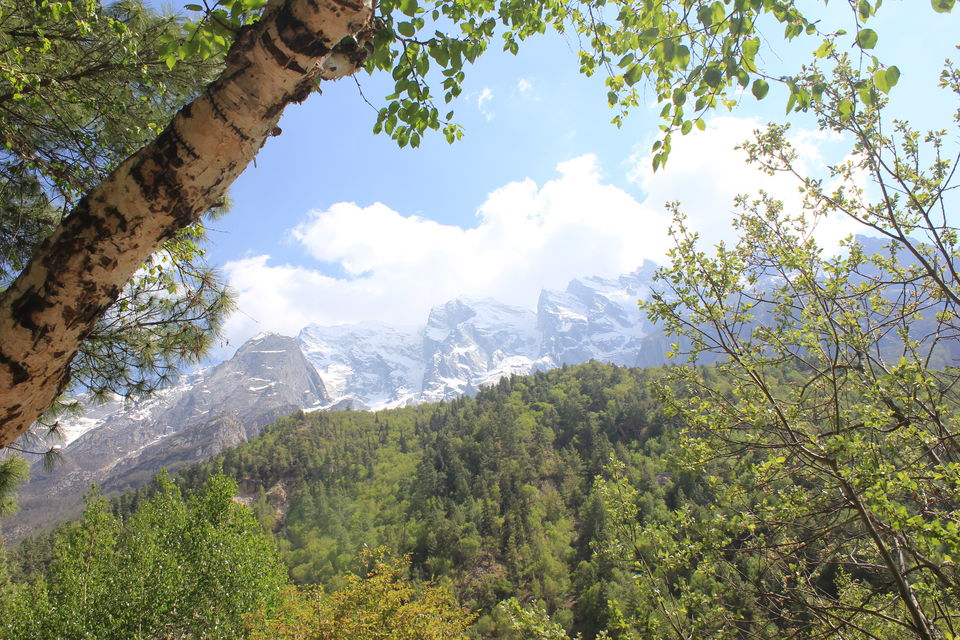 The Guide who is going with me was quite friendly. He was telling me the tales about this place which was making me crazy. While treking to Bhojbhasa, i saw the landscape is changing dramatically. i clicked many photos while treking. whenever i clicked a landsacpe, in the next moment i saw things differently. on my whole way i was busy in clicking & clicking.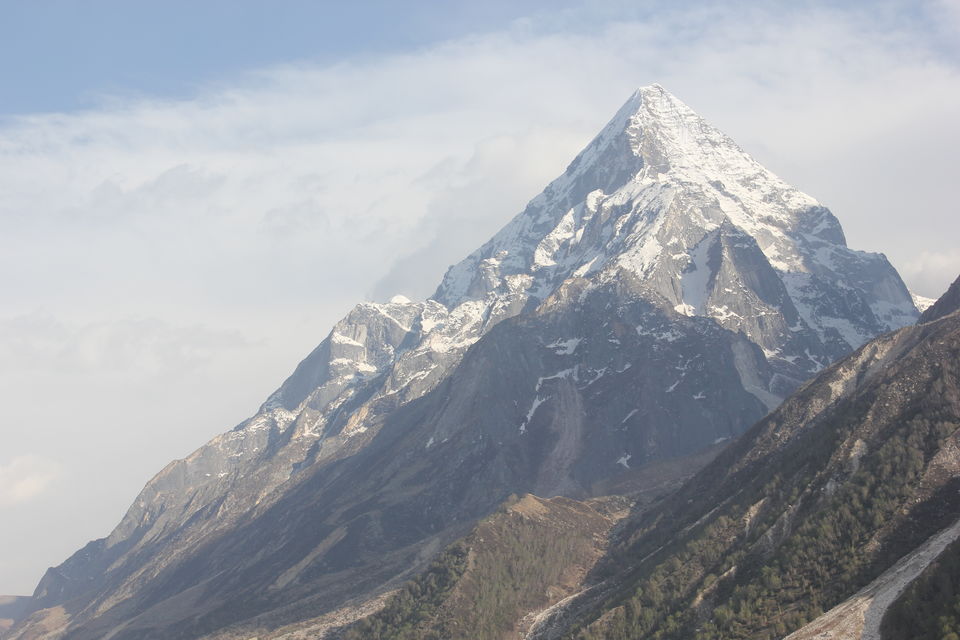 Around 6:00 pm i reached bhojbhasa. It is a small hamlet.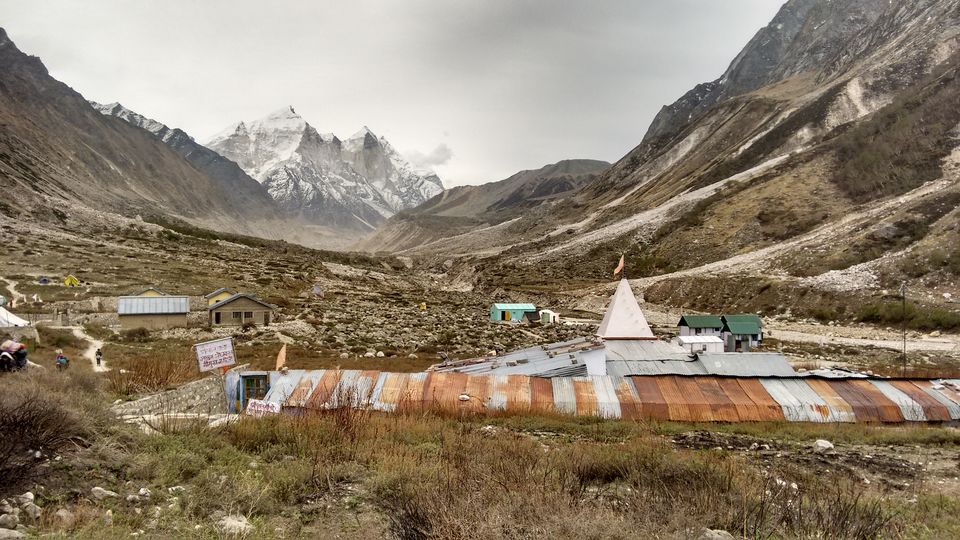 At Bhojbhasa there is a Lal Baba Ashram & GMVN guest house.But mostly people stay at Lal Baba Ashram. So i stay at Ashram.Its was so divine experience for me to stay like this. The day was so hectic. At the end of the day i was feeling so tired . So, a complete rest is necessary. But how can i sleep. This beautiful night was not allowing me to sleep. So. i went outside from the Ashram. Star, Galaxy, Moon was luking so near to me. They were saying sumthing to me. sumthing which can only be hear by heart. The moment was so divine. At the front of Ashram Bhagirathi Peak was lukng so magnetic. It was so beautiful experience for me. i can't forget that night.
On our previous day me and guide planned that we will trek to Tapovan and then same day we will trek back to Gangotri. I said yes to my guide. But in the corner of my heart i was saying to myself will it possible for me. can i do it ..?
Next day we started a tough journey early in the morning around 6.00 am to Tapovan. it was so fantastic around. Mountain Peaks was lukng so magnetic. Morning sun rays were making them more beautiful. They were lukng like Golden Mountains. Around 8.00 pm i reached Gaumukh. It was so divine experience to see the origin of Holy Maa Ganga river.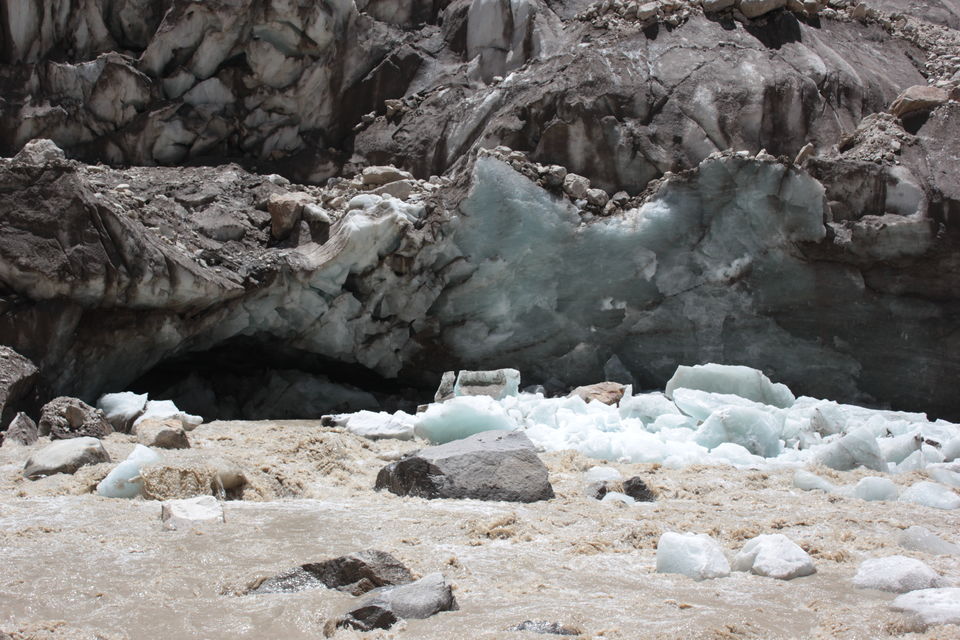 Without resting there we decided to move ahead. Now that was the most toughest part of this trek to cross the Gaumukh glacier and climb upto the tapovan base. It is also very dangerous to cross this glacier. Its my personal advice to everyone, do not climb this glacier alone. it can be dangerous. So, After crossing Aksah Ganga we reached Tapovan. Climbing upto Tapovan is very Painful also.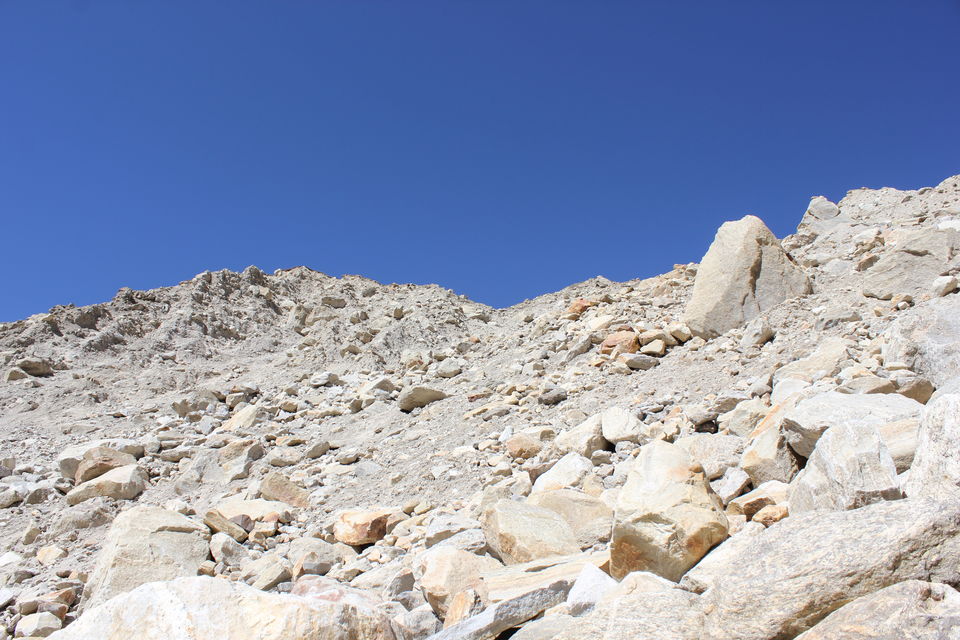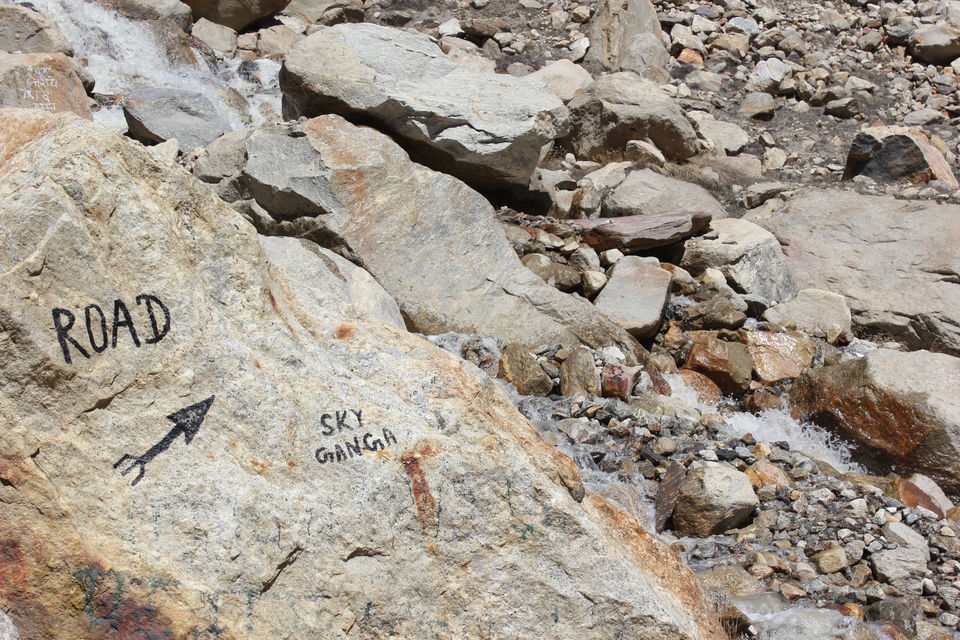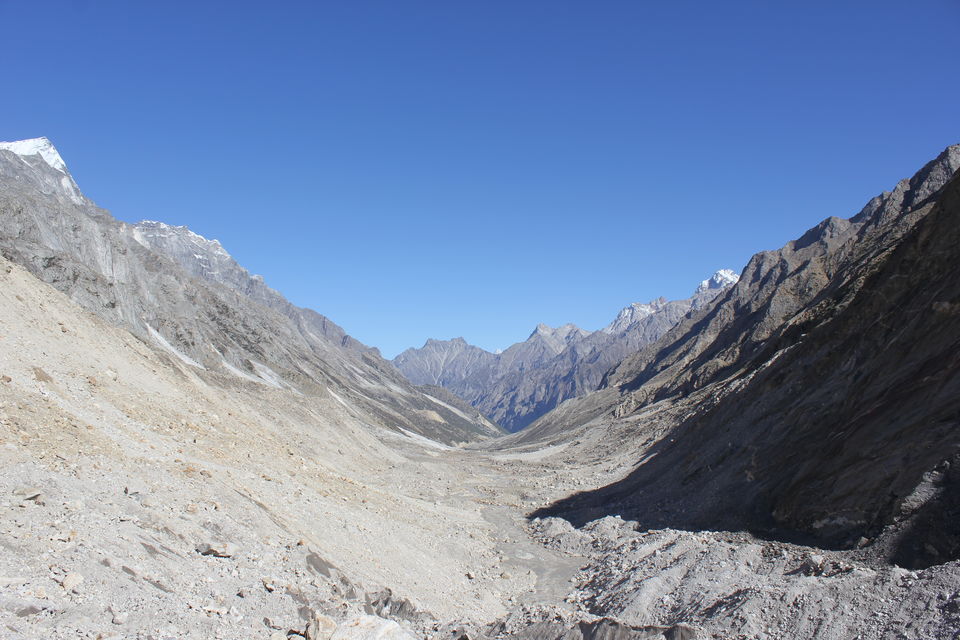 My main motive behind this trek was to see the Most Beautiful Mountain "Mt. Shivling" . When i saw the first glimse of this mountain, all my tiredness, pain had gone in a second.
That was the moment, i was waiting it for last 2 days. The most beautiful Mountain, i have seen ever. Tapovan is very magnetic place. You can see the whole Bhagirathi range (I,II,III), Mount Shivling, Mount Meru and many more peak frm thr. Mount Shivling was just a arm length away frm me. At Tapovan, i visited another Baba Ashram. He is very nice. He offered me tea and some Parle G biscuits. I stay at Tapovan around two and a half hr. I did my same job thr, Clicked some photos .
After finishing my Photography, i left Tapovan by promising that one day i will visit this place again. I cant describe the feeling which i felt there. It was an unforgattable Trip for me. i left Tapovan with so many memories.
After cuming back from Tapovan, i visited Gaumukh, did three dived (डुबकी) at Gaumukh. Water was so chilled. It freezed my whole body, bt atlast i sucessfully did three dived (डुबकी) at Gaumukh. In Our hindu Religion, There is a recognition that after bathing in the river of Maa Ganga. Maa Ganga erases all our Sin.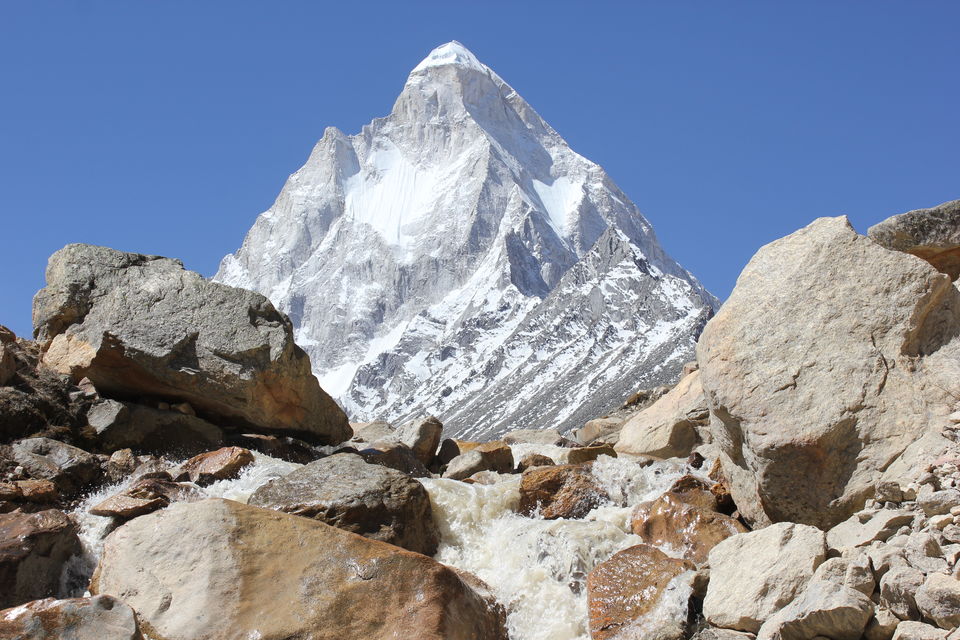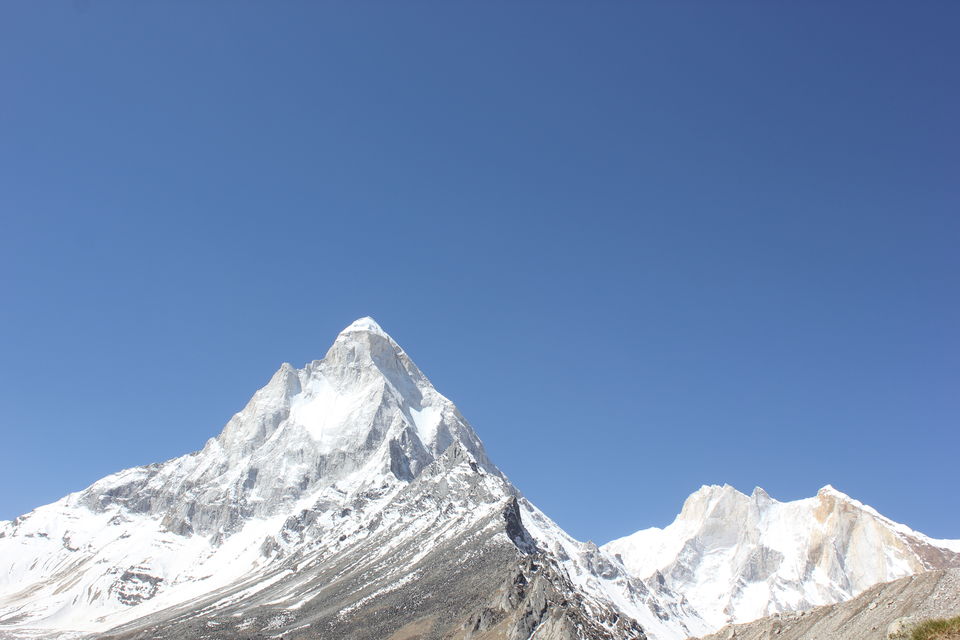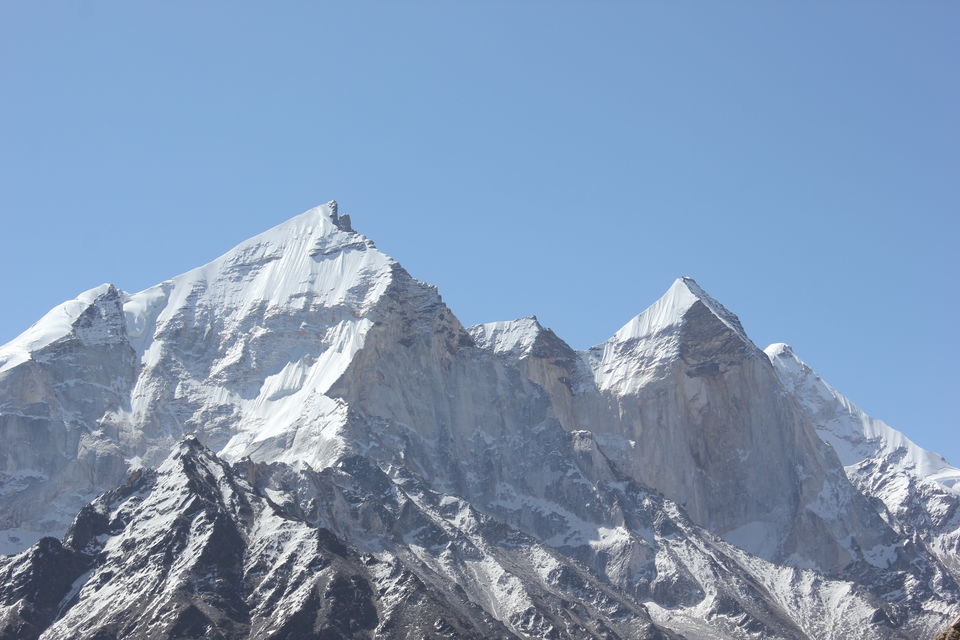 After doing my bath i left gaumukh and went ahead to Gangotri, where i had to spent the night. Me and my Guide did lunch at Laal Baba Ashram and started our trek to Gangotri around 2.00 pm.
I reached Gangotri around 6.00 pm. After doing some rest, i went to Gangotri Temple for Ganga Aarti. It was so beautiful. Temple was lukng so Beautiful. I take blessing from Maa Ganga . I met with Gangotri Temple Secretary there, he is so nice person. i did my dinner at Temple. i was feeling so tired. Today i did around 35 km trek. I thanks my Guide for his support during my trek. Said Good-bye to him.Took blessing from purohits and went to the hotel room for sleep. Next day was also a big day for me, A ride to Dehradun from Gangotri.
i started early bcoz i have to reach Dehradun as early as possible. In night it is not safe to travel in Hills. But on m way to Dehradun, I encountered with a strong storm. It was so strong that it blown a bridge away.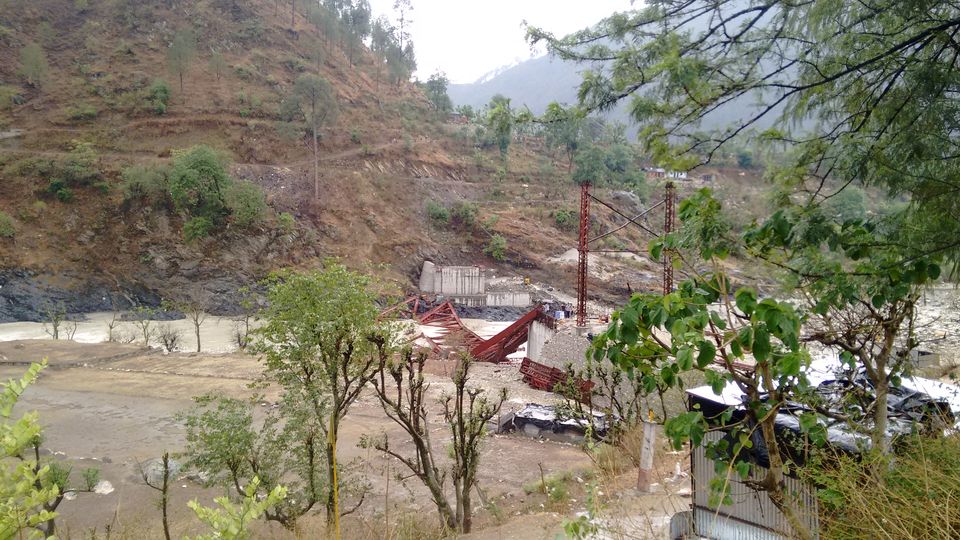 I reached my home safely. Mom saw me okay & told me "agli baar se tujhe akele nahi jane dungi" ( Next time i will not allow you to go alone) i smiled and hug my mom.
One thing which i learn from this journey is that "There is nothing impossible" just believe in yourself and you can do it.
i am a born Pahadi, i have a special bond with Himalayas.
When i feel low, broken, tired, i travel to Himalayas in search of myself.
Atlast i want to say all Himalayan Lovers that travel but dont pollute it. Love the nature and you will recieve immense love in back. Good-Bye
#zindaginamilegidobara #royalgarhwalis #royalenfield #ridetohimalayas #roadlesstraveled #bulleteer #solo #uttarakhandsimplyheaven #weekend #roadtrip #longdrive #lonleyroad #akashganga #gangotri #gaumukh #maaganga #shiva #lordshiva #shivaye