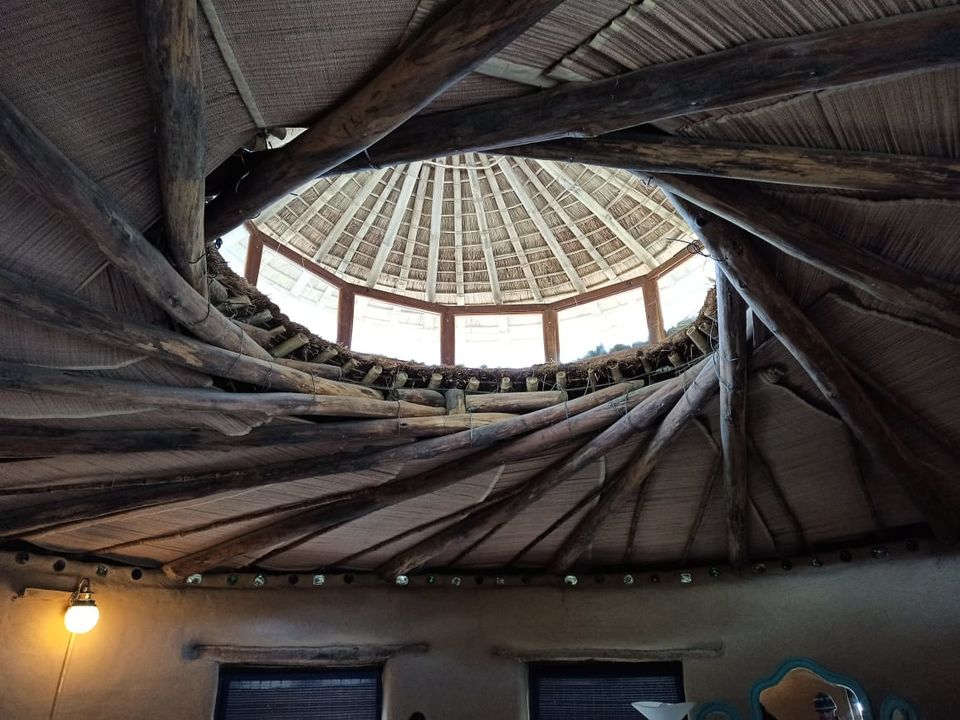 It was Valentine's day, I clearly remember when I got into a taxi to get to the airport to fly to Delhi and be back in the mountains, one more time. This time my destination was near Nainital, so after landing in Delhi and going to my friend's place for the evening, I took a bus to Nainital that night.
I arrived in Nainital by 8 in the morning and I knew that I had a decision to make. Either wait for 5 hours and get into a shared taxi for 50rps or get me a private one for 500. I decided to walk and explore Nainital, maybe I would get something to do till 12 but alas everything was closed and I couldn't find a place to pee even! So after sitting in front of a closed cafe for an hour at the Mall road, I decided to take a private cab. I spoke to the driver, walked another 20 minutes on my empty stomach but full bladder, and finally reached the taxi stand only to find out he would take another 30 minutes. Ah, this was going to be fun!
An hour and a half later I was walking up a winding mountain trail to reach Geeli Mitti, my destination. 30 minutes of struggle, getting lost here and there with taking a right after the bridge or the take the second right after the bridge confusion, I finally made it to the toilet in Geeli Mitti. Yay! After meeting the boss, and the others I was to work with and of course, with a good breakfast, I was ready to discover where I had ended up after more than a year break from the Himalayas.
Nestled in between a crematorium to the left, a place where they bury dead babies to the back, and a lovely stream forming half the boundary was Geeli Mitti. The boss claimed to be a witch as well so this definitely added to the aura of the place and I was settled in. I soon discovered there was a workshop happening in March and we were to build a whole little hobbit house with mud and bamboo. I was super excited to be a part of the home team and learn all that I could about mud buildings.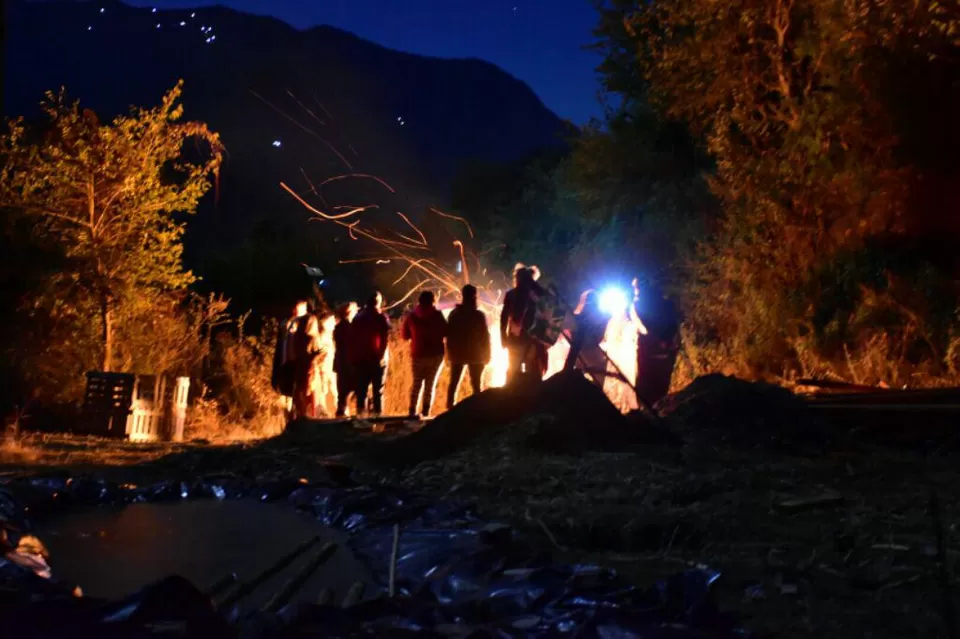 A guy from France came in to help guide the build and off we were. On 24th Feb, we started the build by laying the foundation stones and performing pooja. So for the first one week, all we did was pass stones from the river bed/ the forest or where ever we found them to the masons who were laying the dry stone masonry foundation. So arm muscle building in progress. They were of course heavy and passing them was not easy. Balancing stone upon stone, making sure not to cut our fingers, and also not to drop any on our foot and not to trip and fall down flat on the floor was most interesting.
Now that we had our foundation done, we started the process of making Cob. Cob is a mixture of clay, local mud, and straw. The way you make cob is by putting in the right amount of each item and then mixing it by foot. So like winemaking maybe. Stomp Stomp Stomp. So after a week of arm building, we were now working on our thigh and butts. Making batches of cob, making small balls of them, and throwing them on to the foundation we had built to make our plinth.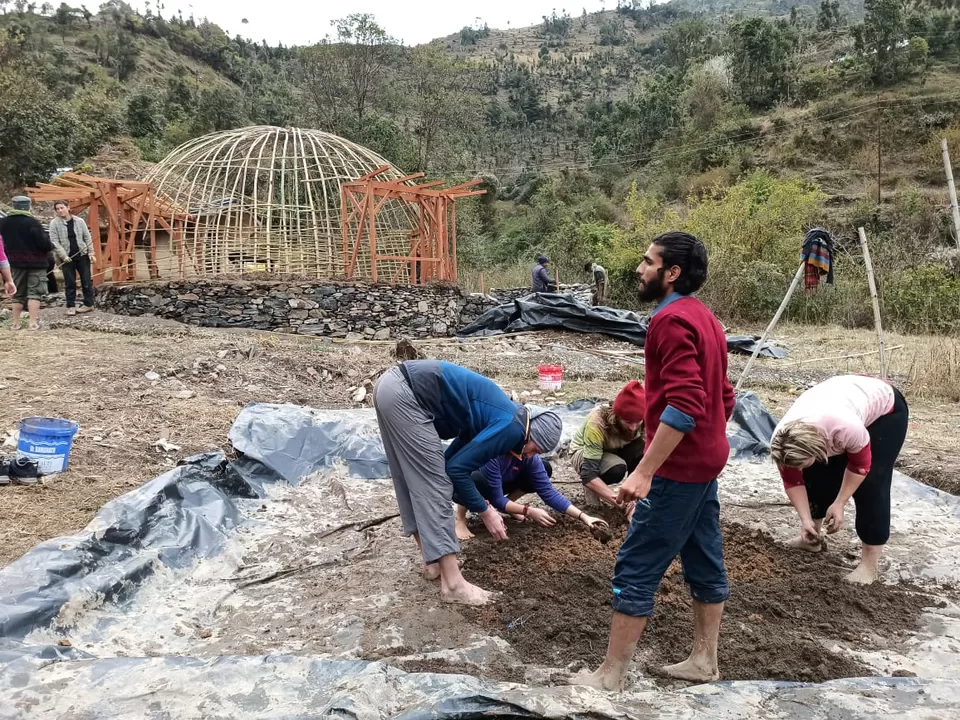 Post this, was time for the formwork- the bamboo. We were making a dome so we had two types of bamboo. The thick one formed the vertical support and the thinner ones were used to weave in between these verticals. This was one tough job as trying to weave bamboo in between bamboo is not as easy as it sounds! Pushing, tugging, pulling, and fighting with it, we finally had half a dome up.
This is when the workshop participants arrived. Around March 6th. Now we had 15 more hands on deck to do the weaving and making cob. Yay! But alas somehow unseasonal rain started pouring at around this time, making it pretty tough to go work out on site. Well, it is a year of good luck so what do I say.
Whenever the weather would let us, we would be on site making cob, weaving bamboo, putting up the door and window frames. We were getting quite a lot done actually. In between all of this, was Holi. Oh, what a Holi it was. Being in a farm spread across an acre, we had a lot of space to ourselves and having gotten organic color, we started playing. The foreigners were taught how to play and before we knew it, the colors were over and we were being splashed with cob! Oh, what a muddy Holi it was. We were all brown and filthy by noon and taking a bath in the cold water as the geyser wouldn't heat up that fast was exhilarating.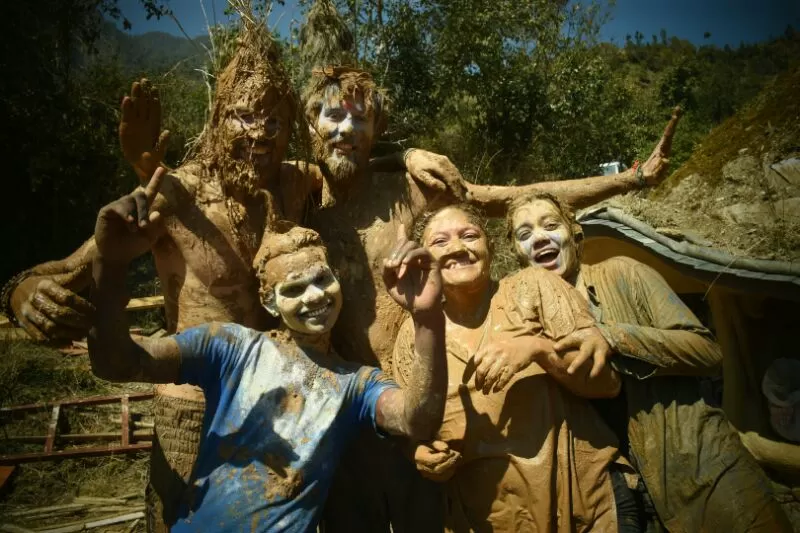 Now the workshop was supposed to get done by March 26th, but somehow right before that, our country decided to go on lockdown. So it was life made easy for the home team maybe as the construction was not complete and these were all extra hands stranded here to help us complete. Our dome was now complete but it had a minor deformation on the roof giving it the shape of waves from inside. Though it did look like it could fall, we were assured that it wouldn't, and once dry the cob would take its shape and remain that way for the next 100 years!
On the day of the end of the workshop, though no one could leave the next day, it was decided to have the official end of the workshop party. Thus 'Babaji ki booty" party happened. Since it was a lockdown and no one could get alcohol for a party, a special halwa was made for this party by some talented chef. And what a night it was. The party went on till 2, there was dance, music, coffee and of course the halwa. The next morning people who had more than 2 spoons of this potent halwa couldn't get up. It was fun to see how people react and the things they had to say about the party.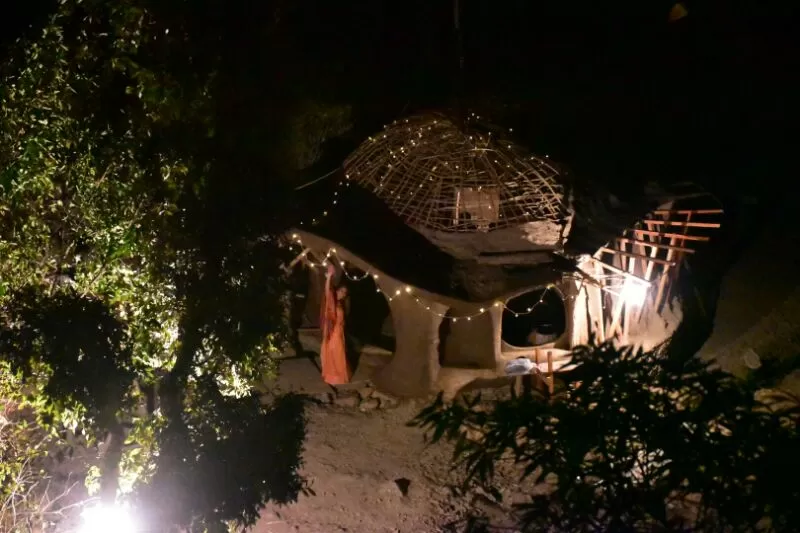 Life in lockdown went on as usual, as we were anyway so isolated from the rest of the world and lived in our own little farmland with our stream, our huskies, and our CEO, Kunwar Singh (a mighty Himalayan true breed soul). We were now teaching each other skills we know so people were learning everything from belly dancing to yoga, from dousing using a pendulum to shamanic meditation. Oh, it was something new and wonderful experience learning about all these new things.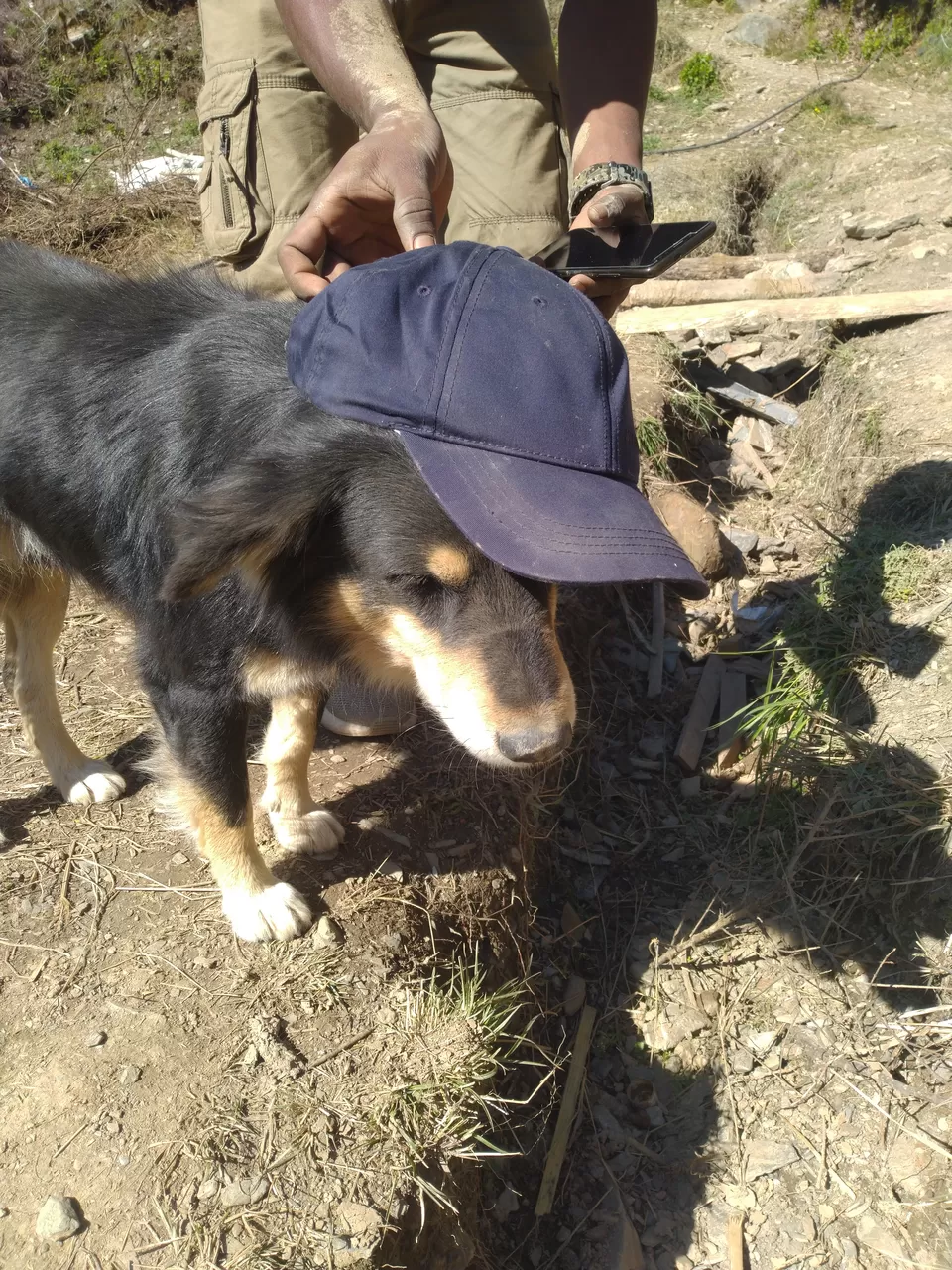 I even attended a session where I learned or at least tried to learn how to contact my spirit. We were taught to meditate, climb up to the skies, and get in touch with our energy. Well, I am sure it requires a certain level of belief and maturity as every time I thought I was there and was looking for my spirit energy, my mind would bring out Casper and I would try to make up stories with Casper in my head! But I tried and maybe one day I might actually see what the others see or feel it. But it was a new experience and I am happy I tried it.
We also had dinner party nights, sometimes on the birthdays of people or sometimes just because we decided to cook. During birthdays we would have a special dinner usually comprising of something the person liked. Once we cooked an entire Mediterranean dinner with Hummus, falafel, and Indian Pita garlic bread! Trying to get our oven to run along with cooking bread of the tava and frying the pakoda/ falafel was fun. When we could finally eat after 9 in the night, what an achievement it was. Pasta night was a part of it too!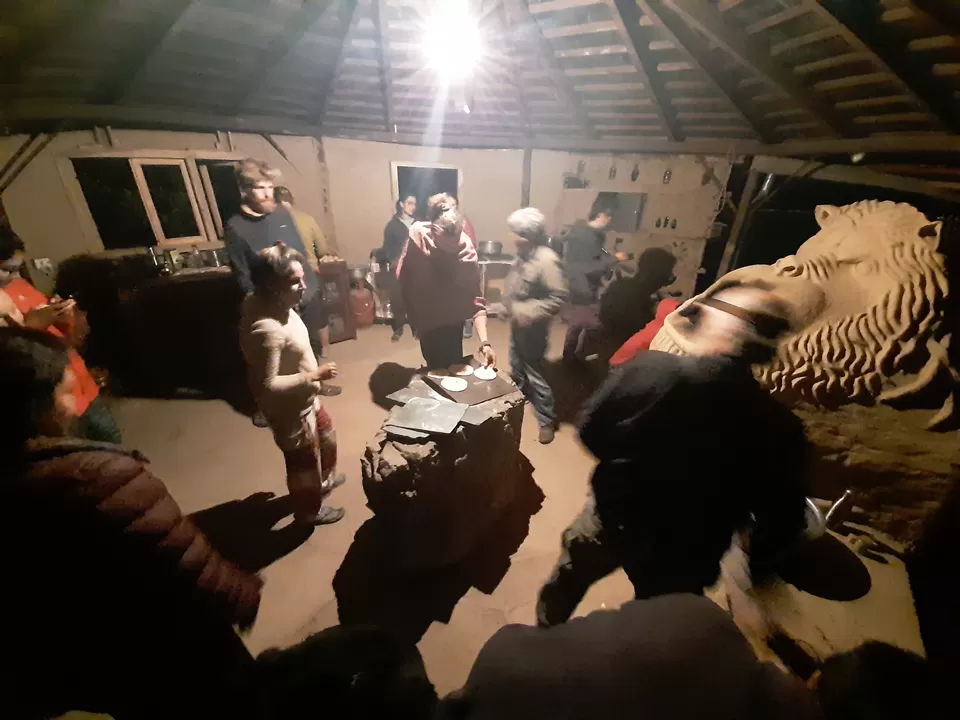 The construction was also happening side by side. We carried on, plastering the inner part of the dome, making cob at express speed, and trying to fill the void of the dome by putting in all the beer bottles of the village in it. Well, this somehow was a mistake. As we added more and more cob and beer bottles on the roof, the wet cob was making the wavey deformed dome push down under its weight. We were adding at least a 1000kg of cob maybe that week. We were making 4 batches a day of 60 buckets of mud each!
And one fine day after more than a month of lockdown, by which time quite a few of the participants had managed to go home, on May 11th when we were working hard of giving the dome shape of the roof. It happened. Our beloved roof collapsed under the weight of the bottles and cob! Our hard work of so many days broke into two. And I was standing right next to it when it happened.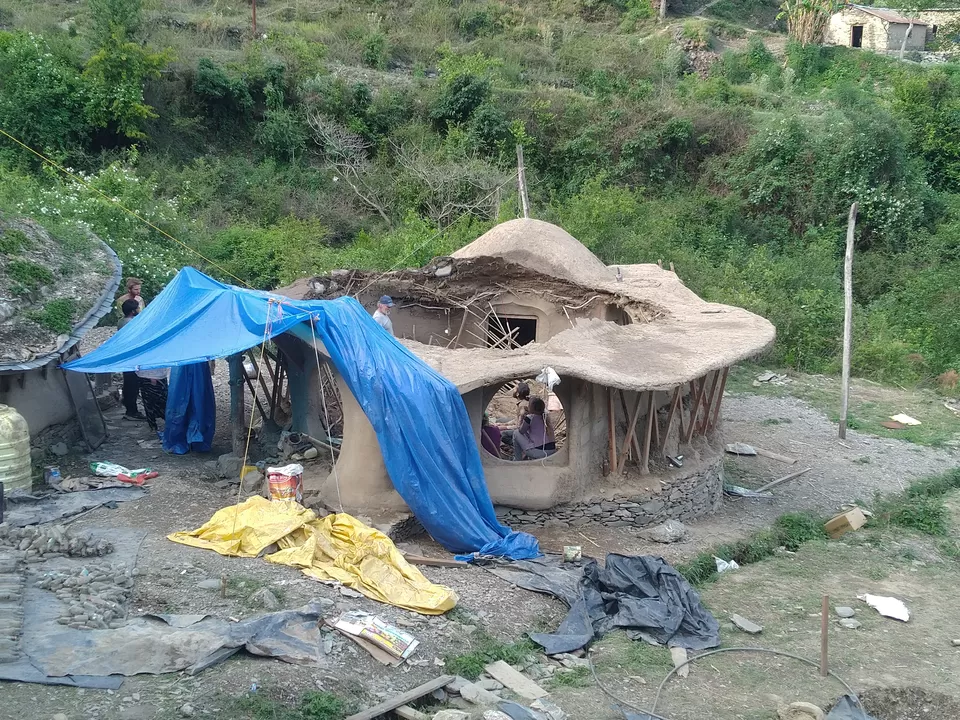 After two months of work, putting cob in, weaving bamboo in we were now working in reverse gear. We were taking the cob out, the bamboo pieces out from the floor of the house. Oh, what a week that was. Sieving the mix to make sure no broken glass pieces were there and then pouring it out from where it was coming in a week back. After a week of clean up, the trains started running so almost all our participants left by now.
It was now just us, the home team, and one participant who was left. We now started with renewed gusto on making the walls thicker and building up the house as two separate elements. We would have thick cob walls and a dome roof resting on the walls instead of our original bent bamboo working as a dome form the base. As summer sun was shining bright, my friend and I decided to put the cob to make the wall in the shade while the bhaiyas were mixing the cob which was taken from the fallen roof.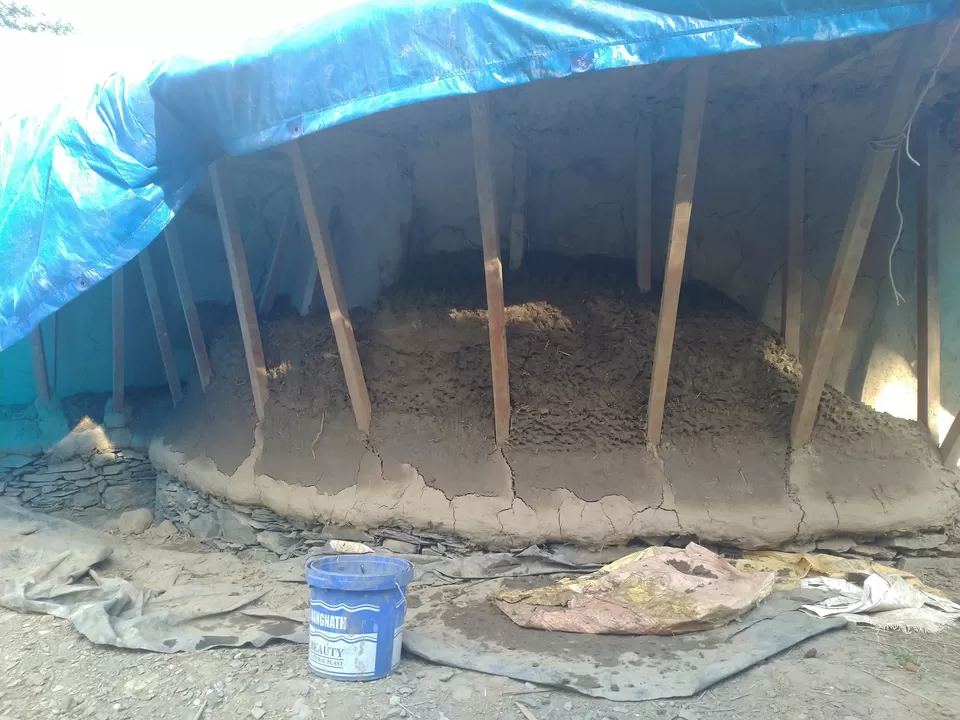 Within a week, we had a good 1 and a half feet wide wall all around our existing wall, ready to dry and awaiting its new roof. It felt good to see solid progress, to be a part of fixing something and not giving up hope. We never wasted time, we got to work the very day the roof fell. This was something I learned from there. Shit happens but don't waste your time thinking about it and regretting it as there is nothing you can do. Fix it and move on. It was a waste of money, labor, and everything yes but the boss never made us realize it. She went on with a positive vibe, taking everything in a good way, and making us want to finish the changes soon.
The lockdown was almost done and everyone was leaving for the monsoon so even I left on 31st May from Geeli Mitti. The walls were done but the roof was left. Since the rain had started now and then, it was a gamble of whether to stay and help finish the roof if the rains stopped or go home and come back post-monsoon. I decided to leave. And here I am writing this from my home quarantine day 8. How this quarantine feels is a story for another blog. But I am glad I went to Geeli Mitti and experienced the positive vibe of the place. Maybe I will see it soon someday!