Bali ,The island of Gods ,had been on my bucket list since the time I had seen Eat, Pray,Love. The serenity and spiritualism of the place was something I was yearning to experience. However, Bali was nowhere in our immediate plans.
In fact, we had our tickets booked for Europe for that time. But as someone has said, Life is what happens to you while you are busy making plans. It was as if Bali was also yearning to host us as much as I wanted to be there(just to mention, my husband had already been there and had no interest in going there again????).
We decided not to go the usual way this time and make it a budget trip .Since it was a last-minute decision we had no other option but to take connecting flights via Jakarta(Sigh????).
Bali is the only Hindu island of Indonesia, which is deeply influenced by Ramayana and Mahabharata , imprints of it can be seen across the island.
Tourist centers have developed here in pockets across modern Bali.
Kuta is the city center with legendary Hard Rock hotel, Discovery Mall & Waterbom Theme Park. One of the days, while I was looking around through the shops in the Discovery Mall ,my husband came rushing to me and urged me to go with him to the 3rd floor. We landed up at a rooftop Bar facing the beach and witnessed the most spectacular sunset sipping our drinks. Here I would like to mention that Bintang is the official beer of Bali, its mild with only 5% alcohol content (Officially but felt like beer flavour water) and my husband just kept cribbing throughout the trip that he felt as if he was sipping only water . The other popular drink in Bali is the Arak with 50% alcohol content .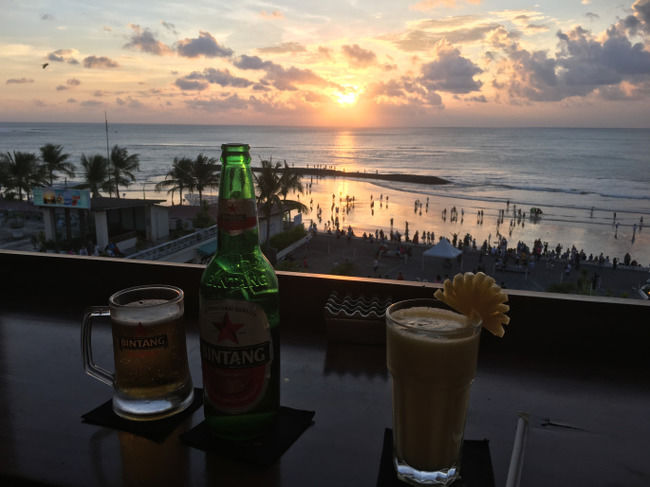 We had split our stay between Legian and Ubud
Legian is supposedly the party capital of Bali and we decided to spend our first 3 days there. We stayed at the 'Love F Hotel' the first ever hotel from the stable of 'Fashion TV'. The hotel is chic, comfortable, glamorous and not expensive (remember we were on a budget holiday). Entire hotel has the FTV Logo embossed everywhere ,including the crockery which was also in the shape of the logo .It was difficult to drink coffee from the cup with the odd shape but every morning after breakfast I would just order a cappuccino and get myself pictured with it (it was a different fun ????).The rooms are small but enough for a tourists who comes back to sleep and freshen up. After walking around the whole day the in-hotel foot massage was a bliss. It was soo amazing, that I would just fall asleep on the chair while the masseur would press the various points on my feet. Needless to say that they had me visiting them almost every night of our stay.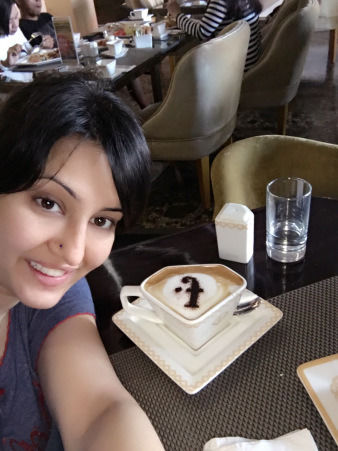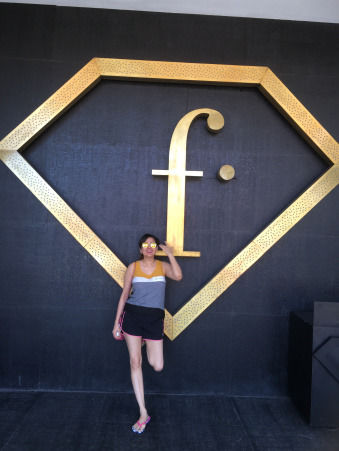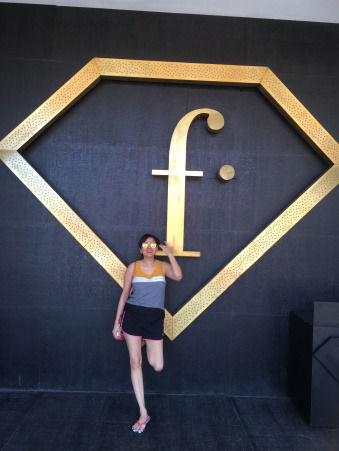 Food was a disappointment though. Infact entire Bali region disappointed us in terms of food, both in terms of hygiene and taste.One of the restaurants we even spotted a worm in our meal and by the end of our holiday we were scared to eat anything in Bali (even in our hotel). So, before entering any restaurant , its advisable to read the review on the place first, for looks can be deceptive.Balinese cooking courses are offered across the island , you can take them up if you relish Nasi Goreng and Satay
Also ,there are tattoo shops at every nook and corner but one has to be really careful as there have been cases of wrong dyes being used or people getting infection cause of unhygienic practices.
A word of caution here , be careful of your belongings ,for in one of the restaurants I found a tourist eyeing my bag(thankfully ,I can mostly catch prying eyes) and then suddenly disappeared the moment my husband appeared(lucky to be saved)
For me ,Legian was congested and crass (felt like Delhi's Paharganj) and anyone visiting Bali, I would advise them not to waste their time in Legian.
Seminyak is another pocket which has a couple of high-end resorts. The place did have an up market feel to it but again was congested.Its more for Honeymooners who like to go to exotic resorts and spend their time in the resort itself.I Was quite surprised to see heavy security and armed guards at 'Potato Head'(the famous lounge Bar) .For me it was just another lounge Bar with a touristy view though I did enjoy the night-walk on the beach infront of it.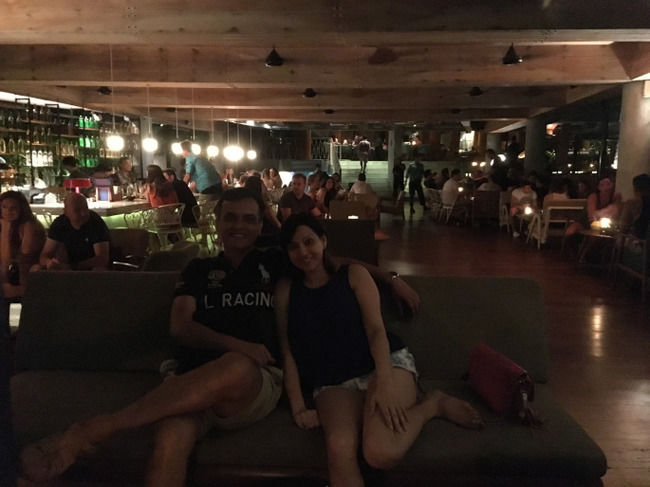 A Word of caution here, drivers can be really rowdy in Bali . So best to either pre-book your driver for your stay in Bali or stick to Blue Bird Taxi Service(almost every taxi looks like bluebird so you got be careful).
Nusa Dua is the place for water sports. I had plans to take up a surfing lesson and go Dolphin spotting in Nusa Dua, however , was not too comfortable with the safety standards there , so dropped the plans(Still on my bucket list ????)
Paragliding at the Pandava Beach This is one of the best things we did in Bali (another bucket list ticked, while I would like to do it again but in a different terrain now). Its best to book it online in Bali. The guys are super safe and not for a moment did I feel scared or unsure. Within moments of getting into the gear I was up in the sky with wind in my hair, sun on my face and clear blue water and white sand underneath. Pandava beach is one of the best beaches in Bali & the view was spectacular. It was a ride of a lifetime, till I started feeling sick (guess my vertigo problem kicked in ☹️). Overall, it's a must do in Bali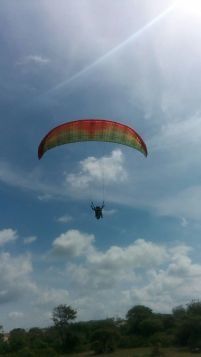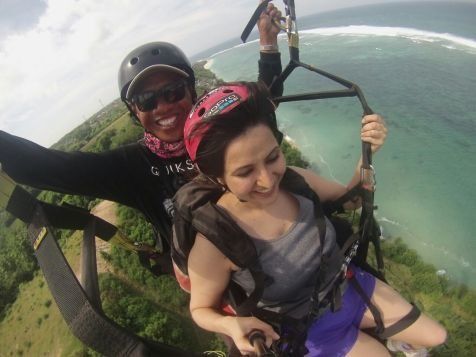 Ubud The overall pace and feel of the holiday was average till we reached Ubud. The place has world class resorts and we stayed at Sens Hotel and Spa, primarily cause of its proximity to the Ubud Market Center (Its advisable to stay near Market Center since there's no public transport in Ubud and hotels generally have limited shuttle service, making you feel stranded). The hotel is a 4* property but we were again disappointed with food.
Ubud was also crowded like Legian and Seminyak , but the charming Cafes , Quirky Shops & Zen Houses in the middle of the market street can win anybody's heart over .You can pick up Bali bands , Dream Catchers , wooden carvings ,Paintings, decorative Items,clothes and other souvenirs from the Ubud Central Market.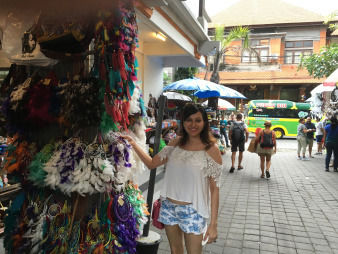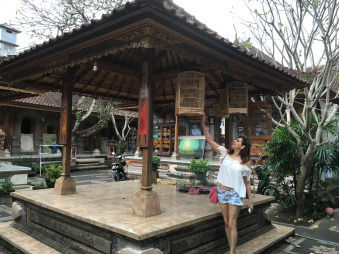 The colourful dream catchers The houses in the middle of Market center had so much Zen . They also double up as painting galleries
Bali specializes in handicrafts . They have an entire village specializing in wood carvings or paintings or silver ware , gold ware and they have taken it to world class levels in terms of quality and finish.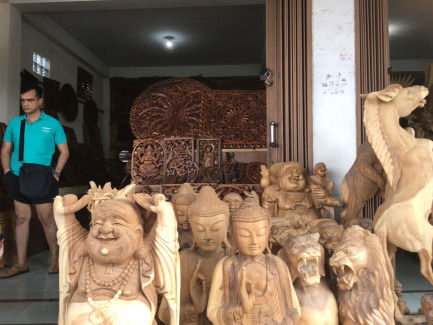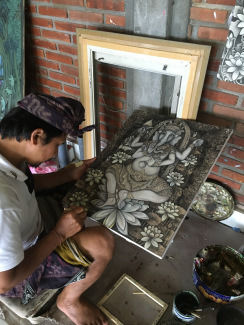 People come to Ubud for Yoga retreats , Painting retreats ,Adventure sports ,rice fields ,to experience the rustic Bali life and its true culture .Many also undertake wood carving workshop,silver Jewellery workshop etc ,so basically , there's something for everyone here. There are people who do the 2 am trek to Mt Batur (the active volcano there)to view the spectacular sunrise and then cycle downhill. Mt Batur is surrounded by an absolutely serene lake and I could spend hours just looking at it.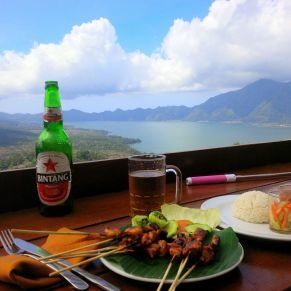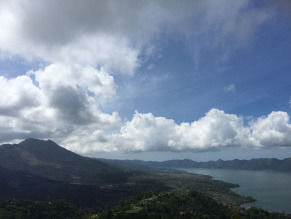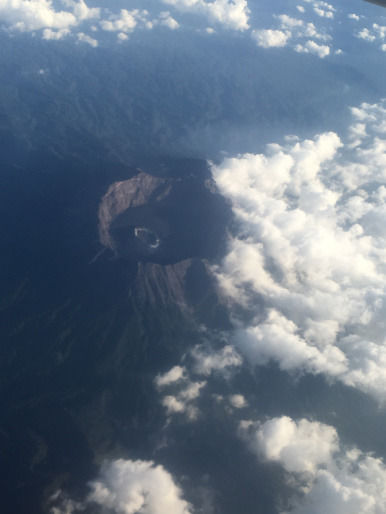 Mt Batur surrounded by a calm lake Nasi Goreng -Satay & the serene Mt. Batur Lake Rare view of the top of a volcano - we were lucky to get this
Balinese culture – Balinese people believe in the concept of balance and this reflects in the way they worship nature. Offerings (flowers, biscuits, candies) in front of shops are a common sight there. We later discovered that offerings lying on the ground are actually to Evil. Balinese people invite evil to come and join them in their lives (kind of a bribe),for the concept of the good & the bad , the Yin & the yang prevails there.There are plenty of temples here and to enter the temple wearing a sarong is a must .Our driver was kind enough to lend us the sarongs .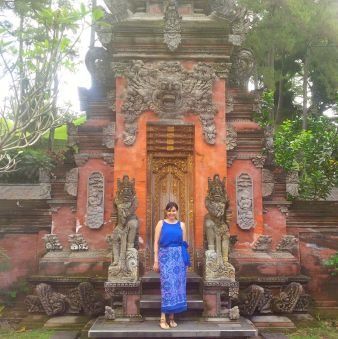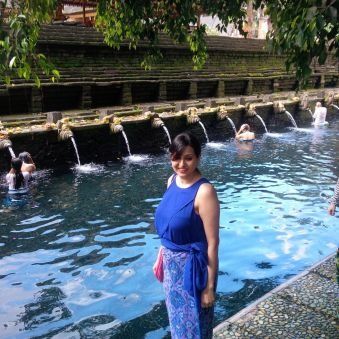 There are some nice restaurants in Ubud but again read up the review before you enter. We had an amazing time at the Salsa night in the Laughing Buddha Bar (Highly recommended)
Luwak Coffee is the famous coffee of Bali and our driver kept insisting to take us to the coffee plantation .Interestingly, the coffee is made by drying and crushing the poo of Luwak (a civet cat)which feeds on the coffee berries. We were told that the coffee is such that if men drink it women get happy (hehhehe????)we weren't up to drinking it despite that, though.
Overall the bumble bees, butterflies, dragon flies just add that magical charm to the place.
So much so about the place , but there was actually more happening on our trip .By the end of our trip both me and my husband(he has a relatively strong stomach) ,had food poisoning and were scared to eat anything . So I was cranky after not having eaten for about 36 hours (only some fruits & coconut water). To add to it, on our way back our Lion Air connecting flight from Bali to Jakarta was delayed (it was a low cost airlines, budget trip you see) and we were super stressed looking for next best option to reach home .On speaking with the flight attendant, we were rushed to the other terminal (apparently the other flight was kept on standby, waiting for us, Thank God!) and our luggage was directly sent in. After all the stress and feeling sick we finally landed in our home country and took a sigh of relief that we are finally home (yay????) . No but there was more to come. We discovered, due to lack of time, they couldn't load our luggage. Disappointed, irritated & hungry we filed a complaint with the lost and found department and were assured that the luggage would be sent to our place by next morning. Finally we reached home, happy that at least we reached home safe.
Next day when we didn't hear from the airport authorities till noon, started our quest to follow up with them and believe you me, it was a task to get through to them on phone or even to get their email id. So, my husband decided to go to the airport and speak to the authorities. Trust me he had a hard time controlling himself not to end up in a fight because there was no trace of our stuff. By now in a way we started to feel that our luggage was gone and began consoling ourselves that it was just some material stuff.
And just when we had almost lost hope, came a phone call from the airport authorities that they had found our luggage ( call from heaven????), some serendipity that left us elated. We were more happy than we had ever been and were laughing at the events till late in the night. Finally All's well that ends well and yeah you do experience more and different dimensions on a budget trip.Had the food been nice ,maybe I would have liked to spend some more time there taking up some workshops , getting Balinese Massage , getting to know more of the local culture but for now , I definitely want to watch the movie EAT ,PRAY,LOVE again and spot in the movie the places we visited ????
How will I plan my next Trip to Bali
Take direct flight to Bali and if theres no other option but to take connecting flights stick with full-fledged airlines , for low- cost airlines have a reputation of running late.
Land at Denpasar and head directly to Ubud and stay in one of the best resorts there. Ubud should be the center of your stay and can travel intra-day for activities and sightseeing. Infact ,stay at a hotel that offers most of the activities and workshop (Must)
Carry MTR Packets & drink only bottled mineral water (Must)
Read up review on restaurants before entering(Must)
Fix your driver to take you around before you land in Bali or stick to Bluebird(Definitely).Our driver Puttu in Ubud was good (highly recommended)
You will normally get anything at half of the price that is first quoted to you
2am Mt Batur Trek to See the Sunrise and then cycle down from the hill (Definitely)
Visit To Ulluwatu Temple and watch the Kecak dance at sundown (missed it this time next time Definitely)
Nature Walk in Monkey forest and Visit to Elephant Caves (Can )
Painting Retreat (Maybe a day workshop)
Visit to a Local Healer(Maybe)
Maybe Visit a Coffee plantation and see the Luwak Coffee making process(Can)
Things which are completely avoidable
Potato Head – Over Hyped. Had more fun at the Salsa Night at Laughing Buddha Bar, Ubud
Sukavati art center – Had almost the same stuff as Ubud Market Central. Infact quality and variety is much better in the Ubud Market Center
Waterbom – The water park in Kuta City Center is over-rated as the best water park in Asia. For anybody who has been to water parks around the world its just an average water park. Infact Waterbom stands nowhere in front of Atlantis water Park , Dubai
Till next time …Chao
Frequent searches leading to this page:-
top Bali tour packages with price, Bali honeymoon package from Delhi India, top places to visit in Bali for honeymoon, best places to visit in Bali for honeymoon, best places to visit in Bali Indonesia for honeymoon, best places to visit in Bali for bachelors, best places to visit in Bali for singles
This blog was originally published on WWW.RACHITASTRAVELTALES.WORDPRESS.COM