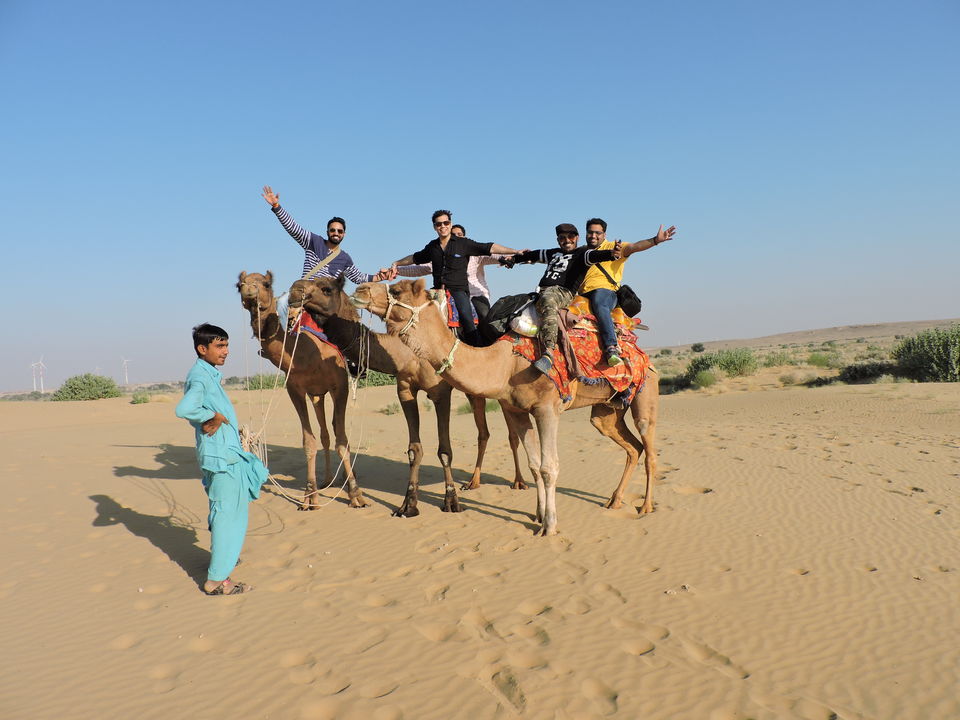 A new year was about to begin, so it seemed pertinent to welcome it on a high note. Having covered the 'high'-lands (Mountains) already, it became apparent that this time, it had to be a choice to satiate a different kind of travel crave. And what better than Rajasthan to enthrall the senses with a royal rush! So with the blessings of Santa Claus, I set out on Christmas eve to begin a week long celebration to New-Year'17.
I and my friends had decided Jaiselmer as the meeting point as they would be arriving from Delhi after covering Bikaner. So I had decided to explore Udaipur as it was a convenient midway destination between Indore and Jaiselmer.
Day 1 : Udaipur
Since I was on my own the first day, it was a good chance to make some new acquaintances, meet other travelers and hear their experiences and plans. So I had booked Backpacker Panda hostel as it was a perfect way to get some good company for the day and also save on huge accommodation bills!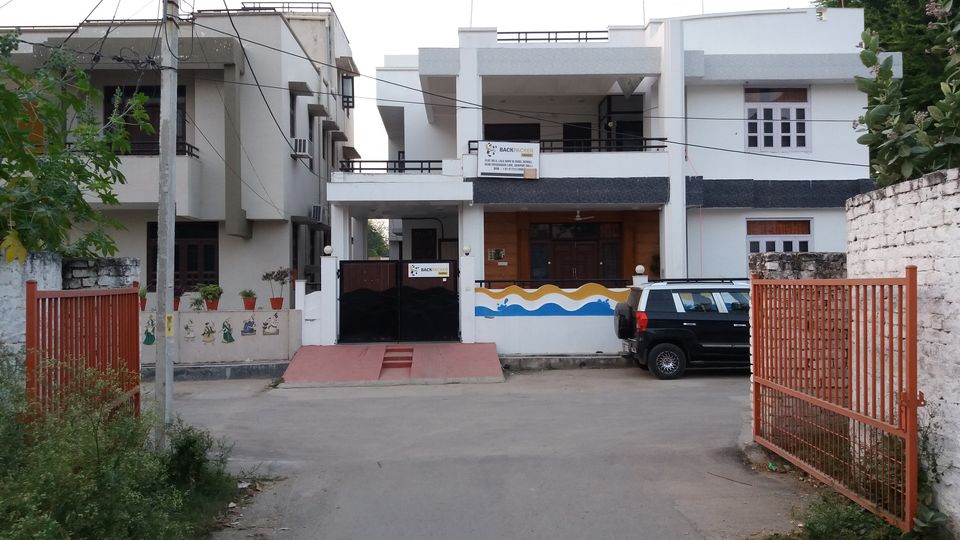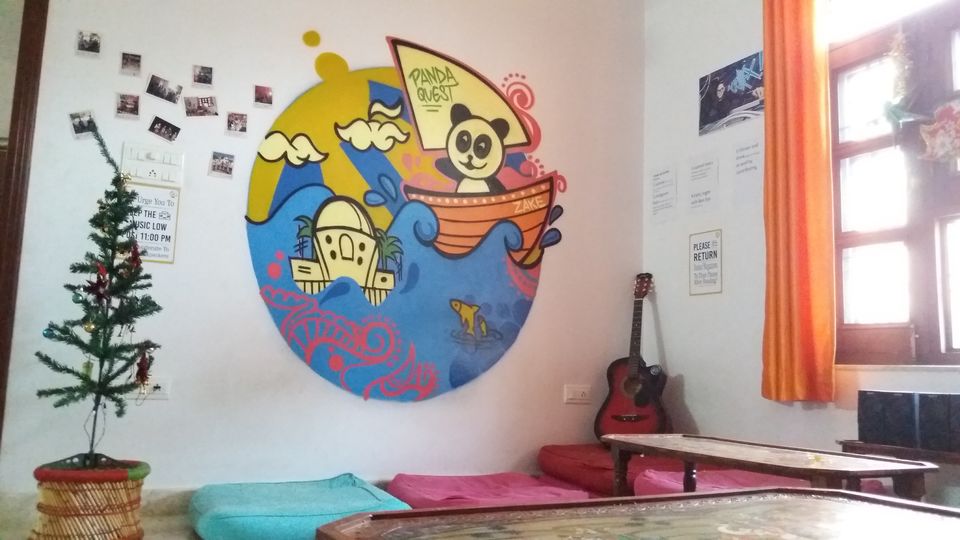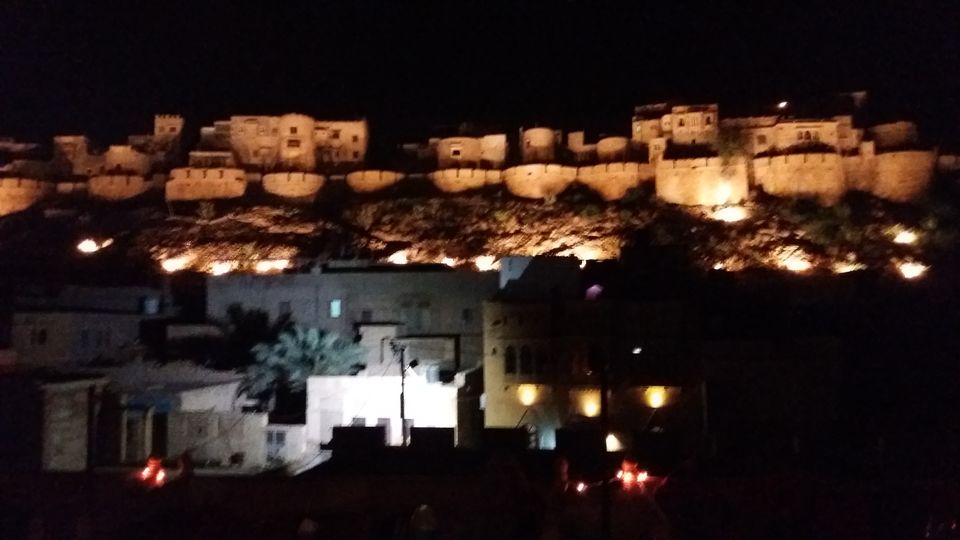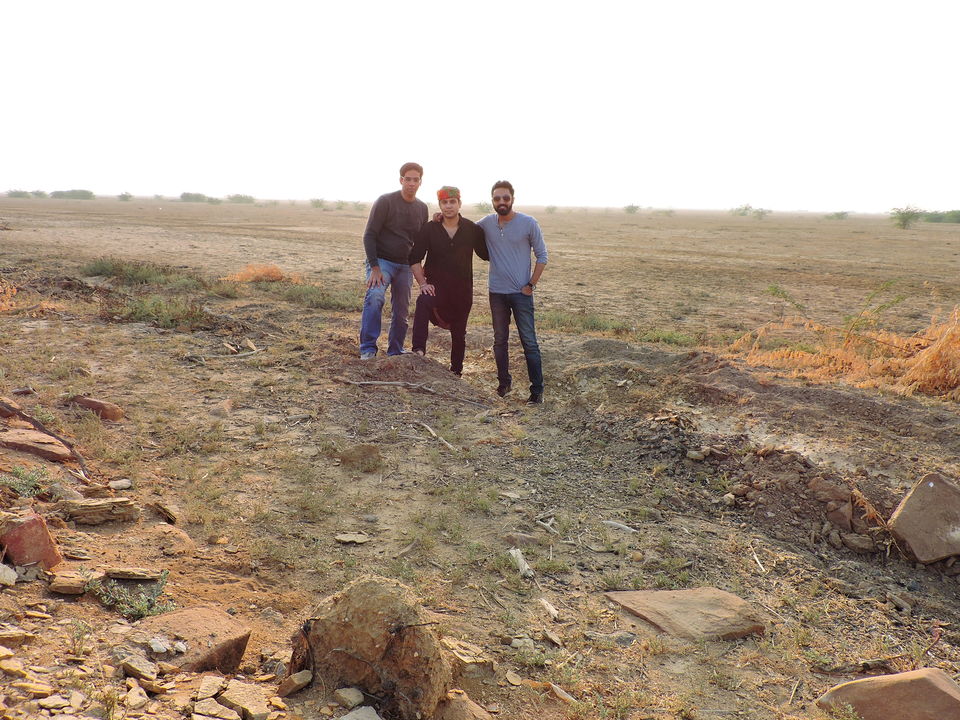 After checking-in at the hostel, as there were no other travelers who had arrived or were awake, so I left alone to see the Udaipur palace.
It stood magnificently basking in the glory of its ancient royalty and justified its echelon being termed as the pride of Udaipur city. The carvings and exquisite work was unparalleled and it left me in awe of the tremendous affluence and attention to detail:
From there I moved to the Lake Palace viewpoint which is another majestic interpretation of royalty adorned with modern features for a ultra-luxurious stay:
Speaking of the aristocratic artifacts of that era, it wasn't only the forts and palaces, but also the vehicles that formed an inherent part of the places' splendid history. A visit to the Vintage Car museum is a must-do to for the automotive aficionado and appreciate the extraordinary beauty and flamboyance of the bygone era:
Then there is the Garden of maids or Sahelio ki Bawri which has lush green gardens surrounded with uncountable fountains and flowers of all kinds:
The plan for a perfect end to the day was to witness the sunset by the Picholi Lake :
But the luck had more in the store when I reached back at hostel and found that X'mas party was about to begin! Though none of us knew any other, the common love for travel united everyone in a way which made it the party an absolute hoot to enjoy. We had cake, drinks, shared travel stories and made new friends to travel along with in upcoming sojourns: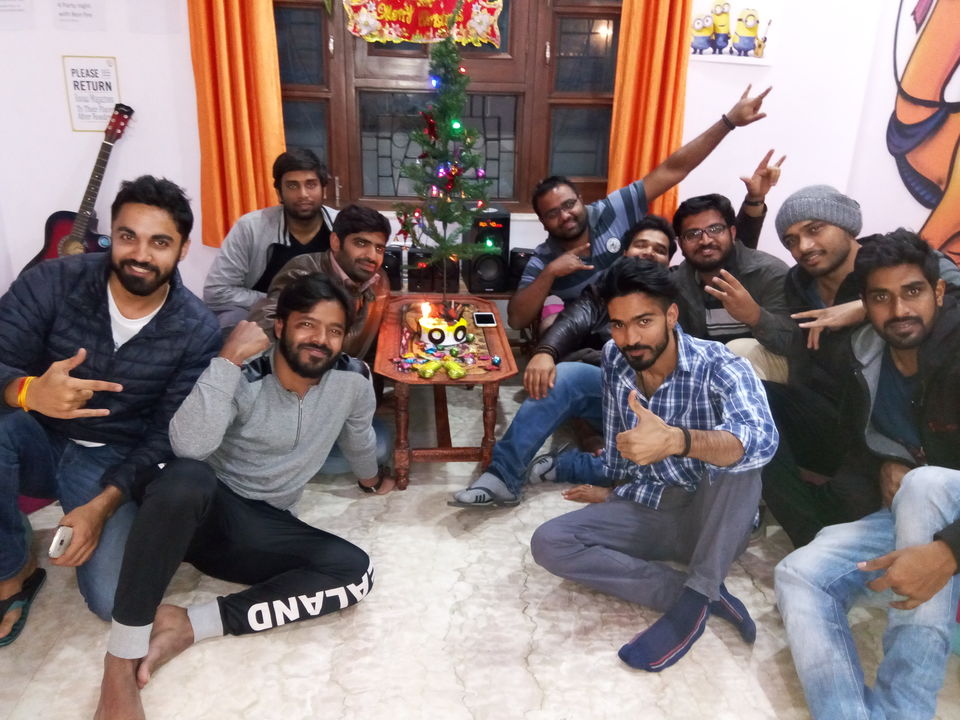 We called it a night as everybody had plans the following morning and sunk in our cozy dorm beds.
Day 2 : Udaipur to Jaiselmer
My friend arrived early next morning with his new Royal Enfield Himalayan ready to cover the long journey to Jaiselemer:
We traveled through Jodhpur and reached Jaiselmer late in the night along with the other friends from Delhi and checked into Backpacker PandaJaiselmer which had a sublime view of Jaiselmer fort from its rooftop:
We had a sumptuous dinner and discussed our plans for the next day with the friendly hostel manager. Exhausted from the long journey that day, all of us quickly dozed off into slumber.
Day 3 : Sam Sand Dunes
Now there is always that one thing in the entire trip that you had yearned to do since long. And now that the day had finally arrived to experience the colossal desert and bash through the sands, the excitement was justified.
We got up early and waited eagerly for our ride:
Our ride was the amazing Mahindra Thar which is capable of eating up dunes for breakfast. We were brimming with anticipation and our desert chariot just added to our already wide grins with its rustic and sturdy assurance to guarantee us the time of our lives: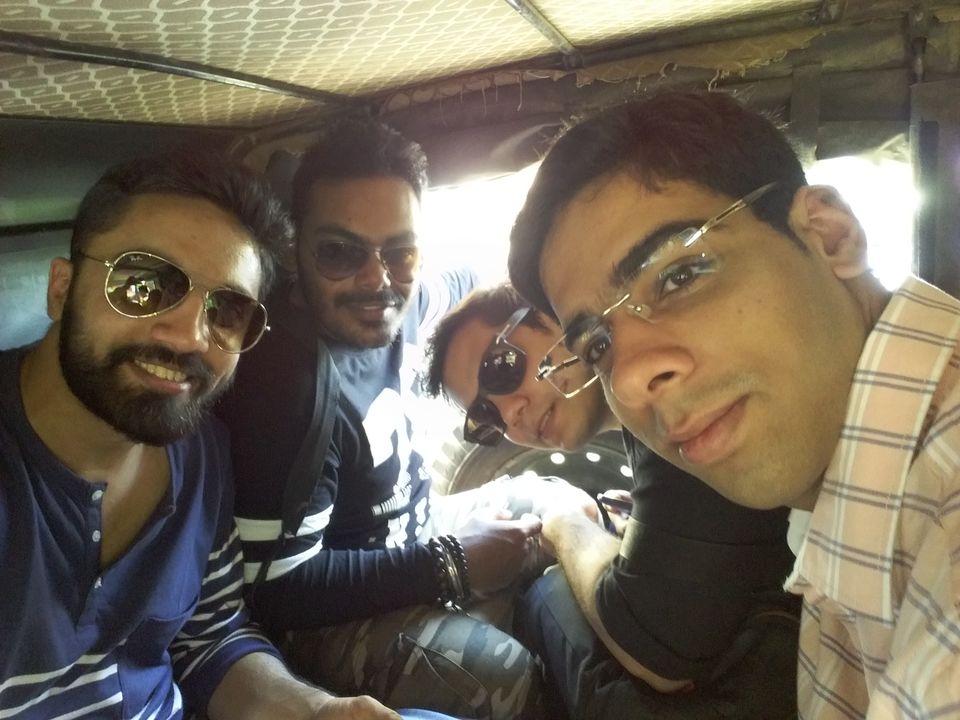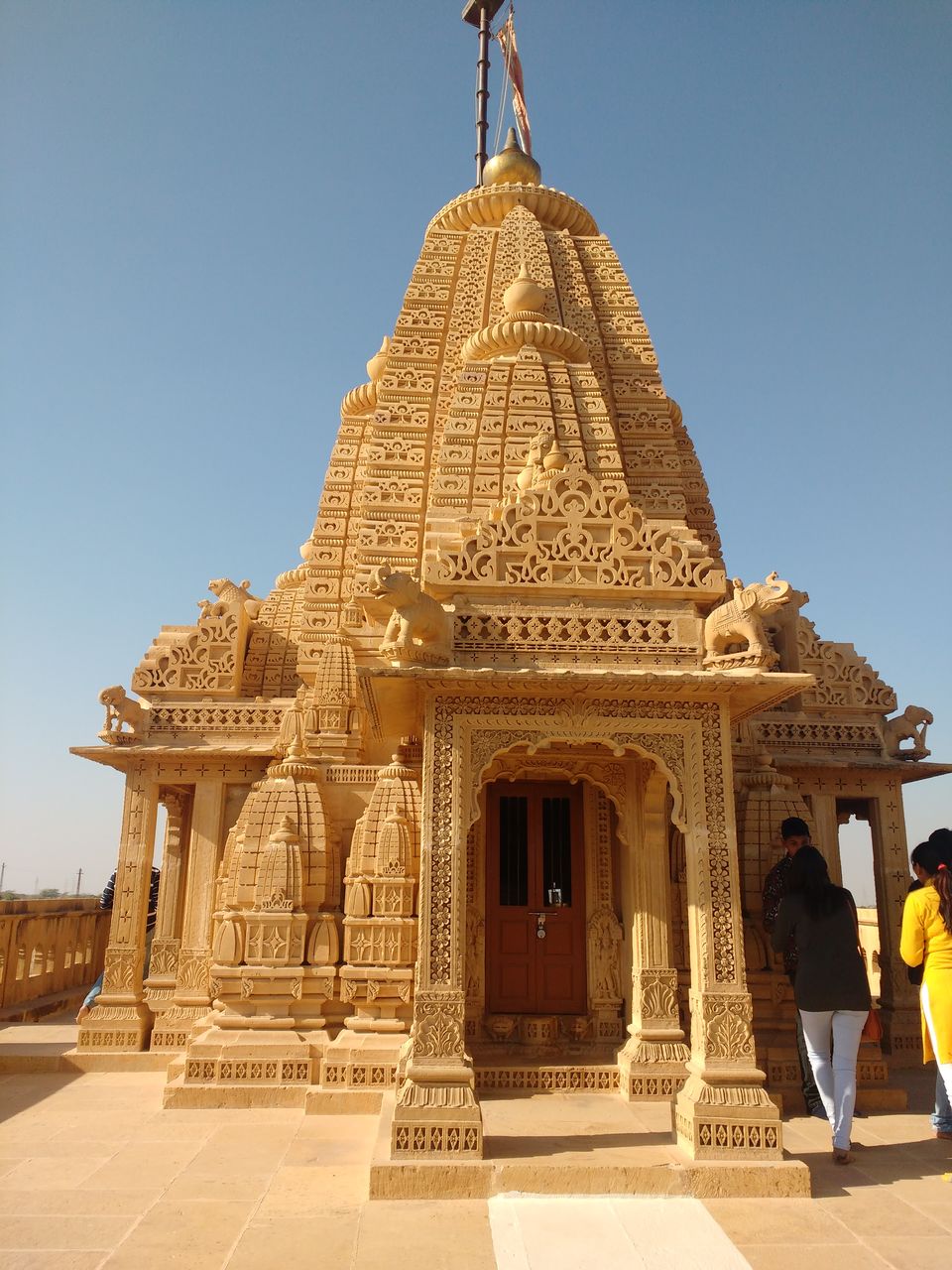 We reached the dunes in no time and from there, we had camels waiting to take us till our campsite:
Playing in the sand was always fun in the childhood, but to be enveloped by sand till horizon-sight was enough to rouse the inner kid within us and we started pulling off all kinds of stunts and crazy dance poses: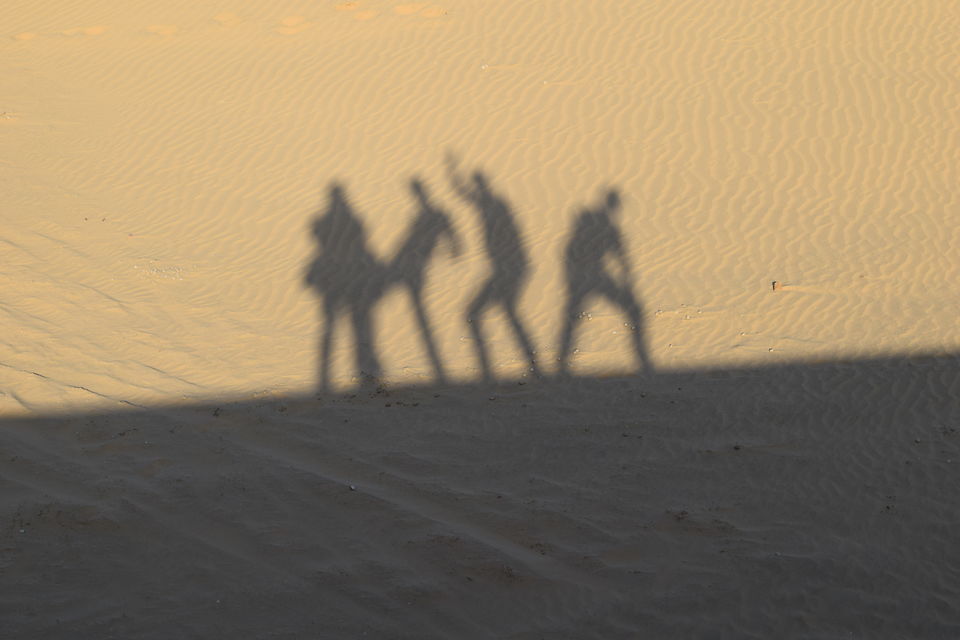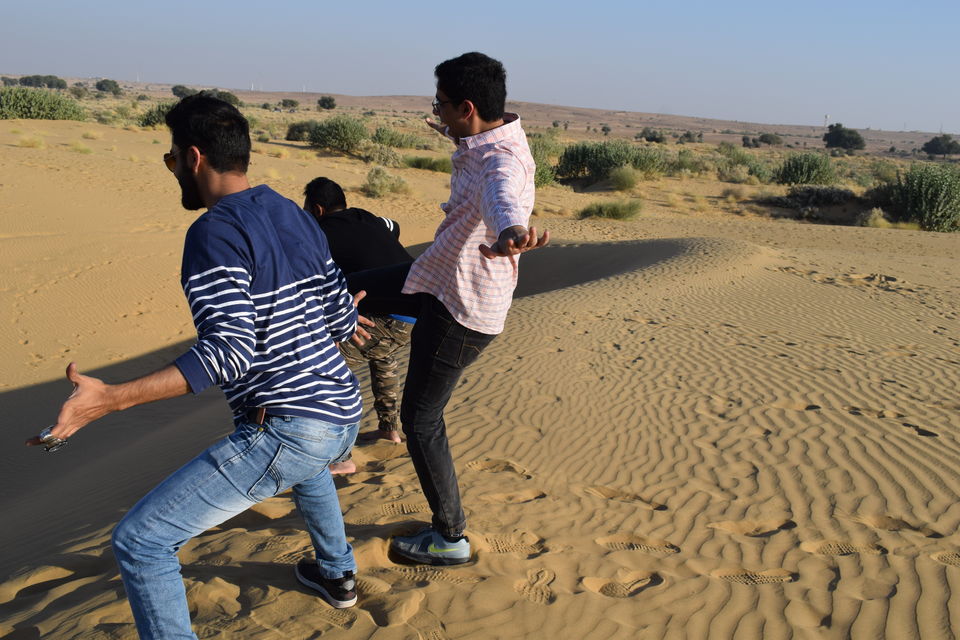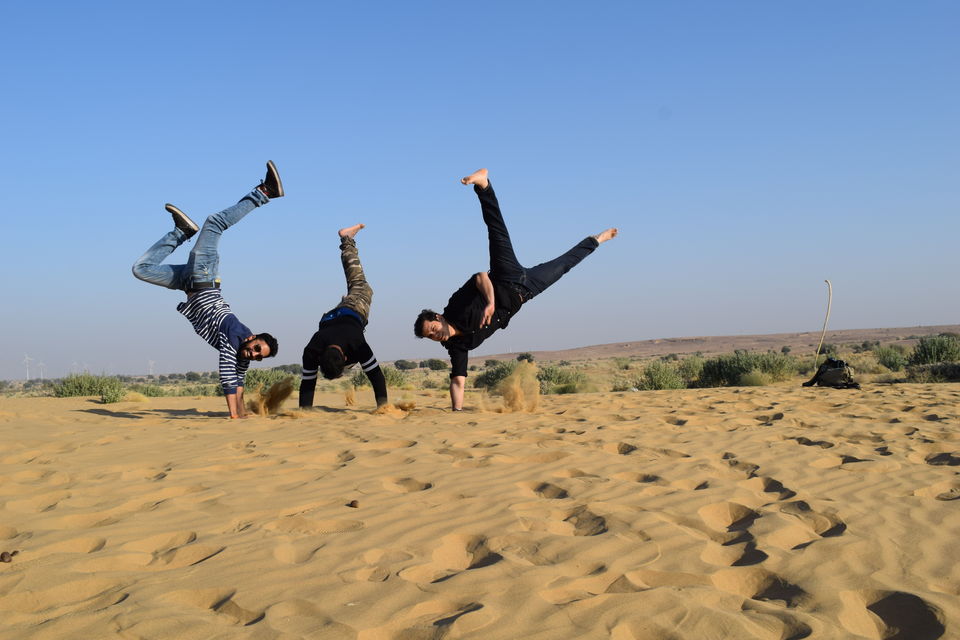 After hours of sand dance and photography, we continued on our path on camel-backs and reached our tents. After dusting off tons of sand we had picked up from our sand fights earlier in the day, we had some local delicacies to fill our belly.
However our thirst for witnessing the desert enveloped in moonlight took us back to the dunes where we sat on top of Thar's roof and drove around in the night: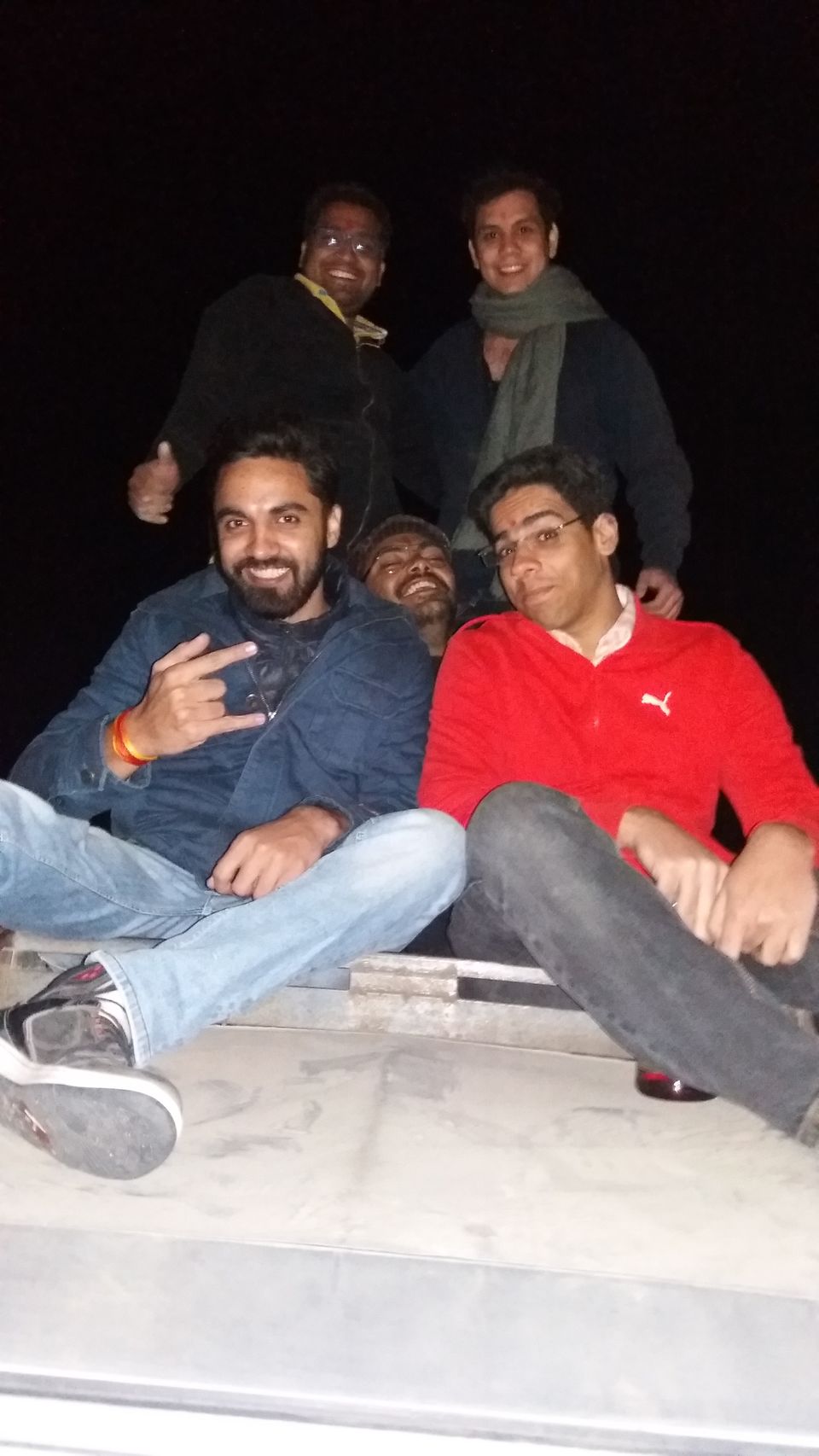 After a while we lit a campfire and were joined by some locals who hummed songs and shared their stories: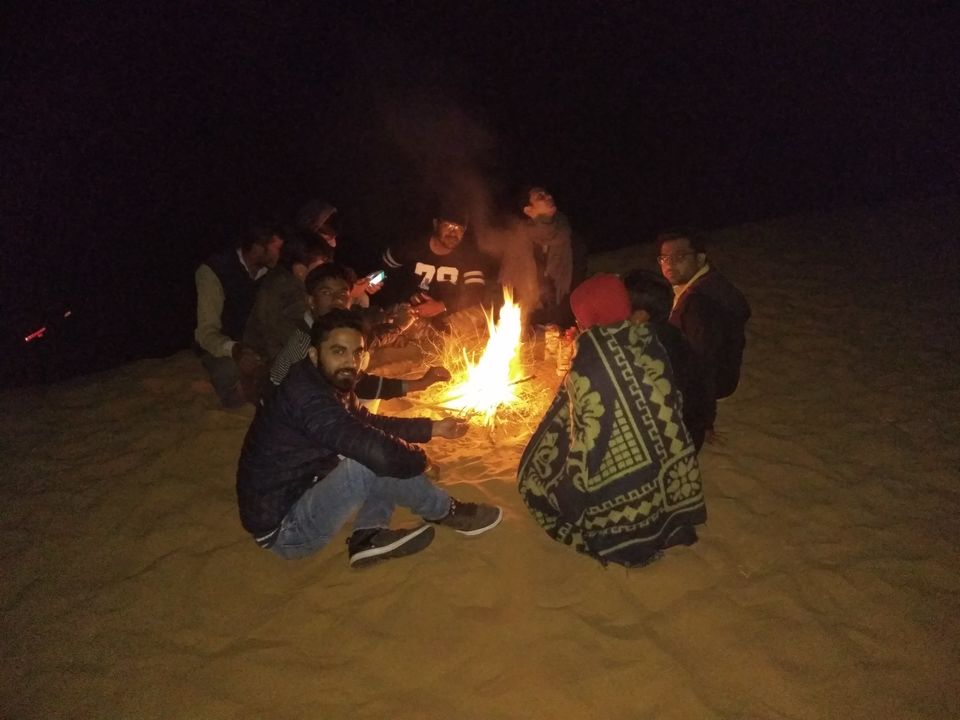 We went back to tent as we had dune bashing early next morning in the beloved Thar.
Day 4 : Dune bashing, Kuldhara and Jaiselmer
When the first sight of the day is a Thar shining in the morning sun waiting for you, its obvious you are in for a real treat. And so we jumped on the Thar and off we went to conquer the mighty dunes. It was immense fun being hurtled sideways and getting airtime bouncing over and around the dunes:
Next was a visit to the Kuldhara village, a ghost-town comprising of abandoned ruins from an earlier inhabited village:
After reaching the city of Jaiselmer, we went to the Patvo ki Haveli. The palaces built for the three Patva sons glistened like gold on the outside and showcased profound choice in accumulating all the luxuries of the world on the inside as well:
We hired a local guide for 100 bucks who took us around the palaces explaining the objects and artifacts that we had never seen or would have had imagined to be used or required in an average household: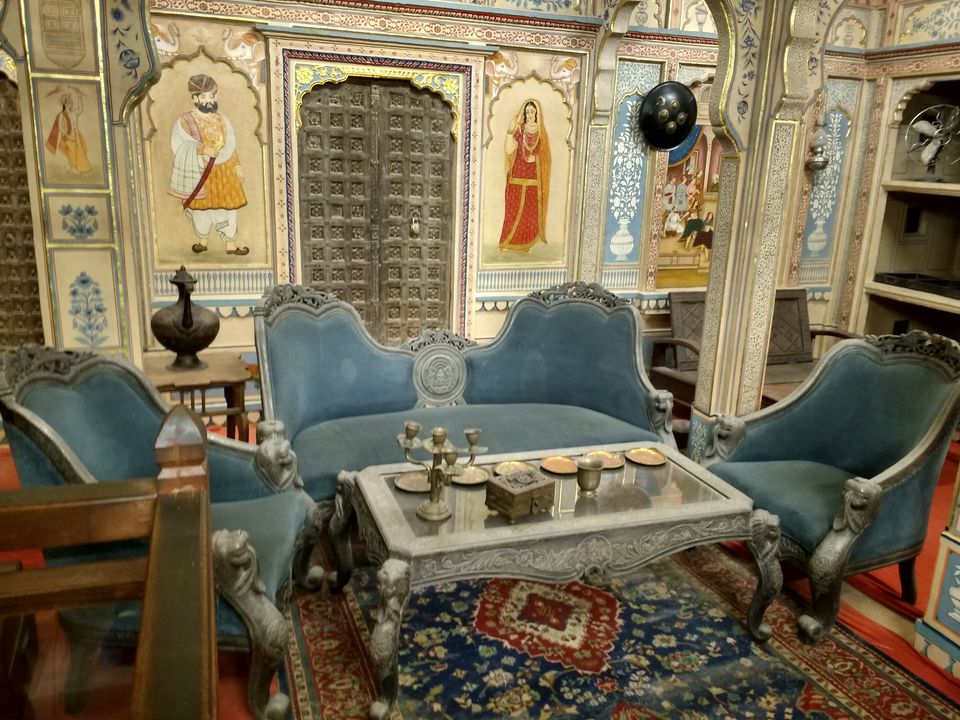 Afterwards we had a wholesome Daal-Baati Lunch and went to Gadisar lake to relish the last moments before leaving the city. The setting sun along with innumerable birds presented a picturesque scenery which gave a sense of calm and amazement at the varied faces of the grand city:
Although we didn't feel like leaving, there was one more checkpoint in our bucket list to be covered and hence we left the city in evening to our last destination of the tour.
Day 5 : Jaiselmer to Rann of Kutch
It was time to attend the famous Rann festival and we were right at the brink of new year.
It was a surreal experience walking on a flat land stretching miles outwards to infinity and at the same time makes you wonder at the beauty of nature's varied topographies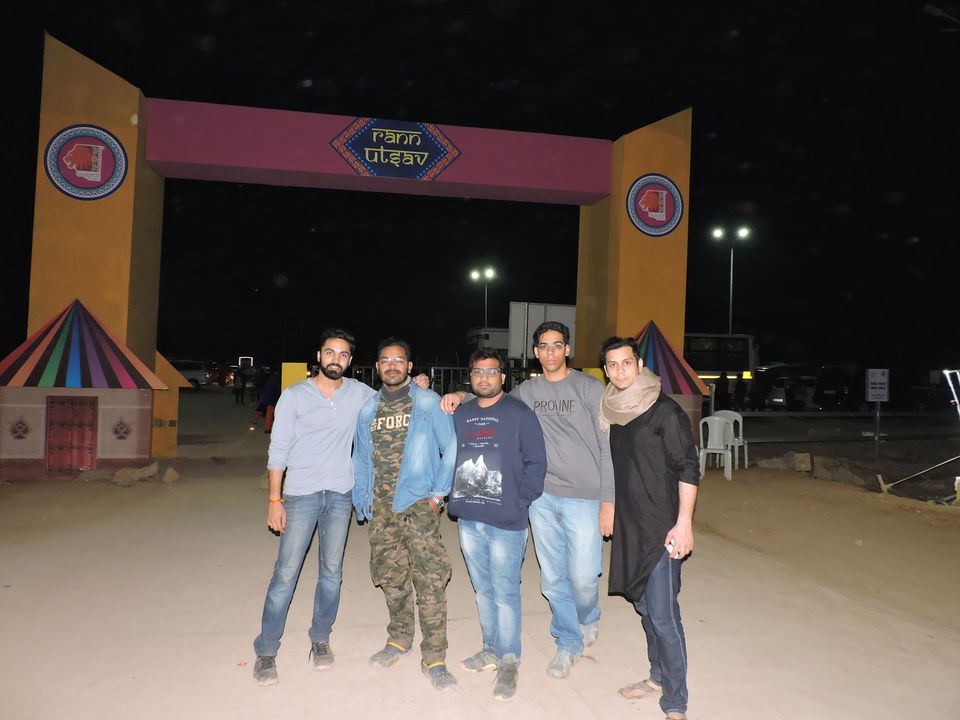 The Rann festival felt like we were transported to an entirely different world on its own where thousands of people had gathered to enjoy and appreciate the varied delicacies, local performances and artifacts. The energy at the place was infectious and we had a gala time making our way through the galore offerings of the festival: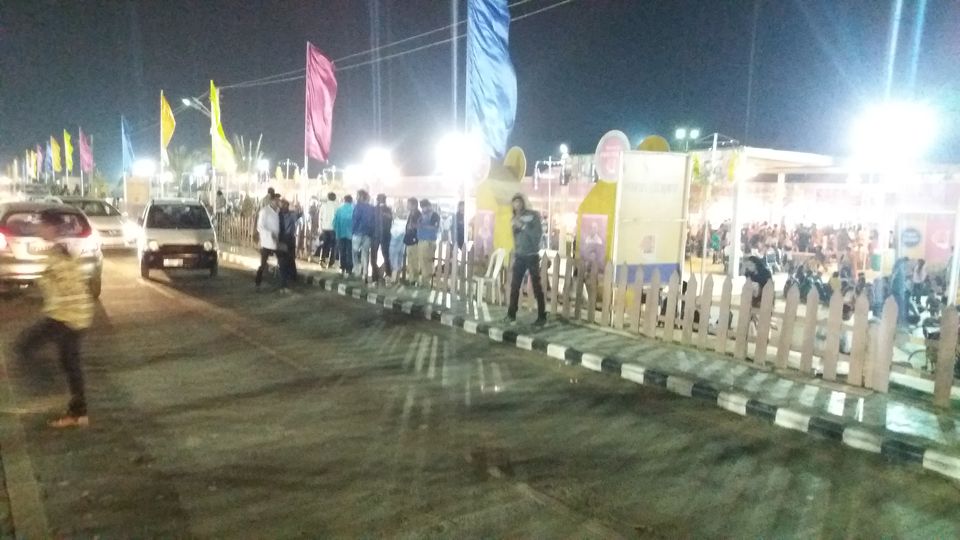 Having celebrated the new year in such a magnificent manner and road-tripping 1500 kms across Rajasthan and Rann gave us a deeper perspective towards the elaborate heritage and cultures this country has to offer.
It also inspired us to take a conscientious New year Resolution for 2K17 : To cover more miles, travel more frequently and discover new lands :D
****************************************************************
Parting 'shots' ;) -