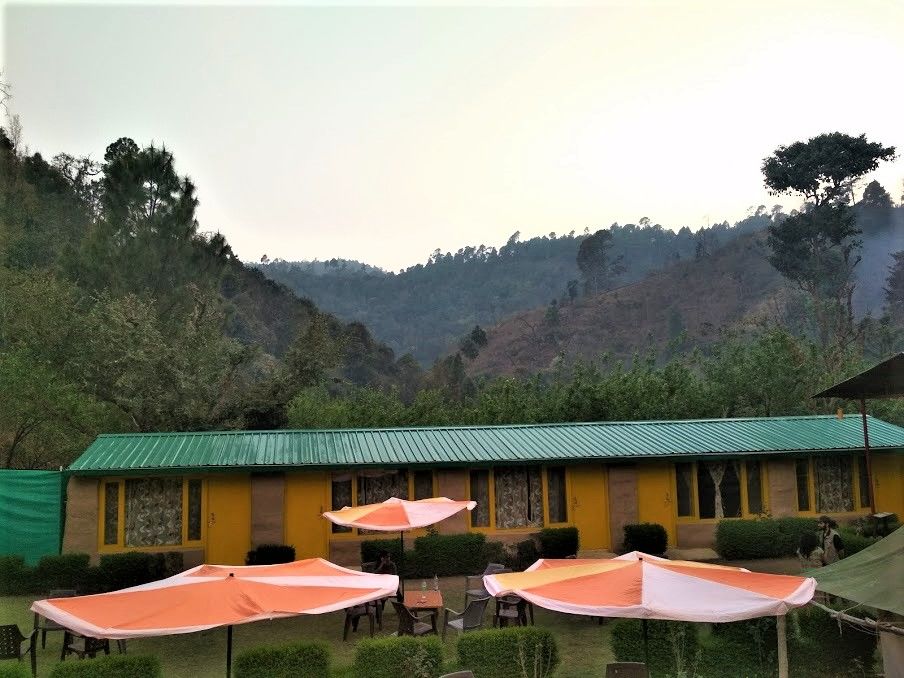 I was recently looking for a place to go birding and also combine the vacation with some mental peace away from the noisy, touristy places and also close by which can be covered over a weekend from Delhi. Regions around Nainital are undoubtedly great destinations for birding but commercial activities in the areas and too many tourist footfalls have taken away the peace and calmness of the regions. That's when I came across this camp named "Camp Sparrow" in the town of Jeolikote which had gained popularity as a new birding destination. Looked up for reviews and images, it was appealing so I booked my stay with them.
Only after arriving at the camp I could experience how beautiful the place in actual was! I was surrounded by mountains all around, colour combination of earthbag houses tents and common area were so calm and camouflaged with nature, I even learnt the camp almost entirely was built of eco-friendly materials like waste gunny bags and earthy components. Owners of the camp gave special importance to sustainability, conservation of nature and wildlife which impressed me the most. There was a small orchid right behind the camp which was a home in itself to many beautiful birds, walk down a few meters to find the stream so pure and flowing in all her bounty. Mountains all around, sky full of stars in the evening, warm cup of tea and delicious pakoras were revitalizing every sense within me. This is the place I needed to be, was glad I made the right choice and indeed it even exceeded my expectations.
Coming to birding and photography the opportunity is in plenty, Camp sparrow has its own hide in the backyard so one can do birding in there as long as he wishes to. There were different trails in each walk which was again a surprise to me as I didn't expect such varied paths of birding within the town itself. In the second half of November, even though there was an onset of winter already we could easily spot 100 different species. This made me wonder about the birding opportunities in the actual season I.e during the summers this place must be a hotspot for birding! Our guide was very knowledgeable too who let us know about www.jeolikotebirding.com which has a checklist of about 180 birds and also about a trailer on YouTube showing the birdlife and story of jeolikote as a whole- https://youtu.be/Wag7przdD4U.This I must say is an amazing composition of the prized assets of the region.