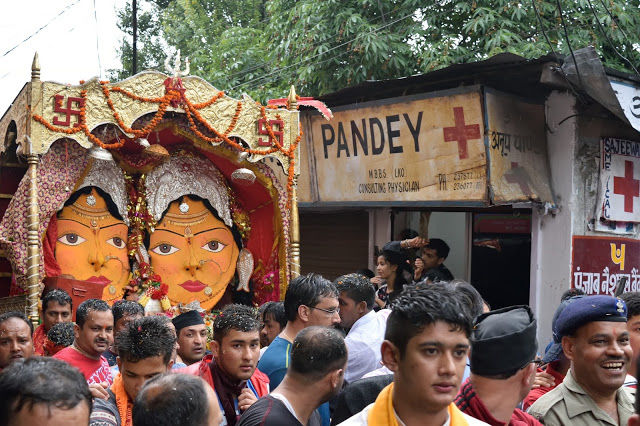 Continued from Day 2 after trip to Pangot.
It poured as returned from Kilbury. The roads started to get jam-packed because of two reasons. One rains, and two the last day of Naina Devi Mela. The plan for more local sightseeing had to be canceled. Suddenly God made her presence felt. Nanda Devi Shobha Yatra (procession) crossed our hotel. It was the last day of the Nanda Devi festival before idol immersion in late evening. The energy, the enthusiasm and love of devotees was worth watching as they pulled the rath (chariot) of Naina Devi Maa across the steep lanes amid continuous drizzle.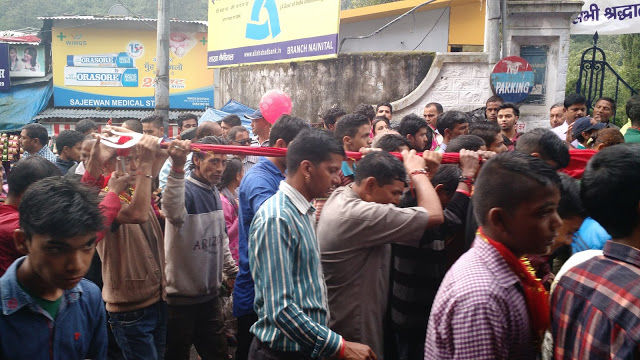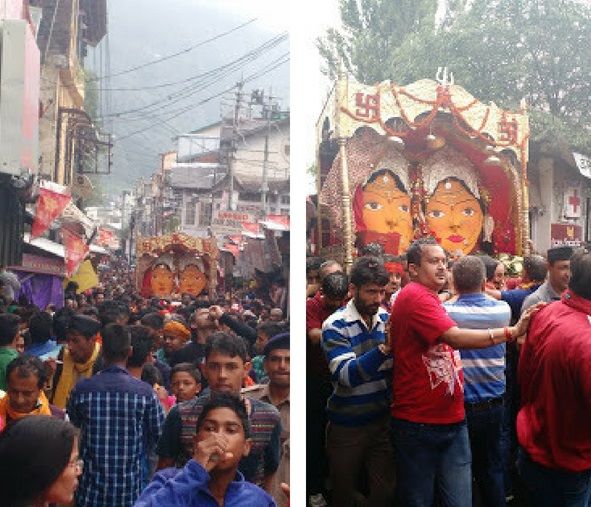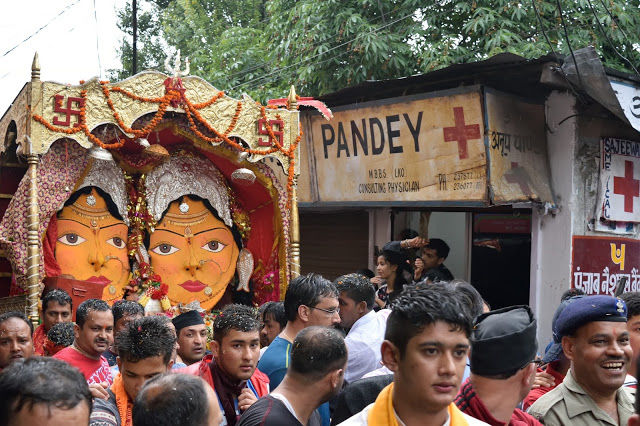 Devotees swayed singing folk songs and praises for Devi Maa. Prasad was generously distributed to everyone on the streets. Each year the festival is celebrated with much pomp & flare and Devi Maa is given a warm farewell, promising to celebrate next year again.
As rain halted, we sneaked out on Mall road looking for something unique to eat. We enjoyed tea and soya momos. ( Veg for a change. Husband please take note of this!). It drizzled again as we took shelter in a tea stall.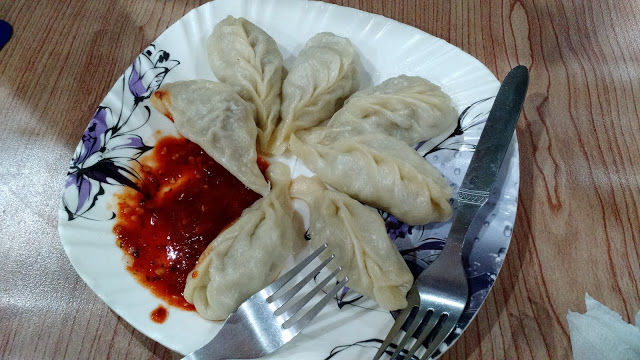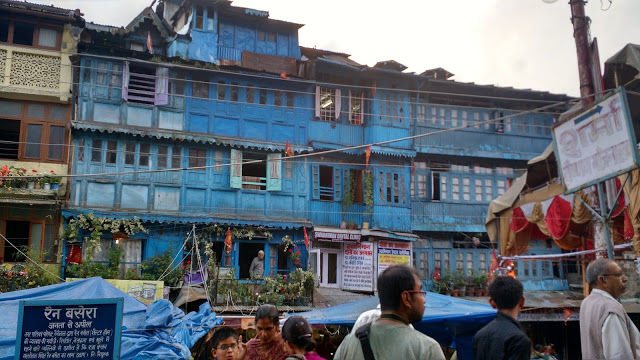 We rushed back to our hotel and stayed in till dinner time. Special mention of Hotel Treebo Cloud 7 for the things they have in their rooms for guests. Super cool !!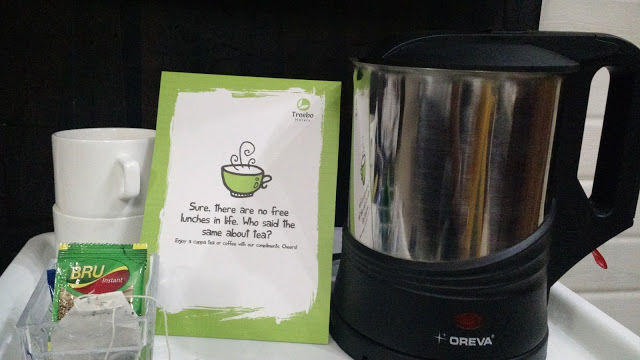 As soon as we stepped out around seven it started pouring again, adding to our worries for next day. It was indeed very sweet of the hotel manager to lend us his umbrella for the evening. We headed to China Town restaurant for dinner. The place is usually crowded with a queue in waiting always. The love for momos took husband there and we had a big meal at very economical price.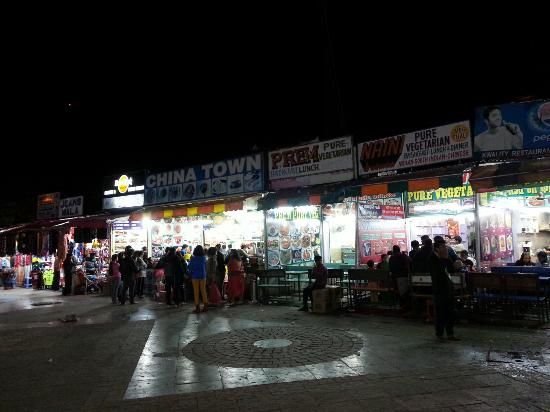 Don't expect hygiene, nice ambiance or quick service in the overtly crowded eating joint. Looks like a shabby canteen where people huddle like chickens in coop. I found the food average, just like any eating joint serving Chinese. Half my appetite died looking at the poor sanitation. Back of my mind, I prayed we don't get an upset stomach.
Shops in Nainital shut as early at 8 pm. Streets start to bear the deserted look by 9 pm. Our plan of buying an umbrella was shattered hence. We were worried for next day which we had scheduled for Bhimtal and Naukuchitaal. How will we carry our expensive camera? The thought was killing us!
Being in the travel industry and having a travel freak wife (yay), husband strategizes holiday very well. So we had premeditated the next day in sequence- a boat ride early morning, breakfast on hotel terrace, check out at eleven, visit the nearby places whole day and board Delhi bound volvo from Haldwani in evening. The success of the arrangement was totally in the hands of Rain God.
We crashed around 11 pm while rains lashed the silent streets, non stop. Stay tuned for Day 3...
P.S - This trip was in September 2016 By the way this post made it to the top blog of the day on Indiblogger home page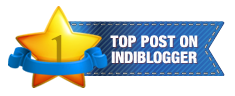 Frequent Searches Leading To This Page:-
Best Tour Packages For Nainital, Tourist Places Near Nainital, Nainital Sightseeing Tour Packages, Trip To Nainital Package, Nainital Tour Package Cost, Nainital Tour Travel Packages, Nainital Local Sightseeing Package, Nainital Holiday Packages Families