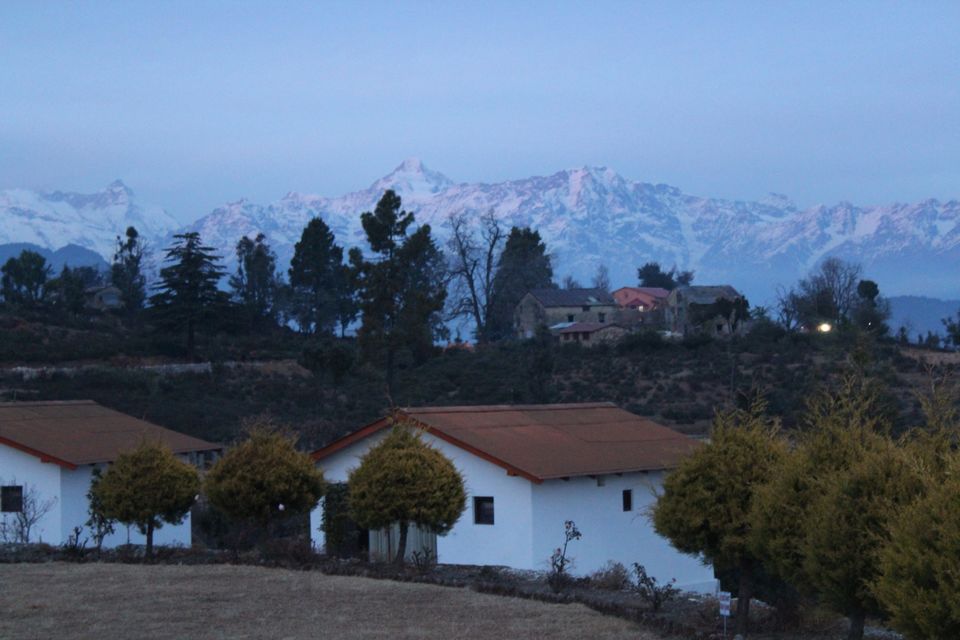 We had gone to Nainital for a friends wedding and after getting done with the reception, we had a couple of spare days in hand. We decided to go to Chaukori as we had explored a lot of other places in Uttarakhand during our previous trips.
Chaukori is a small hill station in Pithoragarh district of Uttarakhand. Once it was famous for it's tea gardens during the British Raj and today all one can find is wild tea plants growing and no longer being used for commercial purpose.
We had decided to stay at KMVN Tourist rest house mainly because their location is generally the best. The only other option out there was Ojaswi Resort but slightly on the higher side. We reached there late in the evening when sun was almost setting. We had already paid a token amount as advance in Nainital at KMVN Booking Office but had not decided on the room category.
Room Categories
They have Deluxe, Super Deluxe and Executive as their 3 room Categories for Double Bedded rooms priced at 990, 1300 and 1400 respectively. Apart from that they also had a 4 Bedded Super Deluxe Room priced at Rs 1400. These all were located in the main section of the building where the reception was but looked very oridnary and had no substance to them.
Apart from these there are cottages that are priced around Rs 1700 for Double Bed.
Cottage
We then asked them to show us the Cottages and we instantly fell in love with the woodwork and decor. They cottage was quite cozy and yet spacious enough me to accommodate an extra bed. Initially they were relucant to provide us with extra bed in cottage as they had 4 Bedded rooms for that but we managed convincing them. I guess there were 5 of these cottages which were adjacent to one another in a straight horizontal line. The best part about these cottages though being that they had huge bedside windowpanes which offer a phenomenal view of the Majestic Himalayas especially during the early morning.
Evenings can be spent here by the bonfire which the Tourist Rest House will arrange on request and they even provide room service for food. There is not much to be done here but to be awestruck by the beautiful view of mighty Himalayas and try to remember as many of the five peaks of Panchchuli, Nanda kot or Nanda Devi as one can. They also have a Watch Tower in the rest house and one should definitely wake up early in he morning to witness the sunrise from there and they have a guide map of peaks which helps the tourists to identify the peaks. Breakfast is quite basic with Parathas, Omlettes and Tea but one would really enjoy them in a cold chilly morning.
Overall it was a beautiful get away to an untouched territory with very few tourists and nothing to do but just sit in the lap of mother nature and enjoy the beautiful landscapes vistas it had to offer.
Fact Files
How to Book : Booking can be done at any KMVN Office by paying some advance.
Distance : Located at some 183 Kms from Nainital and takes roughly 6 hours by road
Nearest Rail Head : Kathgodam (273 Kms)
Elevation : 2010 m above Sea Level