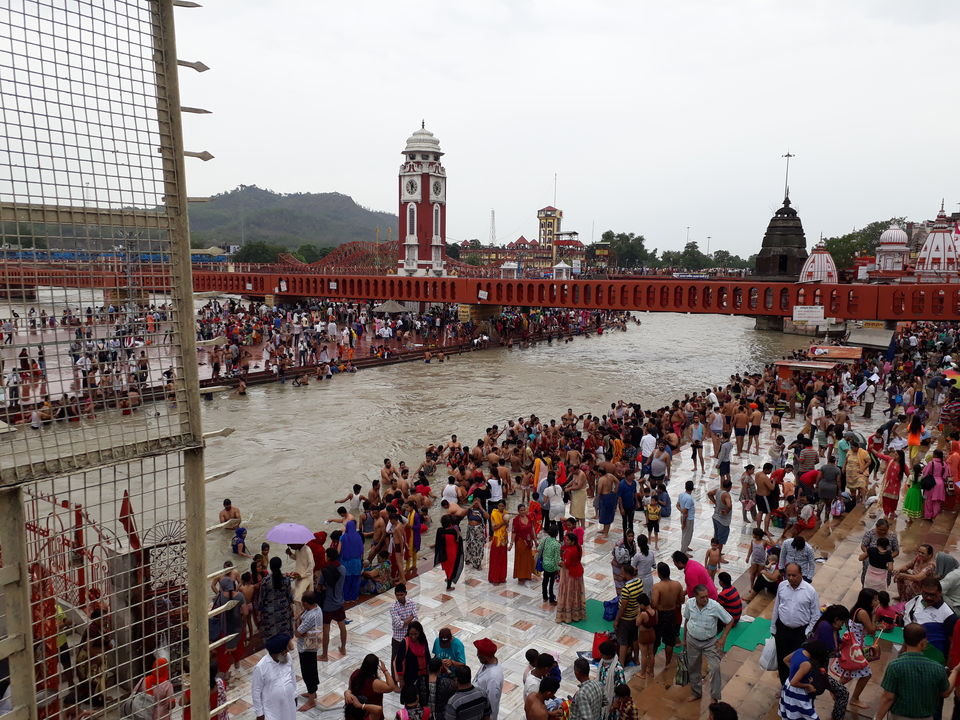 'Haridwar' here 'Hari' means 'God' and 'Dwar' means 'Door'. Haridwar is one of the most sacred and holy cities of India. Situated at the bank of holy 'Ganga' river. Visiting in haridwar and bathing in Ganga is one of my childhood dream that i finally fulfilled. So from Amritsar we took our train around 10:00 in the night, as you know it was our strategy to travel more in night so that we can explore the city next day. On june 7,2017 we reached Haridwar in the morning as it was june (monsoon month) so as we have expected it was raining there but not heavily. We came out of the train and for a moment i just lost in my thoughts after having a look at the place which was very well supported by the beautiful weather that day. Guess what the first person whom we asked about how to reach at Ghats was a Sadhu and it was no strange as haridwar is home to lakhs of sadhus in India.
As we came out of the station we had breakfast namely, Kachori with potato curry and it was good. But as it was still raining so it was hard to find a tampo or rickshaw. (Suggestion - better take a umbrella or raincoat if your are travelling in the month of june to august mainly.)
During this time, after having kachori and looking for tampo we started talking to some locals asking about haridwar and its history. (its my favorite thing to do during travel as you learn alot of facts about the place and thats for free. ;) )
As the rain stopped we hired a tampo from railway station to ganga ghats and it charged us for something 20Rs. per person. As we reached near the Ghats it was like OMG! such rush as there were loats of people.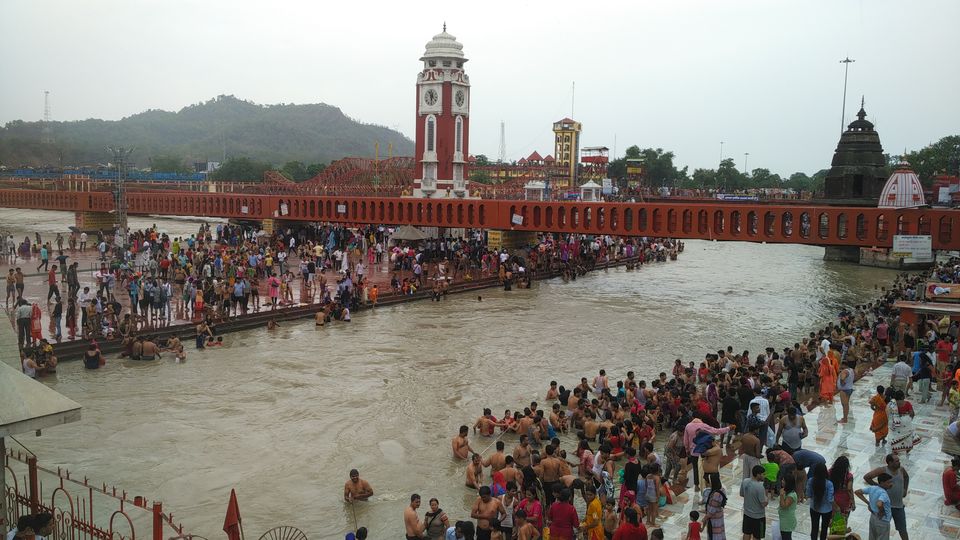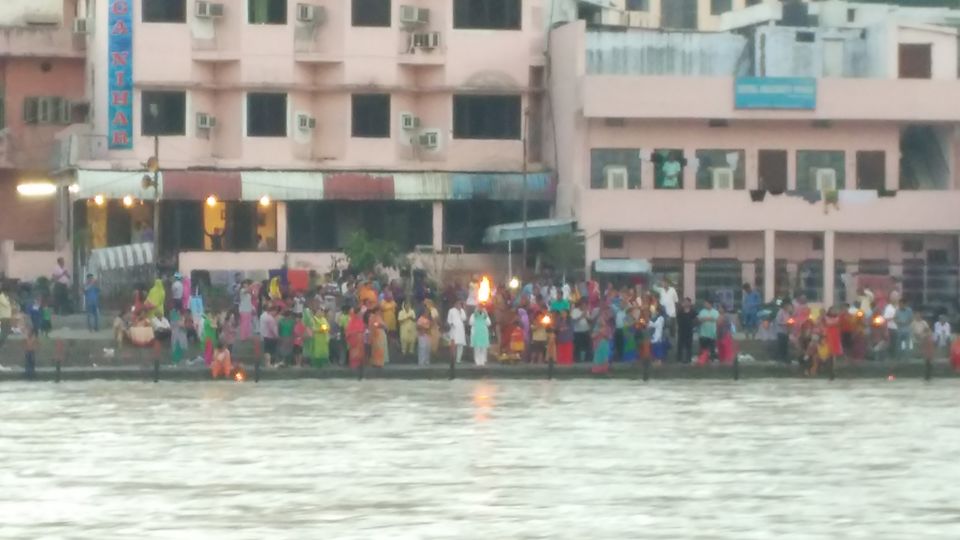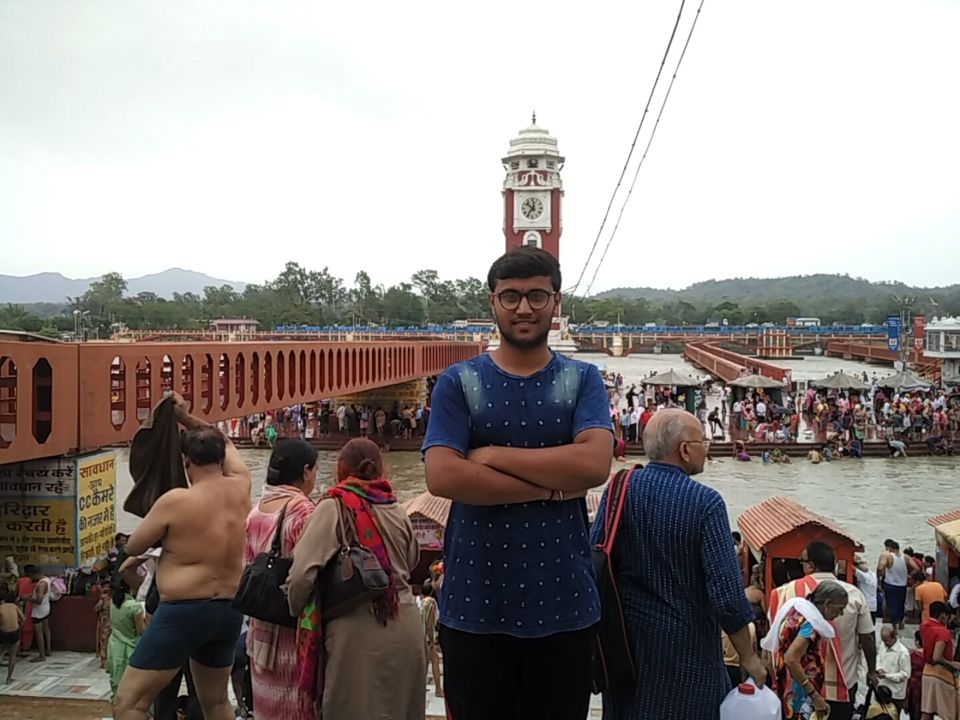 After reaching the ghats the first thing we did was to find a locker yes locker it is better take a locker than paying for room which was basically of no use as you have to just keep your bags there. One funny thing is even many 'pandas' who use to sit there asking people for kriya-karm, they also offered us to keep our bags safe untill we take bath in the holy ganga but when we asked him for money he said 600 bucks for five bags and we were like OMG! why dont we book a room. But later as we asked some people we find a locker at shop which charged us for some 100Rs.(5 bags) for 1-2 hours, which was the best we had to kept our bags untill we take bath and it was cost efficient too.
After changing we reached at 'Har ki Pauri Ghat' and such a mesmerizing moment for me, as i was just about to take a dubki in Ganga my friend who took a dubki before me shouted "bahut thanda hai" (it is very cold) and ya it was truly very cold and due to rain the flow of water was very rapid and fast. (advice do hold the chains while taking a bath in the Ganga, as the flow usually is quick and stairs underneath are used to be very sleepery).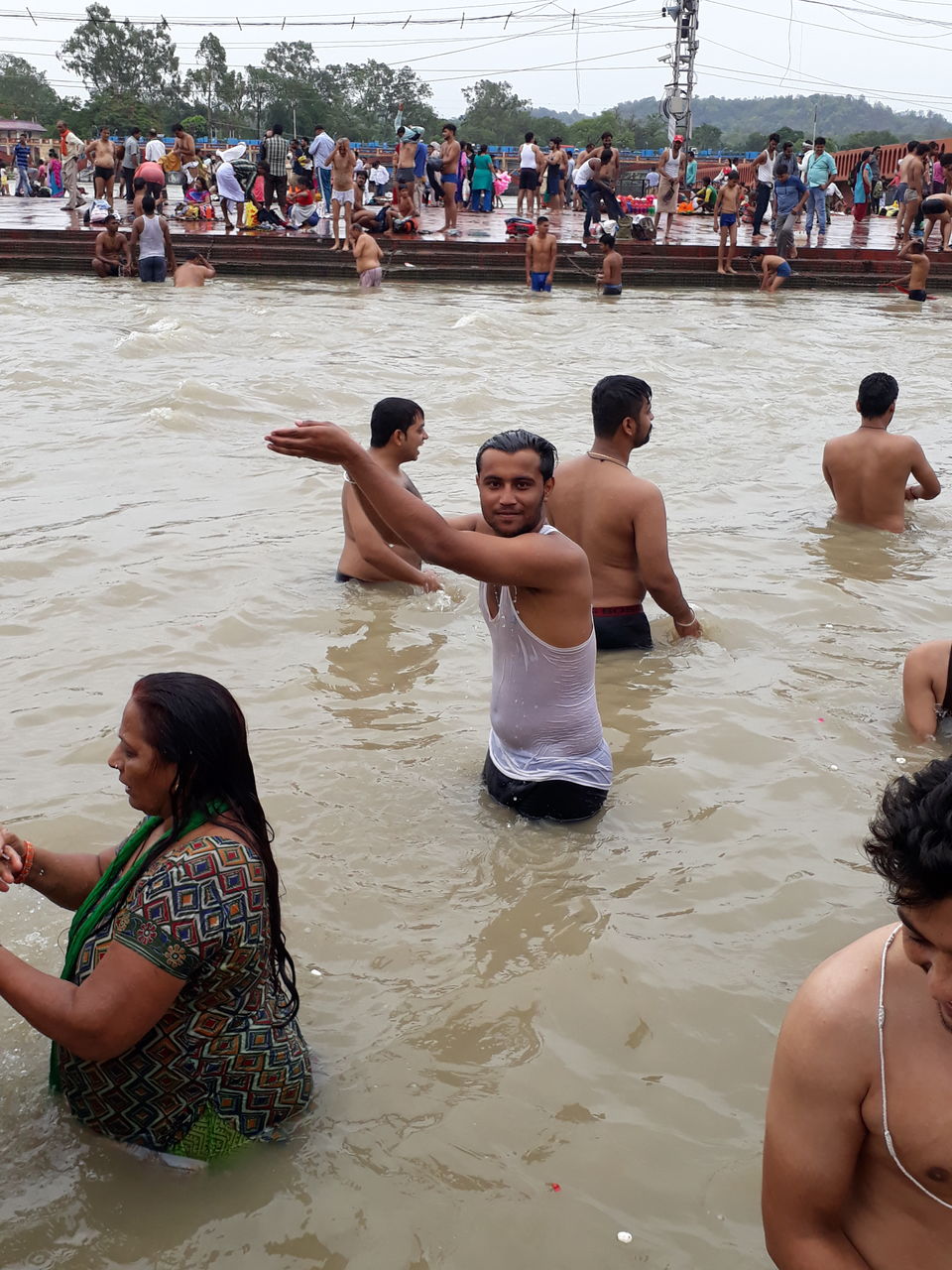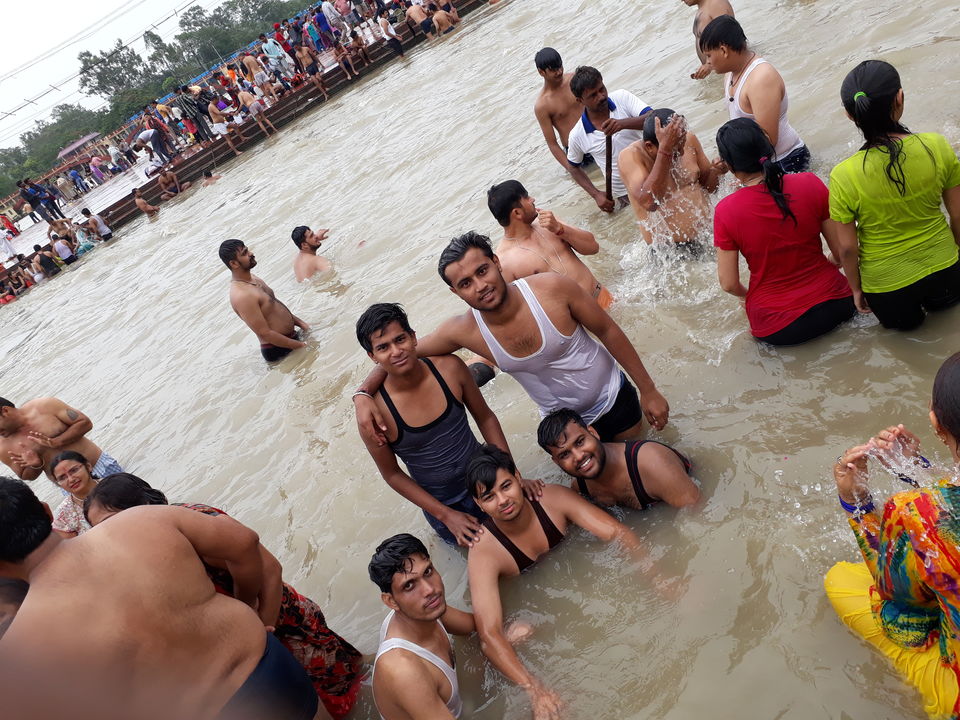 Dubki after dubki , dubki after dubki and my fear of cold water just vanished. And what a feeling it was, I was just hearing nothing for seconds and completely lost in the moment.
For around 1 hr we enjoyed alot in the water and after coming out we were all having that feeling of satisfaction in our heart.
As we got ready and had our lunch(puri and aloo sabji) for some 60Rs. each . The clock was ticking 12:30 so we canceled the plan of going to Savitri Mata temple which is situated at a hill and it takes 100Rs (round trip) for a person to reach there via Ropeway. Another outstanding place from where you can enjoy the complete topographical view of Haridwar.
So before leaving for Hrishikesh we visited all the temples at Ghat including the famous Ganga Temple, clicked some photos and created memories for lifetime.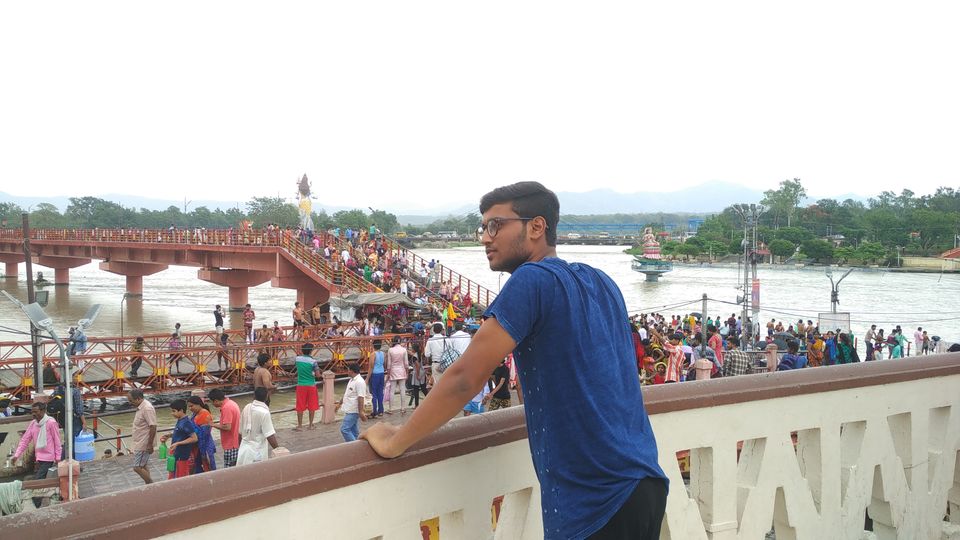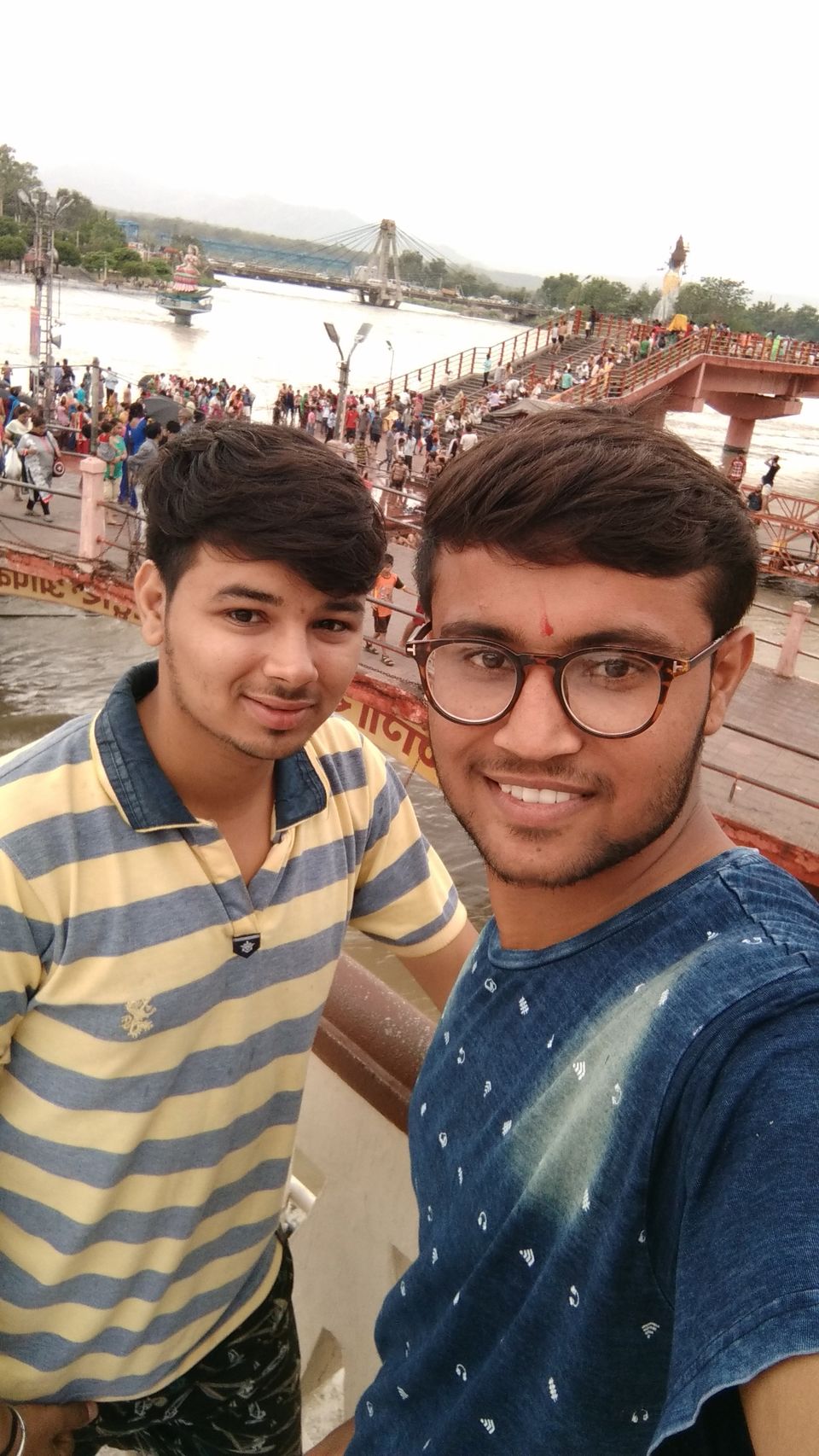 So again as we travelled in general compartment from Amritsar to Haridwar the train ticket costed 1 for some 300 Rs + 20Rs tampo upto ghat + some 20-30 Rs for locker + 100 Rs food + 50 Rs other expenses. And if you go to savitri temple it will cost you some 150 Rs more.
This is all from haridwar next time i will be sharing from Hrishikesh !!
I hope you like it. Thanks for reading. :))