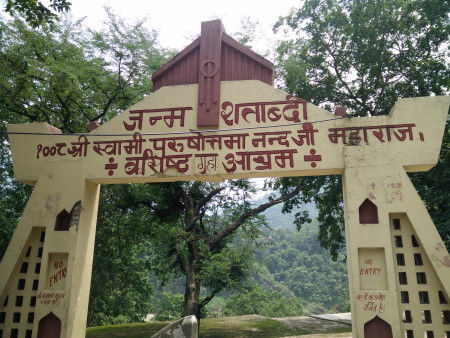 Continuing my genuine efforts to show the other side of Rishikesh, here I am; writing on probably one of the greatest places to meditate on Earth – Vashishtha Guha ("Guha" in Garhwali language, spoken mostly in Uttarkhand, means "Cave"). There is an Ashrama built near this cave by Swami Purshottamananda. He was disciple of Swami Brahmananda, who consecutively was a direct disciple of Swami Ramakrishna Paramhansa.
Situated on the banks of the mighty Ganges and surrounded with mist forest, this is the place where Sage Vashishtha meditated for hundreds of years along with his wife. Sage Vashishtha is told to be one of the seven sons of Lord Bramha. Also, this is the same place where Sage Vashishtha tried to kill himself in Ganges but the river refused to take his life. Hence, he decided to stay at here and meditate in the cave besides the river bed.
The Ashrama is located around 25 Kms from Rishikesh and 17 Kms from Tapovan. This is on the busiest road going outside Rishikesh towards Joshimath and Badrinath, so it is not recommended to hire a private taxi (unless you are feeling like direct descendent of Ambani family) as there are lot of shared taxis and buses going to Srinagar as well as Joshimath. It is a mere amount of 15 INR as compared to 700 INR of private taxi. Request them to stop at Vashishtha Guha Ashrama (Near Byasi Village).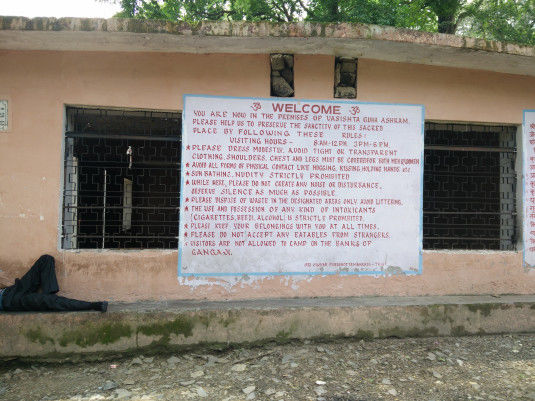 Reaching Ashrama one finds couple of cars and bikes parked randomly; you are at right place. It is a small descend of 15 minutes, crossing a small inhabitation of local people, you are directly looking at the Cave. There's an Ashrama near the temple. As I reached the Ashrama, surrounding drove me into past.

Two Hours Back (10:00 AM):
God! I Am hungry again, I thought checking my poor wallet who never saw pocket full of money. I was on budget trip and every penny spent was increasing the worry. Rather than spending on food, let me visit the Ashrama and have a good dinner instead, I placated myself.
Two hours later, there I was, facing a Langar ("Bhandara" or "Langar" is the way to appreciate all the visitors with free meal in Gurudwaras and Temples). People from nearby villages had flocked the area. I hesitated to take a plate but an old man persuaded me to have something to eat. It was god speaking in the form of that old man.
This whole experience changed my perspective of life. In our daily lives, we always complain to god of not giving a particular thing or person. We always are unhappy with our lives, our jobs, friends and everything. But we forget to thank god for everything we have. "No one gets less than or more than his/her destiny" is true. So, be positive, do your Karma and wait for a Langar which is being prepared somewhere for you.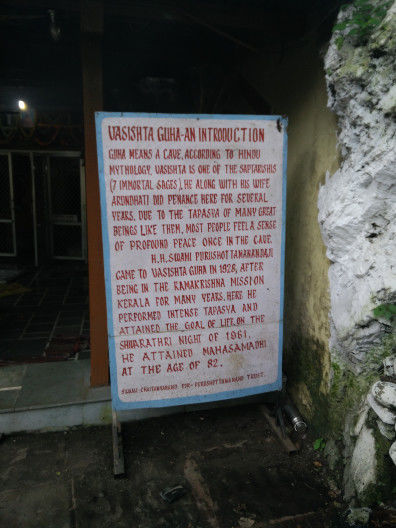 Entering the Cave temple, you see a photo of Swami Ramakrishna, Shri Maa Sarada Devi and Swami Vivekananda just above the entrance of the cave. As one goes inside the cave, they experience of phenomenon of pupils spreading out to increase the intake of light. It is a matter of couple of minutes till your eyes are acquainted to the darkness.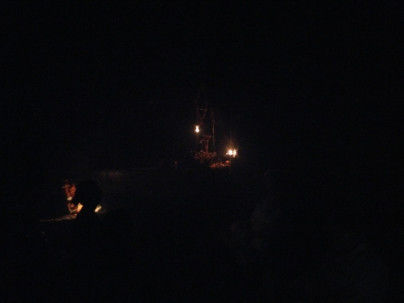 There is a Lingam at the end of the cave. A nicely laid carpet welcomes the devotees to perform the meditation at the same location just like Sage Vashishtha. In that darkness, natural cooling by wet interior, dimly lit lamp in the corner, sheer quietness and immense musky scent of cave are some of the reasons that one finds the inner peace. One can meditate here for hours.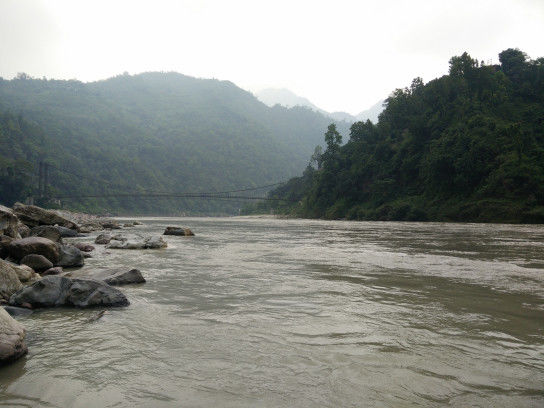 After an hour of rejuvenating meditation inside cave, I went to riverside. Oh, the Ganges flowing besides you with towering mountains in background and drizzly surrounding – heaven. I sat there – Blank – watching the beauty of Ganga and Himalayas for an hour.
This was a trip to heaven and back. A great place for rejuvenation of inner self, a great place to retrospect and introspect – A place outside hotchpotch of the bustling town.