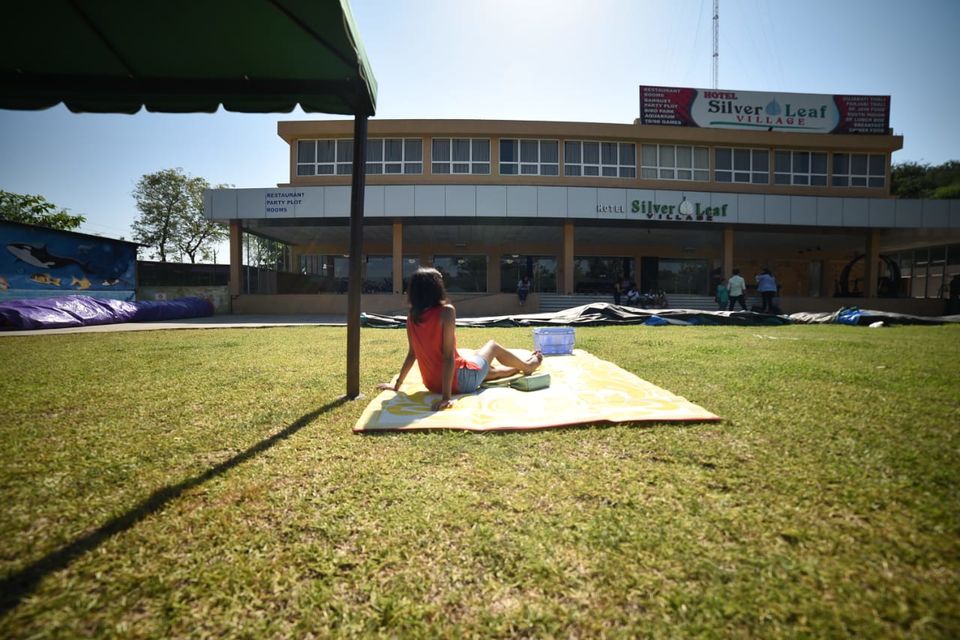 While the beaches have always called out to me, this time it was the jungle. Silver Leaf Village - A location not very far from Vapi but can be distinguished as an offbeat destination in itself. What was thought to be a staycation just to stretch my limbs turned to be an experiential staycation and here's why!
The Silver Leaf Village at Vapi is situated at about 22 km from the main city of Vapi, Gujarat. It is surrounded by lush green jungles and shares a compound wall with the Vapi - Dharampur highway - easy to locate but unconventional in its own way.
Spacious lobbies pave the way to our room. These are in accents of elegant beiges peppered with royal blue motifs. What can't go unnoticed are the traditionally quilled frames over our beds. So also the sprawling washrooms. The kettle tray boasts of ready to make tea for guests to sample.
Also, make sure to ask for a room/ suite with a bathtub. It's at the same cost as that of a regular room! Ssshh..!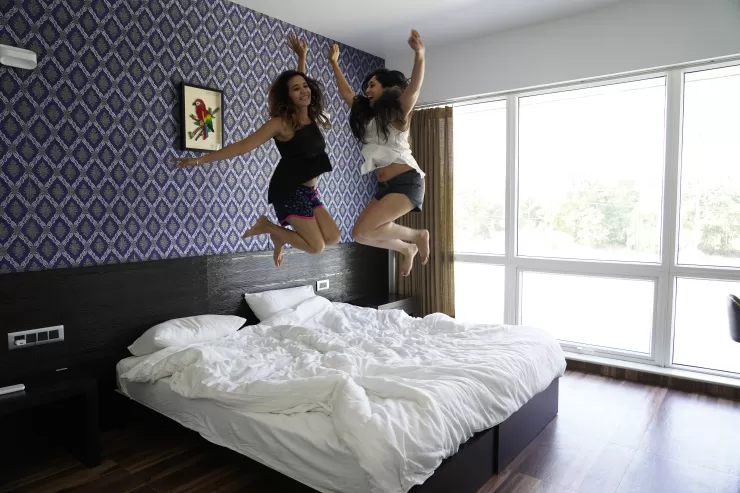 By now you can already make out that this property offers a lavish stay for its guests but I'm yet to spill beans about the unique experiences it offers.
Let's begin with our culinary experience -
Since we reached the resort around 2 pm, we straight headed for lunch. Comfort food is all we craved for and Silver Leaf Village's signature Nahari Thali is just that! Not a drop of oil/ butter, just plenty of organically grown vegetables- buh bye lethargic calories!I'm not even kidding when I say I had a bowl of dudhi (bottle gourd) all by itself minus the flatbread!
Also, this is what tribals residing near the resort have. In a shocking revelation by the owner, Mr. Bhargav guarantees us that 3 weeks of this cuisine and you are sure to lose more than 5 kgs!
Here's a glimpse -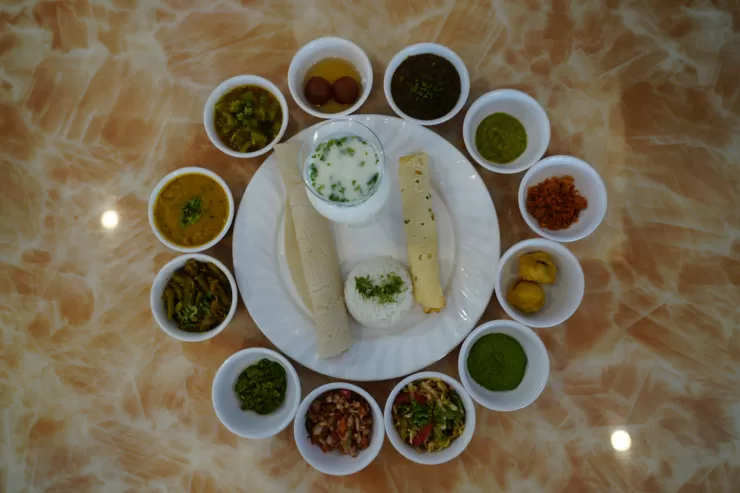 The best part about this cuisine is that unlike normal Gujarati Thalis, these leave you full of energy and not drowsy.
All pumped up, we head towards the walk-in aquarium which houses over 170 species of fish! No matter at what stage of adulting you are, the sight of sea otters all around is sure to bring out the child in you!
A walk through the aquarium takes us on the other side of the resort where we are already hearing shrieks and cries! Surprise surprise - we've entered a massive bird park. The best part? You can enter the cages & get clicked with them! ????
A few noteworthy observations from the critic in me - The cages are roomy and spick and span & not suffocating, unlike cramped city zoos. The staff including the owner himself know each and every creature by its name - scientific as well as their nicknames & boy, the birds do respond! Watching them converse is a mesmerizing sight in itself! I also highly appreciate how everyone at the Silver Leaf Village respects the bird's timings and privacy - if a bird is uncomfortable or unwell, it will be handled with care and not forced to pose with the visitor even though the customer may leave the place disappointed. Tiny gesture that speak volumes! ❤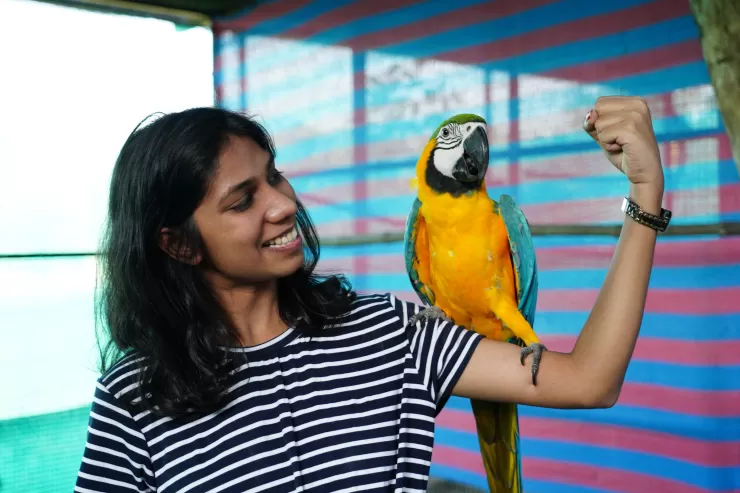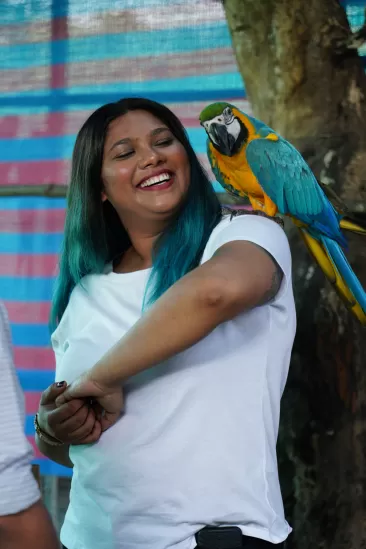 Now that the sweltering heat has come to an end, it's time for some real fun! Let me take you to the 7D Theatre. Watching a movie is passe; it's time to be a part of one! Wear your 3D glares and you are transported to a whole new world!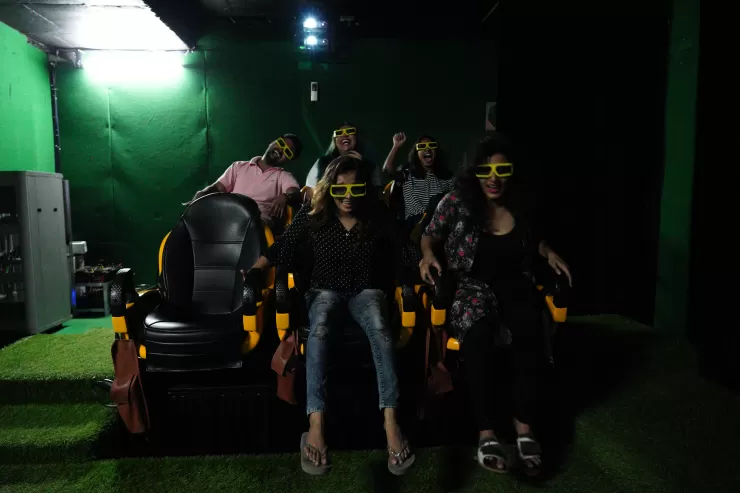 By now, I don't know whether I should call Silver Leaf Village - a resort or an adult amusement park?
If the 7D Theatres seem a cakewalk, it's time to upgrade and make way to the 9D Theatre. The simulators are sure to blow your mind. We stuck here for about 30 mins!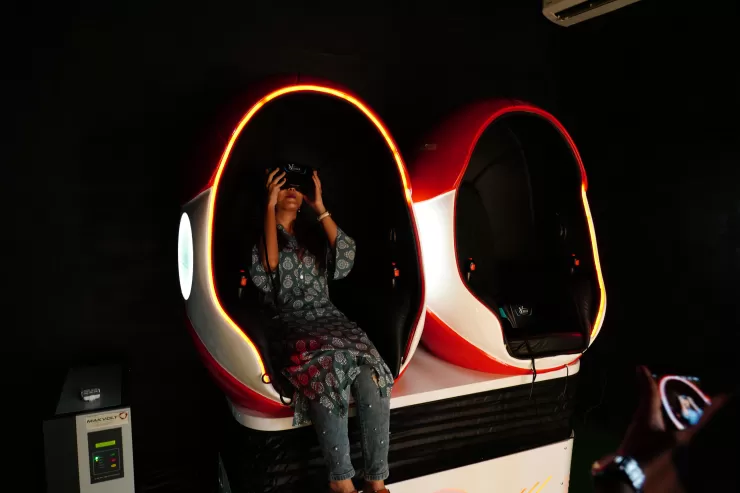 After yelling our hearts out and a Segway ride later we made it to the gigantic adult trampoline jump! Aah, nothing beats hopping carefree on a trampoline, giggling away with your best buddies on a vacation!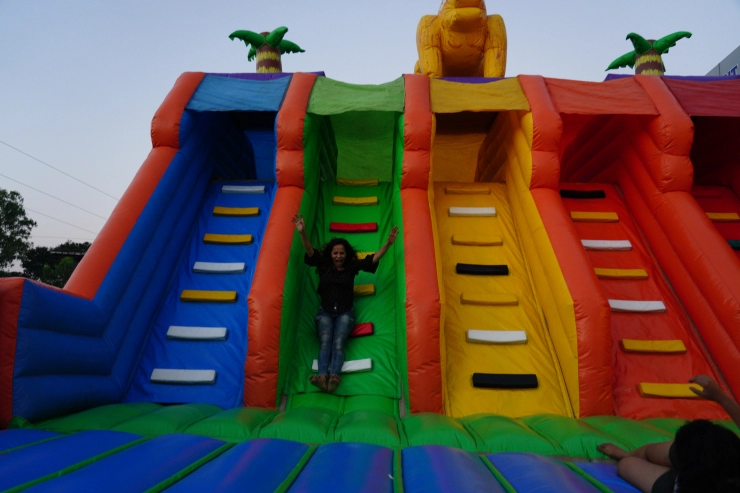 The night obviously ended with conversations over a blazing bonfire and barbeque! Even though the highway runs parallel to the resort you can't help notice the serenity this place offers. Think of it as a home away from home!
We gobbled Tandoori Paneer and roasted mushrooms. And then a special dish was passed around - Phalon ki chaat - basically grilled fruits! Yum! ????
And just when we thought we were done for the day, we were treated to a widespread main course of Kathiawadi food. Think Dal Batti, Gatte ki sabji, and all that jazz? I can still feel their authentic taste.
Come the next day, we get up (read drag our bodies) for the buffet breakfast. There's everything right from Medu Wada to Parathas to Idlis! Choose from fresh juices and hot beverages!
Mingle around and have your breakfast in the restaurant, ask them to serve you in your bedroom or simply curl up under the canopy in the lawn - the choice is yours!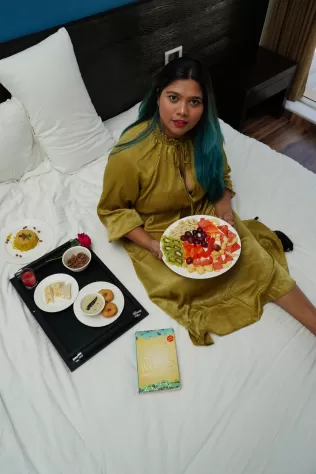 Overall from our visit, it was evident that the experience at Silver Leaf Village Resort is a slice of Vapi, Gujarat that is off limits even to its residents. It may not be the most Instagrammable getaway but promises an offbeat experience in itself! Right from the unique activities to the courteous staff and well-appointed rooms - it hits the right chord! The restaurant isn't a fine dine, rather it is a place where families visit to share a hearty meal together! This weekend getaway doesn't come with a swimming pool, but don't worry you are not even going to miss it once here!
So what are you waiting for? Get booking!
All photos were clicked by Photosphire.
Like what you read? Let's stay connected!
Love our Travel posts? Read them all right here!
You can subscribe to our newsletters (No spams, promise!)