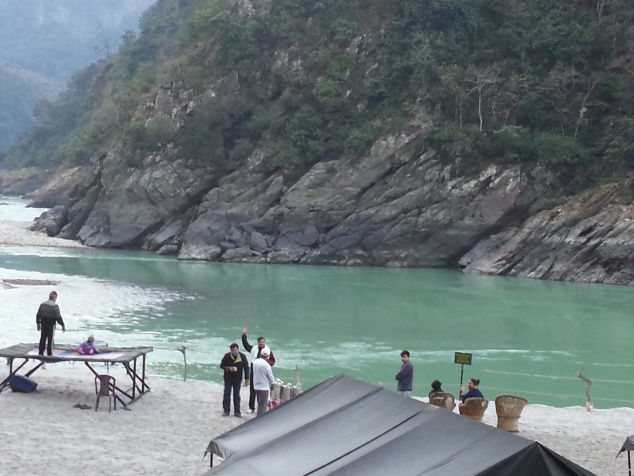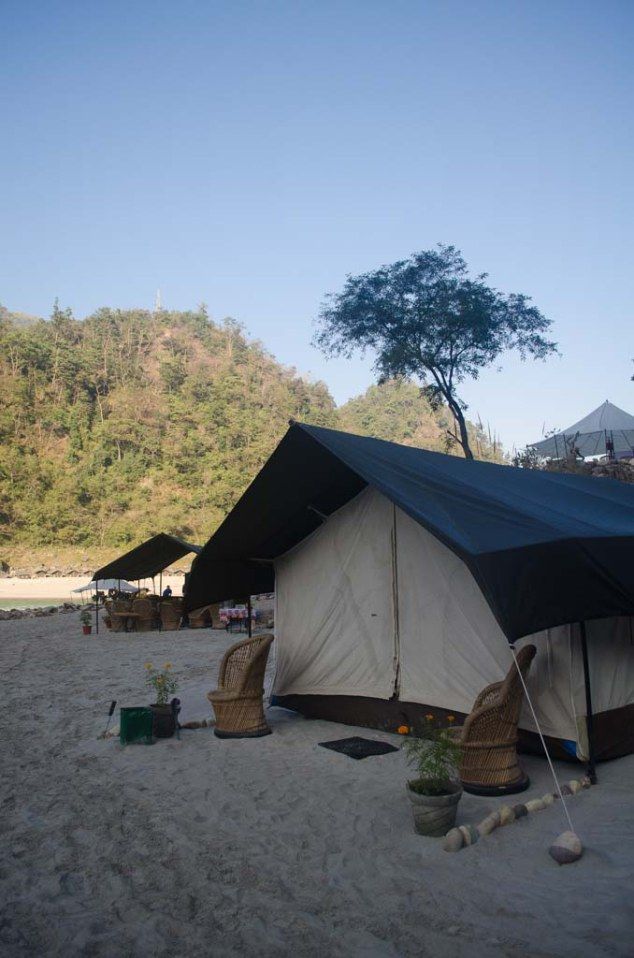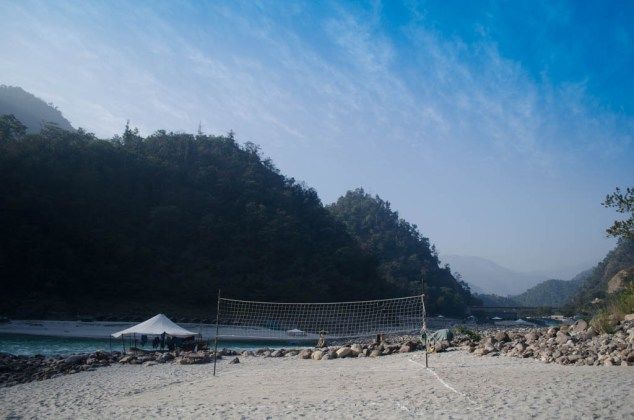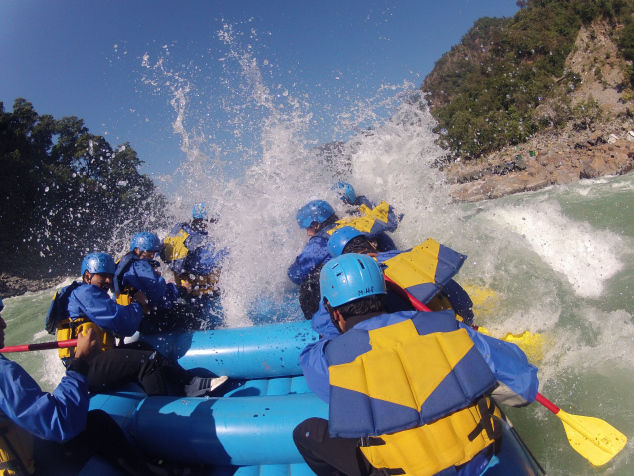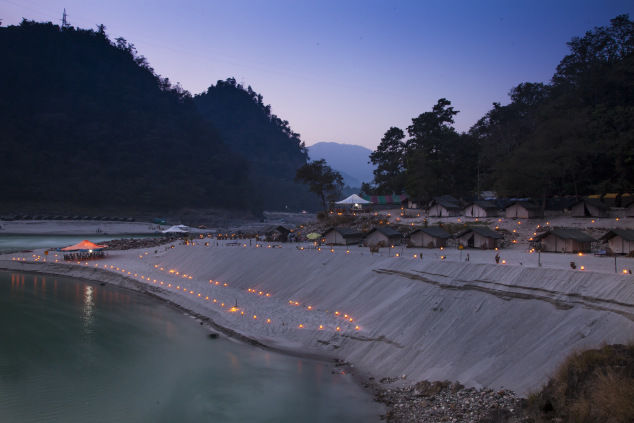 It all started with an idea to plan our team's offsite last year. The industry we come from there is certainly no dearth of ideas but I can't say the same for ideas that actually work. So what do you get when you put a bunch of people with a penchant for all things adventurous in one room? An unconventional venue for the next team offsite.
MHE Beach Camp, Shivpuri. Thank God! This one actually worked out. You'll always have the pessimists telling you why something won't work, but then you have the risk takers telling you why something will. Despite a few glitches,this was one such trip.
Shivpuri is a place for people who aren't looking for the tried and tested spot. About 14 kms from the town of Rishikesh, the tranquility of the place takes you by surprise.We landed at the Dehradun airport and the bus journey took us about 2 hours, winding down narrow roads and almost quiet surroundings. You just soak it all in, away from the hustle bustle of the city, and trust me you haven't even reach yet.
My reaction was that was disappointment when we initially got there because all I saw was rocks, a small patch of dry land and then a few run down tents. This is not what we had in mind. The more you see the more you agree with the statement " One step at a time". You'll be amazed by what you see when you get to the foot of the river banks. It's like being thrown into a sea jungle, all green and blue… like a Pantone shade card come to life. The sun just about setting and added into this gorgeous setting are a myriad of colours mix some yellow, orange and sparkling shades of neon! The moment we are told we haven't reached the campsite yet, I felt a sense of pure relief …phew. Where is the campsite then?
Having walked some more with the Ganges flowing right under your feet, no traffic, no people, the silence ..you wonder if this is what they called nirvana? Not yet.
The campsite, nestled between mountains and you could get there only by a raft! This is where is starts, the excitement of what's to come, the short trip giving you a preview of what lies ahead. For now it's ice-cold water splashing at you, the naked sky above your head, laughter all around with all that excitement in the air. You can't help but love every moment of this. BLISS.
I wasn't even ready for what I saw next, up on a mounted silver sand platform were about 20 tents all lined up, with little lamps forming a curve, marking their territory. We were on the banks of the river Ganges surrounded by regal rocks of the Great Himalayan foothills. It's like every nook and corner had a secret behind it. I couldn't wait to get into the water! Just when you think you've seen it all you question yourself once again.
Sitting around a bonfire warming our city hands, so not used to this cold, singing songs, sharing a thing or two about oneself, the sky covered in a blanket of stars like little diamond dots on a pitch black canvas…. breathtaking. The food at the camp was an amazing mix of Kashmiri style cuisine mixed with a basic North India fare, from mutton yakini to simple dal and rice, eggs in the morning and pakodas with your evening tea…, yummy, needless to say. While the rum you think is keeping you warm, the cold breeze gets the better of you. You may even fall down because you're simply clumsy but hey…. what's a holiday without a fall? Nothing and absolutely nothing comes close to the feeling of simply laying on the sand and looking at those stars. I love stargazing and the nights here are simply magical. You don't need the words or the music. With the wind blowing, the sound of the water, the occasional sounds from the mountains, you're on your own with your own thoughts, enjoy it….. These moments are what I call a luxury.
I don't know if you'll agree with me, but when you're in the mountains your body clock somehow changes, you wake up early yet feel completely rested. Speaking for myself, I hadn't slept so well in days. Cocooned in the warmth of my thick blankets and hot water bottle (Yes, I live in the city and we don't have anything that could remotely be called "winter")!
A trampoline outside, with our camp owner's adorable daughter enjoying her early morning acrobatic routine wakes us, with hot chai and biscuits served right by the camp. It's funny what a 4-year-old could teach you…. No fear, a sense of abandon in everything, they do things simply because of the way it'd going to make them feel. With her infectious grin, she had us all wrapped around her little finger.
Years of loving the outdoors, teach you how to live like a cat. Do your thing and leave no trace, it's the one rule I abide by. If you want to enjoy what nature has to offer you, take care of it, preserve it. Don't litter, don't take it for granted.
For the water lovers, it just doesn't get better than this. Rafting in the Ganges- words cannot do justice to what you feel when you're in the middle of that pool of deep blue. Cold, comforting with the sun shining bright. That first hit of ice-cold water smashing in your face, every nerve tingling, it's an unexplainable feeling.Floating aimlessly in the waters is a luxury very few get to experience.
Surprisingly Rishikesh is also the place I broke my long-standing fear of heights, my first real jump, at 273 feet the first thing you look at is the river flowing down under and the green all around you. Took some convincing but it pays to be a competitive soul. The fear has you in knots, I have to say…" to jump or not to jump". I needed the magic words from Mark, our jump instructor " You're going to go back to camp, sit by that bonfire tonight and have no stories to tell". That did it, I had to jump. Guess that decision was one of the best I've made. Priceless.
With nights around camp cooking our dinner on an occasional night, to sitting out by our tent during the day just listening to some music…Don't Worry Be Happy was music for my soul. Just felt right.
I love to travel for a reason. So many people, each one with their own choices and thoughts and when all comes together you have this amazing potpourri of music, food, ideas, thoughts…it's a bond difficult to break away from.
Sometimes you meet the most amazing people and sometimes you find yourself amidst all that quiet, one way or the other you get exactly what you need right that moment.
Funny, this Universe has its mysterious ways.