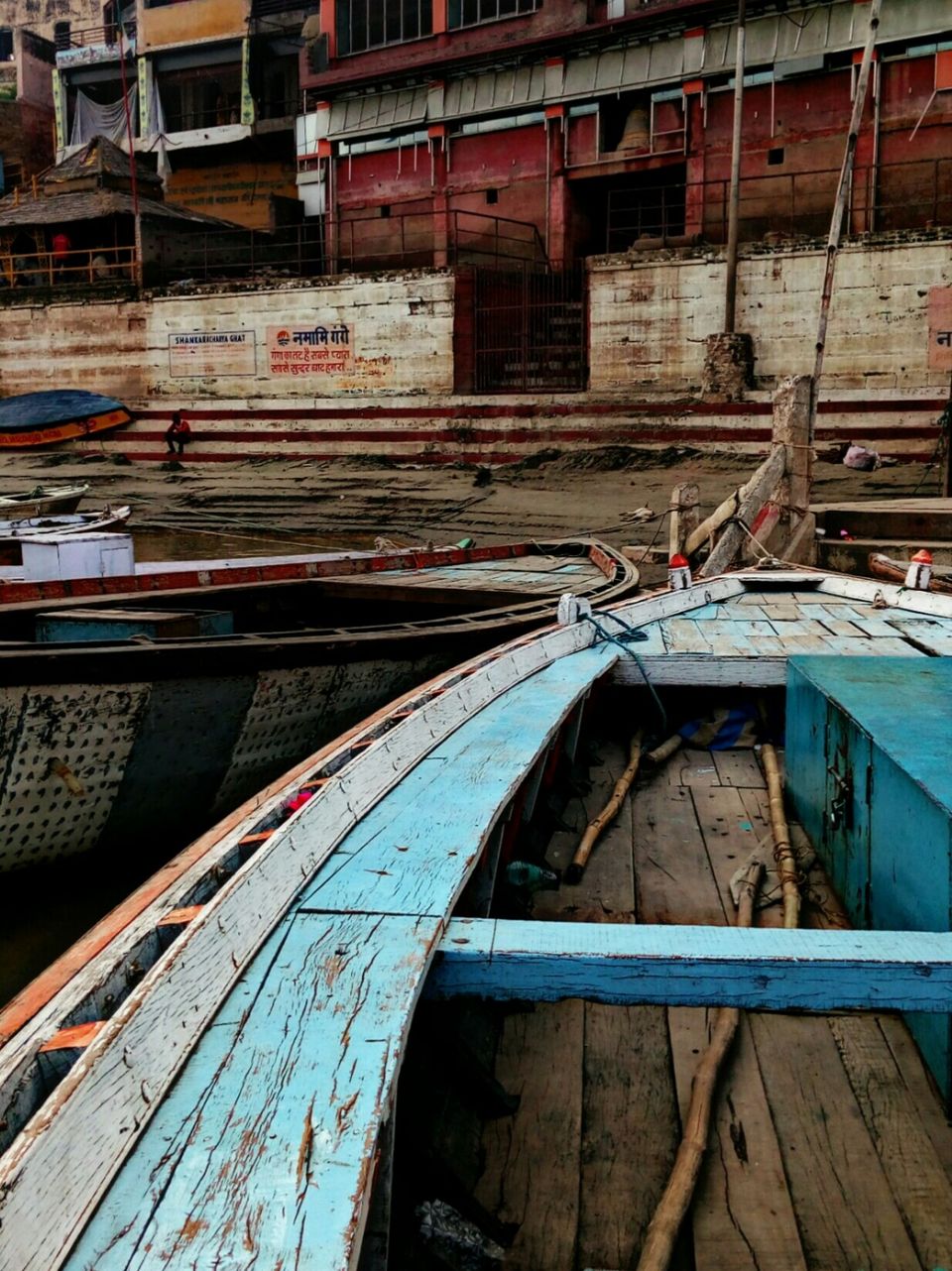 " There might be something special about Varanasi that attracts tourists from all over country to make a visit " I thought, and so I did the same. It's not only a land of worship because of the temples but spirituality is present even in the streets of Varanasi.
I spent my last 3 days of a 12 days trip in Varanasi and it was an ultimate destination to end the trip. Those 3 days were like a treasure hunt for me where I was searching for the gems that attracted so many tourists. And in those 3 days, I found 3 gems!
1. STREETS OF VARANASI
    -----------------------------------
As the auto rickshaw driver helped us to get a place to stay, we paved the way of Varanasi. Those streets were absolutely different that reminded me of old India where houses had old-fashioned door which we read only in books. People sitting on nearby bench just outside the doors, gossiping and having tea were their kind of social media which everyone should seek for. Those streets have a touch of ancient India that we are losing in this world of skyscrapers.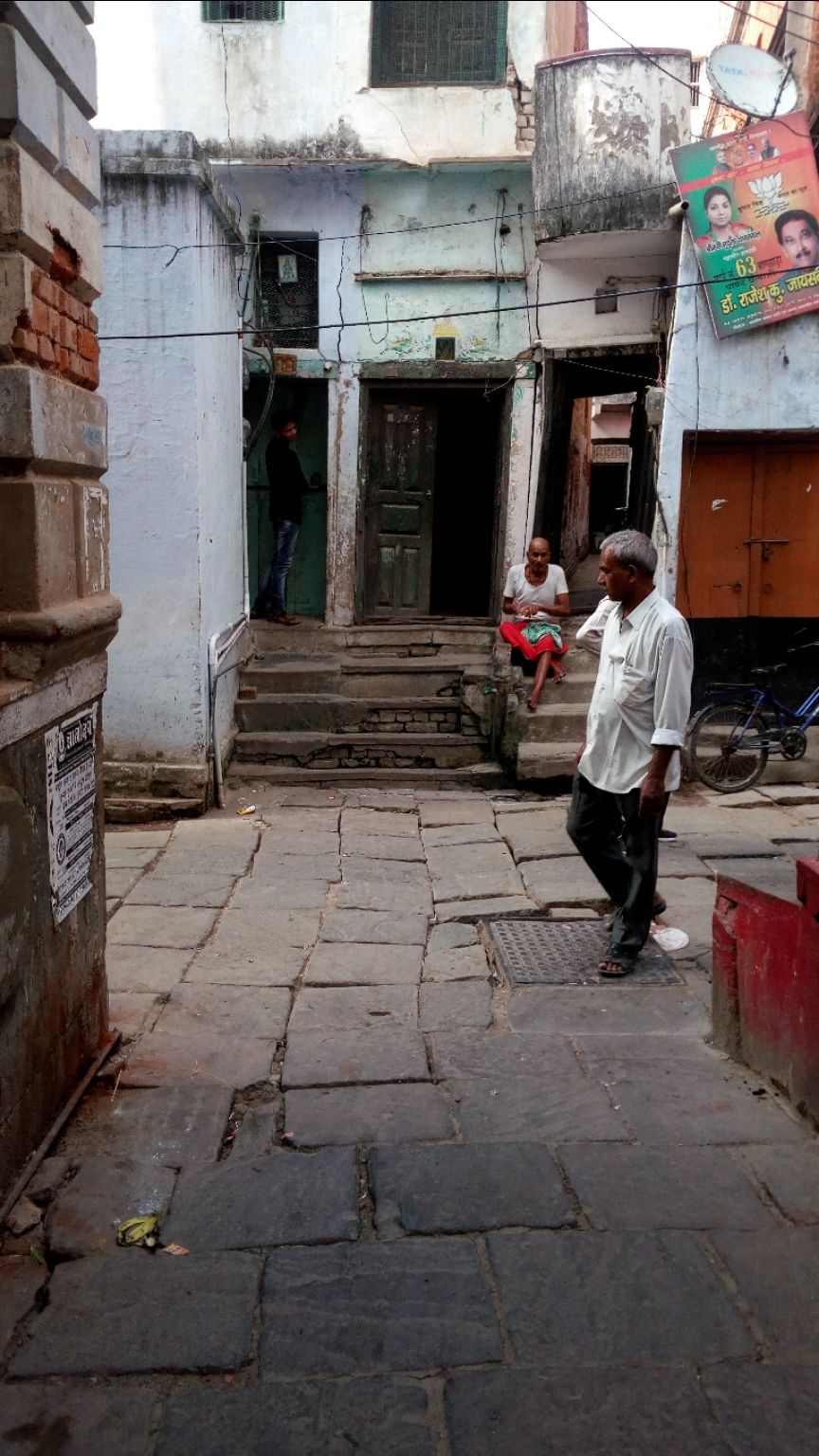 Varanasi or as they say 'Banaras' is like old love story which we usually hear from our grandparents, where everything is just in its pure form without any kind of filter.
This is the first gem I found, which had my heart. Next day, we went for the main attraction as well as the gem that I was looking for.
2. GHAT DARSHAN
    ------------------------
We reached Kedar Ghat, where we were about to take a boat for Ghat darshan. We waited till it was evening and as the boat rowed to the middle of Ganges, it was like heaven. Wind blowing in our hair and the boat swayed along with the waves of Ganges, it was a perfect evening. As we continued our Ghat darshan, the boat rowers narrated us stories on how the ghats got its name like manikarnika Ghat got its name from Mani which means 'eye' and karnika means 'earrings'. Every single Ghat had some interesting story to know.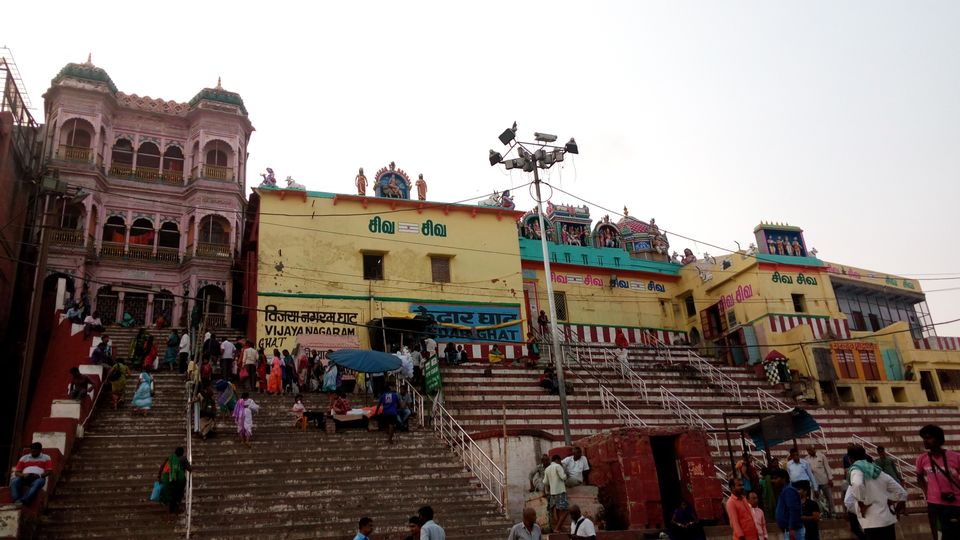 After knowing about ghats and their stories, we saw beautiful sunset. Just then the lights glowing along the ghats were a sign that I was about to find the next gem.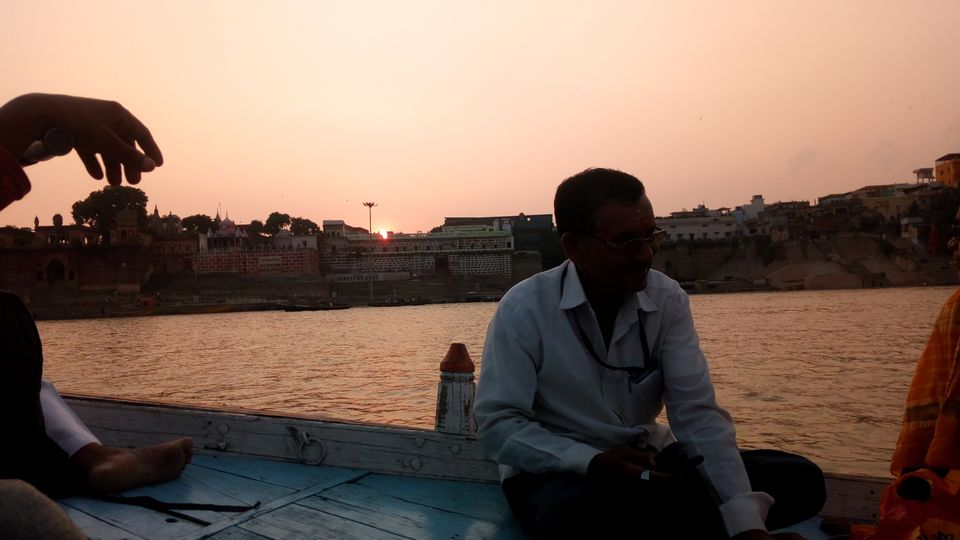 3. GANGA AARTI
    ----------------------
As we stopped at Dashashwamedh Ghat, we waited for the spellbound to happen. Many other boats gathered around shoreline of Ganges and the Ganga Aarti began along with holy chants.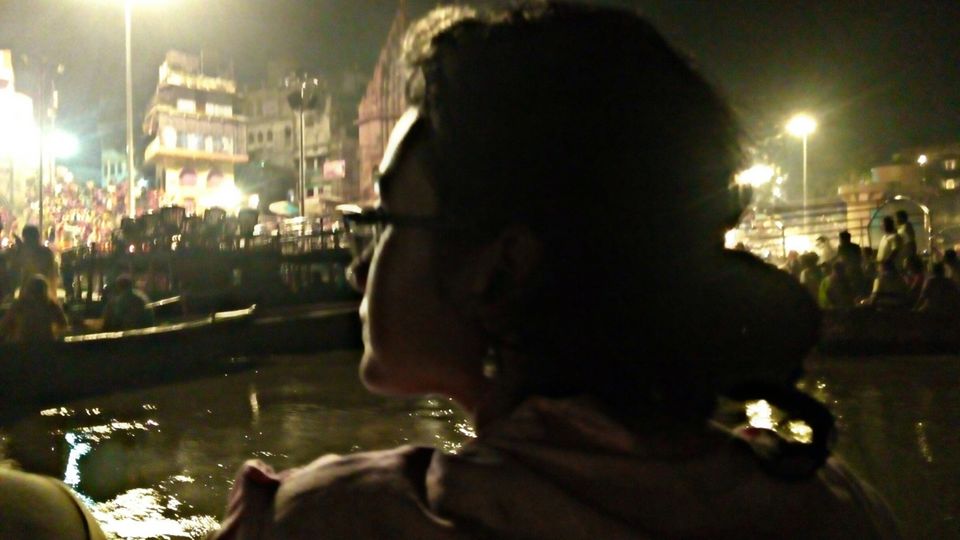 The whole atmosphere started vibrating with good vibes and the view was spectacular as the group of priests performed the Aarti with big brass oil lamps, liting up Dashashwamedh Ghat and my heart. It was all an overwhelming experience for me. That's when I knew I found most precious gem of Varanasi.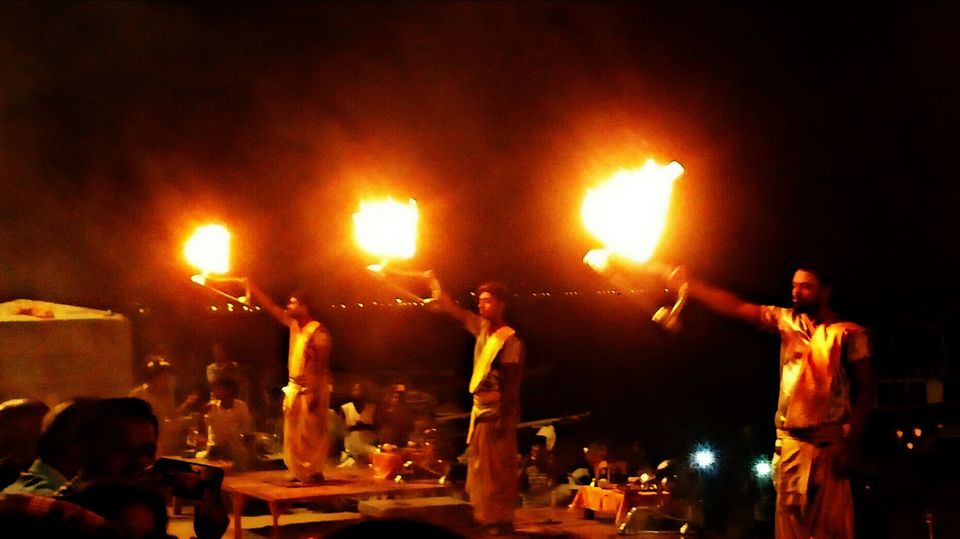 ********
Those 3 days in Varanasi fulfilled my dream of knowing the charm of the city. It is wonderful to see the mythical and historical evidences still existing in this never ending modernised world where we have forgotten our own root culture in order to accept western culture.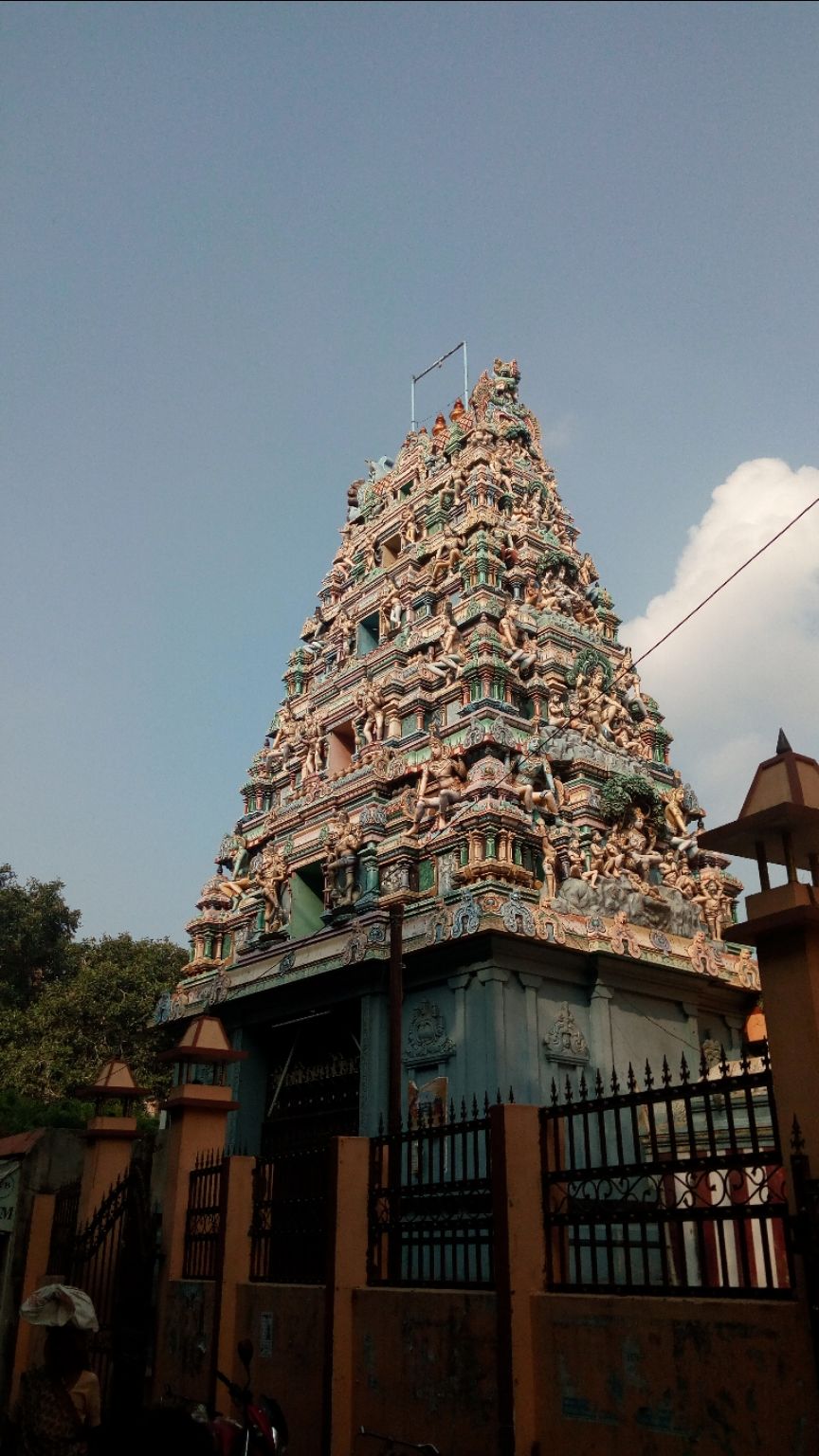 This place of lord Shiva will not only increase spirituality but will definitely awaken one's soul, that's what Varanasi did to me.
There was a quote that I saw written behind an auto rickshaw,
"Waqt se pehle aur Bhagya se zyada kuch nahi milta" ( before time and more than destiny we get nothing)
It kind of hit me hard and stuck with me.
I was destined to be in Varanasi to get few of my answers. The whole trip refreshed my mind and at the end of the journey I was back to my life with a purpose of mending what I had left.
It's indeed true that traveling can bring out the best in us which one can never expect by staying at one place.