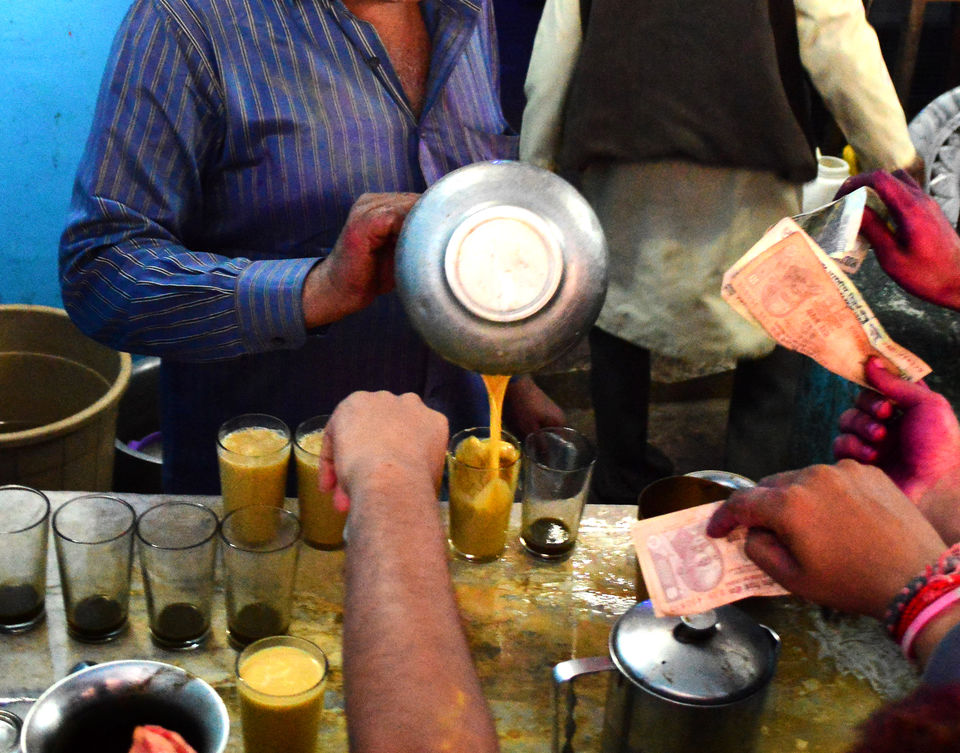 The green-coloured liquid looked so innocent, almost healthy, as it gave off the appearance of one of those green-smoothies that have been dominating my Instagram lately.
Sitting in my hotel room in Varanasi, I took a gulp and when nothing happened, I sipped some more. I figured if I was going to experience cannabis for the first time ever, I might as well do it in a city where it is not just legal but also the norm!
What could really happen with a few sips?
A lot, as it turned out. But not at first though.
My first not-so-successful attempt
On my first night in Varanasi, I took to the internet to find the local shop selling the best quality bhang. After about 15 minutes of research I zeroed in on one called "Badal Thandai", located bang in the middle of the main market at Gowdolia Chowk.
Feeling adventurous, I decided to go for a medium-strength badam-pista thandai (even though the lassi-version is more popular according to the internet). Since I had sober friends accompanying me, I figured that if things were to get out of hand, they would be there to take care of me and the situation.
We got the thandai packed and brought it back to the room. After a nice-long bath and changing into my jammies, I finally decided to go for it. I poured the green liquid from the plastic packet into a mason jar and took a careful look at it. By this time I was half-anxious and half-excited for something to happen. The small specks of malai (cream) floating in the thandai didn't really help the anxious side of my brain. But I put on a brave face, held my breath and gulped down half the jar in one go. It wasn't the most pleasant taste in my experience, but the sugar syrup and the almond flavouring definitely helped mask the grassy taste to an extent.
In the next few sips, I finished the entire jar.
And then the wait began. From my friends' experiences, I knew that the effects of cannabis, when consumed via food took some time to surface. While I waited, we had our dinner and then started streaming Bigg Boss on my laptop (please don't judge me).
Half-an-hour passed, nothing happened.
An hour later, I was kind of frustrated as to why nothing was happening. But at the same time, I was also exhausted from the entire day of activity and walking around the busy streets. In the next half an hour, I had given up any hope of getting high and just wanted to sleep. So I shut down my laptop and went to bed. The only good that came out of this was that I slept like a baby.
But don't be disheartened just yet. There's more.
The second (read successful) attempt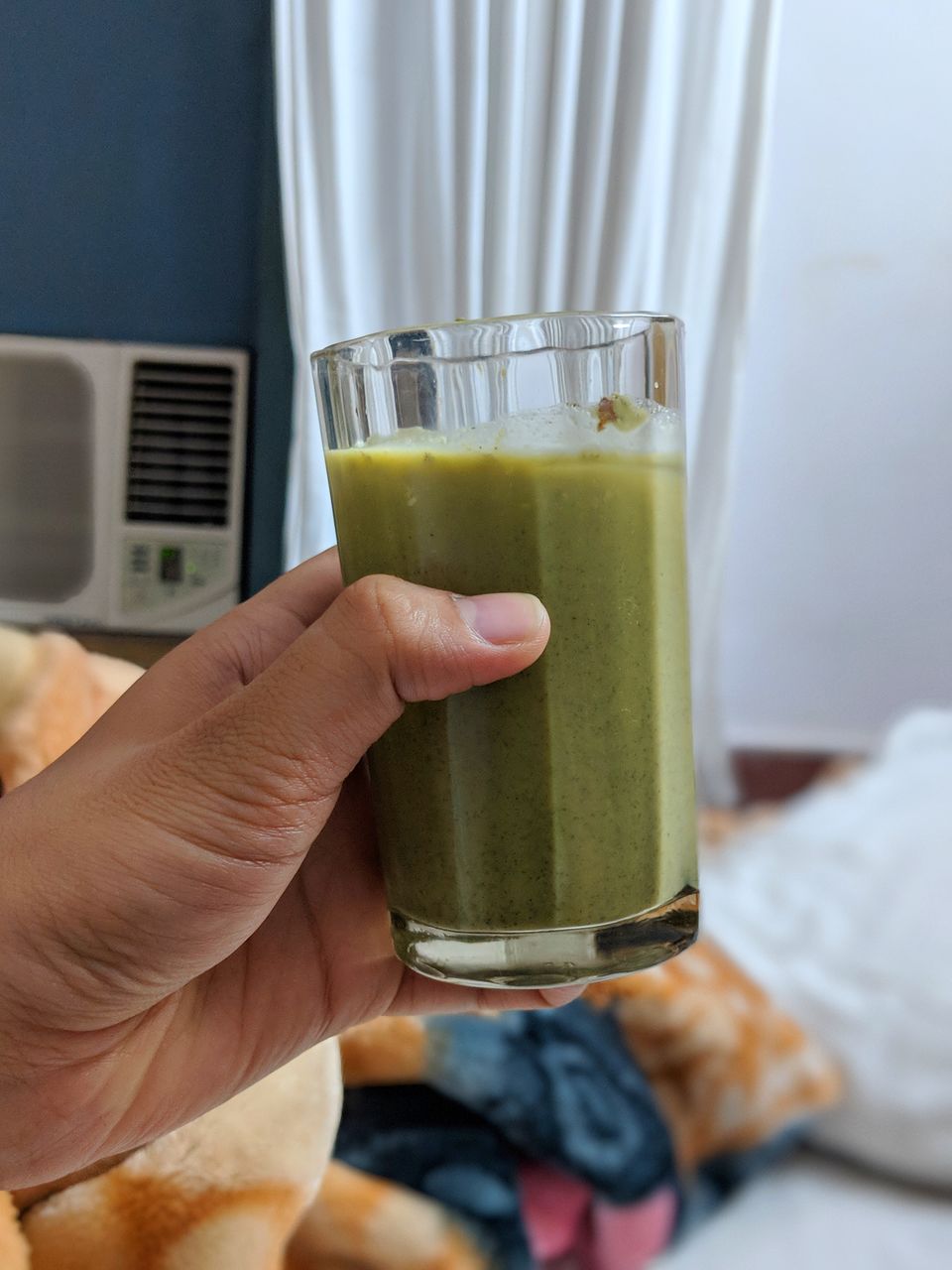 The next morning I spoke to a couple of friends who had visited Varanasi a few months earlier. They had also tried the exact same thandai from Badal and their experience was the exact opposite of mine – they had gotten pretty high on just half-a-glass of medium strength thandai. Infused with new enthusiasm after my chat with them, I decided to try again that night.
We were spending the day near Assi Ghat and before heading back to our pad in the evening, we decided to look for another local shop nearby and this time get the strongest lassi (I thought that would have a better effect) they had available. This is when we came across "Green Lassi". The shopkeeper there convinced us to go for thandai only and not take the lassi as it didn't taste as good. We agreed and got the strongest thandai they had available.
This time around the setup was less fancy. We had a simple glass instead of mason jars and there was no pre-bhang bath like last night. I got down to business as soon as we reached the room. As soon as I opened the packet, the grassy stench was overpowering. But I braved through the smell and poured half of it in the glass, added some ice and tried gulping it down. Needless to say, the taste was much stronger than the one I had on the previous night. It took me half-an-hour just to finish the whole thing and I was gagging through half of it.
Again, the wait began.
And thus begins the adventure
For the first half an hour I didn't feel anything. We had dinner and we were beginning to think that I was maybe immune to the effects of cannabis when suddenly, about an hour into the experience, I suddenly felt the hit. I became lightheaded and all of my senses were suddenly calm. We were once again watching Bigg Boss (gotta keep up with the daily updates) and something happened that had me in a fit of laughter all of a sudden. I couldn't stop for about 15 minutes. When I did, my mouth was so dry that I gulped down half a litre of water (not a good idea as I later found out).
Within the next one hour, I was on a giggle spree and my limbs went extremely loose. So much so, that when I had to go to the bathroom, my friend had to accompany me because I couldn't maintain my balance. This was just the beginning of a very long night.
Once I was back in bed, my friend tucked me in and put off the lights. I might have dozed off because I started having lucid dreams with characters from horror films and my real life all mixed up. Those dreams kept changing and apparently I was having conversations in my sleep – this is what my friend told me in the morning. In between my monologues, there were also long bout of giggles, which is something I remember.
At one point in the night, I remember waking up to get water but I couldn't get out of bed and that sent me into another fit of laughter. My friend had to help me get up. I drank water and suddenly got really bad munchies. I ended up devouring two whole packets of Hide & Seek biscuits and then drank another half a litre of water before falling asleep.
We were supposed to wake up at 4 the next morning to see the sunrise but naturally the bhang had me knocked out pretty good. My friend had tried to wake me up several times, but apparently I didn't even respond.
I woke up a good 10 hours later and the first thing I wanted was food. Clearly the munchies were still in full blow. So, like any good traveller, we stepped out of the hotel and into the market to grab a bite. It was a two-hour-long breakfast, where we went to four different stops to try four different breakfast items. We came back after that and I again fell asleep for two hours before I could even begin to think about my day.
If you're planning on going on a bhang-drinking spree in Varanasi (or anywhere else in India), there are a few things you should know:
What is bhang?
Bhang is a mild narcotic drink made with leaves of the male cannabis plant mixed with a milk-based beverage like yogurt or even milk itself. It is known to cause euphoria, feelings of relaxation and might even act as a mild aphrodisiac.
Bhang is different from weed, which is made from the flowers and resins of the female cannabis plant and is extremely high in the intoxicating substance, TCH. Bhang has a much lower level of THC.
Is bhang legal in India?
A number of Indian tourists and even those from outside are often concerned about the legality of using bhang, considering the fact that marijuana is indeed an illegal drug under the Narcotic Drugs and Psychotropic Substances Act 1985.
Before 1985, the use of cannabis derivatives – bhang, charas, and ganja – were regulated by state excise departments and legally sold by licensed shops. However, the Rajiv Gandhi government changed the regulations in 1985 owing to international pressure and enacted the NDPS Act. The Act banned the production and sale of cannabis flowers and resin but permitted the use of leaves and seeds, which were to be regulated by the state. Since bhang is made using leaves, it is legal to sell bhang by government authorised shops across several states. Uttar Pradesh is one such state.
Where to get bhang in Varanasi?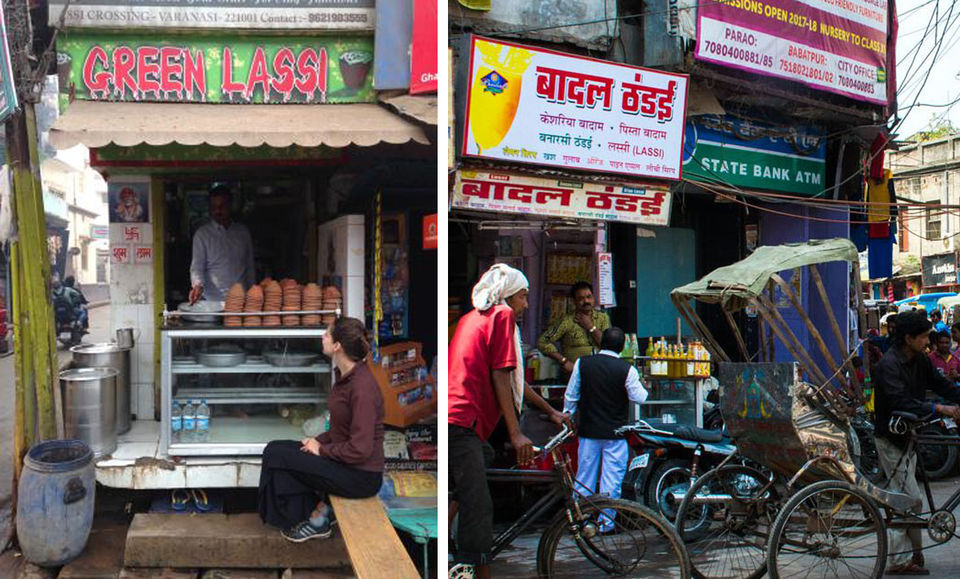 The bhang culture is extremely strong in Varanasi and you will find a "lassi" shop every few kilometres. However there are some that are more popular than others and some that provide better quality of bhang than others.
One shop by the name of "Blue Lassi" is extremely popular in the tourist circuit. But like everything touristy it is extremely overpriced and is better for when you want to have a non-bhang lassi as they have a number of flavours.
For getting bhang-laced thandai or lassi, here are the places you can try:
Green Lassi: Located at Assi chowk, this small stall makes a mean thandai/lassi. The shop-owner uses a bhang paste and not the powder (which is prevalent in several stores) and doesn't fuss around. You might not get a lot of flavours here, but you'll get a great bang for your buck. A tall glass here is for Rs 60.
Badal Thandai: If you want something with a lot more flavour, this is the place to get it. Again, a very small establishment, this one is more easily accessible than Green Lassi since it is located right at Gowdolia Chowk. They make a small glass of thandai for Rs 50. However, I personally didn't find this to be really effective. My friends on the other hand had a great experience here. They also have a small seating area, where you can sit and sip on your thandai/lassi.
DIY: If you don't trust local shops, you can just purchase bhang paste or pellets and mix up your own mean drink at home or hotel. The folks at our hostel did this one night and it was apparently much better than anything you find in the market. Two out of three people who consumed it were under the influence for a good 24 hours. You can mix it in any beverage of your choice, although alcohol is not recommended.
What to keep in mind if you're trying bhang for the first time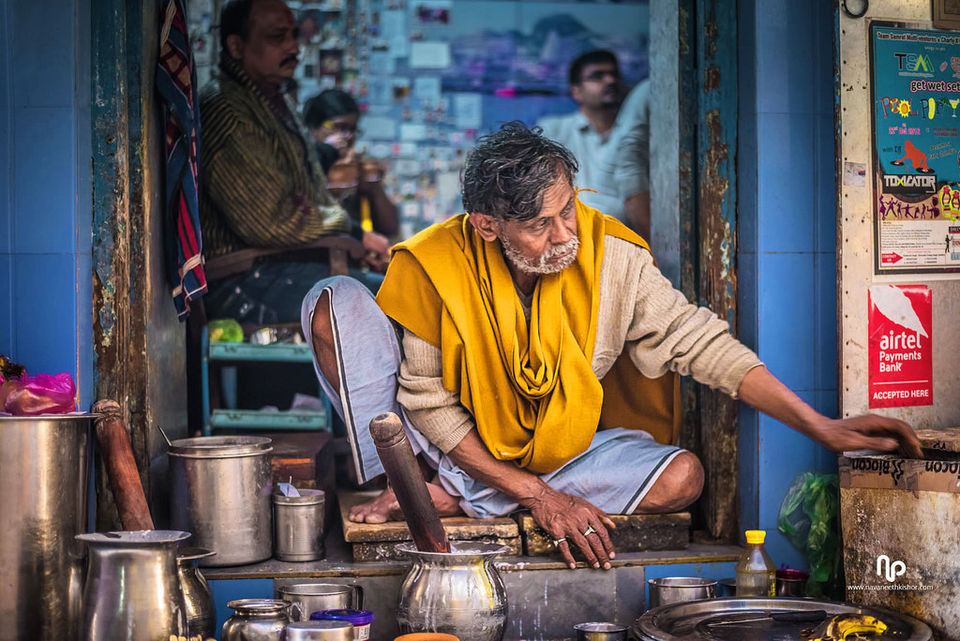 Bhang is a very unpredictable substance. Some people get affected a lot while others don't find any difference. If you're going to try bhang for the first time, a few pointers will help you have a better experience:
--> Have at least one friend with you who remains sober. In case things go south, there should be someone to handle the situation.
--> Drink within the confines of your home/hotel. You never know what the hit is going to be like. It is better to be in a familiar and safe space so that your safety isn't compromised.
--> Start with a milder version of the drink. If that doesn't seem to do anything for you, then graduate to stronger drinks.
--> Go for thandai instead of lassi for your first time. Lassi is much thicker and has a stronger taste, which might not exactly be the best idea for your tastebuds. It also tends to become bitter a lot quicker than thandai.
--> Keep a lighthearted source of entertainment like a film or songs at hand to avoid getting a bad trip, which happens to a number of first-time users.
--> Keep loads of food at hand. When the munchies hit after bhang consumption, they hit hard and you probably will not be in the capacity to go get food from outside. So be well-stocked.
--> Stock up on water as well. Bhang will also cause you to get thirsty and make your mouth dry. Having water at hand will prevent dehydration and headaches the next morning.
Happy drinking guys! Knock yourself out.
If you enjoyed this article, read about countries where weed is legal. And don't forget to share your experiences with readers on Tripoto.
Frequent searches leading to this page:-
varanasi trip with family, chennai to varanasi travel package tour, varanasi tour package from ahmedabad, trip to varanasi from delhi, holiday in varanasi today