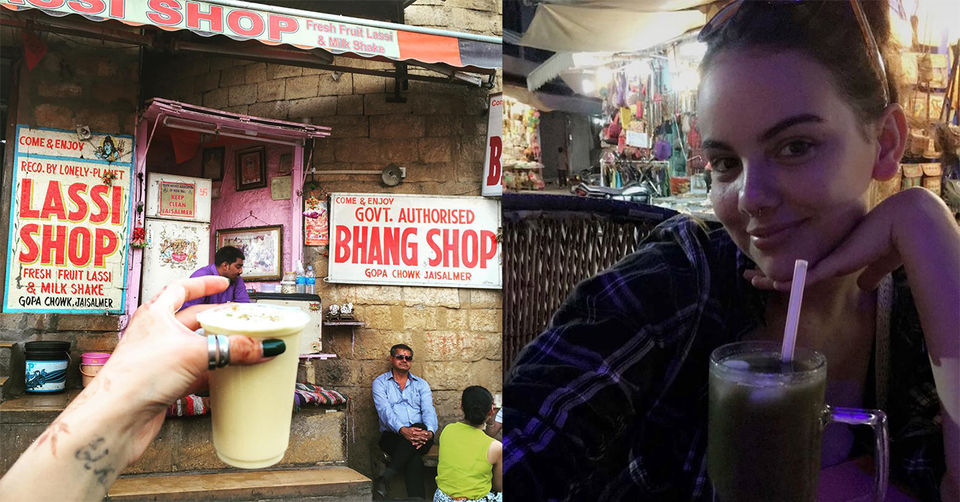 There's a common saying in Delhi, often seen on tinted rear windows of speeding cars – 'Why drink and drive when you can smoke and fly?' While this sentence might baffle many, it aptly describes the power of marijuana. Sadly, despite the fact marijuana has it roots in India and has several medicinal properties, it remains banned in the country. The only ray of hope are some places in the country where bhang, an edible form of cannabis is open for sale and consumption. This dark green substance, consumed in a number of ways has continued to attract thrill seekers from all parts of the world – and there just isn't any reason why should try it too!
Here are some of the best places in India where you can enjoy bhang legally and live the good life. Wishing you a happy high!
Where: Khejer Para Fort Road, Jaisalmer
Ask any expert about getting high on bhang in India and the first answer you'll get is Doctor Bhang. Operating out of a dingy government approved shop in Jaisalmer, Doctor Bhang has been whipping up kickass bhang-infused chocolates, cookies, sweets and buttermilk for years now. A pro tip, don't go for the strong variants unless you've really done this before – politely ask Doctor Bhang for a 'baby' variant and he'll work his magic!
Where: Assi Crossing, Assi, Varanasi
While internet will tell you scores of places to get high on bhang in Varanasi, Green Lassi near Assi Ghat is the real deal. This small joint serves super potent lassis and thandais that are bound to leave you tripping left, right and centre. While both the means of consumption are equally effective, opt for the thandai if you're not comfortable with the pungent smell and sour taste of bhang.
Where: Choti Basti, Pushkar
You might have heard of bar hopping, but when in Pushkar, swear by bhang hopping! The bustling Choti Basti market of Pushkar is lined with several rooftop cafes, all of which serve what they call the 'special lassi'. Laze about sipping on a 'green' glass, watch the sun go down against the picturesque Pushkar Lake – Nirvana!
Where: Manoharpura, Mathura
This one might come across as a surprise but Mathura, by official data, has recorded one of the highest bhang consumption rates in the country! The city is full of vendors who will try to sell you what they claim to be the 'best bhang'. I'd suggest you skip that and head over to the licensed shop in Manoharpura area to legally score some bhang tablets. The shop owner also sells a mildly effective lassi, which is a lot better for amateurs who find it difficult to pop a tablet.
Where: Hampi, Karnataka
Thanks to its ever-growing backpacking culture, Hampi has recently developed quite an obsession with bhang. Step away from the ruin sites to explore the backpacker cafes and you'll surprised to know that most of them have started serving what they call a 'green lassi'. Ravi's Rooftop Cafe is undoubtedly the best place you can have a glass while in Hampi at and remember, the greener the better!
Where: Sector 15, Noida
Yes, as unreal as it may sound – you can actually buy bhang from a government approved shop right in the heart of Noida! Get down at Sector 15 metro station, enter the seedy lanes of the Nayabans area and just ask around for the 'bhang theka'. Score freshly pressed bhang for as low as 5 bucks a tablet and experiment all you want – cookies, thandais, lassis, pakoras – the world is a playground!
Have a bhang (mis)adventure that you'd like to share with the world? Click here and start uploading your travel stories right away! Don't forget to check out Tripoto's YouTube channel for some of the best travel videos from all corners of the world.
Get travel inspiration from us daily on Whatsapp. Click here to start