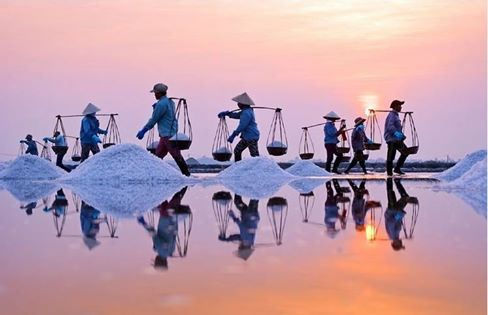 Visiting Hon Khoi Salt Fields Nha Trang
On the bus from Phu Yen to Nha Trang, I stopped at Hon Khoi salt village - Ninh Hoa district - Khanh Hoa province. Asking the driver how to get to the salt village, he pointed me to the junction right on the road near the gas station on Highway I. Get off the bus, I take a motorbike taxi on a road long about 5-6km to reach the Doc Let sea area - Ninh Hoa. Going to the beach, I seeking a hostel nearby.
Hon Khoi salt village in Khanh Hoa is a small countryside, not developed much in tourism. Here, locals still mainly doing farming, fishing and salt making. Nature has created here Doc Let beach with the sand long and fine white, sea waters as green as Nha Trang beach, but get peaceful and rustic more. In addition to the beautiful beach, Ninh Hoa also famous for salt making, also known as Hon Khoi salt village. Photographing of the salt village was my main purpose in this trip because I was captivated by the pictures of the farmers raking salt under the sun early. The diligent footsteps, the skillful movements which show passionate about the work and with drops of sweat of strenuous.
One thing surprised me was the booking.com also appeared in this countryside where still undeveloped on tourism. Probably due to many Western backpackers know Doc Let. They were the tourists who want to explore the secluded wilderness, where suited to enjoy the peaceful feeling instead of the hustle and bustle of the famous tourist resorts. The motorbike taxi turning into Ha Huy Tap Street to take me to Doc Let beach, the end of the road as the Resort. Along the way, there's a range of nice and clean hotels where mainly reserved for tourists.
I chose Thuy Duong Hotel for a night here. Normally, these hotels were not too crowded, prices very cheap, depending on the way you bargain, or can be booked through Booking.com. If you want to stay in places where better facilities, you can choose one of two resorts at Doc Let Beach Resort: White Sand Doclet Resort & Spa Nha Trang located on Ha Huy Tap street or GM Doc Let Beach Resort & Spa. Both have a private beach and quite luxurious.
Having left luggage, I ran out to find the way to the salt field to take pictures. Wandered on a motorbike borrowed from the innkeeper, I ran back to the town to seek the way lead to salt fields. Locals here still poor, the two sides only a few wealthy houses. The shops and eateries also not much too.
As instructed by a locals man, I found a road leading to salt fields. However, at that time, no one worked here even though it was close to the sunset. I had asked nearby locals and know that when harvesting salt people usually wait for sunny days, and often in the early morning at dawn. They pointed me to a nearby salt factory, go back on the way lead to the fork. This factory is a vast salt field. The protector asked me if I were a photographer because he was probably too familiar with the photographers come here to work. He told me just come here in the morning nearly 5h, farmers will harvest salt, then spoilt for photographing.
Visiting Hon Khoi Salt Fields Nha Trang
After examined the shooting site for tomorrow, I returned the road leads to the hostel and find eatery and something to eat. Not see any nice-looking restaurant, I decided to ride straight up north to Hon Khoi port. This port as home to a number of cargo ships, around there as a small town quite deserted. I went around and found a small pub but no any diners. Ordered steamed shrimp and squid, sour soup of fish, I also reminded the hostess prepared the portion for one person.
When the dishes were brought, I was surprised. It's a portion only for me, but too much food. Can not imagine that there's a place where such cheap seafood. Yes, this very place, a portion of shrimp, squid reserved for one person priced only about 5$, it even cheaper than a seafood meal in price about 40$ I ever ate in Vung Tau 4 years ago. On the days in Phu Yen, when on the backpacking trip in the Central region, I ate comfortably fresh seafood at cheap prices but come here, I was even more surprised.
The phone alarm belled at 4 am, I hurriedly dressed, preparing the camera. Oh, that's bad! It's raining hard outside, so the plan was collapsed. I asleep again and decided stayed here more one night, I didn't able to go back home without any picture. Woke up on second times, it was late noon. I had going to have to ride the bicycle borrowed from the hostel because the motorbike was being used by someone else.
I stopped at a street food stall, eaten a bowl of banh canh (thick noodle soup) which had a lot of cha (pork pies) only about 1$. It is true that in this place, everything all quite cheap, the face of anybody here looks also austere and strenuous. At this peaceful countryside, besides seafood, there's also has the typical cakes of the Central such as banh canh, rice paper and even has a very famous dish that is nem nuong Ninh Hoa. If you take to travel in Ninh Hoa, I recommend you must enjoy this delicious food. Nem nuong Ninh Hoa is processed from pork, add some traditional spices. Then it's being skewed into chopsticks and baked on a charcoal stove, its taste extremely delicious.
Visiting Hon Khoi Salt Fields Nha Trang
At noon and early afternoon, here very sunny. Because there no place to go so I go back to the hostel and sit on the chair to get some fresh air. I saw a French couple on their bicycles just got come back, perhaps in the morning, they came to a nearby shipyard. Seem them in middle-aged, quite rustic, dressing quite casual and very open. I asked them what did they think about this land. They told me they enjoyed this peaceful land, just like Toulouse, their hometown in France. I believe this was not a courtesy saying, yes, here very peaceful, rustic.
Wandering Doc Let beach
Visiting Hon Khoi Salt Fields Nha Trang
In the afternoon, I walking on the beach. Here, the resort has enclosed a large part of Doc Let beach, if you did not stay in the resort and want to the beach via their gate, will be charged 30 Vnd of tickets. But there a free path, just go round the edge of the resort, it's reserved for locals. When I came to the beach, this place quite bustling, mainly the students gathered here to play and bathing. Doc Let beach very beautiful, the sand beach very long and winding so charm. I did not bathe, only walk and watching the sunset. There're many Western backpackers here, look they very joyful, bath and swimming comfortably, shooting for each other.
At night, I go to the resort area and find a cafe. Sipping coffee and listening to the sound of the sea waves very interesting too. The innkeeper said that the tourist season in Doc Let usually begins from January to September every year. From October to December 12, should not come here because of this land quite cold by a corridor for the wind blows along the coast combined with cold air, causing very low temperatures.
You may also like:
Ly Son Island – The Attractiveness Of The Sea
Photographing of salt village Hon Khoi
Early second day morning, fortunately, it was not raining. If no rain here, there definitely sunny because here the coastal area. On the old bicycle, I arrived the salt field. It took 30 minutes, finally, I reached the place. The Protector told me that the farmers were gathering salt. Smelling the sea salt at dawn, the feeling of cold at the feet when directly step on the salt field. It's weird but kind of cool!
Visiting Hon Khoi Salt Fields Nha Trang
The farmers worked so hard and did not pay much attention to me, they probably too familiar with photographers who work here. They laughed, talked to me, asked me where I came from. This large salt field owned by a salt company, farmers often get up early and gather here to rake of salt, but if it's raining, usually the work will be delayed. They can work in the afternoon, but the most in the morning. I still focused on photographing, and they - rustic farmers keep doing their daily work ...
Visiting Hon Khoi Salt Fields Nha Trang
After having finished my work, it was 8 am, the sun was up highs. I sigh with relief, after a bad day due to rainy, finally, I have finished the album. Back to the hostel to check out, I took the bus to Nha Trang continued my journey. Goodbye Doc Let - Hon Khoi - Ninh Hoa, a peaceful countryside!