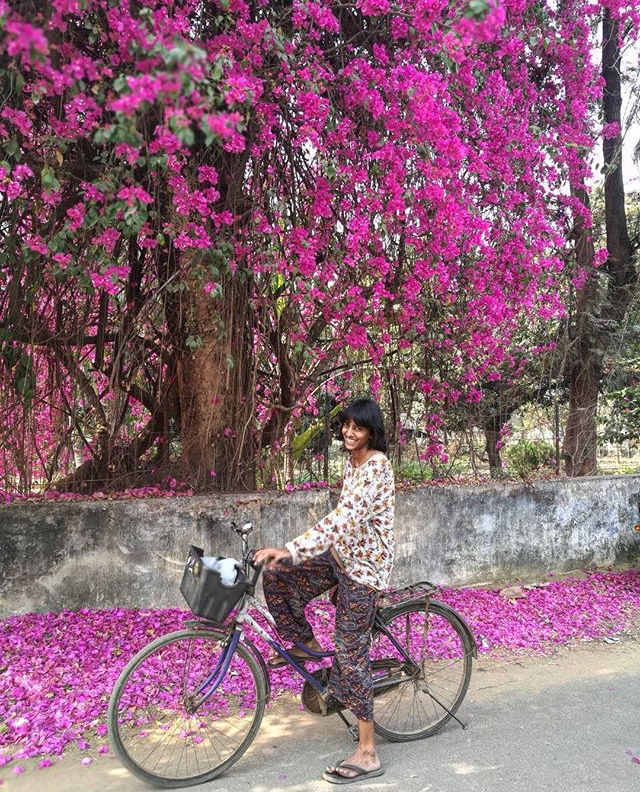 Bolpur is a small village far away from the city hustles, a village with vast farmlands and no barriers to separate homes, private lands or shops or market. It is a vast area where you are free to walk around without much fear about stepping into a restricted land. The local people here live a simpler life than most of us around the country. On the roads and around the villages one can spot women, children and men cycling around going to work, school, or just chilling around. What is astonishing about the place is how cycling is so much a part of the daily life of people. We rented bicycles for 50 rupees a day and drove far through the village in the early mornings and cold evenings. The lady in her saree when rode fast through the railway track where I could barely move with my rented bicycle, I was seriously humbled.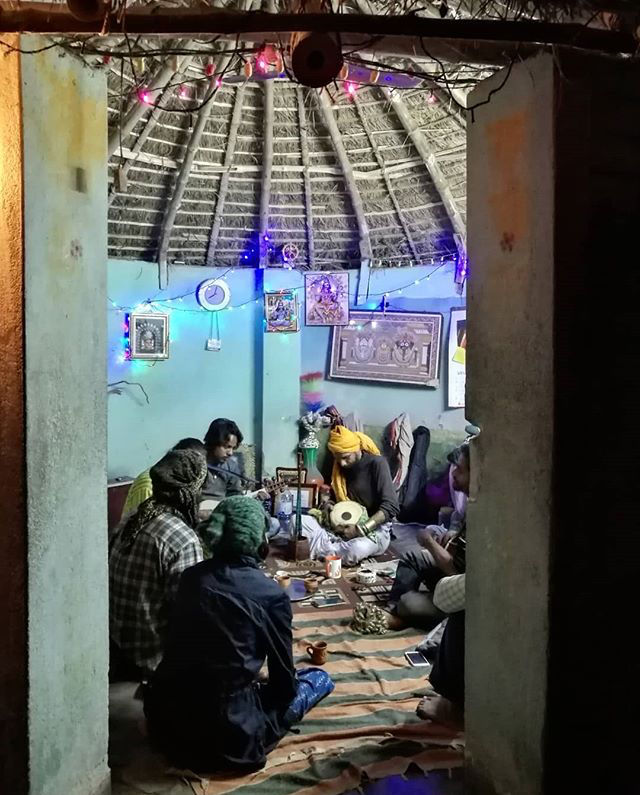 You must have started your travel way back in your life, from school to your house and to the forest in between where you hung out with your closest acquaintance. The strangeness of memory and its routes are nothing of the past. It is of the present that can lead you through the hills. For me there is nothing as strange and chill as travelling. For me there is nothing more painful and depressing than staying. It has been several months since I stopped writing or reading anything neither academics nor literature, but just travelling around with few money in my hands and with little or no planning.
This is about me, trying desperately to forgo my personal tragedies and, to get out of a stagnant academic life. Nevertheless it's a sad world of ugly humans who build cities and care for nothing. And in that same world I believe there are superhumans and aliens, the beautifullest creatures I have ever met, sipping an early-morning chai in the valley of Kwar, swimming naked in the hotwater spring of Vasisht, with a beedi in her mouth cycling in saree through the streets of Bolpur or just travelling and living with a working body and a beautiful mind throughout the country. When I started my travel at some point in my life I didn't get any answers, I just lost all the questions once and for all.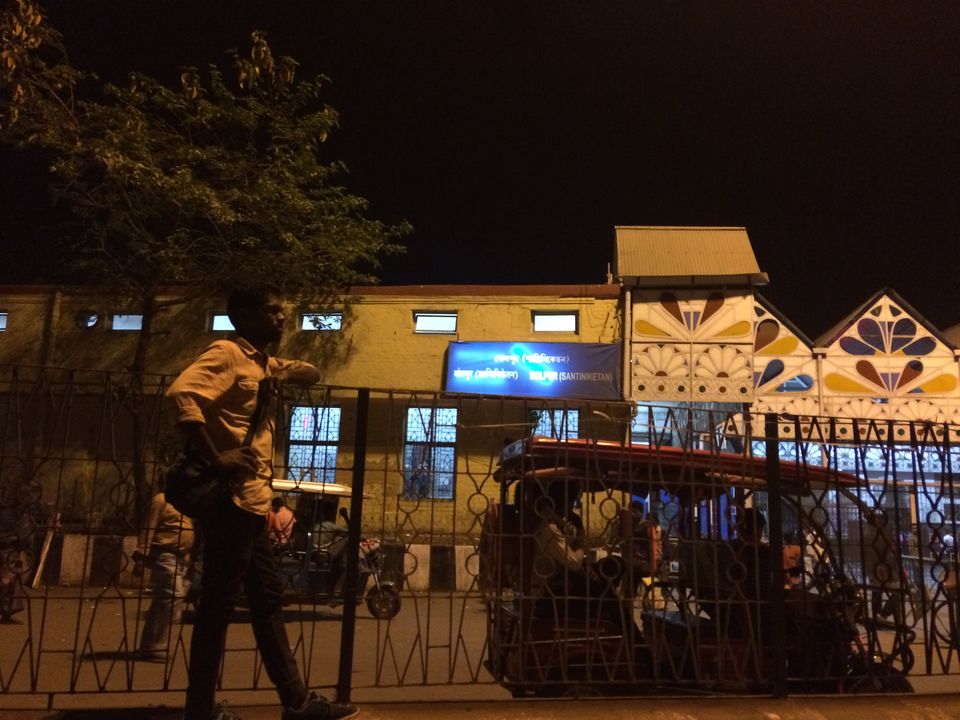 West Bengal is a land so versatile in terms of its landscape, people, and food, of course. It's a place so large in size and complex in terms of its cultural diversity. My adventure to the little village called Bolpur with my newly acquired acquaintances was intriguing and exciting at the same time. Although we knew each other well before, together we were travelling and exploring for the first time. To get to Bolpur from my place Ernakulam, it takes approximately 3 days. Me and my four other fellow travellers took a train to Howra from Kerala and from there, got on the crowded local train to Bolpur- Shantinikethan. Train is the easiest way to get to Bolpur, though you can take a flight till Kolkata and from there catch a local train to Bolpur-Shantiniketan. This journey takes only two to three hours. Once we reached the station we took a toto, an auto-like vehicle but with more fresh air, to our place of stay near to Shantiniketan. Fortunately two of us were the students of Shantiniketan hence we decided to crash for a few days at their place. Though the area is not that touristy, it is easy to find places of cheap stay as Bolpur is hometown to the world-famous University of Shantiniketan established by Tagore.
More than anything it's the music that drove me to the place on the first hand. When you walk around the village you can notice the mushroom-like huts of Bauls. In the evenings Bauls start singing in their soothing voices with the accompaniment of Ektara, Dotara, Khamuk, Mandola and so many other instruments that I cannot name. After two days of cycling around and getting to know the village, one evening we went to a Baul's hut. The music has already started. People came and joined with no hesitation, the Bauls sang with their eyes closed and smiling all the time. It was a prayer and once we sat there with them we also became part of the prayer. We had a Mandola with us and I tried playing with them. The range and scale of their vocals and instruments is something unmatchable. I was drowned in their energy, I stopped playing, closed my eyes and listened. On the way back, we ate chingdichop, a local dish made of prawns from the roadside shop for chops; my heart was full that day.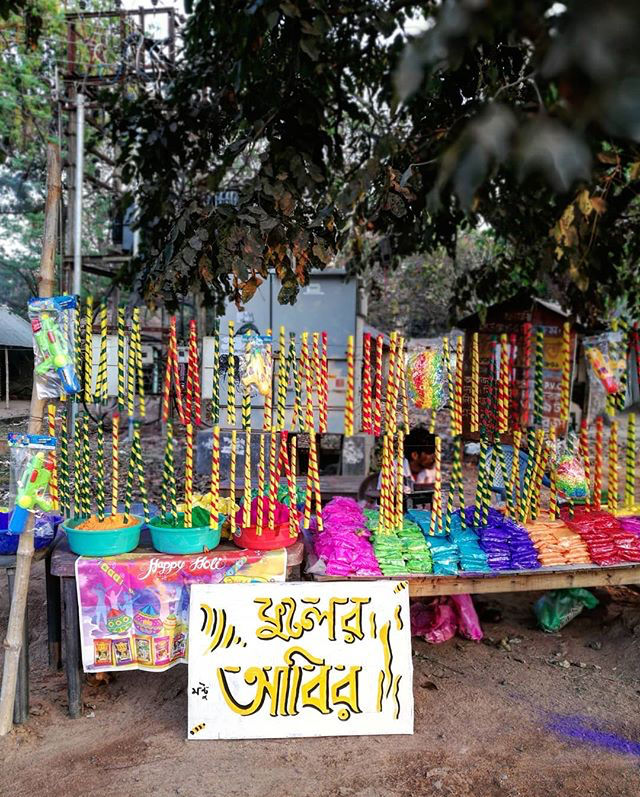 Bolpur is famous for Holi celebrations, but unfortunately we had to leave a day before. The village was already filled with colors and beautiful girls and boys from around. It was happiness everywhere and we were content to leave. In between we also visited Shantiniketan several times, the legendary university founded by Rabindranath Tagore where our friends studied. It was once again revealed to me that what I look for is the wondrous and dynamic village life, not the constructions by great men of all time.
For those who find beauty in simplicity, Bolpur villagers,will humble you and you can leave the place with a content heart. I always find happiness in going to off-beat destinations savouring local life but without disturbing its balance. If you travel and live and not be tourists, Bolpur will reveal itself to you where the Babas smoke chillum on the roadside, where early morning drinking of hadiya, the local vine will give you full power for the day and where food is as lighter as the hearts of its people.