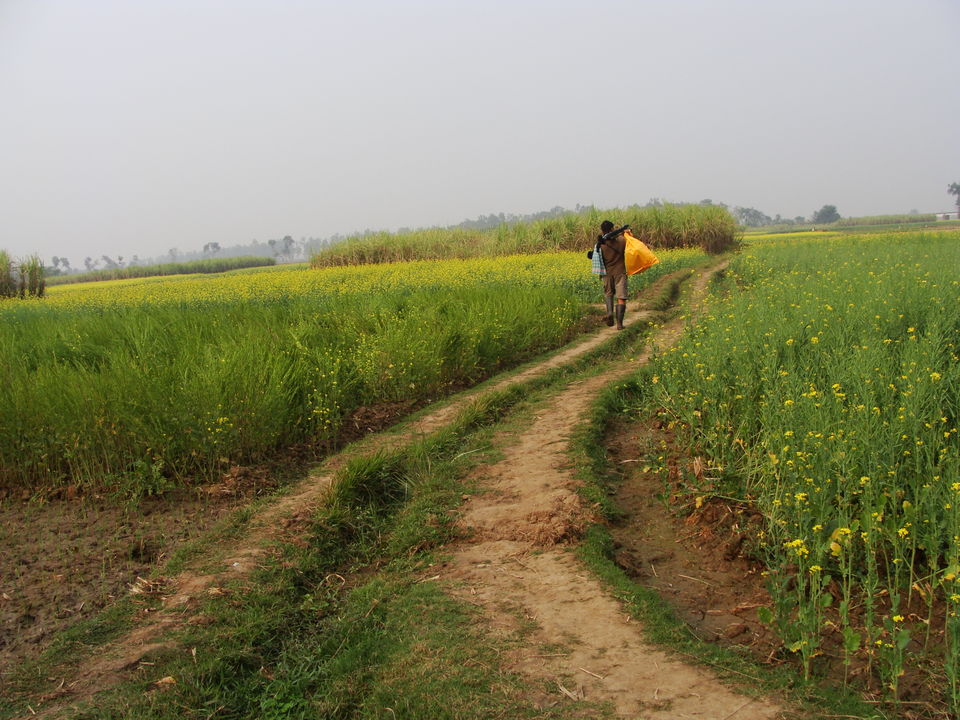 'Kothai tomi?'... 'Aami belune ache'…that is the most usual answer you will get if you call Tanmoy Ghosh, the expert naturalist, ornithologist and the creator of lovely home stay which is based at a quiet village of Belun in West Bengal ( Paschim Bang). After many long hour phone conversations with him I decided to hop in this opportunity to see the interiors of rural West Bengal when he invited me to see the work and projects started by his then NGO, irebel.org. This was my first time to visit West Bengal's rural part and to experience it so closely. Tanmoy started irebel with few determined intentions in his mind. This team had done major work to constraint illegal hunting & deforestation, changing farmers mind towards use of chemical pesticides & fertilizers, documentation & monitoring of threatened species, rehabilitation of birds & animals, creating new forests of indigenous trees and plantations etc.
Though a small village based organization, I realized the importance of its presence in rural side because the team was really working hard from the grass route level. They had started this work at the right hour to voice the need of wildlife & Eco-conservation. It is more difficult when you take the challenge of educating co-villagers about all these things like environment and conservation. Still in some part of rural India many primary facilities are inadequate so telling natives to ignore the jungle cat or fox housing in their paddy fields is just like a stupidity according to villagers. But Tanmoy and his friends have been doing this since last 18 years. Not only they were engaged in wildlife activities but irebel has played lead role in providing financial, medical & educational conveniences to these villagers.
The villagers of this picturesque small village have learned a new language of wildlife care and Eco-conservation and they loved it too. Few years ago Tanmoy and his naturalist friends have started working seriously on the grasslands of Belun for the first ever bio-diversity park of village. Belun villagers are now considering the need of interdependence of birds & animals with their lives and obviously the significant efforts done by irebel team for the mass awareness campaigning for Eco & wildlife conservation, these people have understood the need of bio-diversity forest.
Being a tiny remote village of West Bengal, Belun may not have luxurious lifestyle facilities but indeed Belun is a quiet, beautiful & serene natural habitat for many birds & animals. This petite village near Shiblun of Burdwan district of West Bengal is surrounded by Ajoy and Hooghly River's confluence and also has its very own small river- Shibai, which is a primary source of water for farming & cultivation here. Like any typical village in West Bengal, Belun too had witnessed severe damages to houses, croplands, wildlife habitats by the annual flooding of these three rivers. Katwa town is nearly 12 Km from Belun, which is actually the advantage for the tourists who want to visit here.
Belun is encircled with enormous treasure of wildlife & forest. It was for the first time I trailed through the thickest & 7-8 ft high grasslands here and enjoyed it a lot. Initially Belun is a natural habitat for 200 species of birds, both resident and migratory birds & also animals like jungle cats, jackals, hyenas etc. can be spotted in nearby forest. new grassland & wetland habitats has been created for birds and also, villagers are protecting them. Tanmoy had developed interest among village youth towards nature studies and helping them to become naturalist. Tanmoy's team is taking initiative in close monitoring of the bird & animal population, their behavior, nesting habits, reproduction & other physiological activities. Tanmoy's home stay is a wonderful weekend getaway option for kolkata residents too. With excellent Eco-village kind of facilities for stay & food, this lovely nature hub has much more to give. It is just 175 km by road from Kolkata and other options like train, bus are also available to reach Belun. Once reach Belun, you can make it a base point and visit nearby places like Kalyanpur ghat or Nayachar for Gangetic dolphins, Attahas Tala for open billed stork, flying fox , Chot pukur for terrapins, Bengal fox & migratory birds, & Musharu-the snake village etc.
Tanmoy and his team have many plans to treasure this beauty of Belun and also focusing on the financial up-gradation of villagers too, that is why he believes in people's participation in preserving this natural wealth is very important and to create awareness among them is his prominent aim. Tanmoy had worked on conservation of critically endangered Ghariyal (Gavialis gangeticus) as the continuous research & monitoring work is always going on. All his team is working so enthusiastically and always ready to run on their toes for any project work & guests.
Eco and wildlife conservation and mass awareness does not always need showy glossy presentations in media with catchy taglines or support by so called wildlife enthusiasts, it just needs a direct hit on aim with all the dedication & love for nature. Tanmoy Ghosh is doing exactly that. I think India needs many more Tanmoy's to preserve the wildlife wealth of this country. To visit Belun or for more information please contact Tanmoy Ghosh at tanmoywildphoto@gmail.com.
Way to Belun in Burdwan district of West Bengal:
Nearest railhead to Belun is Katwa and Bandel near Kolkata in India. To reach Belun, journey to Siblun from Katwa junction or Bandel.