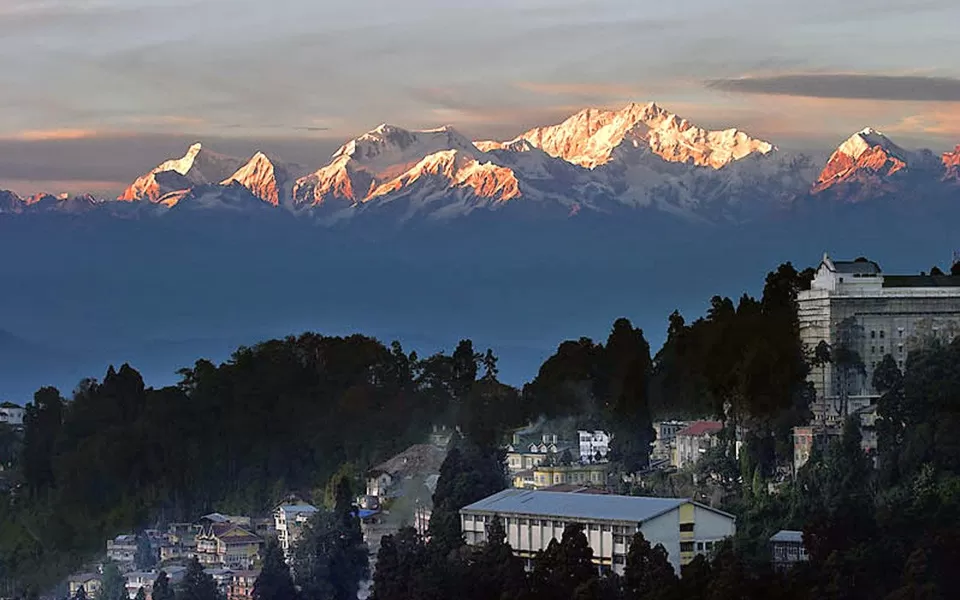 Gorgeous DARJEELING
Among the several hill stations I set my foot on, Darjeeling stands apart, with beautiful landscapes, lovely nature spots, innumerable waterfalls and above all, chilly weather throughout the year. This time too, as always, I waited for none to accompany me and set off alone with a thirst to satiate the mind and body in the lap of nature I always long for. Yes, Himalayas is Himalayas, none can beat. Once visited, our heart vies for a repeat trip. The beauty and vastness of the bountiful nature is such that memory resurfaces, rendering each moment of the visit more and more greener and memorable.
A look at the eye catching Tea estates lined up over the mountainous range turns one speechless. Driving through the snow capped mountain slopes is really unforgettable. Not even a month past since my recent jaunt to the picturesque Gangtok - also a part of Himalayas - I again landed at the same Bagdogra airport to reach out to my second destination. The Tea land is hardly 3-hour journey by road from there. Bagdogra to Siliguri, and few kilometers from there, the road deviates leading to Khurseong, a small hilly town enroute, from where curvy path unwinds. Driving past the giant-sized steep curves, I reached Darjeeling by dusk and went straight to the hotel bed to rejuvenate and prepare the body for the next day's itinerary.
My first outing was to the Rock Garden adjoining the Chunnu Summer falls, split in bits surrounding a small hillock, an exquisite place to visit. It is an hour's journey from the city. Once reaching there and after parking our vehicles, we need to go up the small hillock by foot - stretched for almost a kilometer - circumventing the garden below. The aerial view from the top is really awesome. Photogenic spots are many there, adjoining the eye catching water falls, with cement structures of animals (cheetah, elephant etc) erected at every few meters gap. Children will have a field day pestering their parents for a photo session sitting on these. Closeby is the Ganga Maya Park, worth a visit, especially for the ones obsessed with nature. With lesser footfall, vegetation stretching beyond sight, the park is really enjoyable. I wonder how bold are the Nepali ladies here running small tea stalls with no males in the vicinity for security reasons. Anyway.
Next day, my travel agent took me to the Padmaja Naidu zoological park, supposed to be the largest high-altitude zoo (around 7000 ft), and then on to the Himalayan Mountaineering Institute. We then hopped on to the Happy Valley Tea Estate, took a sip of hot tea offered free, bought few packets of famous Darjeeling tea and left for the ropeway but as it was under repair, had to skip it. Tibetan Refugee centre is the next place nearby. Here, Tibetans who left their country, are rehabilitated and offered training in various skills to earn their livelihood. Hand made mementos are too many, can buy few before leaving. Tenzing rock, also called Gombu rock is where two high-rise rocks are there for those fond of trekking. After lunch, we then moved onto the last spot for the day, the Japanese Monastery (Peace Pagoda). A quiet place, dedicated to Lord Buddha, where there is a prayer hall and devotees are offered small drums each with a stick, to beat to the tune of the priest - a way to worship like we ring bells and offer camphor arathi to Hindu Gods in temples. Worth the visit.
The highlight of the entire trip is a view of sunrise over the highest peak Kanchenjunga at Tiger Hills. I promptly obeyed my driver's instruction to be ready at hotel reception by 4 in the m.ning so as to reach the place by 5. We did land at the right time but lo, thick clouds denied me the purpose I, sorry all the tourists, went there for. I was told not everyone would be lucky to witness sunrise here. Cursing my fate, I turned back. The day was the last-day of my tour and was yet to visit two more places; first is Batasia loop – a war memorial built in memory of various Gorkha soldiers who sacrificed their lives post- independence. A wide park with different flower plants, with the cement structure of a soldier holding a gun erected at the centre, can be viewed here. Sad thing here is, the foot path is fully occupied by sellers of petty items like shawls, monkey caps, sweaters etc, hindering free movement of tourists. The next and the last place was Ghoom Monastery at a stone throw distance from Batasia. Child monks clad in full-size red dhoti and yellow banians, with fully tonsured heads and typical Nepali eyes (small), can be seen here mouthing Buddhist sermons before a mike at the sanctum sanctorum.
The magnificent item I did miss was the journey through Darjeeling Himalayan Railway (DHR) a Unesco Word Heritage site running between Darjeeling and NJP (New Jalpaiguri), a distance of almost 90 KMs. Reason, tickets are to be booked in advance. When queried, I was told bookings were already full for next 2 days. I could only see the narrow guage tracks running throughout my road journey alongside, erected literally in front of small houses and petty roadside shops. I mean, house/shop doors are so close to the train track, that when doors are open, they can see train moving right in front of their eyes. Strange it is.
Am thinking of a 2nd trip here, to fulfill what all were left undone (DHR journey, ropeway, sunrise over Kanchenjunga et all).
N.DEVARAJAN, MYSORE