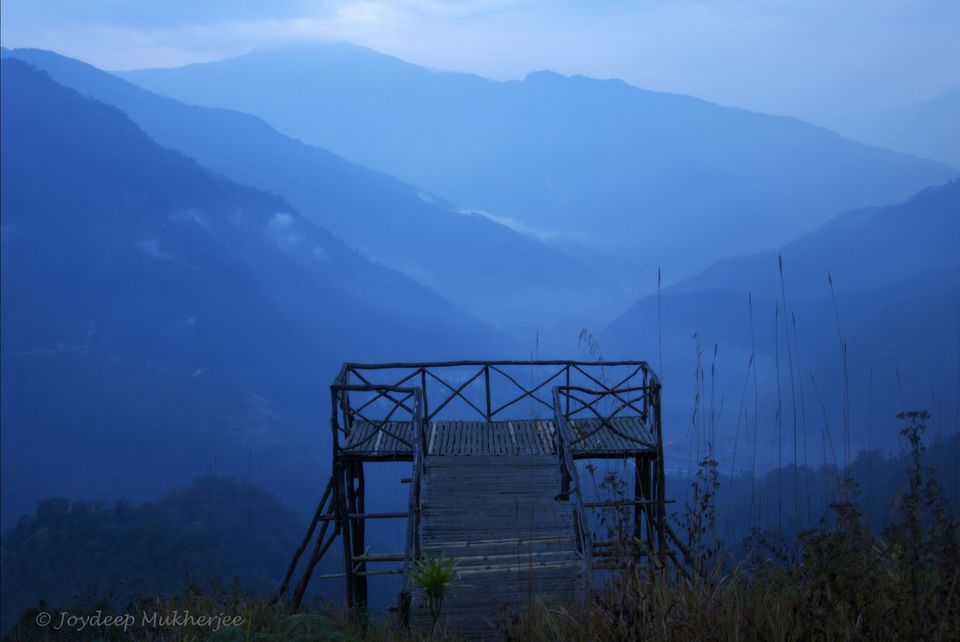 Whenever, I go to the hills of North Bengal, I realize that exploring the mystery of it will never end. I was enjoying my solo leisure trip in the bank of mountain river reshi at Reshikhola. When suddenly Mr. Sebistian Pradhan, a pioneer of community based eco tourism in Kalimpong region and also the homestay owner of Reshi offered me to visit Mangarjung a little village in Kalimpong subdivision of Darjeeling district. Community based tourism is being developed in the village under the initiative of Mr. Pradhan. I did not have a fixed plan, so I accepted the offer with great excitement.
Next morning, I and Mr. Pradhan started for Mangarjung. We took a share jeep to Rhenok and from Rhenok to another share jeep to Rangpo. We passed through the hilly roads and the river Teesta was beside of us most of the time during the journy. We hired a car for Mangarjung from Rangpo. Mangarjung is only 11km from Rangpo. The car took road towards Munsong. The car slowly kept going through the steep, narrow hilly roads. The road became gradually soil road with loose pebbles for last few kilometres. After few sharp bends on the steep road we finally reached Mangarjung, a hidden hamlet in the hills of North Bengal. My vocabulary strength is not enough to describe the pristine natural beauty of Mangarjung. It is a remote village on a hilltop still untouched by hustle bustle of tourism. The village is surrounded by Cinchona plantation. A very thinly populated village with few huts and small cultivations of vegetables scattered here and there. We were greeted by our host Mr. Tamang immediately after arrival. I will stay at his home and Mr. Pradhan will leave after lunch. The speciality of Mangarjung is you can enjoy the longest view from Teesta from an altitude of 3500 Ft and also the stunning view of the beloved Mt. Kanchanjungha on a clear day. The place is so quiet that you can hear the sound of flowing Teesta river from the 3500 Ft hilltop. They have built a sticking out wooden machaan (viewpoint), 20 ft off the edge from where you can enjoy the view of beautiful Teesta or sunrise in the morning and also the setting sun in the evening from the same place. That is the beauty of Mangarjung. You would prefer to call the machaan a suicide point standing at the edge. However, a new concrete view point is being constructed. You can also see thel lit up hill towns below shining like thousand fireflies at night from this place. There is a thatched wooden seating place on a slope. You can enjoy your morning tea or evening coffee seating here while bestowed by serenity of the mountain. However, due to a overcast and rainy weather during my stay, I missed the enchanting view of Mt. Kanchanjungha. One can go for a 20 minutes short trek to see a very old tree worshipped by the villagers. One can also go for a half day guided trek to see colourful butterflies. You can hire a car and go to Jalsha Bunglow view point which is an old British Bunglow. After that you can go down all the way to the bank of river Teesta to enjoy some time in the river bed.Else just relax and be absorbed in the serene beauty of this hidden hamlet with all your all senses. The homestay arranges bonfire with barbeque in the evening and here I must mention about the local drink 'Chang'.
The homestay was with very basic amenities though sufficient. Few guestrooms are the part of Mr. Tamang's house. but few new rooms have been constructed for the guests. The common balcony of the new rooms give splendid view of the Teesta and the mountains. These rooms are just few steps before the view point. Mr. Tamang and his family offered very warm hospitality and limited but mouth watering food. Tamang homestay has a small, beautiful outdoor dining area to enjoy the food.
A sudden visit to Mangarjung was a real blessing to me. I returned from there with a plan to come back very soon.
Staying option
The homestay is the only staying option. Presently there are two homestay units, Teestaview Homestay operated by Tamang family and another one is Gurung Homestay. They provide accommodation with all meals at very reasonable price.
Travel tips
NJP is the nearest rail station and Bagdogra is nearest airport.
You can hire a car from NJP or Bagdogra for Mangarjung directly. Second and cheap option is take a share jeep from Siliguri to Rangpo and from Rangpo hire a car. Public transportation is almost not available to mangarjung.
You can come any time of the year but better to avoid rainy season due to road condition.
Facilities are very basic over here and there is no market nearby. So keep your essentials handy.