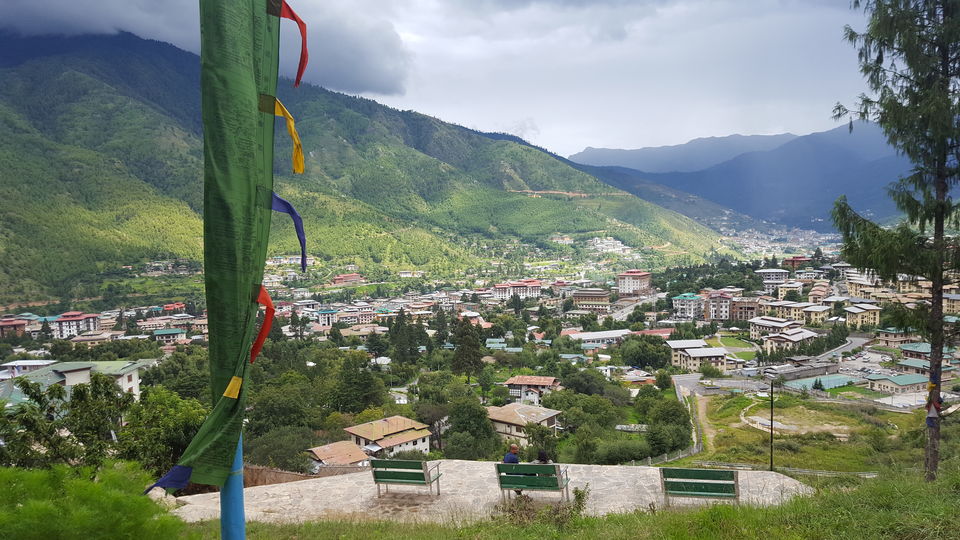 Ways to reach Bhutan
There are two ways to reach Bhutan. One is to enter via Phuentsholing on road and the other is to fly directly to Paro. If you decide to go via road to Phuentsholing then the nearest airport is at Bagdogra in West Bengal. The last major station is at Jalpaiguri from where one needs to take a shared taxi or cab to Phuentsholing.If you choose to fly then Druk Air takes you to Paro directly.
To come out of Bhutan you can use the above two routes or come out through Samdrup as well. If you plan to come out through Samdrup route, the nearest airport is Guwahati air terminal.
Note: One CANNOT enter Bhutan through Samdrup, only exit is possible
Visa and Permits
Let's get it straight! The tourism of Bhutan encourages only responsible travellers visiting their country. If you look at the set of rules that they have laid for outsiders, you'll understand why I made that statement.
Unlike other countries you can't just buy tickets, get your visa done, pack your bags and land up in Bhutan. There are a set of rules that you need to follow.
For Non-Indians
Tourists should visit the place only through approved agents from Tourism Council of Bhutan. They have set a minimum daily package for every tourist who visits their country. This is basically called tourist tax and its mandatory to pay the price. The costs are around $200 per person per night during off season (January, February, June, July, August & December) and $250 per person per night for high season(March, April, May, September, October & November).
This $200 / $250 per person per night is applicable only if you are travelling in a group of 3 or more. Else you have to pay a surcharge of $40 per night if you are travelling alone and $30 per person per night if you are travelling in a group of 2.
If you go through any local agent, he might charge you additional cost because these local agents will in turn need to get in touch with the Tourism Council of Bhutan's approved agents as they are the only authorised people to guide you around. There are discounts that you get if you're a student or if you travel in large groups, once you get in touch with these agents, they will help you with discount details.
One important thing, you need to wire transfer the entire amount before the trip to Tourism Council of Bhutan, only then you're visa will be processed. This is a must, because when you enter Bhutan, you need to show your visa clearance letter to get inside the country.
For Indians
Indians are exempted from these set of rules but they need permit to visit Bhutan. You can get permit done from the Immigration Office in Phuentsholing. This permit will be valid for 7 days and can be used to visit Thimphu and Paro. In case you want to visit other remote places in Bhutan like Punakha, Haa valley, Bumthang etc you need to get another permit from Thimphu Immigration office. There is no fee involved in any of this process.
Important note: Carry a valid photo id (passport, voter id, driving license) and 10 passport size photos to get the permit from the Immigration office
Mobile & Wifi
This is one important detail that for all of us need to know, only Airtel has connectivity in Bhutan but on international roaming charges. It's best to take a B- Mobile sim or tashi sim from any telecom store in Phuentsholing, there is one very close to the Immigration Office itself. The sim costs 100 rupees and you can activate additional data packs if needed. Most of the hotels in Bhutan provide free wifi to its customers so there wouldn't be a need for additional data pack, until otherwise. You need to show the permit to get the sim. If you don't want a Bhutan sim, then activate international roaming in your airtel number before starting to Bhutan.
Currency
The Ngultrum is the currency of the Kingdom of Bhutan and it is at par with the Indian currency.
ATM
There is a dearth for ATM's in Bhutan that too Indian ATM's. It is best to draw cash before the trip or in the airport itself. There is an axis bank ATM in Jaigaon which is the last option, in case we need to withdraw cash.
Timezone
Bhutan is ahead of us by 30 minutes. It is GMT + 6 hours, which is 30 minutes ahead of Indian standard time. Once you enter Phuentsholing all times are displayed in Bhutan timezone. Smartphones these days automatically adjust to the local timezone, hence it is sorted, but do not forget to change the time in you watch.
Public transportation
Buses run at least once daily from Thimphu to Phuentsholing, Haa, Paro and Punakha. Long-distance buses run between one and three times weekly from Thimphu to all remote places. Fares are cheap but the timings in which they operate are something to be concerned. The last bus usually leaves by 2 in the afternoon hence if you're planning to use public transportation, it is better to stick to the timings.
The most common mode of commutation is shared taxi. They are little high than the bus fares and vary accordingly to the destination.
Dress code
People of Bhutan dress in their traditional outfit most of the time. You can spot men wearing Gho and women wearing Kira on all formal occasions and places like government office, temples, Dzongs, monasteries etc. For travellers, there are few dress codes that need to be followed. When you enter Dzongs you should wear full covered clothes. Sleeveless tops, skimpy clothes, shorts aren't allowed in these places. When you wear sleeveless, the easiest option is to always carry a jacket or shrug and just wear it when needed.
Driving
You can drive your own vehicle from India inside Bhutan. Along with your driving license, carry all relevant vehicle documents (RC book, pollution certificate etc).You have to take a permit at Phuentsholing Immigration Office. If you are planning to take own vehicle then be mindful of the rules. The driving speed should be below 50 Kmph and there should be absolutely no horn. Also you should give way to the pedestrians while they are crossing the road. It is recommended not to drive at night as most of the roads are without street lights and road markings and I guess that's pretty much about it.
Note: If you want to drive a Bhutan registered vehicle you need either a Bhutan license or an International vehicle and can't drive them with your Indian driving license.
Taxi Tariff
Almost all the taxi tariff are fixed by the government and is generally considered a bad practice to bargain. Most of the taxi's are 4 seaters and if you are in a group of 5 or more, then you have to hire two separate taxi's and they follow this rule pretty religiously. Per day costs may vary between 2500-3000 Nu if you book the same taxi for the entire trip.
Food
In case you get bored of Bhutanese food, the regular momos, thukpas and chowmein are available in almost all restaurants. For people who cannot stay without pizza and French fries, there are few café's in Thimphu and Paro that serves pizza and its variants. For people like me who love their daal chawal, bad news is that you'll have to stick to the above options. Most restaurants serve Indian Khaana as well but once you try it there, you may never want to eat daal chawal again in your life.
Shopping
For all the shopaholics, Thimphu and Paro are the best places to quench your shopping thirst. After all, this a country that boosts of its colourful masks, prayer flags, exquisite Kiras, woven bags, stoles, yak bone jewellery and traditional handicrafts. Noriz lam in Thimphu is a street filled with shops and eateries. Paro market is also known for shopping. We found Thimphu on a tad bit expensive side than Paro. In case you buy a Kira, Bhutanese will be more than happy to show you to how to wear it.
Note: As Indians we love to show-off our bargaining skills, but Bhutanese won't give a damn about it. It is generally considered as a bad practise to bargain in Bhutan, so even if we showcase our talent and ask for half the price, they will only reduce a maximum of 100 bucks from the price they fixed.
Now that you have read all the things that you need to know about Bhutan, get, set and travel to this country of Happiness!
This post was originally published on Postcard Chronicles