Sikkim is also known as Nye-mae-el among the original inhabitants of Sikkim, which means paradise. And I had planned the trip hoping it to be a paradise, which truly it is but in the month December it is more like Narnia. The weather is icy cold and you might feel short of breath at few high altitude places, so be careful while taking the elder ones to Nathula or Guru Domngmaar Lake, rest all is doable.
Day 1
Our trip started with a flight landing at Bagdogra and we straight away headed for Sikkim. We got to know that Nathula is closed on the day we scheduled our visit (it is closed on Monday and Tuesday) so we had to reshuffle our entire plan as I won't have returned from Sikkim without visiting Indo-China Border.
Once that was done my entire focus was on the views outside the window which were truly breathtaking. The vibrant river Teesta brings life to the entire canvas of greens and browns this time in contrast to spring when it's majorly green everywhere.
Sikkim geographically can be divided into 4 regions i.e. East (Gangtok, nathula and Changu Lake etc.), West (Pelling, Yukosom and Geyzing), North (Yumthang, Lachen, Lachung and Gurudongmar Lake) and South (Namchi, Ravangla, Rangpo). One would need minimum 3-5 days for each of these circuits, each of this regions provides a different flavor of Himalayas!
Our first halt was at Gangtok. Having reached in the evening we quickly freshened –up and hit the Mall to experience the city. We explored the entire road keenly observing every passer by's local, purchasing some essential winter clothes which we forgot at home and largely soaking up the vibe of Gangatok, which is very lively and peaceful at the same time.
Day 2
Next day early morning we were greeted by awesome view of Mount Kanchenjunga from our room window which was invisible last evening due to the hovering clouds. I wish I could wake-up to such a view every day!
After a hearty Aloo Prantha breakfast we were ready for extra bumpy ride to Lachen. We stopped to explore Seven Sister water falls on the way to Lachen. Beautiful falls with rustic brown and green at the back and colorful Buddhist flags all around is just a splendid view.
Finally reached at 4.00 PM right before the closing time of the Monastery, where we headed straight to even before check-in, but it was locked, after 15 mins of shunting around I could find the care taker and the humble one agreed for opening it for us. Beautiful small monastery, with silence which might gulp in the noise of vibrant shores of Jagnnath Puri also. After spending few minutes there we were all up for steaming hot tea with pakoras.
By the way our accommodation was exceptionally beautiful and highly recommended for stay. With a thick layer of snow it looked like an ice mansion inside Narnia. We had a suite booked for ourselves the view, the interiors and staff courtesy was worth the money spent.
After having dinner in their rustic restaurant we spent few hours (in freezing cold) gazing the stars and watching dew converting in the ice shards. Having left with 3 hours of sleep, as we had to wake-up at 3.00 AM for our journey to Gurudongmar, a tough adventurous journey worth the early morning ride admist the blowing white wind and freezing temperatures..
Day 3
It was 3.30 AM in the morning, obviously there were no signs of SUN but moonlight was getting reflected from snow, creating divine sliver glow all around. I quickly jumped into the cab and took two extra hot water bottles to keep us warm. Our journey started and soon we were joined with a Carvan of cabs going towards Gurudongmar Lake.
Our journey was exceptionally slow, the road had went worse because of the recent snowfall. At around 6.00 AM we reached Thangu, and there was that beautiful Sun rise turning the snow covered peak into pale orange, as soon as we halted there I assumed that car has been purposely stopped to greet the Sun but reality stuck me after 10 mins. There was a huge traffic jam as at 6.00 AM at sub-zero temperature, there was an army checkpost and they was advising people not to go ahead as car might skit or get stuck due to snow.
Me and my husband had lost hope of reaching Gurudongmar and made a halfhearted halt for an hour there to play with snow, but our courageous driver had some other plans.
Once he said that he will try taking us to Gurudongmar there was no turning back. 7 out of 300-400 vehicles decided to go ahead and we were one of them. The road at that point of time was very bad 10km/hr was the speed we was the aim to achieve. Half an after we started we got stuck on snow covered road and we came out to push the car. Wind was blowing so hard that fresh snow on the ground was creating small snow tornados and freezing the sense. Somehow we got out of that patch and 3 other similar ones and finally at 12.00 PM we reached one of the highest lakes in the world, located at an altitude of 17,800 ft (5,430 m).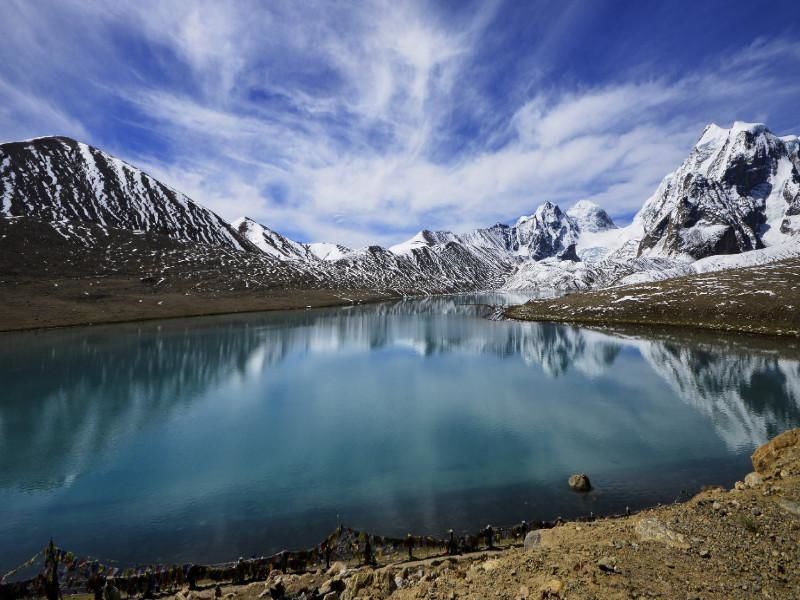 Finally after 7 Hours of adventurous journey we reached Gurudongmar (which would have been 2-3 hours on favorable conditions). We were greeted breathtaking view of Mount Siniolchu and Khanchendzonga. Snow clad mountains and crystal clear icy water, created a sight which is in scripted in my mind forever.
The lake is considered to be sacred place for both Hindus and Budh's. The lake is name after Guru Padmasambhava. A legend related to the frozen condition of the lake is linked to the visit of Guru Padmasambhava to the lake, on his way back from Tibet. When he saw the lake he felt that the lake was worthy of veneration as it represented the divine location of Dorje Nyima or Chhoedten Nyima. As the lake remained frozen most of the year with no possibility of providing for drinking water needs, the people of the area appealed to Padmasambhva to help them. Then the guru agreed to help them and placed his hands on a small part of the lake area which stopped freezing during winter thus facilitating the source of drinking water to the people. The water of Gurudongmar Lake are said to have curative properties and many tourists carry the water with them on their way back. There is a shrine near the lake, 'Sarva Dharma Sthal', and as the name suggests, it's a place of worship for all religions.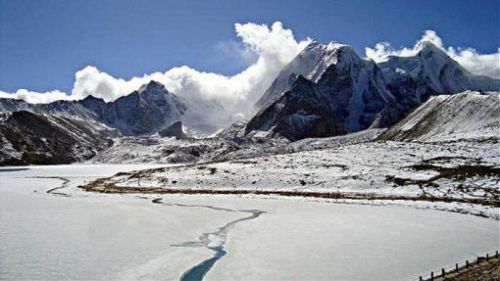 While I was busy admiring the -12 C temperature at the noon time, I realized that our Innova was shaking because of the blowing wind, suddenly a chill ran through my spine and I sat inside the car. After spending good 45 mins we headed back to Lachen. My original plan was to take a diversion to Chopta valley but since we were already running late for Lachung and was dock tiered and sleepy, I had to skip that. But it's highly recommended specially if you are visiting during spring or summers.
We headed straight to Lachung, via road full of pits and stones. Halted at Amitabh Bachchan Waterfalls for a refreshing music by the falls and hot cup of tea. Post that we headed toward Lachung, a quant village with nothing to pick on To-Do list. But the village offered a beautiful sunset view some the window pane of the hotel. Perfect end to one of the most adventurous days of my life!
Day 4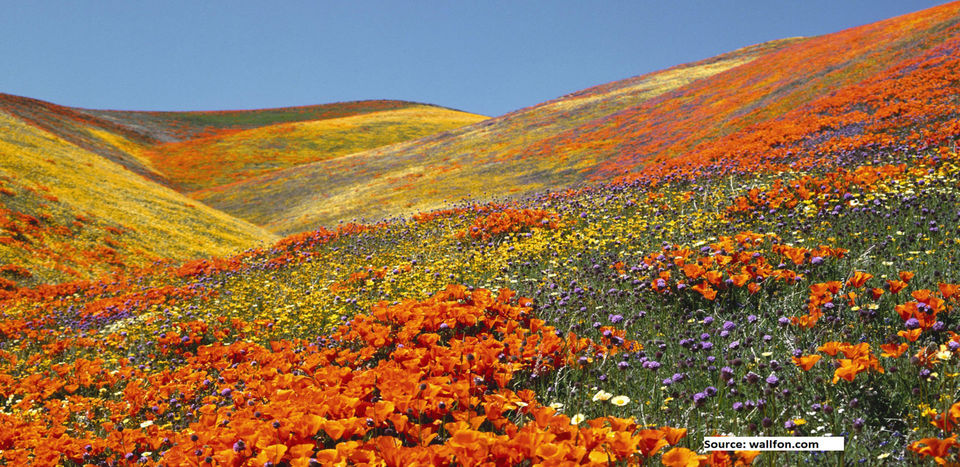 As soon as you start for Yumthang valley you want to stop at every bend of the road just to admire what your eyes had just witnessed. If you travel during spring or summers, you will realize why it is called valley of flowers. Entire region from head to toe would be covered with a blanket of Rhododendron of different shapes and sizes creating multicolored hues of rainbow.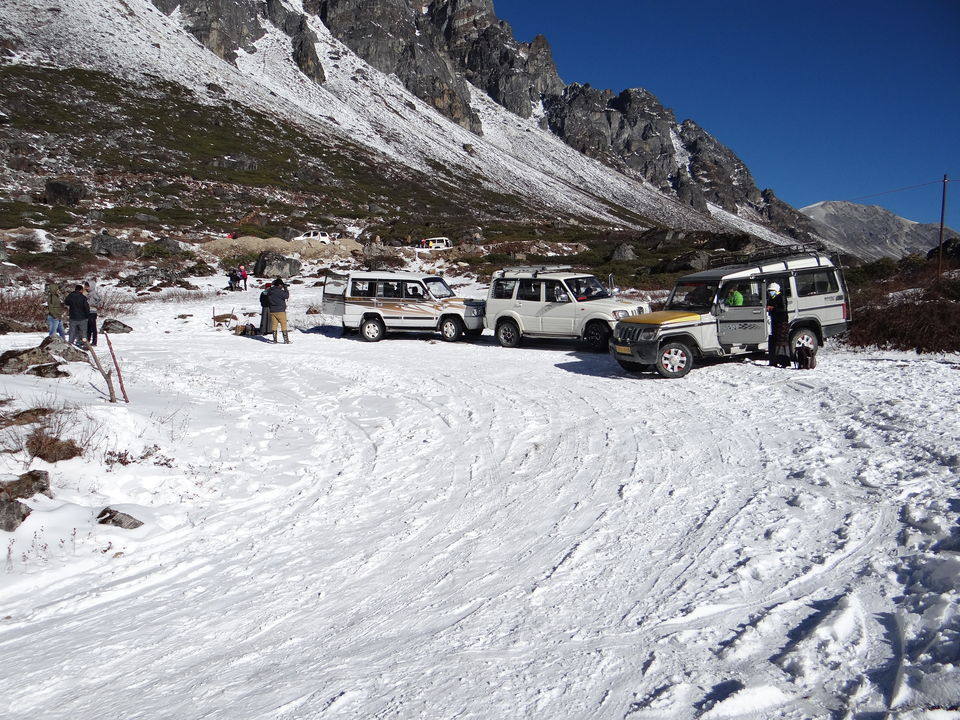 After around an hour journey we reached Yumthang Valley but we skipped the halt for the journey back and proceeded towards zero point. Due to the recent snow fall Zero Point wasn't accessible by Car and we had to walk for 1.5- 2 kms to reach it. One should rent boot from the Yumthang valley itself, we didn't do it so after few mins of walk, my feet went wet and numb as I was walking on the snow with my normal walking shoes. We crossed the small water stream and experienced the vastness of Himalayas with no one around I mean literally!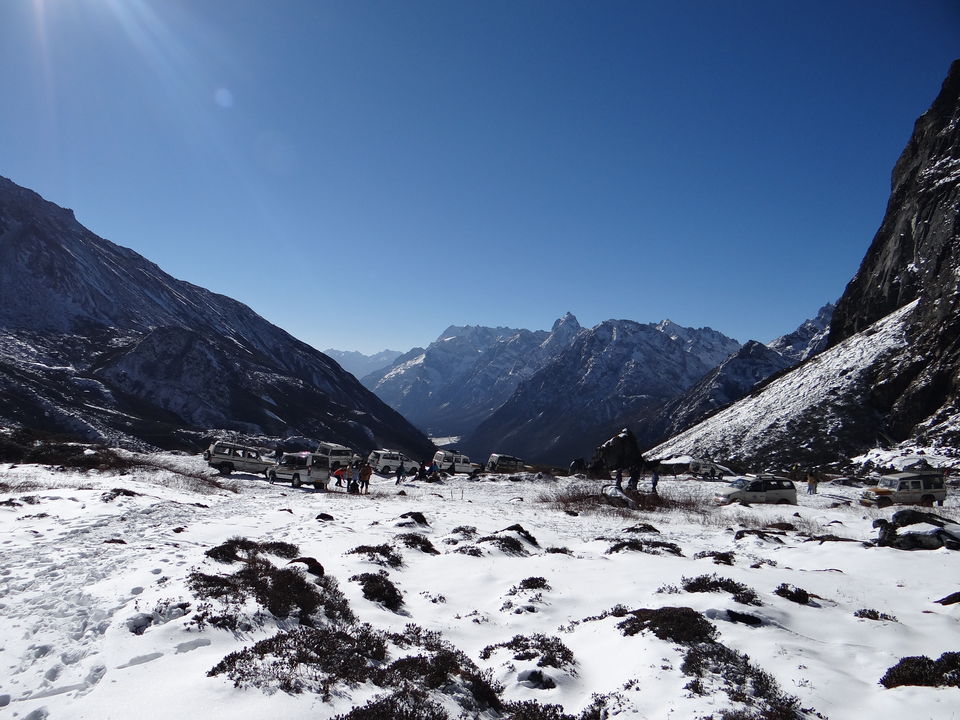 While returning to the point where our car dropped us, we saw a massive Traffic Jam building up. We rushed into the car. Then it was time for spellbinding Yumthang Valley, one can spend hours here just watching the flow of the rivers against the canvas of huge mountains and dimming sun.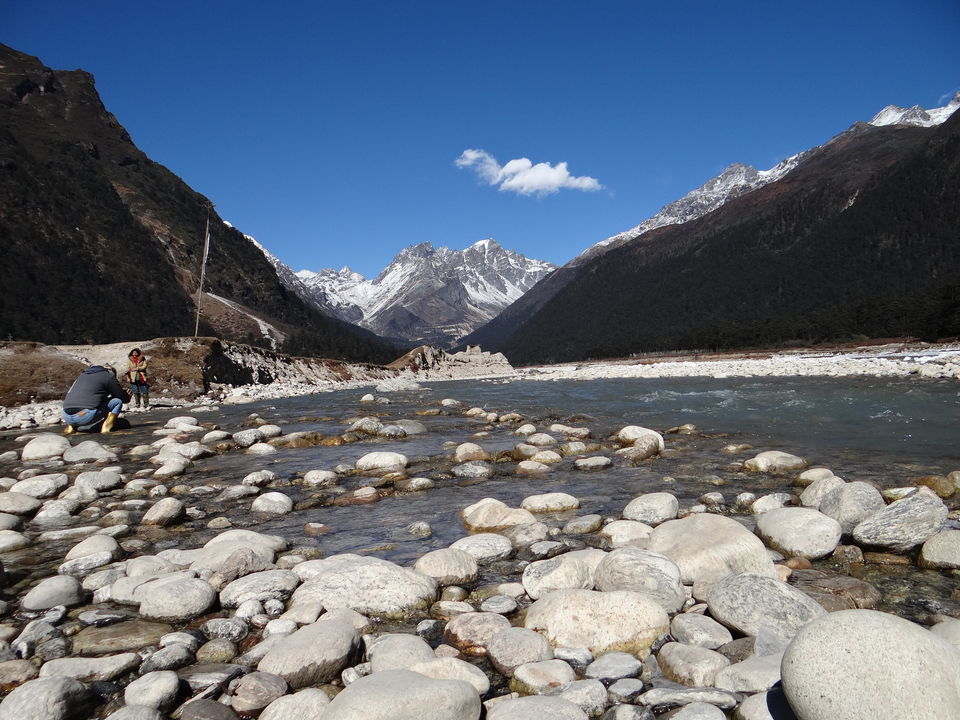 While returning to Gangtok we also halted at hot water spring just 15 mins drive from the Yumthang valley. Exactly what your feet want after being frozen from walking in the snow.
Day 5
Next morning, first thing we did was to head towards Rumtek Monastery. Intricately crafted Monastery with a learning center for educating the next generation of Buddhist monks.
Very peaceful place for a visit, one can spend 3-4 hours easily depending on the interest. We happen to connect with a Monk got the insight about the inception, importance and functioning of the Monastery. It was rebuilt by Rangjung Rigpe Dorje, 16th Karmapa, when he came from Tibet in 1959. His relics are stored in Golden Stupa in the monastery.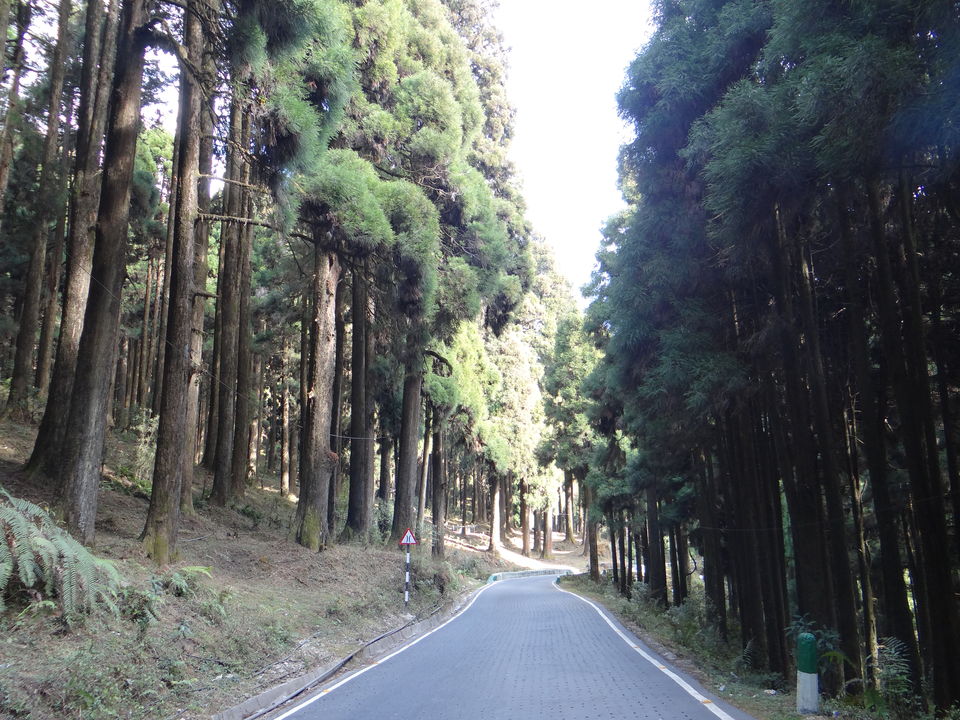 By noon we reached Darjeeling, starting point was usual stroll on the main street of the City, and tasting variety of Darjeeling Teas and snacks along the way and watching sunset at observatory point
Day 6
Today was the day when we had to explore Darjeeling from every nook and corner and that started with watching a mesmerizing sunrise from the Tiger Hill! The Hill was damn crowded, I assumed that on 31st December morning with Mercury almost touching -10 Degrees, nobody will be interested in waking up at 4.00 AM (again I know!) walking up the hill for almost an hour and then waiting at the hill top for almost 45 mins while the icy winds were passing through you at the speed of 10-12 kms/hour. Despite of multiple layers of clothes I wasn't able to feel any of my body part, that's when the dire need of Sun-Rise was aggravating. Soon there was a light golden spread of light peeping out from the layers of clouds and with-in 5 mins the sky was full of shades of amber-golden emitting light and warmth giving hope against the darkness of dawn. And soon after the sun-rise temperatures became bearable despite of blowing wind.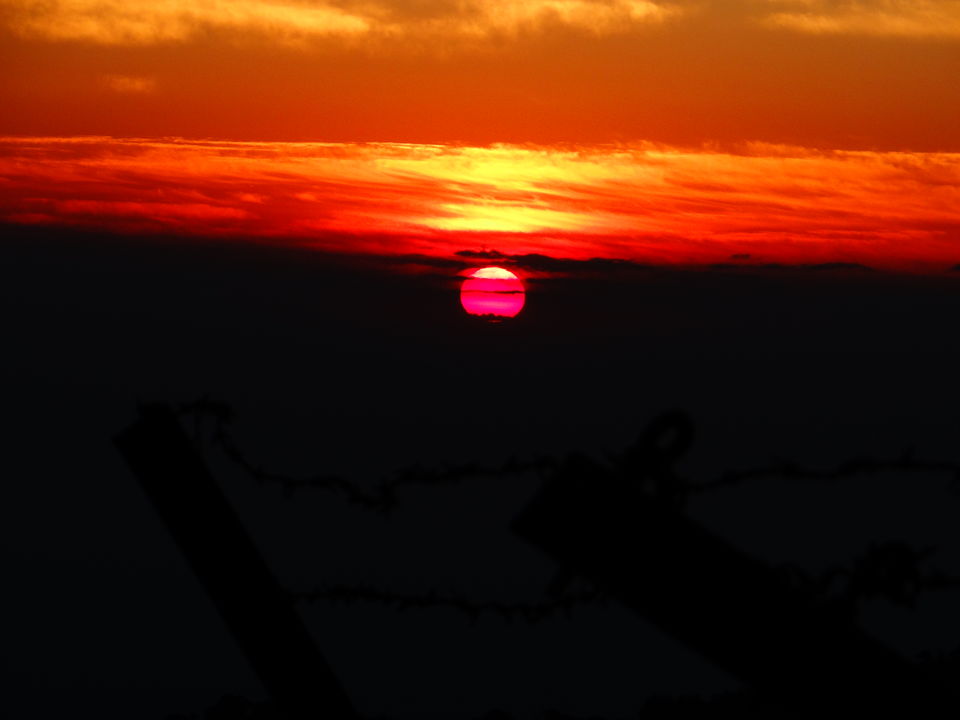 After sometime we went to the other side of the hill, having spectacular view of mount Kanchenjunga, bathed the sunshine sitting proudly over the carpet of clouds! Thought I haven't seen many sun-rises but by far this one was the best!
Now it was time to have some breakfast and head to take some sleep, to get our energy back for full day of exploration.
Then it was time for the famous Steam Engine Train Ride to Ghoom, along with a halt at Batisa Loop. The moment that long whistle was blown, kid inside us was reborn. That excitement of slowly moving steam engine, people walking and travelling alongside on the road, Light wind brushing your face, occasional greenery in the midst of concrete jungle (which Darjeeling has become) and imagining the famous Rajesh Khanna song made it all worth the expensive ticket that we had to purchase.
While we were catching the train back I wanted to have the samosas being cooked little further to the train station since train was about to start we paid the samosa vendor and asked him to it handover while we are crossing in the train though it was a silly idea but I was willing to act upon it just because of the greed of spicy snacks. So I kept my hand hanging out of the train while we approached that shop and shopkeeper handed us the samosas. So the little Steam Engine Ride was fulfilling both experience and stomach wise.
We started our day with a visit to Ghoom Monastery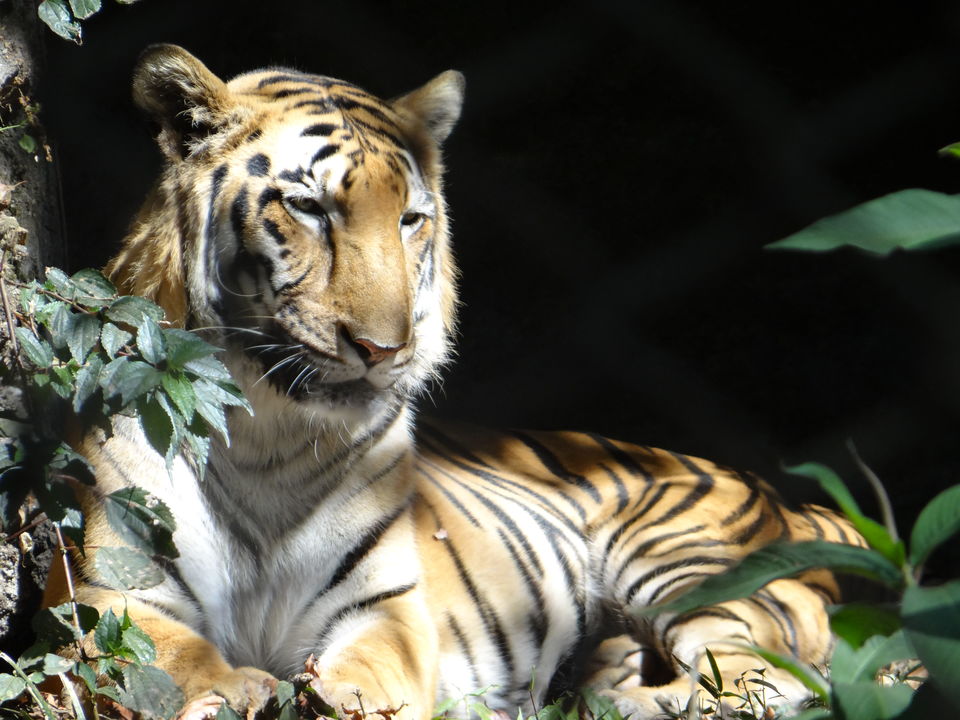 Next thing was general city tour for Darjeeling, which included Zoo, tea gardens, rock climbing rope ways etc. Apart from Zoo and cable car, I didn't like it much but you can try. Walk in the Zoo is good, with the hilly terrain and some rare animal, its worth paying a visit. We concluded our day with the evening walk along the mall road, that is always fun. Things to try:
1. Glenary's Bakery and Cafe is a must try awesome food with unparalleled view of mountains
2. Nathmuls Tea Bar: Extensive collection of Teas which they serve in cafe and sell also. The most expensive tea was costing as much as 1.2 Lacs INR / kg.
3. Shyaa phaley: Deep fried Tibetan flat bread stuffed with meat, served with hot and spicy chutney and soup. I tired the veg version which wasn't that great but have got really good feedback about the meat one.
4. Souvenir Shopping: Wide range of antique collection of Tibetan Art is available at various stores in Darjeeling suiting to every budget. Some of the art works are unique, I mean haven't seen in any other Tibetan establishment in India.
Next day our plan was to go to Mirik, the objective to go there was to enjoy lush green drive on the foothills of Himalayas, and the route didn't disappoint us. Although there is nothing to do in Mirik and the destination can be totally skipped but the route can't be. 3 Hours ride from amidst the lush green forests and GopalDhara tea estate is a delight to savor. Interesting fact is there is a small patch of road which falls under Nepal instead of India, so get to touch another country without even knowing.