We have heard about the haunted story of Srikhola, trekkers hut, Aware of the most haunted place of Darjeeling district, Dow hill the "death road" of Kurseong.
There are numerous Myth stories about Kanjendzonga as well .which makes it second least climbed peak, After Annapurna.
Today I am going to share a weird experience that we had faced in Sandakphu trip which we were not aware of, still, now we are unable to find an answer for the incident which we had experienced at Tonglu GTA lodge. However, there are many people and friends of mine who had stayed at the same place but never filled as such where one friend of mine said that he had sensed some abnormal activities at Tonglu.
Tonglu is a small hamlet situated at height of 3070 m 93 km away from NJP via Matigara - Kurseong road,34 km via Rishi road and 11 km from Maneybhanjan, 6 km from Dhotrey.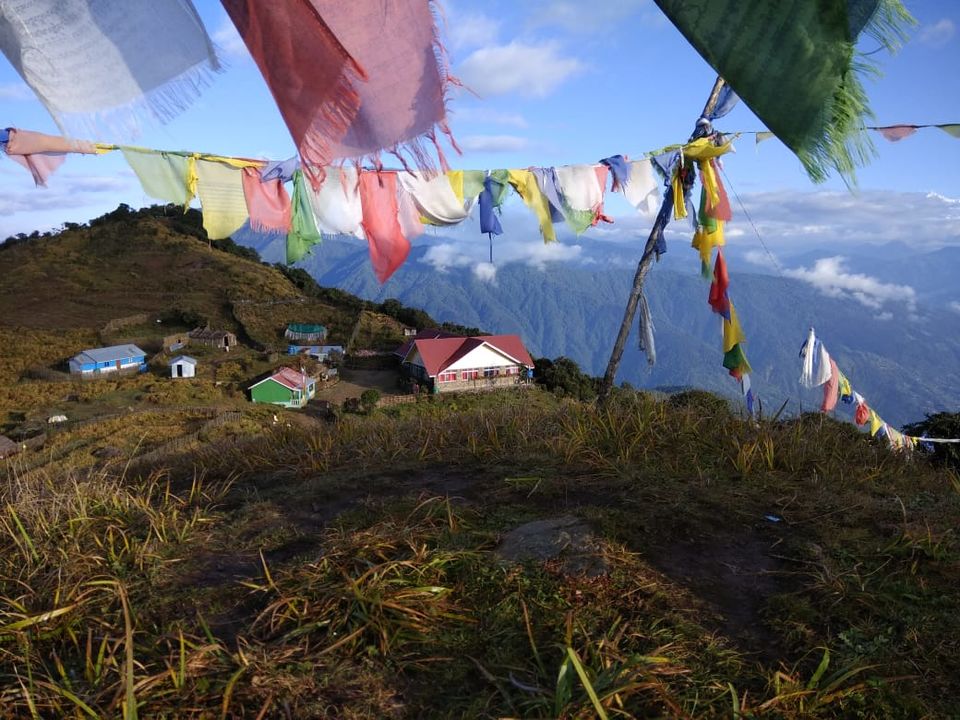 It was 12th of October when me and my friends were travelling to Sandakphu via Tonglu. We have planned for 2 nights one day . When we reached there around 5 o'clock in the evening the sun was going to set in the west. We just settled our pieces of luggage at room and ran into backyards of our lodge to watch the sunset.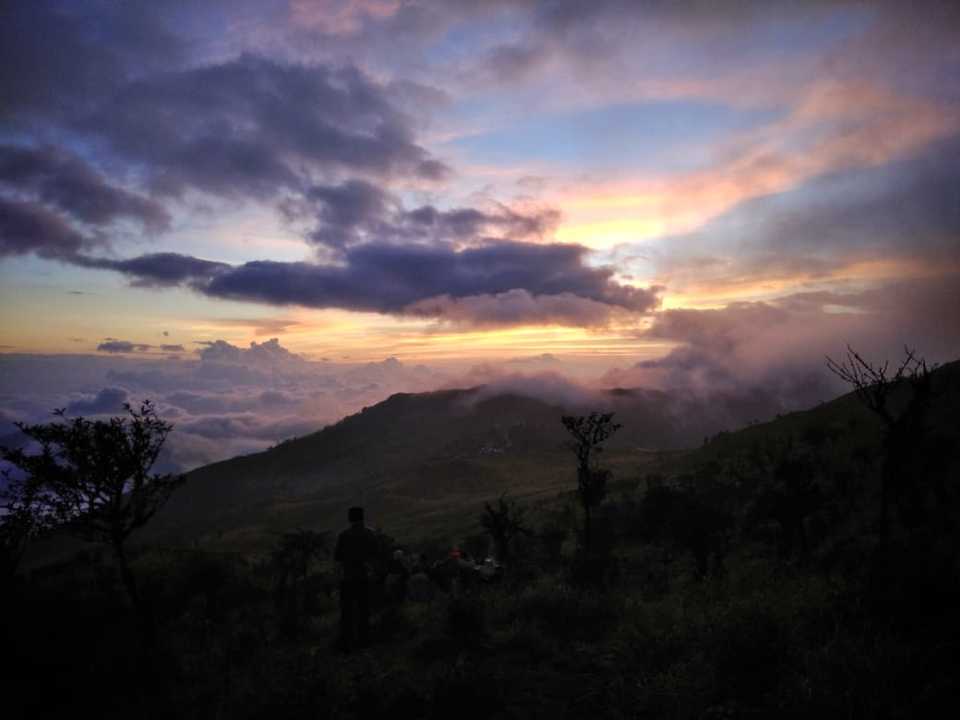 by the time 5:50 p.m. it was getting dark ,we returned to our lodge and had our dinner around 7.As we all were tired we fall asleep early that day.Later on midnight we heard Dog's barking outside our lodge but we did not care as we were so sleepy that night. We all heard about leopards and wild animals stories from local people and on the internet ,(now they are no longer existing here )so we ignored the not so common continuous barking of the dog outside and fall asleep.
Next day we roamed and had a great day exploring Tonglu. We found a tree that has an aspen eye which was quite interestingly odd in that wood as if it was watching us.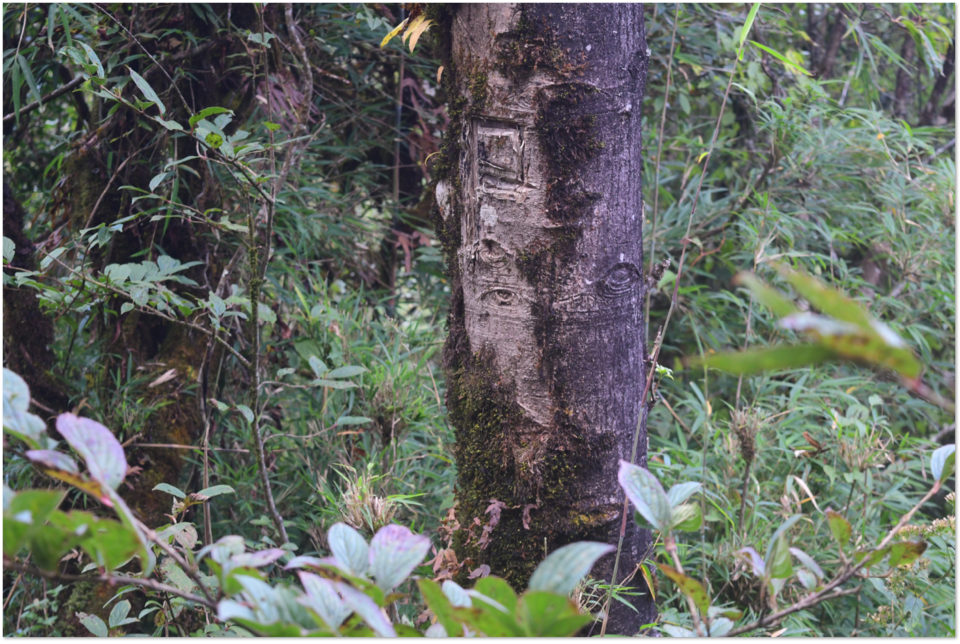 Anyways before it was getting dark we came to hut.We started chatting, and had a plan to capture star trail as among 6 of us 3 are passionate photographer. So without wasting any time, after snacks break Ambor,Rajatabha da and Sankar da went outside the corridor (lawn area u can say), under the milky way to capture star trails. It was unpleasantly cold and mystifying. The owner of the lodge suggested us not to go outside at night alone. Me and Laboni di were not comfortable sitting inside the room so we decided to accompany them while capturing the night's beauty of Tonglu.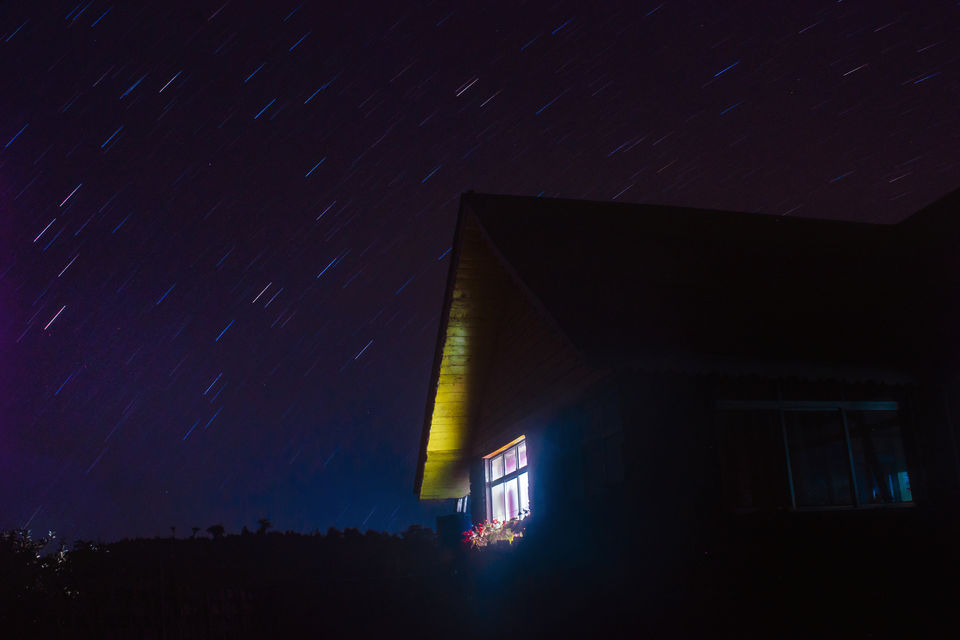 In the beginning, we were enjoying the dark beauty of the valley ,busy in chatting, sat under the open sky when suddenly the dog again started barking.To be noted there were two dogs,one who always got chained (pet of the owner), perhaps the one who barked last night also and another one was a local dog. The night was pitch dark and that moment we felt uneasy because of the unusual environment. Laboni di was not comfortable standing there so she went to the room. We 4 stood there. Suddenly, I felt like deserted as if nobody is there except me.Some sense of negative energy was making me nervous may be. At that time the cat was also started calling and trying hard to go inside the locked kitchen as if it saw something frightening. I was telling others that I am not comfortable and we must go inside the room. Getting rid of photos Rajatabha da quit surprisingly and went to the room with the camera. When it's about waiting an eternity for good capture, it is Rajatabha da who never gives up but this time he did ,which made me more uncomfortable and a sense of eerie feeling appeared within me. Just at that time the local dog running from outside of the lodge area ,crossed our lawn as if it was chasing something and suddenly a heavy 4 feet long garbage bin fall off creating a huge noise. Me and Sankar da turn the torch on and tried to figure it out the scene.We just place light in one of the glass windows of the front room we saw a shadow inside the room. That moment I had decided not to stay outside and make sure nobody would. Without wasting any time we came to our room and discussing about the pictures that they took to feel relax and forgot the scene what just happened. It might be some hallucination or sort of something which made us feel that way.

We were discussing everyone's experience, Suddenly Ambor mentioned while shooting the star trails, he thought he was talking to Rajatabha da but after 15 minutes later he realized that there was no one. After that, he wrapped up the camera and came back to the room ,light of within 10 p.m. Needless to say, it was the same 'darkness' inside the house who accompanied us just a while ago.
Around 11:45p.m. I felt somebody was trying to wake me up and when I woke up, realized something wrong took place as Laboni di was damn scared at that time and explained something like this :
She heard some sound as if somebody is unpacking some packets.The noise was coming from the window of the opposite side where our luggage was kept.Initially she thought Ambor is taking his medicine, but the noise continues for 5 minutes so she doubted and turn the light on and it stopped. Following the light off the sound started was heard from a distance and this time Rajatabha da too heard it, he thought there might be some trespasser trying to steal from window. We changed the place of luggage to prevent it from stealing.Afterwards I was completely awake. Sankar da and Anirban da was still in deep sleep. We switch off the light and again after 15 minutes the sound began. This time the sound became louder and more clear,was very near to us. Again when we switch on the light it stopped.Unable to understand the situation at that time we got so frightened not understand what to do next. Is it really occurring?or is it hallucination? we switch the light on for last one hour and again decided to switch it off as we did not hear it. Around 3 a.m. breaking the silence of the room again the sound started this time even louder and moving towards our door ,adding heard sounds of stepping on woods from outside the room ,the walking sound came to an end which could easily attract one's attention. This time we all were awake. We spotted 2-3 biscuit's wrappers scattered in the room, not knowing who did this.We all moved to each other within 3 beds so that we would be able to knock each other.That night we could not sleep after the incident when it was around 4 a.m.I gathered all the courage and went to the washroom which was in the corridor area. I noticed that the main door was wide open, anybody (human to animal) could easily access the entire corridor, washroom or even to our room if it is not locked.The horrible night came to an end.
In the morning we explained our experience with the owner of the hut but he did not accept nor fully denied the story. According to him, we were the first tourist who experienced such things. other roommates also did not hear any sound, they claimed may be because of the tiresome trekkings offered them a sound sleep.
Though a locals shared stories about myths, mysterious stories of Tonglu in the breakfast time.which confused us about last night incedents.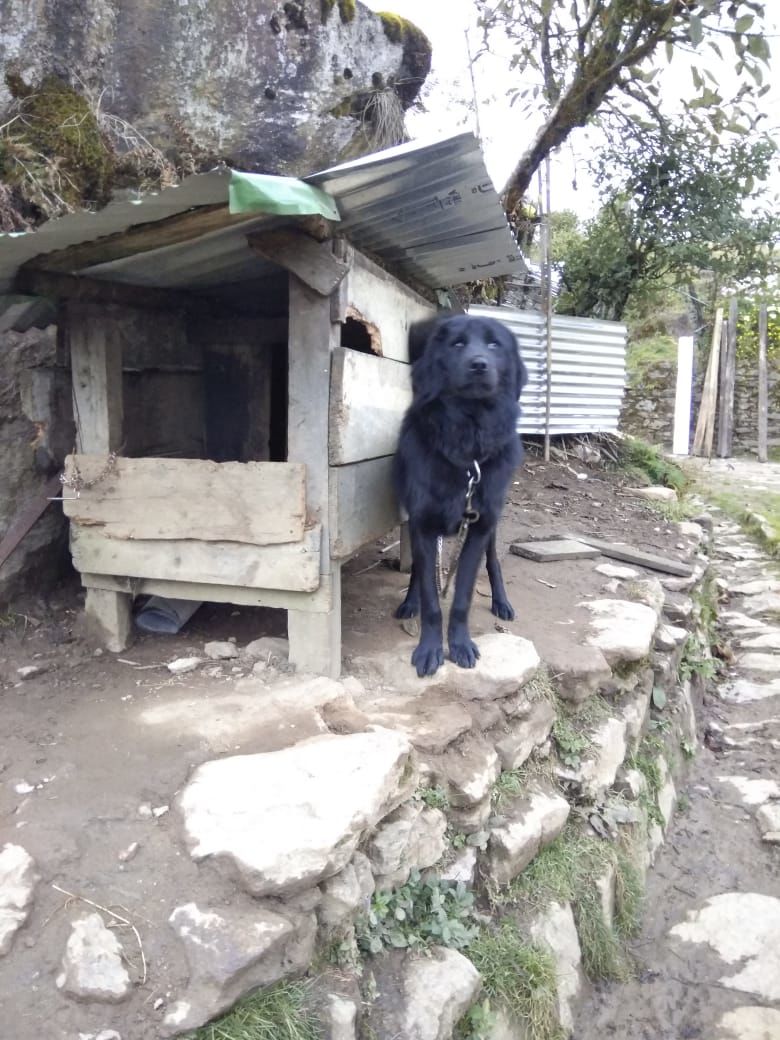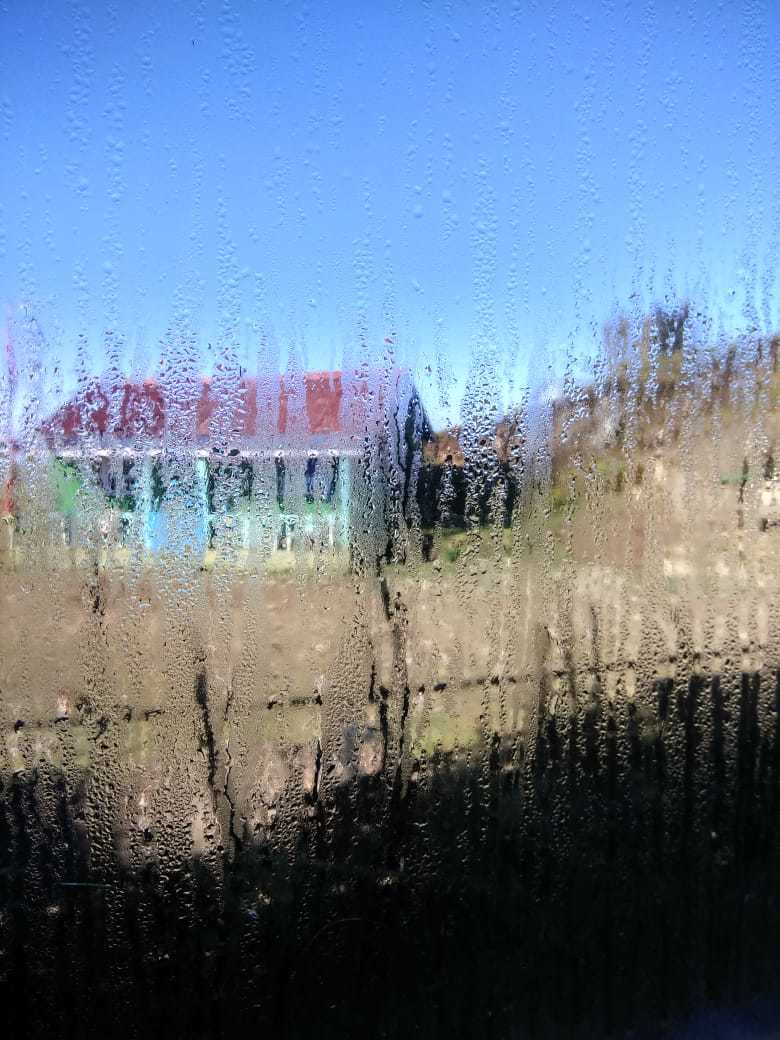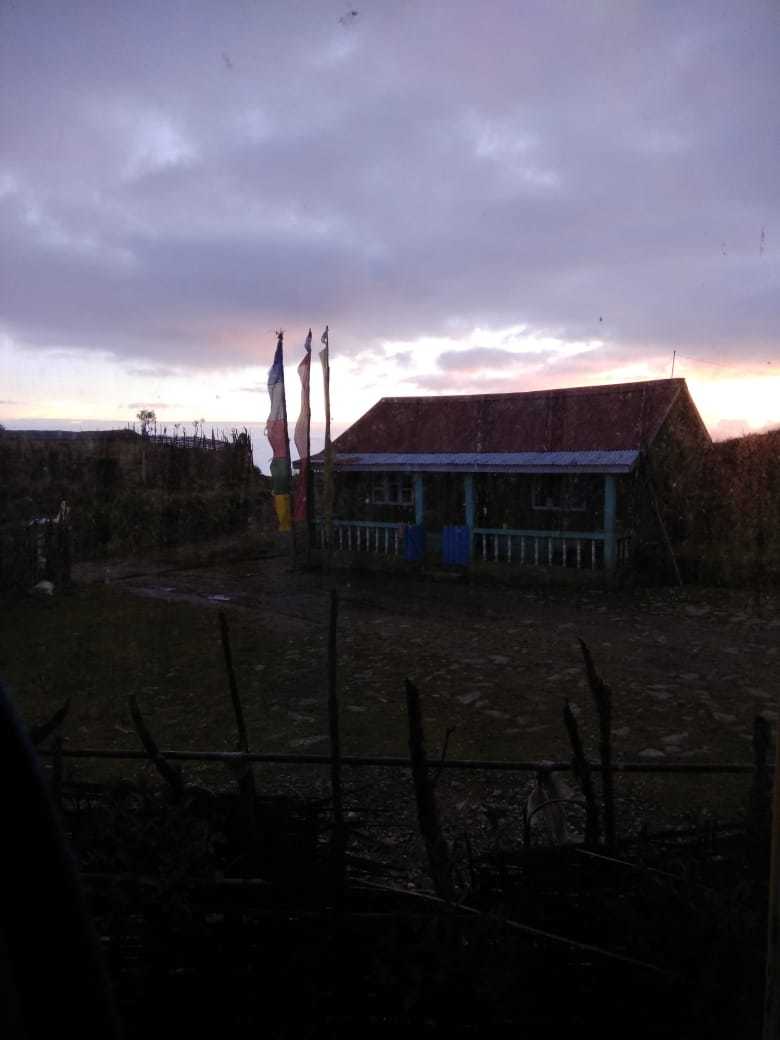 I don't know how to explain the incidents,how to analyze it.All I know that we had experienced a night which was not normal at all.May be it was our sub conscious mind & horror story discussion in chatting could be the only logic I know.but no logic of what my friend who also experienced same kind of odd experience at the same hut.
To know more about our Sandakphu trip please read this blog