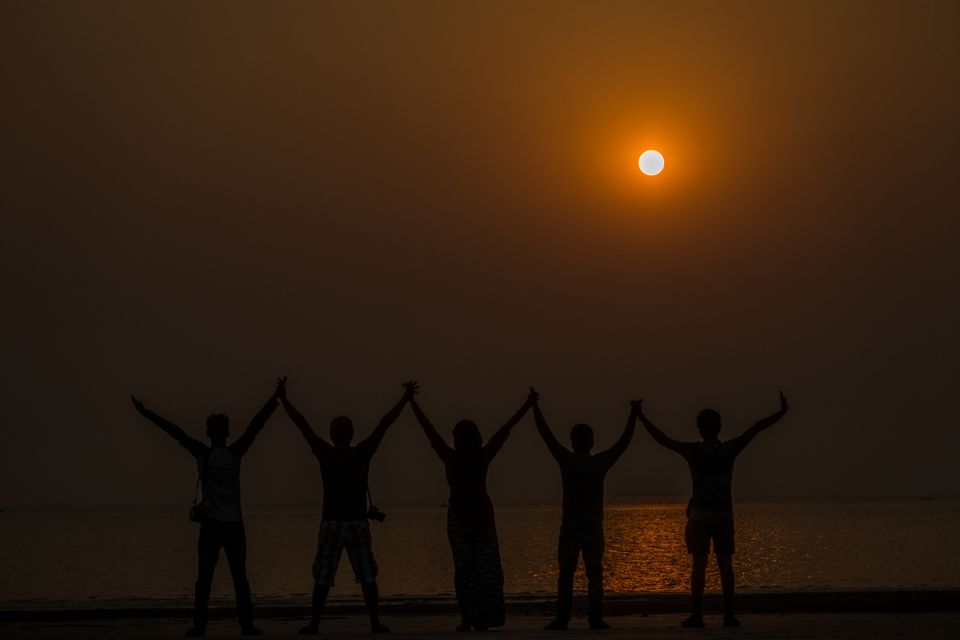 Some places are more etched on memories than maps. Natures Welcome to the ethos and essence of Mousuni, a small island near Bakkhali. It's elegance lies in the confluence of the bay of bengal with the river bhagirothi And golden sunshine on glistening sands. Be it monsoon or summer or early spring, birdlovers & travellers are bound to find their own slice of heaven with solitude.It is the story of the river and the sea with a virgin beach .
After a hectic week ,finally packed my bag & Sunday morning I took my Bus.travel with local transport is a great thing for me.withing 90 minits I reached to kakdwip .last night due to excitement I couldn't sleep properly & fortunately getting a window seat I fall to asleep with fresh wind .finally with chaotic scenario of kakdwip I woke up & manged my 2nd local transport & headed to namkhana.
Croosing river was very excited for me but it took just 51 second to cross the river hatania doyania.I was upset but next river crossing was great for me.price was 4 but I rides almost 30 minit.
Finally reach to virgin beach moushuni.after reaching my mind placed me with a hammock and I started to realise the beauty of nature.I waited for sunset egarly..& hopefully I saw billion star above my head..I cound not expect it.
Things To Remember :
Yes reaching the place can be a pain for few, but as we all know "No Pain, No Gain". It's just few break journey's and that's it. You can't expect to find a pristine offbeat destination within a stone's throw.its just a magnificent when 1st we saw the glimpse of see.
Local villagers collectively serve the guests. So please be patient and co-operative with them instead of being a spoiltsport. They do not have degree / experience on hospitality industry. However I can vouch for an outstanding experience more than those degree holders back in Kolkata if you are being co-operative and smiling.
Although drinking is strictly prohibited, however after discussing with Suman I came to know the main reason behind this is, most young groups starts being chaotic after few pegs resulting in disruption and disturbance to local villagers. And most importantly, as we all know, after few pegs, they starts thinking themselves being an experienced swimmer which could really be dangerous.
Electricity has not reached throughout the regions of Mousuni Island. The place where these camps are located, is yet to get electricity. Carry your own battery for your camera & other thing .
Lastly, if anyone is wondering "Yes the place is absolutely safe and sound" as you'll be camping amongst the villagers. They are always there for you to help.
How To Reach :First you need to take a local train to lakhmikamtapur then lakhmikantapiur to namkhana.
From Namkhana Railway Station, take a motorized van / toto to reach the Jetty. [Rs. 10/- per head]
From Jetty you need to cross the Hatania – Doania River by ferry. Ferry's leave every few minutes. [Rs. 1/- per head]
From there you may walk / take a motorized van to Bus Stand from where Bakkhali bound buses leave. [Rs. 7/- per head]
From there you need to take a local Magic to Durgapur Ghat. [Rs. 15/- per head].
Cross by ferry and get down at Bagdanga (the last stop). [Rs. 4/- per head] From Bagdanga ferry's leaves every one hour starting from 6:30 AM upto 10:30 and then at 11:40 and 12:40 respectively before going for lunch break. The ferry service resumes again at 2:30 PM till 9:30 PM.
From there you can hire a van / have your pickup pre-arranged to Baliara Beach Tent, Mousuni Island. We take tocal Toto service.
For those who are wondering, yes you can go by Bike. However people planning to go by car, please avoid.
Cost :Sealdah – Namkhana Local : Rs. 30/- per head.
Namkhana to Ferry ghat Motorised Van : Rs. Rs 5/- per headHatania – Doania Ferry : Rs. 1/- per head at BoatJetty – Bus Stand Motorised Van : Rs. Rs 5/- per headBus Stand – Durgapur Ghat : Rs. 15/- per headDurgapur Ghat – Bagdanga Jetty : Rs. 4/- per headBagdanga Jetty – Baliara Beach Tent, Mousuni Island : Rs. 20/- per head.The same cost is incurred while returning back.Baliara Beach Tent, Mousuni Island : Rs. 1000/- per head with foodingRoasted chicken (2KG Chicken) : Rs. 600/-
Being a traveller I often tend to visit unknown places in search of customs, rituals, ceremonies, festivals and culture- but Moushuni Island requires the basic need for the survival of its inhabitants. Moushuni was sea beach as a place for an off-beat travel destination. But there are several inherent issues with the place which has unfortunately not allowed it to flourish and fortunately helped it maintain its virginity. The primary fact is that it is too much isolated. Most people would rather give up on the idea of visiting Moushuni rather than opting to travel almost twelve hours a day to and fro the destination. With no access to proper sanitation, food and water and shelter facilities; most people would overlook it. The second reason for it not to flourish is the fact that it is under developed because of crossing of two river. The people need to be given a developed setting and the basic necessities of living their daily life before trying to develop the destination as a tourist spot togetherly.
From my experience, Moushuni cannot be compared to other beaches like Digha or Mandarmani. It should rather be looked as a virgin beach and primarily helped to evolve into a self sufficient unit,and maybe later a weekend travel destination.