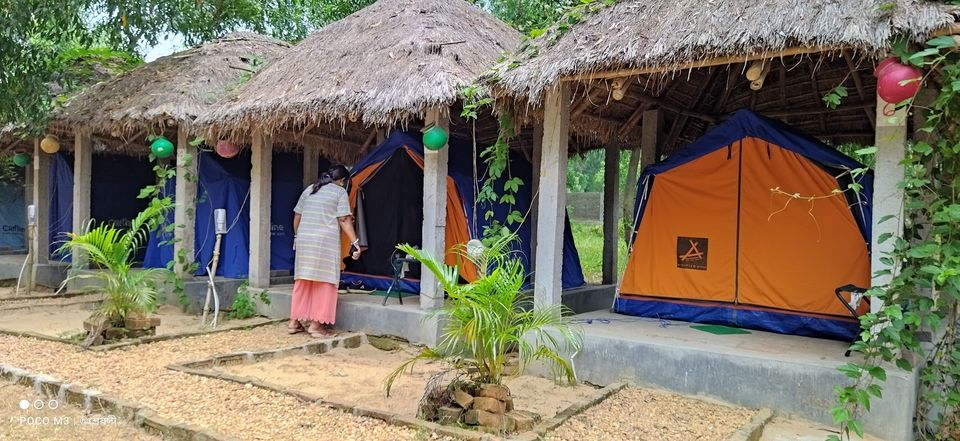 Life after pandemic is tough for all of us. Working from home with havoc work pressure, home chores, no weekend outing and we're just stuck in between!! Among all these things, we could only imagine lying in a hammock amidst a forest in a breezy afternoon, beside a river, far from the chaos and noise of city life, and watching forest birds, butterflies, grasshoppers dancing and playfully flying around you.
Well, we couldn't only imagine this time, we visited such a place on this 13th August, 2021 from Kolkata on our bike. Beyond our imagination, for these two days, our heart was melt with baul singing with his ektara offering the true essence of Bengal's own culture. Izifiso Backpackers' Camp has created such a place amidst lush green forest, on the bank of Ajay river. That's Mundira Backpackers' Camp - Musical Camping. A musical river camp in which Bengal's own Baul artisans will melt your heart with their majestic signing. This was all we wanted, a much needed detox for your mind and soul. Mundira Musical Camp is located at Joydev Kenduli, a small village in the Bolpur subdivision of Birbhum District, West Bengal. The camp is situated just in the middle of a dense forest beside the northern bank of the Ajay river.
Stay details: 2 types of tents are here-
Family canopy: Rs. 1400/- per person.
Adventure tents: Rs. 1200/- per person.
The above mentioned charges include foods, as mentioned below. The taste of food seemed average to us.
11:00 A.M. Check in Welcome Drinks (Nimbu Pani)
01:30 P.M. Lunch (Rice, Dal, Vegetable Curry, Fish Curry)
06:00 P.M. Evening Snacks (Vegetable Pakora, Puffed Rice, Tea)
09:00 P.M. Dinner (Rice/Roti, Dal, Vegetable Curry, Chicken Curry)
08:00 A.M. Breakfast (Puri, Vegetable Curry, Boiled egg, Tea)
How to reach Mundira Musical Camp by public transport?
1. Take bus from Esplanade to Illambazer (State Bus). Then take toto (150/- to 200/-) from Illambazer to Mundira Musical Camp.
2. Take bus from Esplanade to Durgapur muchipara bus stand. Then take bus to Joydev Kenduli. You can reach the camp by 5 min walking distance
3. Reach Bolpur station and take bus from bus stand to Joydev Kenduli. You can reach the camp by 5 min walking distance.
4. Reach Durgapur station. Then take bus to Joydev Kenduli. You can reach the camp by 5 min walking distance
Reach by bike/car: https://www.google.com/maps/dir/22.5757142,88.3530736/Illambazar,+West+Bengal/Mundira+Backpackers'+Camp,+Mundira,+West+Bengal/@23.1082127,87.6141353,10z/data=!3m1!4b1!4m16!4m15!1m1!4e1!1m5!1m1!1s0x39f9d89f8ae86111:0x509655323e333379!2m2!1d87.5420579!2d23.6278745!1m5!1m1!1s0x39f76540f8bfb03d:0xbb02d3724b0e5437!2m2!1d87.4360995!2d23.6361755!3e0
Click on this link to book your stay: https://www.izifiso.com/backpackers-camp/13/mundira-backpackers-camp (They have an offer rolling out currently as of 18th August, 2021)
Phone number for any query: 8447745964
Trip cost details-
Stay and fooding: Rs. 4500/- (for 2 persons, 1 night, 2 days)
We started at 8 from Mundira backpackers camp, and this time took road via Illambazar to reach Kolkata. We reached Kolkata by 4pm that day.