Winter mornings are the best thing of Kolkata. It is the most preferred season for many reasons – travel to the city of joy, short weekend trips from here, fairs, food and celebrations. My recent Instagram stories are all around #KolkataWinter #Besttimetotravel #CityofJoy
The Christmas experience in Park Street, various craft and hand loom exhibitions/ fairs in different parts of the city or sweets with liquid date Jaggery are all specialties of Kolkata winter.
Most of us who stay in Kolkata know Nicco Park, Science City, Alipore Zoo, Museum, Eco Park are all crowded during Christmas holidays.
So, my family planned a quiet visit to Belur Math.
A Toto to Barrackpore Chiriamore INR 10 per person
A Bus to Bally Khal INR 12 per person
A Bus to Belur Math INR 7 per person
The Bally Khal Story
This really needs special mention here, particularly for first timers on budget travel.
Belur Math is just over two kilometers from Bally Khal which is like probably the next bus stop. That is why we hopped into a bus. I was not sure if it was a better idea to board a Toto as the driver would dilly dally that short distance hoping to pick other passengers. I was so wrong there. The bus was worse as it stopped roughly 14 times to pick passengers.
Due to slow moving traffic, this approach to stop a bus anywhere and everywhere is routine exercise. Once you know that, your blood pressure goes normal and you attain nirvana.
Visiting Hours
As we reached Belur Math after the visiting hours (6:30 AM to 12:00 PM), we had to wait till 3:30 PM for the gates to open again till 8:30 PM.
Exploring Around
We had a quick look around Vivekananda University which had a huge auditorium with some ongoing preparation for a gathering, Medha Bhavan, a unit for studies on Indian Heritage and one dedicated for Mathematics.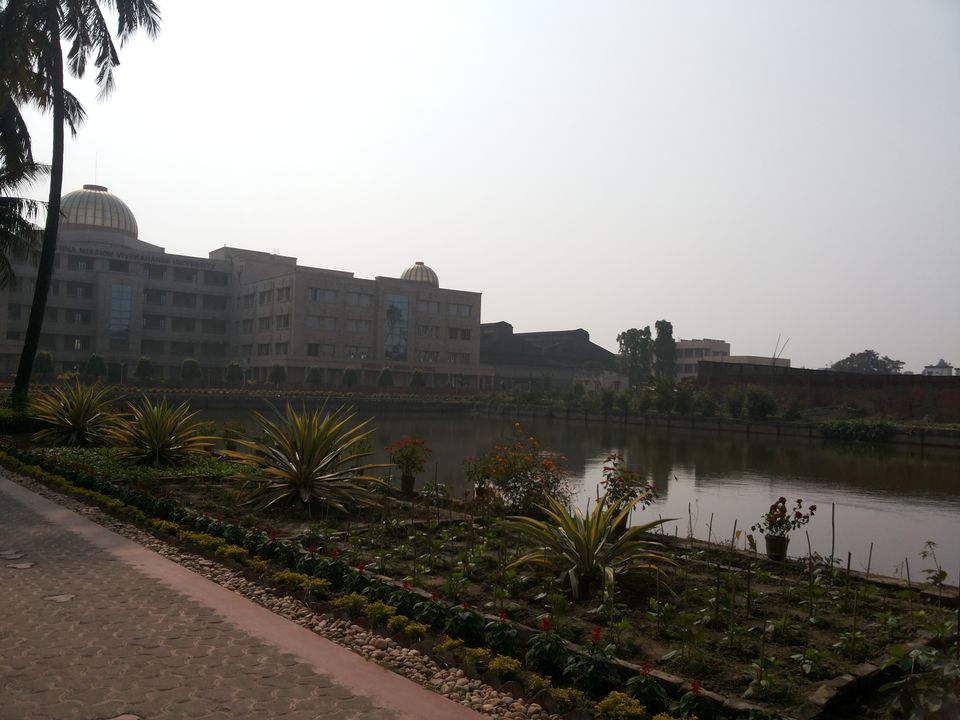 We then went to Vivekananda Showroom which displayed Swamiji's life in seven parts. Next time I am there, I will take my notebook. Mobiles had to be switched so could not take notes and I could not remember so much stuff either. I am perfectly okay to spend another ten bucks for the ticket to be here for my notes.
Lunch/ Prasad
For those who are keen to have Prasad (Lunch) there in Belur Math, need to pick coupons between 8:30 AM to 11:00 AM and lunch is served at 12:00 PM.
We were no where in that area at that time so we munched spicy puffed rice (For INR 20, the quantity is too much to be consumed by one person), some fries made of sago grains which is again too much to eat though we just bought one packet for ten bucks, some liquor tea and had some chopped guava stirred with spices that was selling at INR 120 for a kilo.
Belur Museum
One of my favorite spots here is the Museum. As my mother was visiting the place after over five decades, as soon as the main gate opened exactly at 3:30 PM, we first headed towards the Museum. The tickets are still INR 5 per person
The miniature of every place Sri Ramakrishna, Holy Mother Sarada and Swami Vivekananda visited or stayed, the articles they used (Even Tooth powder container and safety pin), the letters they wrote, the clothes they wore, the furniture they had seriously can give anyone goosebumps just thinking that we are roughly two centuries apart and able to see them so close.
It almost feels like they are around.
The Main Temple
We then head to the main temple, meditate for some time, do Japa - then walk to cover each memorial where earthly remains were consigned.
Celebrations Ahead
There were temporary pandals being setup for forthcoming celebrations of Holy Mother Sarada's birth anniversary. The program schedule was in display outside the main gate.
The gardens with flowers of different colors is truly a photographer's delight. The crowd crazily posed to click dozen selfies and group pictures completely ignoring the "Photography Prohibited" board.
The temporary blindness was from both parties and amusing - the ones who clicked were blind to read board and the authorities who were supposed to ensure adherence to rules, were blind to see the crowd clicking.
I did not click a single photograph - Yes, I am the only devotee that follows rules. God does not let me break rules in his place to minimize wrong doings in my account. My phone died long before I entered Belur Math. So did photography.
The Memorials
The last time I visited Belur Math a couple of years back, I missed seeing the memorials where the earthly remains were consigned of Swami Vivekananda, Sarada Devi and the first president of Belur Math, Swami Brahmananda. Now matured with age and information from different sources, visiting these memorials was in my priority list
The Dispensary
There is a charitable dispensary of the Math that treats patients for fever, cough and cold, stomach ache etc. I observed this only that day, not during my last visits, as I was wandering around munching fries and puffed rice - waiting for the main gate to open.
The Highlight Of The Day
I was supposed to visit Belur Math on my birthday 18th December. It was raining that day and hence we visited yesterday little knowing that we will be fortunate to be blessed by Swamiji.
We did not even have to wait in the Queue. Immediately after seeing the memorials, we were supposed to go out of the small gate to the store Pallimangal to purchase some incense sticks, when we saw a line thinning as people headed towards a building and it immediately struck me that Guru Darshan was in progress.
We literally threw our slippers and got in just in time to offer Pranam to Srimat Swami Smaranananda ji Maharaj, the current president of the order.
All that loitering for three hours, waiting for the Main Gate to open at 3.30 PM was worth it.
After Darshan, as I stood outside the room watching Swamiji at a distance, I observed a man in late eighties, fingers in gloves trembling, sitting still, patiently letting each one of us offer our Pranam, selflessly on a cold winter evening - just for us, our well being, our solace, to put our minds to rest.
My eyes glistened and just then a person called out to collect the Program Schedule for 28th December. I picked one printed copy and walked out of the building, feeling blessed.
Pallimangal, Integrated Rural Development
A friend had mentioned about this store recently and I wanted to check this out. I was pleasantly surprised at the range of product they have and reasonably priced. I picked two boxes of Sandal Incense sticks (50 in each box) for just INR 34/-
You have many grocery items like Phenyl, ghee, soap, honey and other items bags, purses, mats, etc. This is very different from the Book Store within the premises that has books and photographs. This one is an outlet for the produce made by a rural population.
This place takes care of both senses and soul. The view of the Ganges, the visuals of the garden, the collection of books, the lively crowd, the peace in the atmosphere, the synergy in the prayers makes this much more than just a spiritual center.
As we left the premises of Belur Math, as the dusk dawned and the large screens installed there showed the proceedings taking place in the main building, the crowd seemed relaxed, settled, sitting on the grounds, the clicking subsided and I wondered, what next?
It is the peaceful moment and the mood that sets in with it that finally caught up with the crowd as the natural light faded and the environment was artificially lit. It is the connect to the tranquility that made most of the crowd let go of the noise they brought with them and finally receive what this place is supposed to offer the seeker - A slice of divinity!!
Originally published here