This visit was not planned at all. In fact we were planning to go to Gouri Baari to see a Jain temple near Maniktala
On 31st December a relative of mine asked me to visit Ramakrishna Mission in Khardah as it was their 75th year and they had week long programs. I had an assignment submission that day and moreover crowd makes me nervous.
On 1st January Kalpataru Utsav is celebrated as an annual festival and it is obvious that the crowd will continue.
2nd January was my mother's birthday and when I take seniors with me, my preparation level is very different. First priority is to avoid crowd.
After lunch, I let her rest for some time. Around 3 PM we took an auto to the local station (INR 10 per person), train to Khardah station (Ticket INR 5 per person) and a rickshaw from Khardah station to Ram Krishna Mission (INR 12 for two people)
Alternatively we could have taken a bus to B.T.Road and rickshaw from there.
The distance between Khardah station and the mission can be covered walking as well.
The beautiful gardens within the premises arranged with different flowers was picturesque - How can I show my readers how they looked?
There was no board around prohibiting photography. The only board I saw was to maintain silence in the hall. When I asked the gardener politely, if I can click a picture, he firmly said "NO" – leaving no scope to plead. I really did not have the heart to steal a picture without anyone's knowledge - With a mobile phone that is a toddler's job. Just that I was not a toddler and had evolved enough spiritual intelligence to deal with my own conscious.
If one thinks, if you have seen one mission, you have seen it all - you need to visit this as this structure clubs with an ashram that house many students too.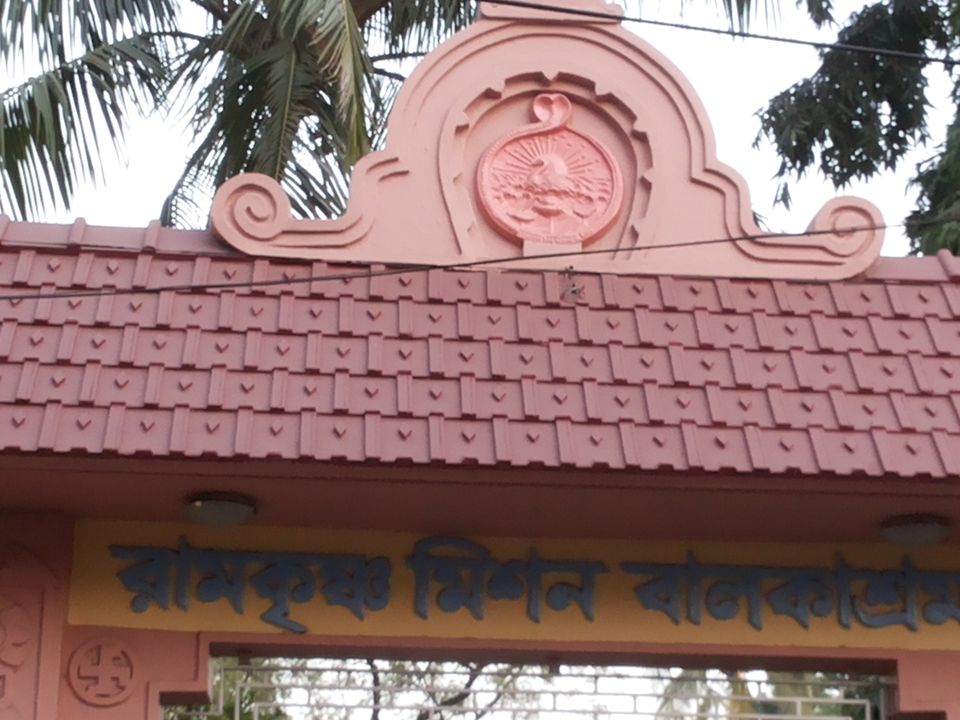 A little trivia:
As the emblem is in uni color, one may not be able to identify the various aspects of this composition.
The waters in the picture are symbolic of Karma
The lotus of Bhakti
The rising-sun of Jnana
The serpent around is indicative of Yoga and awakened Kunadalini Shakti
The swan in the picture stands for Paramatman.
Essence: By the union of Karma, Jnana, Bhakti and Yoga, the vision of the Paramatman is obtained
The minute we got down the rickshaw, we got a view similar to this.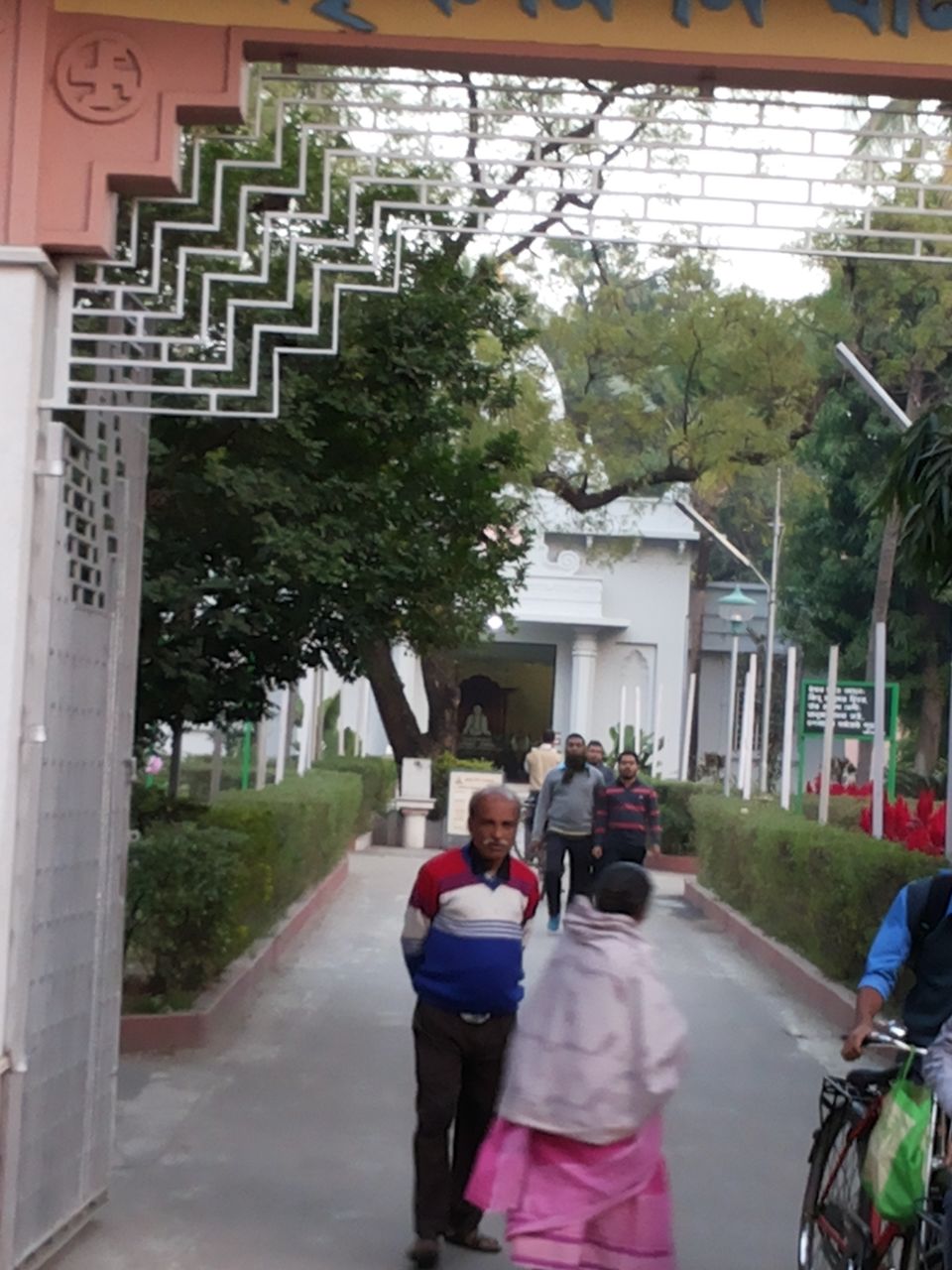 Purpose of visit:
Is it the New Year mood or my mother's birthday? Is it a relative's reminder or personal interest?
We have lived in Kolkata for over three decades and if we have not visited this place that is so close home, it is our loss.
Program Schedule:
There are religious, cultural and social activities for the benefit of masses who visit the mission.
Every Sunday Swamiji reads Kathamrita. During winter evening Arati starts at 5:15 PM
A little background
As the tale/ truth goes among the devotees of Ramakrishna, he was once annoyed with Swami Vivekananda who spent most of his time in Samadhi while his guru wanted him to lift the spirits of other weary beings and souls through many branches - as just attaining personal salvation cannot be the end all objective of a spiritual seeker.
Service to mankind is the purest form of God worship
To support this ideology, in due course with international exposure, Mission's activities extended to different parts of our county and the world. There are over 150 such Centres today
Rahara (Khardah) Mission is a part of that initiative.
After chanting mantras in the hall, absorbing the views of the beautiful gardens, we visited the show room that has framed photographs, incense sticks.
We picked up one pack of incense stick named Ganga. I can personally tell you the power of incense sticks. I have missed home terribly when I was away, and lived all by myself in Bangalore for over a decade working for a corporate.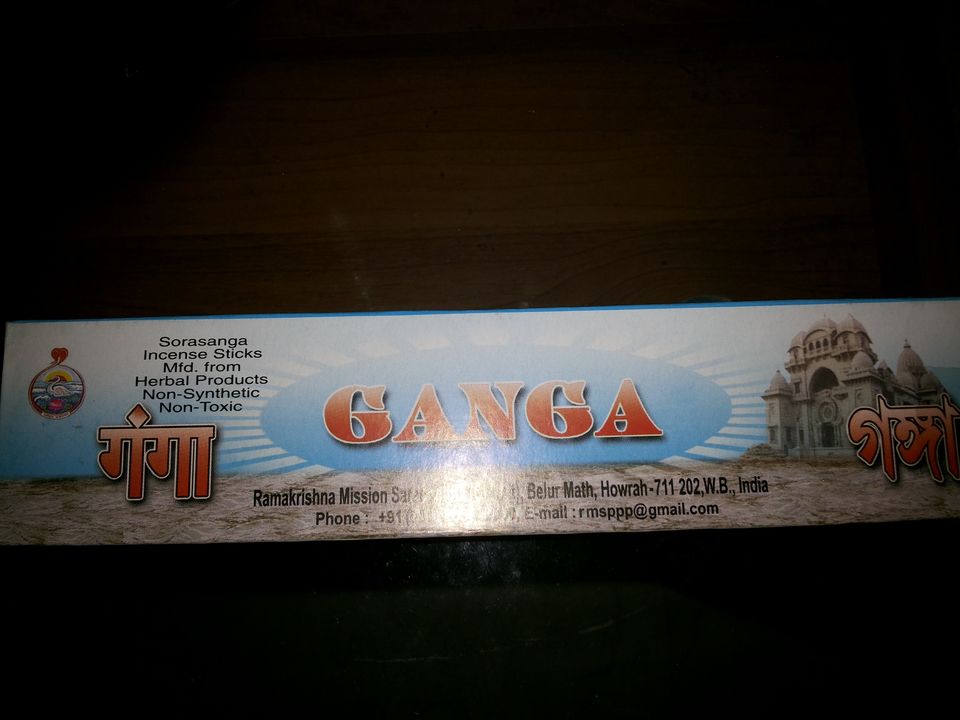 Light one of these, and you feel like you reached home.