So it was my birthday week and I decided to spend my money not on alcohol and junk but to travel to a place with all the facilities, should be completely new to me and have some history. And i landed up in Calcutta (I like this name better!). No expectations though, just randomly selected the city and booked the tickets, got them for cheap INR 4200 (return). I flew from New Delhi and reached there in 2 hours at about 10 in night(because i had to attend my office); Checked into a place near Diamond Plaza, cheap and good to stay. The next day, called up some people i knew in college and were staying in Calcutta to ask about the places to see here. They joined me in exploring the city.
So we started at 11 in morning, took an uber and landed up in Belur Math, a place well known after Swami Vivekanand(I'm a big fan of his and this place was on the top in my list). Beautiful, peaceful place, everyone meditating, hardly thought of seeing such calm place right in the middle of the fast moving crowded city. It took us about 30 mins to reach there. Just by the side of Belur Math was river hugly flowing. It was indeed a magnificent site. I have shared the picture.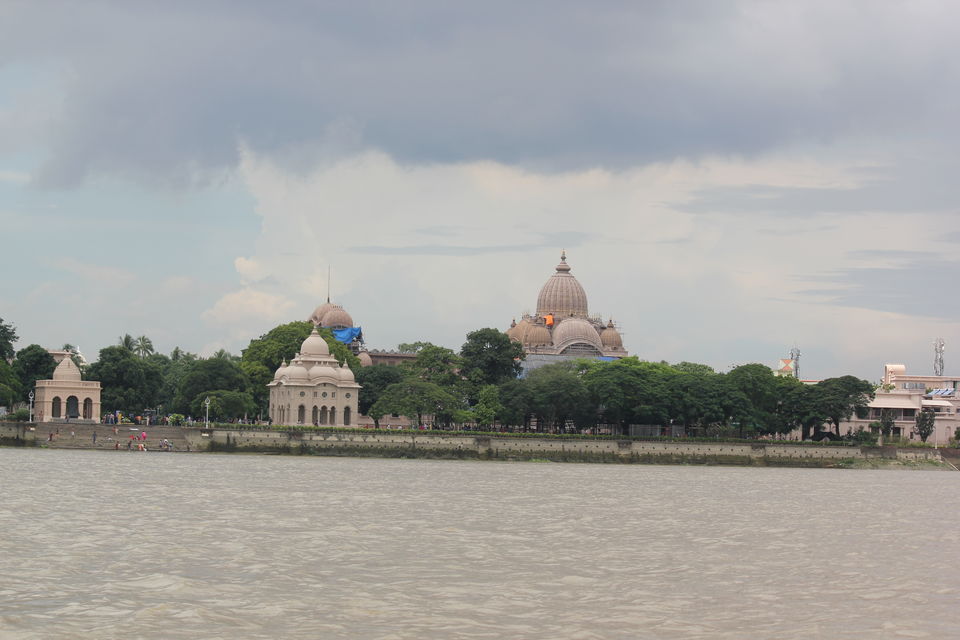 An old beautiful temple's view can be seen from Belur Math and it keeps getting better as you reach the shore. Here you get coconut water for like 20 Rs a bigger one. Tumi Dab Jol khabo? is what they would ask you in bengali. (Dab = Coconut, Jol = Water). The street that takes you to the temple is beautifully decorated with different stalls of bangles, jewellery, flowers etc. But beware of people asking you for money. They come like swarm of bees and won't leave until you shed some money out of your pockets.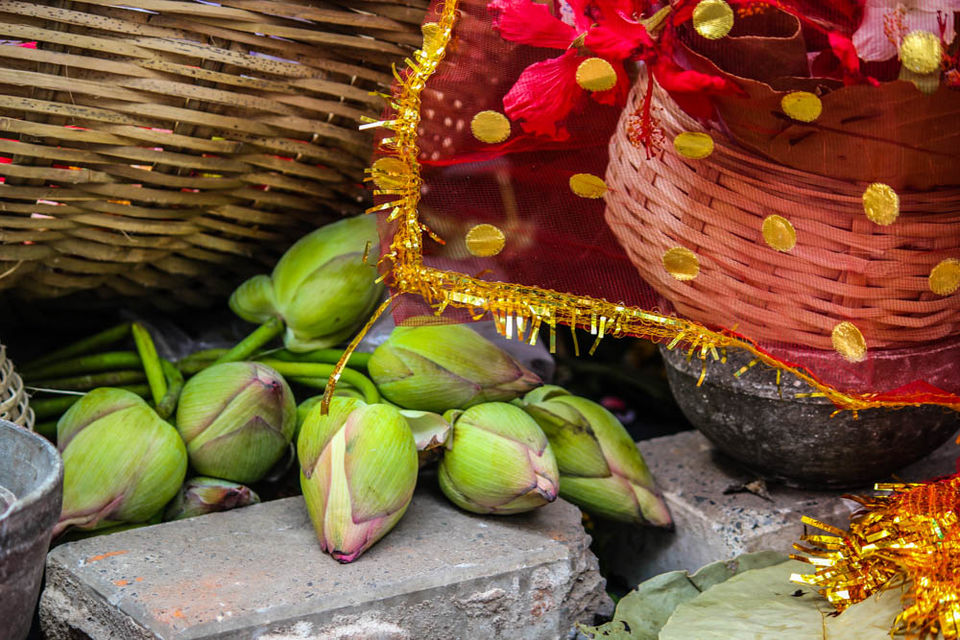 After this, i called it a day and headed back to where i was living. I chose not to waste time so I decided to watch movie in Diamond Plaza which was a good mall to chill.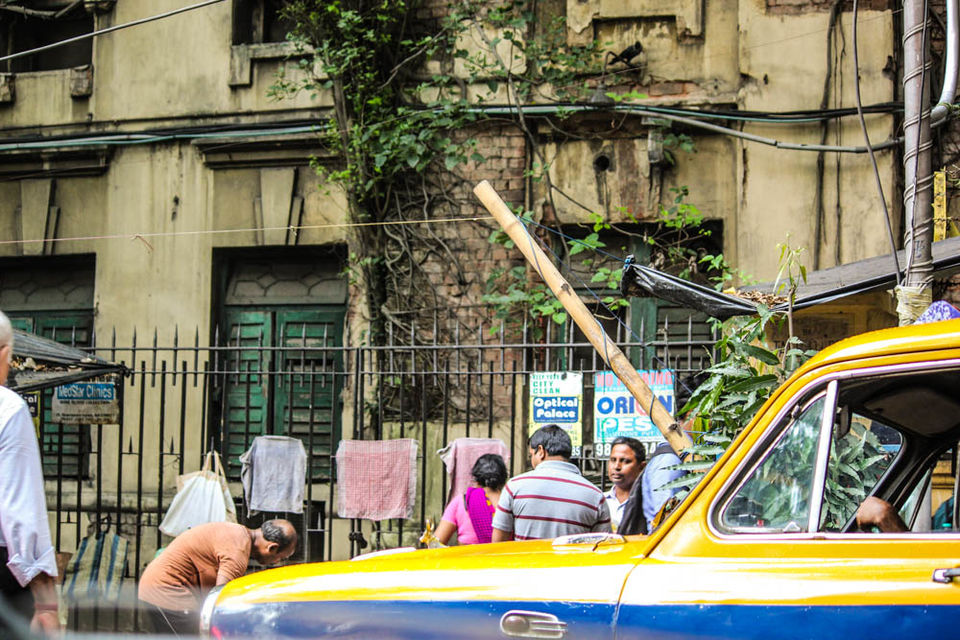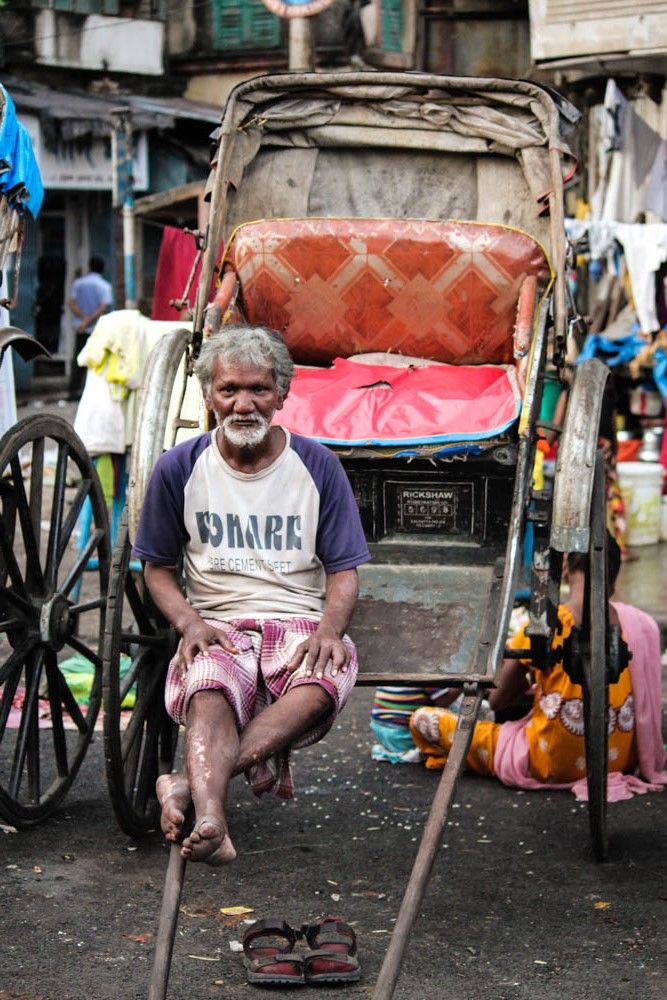 Next stop was Kalighat Temple, 500 years old Goddess Kali temple is equally good to visit as Dakshineshwar Temple. And we have seen the shots from there in a famous movie of Vidya Balan's KAHANI. White uniform wearing Policemen in Calcutta can be found everywhere near the temple and you're aren't allowed to photograph here. From Kalighat, we headed to Howrah Bridge and VidyaSagar Setu. My personal favorite is Vidya Sagar Setu because it exactly looks like Brookyn Bridge in NYC. You don't believe me? Leave a ping and I'll share the pictures i have clicked and then you'll probably trust me. You can do boating there in a happening boat with some old songs playing and romantic lighting just for 150 bucks. Rights by the side is millenium park where you can see love birds hanging around and some seriously tasty bengali Puchka.
Other places I saw on the fly like Tipu Sultan Mosque, Shaheed Minar and how could i forget, world famous Eden Gardens. And ending the day with it being my Birthday, I landed up in Park street for some good food in One Step Up And hopped to a 100 years old Jewish Bakery Nahoum and sons in New Market(worth going if you love bakery stuff) to get fruit cake on my birthday and some sweet cheese.
So this was what i had from my birthday trip which was cheaper then what i had to spend if i was partying in Hauz Khas or Cyber Hub.
From here, we took a ferry, just 10 bucks per person which gave us a beautiful ride of 20 mins to Dakshineshwar Temple.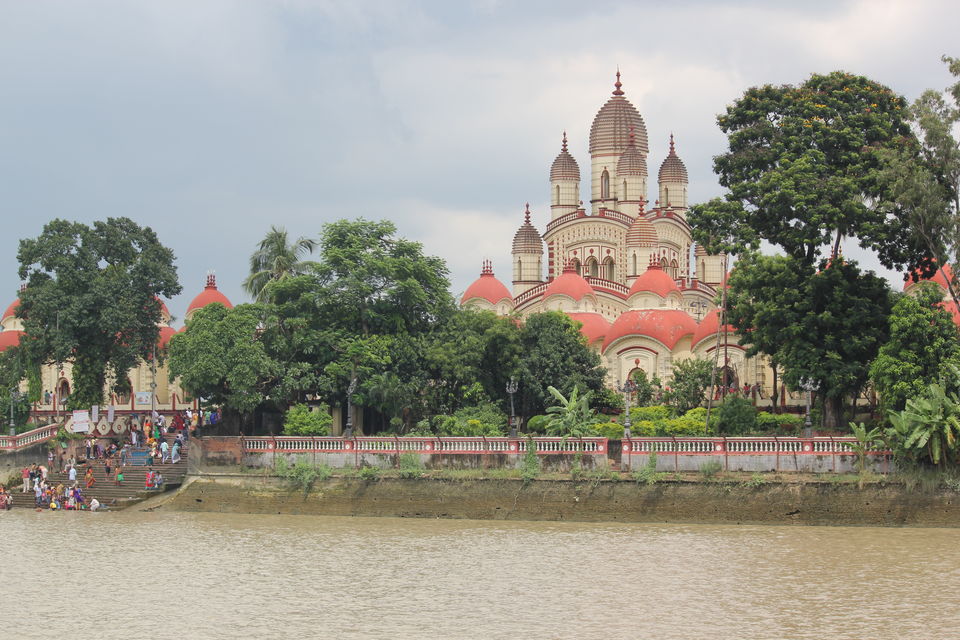 I visited just a week before Durga Pooja, so the whole city was all set for it. There were Pandals setting up in every next street and then the ladies out for shopping. It like some big fat wedding planning going on in the entire city. So, the next stop we decided was Park street as we all were pretty hungry. As usual, we called Uber but there was so much traffic that we got out of it and took Metro from Girish Park to Park Street, 30 INR for 3 people.
I could see this Kaali-Peeli beauty all over this city and this was the best thing i liked. It gave color and freshness to the place. So we landed up in a restaurant named 'Tung Fu', I must say good preparation of food, specially fish. It was so fresh and well cooked as i could get the taste of every spice used it its preparation. Ambience was good and so were the rates, affordable. After our pet pooja, we headed to Victoria Memorial.
This place and streets around it make you feel that you have landed up in some European city. Weather added to the view. It was cloudy and started drizzling which enhanced the experience of visiting the place. Magnificent garden around the place freshens up your mood and history museum in memorial gives you insights about are then capital city (before 1911, Calcutta was the capital of India). I personally added a lot to my history knowledge in the museum and to absorb what all i learnt, i had garden to take a stroll and relax.
Its no less than Nayi Sadak of Delhi, you get whatever you ask for, here. So i had promised my mom and aunts out there in north to get some traditional bengali sarees for them and i got like 10 of them, because i was falling in love with every saree the shopkeeper was presenting. And, they were so inexpensive, 500 INR for each. After my shopping was done, i witnessed the old and famous Hath Rickshaws there in the city.