Vienna is located in the heart of the country and have been awarded as the most livable city in the world. It is also a popular country for travel thanks to the small size and perfect landmark arrangement that makes it easier to travel and enjoy. It's also the best place for the music lovers as its love affair with music and art is a long and enduring one.
If you only have a day and want to explore the city as much as possible then these 10 places are a must.I
i was initially planning for Berlin but direct flights were expensive from Rome, so we thought to take a detour via Vienna. we reached Vienna in the morning and as we had only a day we decided to see more known places.
we reached Wien hauptbahnhof and while walking around we found this beautiful church nearby.The church of Saint Elizabeth is in a little square in the 4th district of Vienna. It's very close to the Belvedere palace and museum. It has a red brick construction which makes it unique. It is accentuated with the highlight of ashlar (the door and window frames) which makes it easier to recognize and pleasant for your eyes.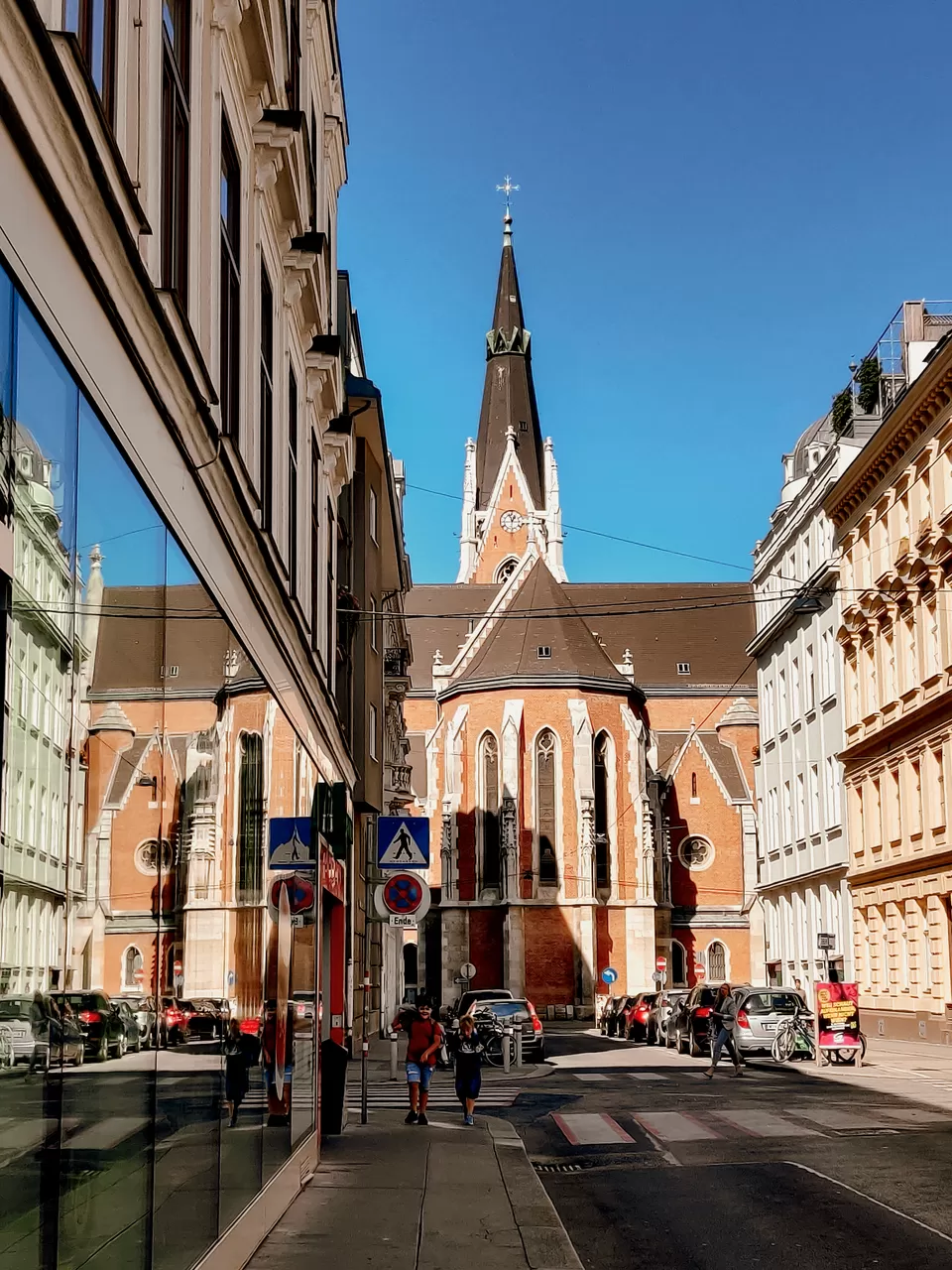 Its always so beautiful to explore the streets of any new city. After walking for sometime we came across this magestic palace.
Belvedere Castle is a UNESCO World Heritage site and also the home for the largest collection of Gustav Klimt's paintings. If this much fact was not enough to make you visit this place then I'll give you some more. It is one of the leading museums worldwide and also one of the oldest museums in the world.
Its a must visit place when in vienna.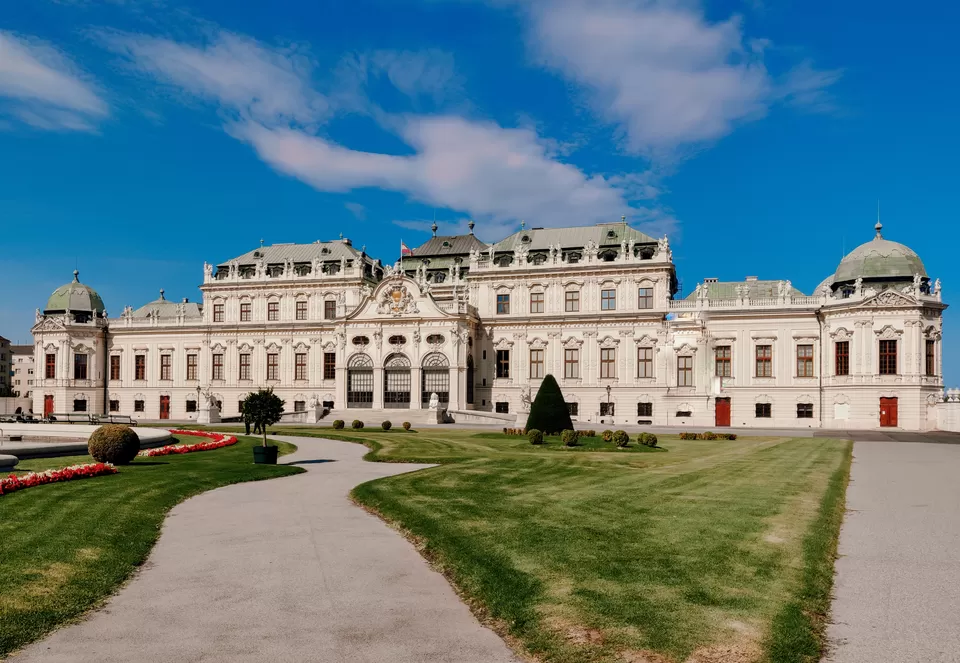 One of my favorite parts about this palace was the beautiful building with a magnificent view of the garden.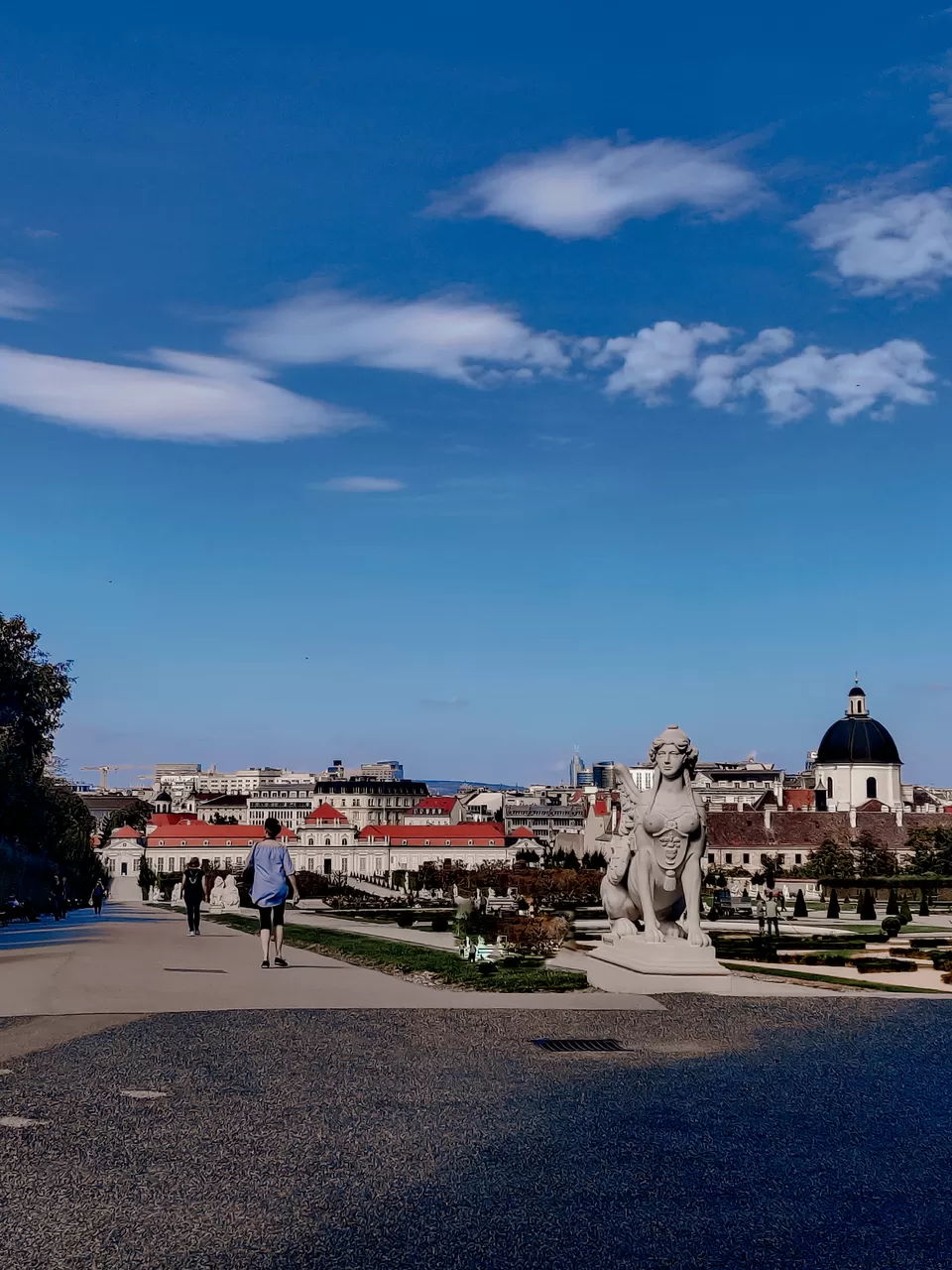 Have you ever seen an Opera house? This was my first time visiting and it was a beautiful experience i must say.
Wiener Staatsoper is one of the leading Opera House in the world. Every season there are about 350 performances of 60 different operas and Ballet which makes this place more lively and rich. Every night you can witness beautiful artistic performances on the stage, accompanied by a unique orchestra.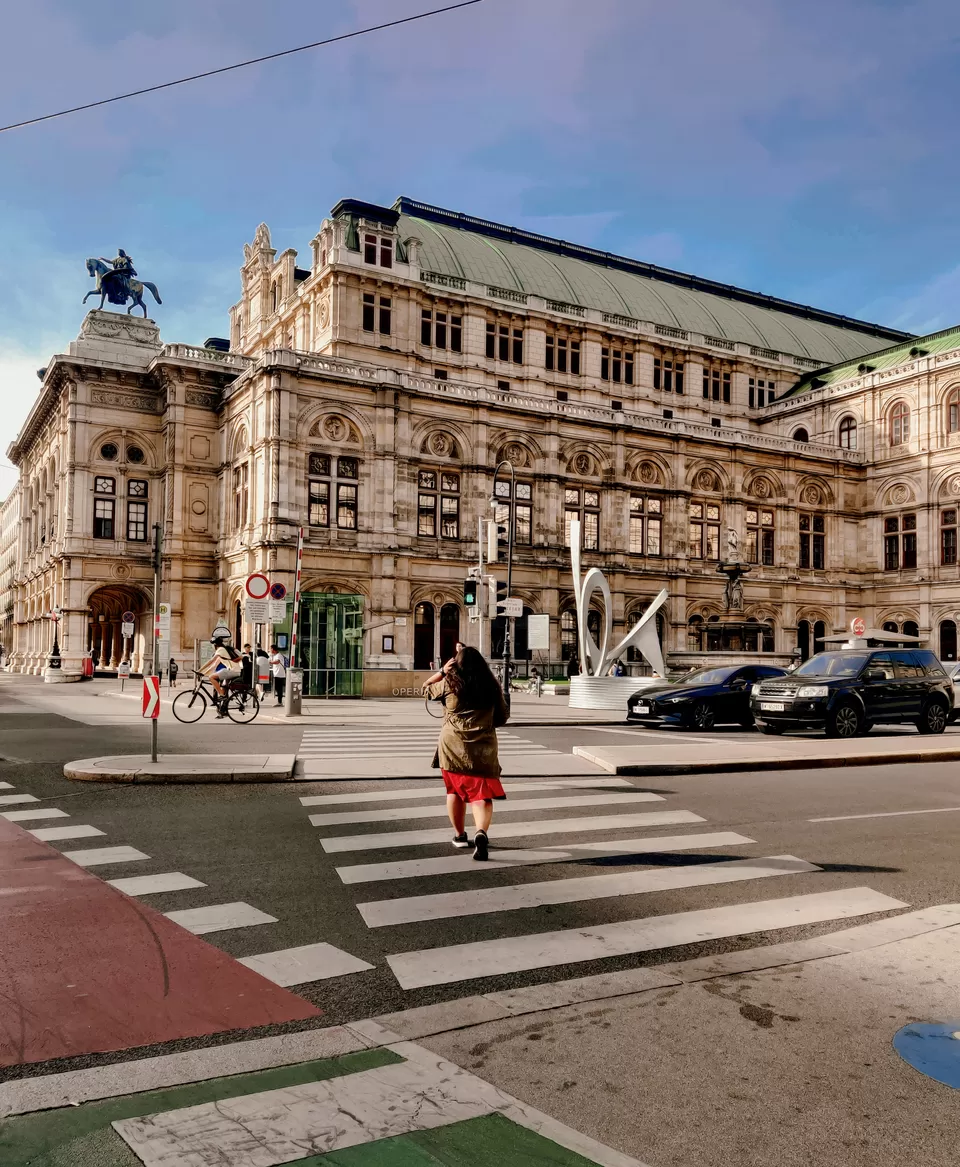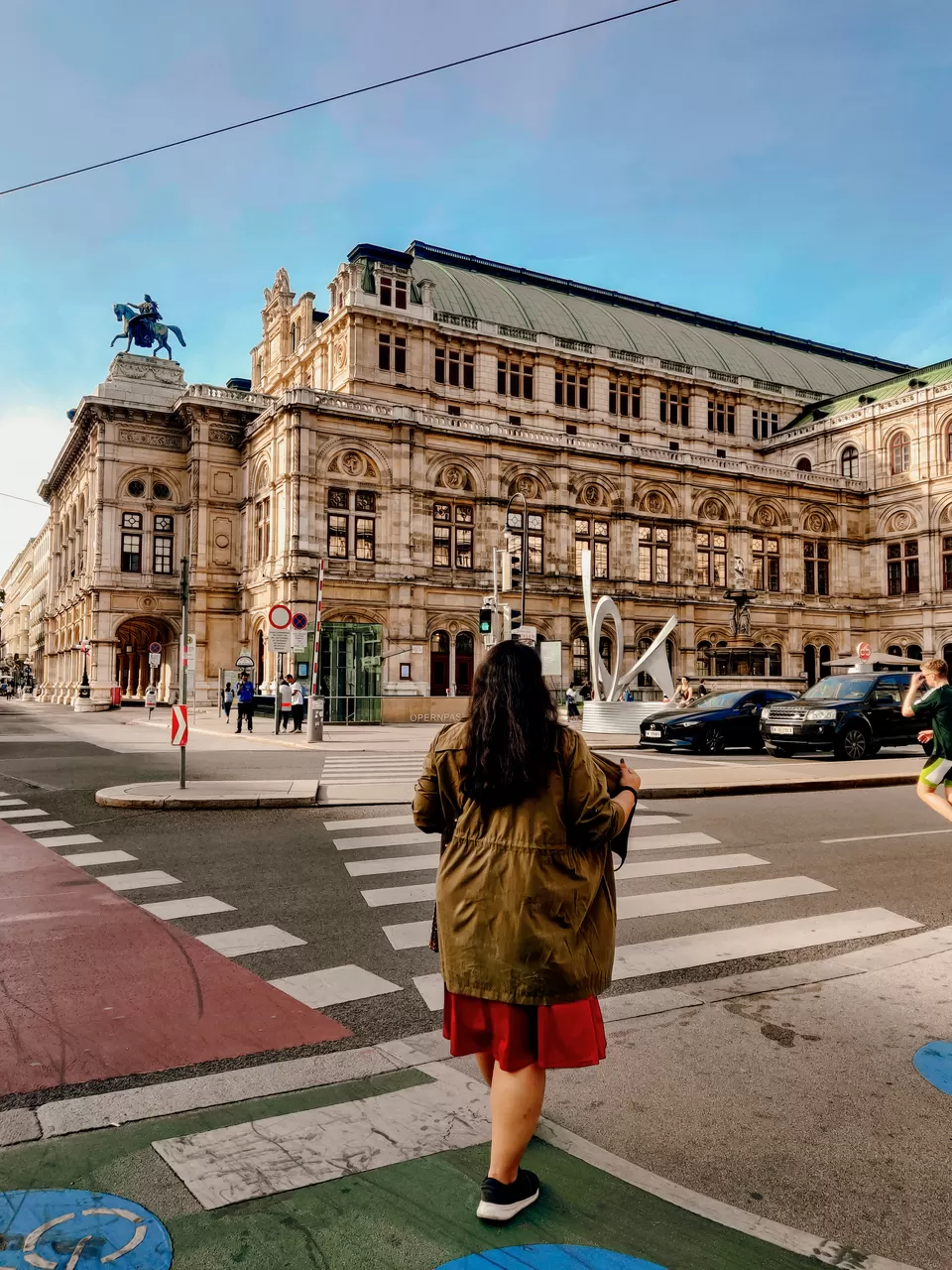 If you have been to Vienna and not had sausages then you definitely missed one of the best sausages there ever is. Whether it is the spicy currywurst or the classic bratwurst, you have to try one. If you have tried wiener once I am sure you were not disappointed. I myself ate two each time and I still Crave it each day. The best places to find this local dish are the street vendors because they make it the most authentic way. I tried Wiener at BitZinger which is behind the Opera house and I will definitely recommend this place.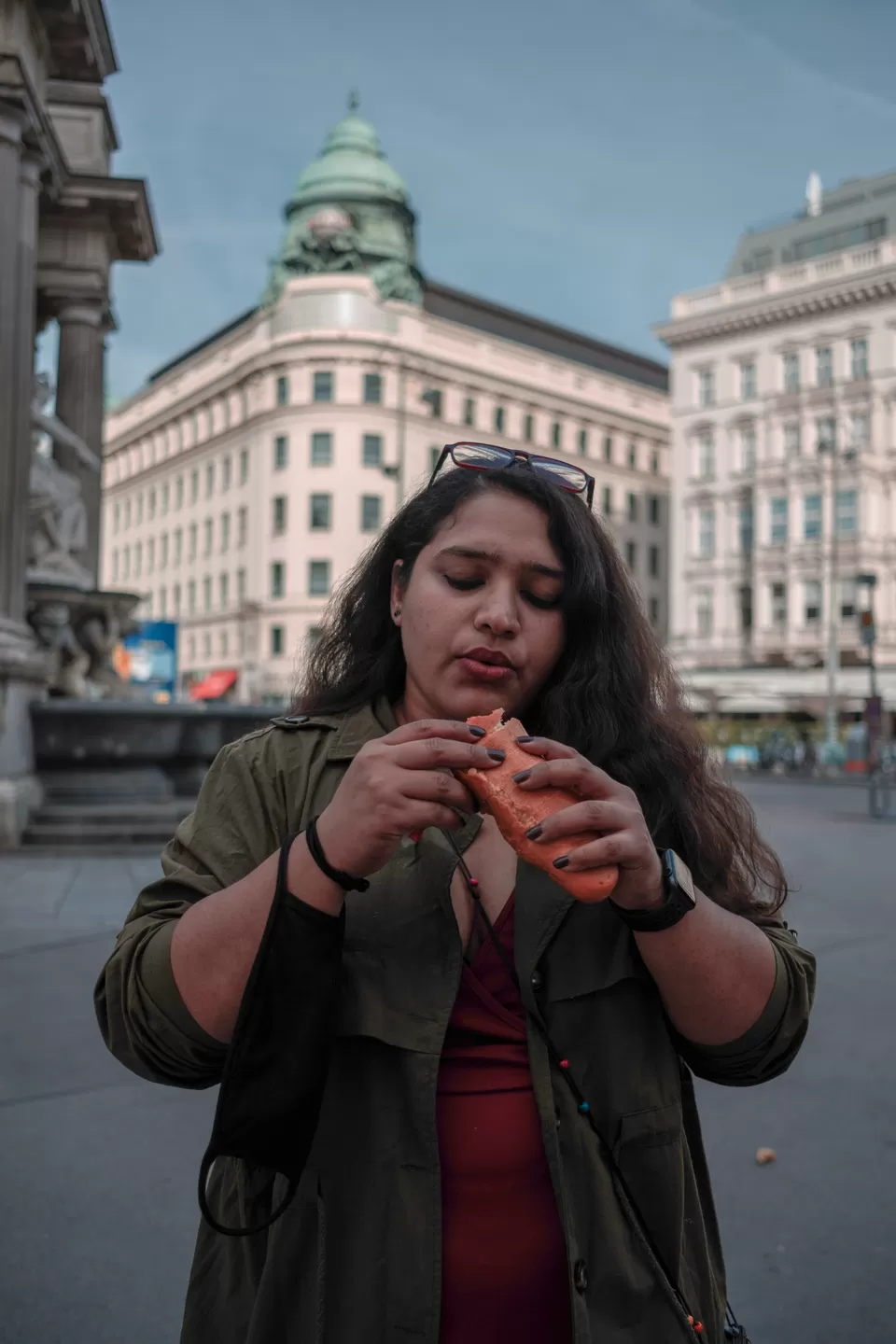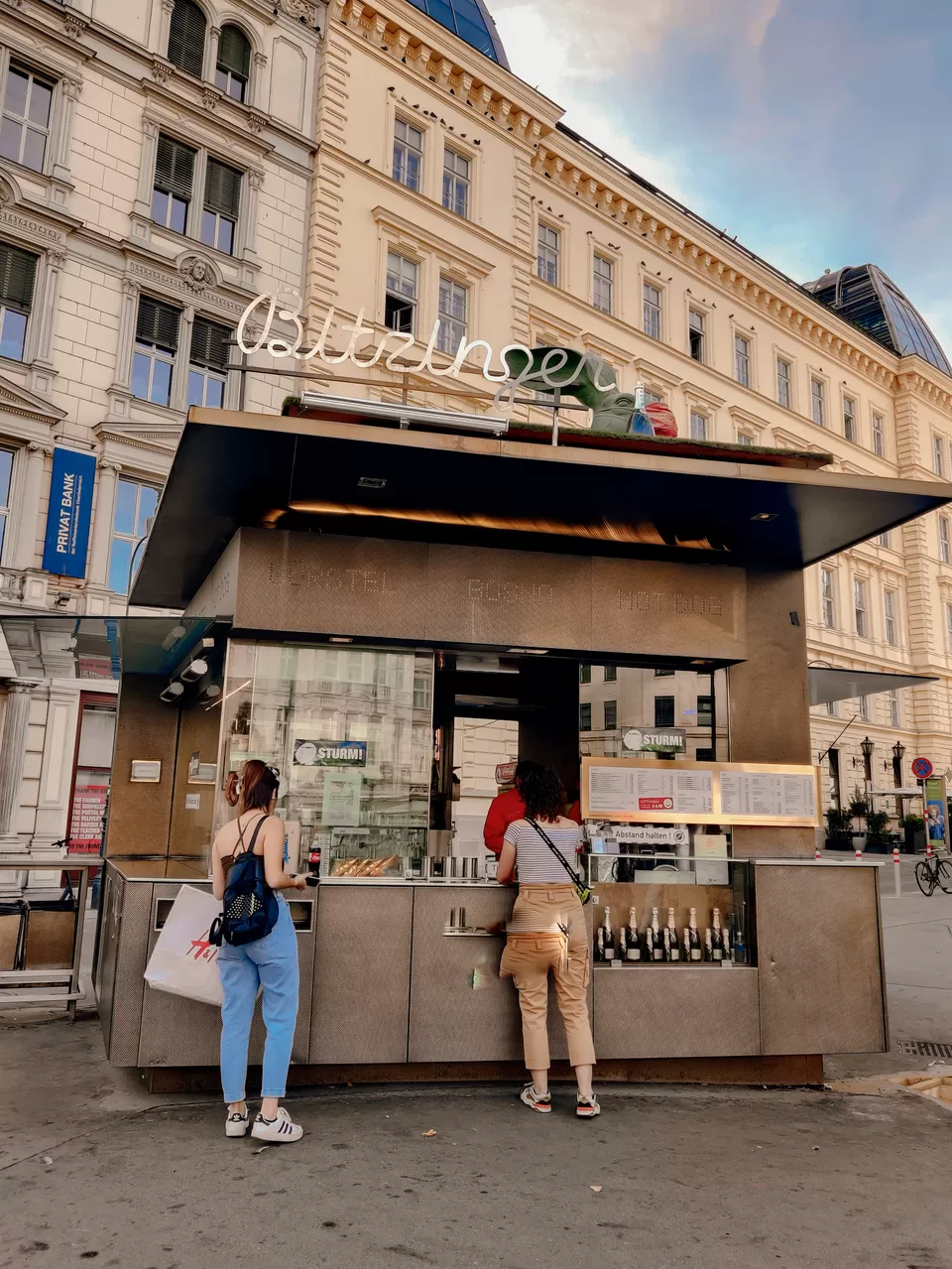 My friend is a big fan of architecture and he suggested that we should visit DC towers and i was not sure whether we should visit or not because we were tight on time but i must say this this up close made every minute worth it.
DC Towers in Vienna is one of the tallest skyscrapers in Austria. It is the depiction of modern architecture in the middle of an ancient city. This area is more of an Industrial Area of Vienna. If you are someone who is a fan of architecture, then definitely see this place. DC towers are a couple but only one of them is complete till now.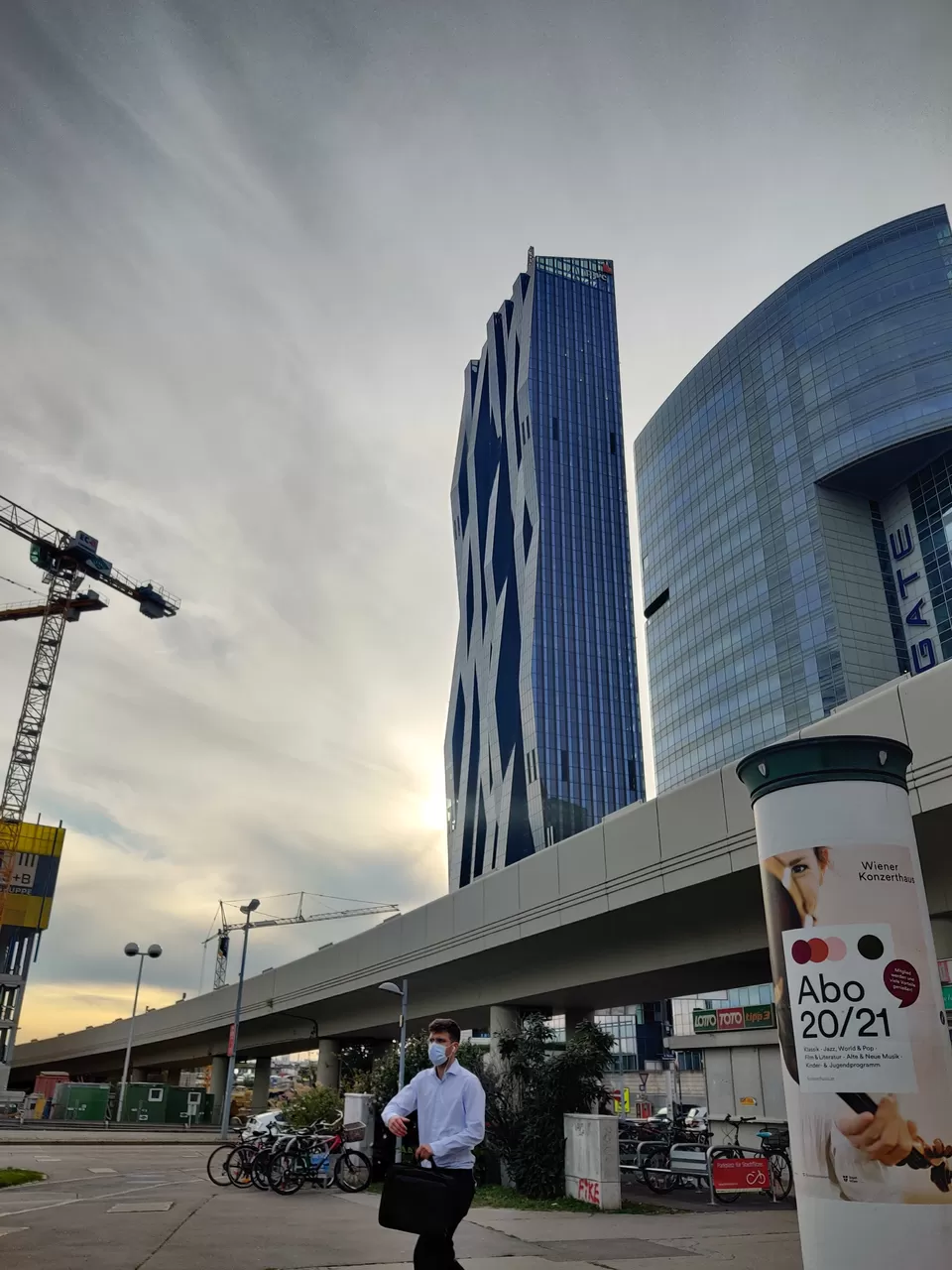 Looking for an Instagram-worthy photo then this is your place. A beautiful church in the background, beautiful stairs to walk on, and the view which gives the real feel of Vienna then Maria am Gestade is the perfect place. It also starred in the movie 'The Third Man'.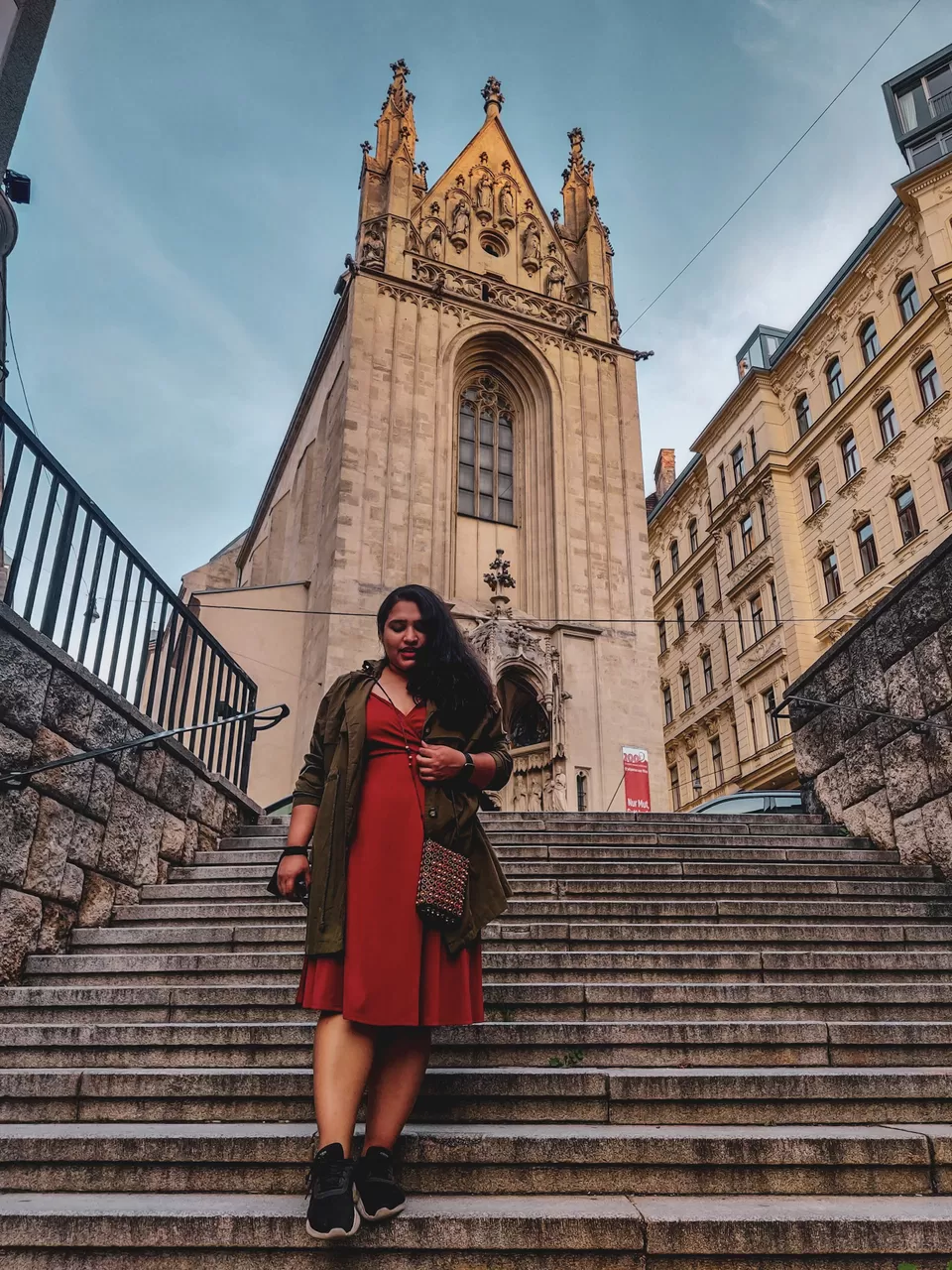 We have been walking for long now and was craving for some good coffee and the well known desserts. No visit to Vienna is complete without visiting the historic cafes for some delicious coffee. The Coffee House culture has been a part of Vienna since the 17th century, the time when newspapers and Cards came into existence. This has so much importance in the Vienna culture that it has also been recognized by UNESCO.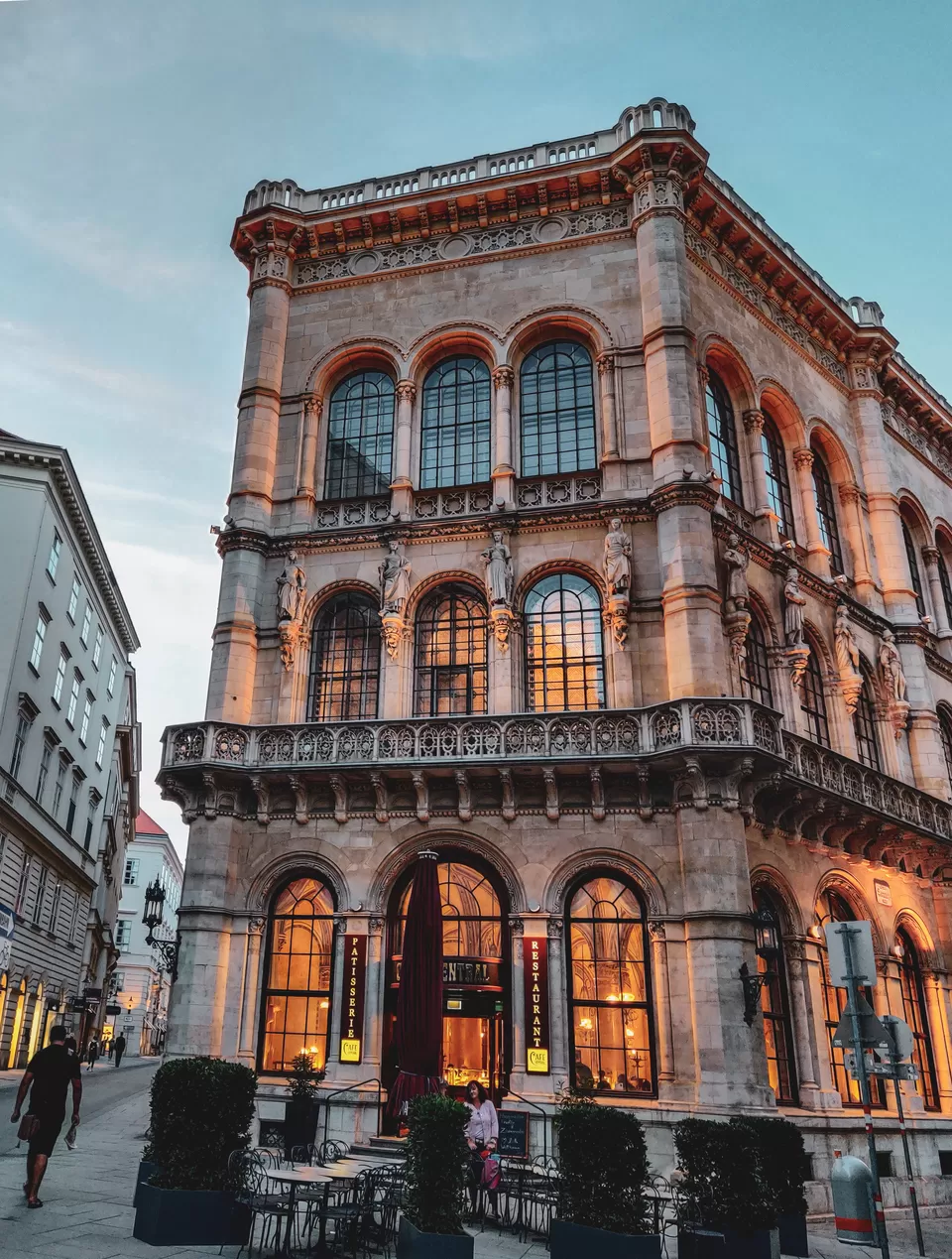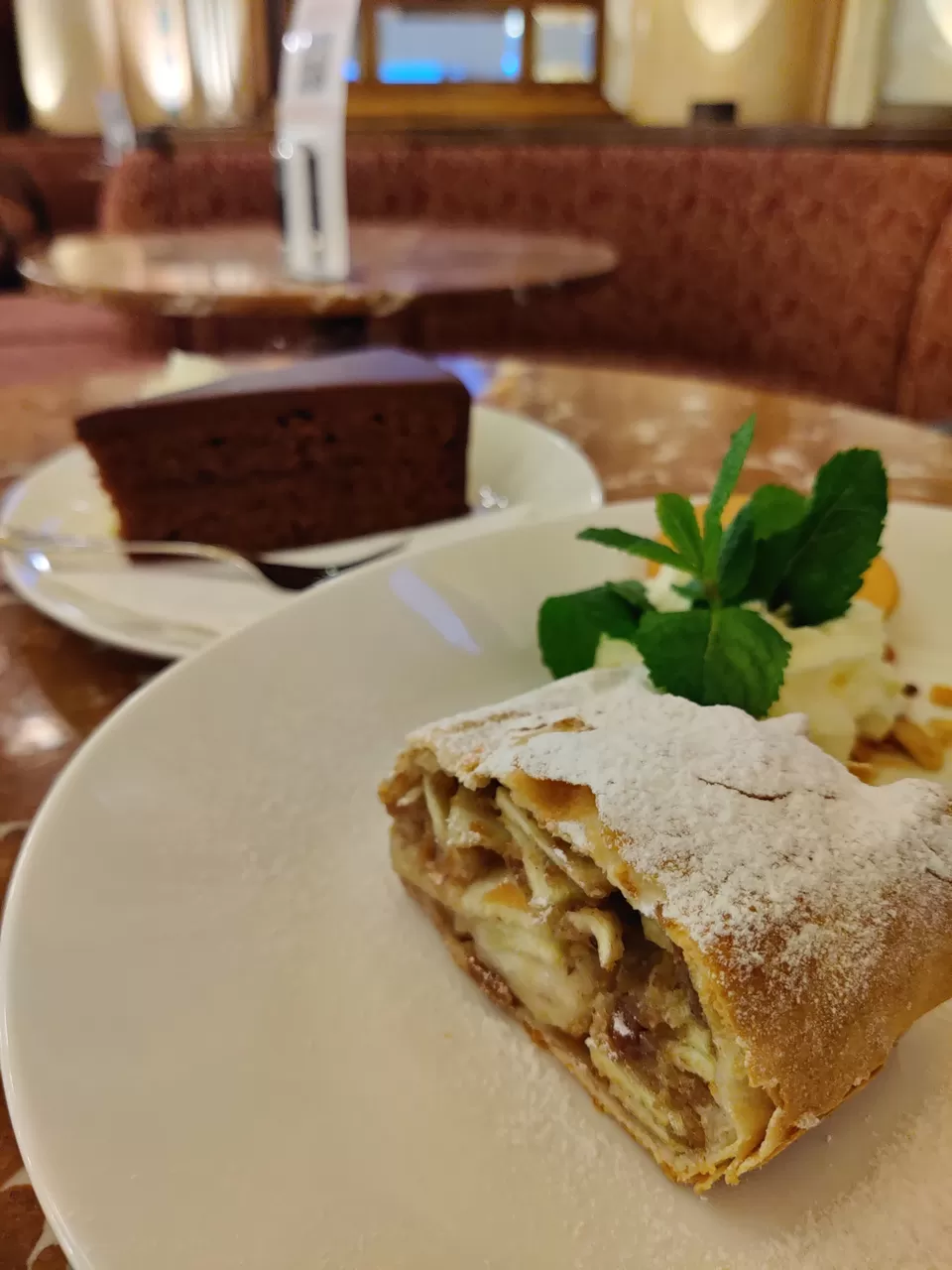 Cafe Central is one of the oldest and luxurious cafes in Vienna. If you want to have a coffee where Arthur Schnitzler, Peter Altenberg, and Adolf Hitler had one then this is your place.
It's an ideal place to stop for a delicious piece of Apfelstrudel ( a must-try - Apple strudel) and Sacher-Torte ( famous chocolate cake here in Vienna with apricot jam and whipped cream on the side ) after you've spent hours wandering through the nearby twin museums and the Imperial Palace.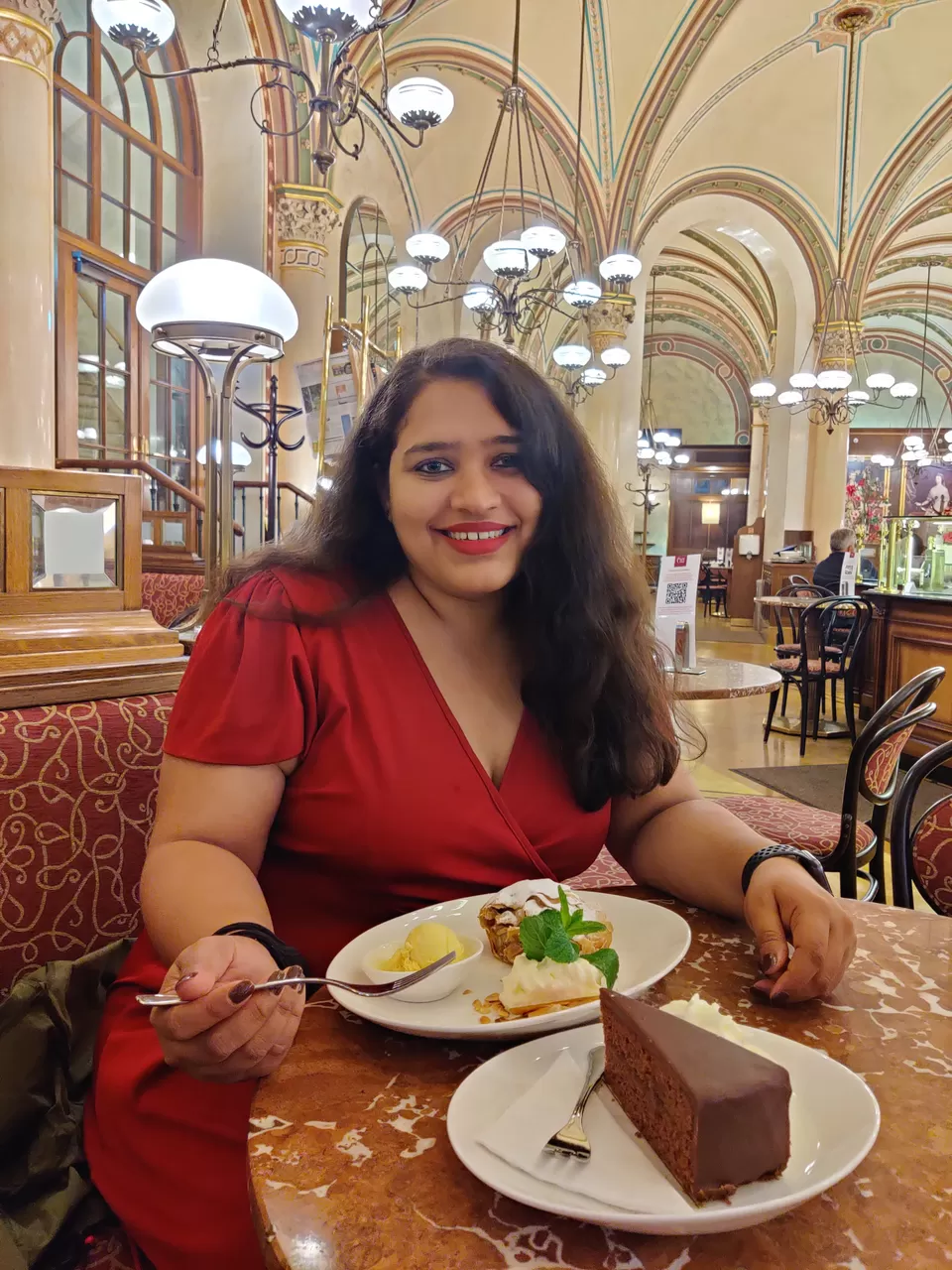 It was quiet dark after we finished with the snack time and were pretty much tired too. we had our bus to Vienna late night and we still has some places to cover.
Near the cafe central we saw Imperial palace.Vienna's imperial palace is one of the biggest palace complexes in the world, as old as the 13th century. It was the residence and seat of government of Habsburg emperors till 1918. Now it is the home for awesome collections, the Spanish riding school, and the seat of the Austrian federal president.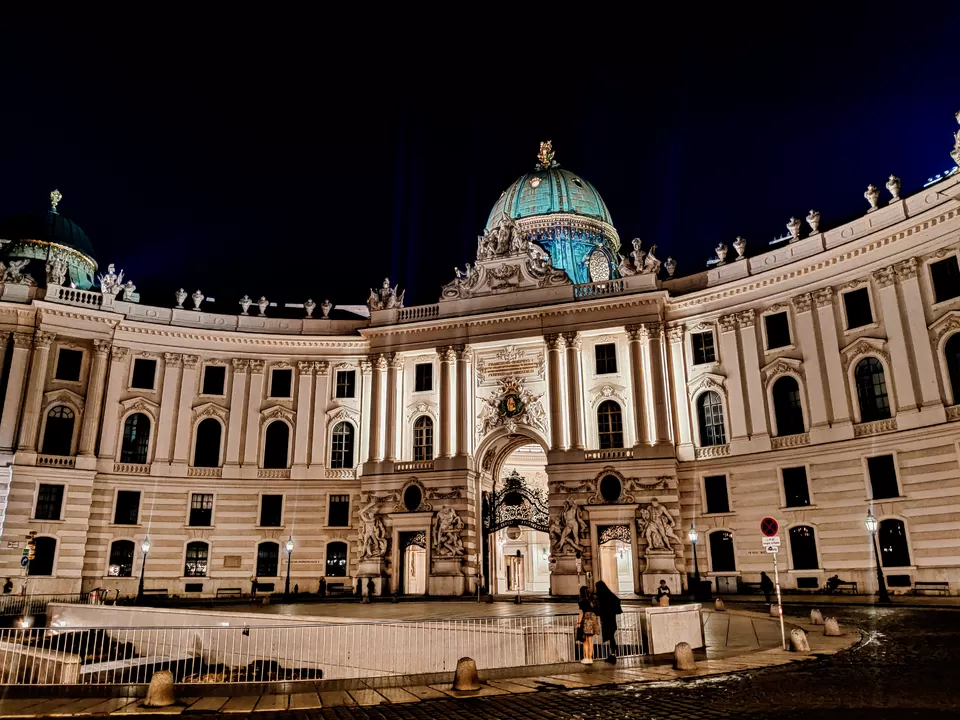 Before we started heading back to the station we wanted to see two more places and both were important and beautiful churches.
Opus Dei-run Baroque church nestles in the center of Petersplatz square. The original building only if some of it is left dates back to the time making it the oldest church in Vienna. Don't expect a huge cathedral-like church, But the small cathedral has its own beauty and magnificence into a small space. Everywhere you look inside there's a kaleidoscope of ornamental design, which is gorgeous. Belvedere museum.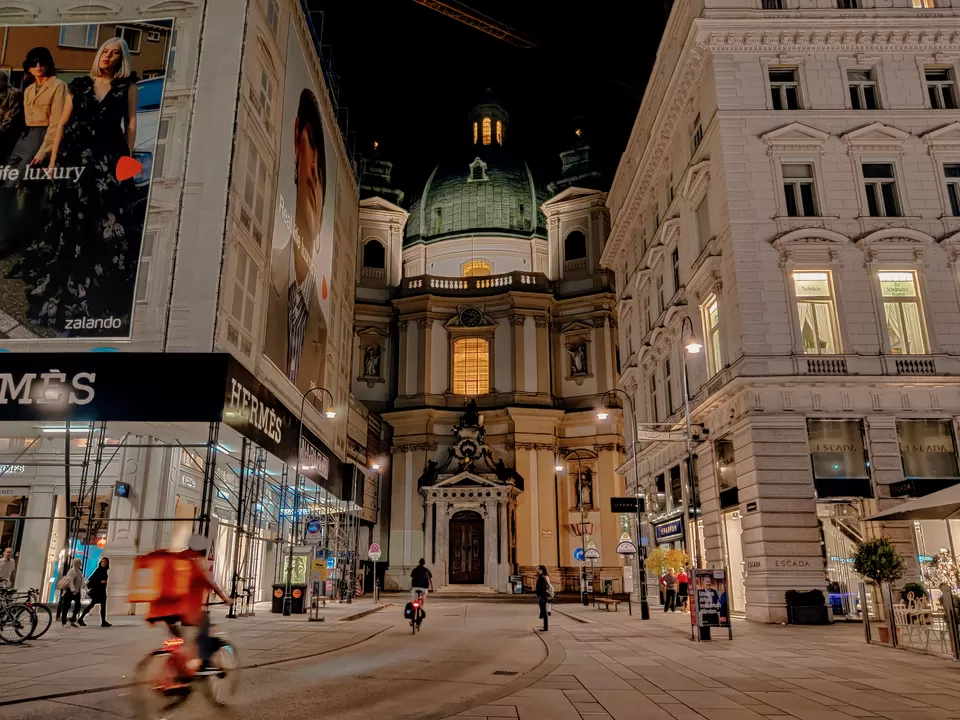 I so wanted to see this place is the daylight but it was not possible and i must say this church is soooo beautiful even in the night time.
St. Stephen's Cathedral is the landmark of Vienna and one of the biggest and the most beautiful churches ever seen. It's also one of the most important Gothic churches in Vienna. The cathedral is about 197 long and 35 meters wide. It has 13 swinging Bells, one of which is the second-largest swinging Bell in Europe and it's called Pummerin.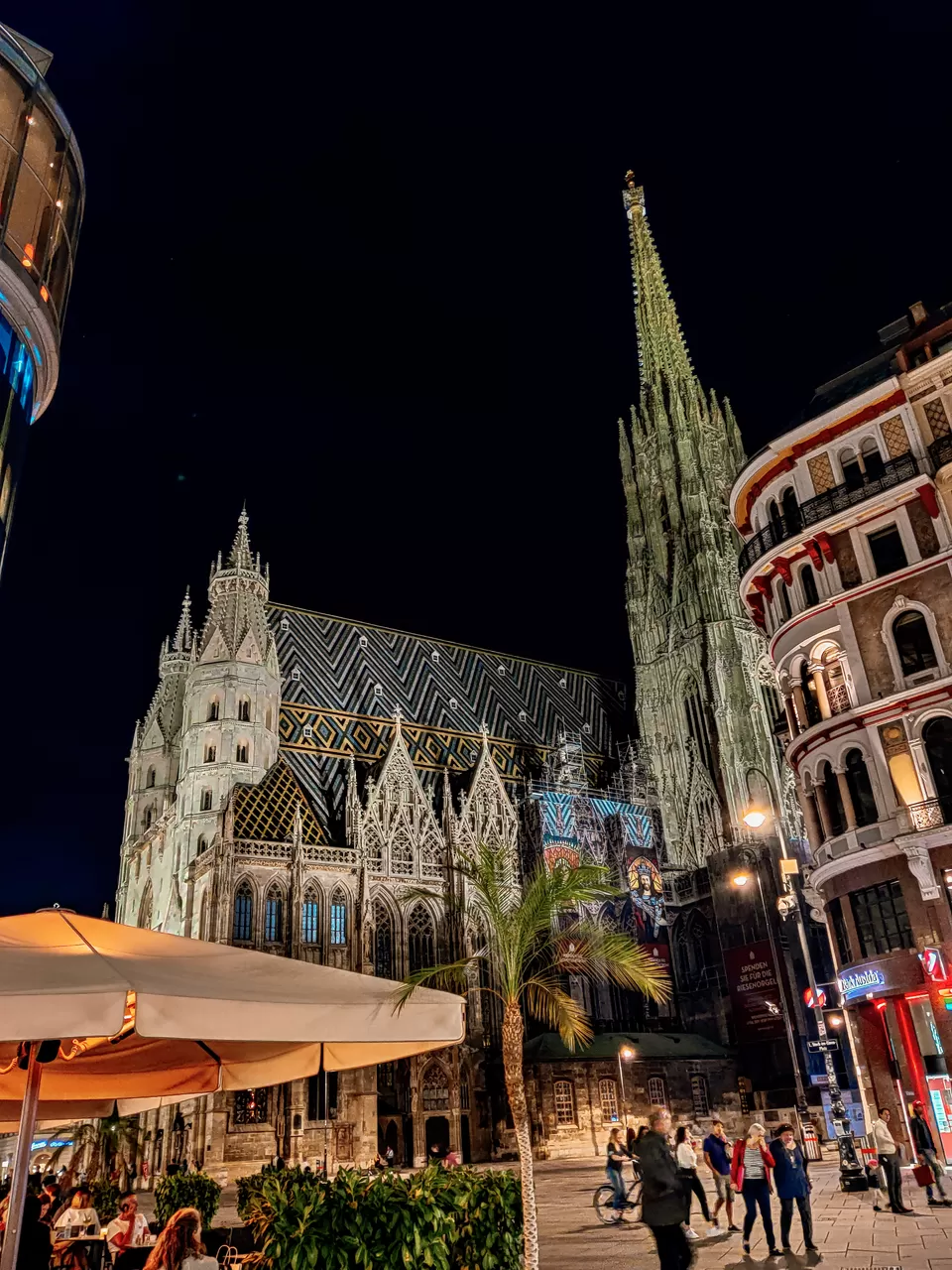 Definitely worth a visit. Without visiting the church a trip to Vienna is incomplete. lets go to our next stop together. Berlin here i come.
I hope you enjoyed this article and for more check my Instagram.