International Kites Festival Dates: Tue, 7 Jan, 2020 – Tue, 14 Jan, 2021
What more I could have asked for in the New Year? It started off with my trip to Ahmedabad, Gujarat for the International Kite Festival. The International Kite Festival promoted by Gujarat Tourism is one of the oldest festival celebrated in Gujarat. It had been celebrated since 1989 and ever since then it has become the most popular festivals in Gujarat. You will be surprised to know that Gujarat celebrates nearly 2000 festivals each year with Uttarayan (Kite Festival) being most famous. This is the biggest festival here as we can see participants from across the globe taking part in it.
This year the IKF was celebrated on the longest riverfront of the world, Sabarmati Riverfront in Ahmedabad. The event was presided by Gujarat Governor Mr. O. P. Kohli and Gujarat Chief Minister Mrs. Anandiben Patel. The event witnessed kite flyers from 31 countries, 27 Indian States including Gujarat. The sky was flooded with kites of different shapes and sizes
The festival marks the onset of summers. It indicates to the farmers that summers and the harvest season is back which is called as Makar Sankranti. This is such a huge celebration that it has been declared as a public holiday in India. As per Anandiben Patel this festival would help realize us of our goals and resolutions and will also catapult Gujarat to a proud place in the international market.The event started off on January 8th and will last till January 14th.
Here are some of the important pictures of the International Kit Festival:-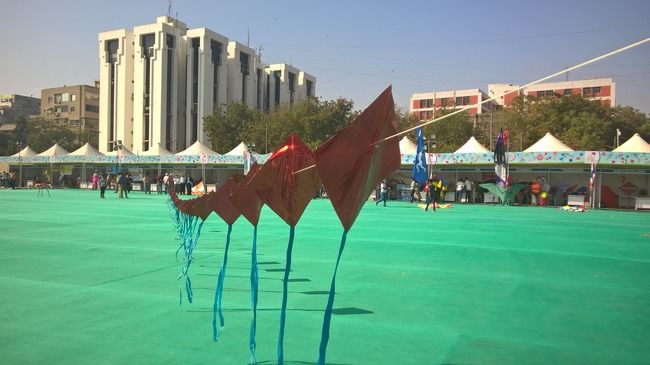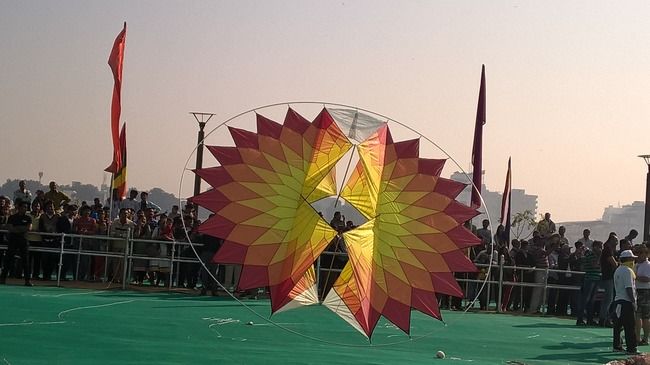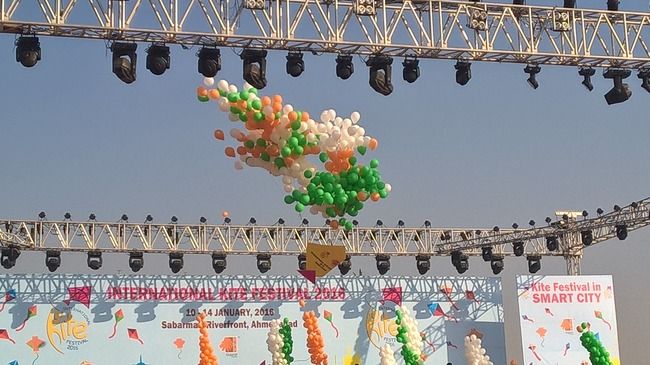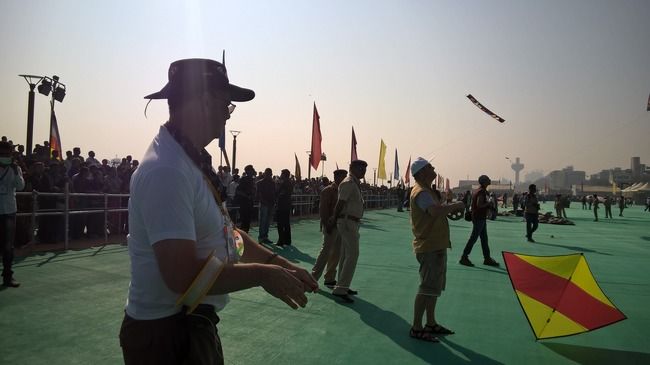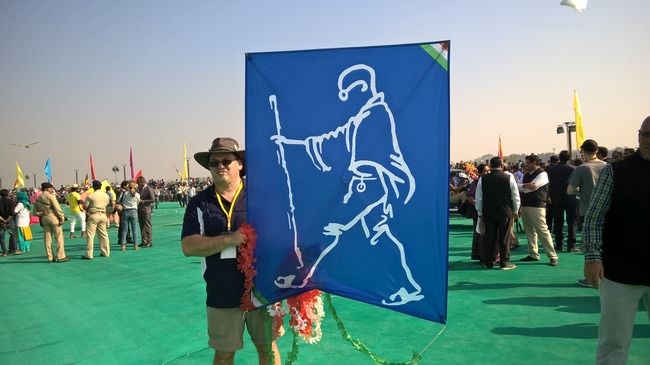 That was a small glimpse about the festival. The event started on 8th and there after I happened to get a chance to visit the place where kites are made - Jamalpura Market. If you are in Gujarat during the time of Uttarayan then this kite market is a must visit place for you. The narrow lane is flooded with kite making shops and these people have been doing this business since 30 years. So I stopped by a shop with the name Taj Kite Center which is run by Mohd. Yusuf D. Shaikh. I had a very candid conversation with him and he had no hesitation in telling me about the history of his kite making experience. He is into this business since 30 years with his kids also taking active part in the same. During off season they get contracts from many companies to make banner on kites and boy the work is amazing. Have a look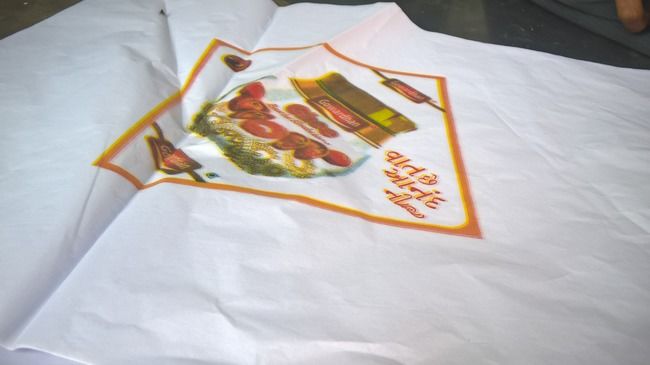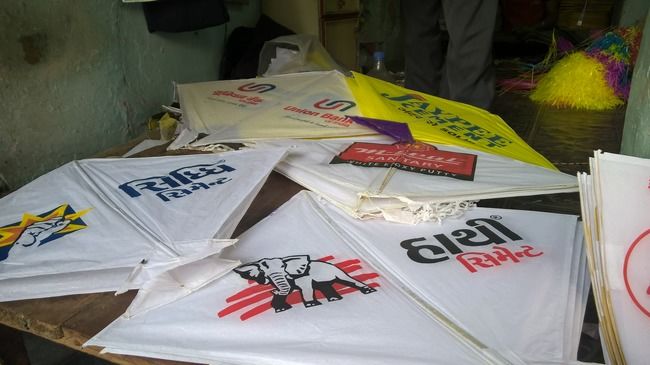 Do you know how many kites they make in a day? Hold your breath. They make 40000 kites in a day and if demand is high it may even touch a lac.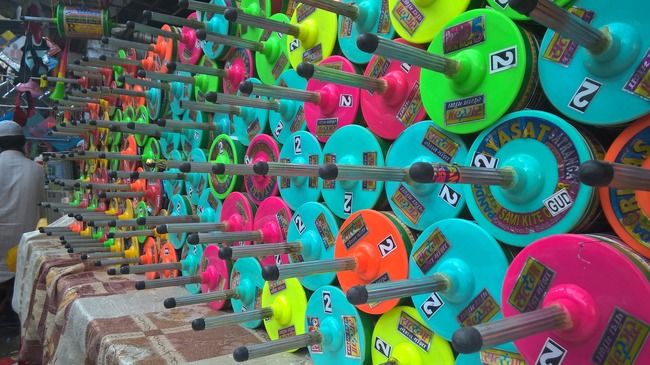 If you think that the entire components of a kite is made in Gujarat then you are mistaken. The manjha comes from Bareilly and the bamboo stick from Kolkatta. But the printing on paper is being done in Gujarat itself. So this was my day of Kite Festival and visit to the Jamalpura Market. The best part of my visit to this market was when I saw a house which had everything in one place. They had a ground floor for making the kites and top floor for printing. This shop was Salimbhai Patangwala. He has a team of nearly 10 people and when I asked them how many kites they make in a day they said around 20k. The efficiency these people possess with them is impeccable and their work is class apart.
So this was my two days trip to the International Kite Festival in Gujarat. Now before I call it a wrap lets see this festival from my lens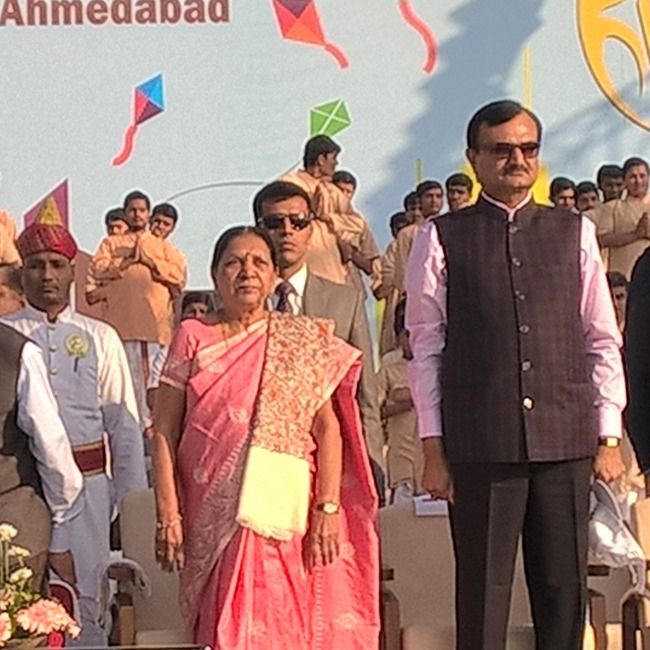 Chief Minister of Gujarat - Smt. Anandiben Patel, inaugurating the festival.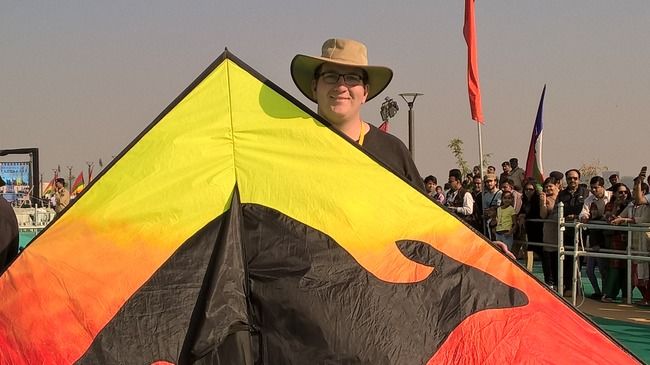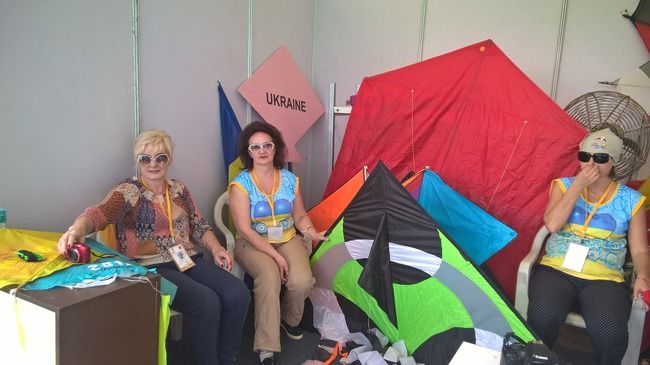 Kite from Team Karnataka
I believe it is the beauty of India which brings all the nations under one sky. This International Kite Festival is the biggest example of it. This was my journey to #vibrantgujarat. I hope you liked it.