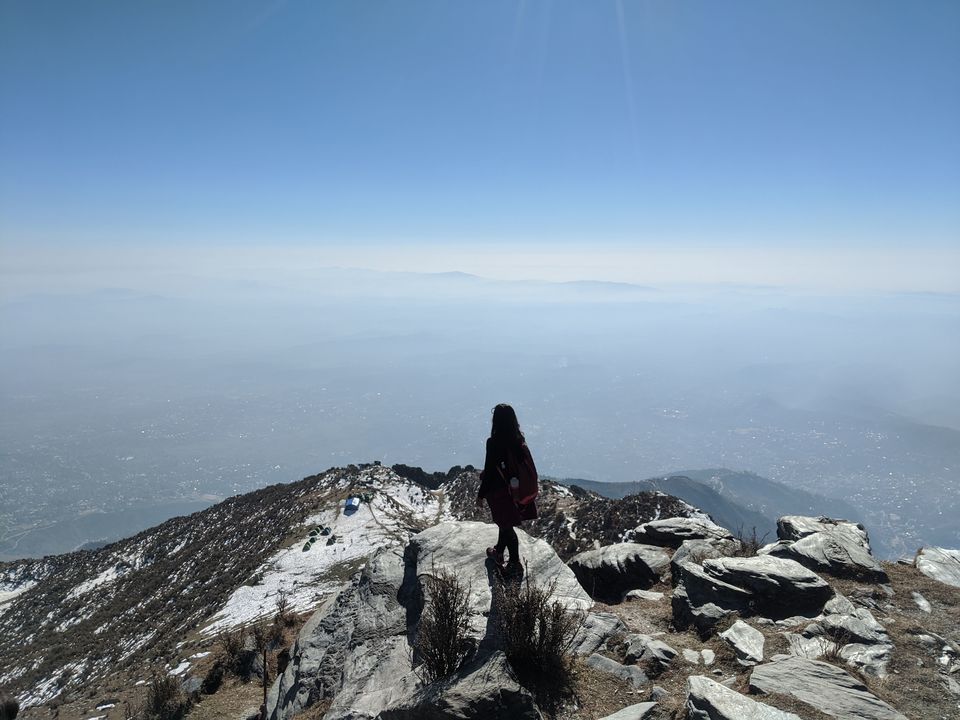 A beautiful end to another Chapter/Year of life…
With 2019 coming to an end, a finale with family like friends was all we needed. Not a fairy tale ending to another year but yet a close-to-perfect end to one of the innumerable chapters of life.
We wanted to spend some time at home along with visiting places near Delhi. With 7 of us being a part of this story, it did turn out to be nothing but special.
A wish to experience the snow capped mountains coupled with a visit to Amritsar was our final itinerary from the n number of options we had for a short (4-day) trip around Delhi.
Day-1 : New Delhi to Amritsar (By flight)
A cold smoggy winter morning in Delhi wasn't a great start, especially with our train getting delayed by 7 hours which was already scheduled late at night.
With one of us suggesting a flight to Amritsar, we all pounced upon the opportunity of reaching Amritsar on time. We took an early morning flight (5000 INR per person) from Delhi to Amritsar and reached by 7:00 AM giving us one full day to explore the city well-known for it's lip smacking cuisine, culture and a glimpse of patriotism at Wagah Border.
We checked into our airbnb accommodation which was a 3-bhk house with a kitchen and a terrace in a posh residential locality of Amritsar.
Wagah Border – The sense of belongingness
After catching on some sleep and freshening up, we headed out to relish the delicious Amritsari kulcha's at The Kulcha King. The brunch was good enough to satisfy our taste buds and hunger.
We booked an Innova to reach Wagah Border by 3:00 PM to catch the best seats in the viewing platform which was a stadium. With the flag unfurling ceremony starting around 4:00 PM, we could notice the stadium getting filled up as the start time was nearing.
And as it began, the cheering crowd roaring 'Vande Mataram' together in unison led to the rise of hidden patriotism and love for our homeland despite the difference with respect to language, ethnicity, social and economic status.
An announcement was made asking the women from the audience to join for a dance on the ceremonial ground/street in the center before the march past. I could not resist the urge to join multitudes of woman gathered.
Dancing with power packed enthusiasm and energy on the patriotic songs right across the street of our neighboring country with whom we share a controversial past, brought out a sense of belongingness amidst the unknown faces.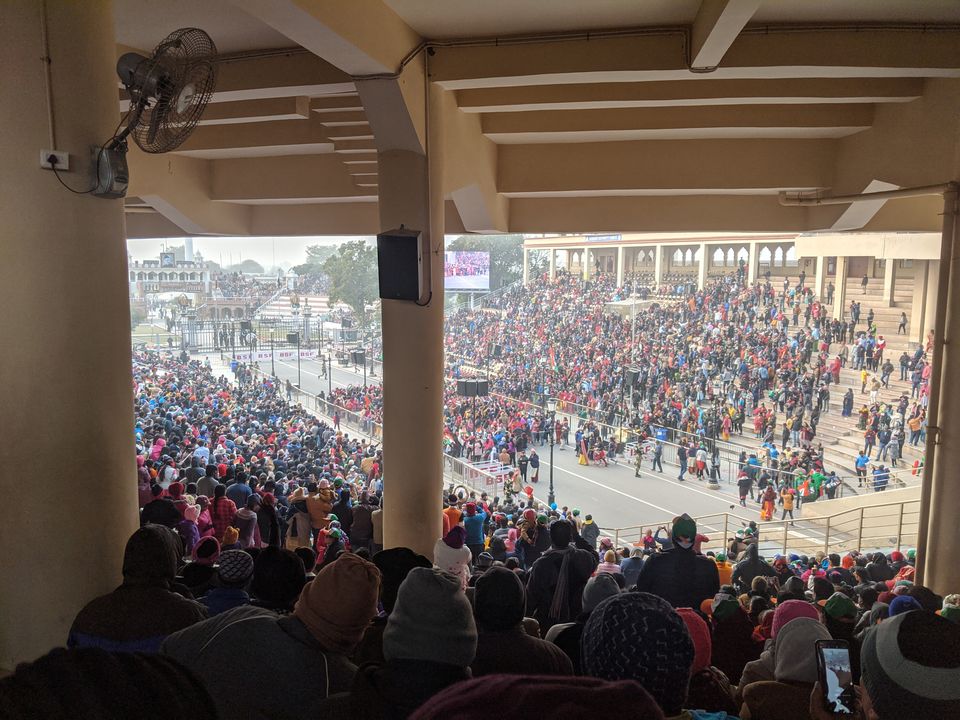 Golden Temple: An exciting Endeavour
The cab dropped us near Golden temple late in the evening. It was freezing cold and we stopped by for some snacks at the eatery stalls nearby.
As we walked further, We were greeted with beautifully lighted streets hosting colorful shops lined up, for selling various items, from souvenoirs to traditional Amritsari clothing, footwear, and food stalls.
What lay next in store for us, was a challenge to walk barefoot in the extreme cold inside the golden temple premises.
We dipped our naked feet in warm water to enter the holy site, which was a sight to behold. The biting cold didn't dampen our spirits to capture the glory of Golden temple, an important pilgrimage site of Sikhism.
The reflection cast upon by the impressive golden dome of the temple on the water felt like standing in front of an invisible supreme power.
With time, the cold had conquered our feet by turning them numb. The 'kada prasad' was what we were looking forward to as soon as the darshan ended with scores of people waiting in a line to enter into the gurudwara.
The soft melting ball of this ghee-laden delicacy was worth the effort of standing in long queues for the darshan and battling the cold barefoot.
After sustaining the cold for so long, we didn't want to miss the famous 'langar' which was a simple meal made up of dal, roti and sabzi.
This is how our adventurous day ended with a splendid performance laid out by the city of Amritsar.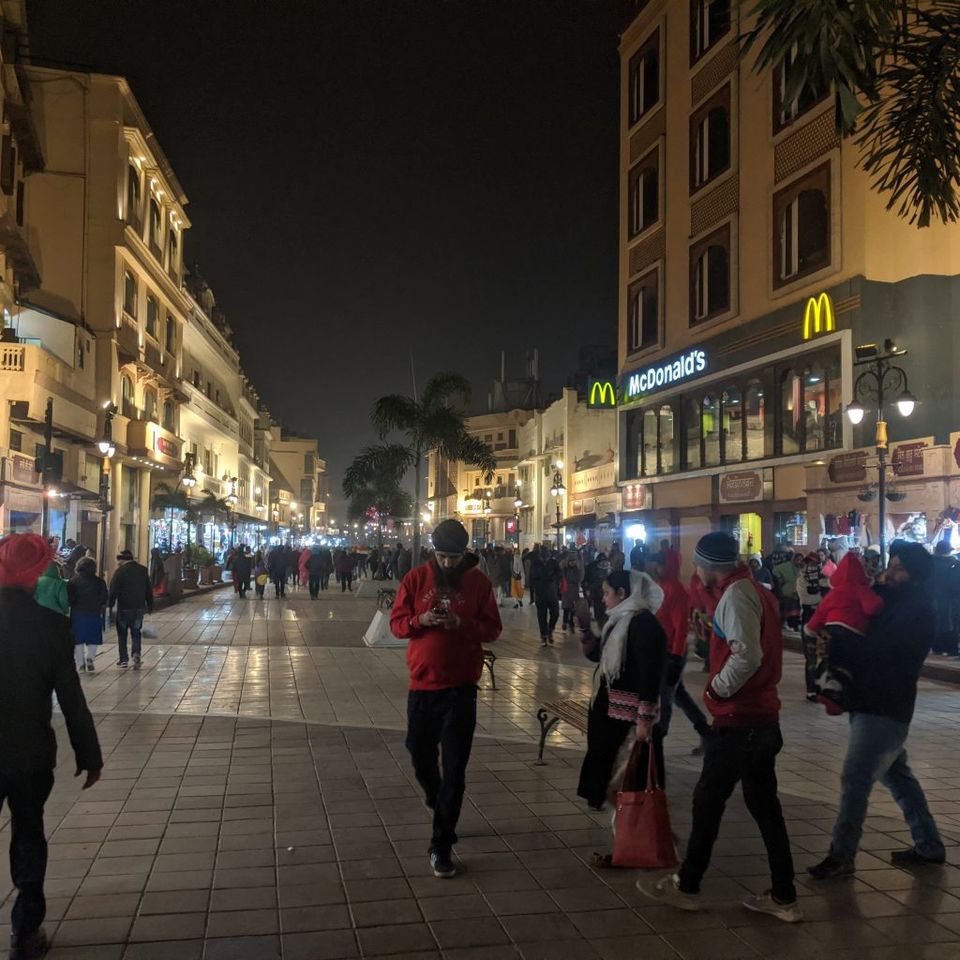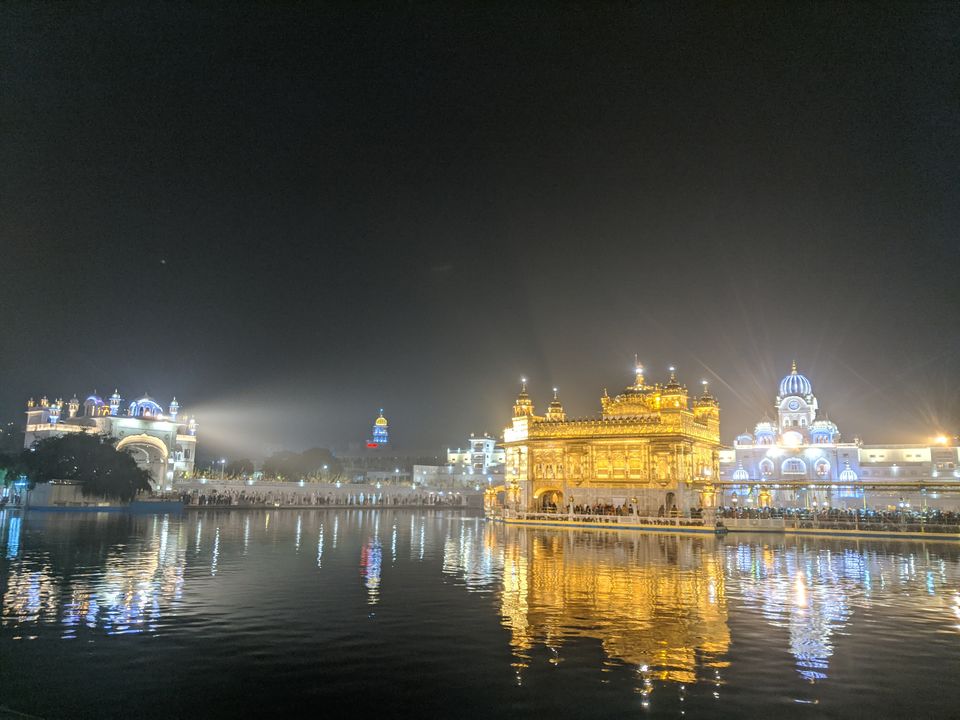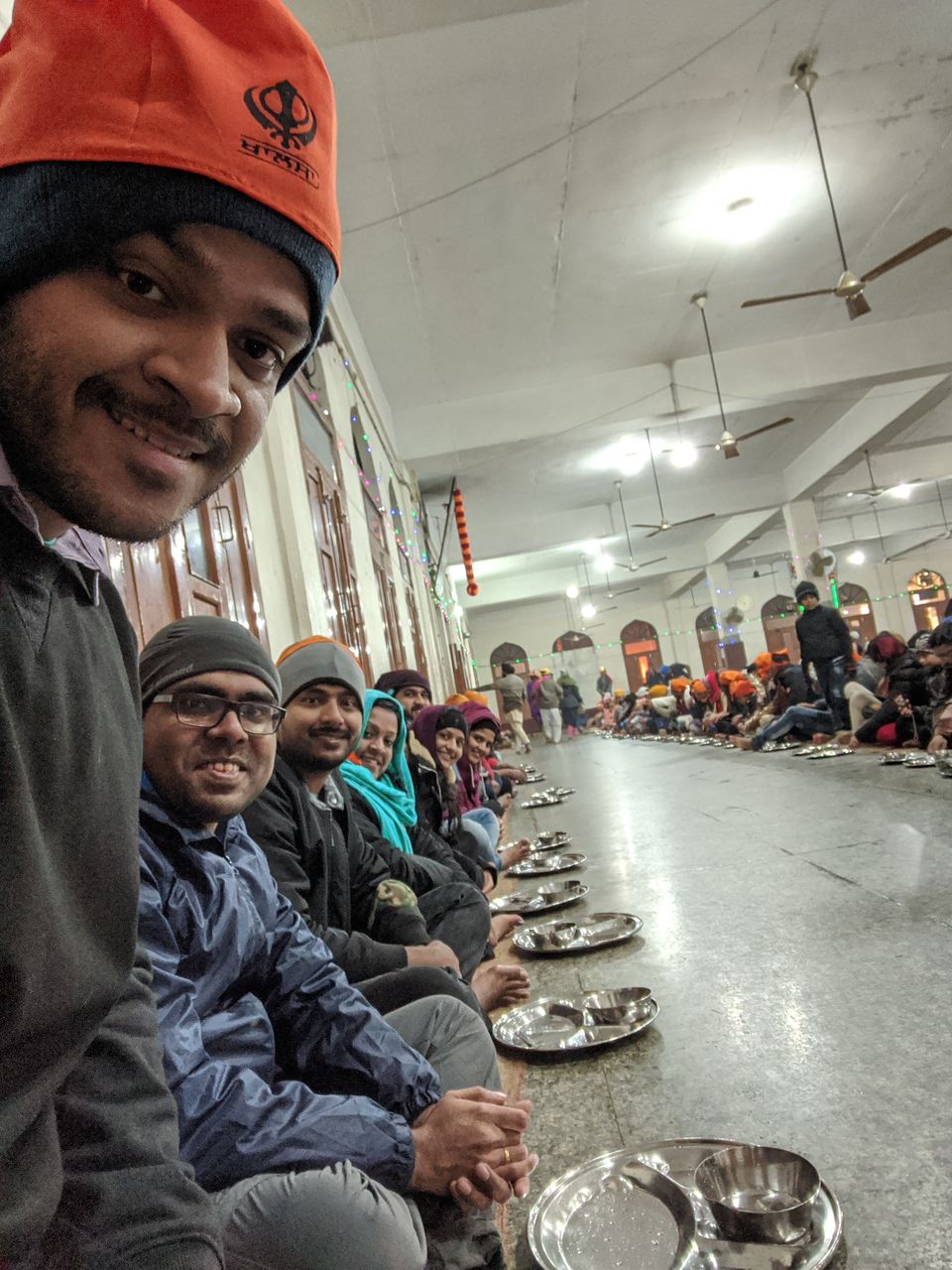 Amritsar to Mc Leodganj (~ 4 hours By road)
We booked a 12-seater tempo traveller from Amritsar to Mc Leodganj through gozocabs and left in the morning around 9:00 AM.
The long journey was tiring as well as refreshing especially when the hills welcomed us with the first sight of the snow capped Himalayas. It rejuvenated our spirits to explore a bright new day in a land of natural scenic landscapes filled with sunshine and fresh air.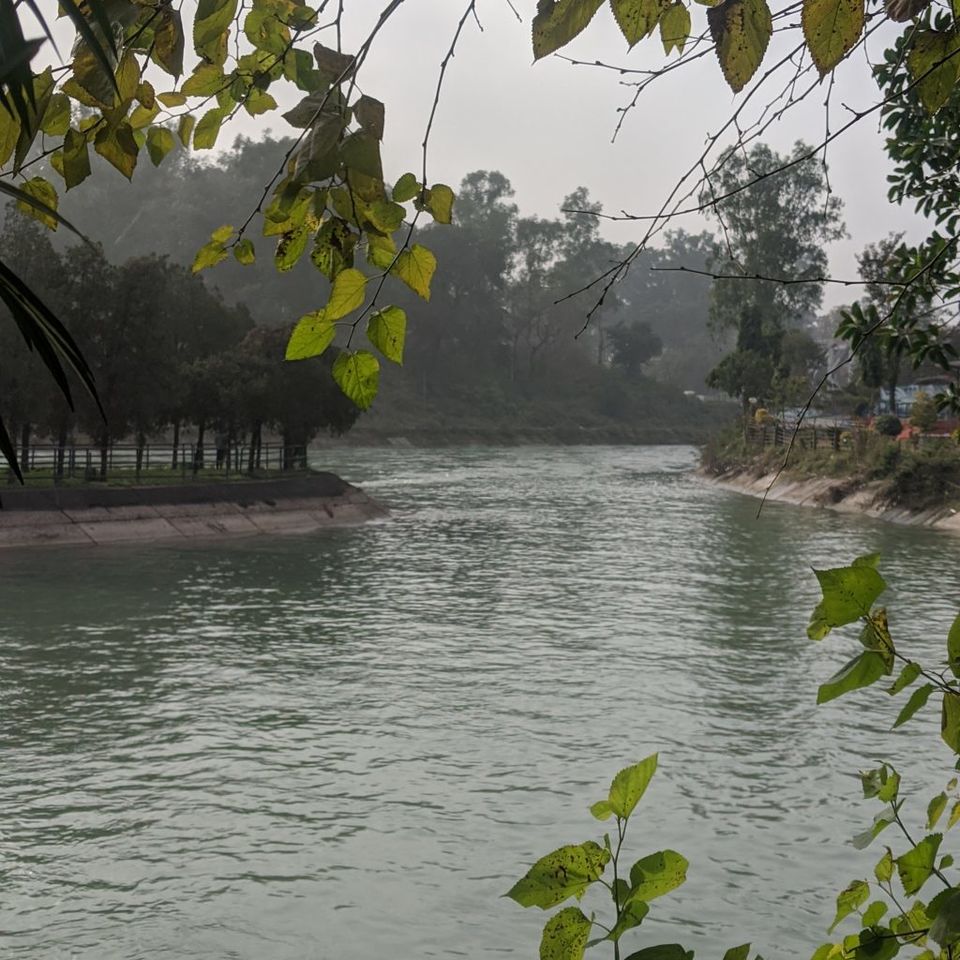 We stopped by another cafe on the way to Mc leodganj. The view from it's terrace was of beautiful green mountains surrounded with snow capped Himalayas acting as a crown adorned with jewels.
The surprisingly pleasant weather was a welcoming respite from the cold in the plains.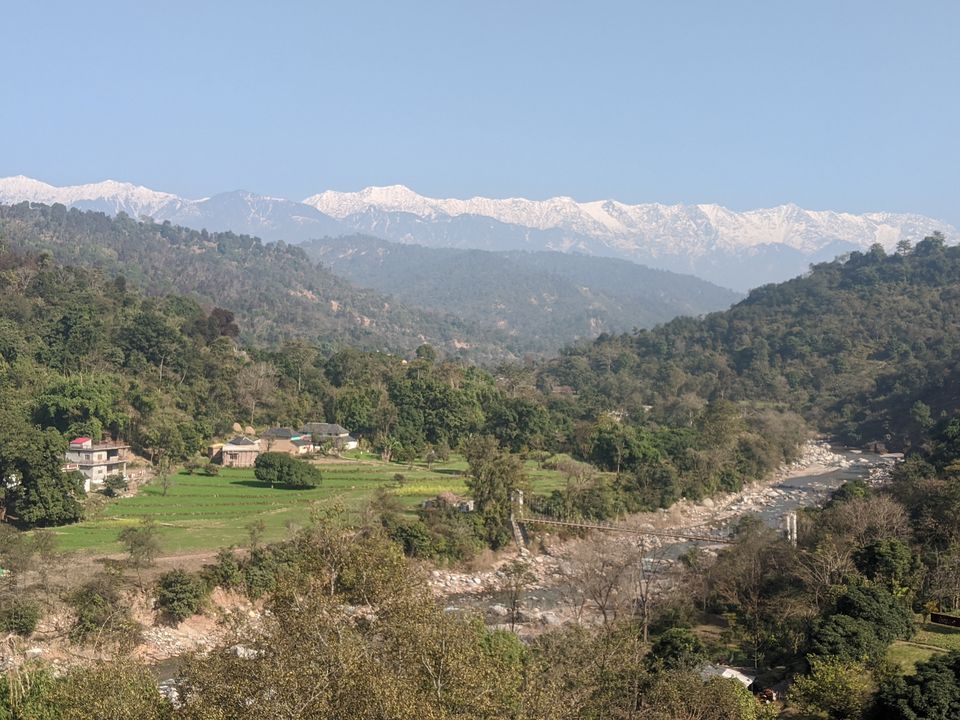 We reached Mc leodganj by afternoon. The climb up to our accommodation was steep but the property which was a hostel with the options to book single/double rooms apart from dormitories was too cute not to be loved at first sight.
The blue walls of the hostel and the beautiful outdoor veranda with a swing and a nice decor was worth the steep hike till here. The rooms were in sync with the blue theme of the hostel with the interiors complementing the blue color of the walls.
After freshening up, we left for a walk till the Dalai Lama temple and to grab some snacks on the way. Even though the temple was closed, the walk till the temple was wonderful, not just with the pleasant weather and fresh air of the hills but also with some amazing food we had on our way.
Starting with ordering a variety of starters at a nearby (Abhinandan) restaurant to our hotel, and savoring some delicious cakes at The Pastry Den close to the market near the Dalai Lama temple, the lively atmosphere with people swarming over various food stalls across the street felt like we were in some kind of a food paradise.
And this was not just it, there was more coming up.
We had dinner at Tibet Kitchen where we tried the authentic Tibetian cuisines, thukpa and themthuk along with a Bhutanese Dish 'Ema Datse' which had all of us drooling over it.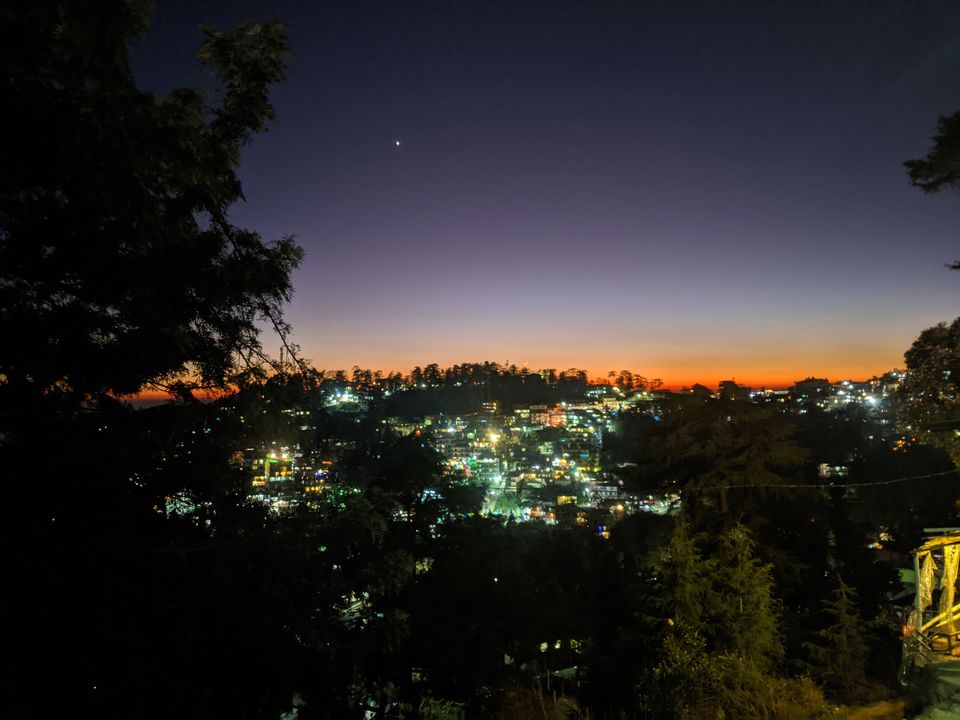 After enjoying a hearty meal, we decided to walk back to the hostel. And there was something waiting to greet us !
The walk back was pleasant with all of us immersed in the jolly vacation mood by now. There came a stretch with no street lights and an open roof with so many twinkling stars in the sky popped up like a surprise desert hiding in store.
The priceless experience of watching the sky lit up by millions of stars was a visual delight, as it is a rare experience for people like us living in metropolitan cities.
The Bhagsunath Waterfall trek
Triund Hill is a popular tourist attraction in Mc leodganj. We booked the Forest Rest house in Triund in advance but as there were chances of heavy snowfall, we had our existing booking at our hotel also in place for the same date.
Unfortunately due to heavy snowfall, Triund was closed. But, since all of us were eager to do this trek to Triund to catch some glimpses of snow, We went ahead with this alternate day trek after talking to some local guides and booking one guide for the trek.
The alternate trek is through Bagsunath Waterfall which took us to a point approximately 2 kms from Triund. The trail is a steep climb over the mountain on a rocky uneven path which goes through a jungle making it a challenging expedition.
More details in the link: https://www.tripoto.com/trip/triund-trek-through-bhagsu-nag-in-mc-leodganj-5e5a13a9a3504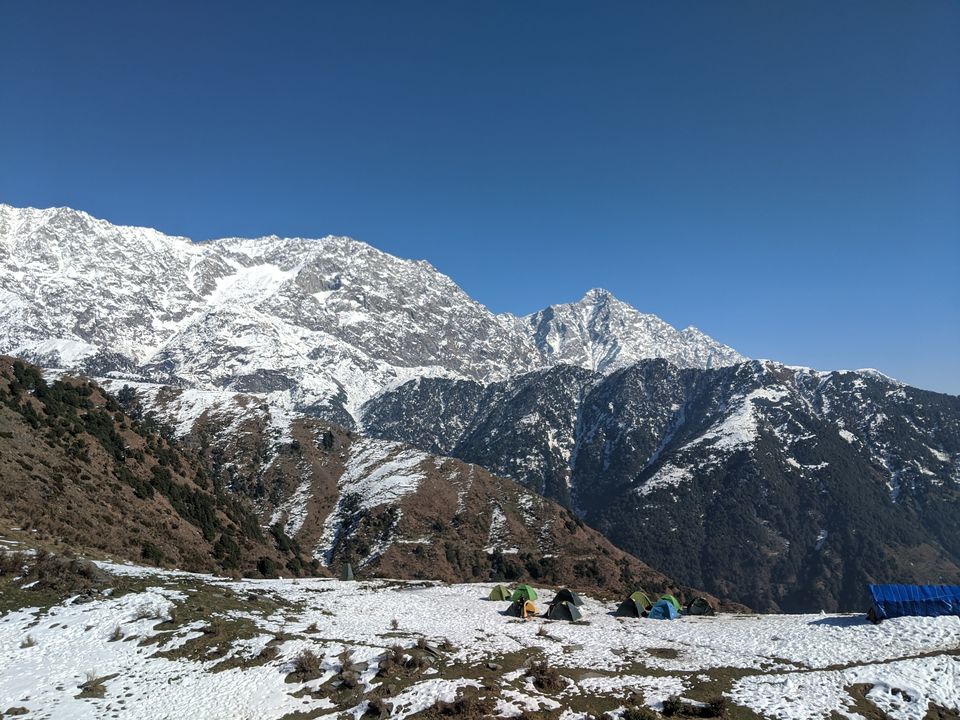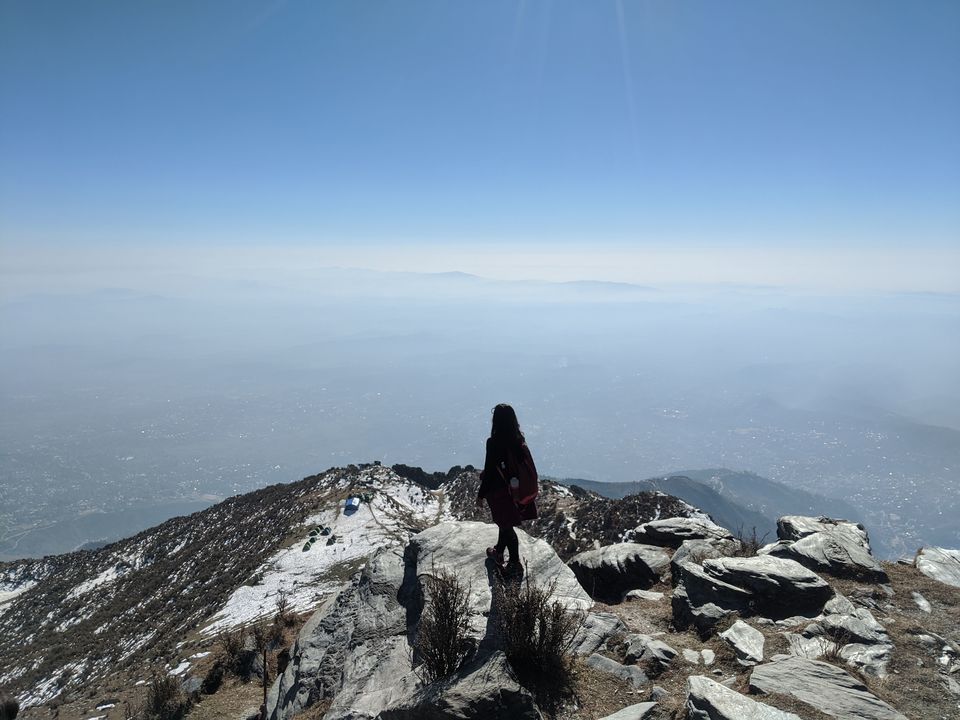 Dharamshala
After an amazing hiking experience, we had a sound sleep at night as we were dead tired after the trek.
Next day, we were back in our spirit to explore the city further by doing a local sight seeing in and around Dharamshala.
We had our train late at night from Pathankot giving us sufficient time for visiting some places in Dharamshala and Mc leodganj. We booked a cab and first visited the Dalai lama temple in Mc leodganj before leaving for Dharamshala.
The Dalai Lama temple in Mc leodganj
Mc leodganj is a holy city in Dharamshala with the Dalai lama temple being one of it's main attraction . It is very close to Dalai Lama' residence and is an important pilgrimage site.
We entered the temple complex which is located in beautiful surroundings. After rotating the beautiful prayer wheels outside the prayer hall, we entered inside the prayer hall where Buddha's idol was placed in complete silence. It was thought provoking to read Buddha's teachings and wise sayings written beautifully on the walls giving deeper insight's to one's existence irrespective of religion.
After admiring the surrounding views of the temple, we left to continue our journey towards Dharamshala.
Norbulingka Institue
This is a must-see place which cannot be missed while visiting Dharamshala. The beauty of this place is astounding, mainly because of the way in which it has been maintained to preserve the tibetian culture and support local artists.
We entered into the campus through a beautiful entrance gate. The place is so serene, that one can feel the silence of the nature in gurgling streams and chirping birds. The peaceful aura in the green surroundings, with artifacts like chants written on tibetian flags and other interesting pieces of art work showcasing tibetian culture and beautiful gardens felt like being transported to another world.
There is a guest house inside, along with workshops to practice various forms of art work like painting, statue-making, decorative art forms of wood carving and weaving and many more. Though all the workshops were closed, but we could imagine how amazing it would be to unleash one's creativity by practicing various art forms in such a serene atmosphere.
At the end, We visited the temple with a large Buddha idol inside. The temple is a marvelous example of Tibetian religious architecture. Also, a perfect place for prayer and reflection in the quiet surroundings. The majestic snow capped Himalayas looked even more beautiful than before, with the temple in it's lap.
I could have spent an entire day here, basking in the glory of sunshine and peace.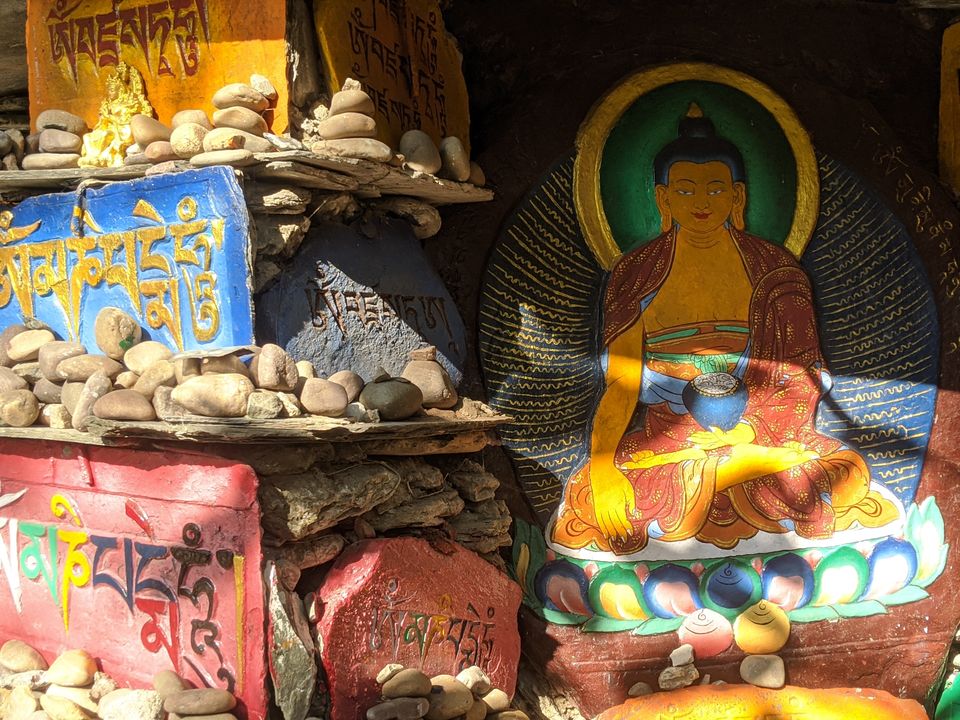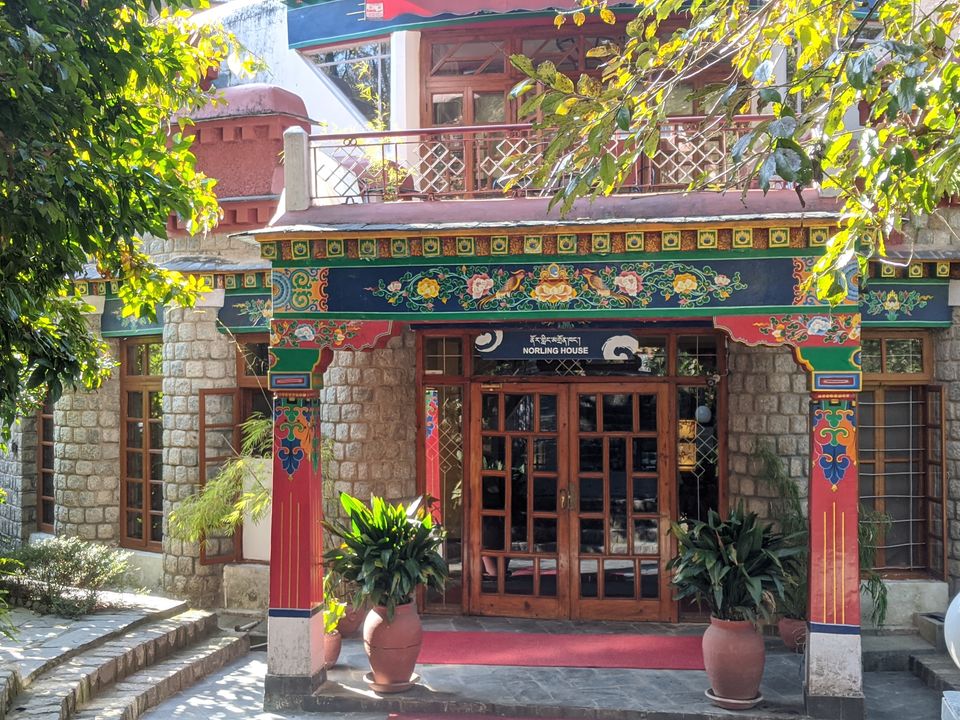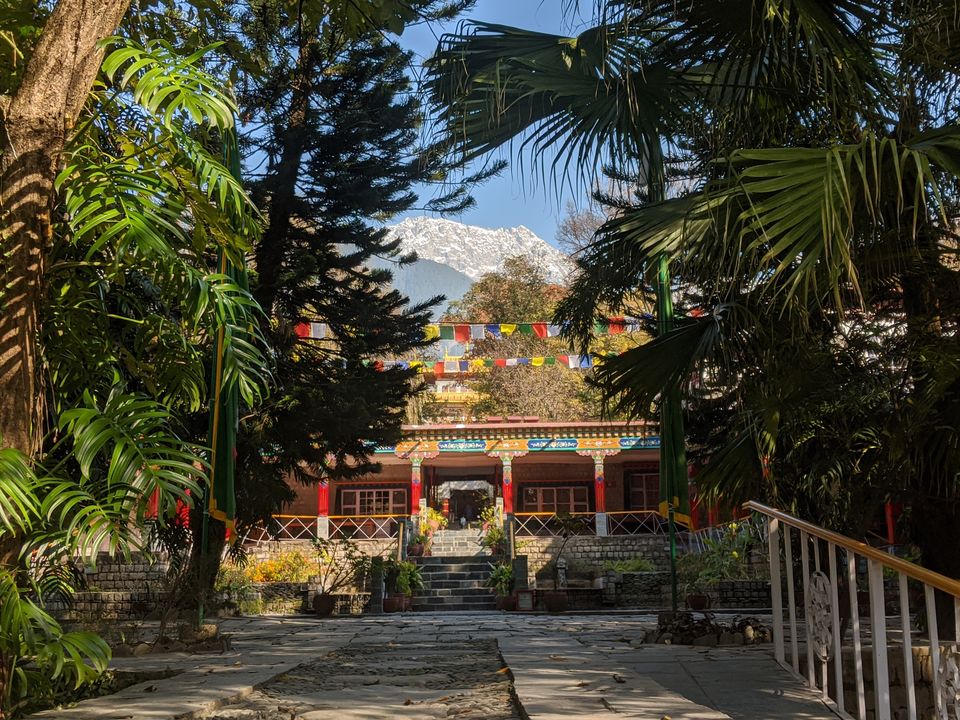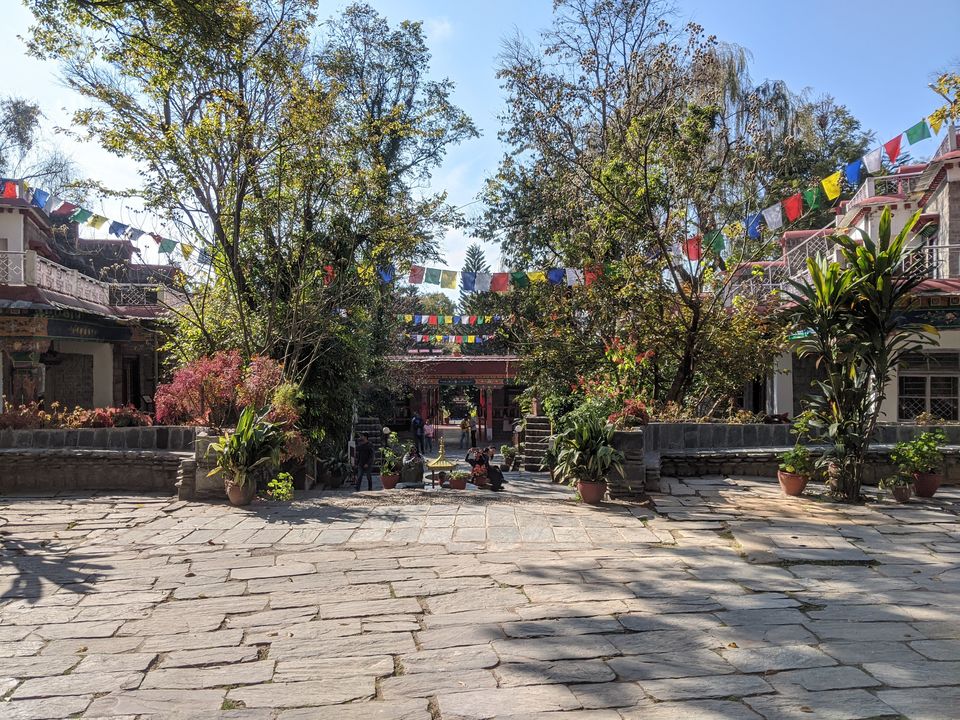 We had our lunch at a restaurant nearby, which was a home cooked meal prepared by a couple who ran this cafe known as 'Simple cafe'.
After savoring the delicious meal, we boarded our cab to visit the next destination which was the cricket stadium.
Local sight seeing in Dharamshala and Mc leodganj
The stadium was not too far from here, and the drive was beautiful with clear views of snow-capped Himalayas.
After exploring the scenic stadium, we visited the tea gardens located amidst the Dhauladhar range, adding a different flavor to the regular tea gardens which we had been to earlier.
On our way back, we visited the Naddi view point and St John's church in Mc leodganj.
Naddi view point is a sunset view point where we used our binoculars to see Triund and an army base camp. We could spot a camp on a mountain engulfed with snow.
The views of the Dhauladhar mountain range were charming, but we had already seen a lot of it by now. Moreover, this place was swarming with tourists making it a little less attractive than it was.
With not much time left, we quickly visited the St John's church with a beautiful gothic style architecture, nestled in wilderness with tall deodar trees giving a spooky effect in the dark. We didn't get a chance to explore it's spookiness/beauty but it is surely a unique and an amazing place.