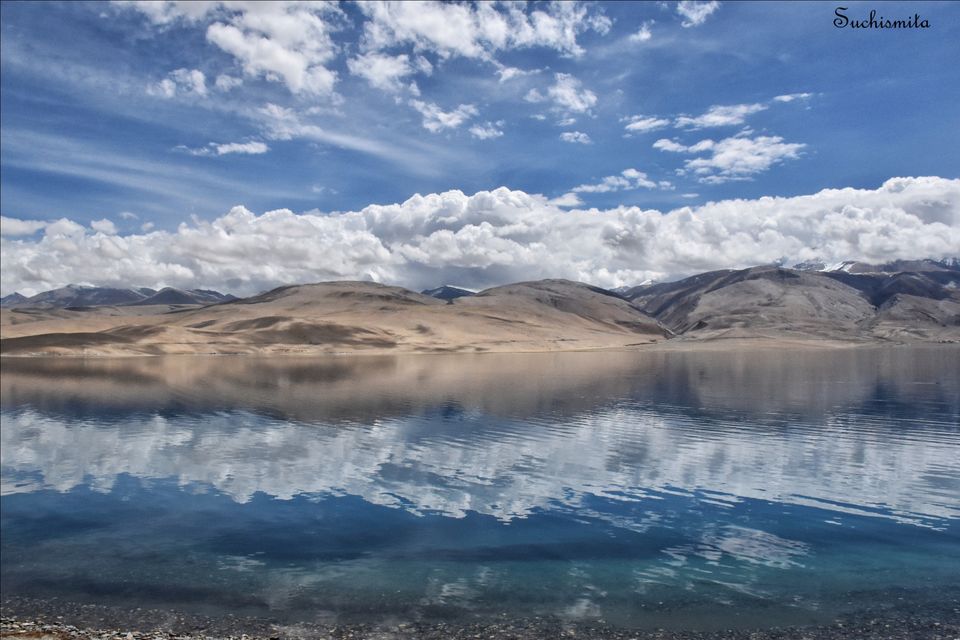 On 7th July, we set off from Leh at around 8 in the morning. We were heading to Pangong Tso ("Tso" means lake). At around 11, we reached Chang La at 17,688 feet of altitude , the 2nd highest motorable pass. Another beautiful snow covered area. As we crossed the pass, a completely white frozen lake came to sight. It might have been just a random lake, like the hundreds of unnamed lakes in the mountains, but it was beautiful.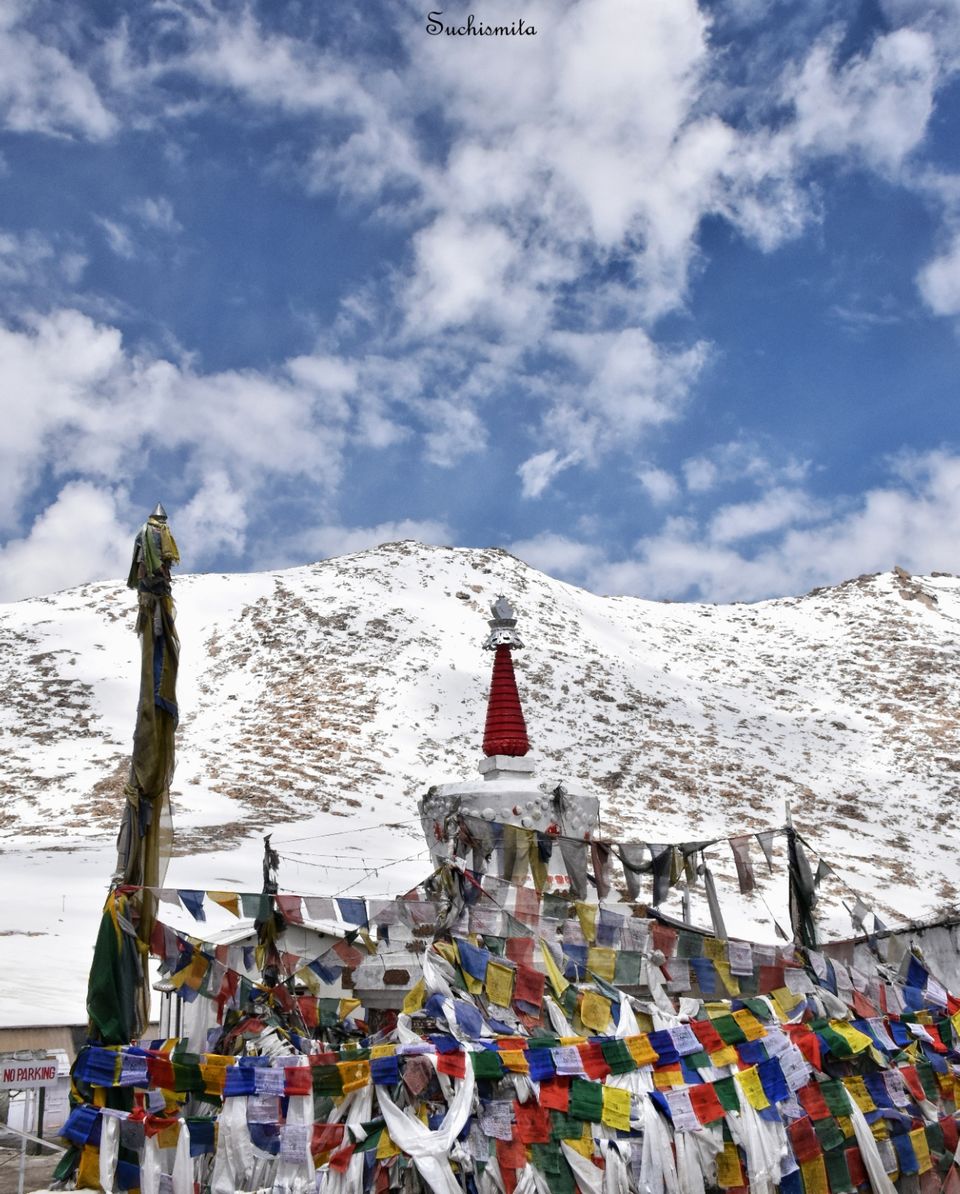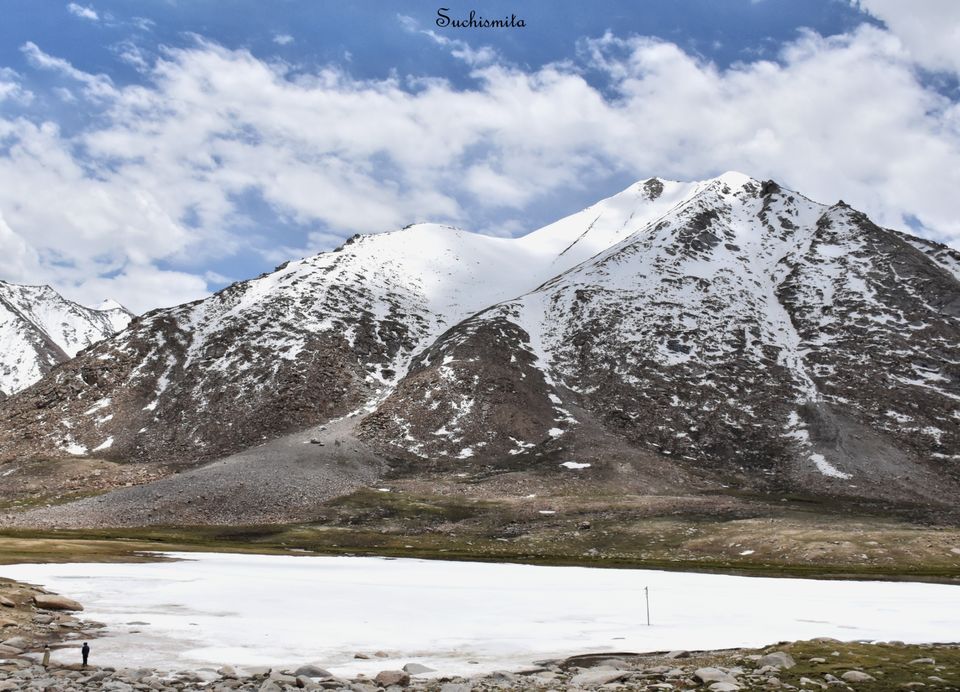 We stopped at a small place to have our lunch, as we were warned that there weren't going to be any place to eat for the next few hours, until reaching Pangong. After some momos and thukpa, as we travelled further, sign boards saying that we had entered the wildlife sanctuary appeared. Soon after we spotted many Marmots sun bathing or feeding on grass, lazy little squirrel like creatures. We saw a few tourists trying to get in a bit too unnaturally close proximity to them, and Mr. Dorje said, just like that, even though it's strictly prohibited, tourists feed these Marmots with biscuits or sweets and their fur coat sheds because of human food. I got down from the car to photograph a few resting on a stone, when I realised, one of them had started running towards me. Obviously I wouldn't keep standing, knowing the fact that they had big claws and bunny teeth! But when I turned around, ready to run away, I realised it just wanted to have a sniff, or maybe thought I'd drop a biscuit or something, it wasn't actually about to attack me or anything! So we drove on, through meadows and gravel fields and barren lands, until a few really winding turns brought a really beautiful ultramarine blue water body into our sight and a milestone said, Pangong Tso : 2 kms.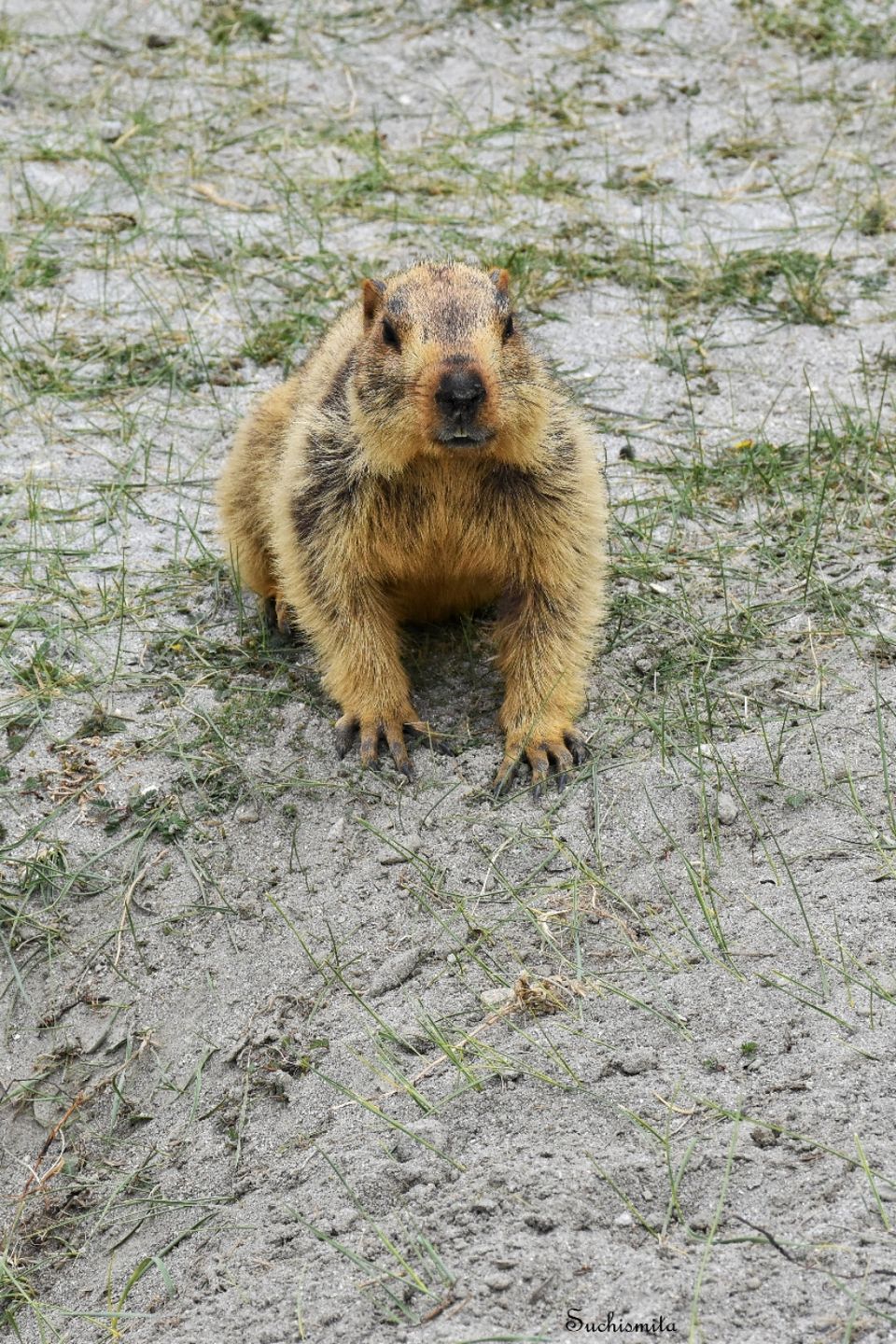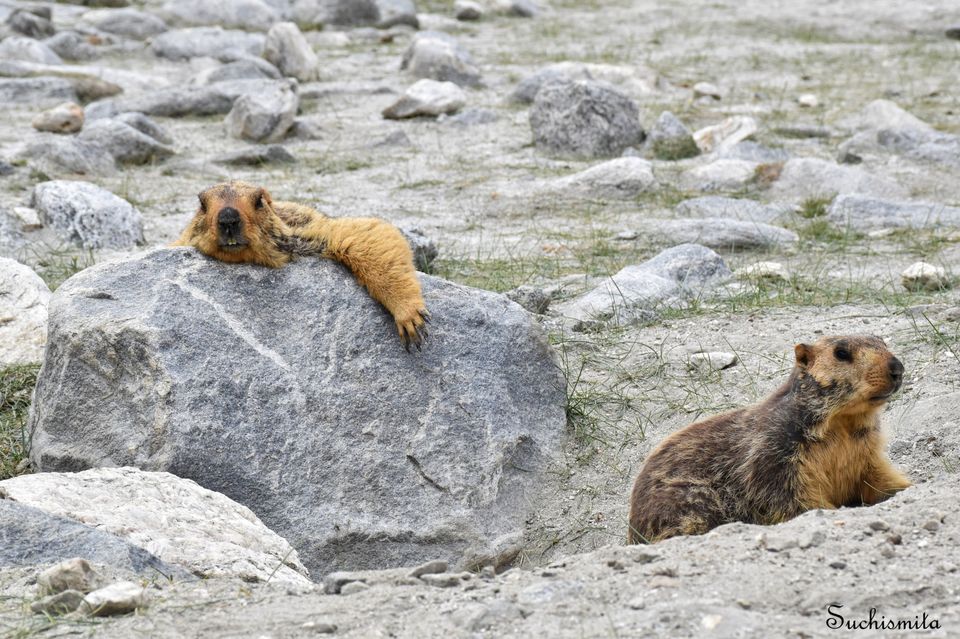 As we approached the lake, we realised it looks more like a sea than just a lake because it's other end isn't visible at all. The lake covers approximately a total area of 604 square kilometres, only 25% of which lies in India, and the rest 75% lies in China. The lake lies at an altitude of 14,270 feet and is a salt lake. Again, since the movie, "3 Idiots" was the starting point of Ladakh's rush of tourism, the 1st stop at the lake is generally the shooting spot, where all the yellow scooters and movie props are displayed to pay and use for photos, and is the only most crowded spot by the lake. Other than that 1-2 kms, the rest of the lake is almost uninhabited, beautiful and full of water birds.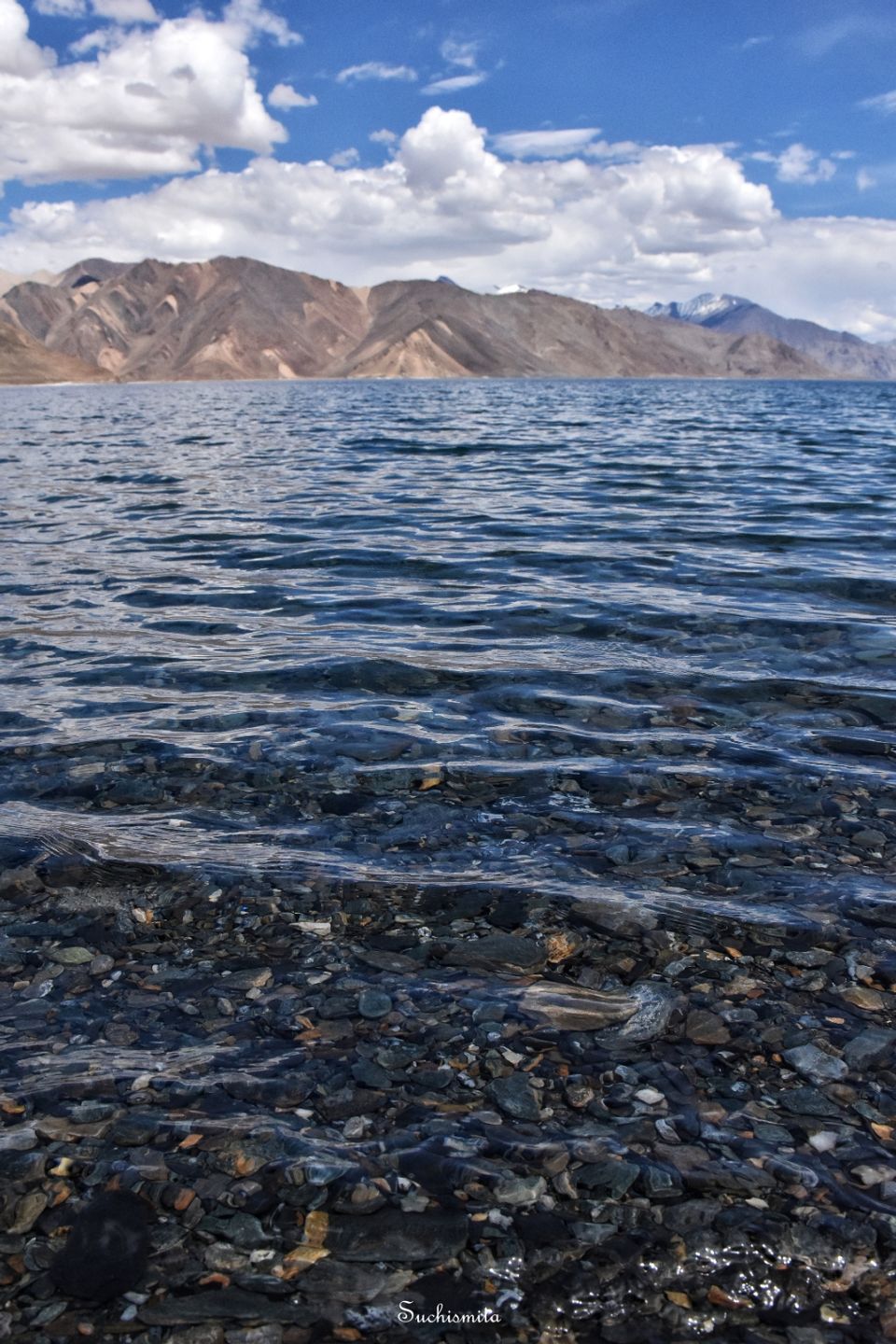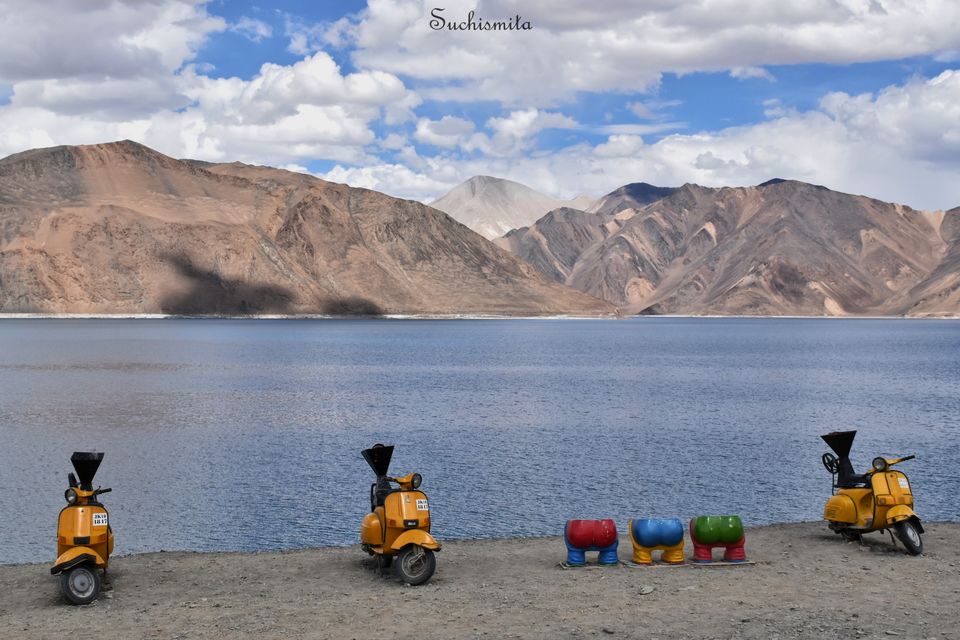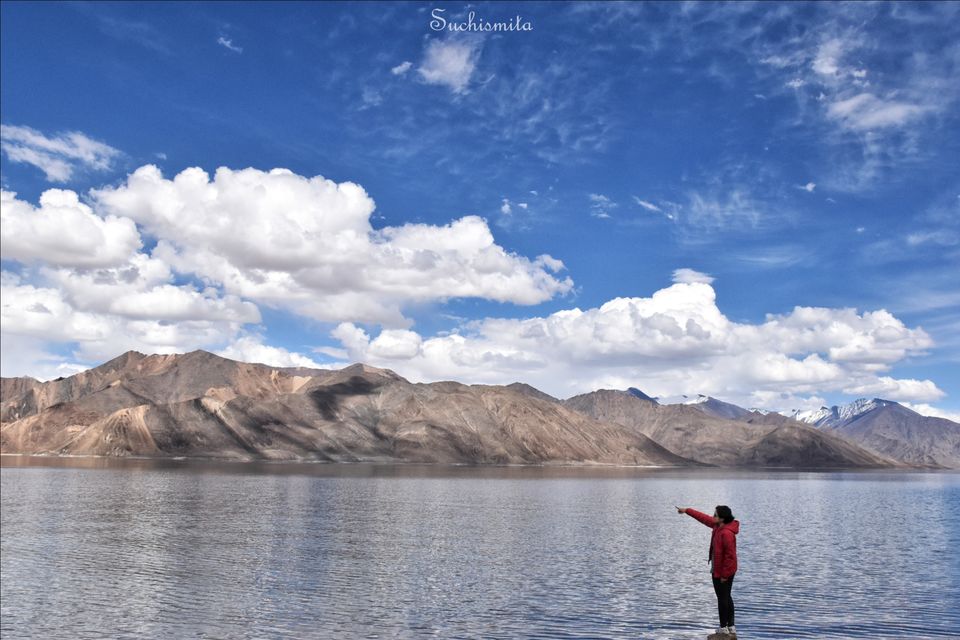 As it is you can understand, I don't prefer crowds or noise, obviously places away from the shooting spot is so much more peaceful and the water is freezing cold, with beautiful land and mountain formations, it's truly a sight to behold. The colour of the water, only if I could express it in words, was beyond something I'd seen on this planet. From ultramarine to turquoise to cobalt blue, it kept on changing and there were even places where all the colours appeared together in layers! There were places where very thin strips of land peeped out somewhere almost in the middle of the lake, due to shallow waters. I walked onto one such land and I couldn't believe how it felt like. The wind was so strong, it could blow me off into the water, and the water was forming waves like the sea. It didn't feel like I was standing at a lake. It was quiet, only the sounds of winds and waves, I was alone standing on a strip of land which might get submerged by any wave now, but I felt peace, the kind of peace which is very hard to find in our daily lives of rush and chaos. I just stood on that strip of land for all the time I wanted to, I hoped the carefree timelessness would never end. However, our homestay was a little farther away. So I had to get back to the road from the lake and I unmindfully broke into a little run, when I realised, it was a mistake, I shouldn't have run maybe. I was a bit too out of breath, I sat down and let myself just pant for a good 10-15 minutes and it was more or less fine. We reached our homestay and got to know from our hosts that the Indian Army has been regulating the number of tourists staying at Pangong. That's because too many people and too many hotels and tents were ruining nature, not only through use of plastics but also domestic waste being dumped into the lake. So since last year, a large number of tents and hotels had been actually torn down by the army and I feel they did absolutely right. It's a place already very close to an international border and it's better to prevent insensible tourists from ruining the natural beauty of such a place. In fact, I still saw maybe one coca cola bottle wrapper floating in Pangong's water near the shooting spot. So some people still don't understand what's being tried to be done. However, now the wastes from the homestays don't go into the lake, and the Indian army has been doing a very good job at places like this!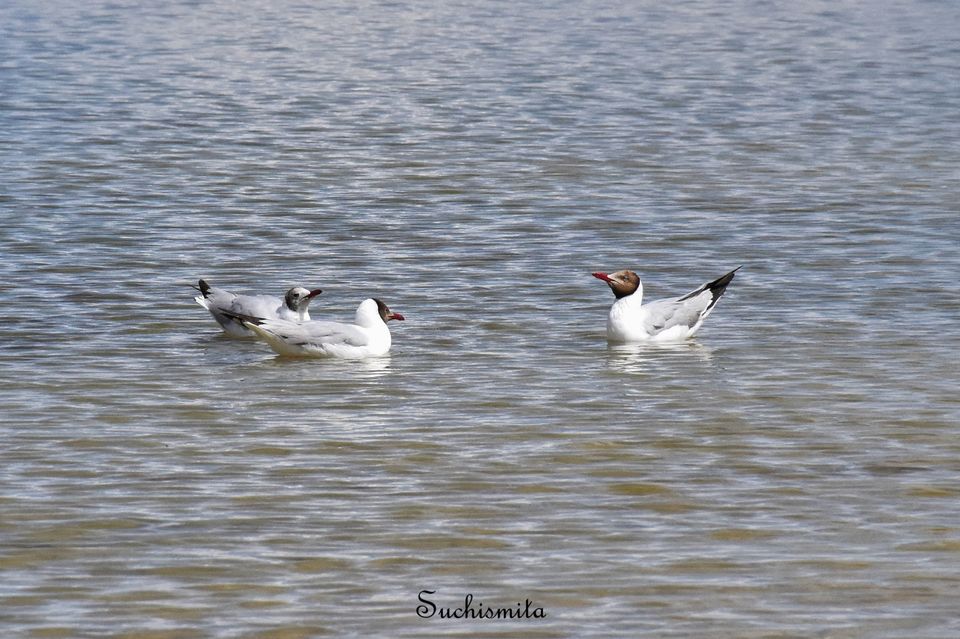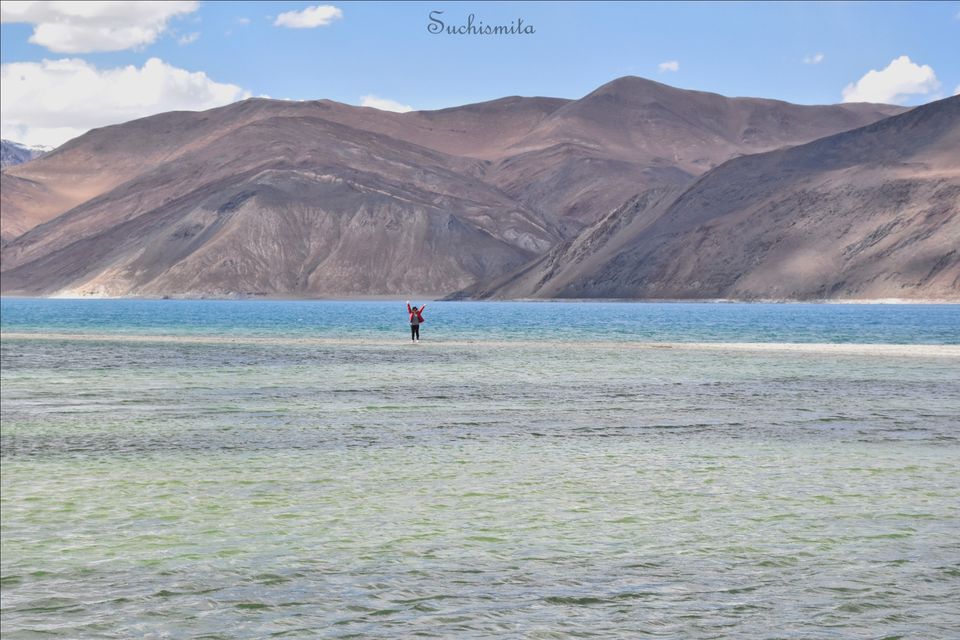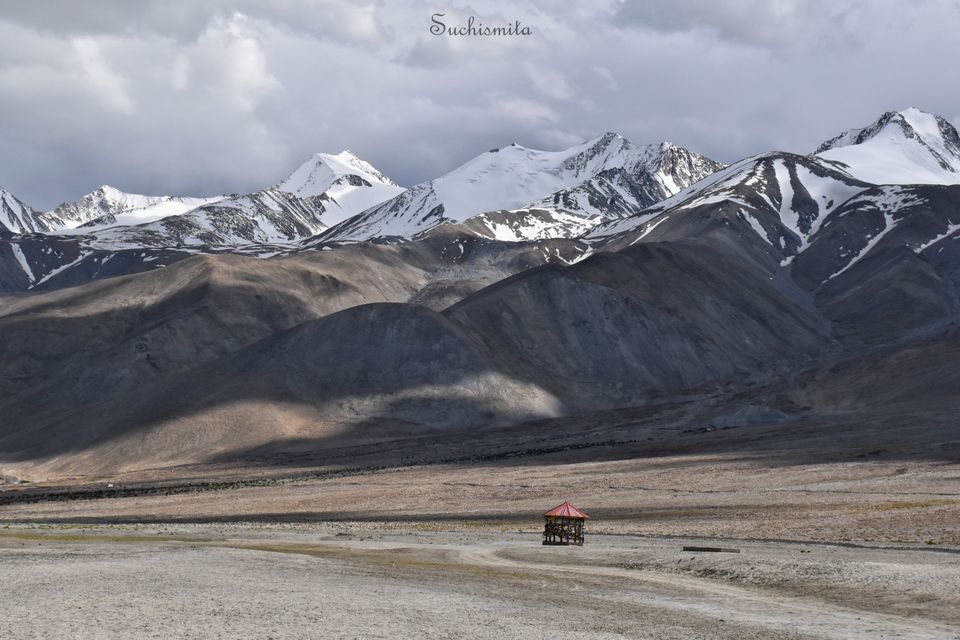 We were very hungry when we reached Pangong and had some warm thukpa and went out for a walk by 6 in the evening. The sky was a beautiful play of colours and the water kept on changing it's colour with the sky and surrounding mountains. Walked along the side of the lake as far as possible till 7, after which we needed to return before sunset at 8. Here the power would be out by 10 at night and we had our dinner by 9, got camera batteries charged and slept, only to wake up at around 1 a.m., because somewhere in my head I had the thought that I'd shoot the night sky. After rumbling through my bag I got the tripod and fidgeted to the veranda opening in front of our room. The wind was very cold and after a long struggle got some starry night shots, but wasn't satisfied, life of a photography lover!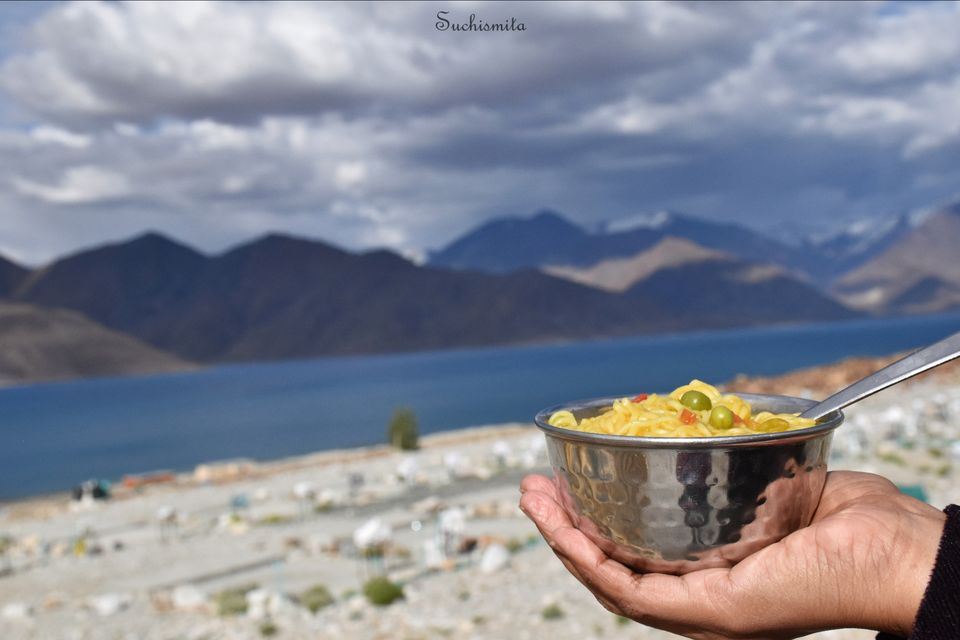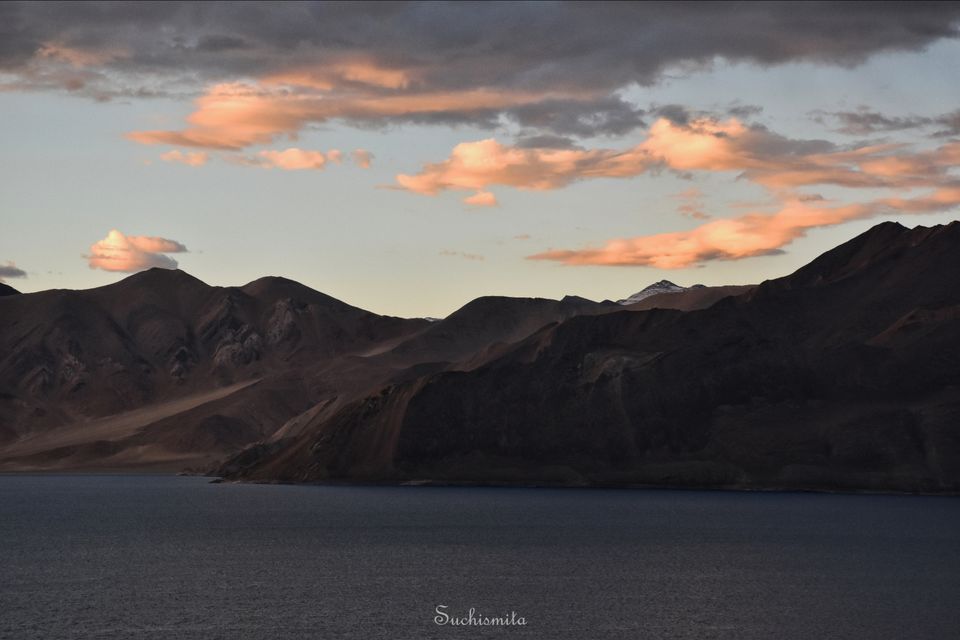 Next morning, 8th July, we were going from Pangong Tso to Tso Moriri. This journey and the Tso Moriri were something I'd absolutely wanted to experience for many years now, and undoubtedly, I was excited. A point to be remembered is that the route from Pangong Tso to Tso Moriri isn't a road, it's just a space between mountains, no milestones, no car repair shops, no roadside dhabas, no settlements, nothing, hence it's generally the road less taken. At around 8:30 in the morning, we set off from Pangong Tso. The road from Pangong in the direction of Tso Moriri is out-of-the-world wonderful! It isn't even a road, just boulders, sand and stones from the lake bed. The car drove absolutely along Pangong lake, just beside it, sometimes even dipping into the water of the lake. Soon, any existence of life was out of sight, just simple plain lake bed, the blue waters and barren mountains surrounding us. We got down at a spot where the Pangong Tso bends into China and isn't visible anymore; 2 countries, just 2 mountains apart. Then started the most adventurous, yet beautiful road of the trip. The road passes through a region that looks absolutely uninhabited, but there were bunkers everywhere. Apparently, that route is absolutely parallel to the India-China border, so even though it might look uninhabited, it's an extremely active area for the military, with bunkers and military cabins of both the countries, everywhere on the mountains.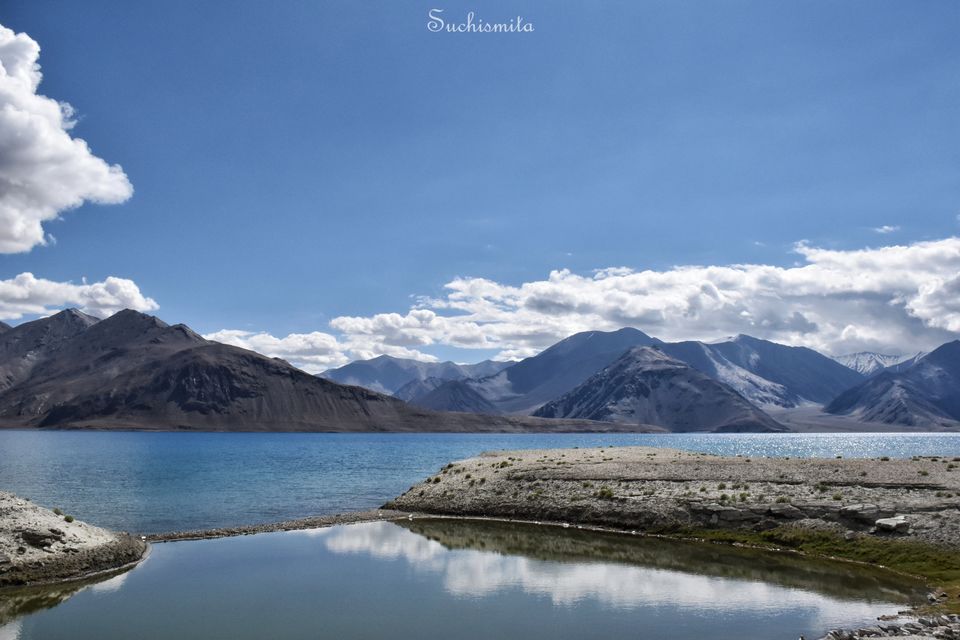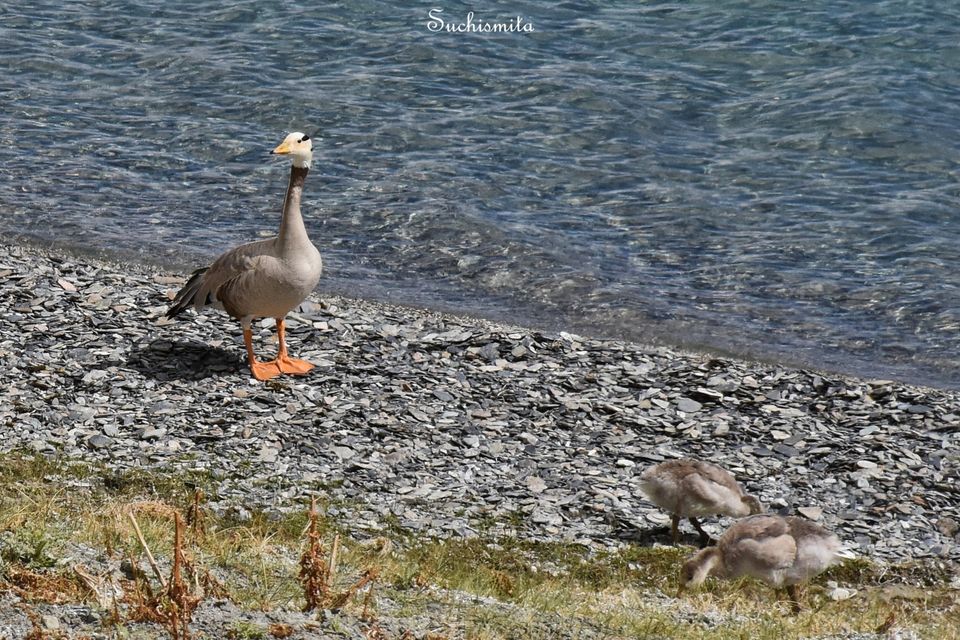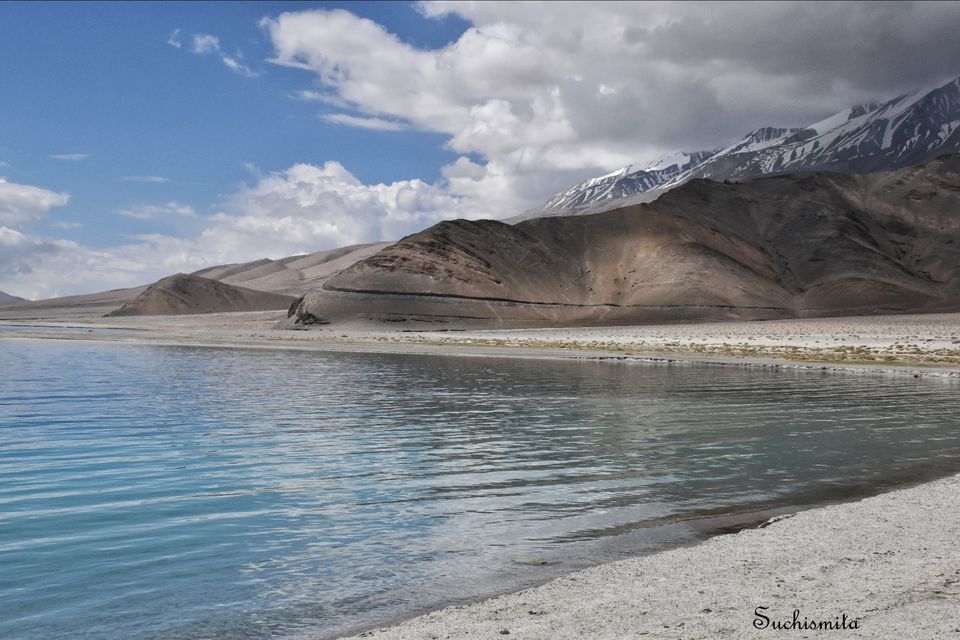 Soon enough, we reached Rezang La, the pass where the last and most dangerous India-China war had taken place in 1962. At an approximate altitude of 16,000 feet, the Rezang La now has a memorial built for the martyrs of the war. Without this crutial victory in 1962, the entire region from Pangong to Tso Moriri might have been in China now. As we drove on from the Pass, we soon encountered a huge flock of Mountain Goats with little kids climbing onto the walls of the mountains. We spotted so many wild horses running around in the fields and many more Marmots and of course flocks of the Pashmina sheep. We crossed another pass, called Tsaga La, no other car or even bike for hours to go. The route we took throughout the 8 hour long journey was a remote route, mostly just a dirt road, extremely tricky for people without maps or a very well trained driver. It's always recommended to stick to the traditional routes because the unconventional ones might make you lose direction. We had a very experienced local with us, who was himself excited to go through this route, and he kept on telling us stories of the past about India and China throughout the journey.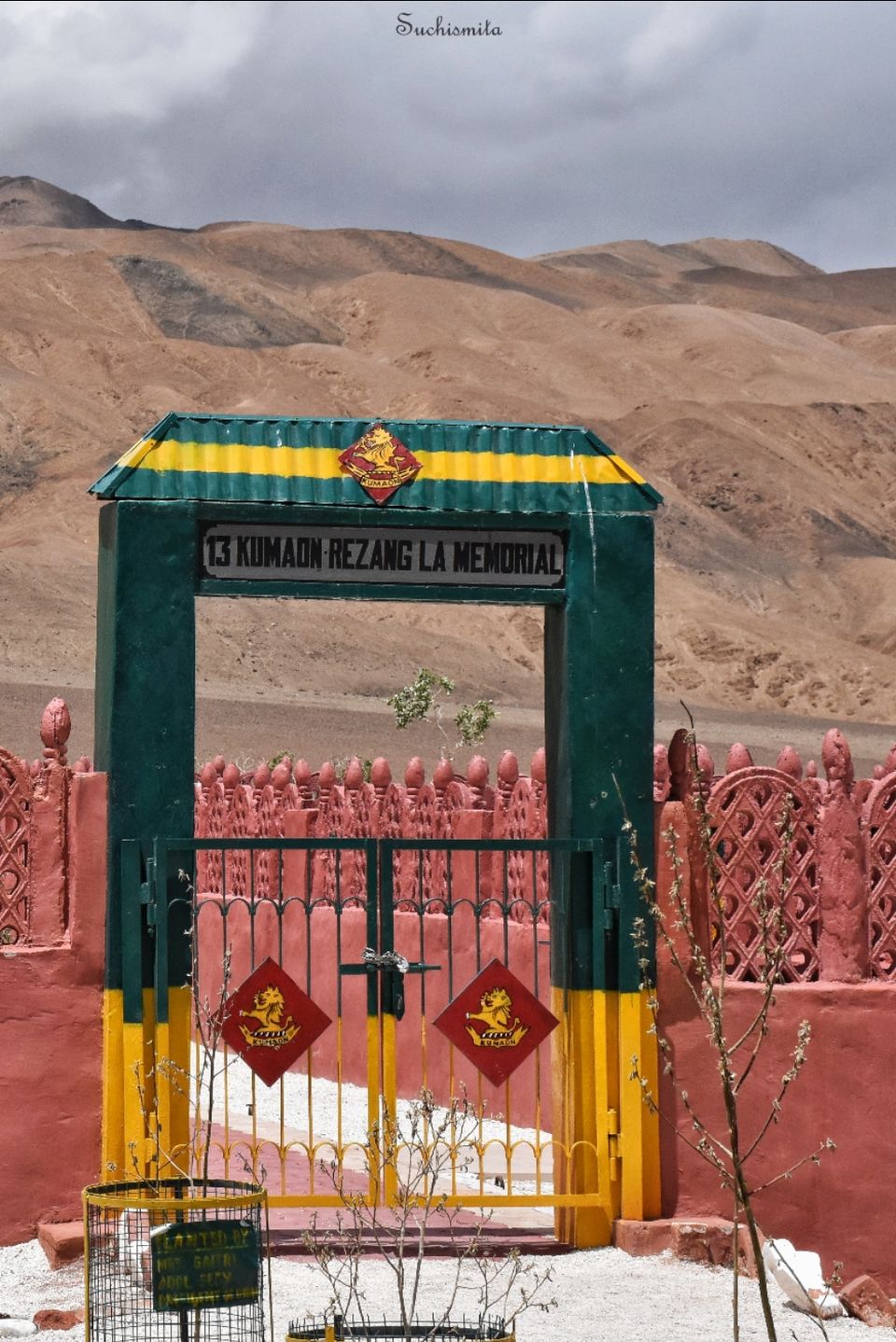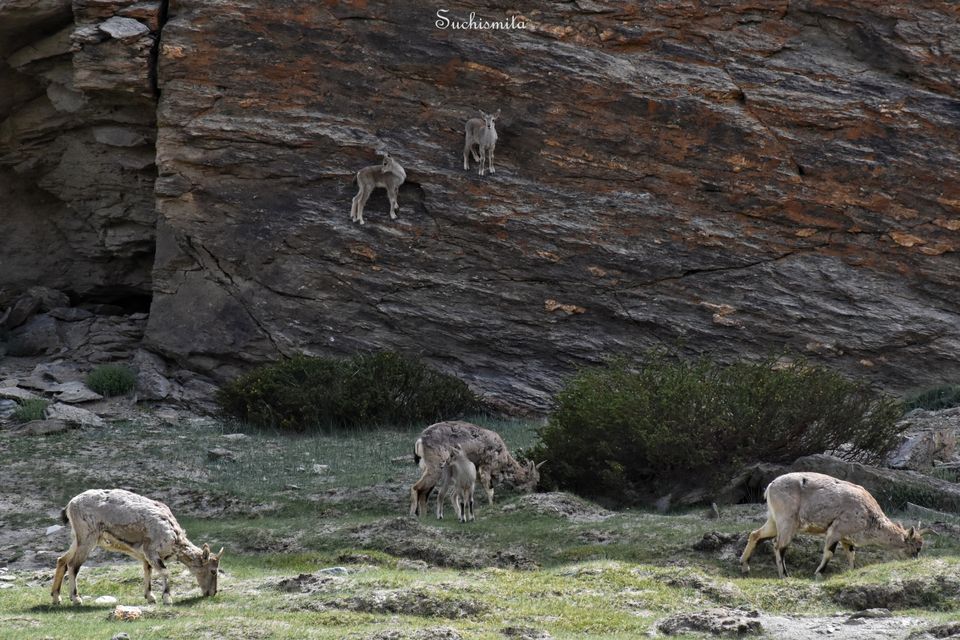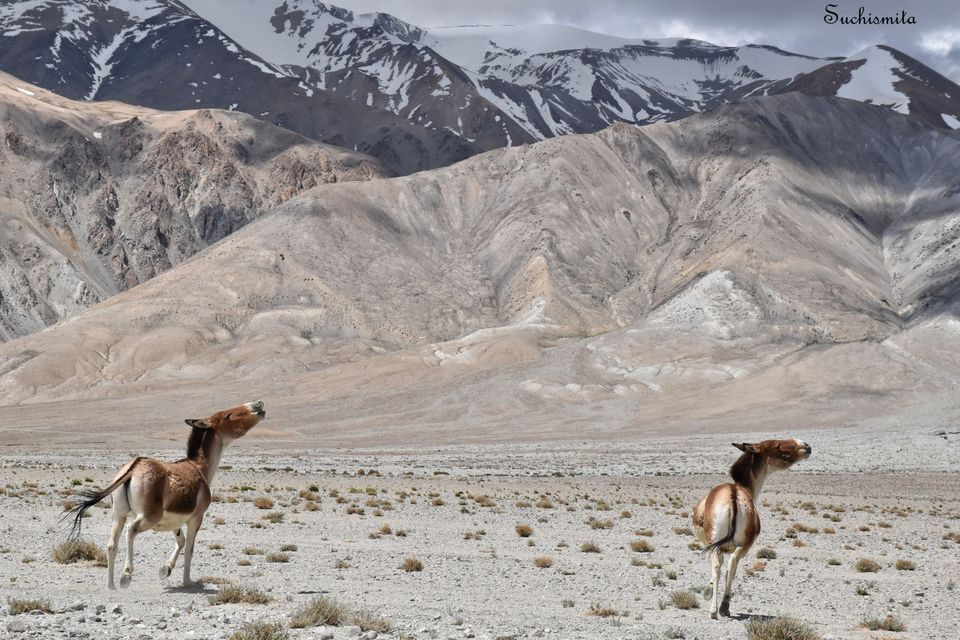 We could finally see a thin proper road once we reached Tso Kiagar, a small salt water lake before Tso Moriri. Then within 20 minutes we could see a beautiful dark blue water body peeping from between 2 mountains. We had reached Tso Moriri. We were now on the road right beside the lake, driving parallel to it. Pangong Tso was a beautiful happy sunny blue lake, but Tso Moriri looked more on the rough and angry side. I could estimate it's immense depth from the water's colour. At 14,836 feet, with mountains around it reaching upto 20,000 feet, the lake's other end wasn't in the range of our vision. The total area covered by this water body is approximately 130 square kilometres. The surrounding mountains were experiencing snowfall with dark clouds rumbling over them, the wind blew harder with every passing minute and the waves in the lake grew larger. I'd never seen a lake with such ferocious waves! Soon we reached our homestay at around 6 in the evening. The number of hotels or homestays at Tso Moriri was comparatively very less as compared to Pangong Tso and it's more like a small village with a lot of locals farming for their livelihood.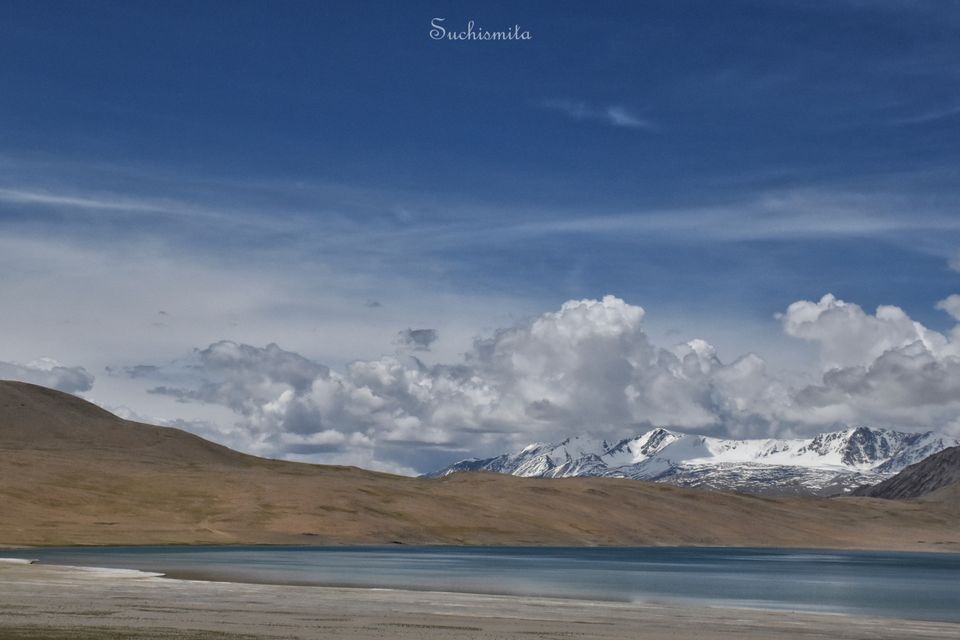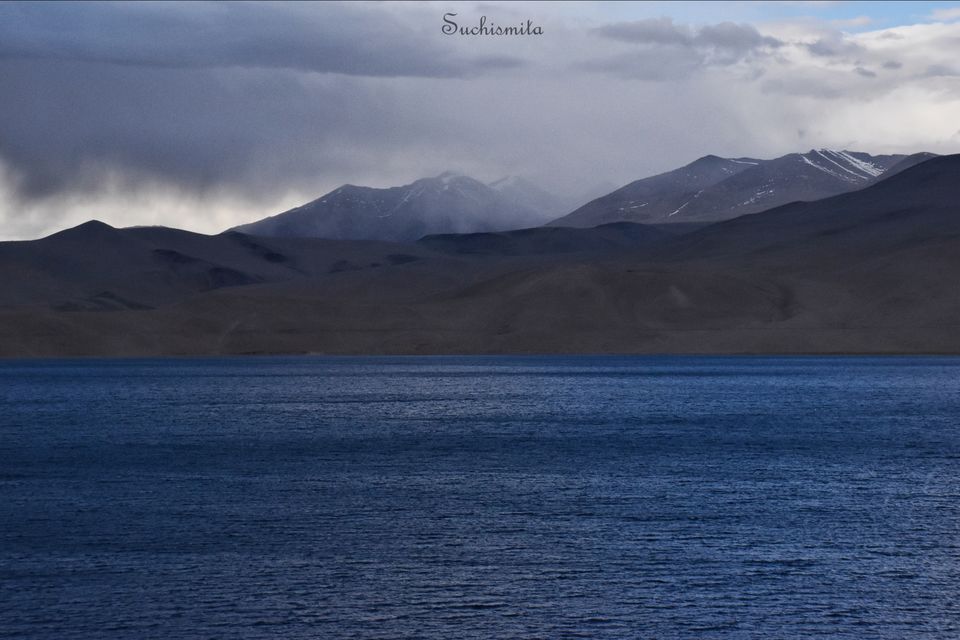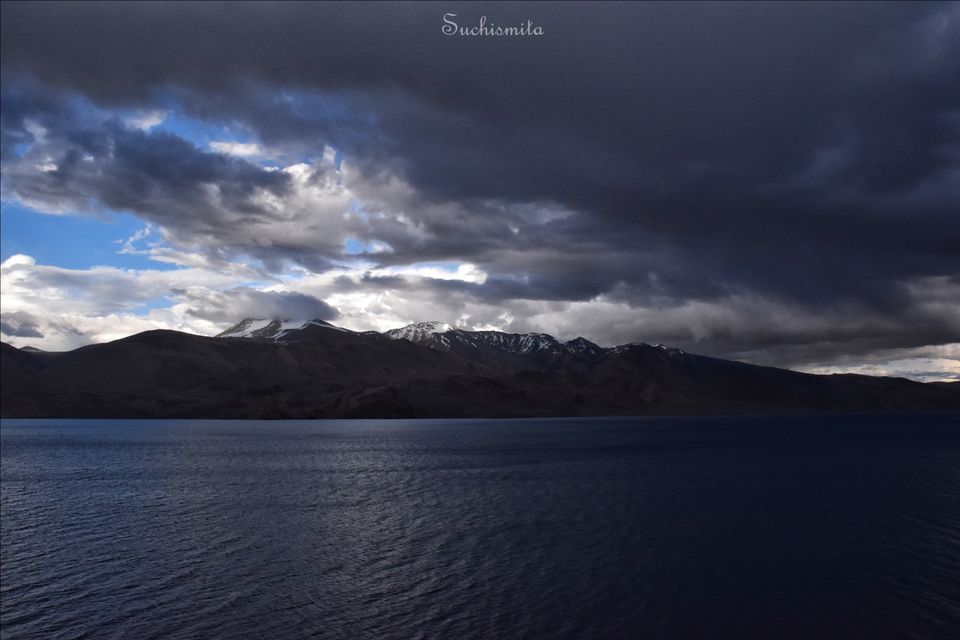 We didn't actually enter our shelters until the sunset at 8, every day of being in Ladakh, so by 6:30, we were ready to drive to the other end of the lake, which wasn't visible to us first when we arrived. The sky grew darker and the wind blew stronger. By the time we reached the cliff at the other end of the lake, a strong dust storm had started. With one blow, all my hair, glasses, camera lens, jacket was filled with dust. But I will never forget the beauty of the furious and deep Tso Moriri. Suddenly, over our heads, a division of clear sky and dark clouds had formed and a hazy formation of a rainbow was in sight. Within seconds a beautiful rainbow had already formed over Tso Moriri and it was a surreal view! I wanted to stay there for longer but the storm wouldn't let us. So we retreated to our homestay and on the way saw many mountain goats returning to their shelters with their masters. The winds had blown away the clouds and by 10, when all the power was out, the sky looked like a blank space full of glitter. The valley was dark, except for 2-3 lamps glimmering in the military camp on the opposite bank, and the sky was a playground of stars.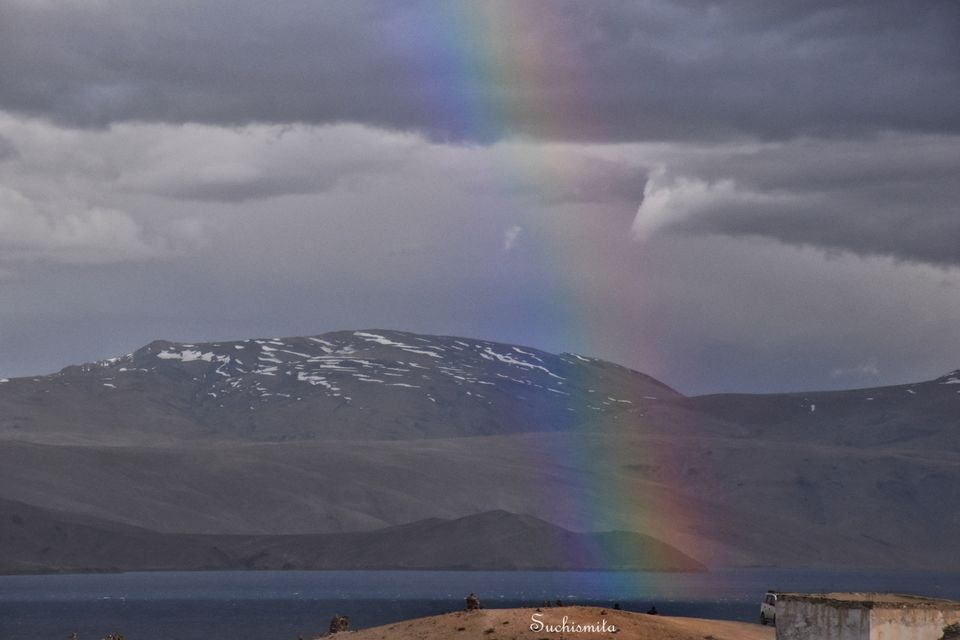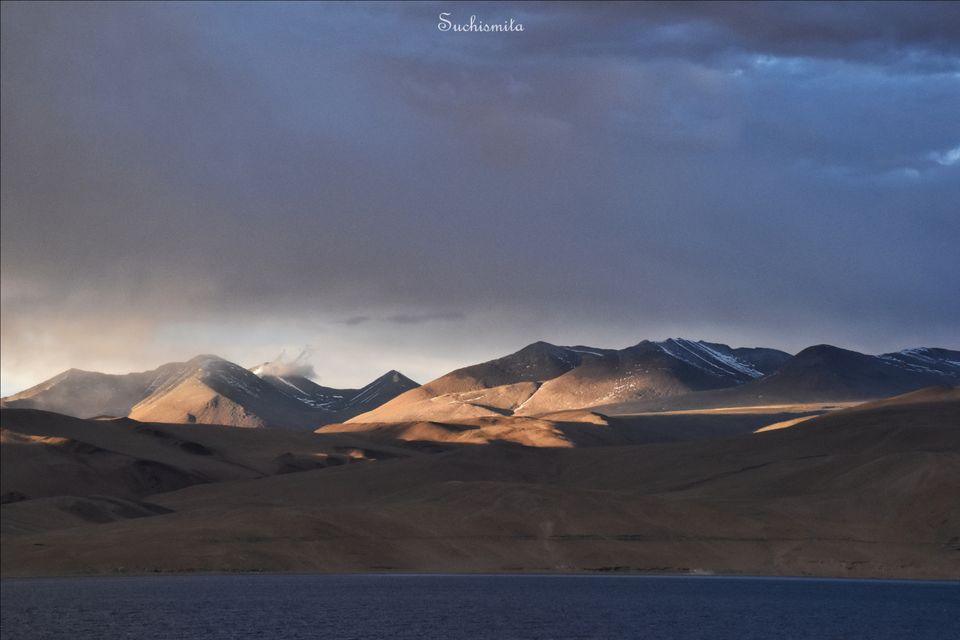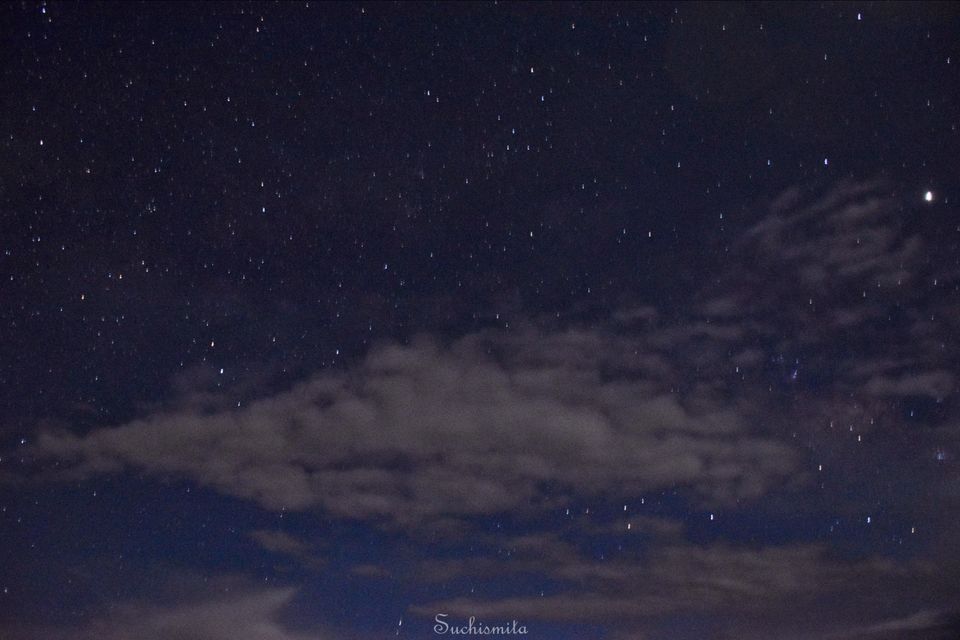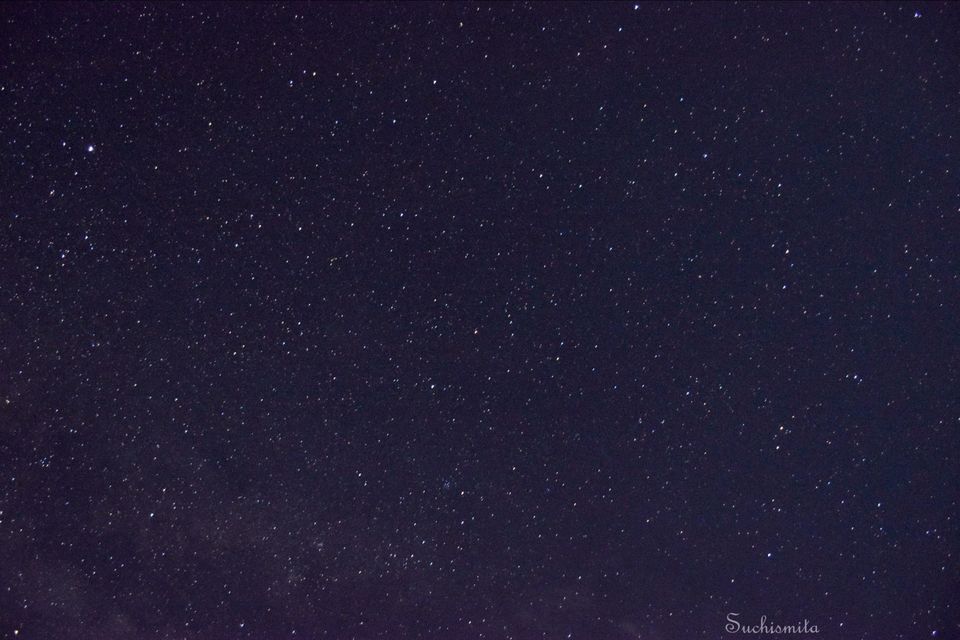 Woke up at around 8 next morning and went to the lake once again to get a view of the sunny Tso Moriri. The lake was beautiful, crystal clear, reflecting the mountains and clouds above it. We found a lot of bar headed geese cackling and swimming about in the waters of the lake. An important piece of advice, do not walk into any random bank of this lake. Since there are fewer tourists and humans here all over, many parts of the banks remain untouched for a long time, which might result in dead animal carcass or rare bugs and insect nests here and there. I know that because we made one such mistake and almost walked into a dead animal's huge skeletal remains, which had some kind of spider's nest near it, and ended up with small white spiders crawling all over my body! After some hysterical jumping and stomping around we finally set off from Tso Moriri at around 10. Again a journey through some empty lands that immensely look like some dried up river bed or valley. An interesting information here is that Pangong Tso, Tso Kiagar, Tso Moriri, Tso Kar, and every other lake in this region is a lake with saline water. Speculations still remain if these lakes have been parts of the Tethys sea. The Tethys sea was something that came to my mind the 1st time I came to know all these are Saline water lakes and especially after I realised that the entire region looked like a water body bed that might had dried up hundreds of years ago, but I couldn't find any source confirming this speculation. From the locals, I'd come to know that the Pangong Tso doesn't have a visible source, but it's water never decreases or increases in quantity. As for Tso Moriri, it had a source to the south of it, which has been blocked, so it's water level has gone down a bit.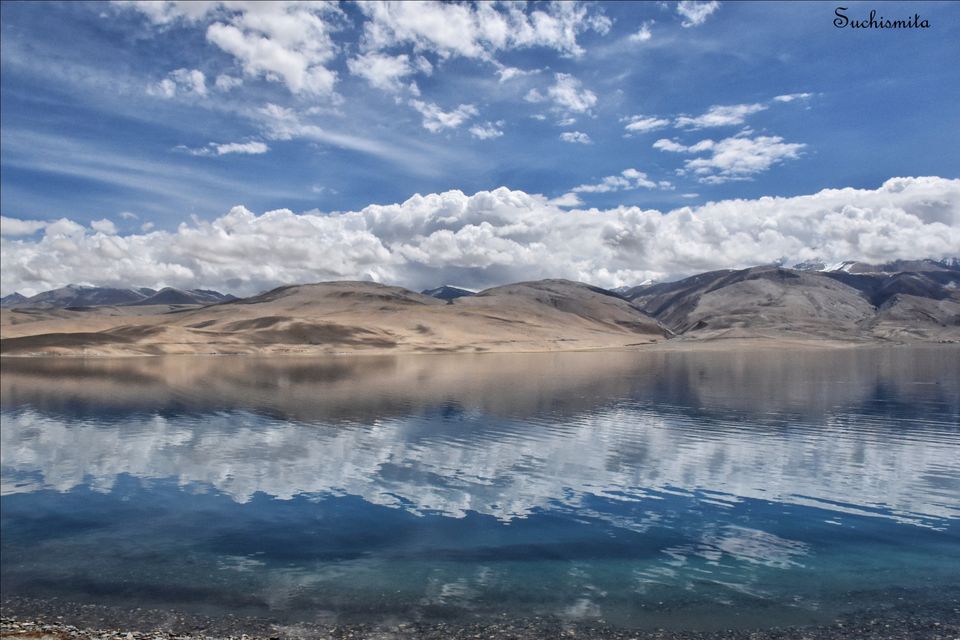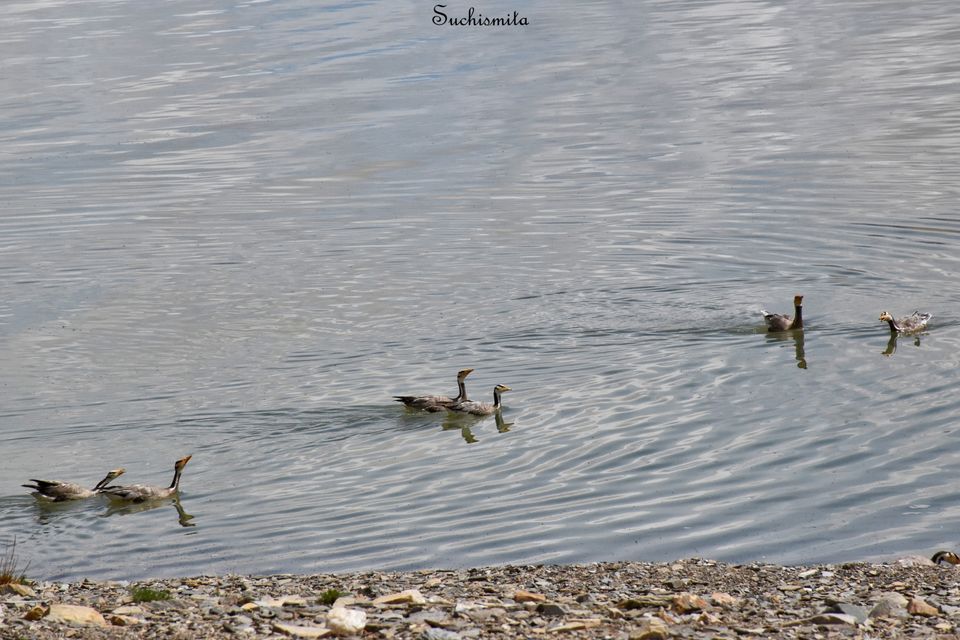 At around 12:40, we entered the vicinity of Tso Kar ("Tso" means lake, "Kar" means white). The first thing I saw when we entered Tso Kar was a flock of Ruddy Shelducks and a spectacular huge white valley. I got down from the car, and walked as close to the flock as I could. As soon as I clicked a photo, the sound of the camera shutter made the entire flock fly over the lake. The white backdrops of the lake made the orange ducks gliding over it look even more scenic. Tso Kar is named so (white lake) because of the white salt deposits throughout the lake. The water of the lake has almost completely dried up after it's sources had been blocked by the neighbouring villagers, which makes me worry as to what will happen to the wildlife there. The drying up lake results in even more deposition of salt everywhere around the lake, making everything there look completely white.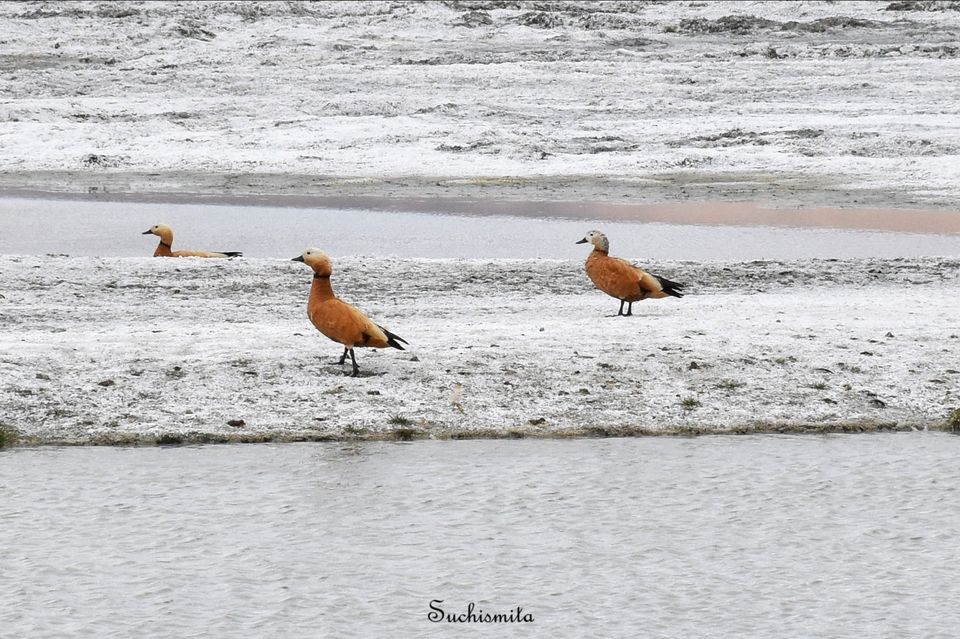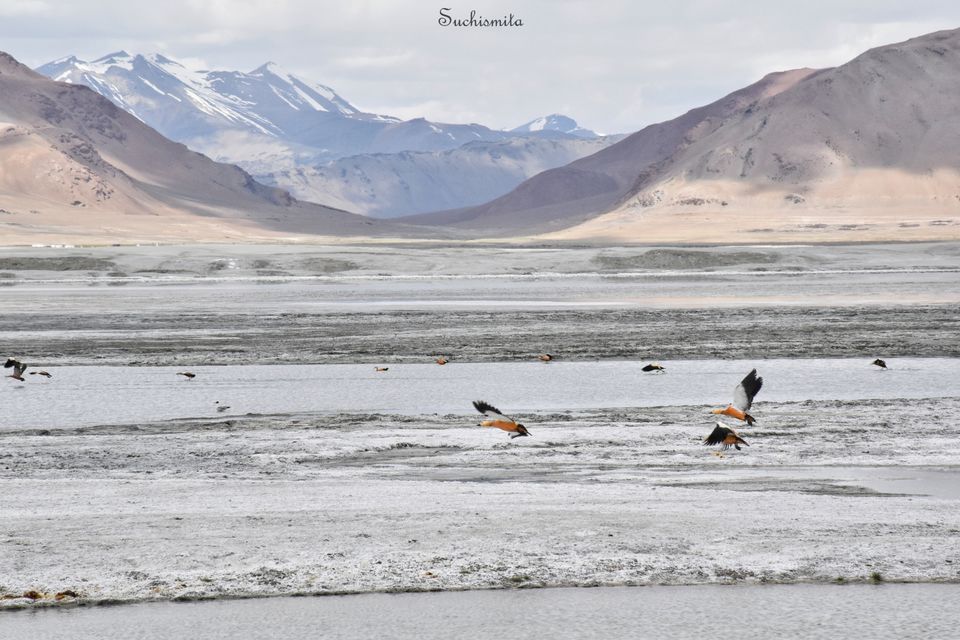 After I walked away from the Ruddy Shelducks, I spotted 2 magnificent gigantic Black necked cranes in the swamps by the lake. Black Necked Cranes are migratory birds that come to Tso Kar and Tso Moriri during summers and return to China during October or so. They are rarely sighted by normal travellers, as they tend to flee as soon as they sense humans, but in the distance I could see the pair clearly standing and looking around for food. But a different story came out when I clicked their photos and zoomed into it. It was a nest with 2 eggs, and the mother crane was preparing to sit and warm her eggs. After that I realised I shouldn't be disturbing them so we rode off. Later during the trip, I showed this photo to Mr. Dorje and Mr. Stanzin and they were both surprised because it was very rare to see a Black necked crane's eggs. They themselves admitted that after living in Ladakh for so many years, hearing so many stories and themselves going on expeditions for bird watching, never had they ever seen the eggs of a Black necked crane. There's a belief or saying among Tibetan Buddhists, that I came to know only because I had these photos, was that, a person from whom a Black necked crane doesn't run away and a person who has seen the eggs of a Black necked crane is supposed to have immense purity and peace in their hearts. I will definitely not brag about myself, but the fact that I could get to see such a rare, almost once in a lifetime view, did make me feel a little happy and proud. We stopped for a tea and Maggi break at the only roadside place that was in view. The whole place was decorated with skeletal remains of mountain goats and horses and huge horns.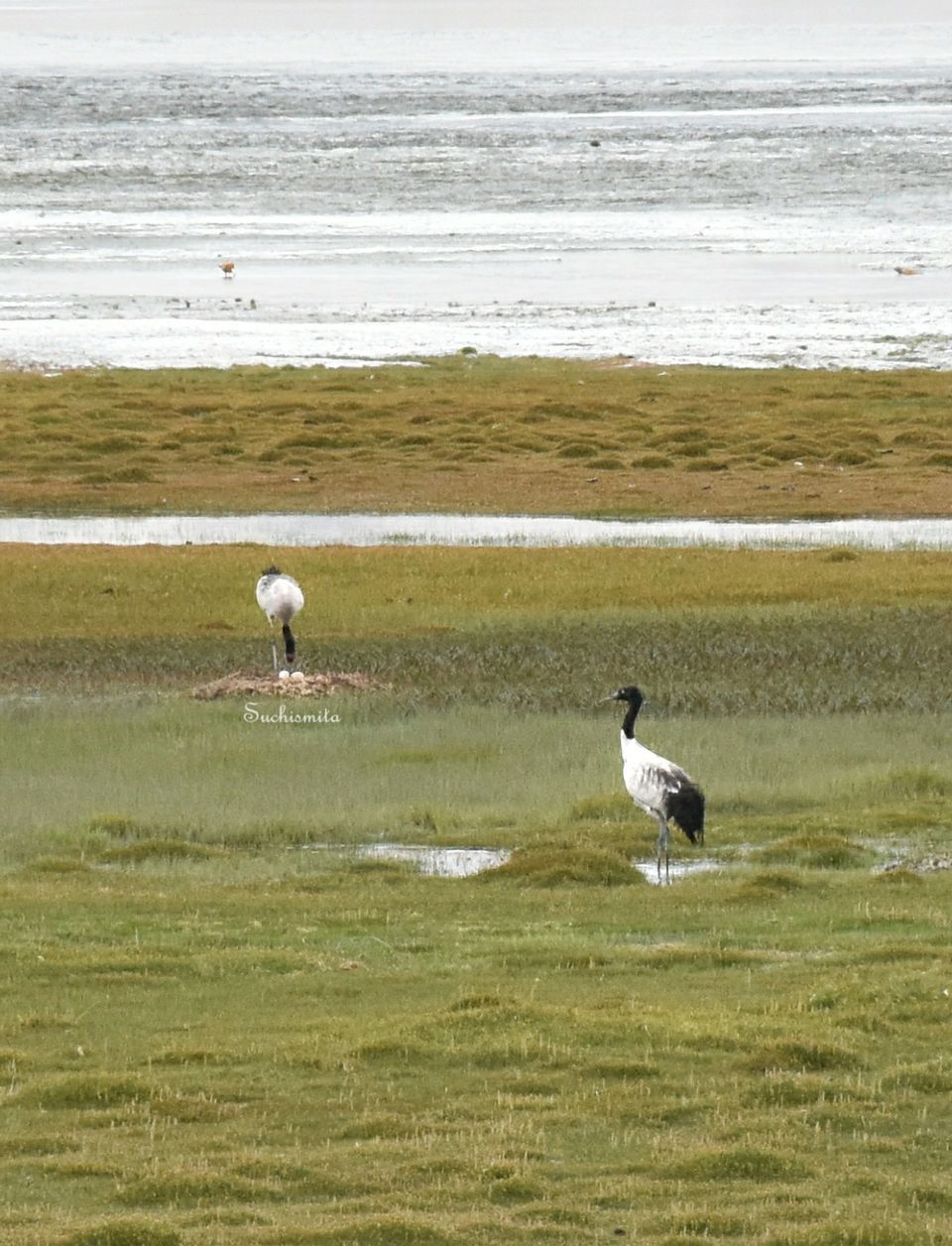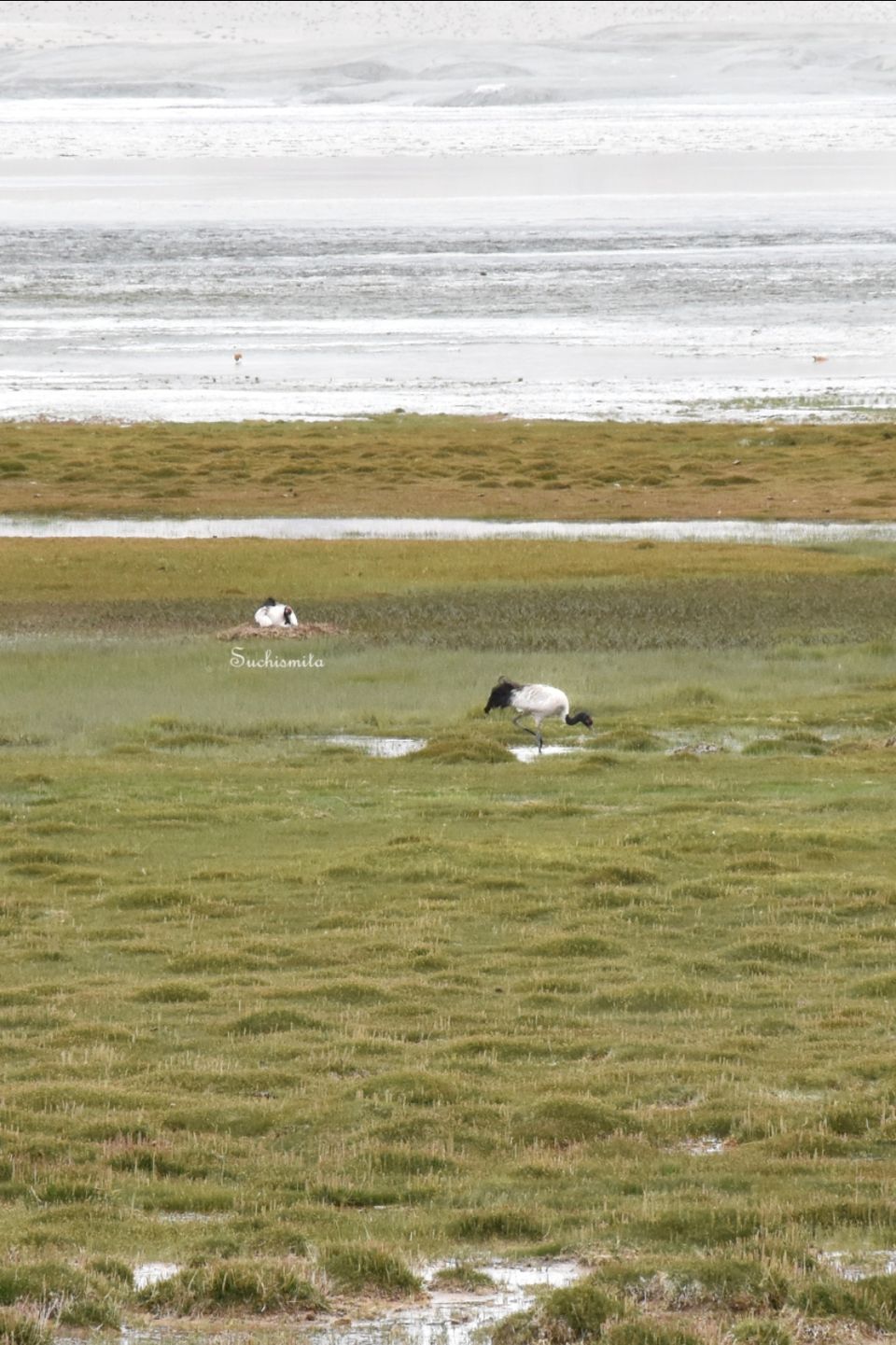 We reached the Tanglang La at an altitude of 17,582 feet at around 2:45. We had entered the Manali-Leh highway and it was another beautiful road journey. By 5 we reached Leh and my favourite part of the trip was over.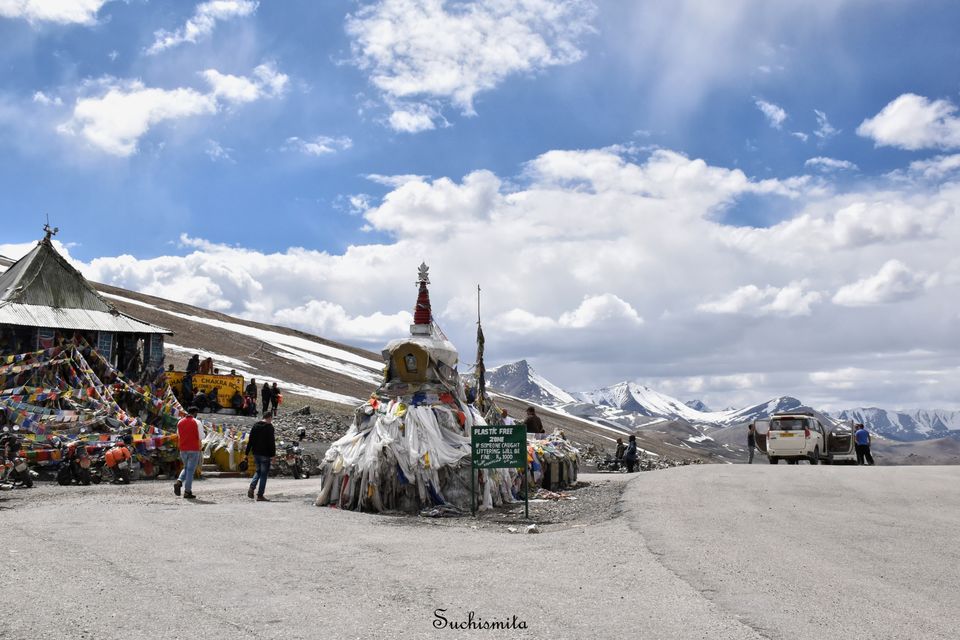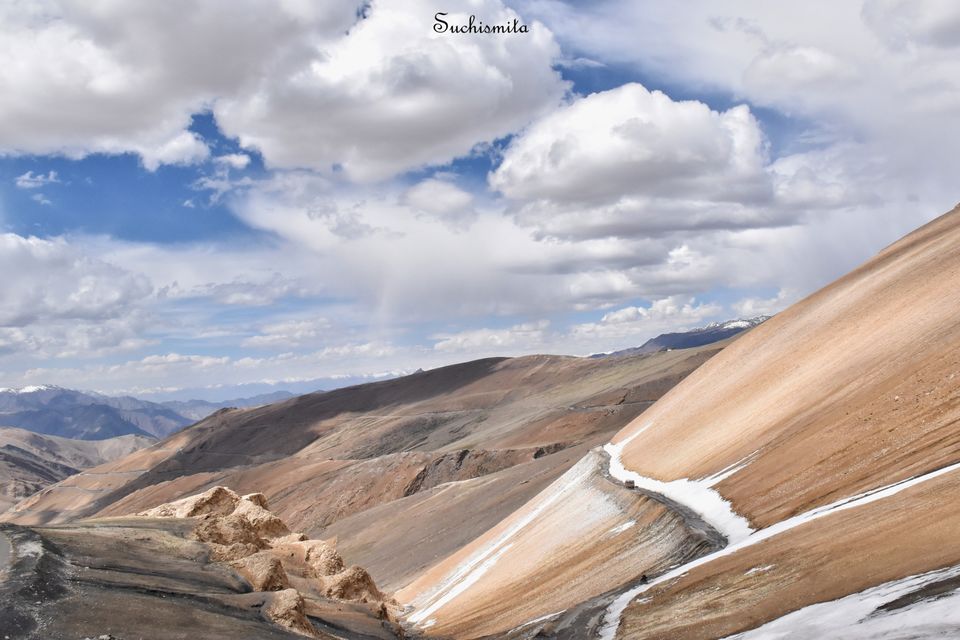 P.S.: All photos here are solely by me.
I will soon put up a Nubra valley blog.
~ Suchismita.
Frequent Searches Leading To This Page:-
Places to Visit in Ladakh, Best Tour Packages for Ladakh, Top Ladakh Tour Packages for Family, Top Ladakh tour packages with price, Budget Trip Packages for Group to Ladakh, Things to do in Ladakh, Ladakh Holiday Tour Packages