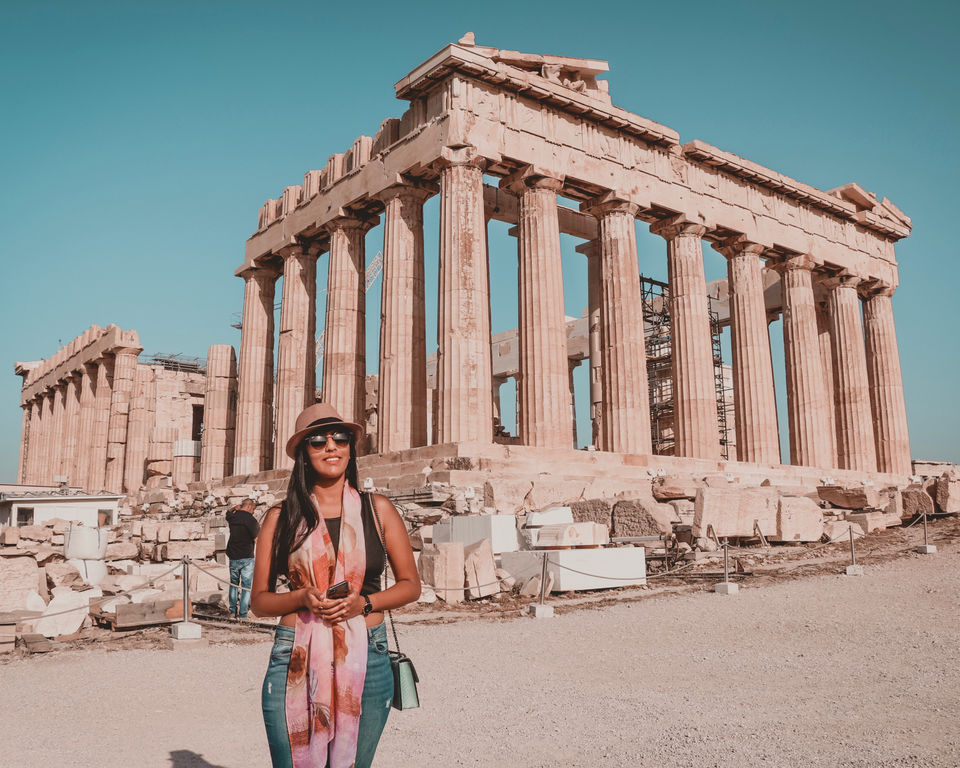 After a perfect Summer stay in Santorini we headed to Athens and though our trip was just for couple of days in Athens, we still made it our mission to see as many sights and attractions as possible around Athens. We also happened to visit Athens on public holiday where all the museums and public attractions were be closed! This did not disappoint us moreover we discovered that the Greek capital is a city with pretty cool vibe, lots of art, and great food. We still set out our visit to temples and ruins (Acropolis), just before catching our flight the next day.
Top things to do:
1. Parthenon
The Parthenon, is dedicated to the goddess Athena who was seen as the patron of Athens. You can walk around the exterior and admire the beautiful details of craftsmanship that are on display everywhere and that remain timeless and beautiful.
2. Erechtheion
Erechtheion, is an ancient Greek temple on the north side of the Acropolis that was dedicated to both Athena and Poseidon. Situated on a slope this impressive temple is entirely made of marble with elaborately carved windows and doorways.
4. Acropolis Museum
Like the name suggests, the Acropolis Museum is located at the foot of the Acropolis and it's mainly focused on the findings of the archaeological site of the Acropolis. It's a cool spot to visit if you want to explore deeper into history.
5. Hadrian's Library
Hadrian's Library was built by the Roman Emperor Hadrian and it used to be his library. Back in its heyday they used to store Papyrus scrolls here and they also had reading rooms and lecture halls.
6. Acropolis
The Acropolis is one of the most important ancient Greek monuments, and one of the most important monuments in the world. It towers over the rest of the city and reflects its splendour and grandeur. The Acropolis means upper city, and this is where people lived as early as 5000 B.C and used as natural defence to avoid enemies due to its sheer size.
9. Odeon of Herodus Atticus
Imagine being able to attend a live classical theatre performance in a theatre that has been functioning for over 2000 years! You will be sitting in the midst of ancient history as you enjoy performances, bands, plays and the best talent in the region in an ancient theatre built in the Roman times.
Tip: Try to visit the archaeological site of the Acropolis as early as possible to avoid the crowds and the heat especially during the summer months.
7. Taste Traditional Greek Food
For most of our meals we enjoyed local little restaurant with live music and ordered authentic Greek salads, saganaki, Moussaka, bread and olives. Moussaka, common throughout the Mediterranean region, is a layered dish consisting of béchamel sauce, minced meat, potatoes and eggplant.
8. Pláka
Plaka is an old historical neighborhood located on the eastern slopes of the Acropolis. The neighbourhood has plenty of charms, and there are also lots of restaurants and cafes. You can end your day by walking around and having dinner at one of the oldest neighbourhoods in Athens, where most of the streets are closed to just pedestrians.
10. Syntagma Square
As you move from Agora to Syntagma, it will be like moving through a time machine where you go from the ancient pulsating heart of the city to the new one. This square is what keeps the city going; it is its beating centre and its main transport hub. This is where people meet to have a drink, have a meal, meet with friends, relax after work, go shopping or people-watch.
Things to check out:
National Garden The Parliament Building - You can walk through the national garden to the parliament building where the Changing of the Guard Ceremony takes place.
10. Check out the street art in Athens
Usually, when we think of Athens, images of completely ancient monuments come up to mind, right?
However, the streets of Athens are filled with incredible pieces of graffiti making it a very colourful town with all sorts of art and graffiti, from posters to murals, on the walls.
11. Monastiraki
A lively square, a flea market, and a neighbourhood that is so colourful with colours and murals. There are all types of graffiti there - from quirky and funny, to completely unprofessional, to very political ones!
12. Temple of Poseidon
Depending on how much time and energy you have, you can choose between the Full-Day tour with Meze which lasts approximately 8 hours.
Full-Day Tour
You will be spending a whole day on a sightseeing tour to visit beautiful beaches, discover the temple of Poseidon at Cape Sounio and end up eating a Greek meze dinner at Lavrio.
Half-Day Tour
The half-day tour lasts only about 4 hours and A minivan will be picking you up for a 50 minute scenic ride along the coastal roads and villages, and you'll also get an opportunity to relax and enjoy the views over the Aegen sea.
There are two options for a half day tour to Sounio.
Our Hotel:
360 degrees is located in Monastiraki square at the heart of the historic district. It offers modern rooms with all the amenities; air-condtion, TV, free-wifi and buffet breakfast with vegan options. Other hotel amenities include a rooftop bar-restaurant with breathtaking views of the Acropolis.
https://mylenscape.com/wp-content/uploads/2018/07/img_4468.mov
Our Favourite Flight/Hotel Booking sites:
After traveling consistently for over 10 years, we've come to trust and rely on a few websites to help us find the best deals on flights and accommodation.
Flights: Skyscanner is the first place we check when searching for cheap flights. It searches hundreds of sites for the best fare and includes both standard and budget airlines. The price calendar feature shows the cheapest days to fly in your preferred month of travel.
Accommodation: Booking.com offers savings on hotels, apartments, and villas in 80,000 destinations worldwide. You can browse hotel reviews and find the guaranteed best price on hotels for all budgets.