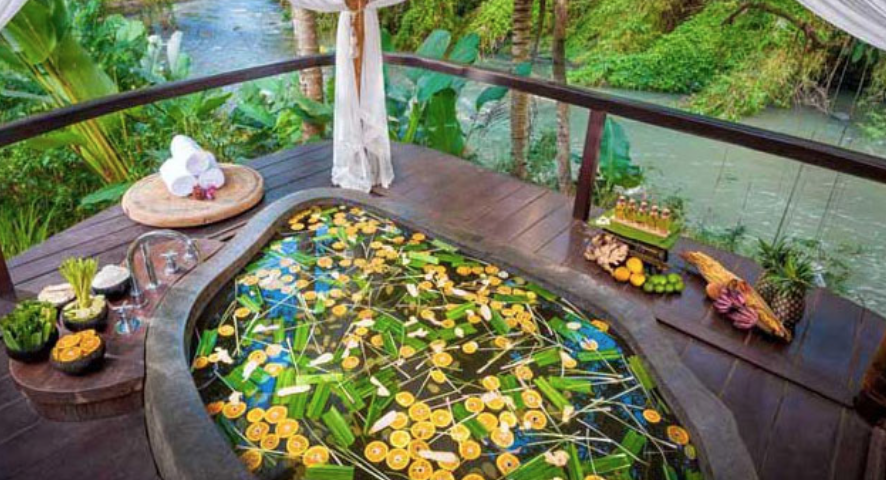 While in Bali, I had the absolute pleasure in spending time at Fivelements Retreat Bali. It is well-known for its eco-friendly practices and its passion for the same has won it several awards. The reason behind choosing this retreat was to live in a natural sanctuary away from the hubbub of tourist spots and experience personal wellness with the help of Balinese culture.
Fivelements Retreat Bali radiated sustainability, harmony and wellness through the way it functioned. It offered a host of wellness spa treatments that had me interested. Though many of the spas on their list seemed tempting, I decided to take the Sakti Ritual as it resonated with me the most.
1. Ambience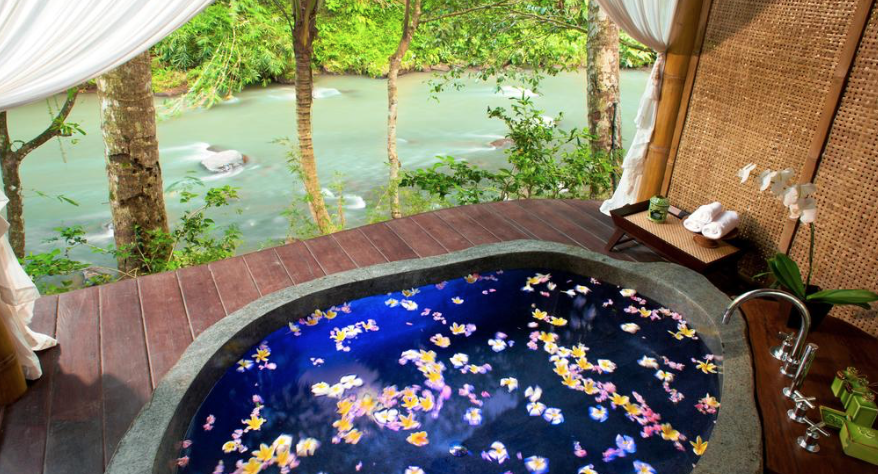 I received the Sakti Ritual near the River Ayung. The stone path towards the retreat and the pristine greenery around it had me feeling calm but curious. The sound of a flowing river, the retreat made out of bamboo and the warm sunlight added to the overall aesthetic. It helped me connect with nature first and then find relaxation in its embrace.
My therapist, Ellie had the prettiest smile as she showed me around the place. The room had a spacious bed and a patio with lounging chairs. There was also a big bathtub near the river. Sunlight and fresh air filtered through the open space. I could peep at the river if I wanted to from the bathtub. Everything around me was meticulously designed and prepared so that I could ready myself for the ritual and get into a calm zone. I can still remember the faint smell of lemongrass and sound of the flowing waters of River Ayung.
2. Spa therapy
Ellie told me about how the Sakti Ritual was designed to purify my mind, body and soul so that I could feel beautiful inside out. It would ease out all the stress my body was withholding and also purify my essence.
Ellie then offered me a refreshing welcome drink post which she gave me an invigorating foot bath ritual in the patio overlooking the river. After that I got a full body massage that's supposed to relax all the muscles in the body. A round of exfoliation followed that removes all dead cells from the skin and helps it get hydrated. The therapy ended with a relaxing bath ritual which also had healing properties. At the end of the therapy, Ellie offered me a cup of tea. I felt luxuriously radiant and energetic. I felt like I could take on the world with a renewed vigour.
3. Products used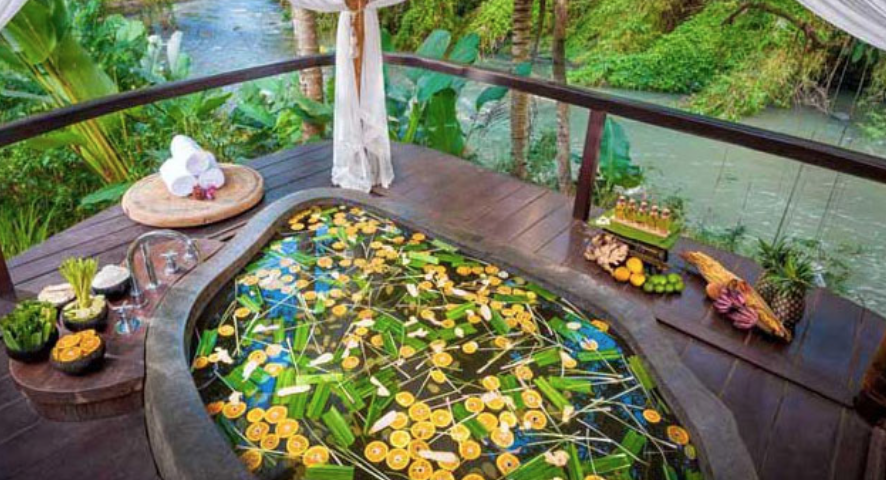 Fivelements Retreat Bali uses fresh and natural products for all their spa therapies. For my Sakti Ritual, the ingredients used were for revitalization and healing, exfoliating and hydration. Organic coconut oil was used for my massage while re-mineralizing crystal sea salt infused with holy basil and lemon grass were used for my exfoliation. The five main ingredients used in the revitalizing bath ritual were ginger, pandan leaves, Balinese oranges, lime, lemongrass and special Sakti oil which is made at Fivelements Retreat Bali
4. Its effect on me

Every step of the therapy had a specific purpose. The foot bath had me groaning in relief while the full body massage completely loosened all my stressed muscles. Ellie, being an expert therapist, was able to help me relieve all the pain in my body and bring me to a point where I felt as light as a feather.
The exfoliation made my skin feel rejuvenated as all the dead skin cells on my body were removed. My skin looked supple and radiant. The bathing ritual topped off the effect of the therapy by making me feel like a new person, full of energy and light. I felt harmonious in my skin and could instantly feel relief radiate off of me in waves.
5. What was different?
Sakti Ritual was offered to me at the riverfront. It had a big role to play in how I felt while receiving the therapy. I had a friendly therapist who told me each and every thing about the therapy and the ingredients she was using, so not only did I experience a life-changing spa therapy but also knew exactly what it was doing to my body and wellbeing. The fact that Fivelements Retreat Bali uses the best ingredients, water and techniques inspired by Balinese culture made the therapy that much more effective and worthwhile.
It was easy to see the difference in me after the spa because I felt radiant, happy and energetic throughout my stay in Bali. Though this spa is listed as a beauty spa, it doesn't only encompass physical beauty but also the inner, emotional beauty. I loved how Fivelements Retreat Bali integrated their culture and ancient knowledge into their spas.
Experiencing Sakti Ritual at Fivelements Retreat Bali was life-changing. I am happy that I decided to go for it, or else I would have missed out on an enriching spa treatment that cannot be found anywhere else.
You can read more about it here