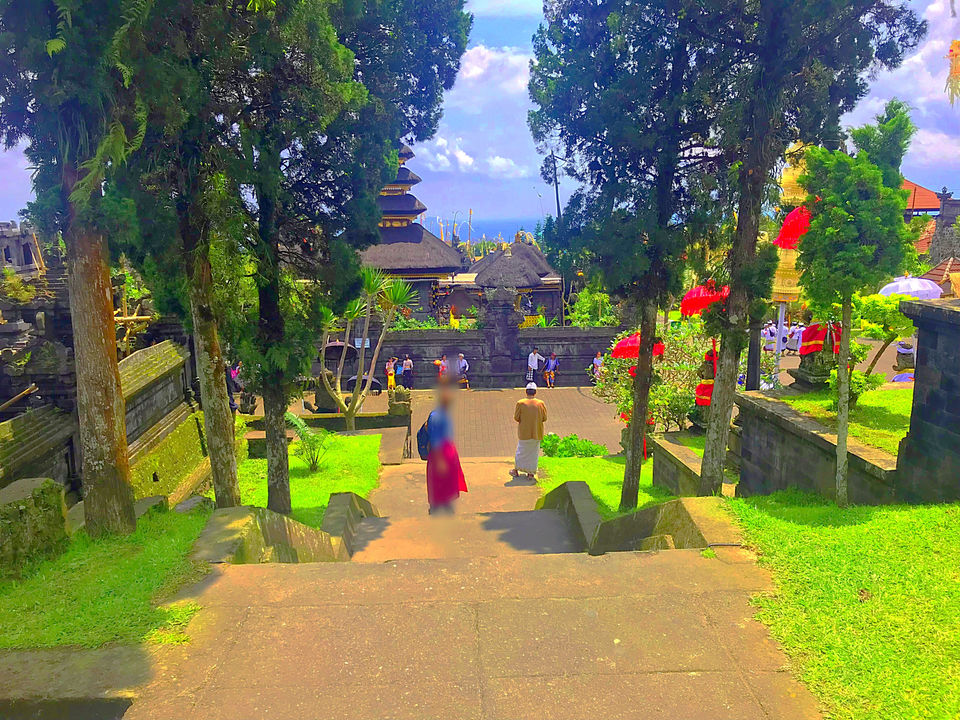 If time is your constraint and you are thinking that it's better you stay at home than take a holiday because you will not be able to enjoy in such a short span of time then you might be wrong. It's true that a lot of days in hand help to enjoy the holidays more but that doesn't mean that you cannot enjoy a short trip with your family. Bali is such a beautiful and vast country that it's impossible to travel the whole country in a week . So what's best is to choose certain places and enjoy its beauty. So here I have chosed certain activities to enjoy with your family and bond with them while travelling in Bali.
1- Visit Ulun Danu Bratan and Besakih mother temple : Bali has numerous temples and all are beautiful. Each temple is unique. In two days time you cannot visit all of them or most of them but still you can visit few of them. I would suggest to visit Besakih mother temple and Ulun Danu Bratan temple. Both of these temples are different from each other. While Bratan temple is located over Lake Bratan , Besakih mother temple is located on slope of agung mountain which is an active volcano in Bali. Both of these temples represent Balinese architecture and culture.
2- Coffee at Kintamani highlands with view of volcano : just 49 minutes drive from Besakih mother temple is kintamani village. The drive in itself is quite wonderful amongst the nature and greenery. The view from the village is breathtaking of Mount Batur and Lake Batur. It's one In a life experience with so much beauty to grasp inside your eyes. There are little restaurants where you can drink coffee and have food with the mesmerising view of the volcano.
3- Visit a luwak coffee plantation: Bali is famous for luwak coffee and if you haven't tried it in Bali then your trip is a waste. Luwak coffee is one of the costliest in the world due to its unique collection of coffee beans from poop of the luwak . There are many farms of luwak and coffee in Bali where you can visit to gain knowledge about the coffee plus have free coffee testers.
4- Visit a local market: where ever you stay in Bali if you haven't enjoyed the night life then you haven't had a holiday. People from all over the world come to Bali and the common place you can see them partying and shopping is local markets especially ubud central market. At night you can just stroll on the streets with your loved ones, have ice creams or bubble tea, have food in open restaurants with live music.. there is room for every kind of person. It's such a Festive atmosphere that you will fall in love with the place and don't want to come back. Plus there is so much wood work in Bali that you need to shop for your friends and family at home.
5- Take a swing into the sky: if you like doing adventurous things then swinging into the clear skies of Bali should be the must do thing for you. There are many places where you can find these swings and you have to pay a nominal price for it. But the experience is wonderful and don't forget to ask someone to take a photo of you since it will be memorable.
6- Stay in a pool villa: Bali currency is quite low from Indian currency and so you can afford a villa with a private pool. It is one of the best decision and the experience is wonderful. You can enjoy in the pool with your family whenever and however you like, even at 2:00 at a night. Plus if the villa is inside some jungle or rice fields then the experience is thrilling. With jungle overlooking from one side of the pool in the vicinity of your own villa you can enjoy your moments to the fullest. There will be no outsider looking at you and you can swim merrily. Believe me it adds a lot to Bali experience and it's so much joyful.
7- Breakfast at rice terrace: lastly tell your driver to take you to rice terraces and you can have breakfast there. But I would suggest you to find a resort villa in the rice terrace so that you can save to go to one place in three days time. Plus living in rice terrace is a beautiful experience too.