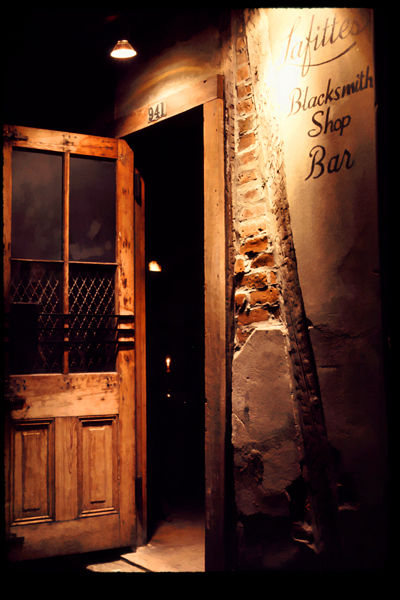 It's natural to be loyal to your favourite bar and sit there drinking in the ambience and your favourite poison. Maybe your bartender slips you a little extra Jack under the bar or you know which bar stool is the wobbly one and have a good laugh when someone's nursing their bruised bottom or you love the fact that you can always find new cool people at the bar and carouse the night away with them... only to find that the person never existed at all!
These haunted pubs have customers who've stayed loyal even after death and regularly make their presence known. Get a drink at these spooky bars and quench your thirst for some whiskey with shivers on the side.
1. Lafitte's Blacksmith Shop
Location: New Orleans, Louisiana
Now, this pub-goer is a bit of a sleazy fellow. Jean Lafitte was a pirate and something of a war hero. He had warned the authorities against a British attack and helped save New Orleans from British invaders in 1812.
The blacksmith shop was just a cover to hide his smuggling habits. However, Lafitte must have been extraordinarily proud of his shop because he's stuck around long after his worldly life. From what people have said about his ghost, his personality traits haven't changed much either.
A notorious womaniser, he now hangs around the ladies' room so don't be surprised when you need to take a leak after one too many and spot him grinning at you lustily.
He also stakes claim at the fireplace where it is rumoured that he had hidden away some gold. The candlelit ambience of the pub adds an air of mystery to the whole thing, probably just the effect he wanted to achieve.
He also pops up at other bars in the area when he feels like a change of ambience. A distraught lady dressed from the 1700s has also been seen strolling around.
2. Mermaid Inn
Location: Rye, East Sussex, southeastern England
Secret tunnels, a history with notorious smugglers, rocking chairs that move of their own accord - the Mermaid Inn has all the prerequisites of a place plagued by turbulent ghosts.
The inn, with cellars dating back from 1156, has seen plenty unfold in its rooms. The spectral residents of the inn are believed to be from the days when the smuggler gang Hawkhurst with around 600 members had seized the place to use it as a stronghold. The secret tunnels were built by the gang for quick getaways and the riotous lot were so widely feared that they made merry in the inn with loaded pistols out in the open.
There are plenty of ghosts that liven up things around here. Make sure you don't make the fireplace in room 1 your hangout spot since it's already taken by a lady in white who sits there on a chair. It's unclear why guests wake up to see their clothes wet on the chair.
My favourite is the story of the ghost who popped through the bathroom wall into the main room, presumably after a leak and unwittingly left terrified people in his wake.
A fierce duel between two men dressed in 16th-century clothes broke out in room 16 and continued through nearby rooms and ended after one of them was killed and then thrown through the trapdoor in an adjacent room. Apart from spirits sitting on the bed and staring at sleeping guests, another notable occurrence was all the bottles crashing down from the shelf on the other end of the room as an employee tended to the fireplace. Reportedly, the employee quit on the spot.
Maids refuse to enter alone room 17, named Kingsmill after one of the Hawkhurst smugglers. Haunted by the wife of Hawkhurst gang head George Gray, her nook seems to be the rocking chair. Guests would wake up in the middle of the night to see the chair rocking on its own with an inexplicable chill seeping through the room. The chair was removed after too many complaints.
The guests are well warned with a notice that says,
"The Kingsmill Room is said to be haunted by the ghost of a woman alleged to be the wife of Hawkhurst Gang founder George Gray.
"She supposedly haunts a rocking chair in the room.
"Rest assured that you will have a peaceful night, but when you hear those floorboards creaking..."
Queen Elizabeth 1, evidently made up of sterner stuff than a few ghosts, stayed here.
3. Devil's Stone Inn
Location: Shebbear, Devon
Villages generally have a wealth of interesting legends and it is from one such legend in one such village that this inn begot its name. A one-tonne stone in the village is annually turned over to ward off evil spirits. The legends runs, that the stone fell from the devil's pocket as he tumbled towards hell from heaven.
An otherwise delightful inn, the place has eight bedrooms, one private bedroom and a beer garden. There have been instances of taps running suddenly, neatly made beds going back to their untidy state and pictures falling off walls. Walk towards a window to take a breather and it might just open by itself. Along with the pattering of footsteps on the landing, every knock on your door might not be room service.
Room 8 has had covers being pulled off distraught guests. There are noises of a young girl's giggling and the hint of smoke as one of the cottages on the same site as the inn had once caught fire. Sit in the bar nursing a drink and the spirit of an RAF pilot who once died there might just join you.
Last heard, the allegedly haunted inn was put up for sale in May, 2019 for £450,000. Fancy becoming a haunted pub owner?
4. The Horse You Came In On Saloon
Location: Baltimore, Maryland
The people who work here firmly believe that the place is haunted. The bar has been catering to boozers since 1775 and there's one such tipsy customer who refuses to leave. It is believed that the ghost chilling at the bar is none other than that of American writer and critic, Edgar Allan Poe's.
Reportedly this bar was one of his regular haunts (when he was alive) and he would often come in here to enjoy a drink. He was reportedly drinking here before he was found delirious on the streets and died a few days later. His death has remained an unsolved mystery.
The mischief-maker now spends his time shattering glasses, swinging from the chandelier, pulling open drawers and spooking unsuspecting drinkers in general.
5. Earnestine and Hazel's
Location: Memphis
Earnestine and Hazel's is musically haunted. The ghosts here are friendly and tend to mess around with the jukebox.
The place has gone through various phases since the late 1800s when it was built. It started out as a church, then a goods store, then a pharmacy until the man downstairs turned into a multimillionaire selling suntan oil and simply gave away the store to two cousins who ran a salon upstairs, Earnestine Mitchell and Hazel Jones.
The duo retained the salon upstairs and put some rooms aside to let out and turned downstairs into a jazz bar. The rooms were let out at hourly rates and it wasn't long before upstairs turned into a thriving den of drugs and sex with ladies of the night entertaining customers upstairs.
Russel George, who was a hell of a dancer as a young man took over the place and turned it into what it is today. A lot of drunk people would drop in to sample his soul burger (with sauteed onions and a secret mix) to get over the effects of too many drops of whiskey. He died mysteriously later with a self-inflicted gunshot wound upstairs.
With all those rooms from the brothel still present upstairs, there are voices of unseen people talking. Try to take a picture here and a shiny orb will appear on all copies.
However, the supernatural residents here mostly just seem to be content fiddling with the jukebox. They love exhibiting their good taste in music by playing appropriate songs according to the situation. It is said that one day a paranormal researcher was visiting and talking about the hauntings when the machine suddenly started playing 'Sympathy for the Devil' on its own. Another time, the day James Brown died, the jukebox cranked out 'I Feel Good' on its own.
The place's claim to fame comes from all the notable visitors its had such as Little Richard who stayed here for three weeks and Mick Jagger as well as Keith Richards.
7. The Skirrid Inn
Location: Llanvihangel Crucorney, Monmouthshire
Named after the Skirrid mountain, the place has a bloody past. Built in 1100, the pub is the oldest in Wales and has even appeared on the show 'Most Haunted'.
It started when the first floor was used as a courtroom to sentence people to death. The Duke of Monmouth had rebelled against the new king, James II and gathered a small army to support his cause. In 1685, these rebels were sentenced to death by a severely biased (towards the royal family) Baron George Jeffreys. They were hung from the oak beam above the staircase which incidentally, is still there. The ghost of Baron George Jeffreys is still there, frequently pacing the floor above presumably trying to get the blood off his hands with antiseptic soap.
Now, glasses are flung across the bar, faces are pressed up against windows to give people a fright, things are hidden away and boy, do they love messing with the temperature and turning rooms absolutely chilly.
A person convicted of sheep theft, John Crowther has been spotted here. There's a sudden whiff of perfume, the sound of soldiers marching around in the courtyard and lady in white who keeps drifting around for dramatic effect.
The scariest bit though? Those who have stayed there have reported feeling as if they were strangled and some even had bruises on their neck that looked like rope marks.
We all have a hankering sometimes for a stiff drink, but this is taking the term 'spirits' a little too far. Visit these bars to spend a night making some ghostly pals who might not stick around in the morning.
Had a supernatural experience at a place you've visited? Tell us the story in the comments below or write it down here!