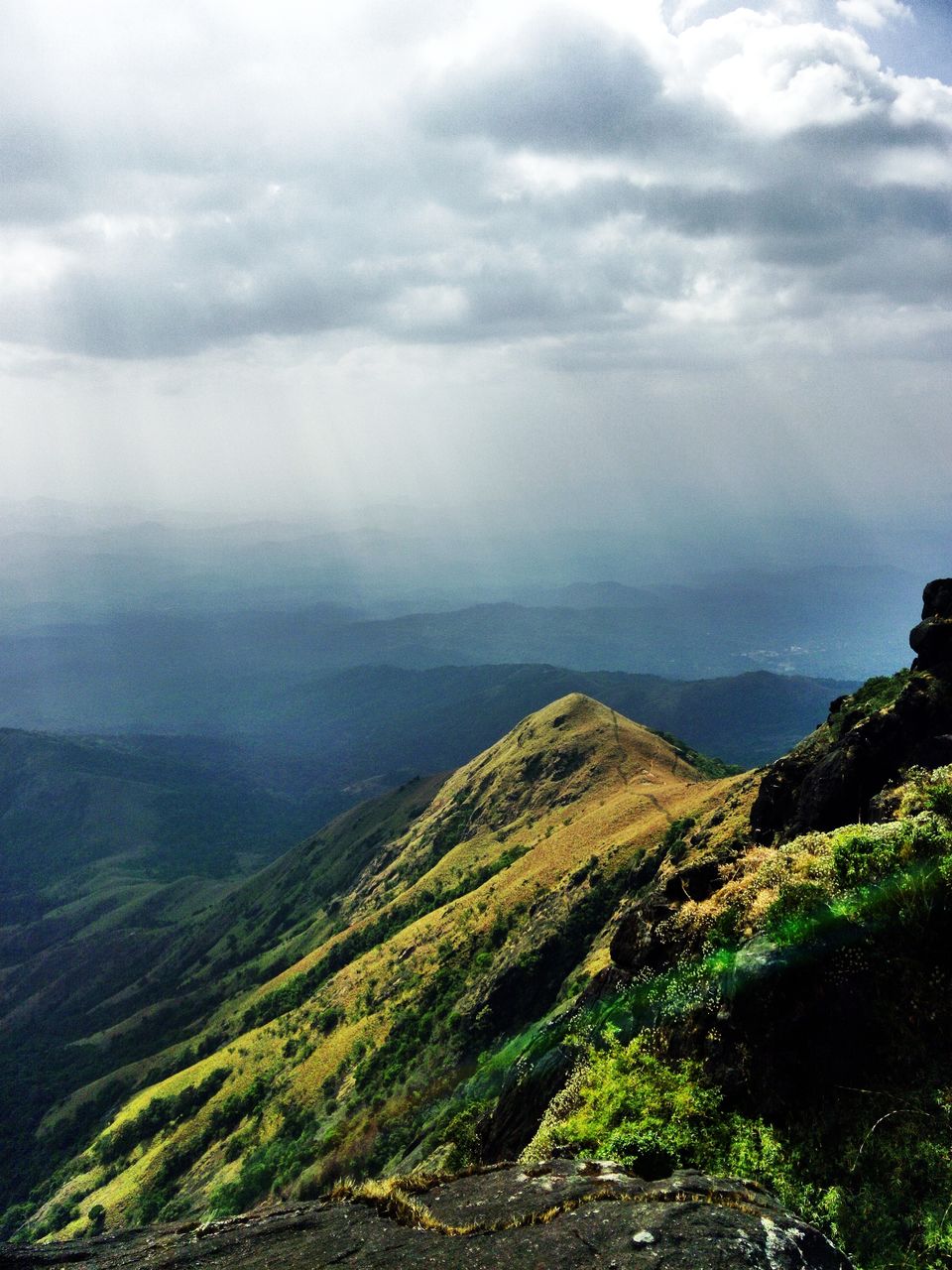 She came as a surprise to me; finding someone who fits my life so perfectly, so perfectly that I started to believe and hunger for that which I used to think was impossible. It's usually only a once in a lifetime occurrence. Sure I may get lucky and find two such women within a single lifetime but considering that finding one was already statistically against my favour, I very much doubt I will come across a second.
I wanted to escape, escape the pain of losing someone; a best friend of mine, someone I considered would be with me till I die. I lost her because I fell in love with her, she in anger and irritation broke her friendship with me, telling- "Agar pyaar ho jaye toh dosti nahi reh sakti" (If we fall in love with a friend then the friendship is over). Maybe she was right from her point of view, but my beliefs and experience tell me- "Sacha pyaar bhi achi dosti ke baad hi hota hai" (Only a good friendship can lead to true love) all else is just fake, fake like the love celebrated on Valentine's Day.
I wanted to escape my place of work, where from the past 4 months the neighbouring office guy plays the title song of "Ae Dil Hai Mushkil" on a loud speaker some dozen times a day and keeps reminding me of my "Ek Tarfa Pyaar"(One sided love). I never stopped him from playing that song; actually I was enjoying it too but the problem was frequent distraction from work.
I wanted to escape, escape from over thinking; over thinking about all that was happening and not happening with me. Thinking and thinking about my over thinking and actually ending up over thinking more. Actually I am happy being in one sided love, at least I am not cheating or running away from my feelings and emotions, I am accepting it and I am strong enough to live in the reality of someone not reciprocating to my feeling. Love is beautiful; be it one sided or two-sided.
I just wanted to reflect on my present state of being. I wanted to escape and find some Me time. I did not want to escape love but just the pain of losing my best friend. Go somewhere all alone, travel to a new place, climb a new mountain, talk to the mountains, observe the nature around, listen to the winds, listen to the music of birds, the sound of the rustling leaves like they are talking to each other, camp in the wild all alone, maybe encounter some wild animals. I was in search of a new experience and I decided upon trekking the "Kumara Parvatha Peak" located in the "Pushpagiri Wildlife Sanctuary".
My Birthday was on a Friday 20th Jan and I booked a ticket in a sleeper coach bus to Subramanya Town for the same night; It was weekend and easy for me to take out time. Subramanya town is where the famous Kukke Subramanya Temple is located. At night 10.30pm I boarded the bus and climbed up to my upper berth in the bus, pulled down the curtains, plugged in my earphones and started playing "Ae Dil Hai Mushkil", "Channa Mereya", "Teri Kher Mangdi", "Pani Da Rang" & "Koi Fariyad" in a loop. My fav songs these days & I was just enjoying it.

The next morning at 5.30am the bus reached Subramanya Town & I got down the bus. It was dark and cold outside; I headed straight to a roadside tea stall and had one hot glass of ginger tea. It's a small temple town, people here mainly come for Kukke Subramanya Darshan & trekkers like me to trek the Kumara Parvatha Peak. My plan was to start the trek at 7.30am and before that finished my morning rituals at a public toilet. I had breakfast at a small restaurant, nice hot idli, vada sambar and a cup of strong coffee. I then headed towards the Kukke Subramanya Temple, the lane just next to it is the way towards the start point of the trek. I clicked a few pictures of the temple street, the huge wooden chariots placed outside the temple and a few clicks of the temple from the outside. I did not enter the temple coz I knew if I go inside I would ask god to bring back my friend to my life, which I lately started realising was next to impossible to happen. I have already prayed for that many times from past many months at different temples I visited. I believe in God but I don't visit temples myself much, I usually visit with my family or when with my friends. I prayed to God from outside the temple, I prayed for a successful trek and a good experience and headed towards the way which led me to the starting point of the trek.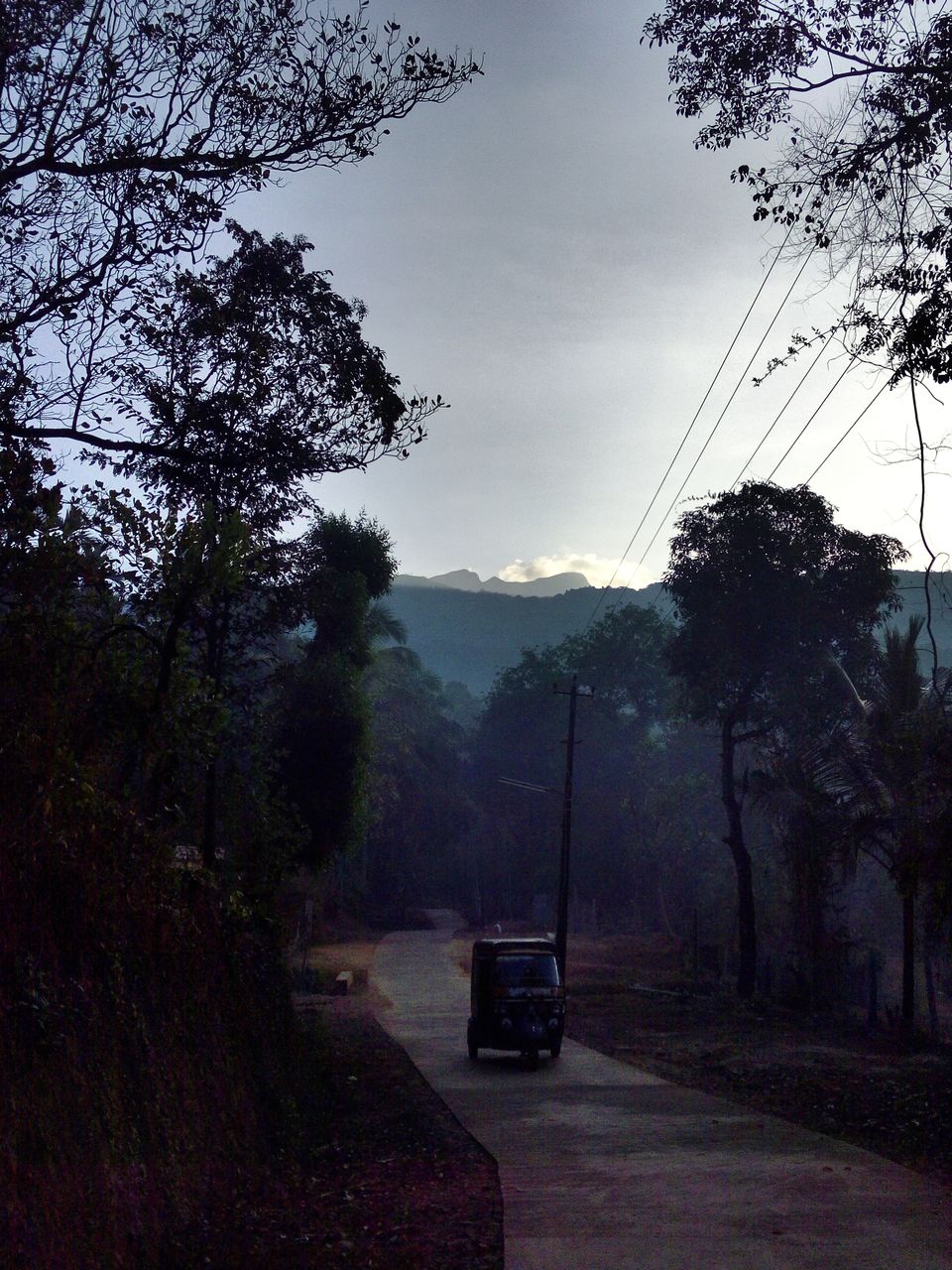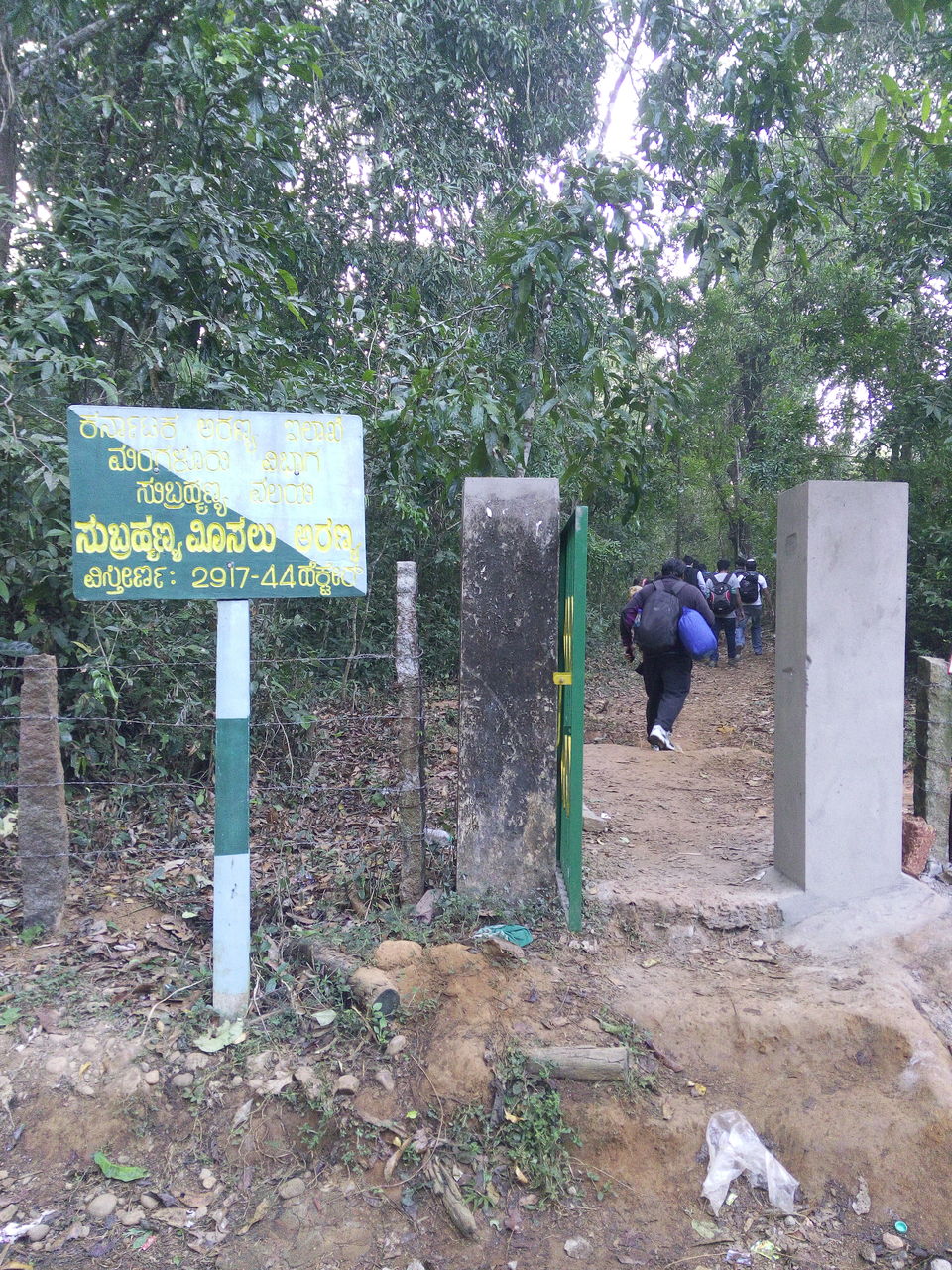 Kumara Parvatha Trek is a 28kms trek in whole, to the peak and back to the base. It is considered as the big daddy of treks in Karnataka; with a height of about 5600feet at the peak. The trek starts from an elevation of about 450feet and we need to climb a good steep 14kms to reach the peak at 5600feet. It's one of the toughest treks of Karnataka. I reached the gate from where the trek starts and found there many other trekkers who had come in different groups to trek. I was the only one to come solo here I think. I started the climb at 7.30am, the first target was to reach Bhataru mane, a small house at the mid of the trek where we can have lunch. Bhataru mane is 7kms from the start and the climb is steep through a well marked trail.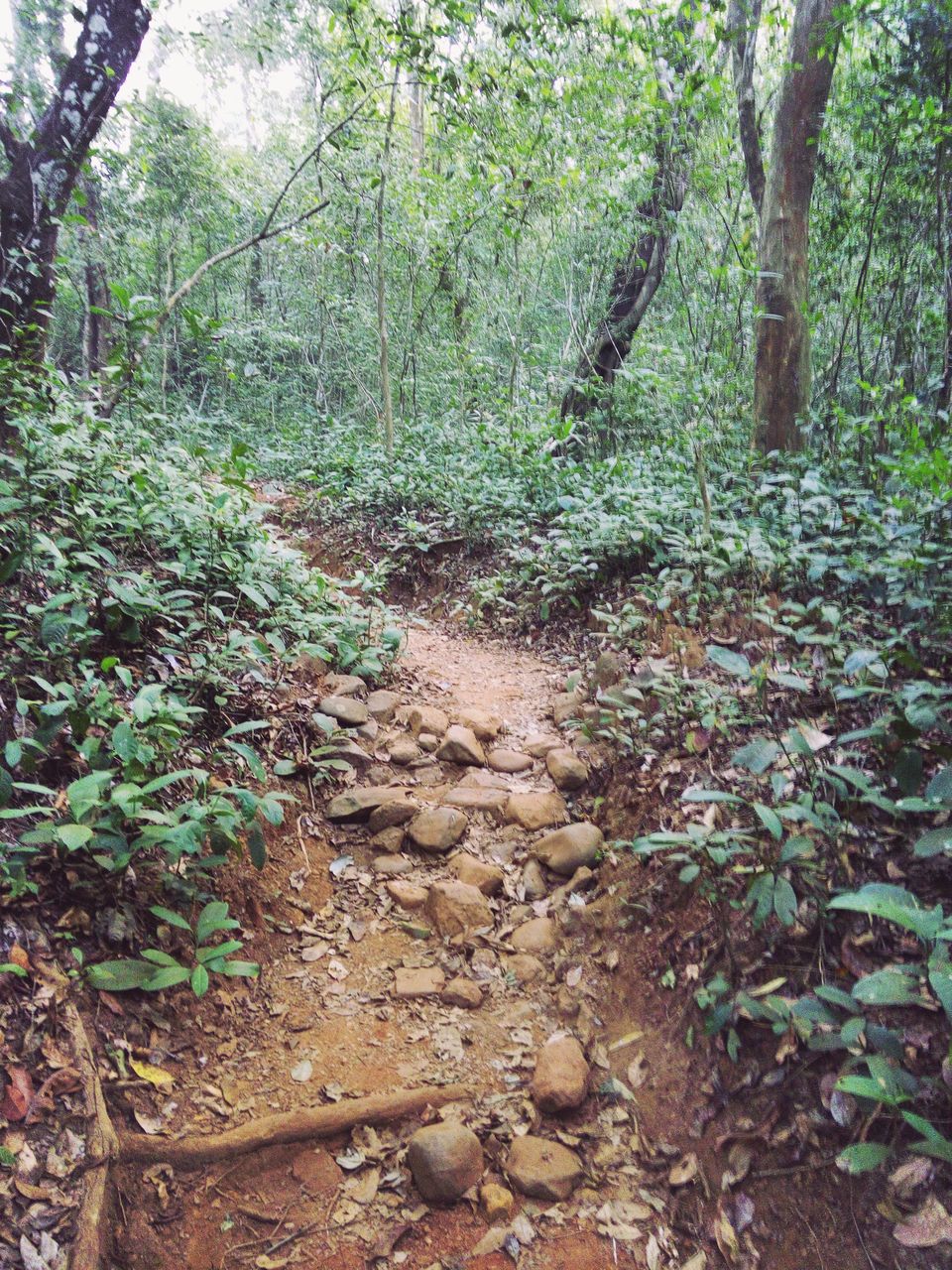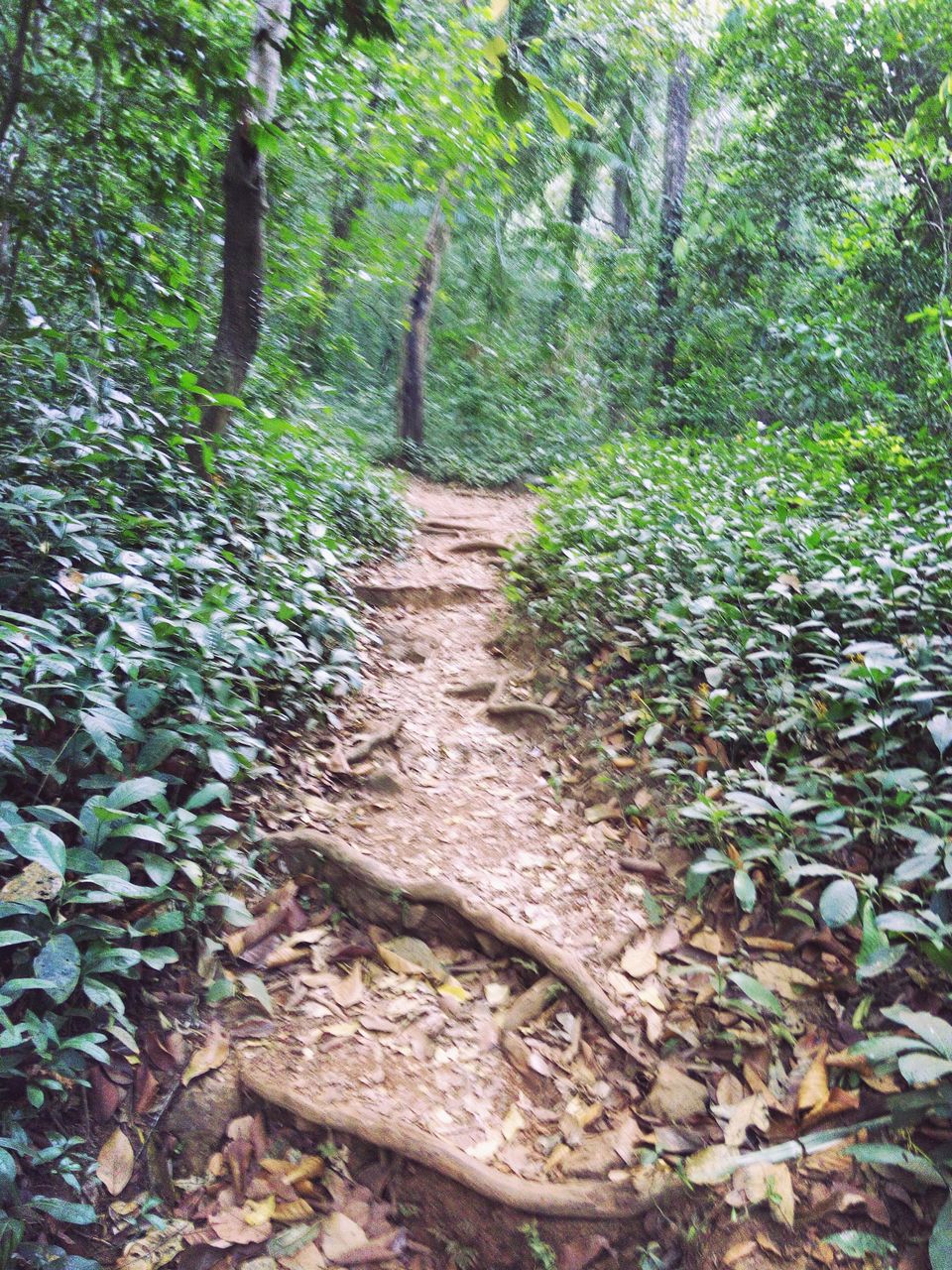 The trail is through dense forest and I was enjoying the climb. After an hour of climb I met a guy who was an engineering student and had come with his group of friends for the trek, his friends were too lazy and were climbing slowly according to their stamina and this guy joined me leaving his friends behind. This guy was a wildlife photography enthusiast and was clicking nice pictures with his DSLR. I too clicked nice pictures but with my mobile phone as I don't own a DSLR yet. We talked about nature, wildlife and many other things and reached Bhataru mane at 10am. We had climbed quite quick enjoying the sounds of the nature and also spotted a snake and many different species of bird's en-route.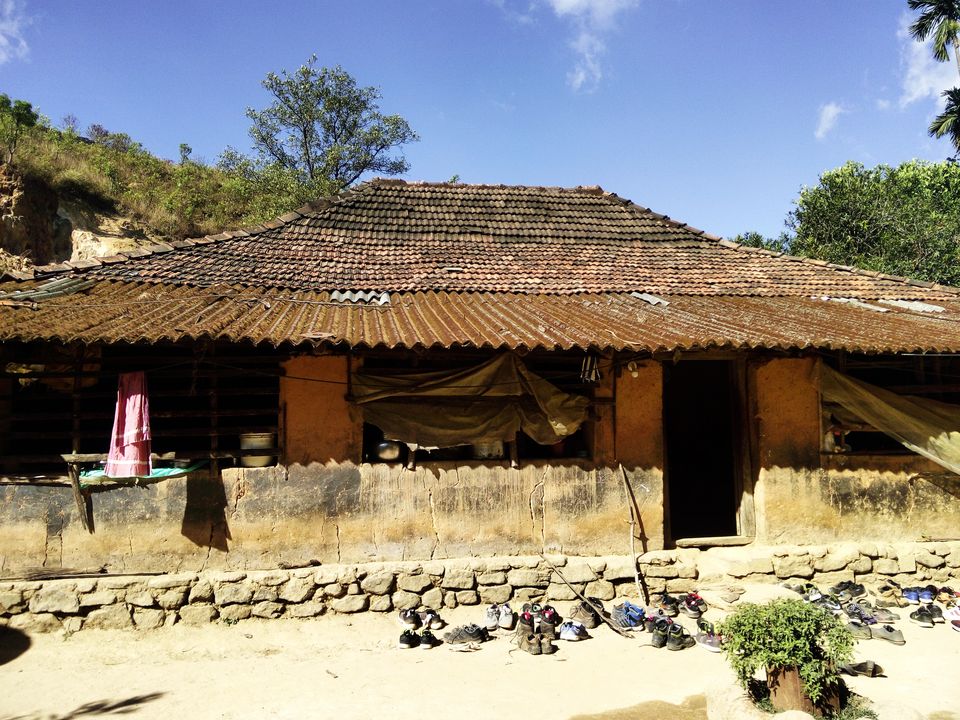 We were tired and rested outside the Bhataru mane for half an hour and I told him about my plan for further trek. My plan was to have lunch and leave at 11.30am towards the peak and be back here and camp for the night. That guy along with his friends had planned to camp here for the rest of today and leave for the peak early next morning. I did not wanted to waste the rest of the day here and wanted to go to conquer the peak today itself. That guy wanted to join me but could not because he did not want to leave his friends. We both had lunch here at Bhataru mane, it's a simple meal of rice and sambar prepared by the Bhat (Cook), we can have unlimited of that and pay Rs 110 per plate. I was done with the lunch, filled my water bottles and was ready to leave for the peak. I bid bye to that guy and told him will meet in the evening while I return back from the peak and will camp together. The forest department office is 5 minutes walk from here and we need to take permission, enter our personal details and pay trekking fees of Rs 200 per person to go ahead towards the peak. I went to the forest officer and asked for permission for further trek, initially he did not give me permission as they don't let single trekkers alone ahead. He told me it's quite risky for solo trekkers to ahead alone, but I requested him telling I was an experienced trekker and had done quite a many treks before. He asked me to wait for a few minutes and was registering other trekker's names in his register that had come in groups. After sometime he asked me to enter my personal details and gave me a few instructions, he asked me to come back safe and gave me permission. I was very much happy and excited; I paid Rs 200 and thanked him for giving permission. I told him will return safe and quick before the sunset. I had to leave my camping tent and sleeping mat at the forest department office, the camping gear can't be carried with us further as camping is banned at the peak. The only camping area is around the forest office and near to Bhataru mane.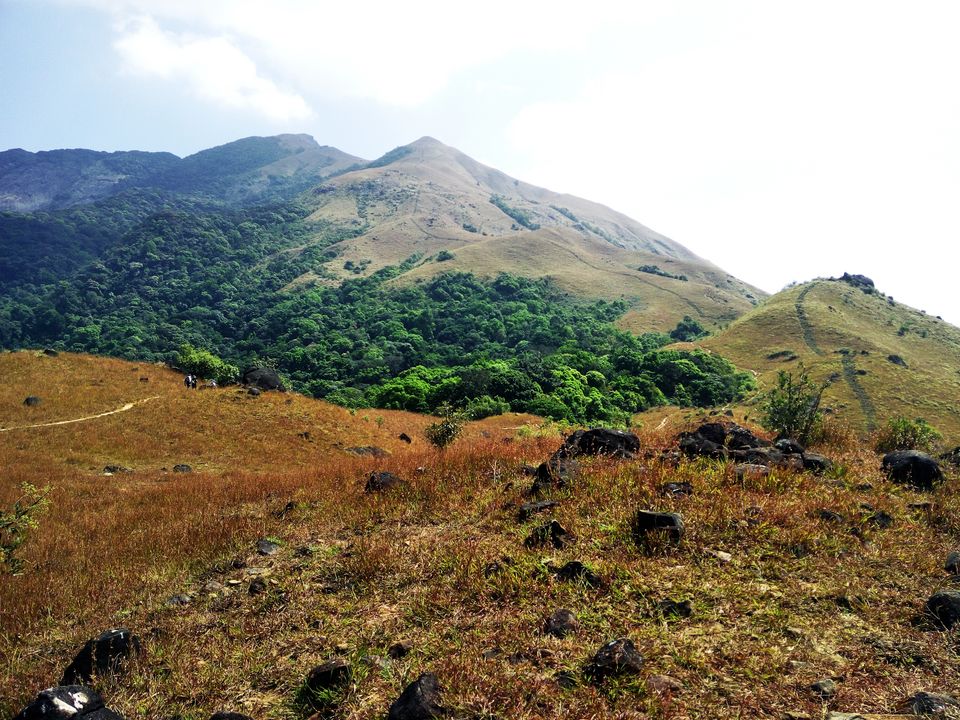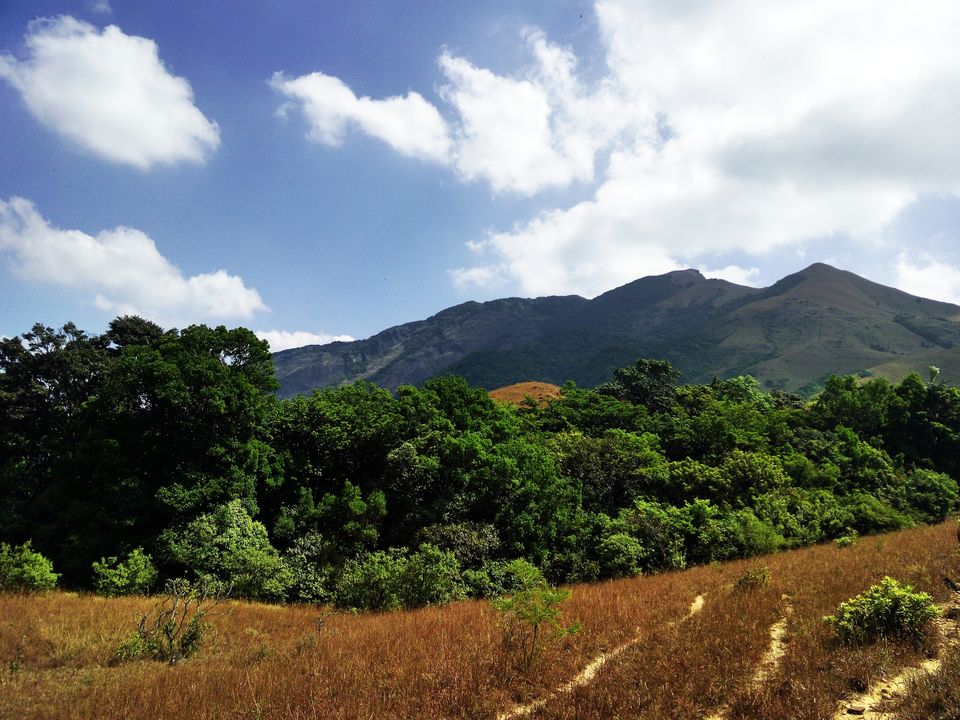 I started my further solo trek towards the peak and met quite a few people on the way. It was another 7kms of trek from the forest office to the peak, and seventy percent of the trail from here was quite steep. There is a water source just before "Kallu Mantapa" (A stone pillared structure used for rituals and as a halting place for idols during procession). I quickly refilled my water bottle here and went ahead and rested under the shade of Kallu Mantapa for some time.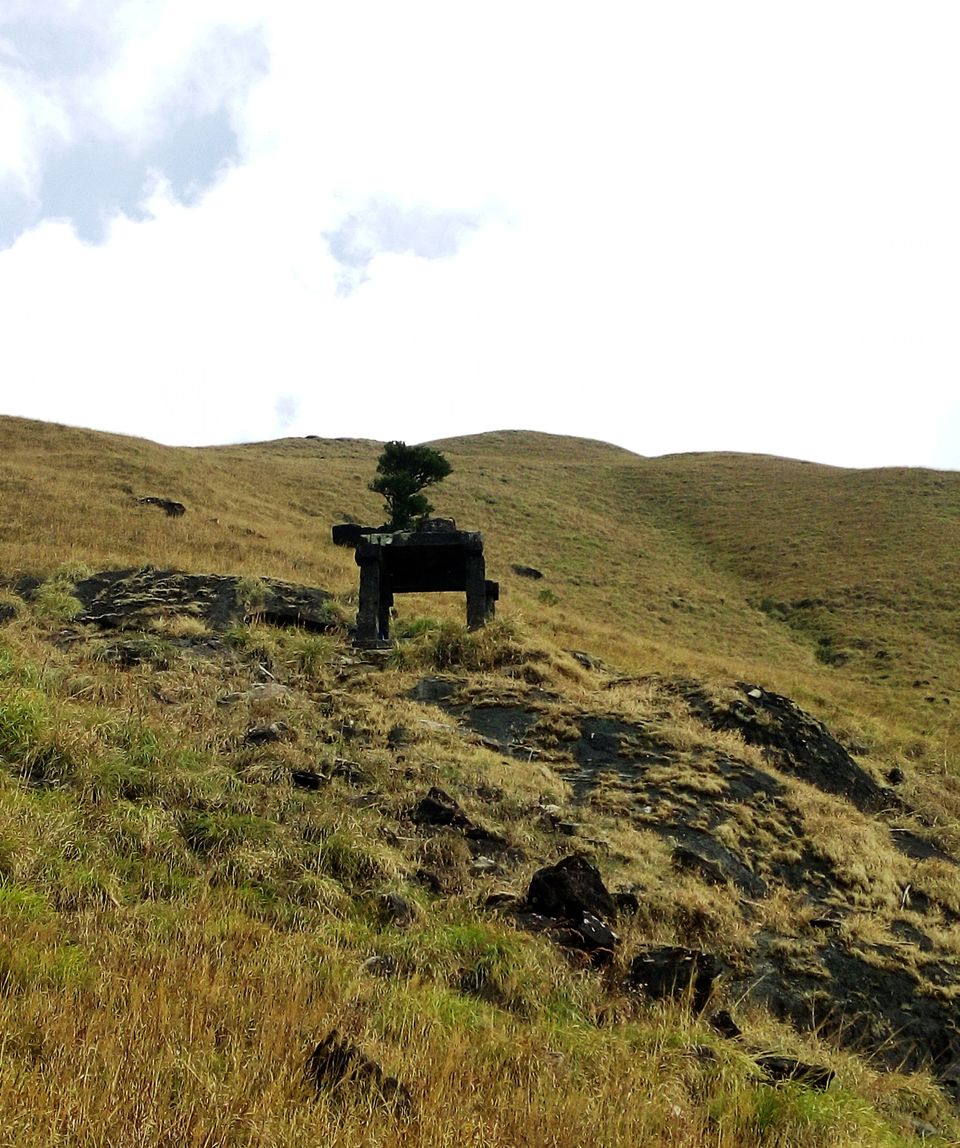 Here I met another guy who was a native of Kolkata and working in Bangalore from past few years. This guy had come here in a group of BMC (Bangalore Mountaineering Club) but was trekking all alone coz his group mates were either ahead or behind him. He was a first time trekker and was not that confident about conquering the peak. I asked him to join me and motivated him to climb; it was fun to guide someone.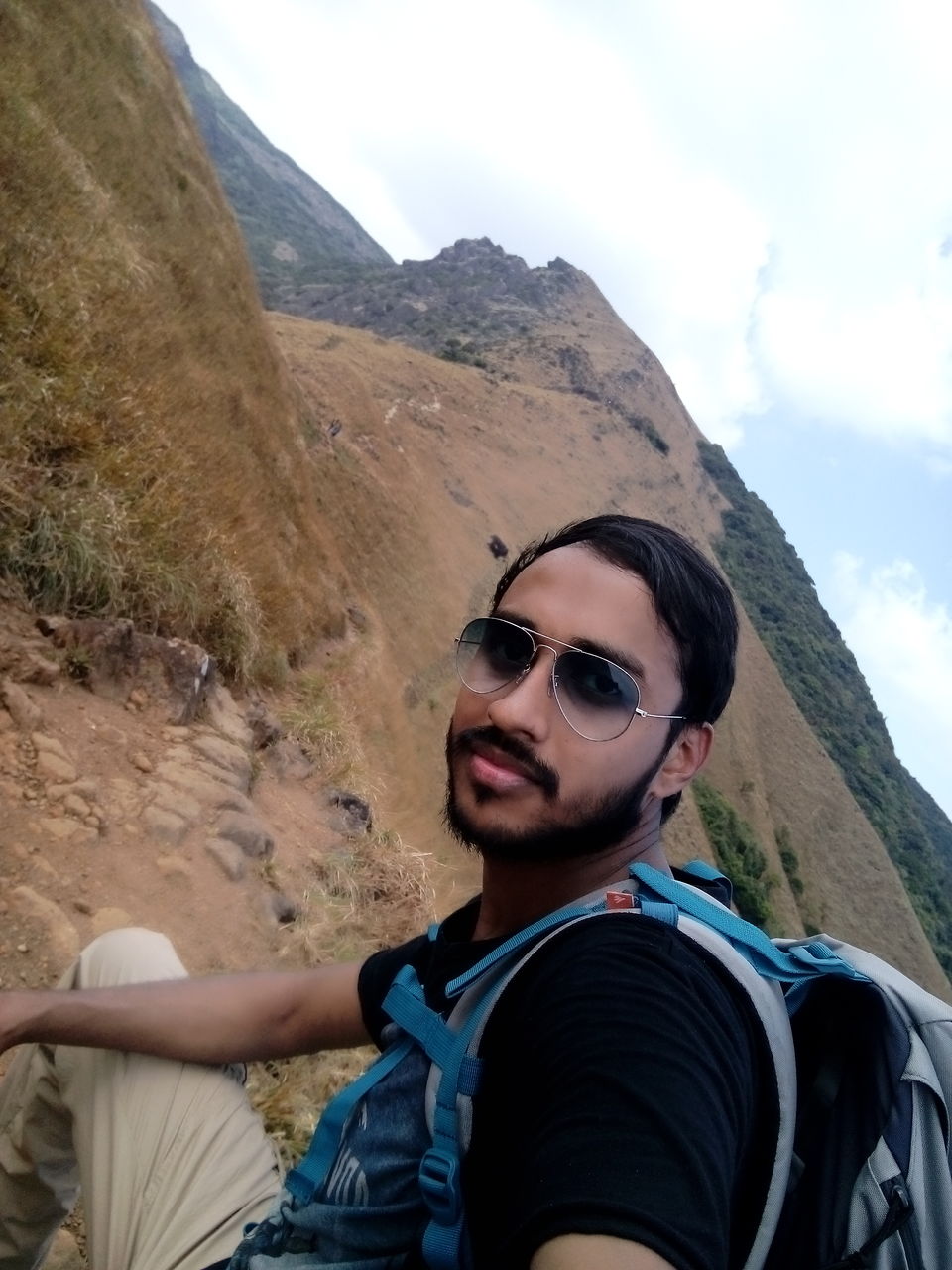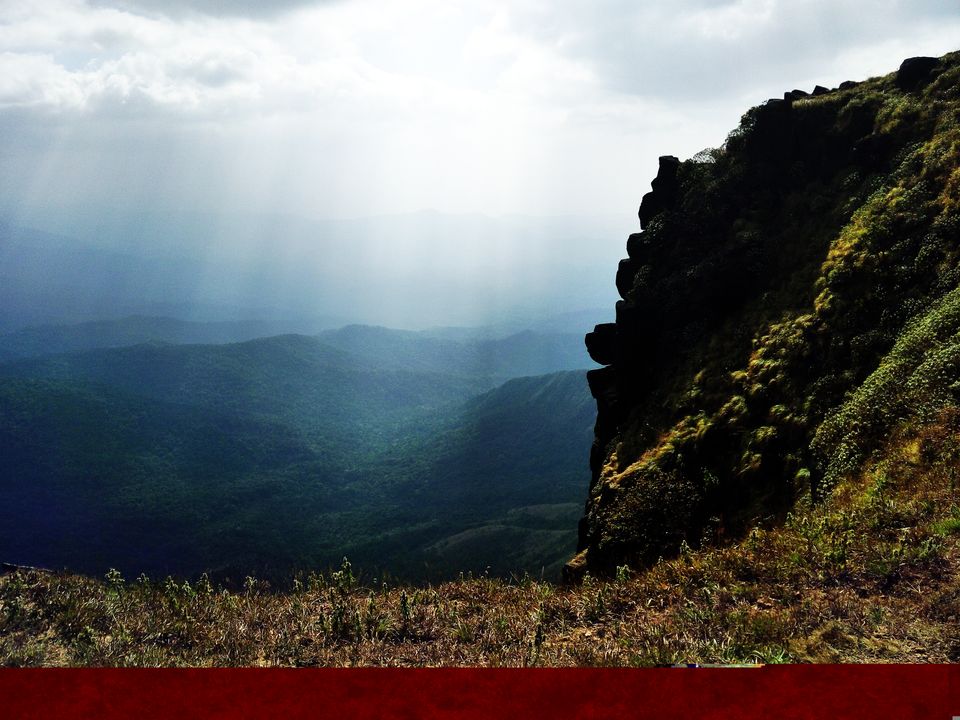 The climb was steep and difficult and I had to motivate him throughout the steep climb of "Sheshaparvatha". Sheshaparvatha is another mountain on the way to Kumaraparvatha; the trail here is very steep with rocks and stones on the whole way. This guy was de-motivated and started feeling exhausted; he told me that he wanted to go back alive and could not continue any longer. He was concerned about his girlfriend who was back in Bangalore waiting for him; he told me she would not be able to live alone without him if he dies. It was nice to see someone so much loving and caring but I gave him a small philosophical talk and told him this is your time to achieve something and if you do it you will be proud of yourself and your girlfriend will be proud of you too; so at this moment think only about yourself and I will make sure you won't die here today and go back safe to your girlfriend. Maybe he liked my philosophical talk and continued the trek with me; soon we reached Sheshaparvatha and he found his group mates resting there. His group mates did not intend to go ahead and planned to go back from here; so this guy too did not join me for the further trek towards Kumaraparvatha peak which was another 45mins to 1 hour ahead from here. Actually there were a lot of people who were exhausted and resting here and did not intend to go to the peak.
From here the trail is through a dense forest and I was very much excited to move ahead towards the peak. At Sheshaparvatha a cute looking girl with boy cut was begging and trying to convince her friends not to quit the trek here; but here friends did not want to move any ahead. I could see her determination to conquer the peak but her friends did not support her and she too had to quit the trek here. For one moment I thought let me ask her to join me but then I don't know why I just did not feel like to ask her and just carried on with my way ahead towards the peak all alone.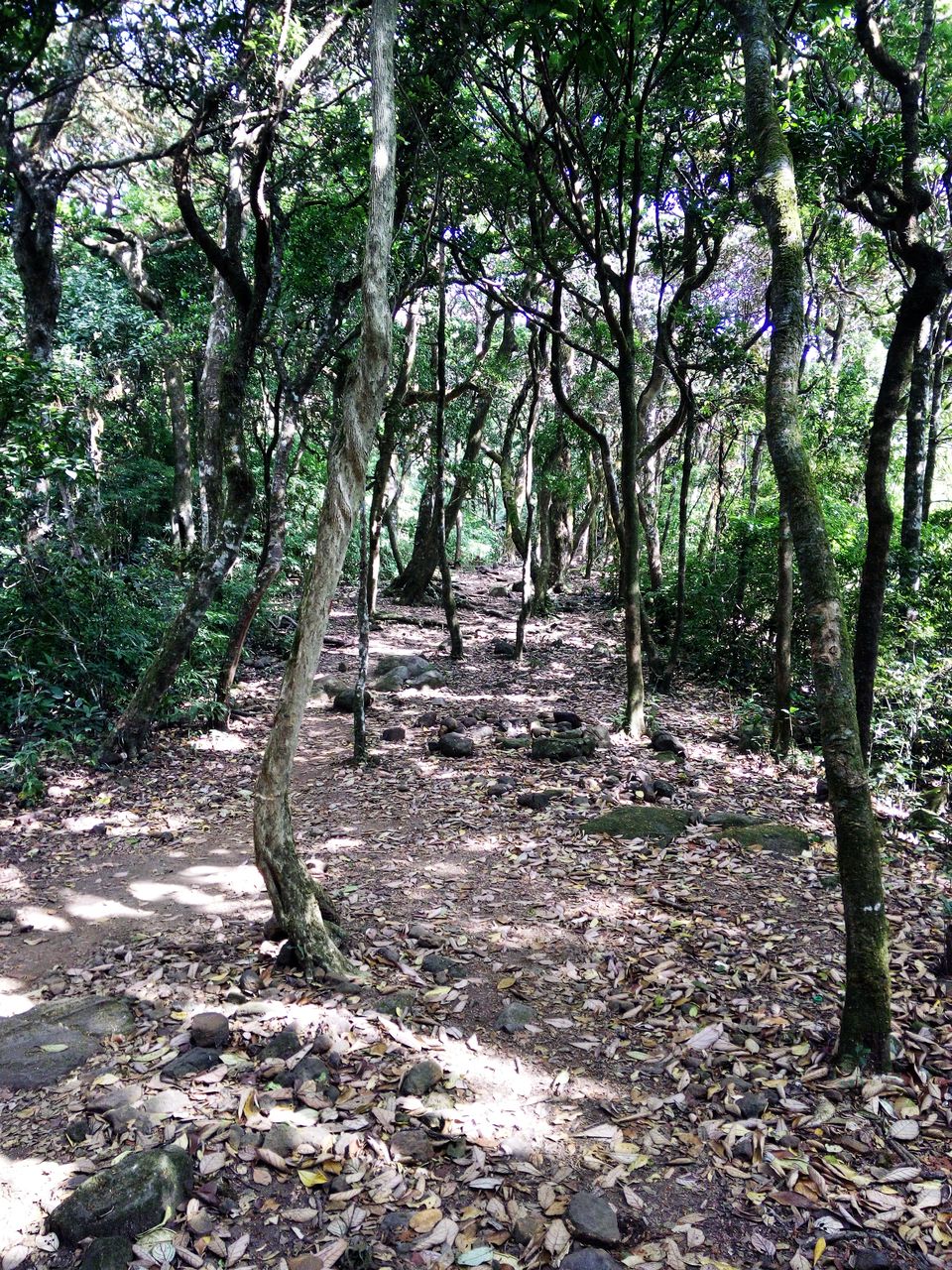 It was dense jungle trek and I was all alone traversing through it enjoying the different kinds of strange sounds coming from the woods all around. There was no trace of any human being behind and ahead of me; and this was the best moment of the whole trek, a true experience of wandering and exploring all alone. Soon I was at a point where there were huge rocks ahead and a huge steep rock wall to be climbed.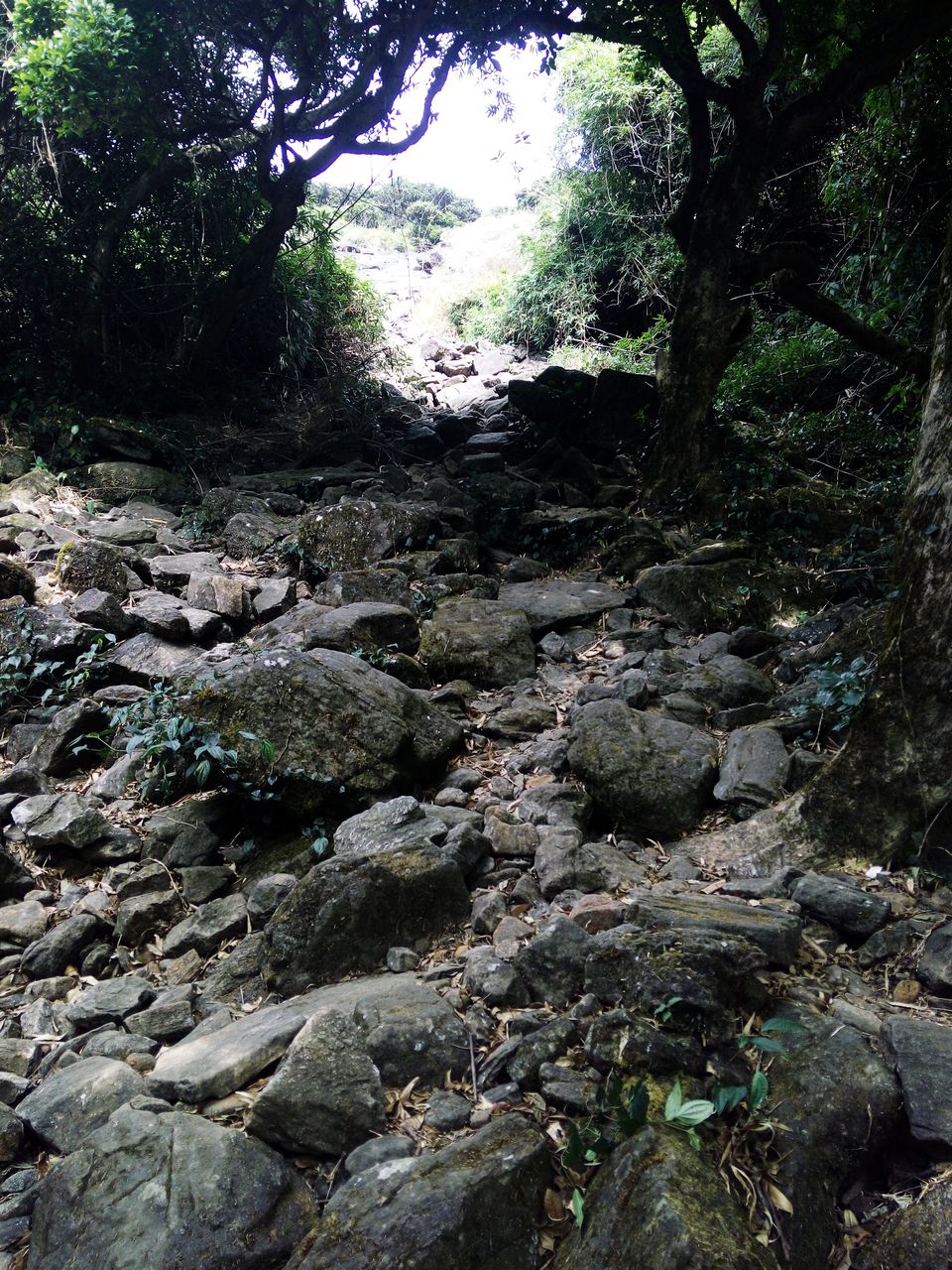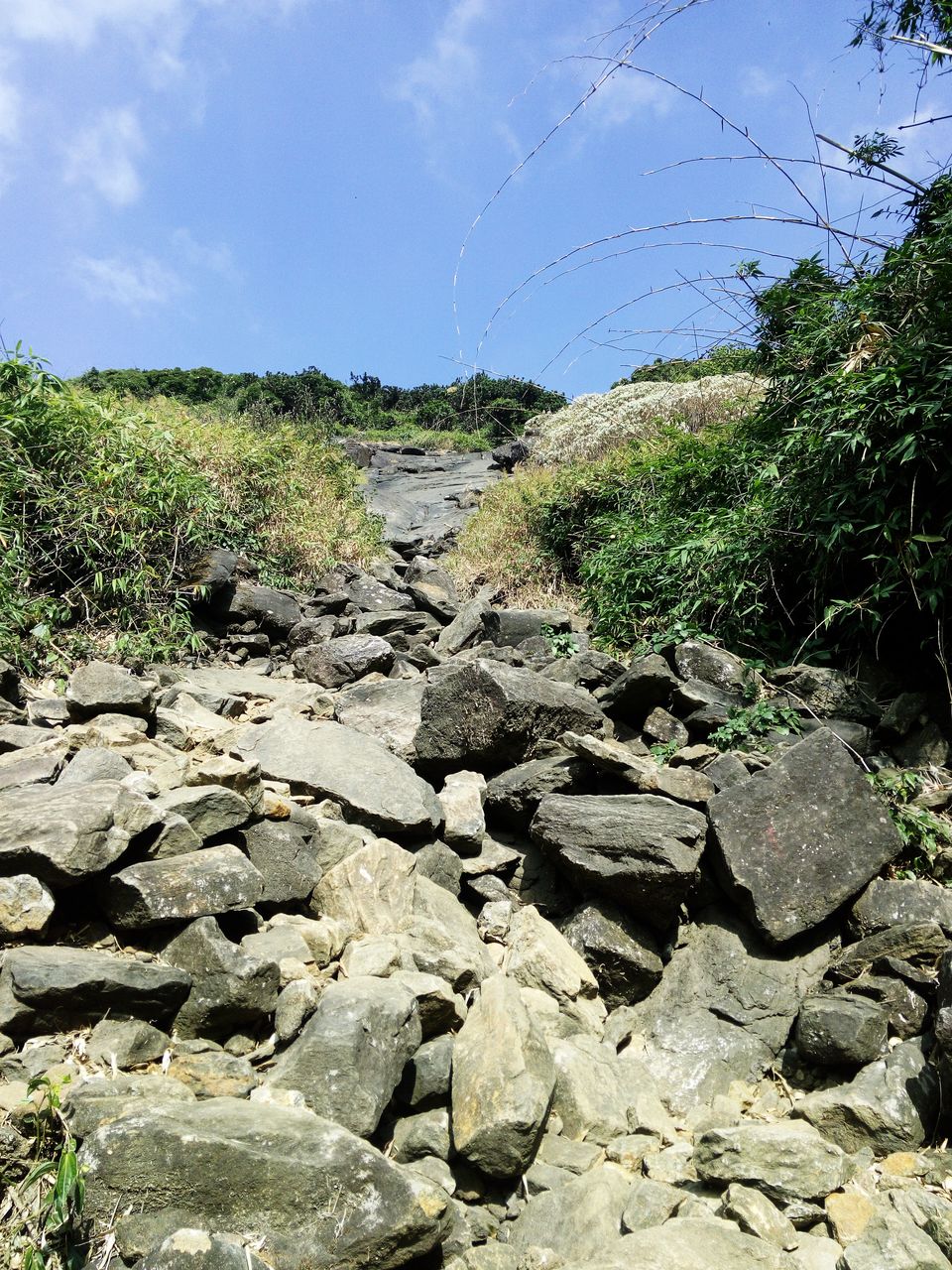 This particular stretch was quite confusing and I did not know how to climb this rock wall. I thought for a moment and figured out a way to the top of the wall and started climbing. It was fun and quite risky too; and I was learning something new. Half way on the rock wall I heard someone calling from behind; it was not that girl but a guy, who asked me if the climb was tough. I showed him the way and he was climbing behind me; we both climbed and left the huge rock wall behind and the peak was only 10 minutes trek from here. Now this guy was again a software engineer and had come here along with his friends; few were ahead and few behind. We both were very much excited to reach the peak and at reaching the peak I exclaimed - we did it and I was very much happy to conquer yet another mountain peak.
There were quite a few trekkers at the peak. I clicked a few pics around and asked that guy to click my pics, I clicked his pics too and a selfie with him. We talked for some time and he was happy to find that I was a solo traveller and had trekked here all alone. His friends were there at the peak and he introduced me to them; I was happy to meet all those guys and they were happy too meeting a solo trekker. I was feeling proud inside, getting some attention being a solo trekker. It took me 4hrs from the forest office to the peak.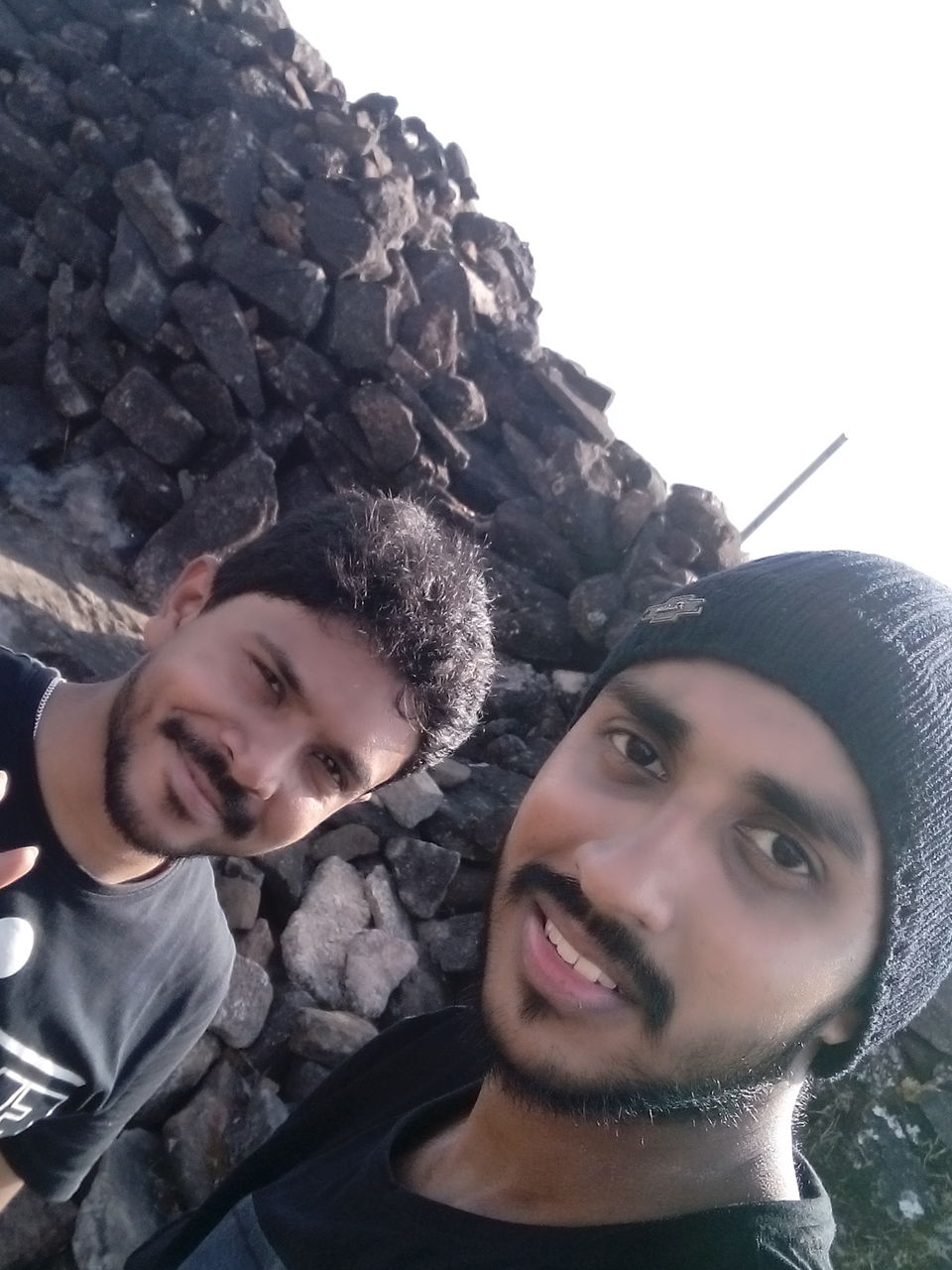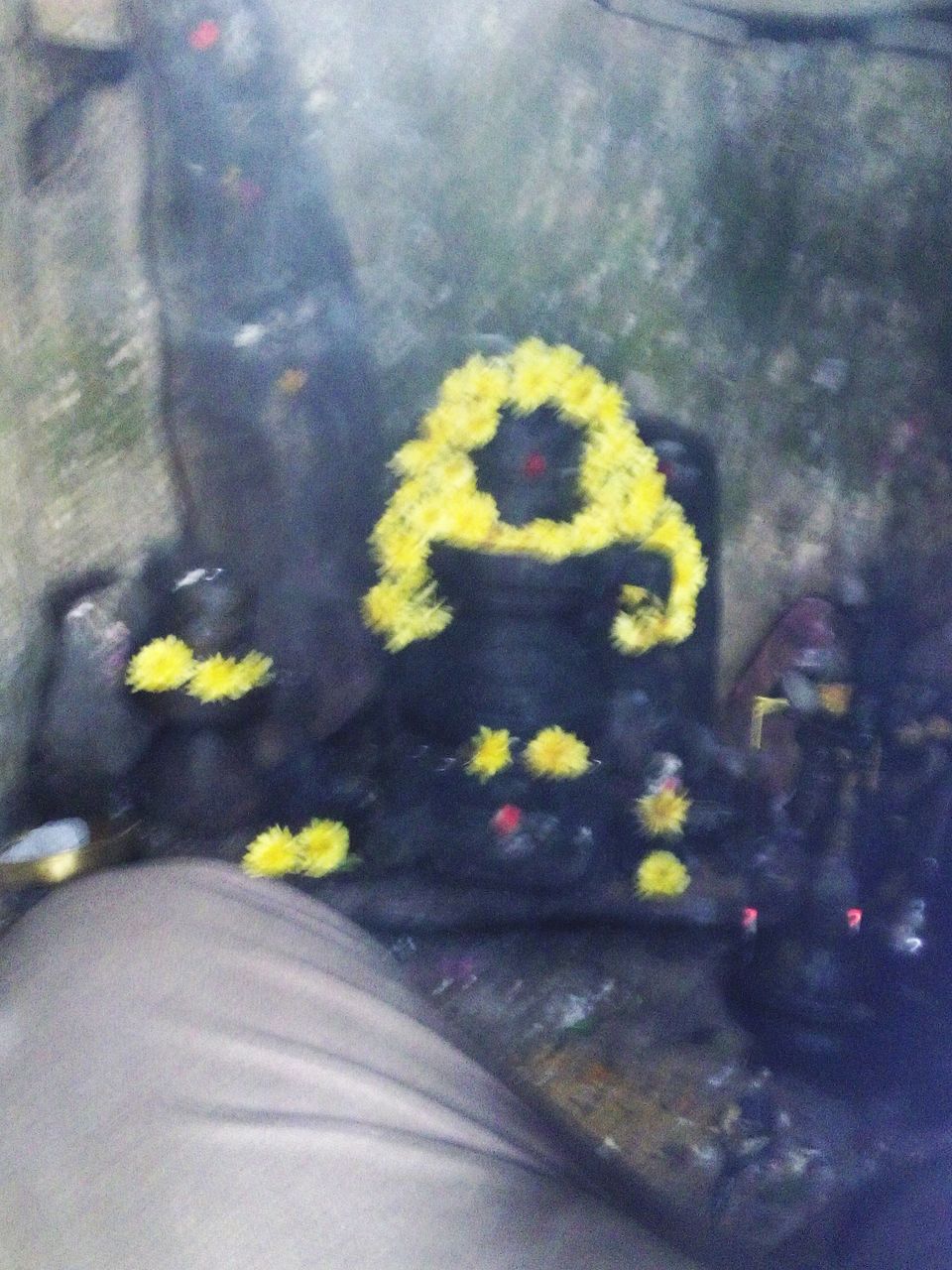 It was 4pm and I had to climb down back to the forest office before dark, find a place and pitch my tent; I had to be quick. I climbed down back till Sheshaparvatha with those guys and I was enjoying their company. We took a break at Sheshaparvatha and shared whatever snacks we had in our bags; snickers, bourbon biscuits, dry fruits, dates and namkeen. After a quick break we started the climb down again and from here descend was steep downward slope with loose mud and rocky trail. I always had the fear of slipping and falling down on this kind of a trail with loose soil and rocks; I had made up my mind right at the start of the trek to overcome this fear and yes I did it. I left those guys behind and told them will meet at the camping site. I started descending down real quick; it was rhythmic, I was slowly overcoming my fear, I had no fear of tripping or falling down on that steep slope downwards. I was leaving every trekker on the way down behind me; I also guided a few on how to balance the body and how to place each step while climbing down. I started feeling ecstatic, it was taking me to whole new level, I was also punishing my knees being so quick but it was all to overcome the fear of slipping down the trail. That fear which I could not overcome or handle on my previous trek to "Pin Parvati Pass". I actually climbed down in only 2hrs of time from the peak till the sitting area just before the forest office; I was feeling very joyous.

Here again I found that Kolkata guy, he thanked me for guiding and encouraging him to do this trek. He thanked me and told he could do the trek just because of me. I was happy and gave him some more philosophical talks and he shared his chocolates with me. He even asked me for my age and told me I talk way beyond my age. I laughed at that and told him it all depends on the situations and experiences one has in his life that makes him like this. I waited here for the other guys who I had met up, but they were nowhere to be seen. I forgot to take their numbers and even forgot to give mine; I regretted this. Now I had to run to the forest office pick my tent and pitch it at a nice place. I met the forest officer and told him I am back safe and nice, he was also happy for me and showed me a place to pitch my tent. I started pitching my tent; it was too windy that time and took me a lot of time pitching the tent. It was already turning dark, I placed all my belongings inside the tent took a torch with me and went in search of those guys, but could not find them anywhere. I was too tired and went back to my tent, had dinner and started contemplating about the whole day. Thought about each and every person I met, thought about the whole day spent so well, all the events that occurred were so much good and in my favour, I was feeling so proud. It was too cold and windy outside; I roamed around for some time and came back to my tent, plugged in my earphones and went to sleep thinking about my love.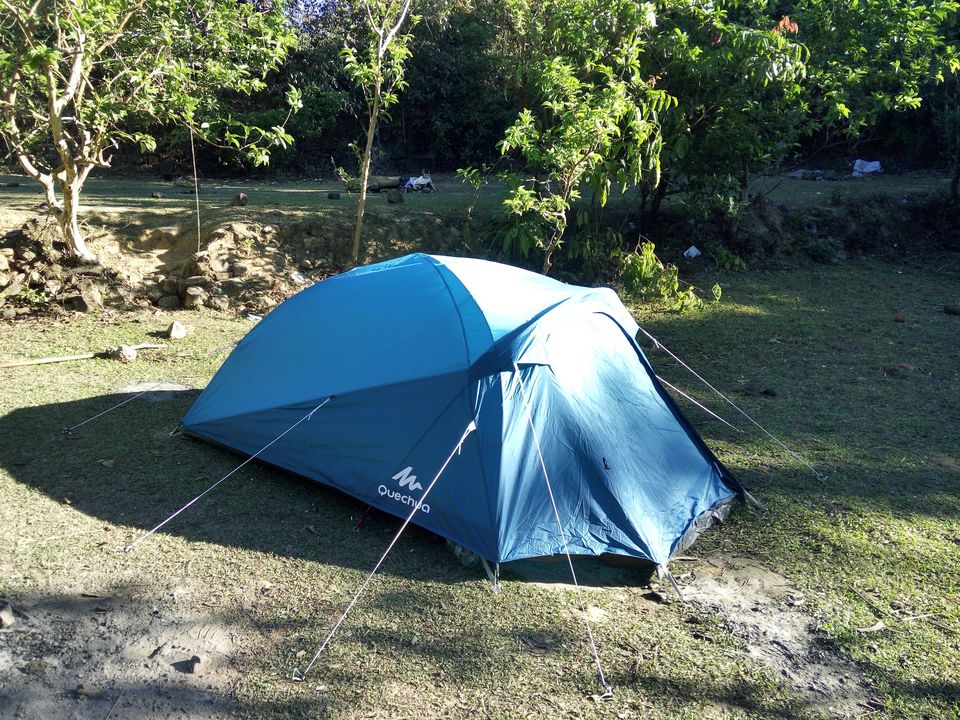 I had a superb sleep, the next morning I woke-up around 8am finished my morning rituals, packed my tent, packed everything well organised into my backpack and was ready to leave and finish up my trek downwards. It was a beautiful Sunday morning and was already 9.30am and I had to climb down 7kms to the Kukke Subramanya Town. While leaving I again met the forest officer; bid him bye and told him will come back again some time. I had only some dry fruits for breakfast and started my climb down; I did it as quick as I could. Met a few people on the way down and reached the starting point at 11.45am. I was exhausted and had no water or anything to eat; the town was another kilometer from here where I could get something to eat. To my surprise two little kids were selling homemade Kokam Sharbat mixed with Sabja seeds here at the starting point of the trek. It was an awesome refreshing drink full with energy at a cost of Rs 30 per bottle. I sat there for some time, enjoyed the drink and started walking towards the Kukke Subramanya Temple. I thanked the God from outside the temple for all the strength and blessing in completing this trek. I went to the public washroom, freshened up there and then went to a restaurant had lunch and then walked towards the bus stand to catch the first available bus back to Bangalore. It was exactly 1pm and I was lucky enough to find a sleeper coach bus just ready to leave for Bangalore. As there was only one single seat left in that bus and the bus was leaving; I negotiated and got the seat at a good discount. I boarded the bus had a good sleep and reached Bangalore at 7 in the evening. I was happy to finish my trip with all the good experience and amazing happenings throughout.

While writing this story almost more than a week after the trip, what I am feeling, experiencing and what I learnt is that, there is no permanent escape from anything. We just need to endure the pain and enjoy the gains, and continue with the journeys of our life...