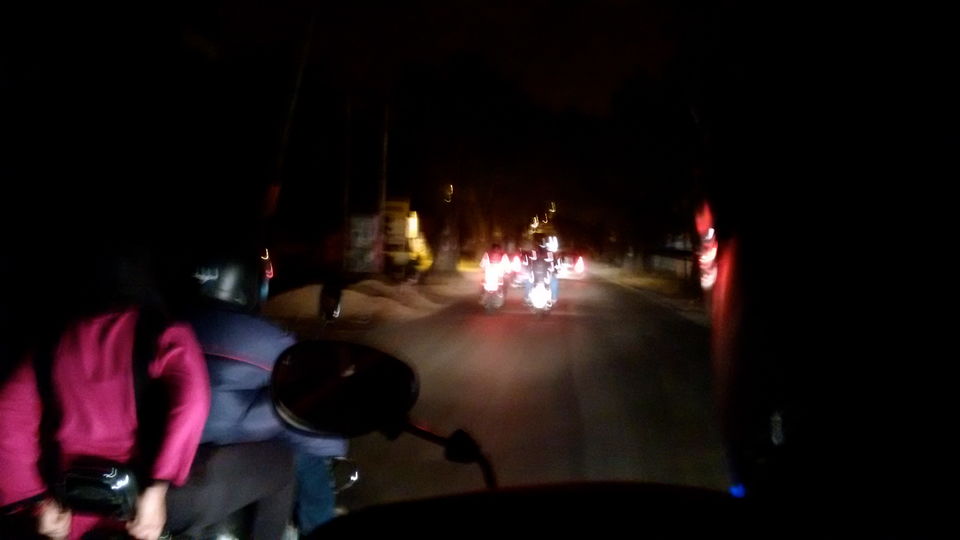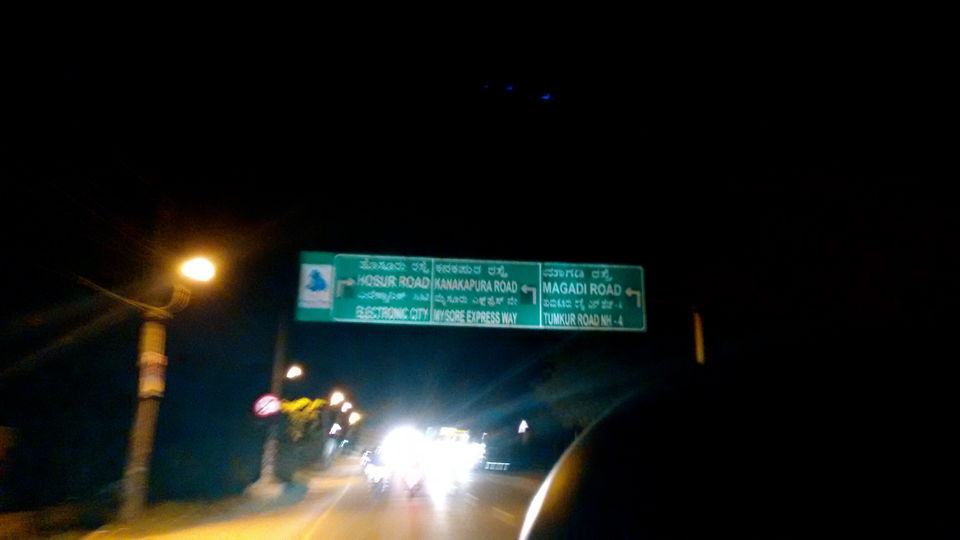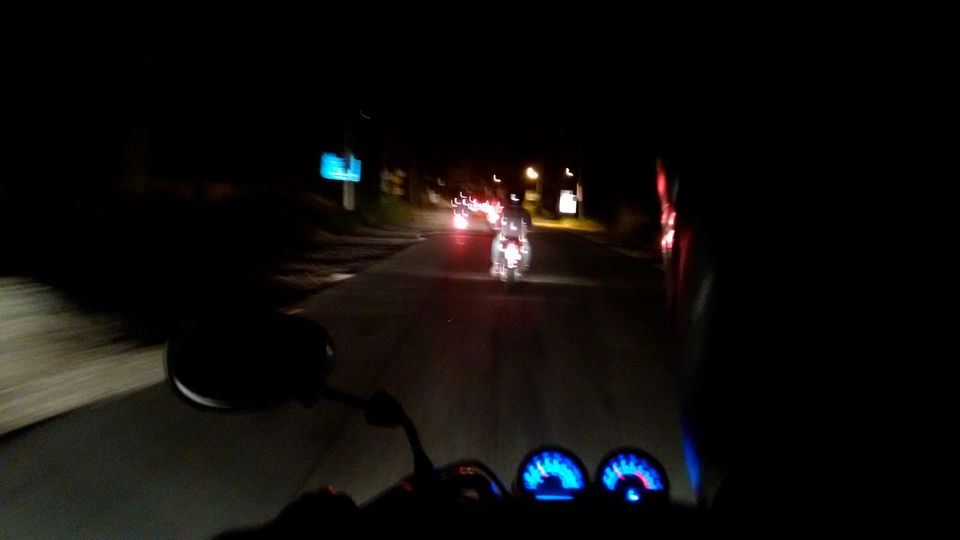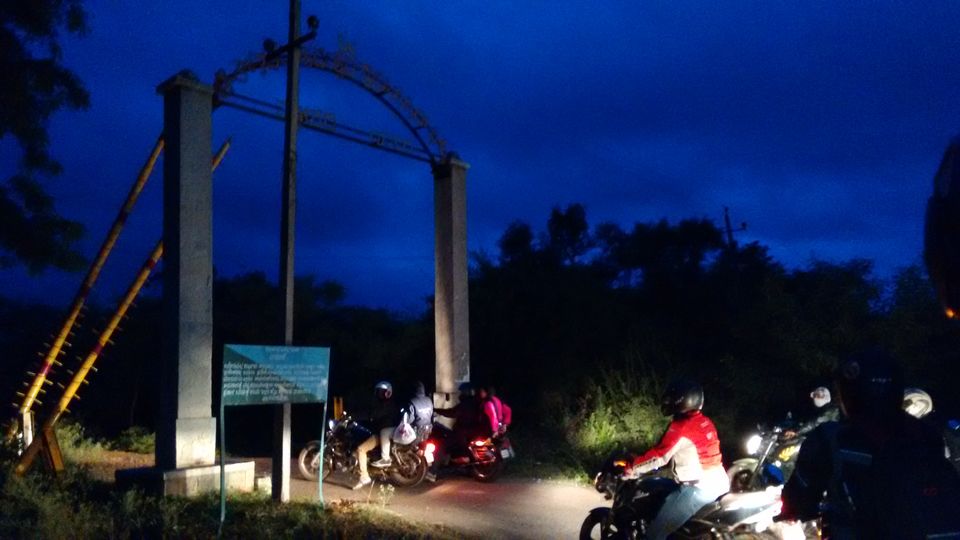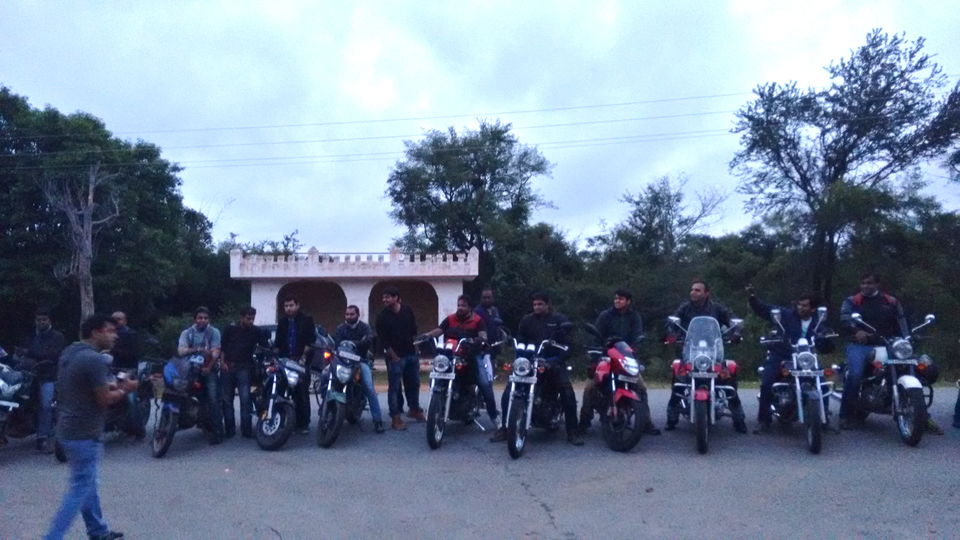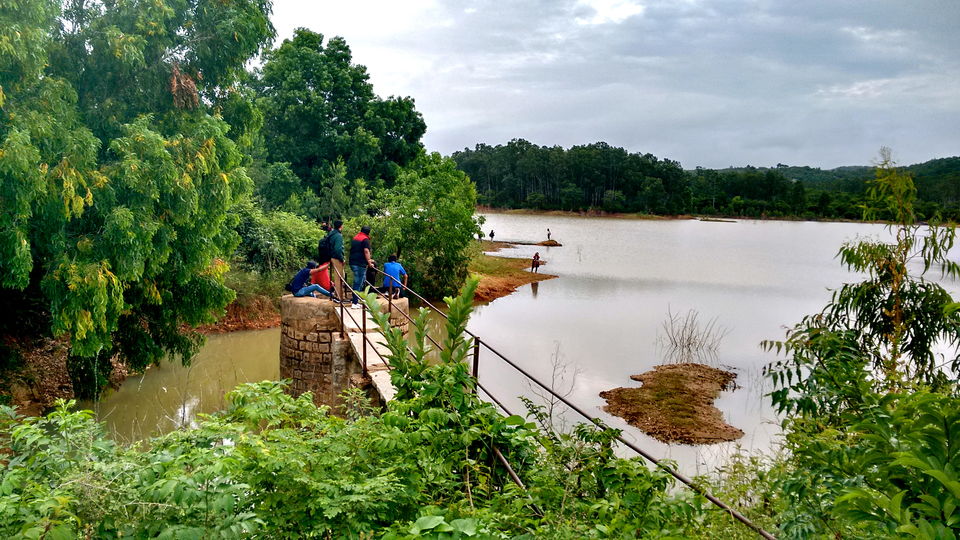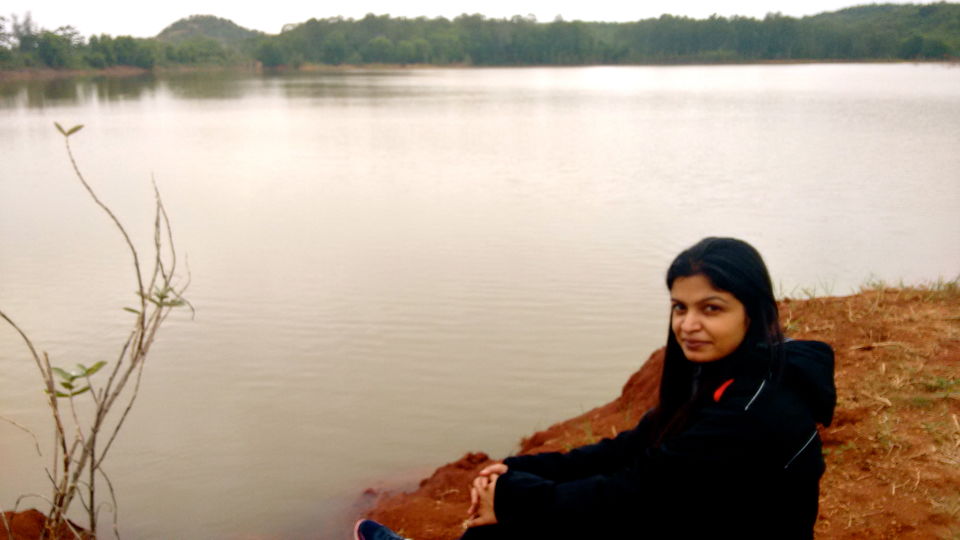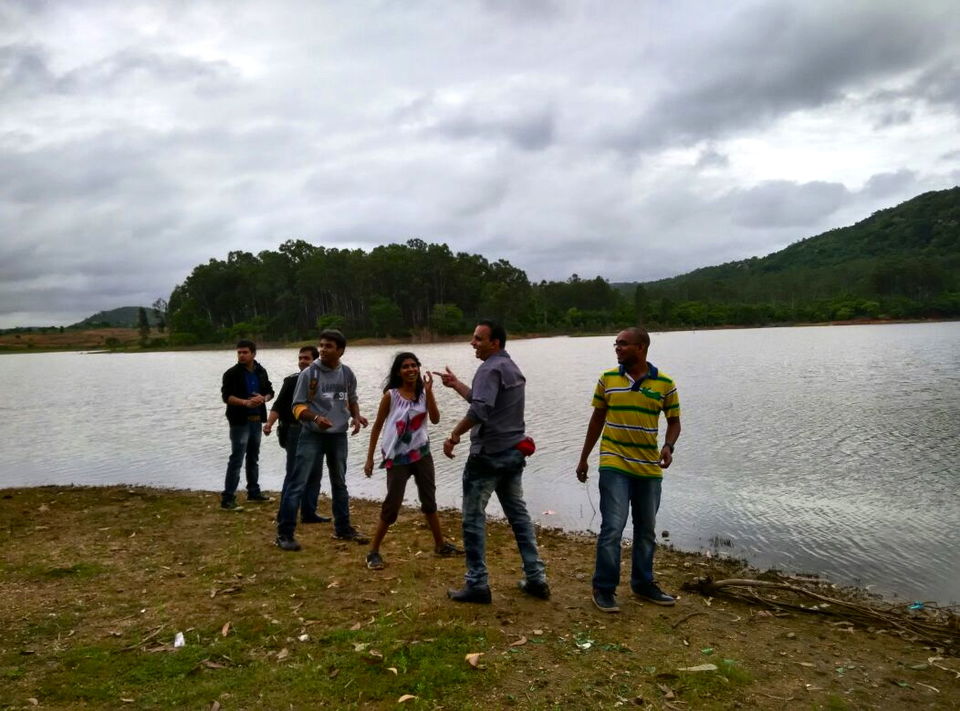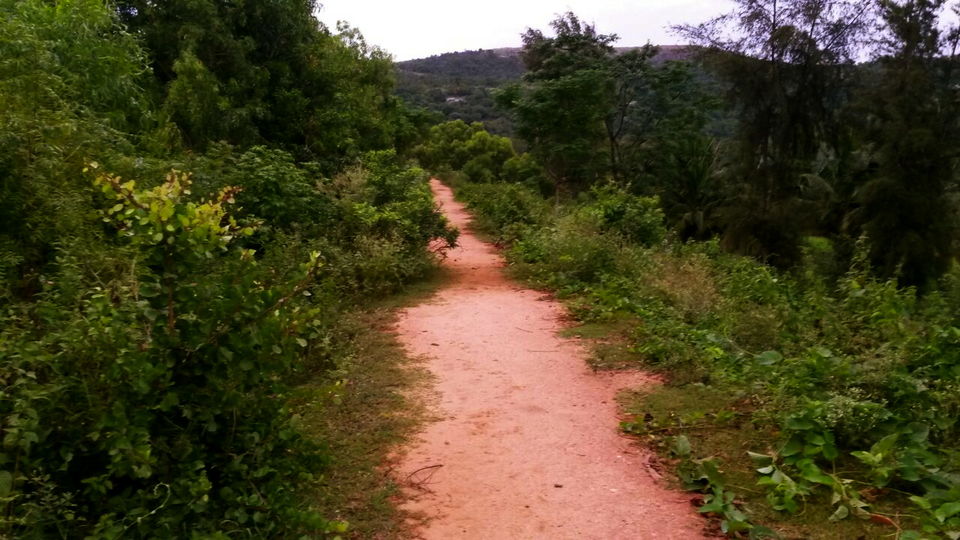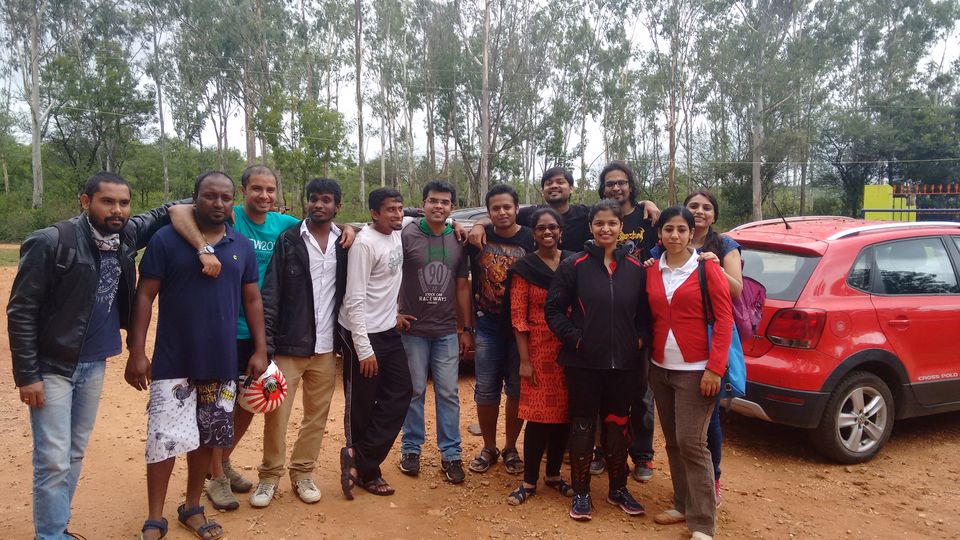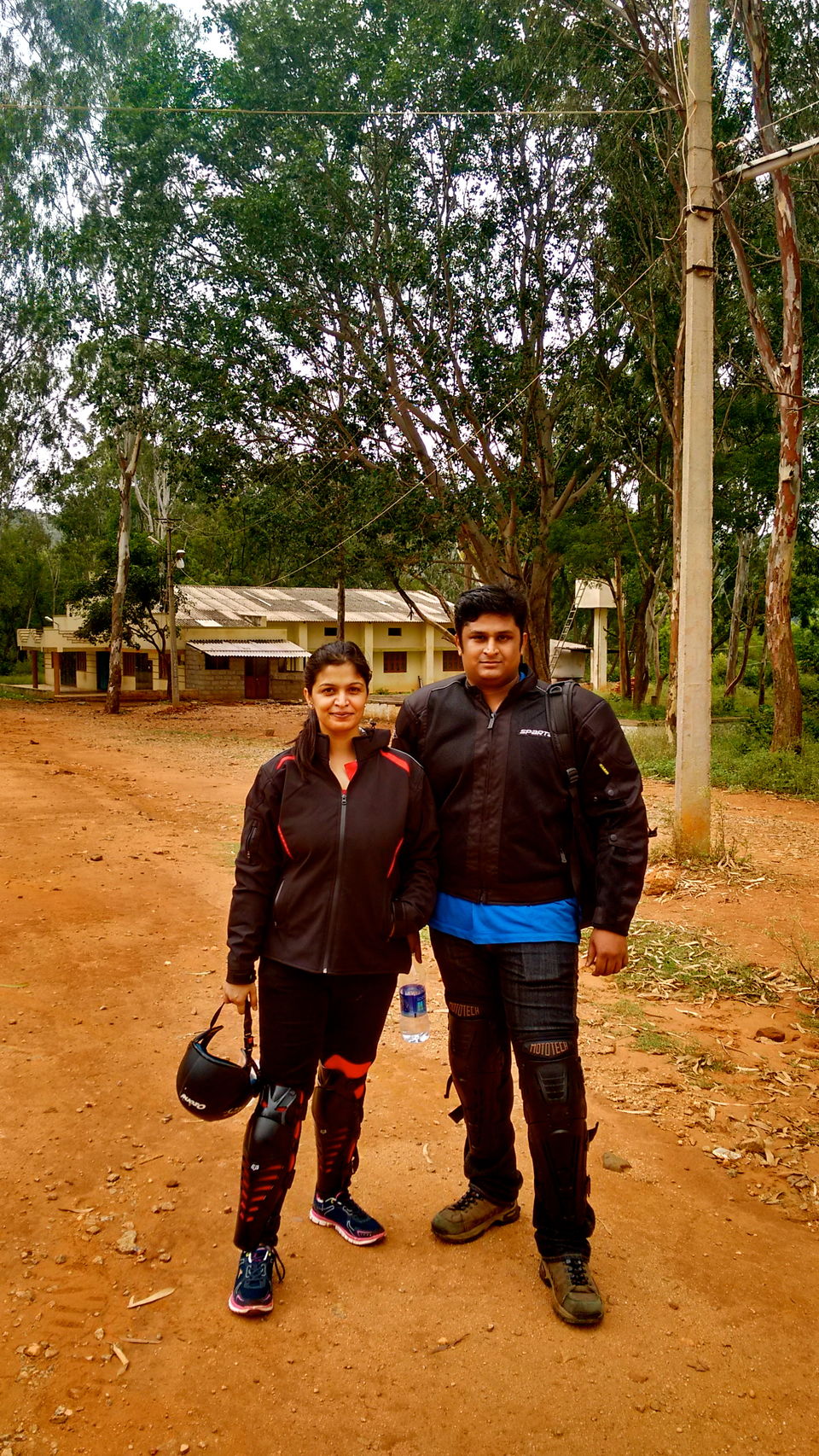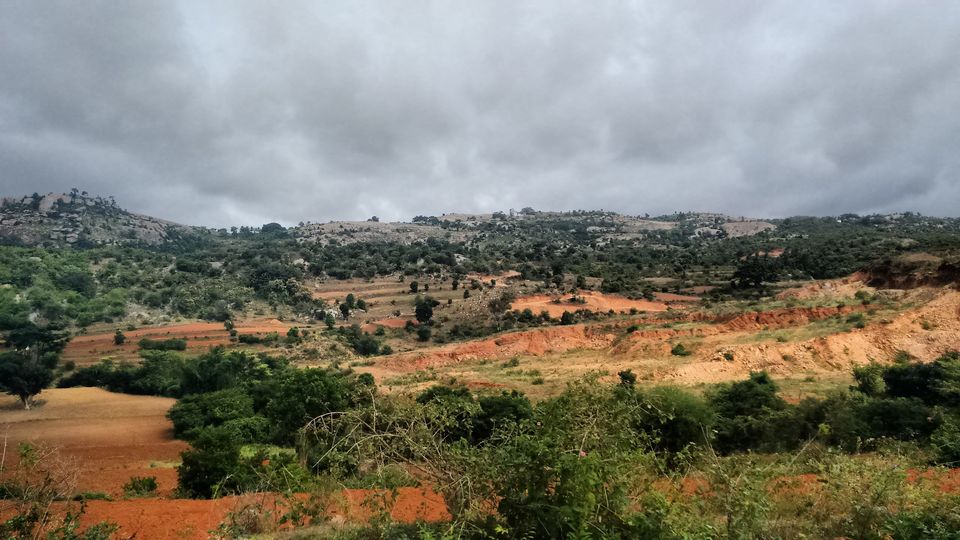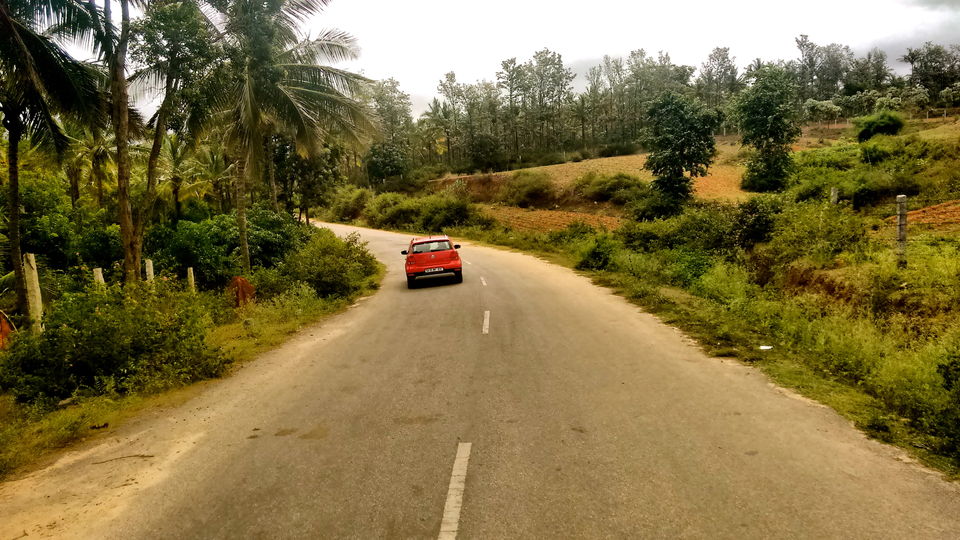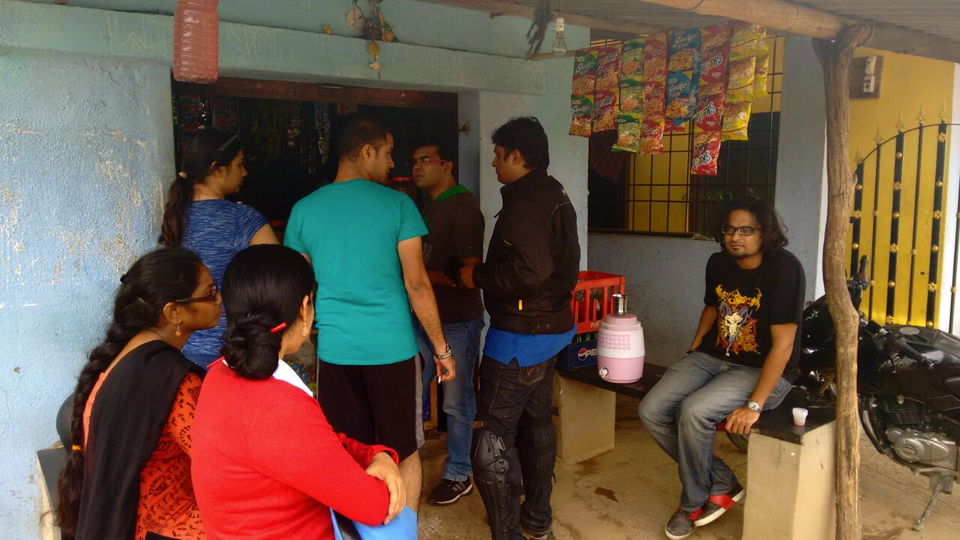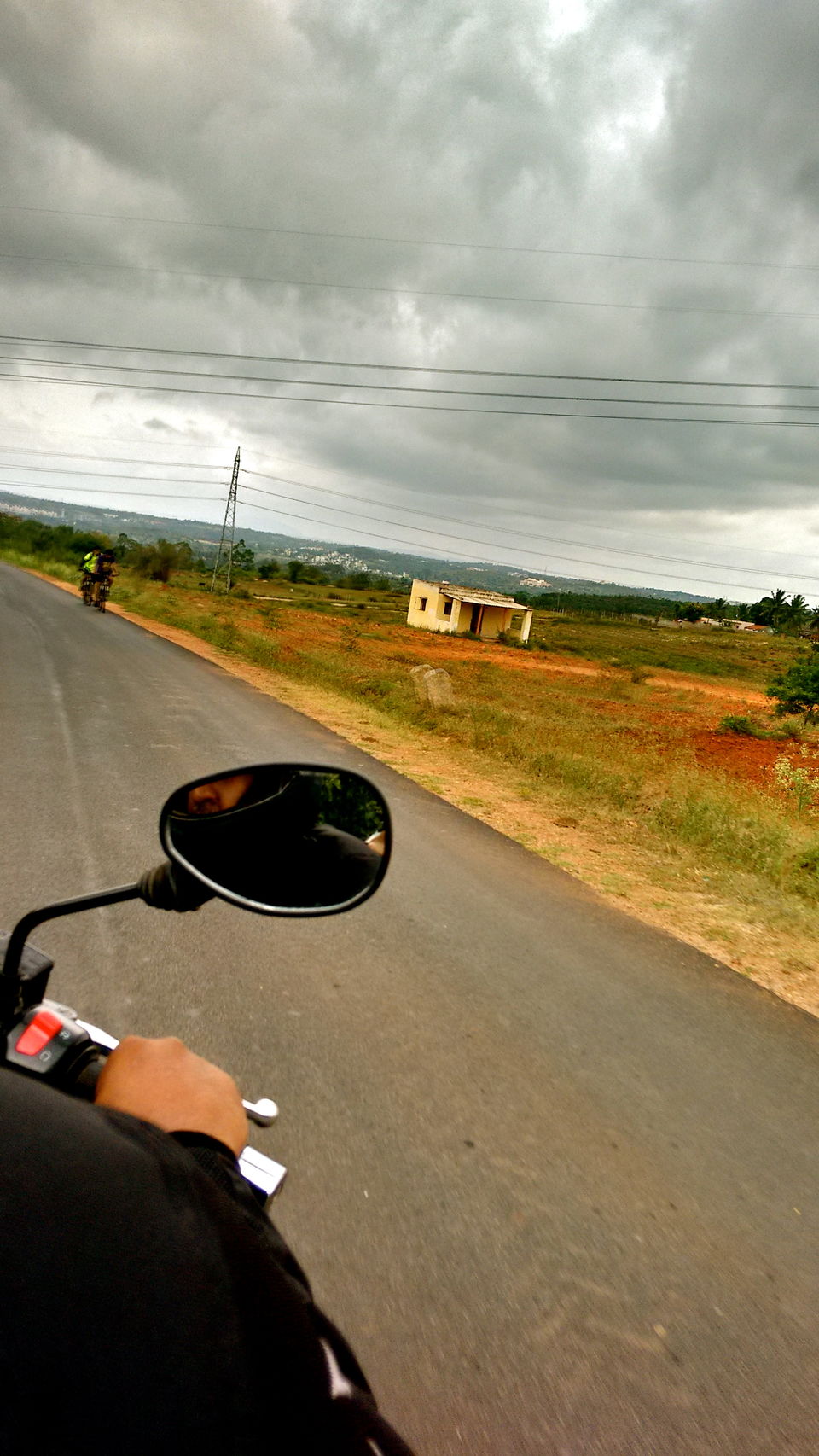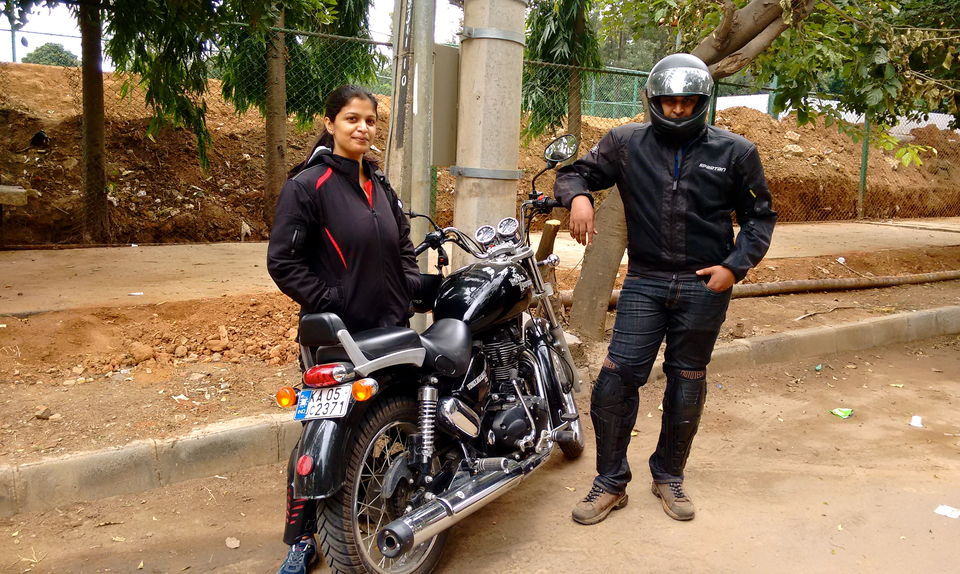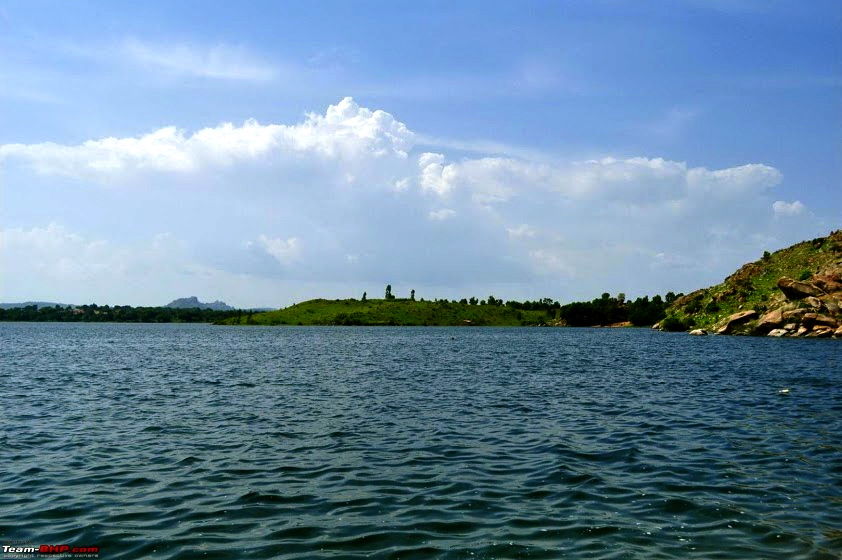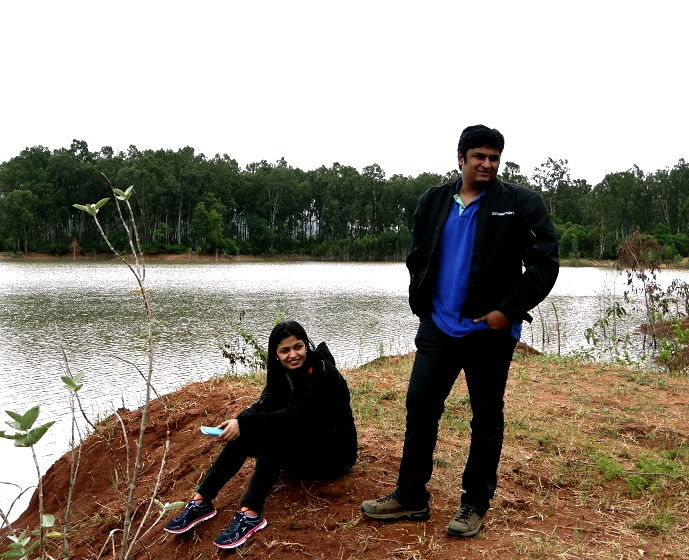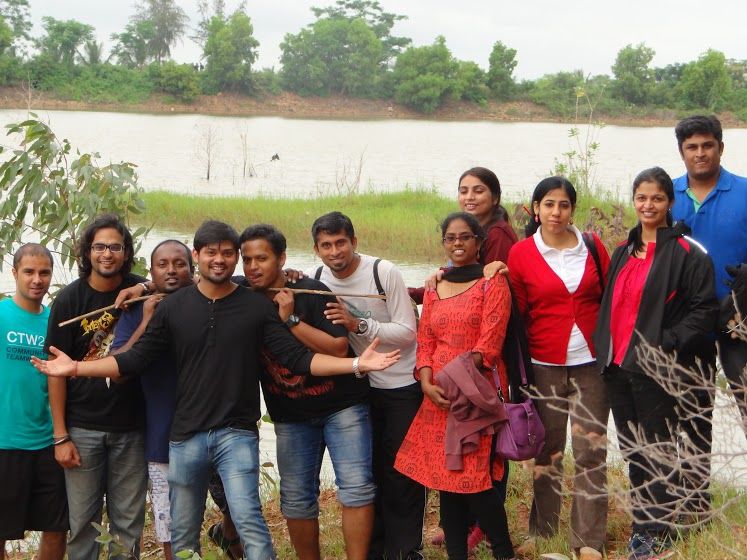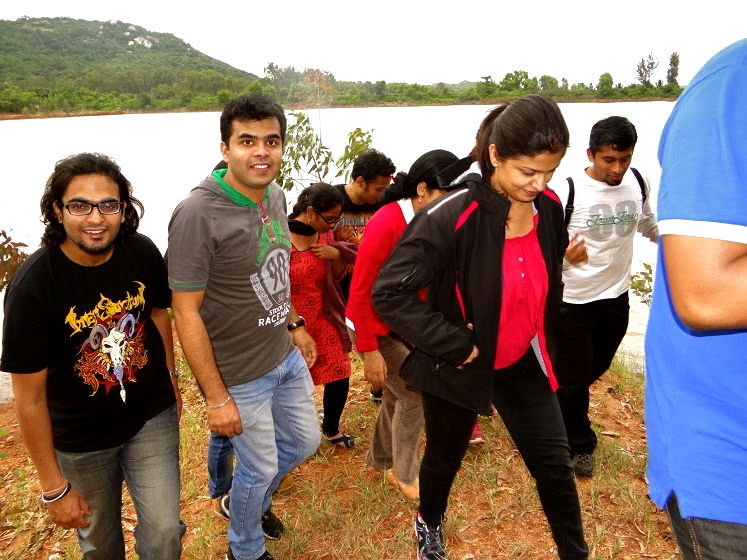 It was a lazy, rainy saturday evening. Cup of tea and casual browsing on net, we came across this interesting 'Trip to Thattekere Lake' on a social networking site. We digged more about it and learnt its for the next morning. Group travel with riders, and a trip as early as 3:30 am…well we were for it and we immediately had a chat with the organizer of the trip. Coordination done, we were all set for this new, not- so- thought before expedition. 
Excitement was just the same as any other trip. Only thing that was different was the fact that this time we were more prepared with our biking gears all set, and minimal risk on our itinerary. 3:30 am sharp, we were out of our home, and we had a fellow rider couple waiting for us nearby. Exchanged quick hellos and we proceeded for the meeting point which was JP Nagar, where rest of the travelers were assembling too. Unlike any other time in Bangalore, from Indiranagar to JP nagar, it took us hardly 15 minutes and we were there. Some strange faces, sleepy hi's and quick chit chat. We were excited that we were a total of almost 38 of us. We all started from our meeting point by 4.30am.
Route : Kanakpura road - Harohali - Thattekere village - Thattekere lake 
From bangalore : 60kms (one way)
The truth is that we didn't understand the route at all in morning. Some rough roads, narrow lanes, a little uphill climb. All we did was followed our co-passengers. We had to ask few people on the way, advantage of being in a group :)
Well... we are a couple who have had many rides alone, just on our own, stopping whenever and wherever. But must say... that unlike my usual perception, group travel was actually as exciting as solo ones. We all followed each other, kept everyone in loop, actually waited for anyone who missed the turn…and also saw people making peace with each other on the way. I remember us following one car which has 'HR' registration and we had this another biker group shouting "Haryana!ye toh apna hi bhai hai" :). 
By 5:40am we reached Thattekere lake. Telling the truth, in the wee hours of dawn, its for the first time I was catching the glimpse of their faces. The lovely cold breeze just embraced us and we began to talk to each other. Yes, we did shook hands before starting the trip at the assembling point, but I was too sleepy to remember any. The formal intros, some shy smiles, a quick photo session and we started for the lake. We parked our vehicles near a small temple, right at the beginning of the lake. From there we started walking towards the lake. Early morning is the best time to visit that lake. So serene, with little birds chirping around…It was a sight in itself. We moved little more inside, only to find few guys already posing on a big rock, right in the middle of the lake. It made a good photo booth for many. 
The lake looked clean, with surprisingly not too much mess round. From distance we could see that a small part of the gang has already explored other adventurous spot. It was a rock bridge, a small one, but a nice point for friends hang out. A quick photo session happened there too. The other side of the bridge was looking equally exciting. Amongst all trees and bushes, there was a long path, which no on knew where it leads too. We all started walking towards it.Few of the members were already known to each other. Others were getting to know each other..and suddenly a wave of excitement filled the air. The reason was that suddenly strangers became buddies the moment they realized they belong to northern belt and more specific, Punjab. I too shared their happiness. 
Giggling, introducing, clicking and taking selflies, we moved on and started walking. Everyone started walking towards all different stretches. Since we got introduced to few guys and had a good chat, we decided to stick to them. We all decided to go little more inside the jungle, thinking it might lead us to the starting point where we parked us vehicles. Everyone of us felt like columbus and wanted to discover a new route to the point from where we started. Merrily we all walked, only to find that the path lead to electric fences. Might be to avoid animals coming in that area. Big elephant footprints seen everywhere had a new tale for us. Some even guessed that the elephant might have slipped. Quiet funny to visualize though :P
We were left with such two options. Either to walk back the same path or swim across the water :P. Obviously, the latter one is unrealistic. Not having much choice, we started walking back. A nice long walk, cloudy weather, little rough trek and serenity of lake..it was all beautiful. We didn't get to see much birds as expected. From distance we could see that the other gang members have already made it to the starting point.
All were happy to get lost in woods, as it was nothing but fun. Ragged each other, made fun, laughed, found some chai lovers and lo..we all belonged to each other. With hunger and thirst, we reached back at the starting point where rest of the riders were waiting for us. Though I won't advise these long walk inside the woods as we could see some boards warning us of elephants around. We noticed it only after coming back. I think its a fun place for families to come and spend their mornings here. Just pack your breakfast and surrender yourself to the beauty of this place. 
Few more members joined our gang… a group of monkeys. Another few clicks, and we saw all of them heading to different destinations. But we chose to stick to the gang with whom we got lost, and rather found new friends in them. I loved them all, mostly because they understood my insane love for chai and they were so welcoming. At little distance, we had some small tea shops and one small idli shop, where we all hogged like crazy. Thanks to our gang member Kumar, who organized the breakfast and went out of his way to serve everyone. Since they had some more plans, we decided to return back home and were contended with the fact that this trip was worth all.
Its only while returning back, did we come to know the beauty of the place. Lush green trees, forests, smiling villagers…this was the bright Thattekere village. Instead of going through the usual place, we explored the route via Bannerghata, which leads to Kanakpura road. Safari boards, Leopard and Tiger warning boards were all around…but quite a safe terrain to travel otherwise. After exploring through roads and asking people, we did reach the main road after good 1.5 hours. And then we headed back to home.
Though I would rate the place as 6.5/10, a must mention about the fact that it was one of the best trips we ever had. Thanks to the organizers Prasad and Prashanth. Not to be missed, 'Kodai Trippers' as they call themselves..looking forward for more trips with you all. 
A half day trip, just 60kms from Bangalore which is completely worth it. If you want to get the feel of Bandipur forest, then go for it!