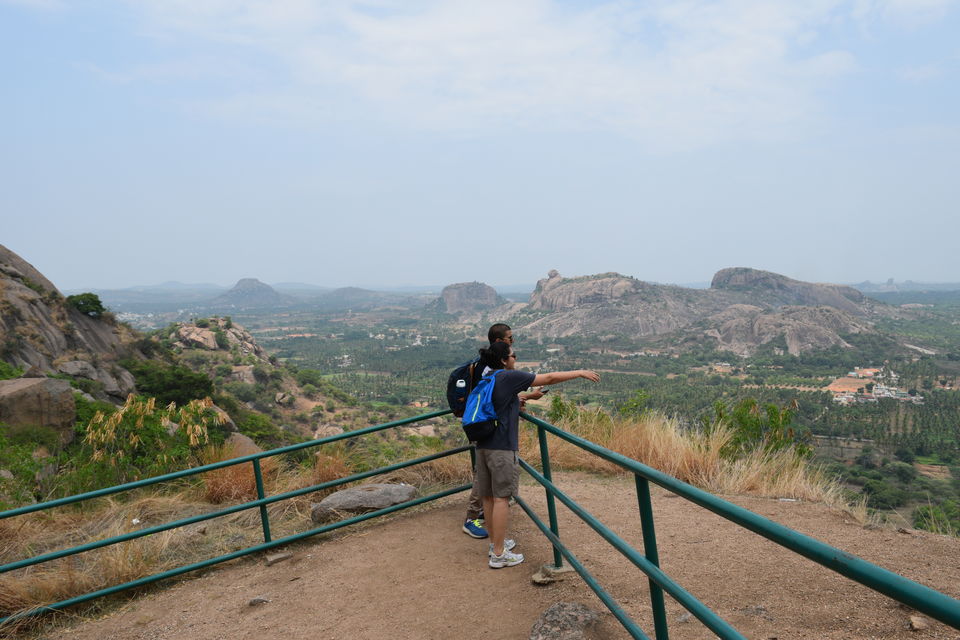 Ramdevara (also known as Ramanagara) is famous as the place where a major chunk of the famous hindi movie Sholay was shot. Due to its terrain, it is also known for its trekking opportunities. It is just 50 km from Indiranagar, Bengaluru. Visiting the place from Bengaluru is a half day activity if you intend to go by car/bike and no trekking is involved. We decided to try this place out as one of the single day travel opportunities from Bengaluru.
We started around 7 AM in the morning to reach there by 9 AM. If you want to have breakfast on the way, do try Kamath Restaurant which is on the highway and near the destination. It is a really nice traditional South Indian restaurant sprawled over a large area with open air seating, good ventilation and an authentic traditional ambience. The food was reasonably priced, hygienic and well prepared. We chose to treat ourselves to some traditional South Indian Idli, Dosa and sweets. The place also had a shop where one could buy various kinds of wooden artefacts and memorabilia. In fact it is strongly recommended to have your breakfast there only as there are no decent restaurants after that.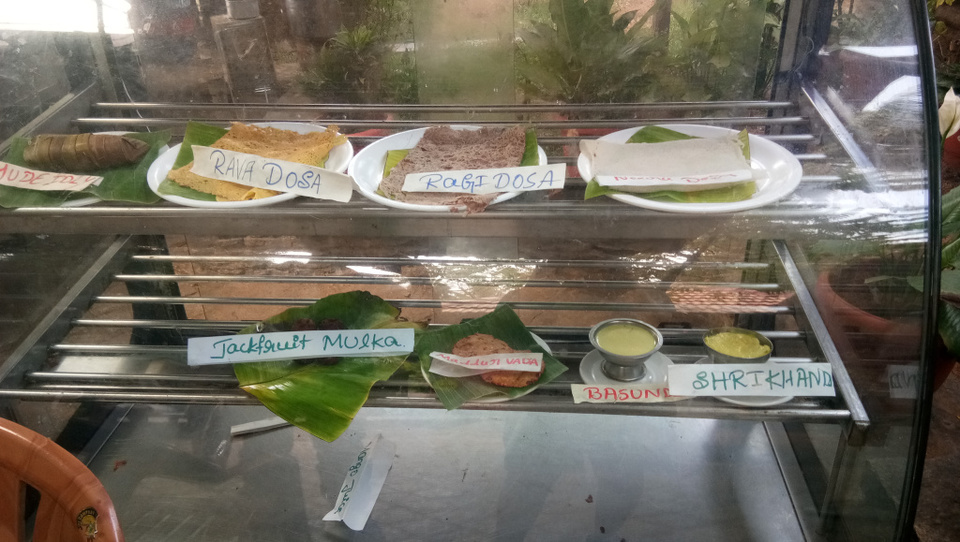 Kamath Restaurant
As you leave the highway and enter the village, you will pass through a gate having a large statue of lord Hanuman on it. Thereafter there is a 5 -10 min drive to the hill. There is another gate short of the hill that opens after 9 AM only and had an entry fee of Rs 25. From that gate we drove for another 1 km and parked our car. There is ample parking space for vehicles. So there is nothing to worry as far as these things (drive, parking, road, food etc) are concerned.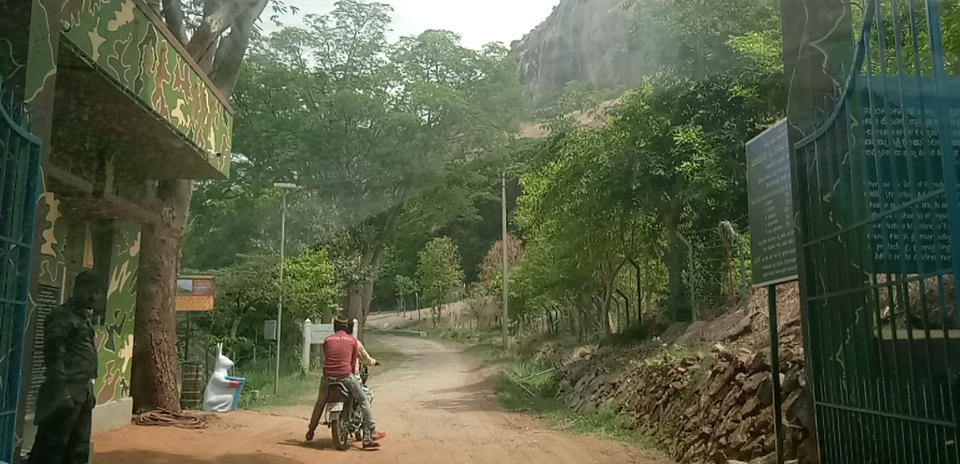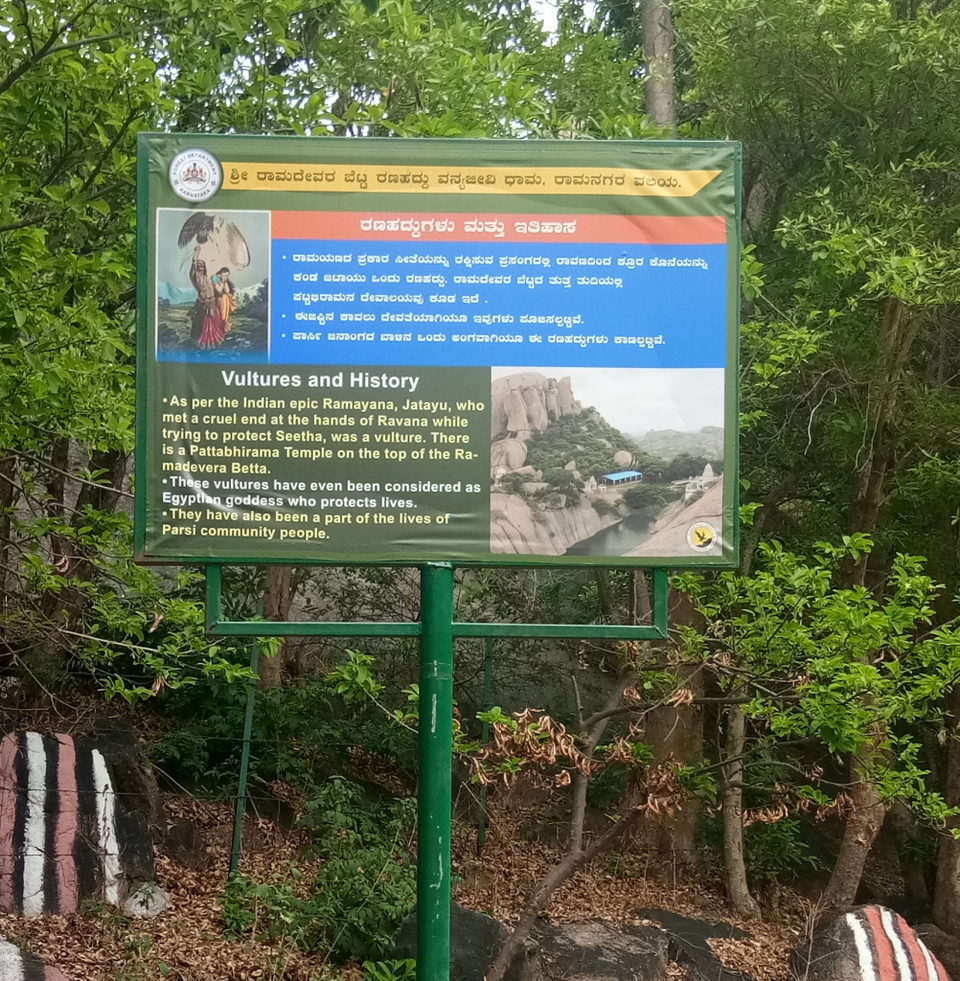 Entry gate
Now you have to start walking and climbing stairs. There are approximately 400 stairs to reach the temple. Do not feed the monkeys there as they can be dangerous. There is pond by the side of the temple. If you want to trek more, there is path behind the temple that goes upto the very top of the hill. From there you can take good pictures and enjoy the great view. Although the climb to the top consists of small steps carved into the stony hill itself, and even though you are supported by handrails on both sides, this seems a little precarious, so exercise your judgement here. (Pro tip: Be very careful of bees and wasps on the trees and the handrails). If you do manage to get to the top, it is a reward in itself.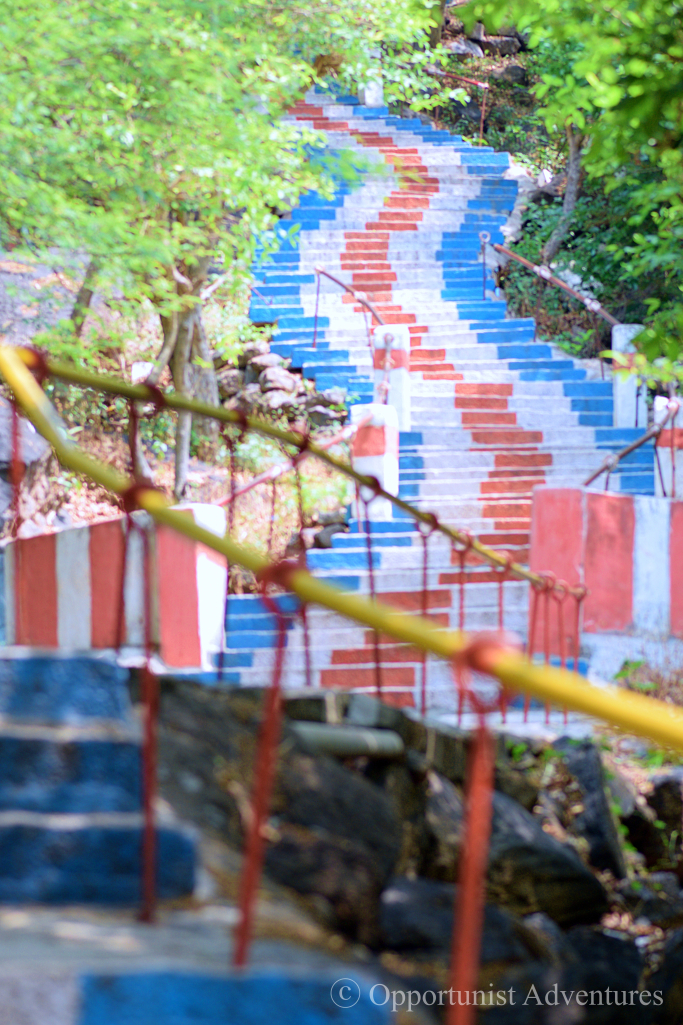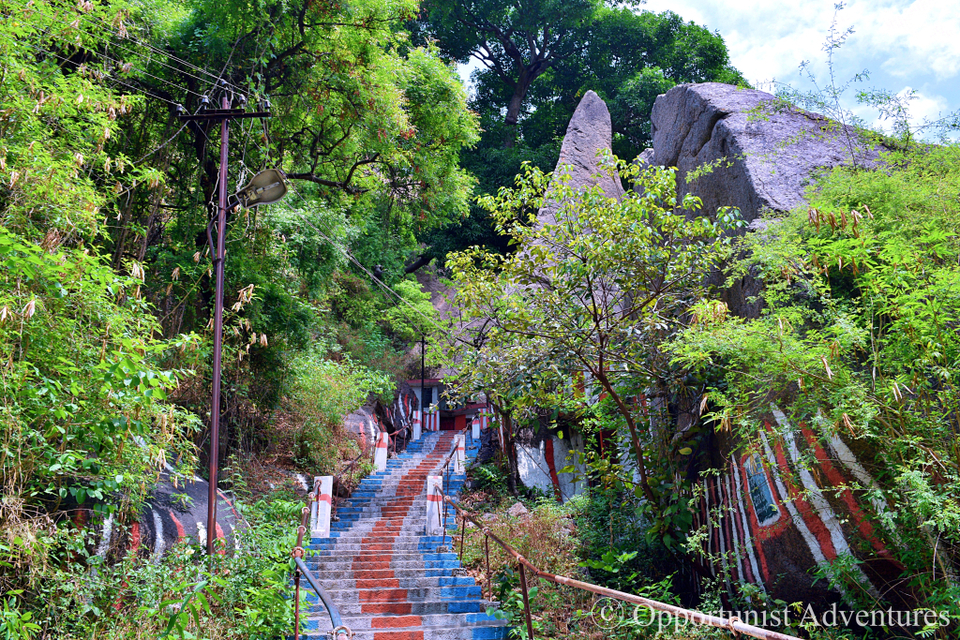 On the way to the temple
It took us about two hours to explore the hills after parking our car. And even though the place was designated as a vulture sanctuary. We found the Ramdevara hills to be a different kind of experience. It is not a prime tourist destination. Not your typical travel destination but rather a peaceful one day road trip from Bengaluru with an enjoyable drive and some nice views and photo opportunities for those who are so inclined. Overall a nice experience.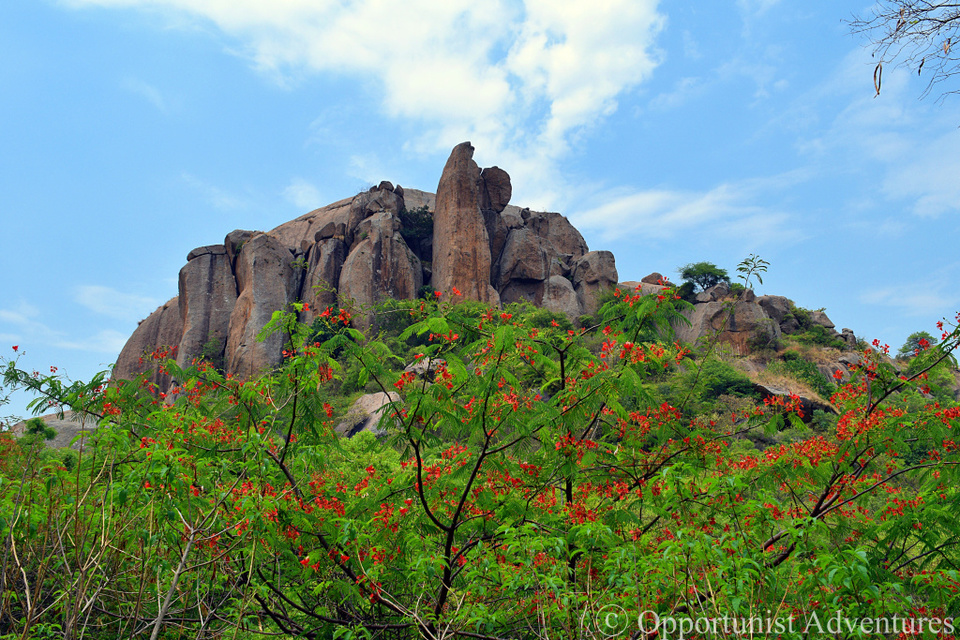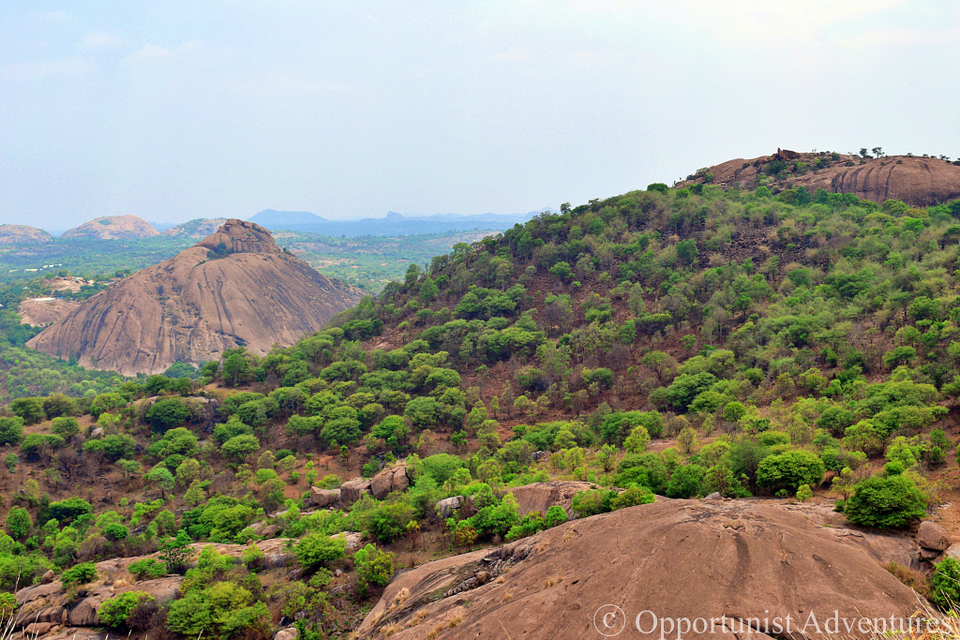 Some more tips to be kept in mind to make the most of your trip. Firstly, avoid going on hot and sunny days. Keep water bottles with you to keep yourself hydrated. Keep change for entry fee and parking fee. We did not see any toilet facility at the location. Just take care of these points and you should be able to enjoy your trip. Have fun!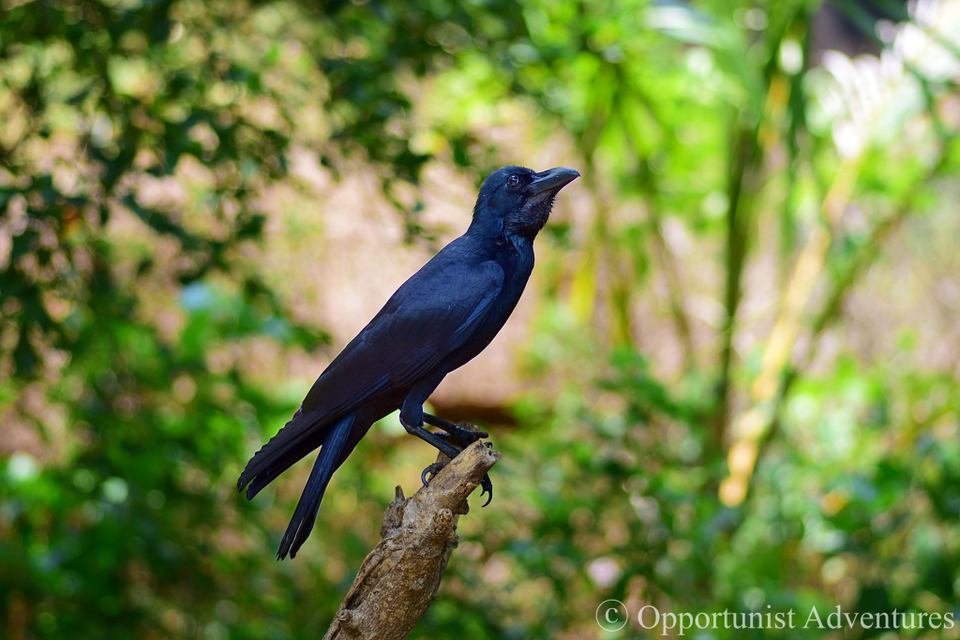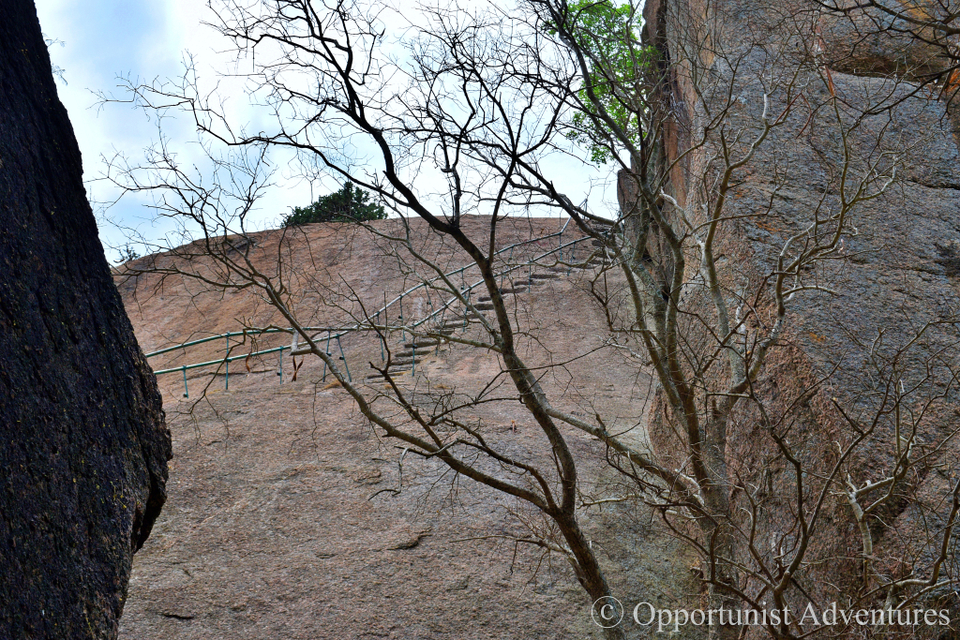 Staircase to the hill top