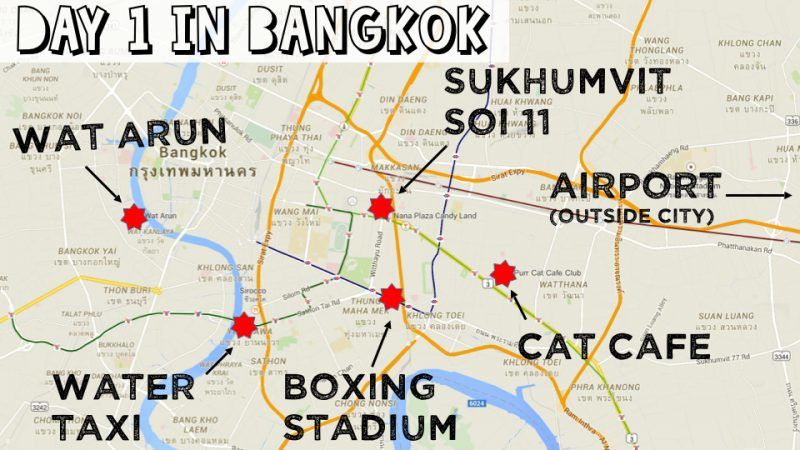 Bangkok as beautiful as it can be, it can be just as overwhelming. For a first-time trip to Bangkok, I would recommend taking an organized tour to get your feet wet in Bangkok, especially if this is your first holiday in Thailand. One, in particular, I would suggest is the Bangkok by night Tuk Tuk Tour from Viator. On our last trip to Bangkok, we cruised around the city in the back of a Tuk Tuk with a guide and tried some incredible food and saw some of the city's best sights. This tour also keeps you moving until 11 pm which should help you transition into the Thailand time zone.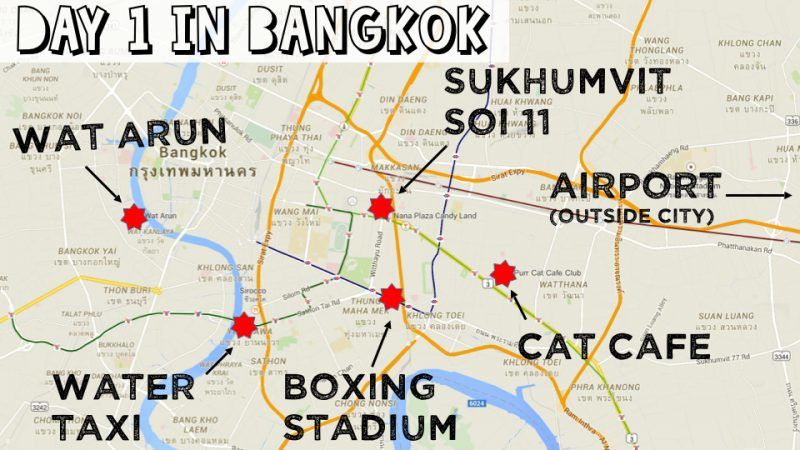 Rather do it independently? We've got you covered too. You may need some caffeine to get you going after your long flight, what better place to get your fix than one of Bangkok's Cat Cafes. This unique experience lets you enjoy a latte while surrounded by fluffy cats. We would like to call this a soft introduction to Thailand. Most Cat cafes require you to leave your shoes at the door and we provided footwear inside, as well as wash your hands to keep the cats healthy. Prices are higher than standard cafes at 60-100 baht for a drink. Deserts available also.
- Caturday Cat Cafe – located: 115 Phayathai Rd
- Nearest BTS Ratchathewi – On the Sukhumvit Line, just a 9-minute walk from Siam Discovery mall
- Open Tuesday-Sunday 12pm-9pm
Muay Thai Fight – If after your coffee you are still fighting your jet-lag, put up a fight and check out a Muay Thai fight. The action of a traditional Muay Thai fight will be sure to help you kick through your first day in Bangkok. The most famous place to see a fight is the Lumpinee Boxing Stadium. Located outside of town.
- Fight Schedule: Tuesdays and Fridays from 18.30 – 23.00, Saturday afternoons 16.30 – 20.00, Saturday nights from 20.30 – 24.00
- Tickets: 500 – 2,00 Baht – Note locals pay a different price than visitors, and prices vary if they are sold by a tour company.
- Tel: (02) 252-8765, 251-4303, 253-7702, 253-7940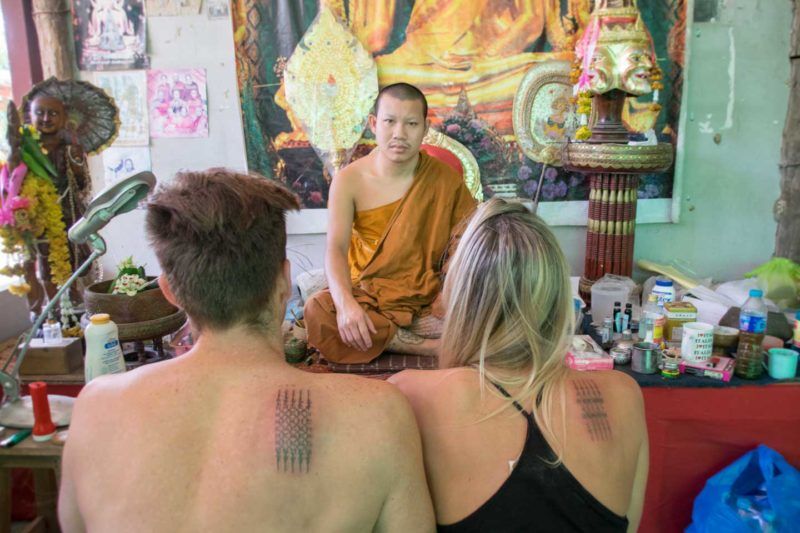 Get A Tattoo – Get a souvenir that will last a lifetime. On our last visit to Thailand, we each got a Sak Yant tattoo, which is a magical tattoo done by a monk in a temple. Sak Yant tattoos are believed to have magical powers and blessed by the monk. Naturally, i got tattoos to protect from traveling.
Not a fighter? Another one of my cheap and favorite things to do in Bangkok is to watch the sunset over the river. The best spot is midway up the river where you can see the sun sink behind Wat Arun on the opposite bank of the river.
You can take a private river cruise at sunset and watch the sky change colors from the long tail boat, or you can get the same experience for 15 Baht on the public water taxi if you are on a budget, it can get crowded but it's still a fun ride. Plan your ride for about 20-30 minutes before the actual sunset because that is when the sky will be the most colorful and you can watch it go down from the boat. Directions: Take the BTS to Saphan Taksin Stop on the Silom Line, Use exit 2 toward the water ferry.
Stay out, but stay close to home. If you are staying in the Sukhumvit area of town you are staying in the middle of a great area of town and there is no need to go far from the hotel to find some amazing food and nightlife. If you are staying outside this area, it's a quick BTS ride from most places in the city. Some of the best places are on and around Soi 11 and Sukhumvit. Have a drink at one of Bangkok's most famous dive bars Cheap Charlie's. There are also a few good restaurants located on the same street as Charlie's. – Take the BTS to Nana (Sukhumvit line).