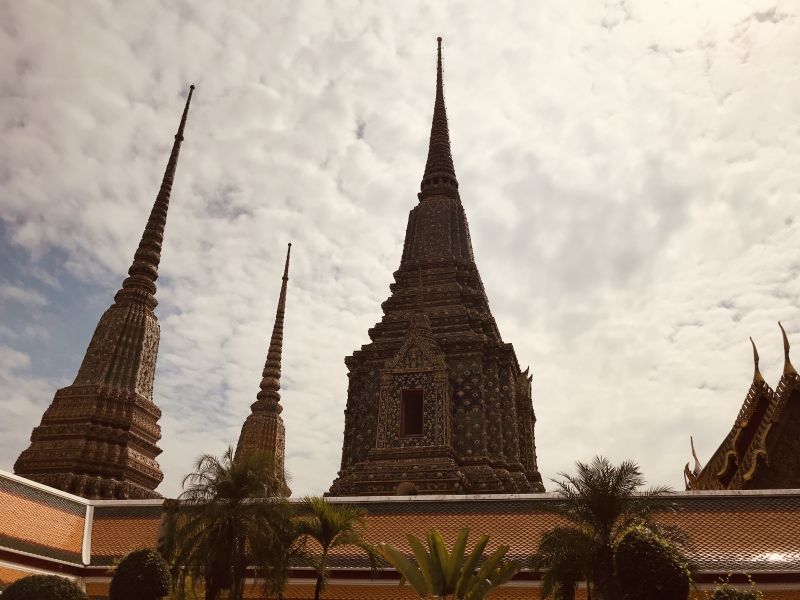 DAY 1:
It was December and indeed the season to be jolly – what better way than to take a vacation with friends and family. That's exactly what we did. Thailand, while most people think it to be a place for a group of girls or guys to hangout and chill, welcomed us as a family (2 couples who are friends). Though we were hesitant initially, we decided to give it a shot. So, there we were at the airport waiting to take off and start our journey at this destination that they call 'Paradise'. It was a late evening flight from Hyderabad, so we knew we had to have dinner after we land. To balance scales with Indian food, we had an extremely heavy lunch ???? (typical us! – who knows what vegetarian stuff we'll find at night!).
We landed at Suvarnabhumi International Airport, Bangkok, and luckily for us, the visa was on arrival and FREE (limited duration offer I believe). I was adviced by some of my colleagues earlier that there would be 2 queues at the visa counter – one for regular and one for fast track – and sometimes, by mistake you might walk to the shorter one only to realise that you have to pay. And the best part is, no one will actually ask or warn you prior to reaching the cash counter. Since I had that knowledge, I was cautious to go to the normal line, and that took us almost an hour! They checked our documents and photographs (please check on the Thai website for visa document specifications, otherwise you'd have to pay there to take pictures) and led us toward the passport collection counter which took us another 10 mins. It was after this that the immigration happens and the ratio of counters to people was so distant, that it took us a good 2 hours here. While in the queue we met a fellow Hyderabadi who also happened to be going to the same area that we were, and offered to help us get a bus to reach there. Like I always say – the best part about trips is making acquaintances and possibly friends. We made a quick stopover at the 7-11 store inside, bought some butter and cheese sandwiches headed over to the Money Exchanger and walked to the exit to catch a bus. Since it was almost 12 midnight, buses had stopped plying, and we had to take a cab. So, there we were all 5 of us, in the most-happening city in Asia at 12, awaiting a great week of exploration and excitement.

We were staying near Khao San Road, one of the most popular localities in Bangkok, very well known for its nightlife. We got off and walked to our hotel, The Orchid House 153 (available on agoda.com for a good price), and our friend headed towards his place of stay after bidding us goodbye. The hotel was small, compact and yet simple and elegant – served our purpose. We had dinner and took it easy that night.
DAY 2: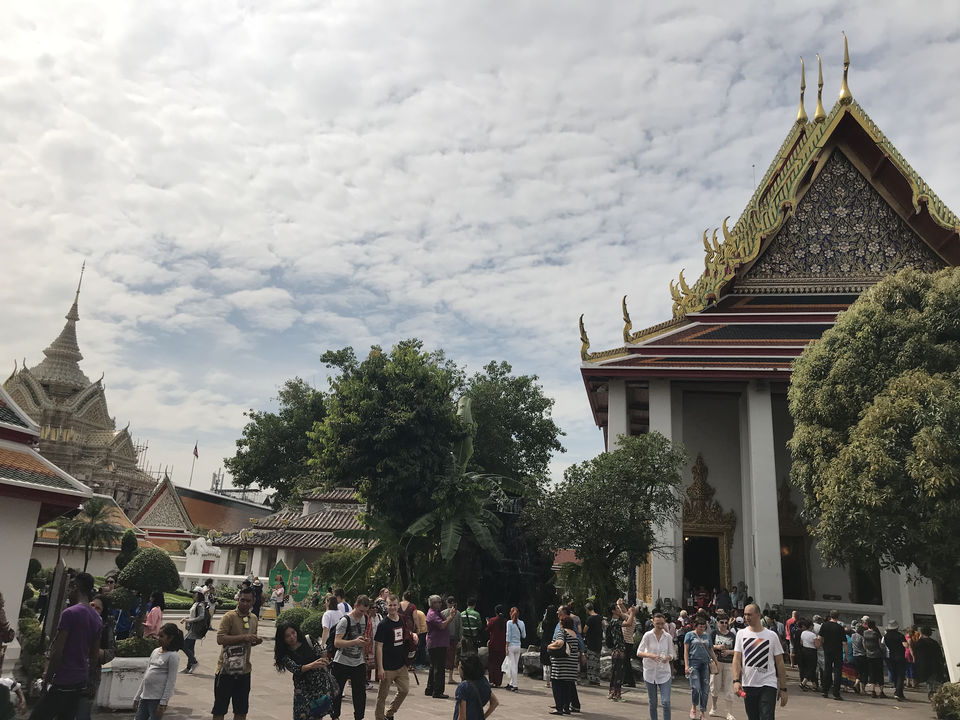 The next morning, we had breakfast at the hotel (they served us vegetarian on request), and headed to the Phra Arthit pier to take a ferry to the Grand Palace. The ticket for one way was 50 Baht. After a 10-min walk from the pier, we reached The Grand Palace, bought the entrance ticket at 500 Baht/person and stepped in. While it was huge and demanded a lot of steps from us, it was indeed an architectural marvel. As you enter, if you walk to your left, you will find some guide booklets in different languages. Don't forget to pick one in case you choose against the audio guide. This will help you understand the significance of different parts and aspects of the palace. The world-famous Wat Phra Khew (commonly known as the Temple of the Emerald Buddha) is also within the palace premises and attracts tourists from all over. The designs and sculptures were so intricate and beautiful that we were in awe.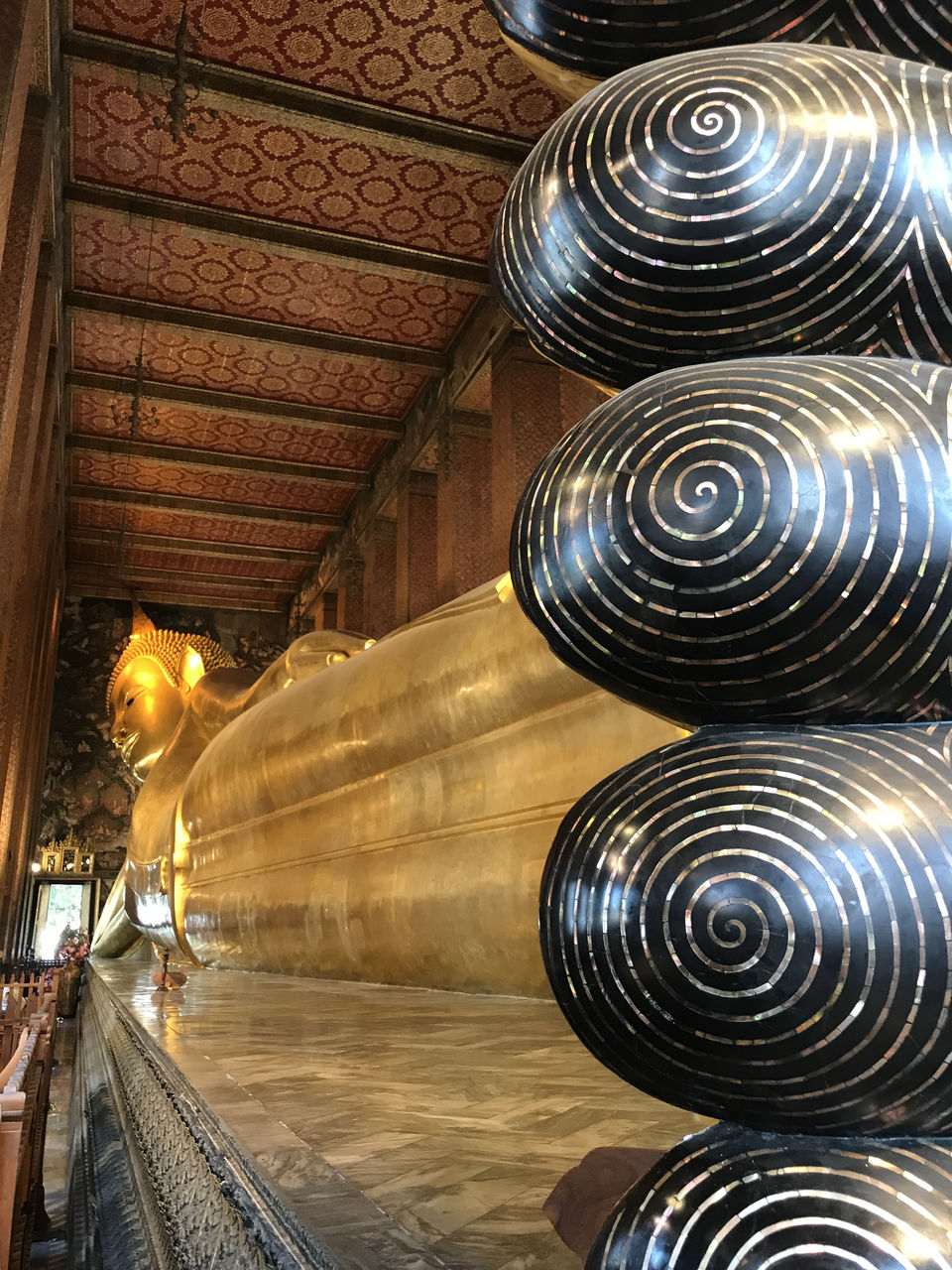 After spending about an hour and a half there, we decided to take a 2 km walk to Wat Pho (The Temple of the Reclining Buddha). Google Maps became our best buddy during this trip as we managed to cover a lot of places just walking. The entry fee was 100 B per head, and the ticket also entitled one for a free water bottle. When we entered, we were in fact both surprised and shocked to see the size of the Buddha – huge would be an understatement. We almost couldn't believe our eyes when we saw something as magnificent and remarkable as that.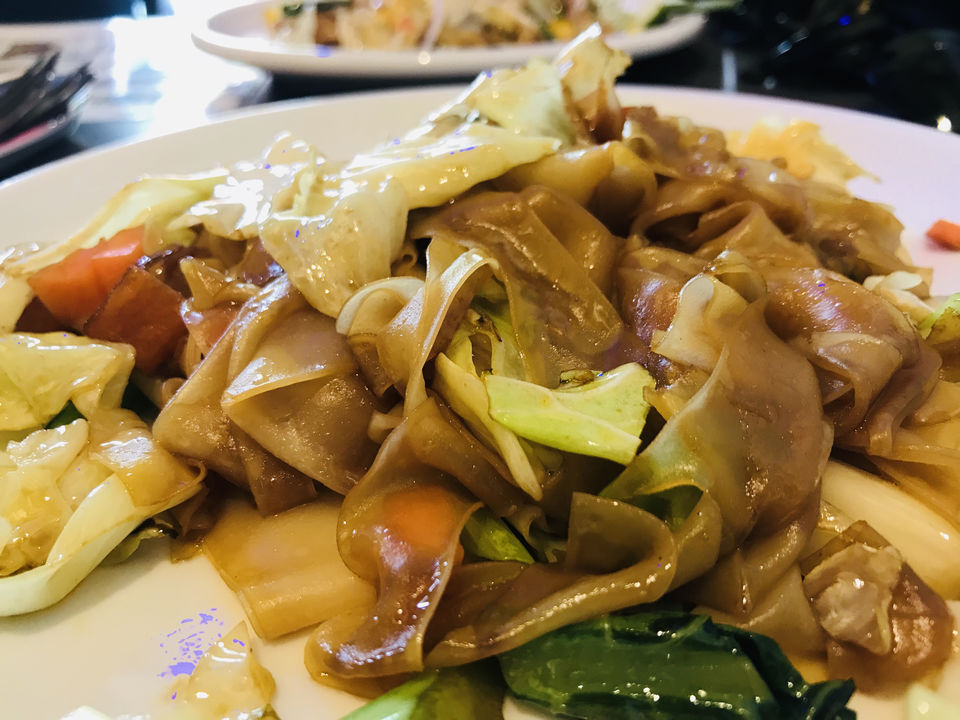 After spending some time clicking pictures with yet another architectural marvel, we headed out to find some place to eat right across the street. Having managed to find vegetarian options, we had an authentic Thai lunch – Pad Thai noodles, Rice and Thai Curry types – and then found some space in our stomach to have the most sought-after Thai Coconut Water (delicious and cold) :).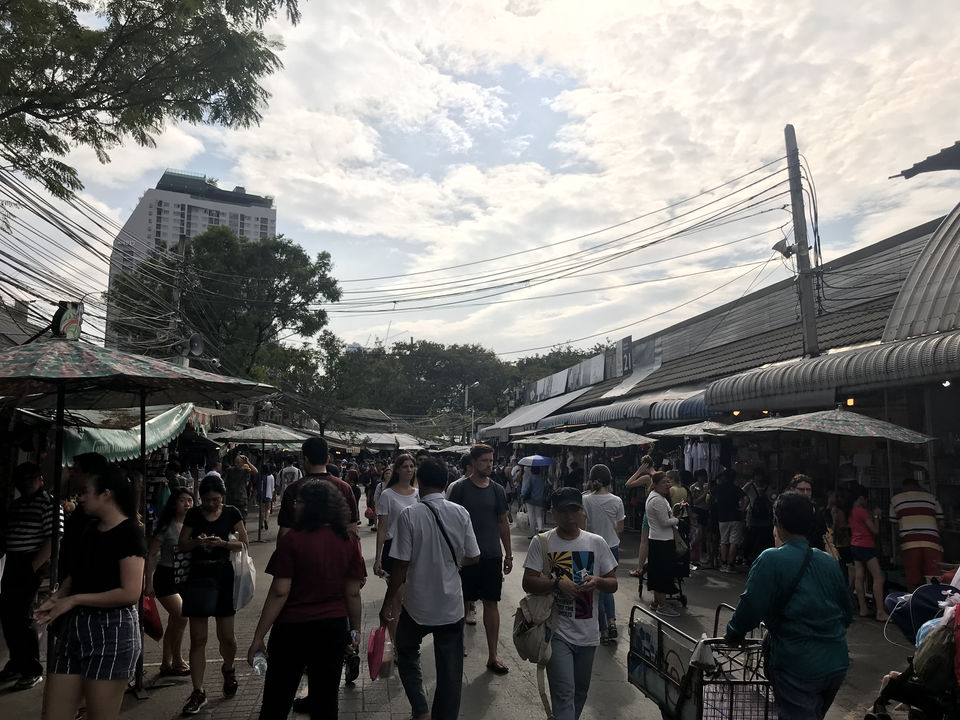 It was a Saturday, and we found out that there was a weekend market at Chatuchak that is very famous, and is open only till about 6 pm. We wanted to take a taxi as it was about a 40-min ride from there. But, we ended up taking a tuk-tuk because taxis demanded 500 B, and we bargained a tuk-tuk down to 150 B. The only catch was that he would take us to a souvenir store on the way, which we thought was ok. So, as planned, we headed to the Chatuchak Market around 3 pm, and spent about 2 hours exploring the place and all it had to offer. From here, we wanted to take a BTS (the local bus) back to the hotel so we walked about a km to the nearest bus station and took #524 which costed about 16 B per person. From the hotel, we left at 10 pm and walked to Soi Rambuttri and Khao San Road. What we saw there was a different world all together – it was almost as though the whole of Bangkok was right there.
So much life, with something in it for everyone, all sorts of food and drinks, and yet sparkly clean – every inch of that place made us fall in love with it. We walked up and down enjoying the atmosphere and competing DJs, and finally stopped at an Indian restaurant to have dinner, before we walked back to the hotel. Guess what? We also found a Crocodile Grill (hmmmmm – needless to say more I think)!
DAY 3: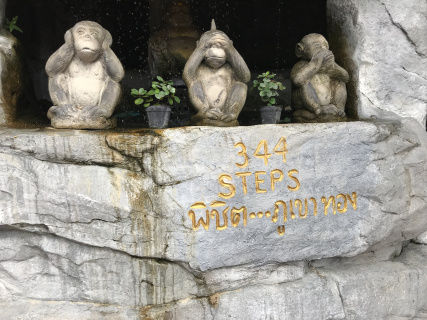 After an eventful day, the next morning we walked about 2 km to reach the Wak Saket (Temple at The Golden Mount. At the top of a small hill (344-step high to be exact), was a beautiful Buddha temple that also offered a 360-degree view of Bangkok and the sounds of mere bells and birds.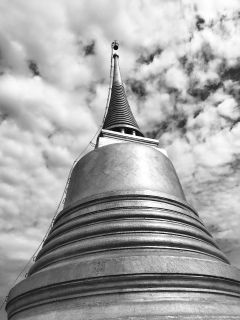 We spent some time there clicking pictures and then headed back to our hotel on a tuk-tuk for 50 B. Since we had to catch a flight to Phuket that afternoon, we checked out of our room and boarded a taxi to the Don Mueng Airport (DMK) which cost us about 300 B (incl toll) and took us about 60 mins (varies depending on traffic). We landed in Phuket that evening and took a bus from the airport (150 B/person), and while our nearest bus stop was Kathu, the driver was sweet enough to drop us off right in front of our condo. And then we entered our condo – my first ever experience booking an AirBnB – an entire apartment all to ourselves in Kathu, with easy access to 7-11 and a fuel station. The best part of this was that Ong, the owner, gave us a bike free, and we rented another for 250 B/day; we were sorted.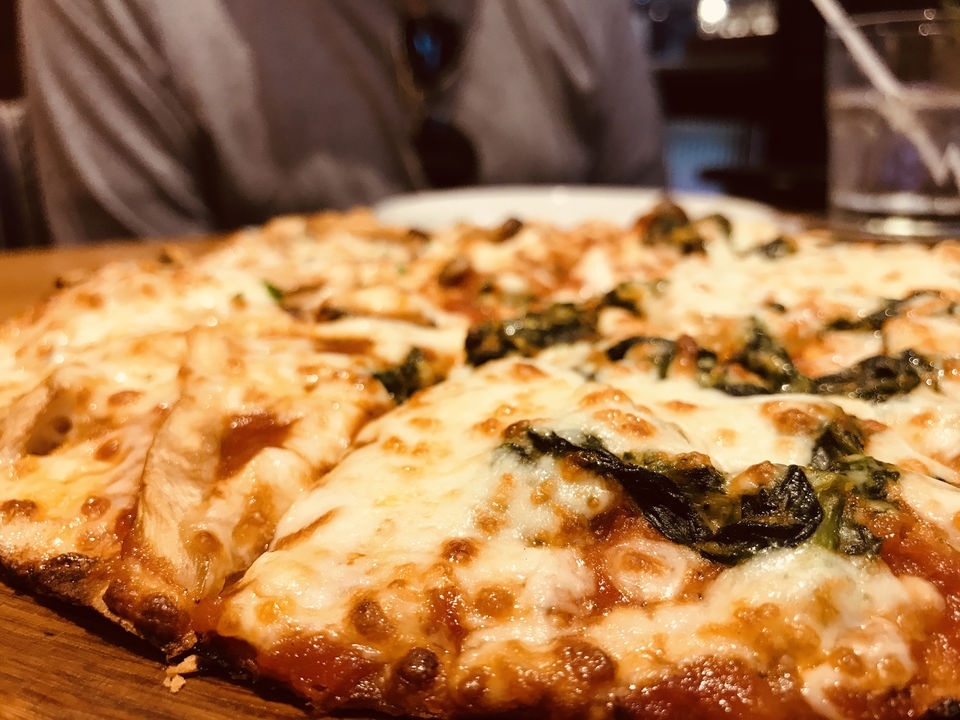 That evening, we chose to sit back, relax, watch some movie and order in. We dialed #1112 and ordered pizza (they have options for English callers and a vegetarian menu too), and just decided to unwind. It was one of the most delicious pizzas I have ever had – man, the bread and milk products there were just was too good!

DAY 4:
The next day, we went to Patong Beach in the morning, and with Ong's help, found a local tour organiser with whom we booked a package for Phi Phi Island speedboat tour the following day at 1500 B/person including ground transfers and snorkeling.
Post lunch, we headed to the Tiger Kingdom which was about 2 km away from our place, and one of those must-visit places on many lists online. We reached there and found out that they had package options for us to choose from – close encounters with big/medium/small tigers or just a walk around the area. We choose the big tiger and it cost us 1000 B/person. It took just 20 min in all, and they would put you in a cage with the tiger of your choice and you can click pictures and pet it. While we later realised that maybe it wasn't worth it, the experience was still a different one.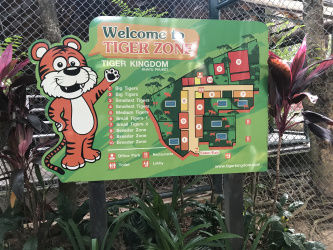 From there, we went to the Patong Beach to take some pictures and spend some time with the waves. This beach also offers good water sports, food and drinks. We picked a spot at a small restaurant on the shore and relished some snacks and drinks while gazing at the water and her tricks. You can also find some places to go shopping around this area, and you can also find Indian restaurants. But one word of advice – if you want to relax on the beach, I recommend that you bring a beach towel/mat. We had missed that part.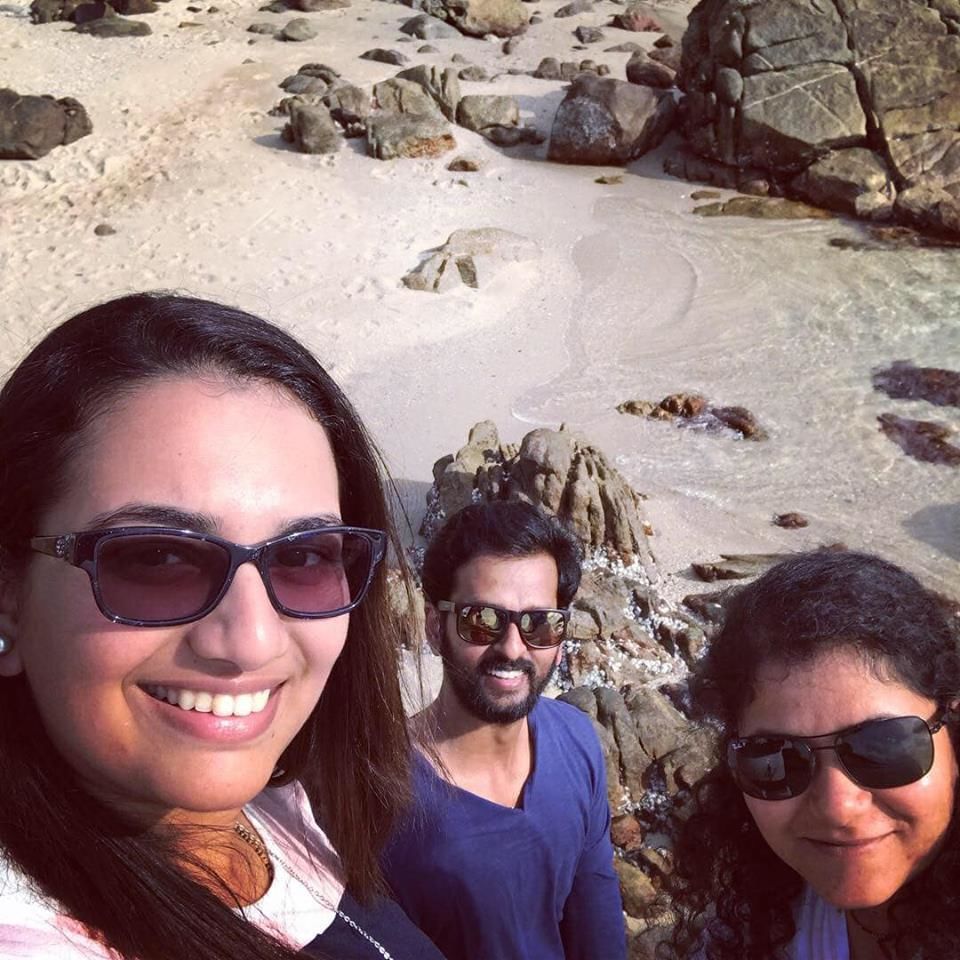 Through klook.com, we had booked tickets to the Phuket Fantasea show, and got a good deal. So we headed back to the condo, and left for Fantasea around 7 pm by bike (a 12 km ride). Since the show was at 9, we had some time to go around the place – shopping, themed stores, snacks, drinks, etc. It was beautiful to see at night with all the colors and lights. If you plan to have dinner there, there is a buffet restaurant, which by the way is massive, that also has vegetarian options. The show is for about 70 mins and is bilingual (Thai & English). The best part is, you will have to deposit your phones and cameras outside, and so, you can't record anything. But the illusion and visuals are so brilliant, that they will be etched in your memory for quite some time. From there, we went straight to Patong Beach at around 11 pm to have dinner.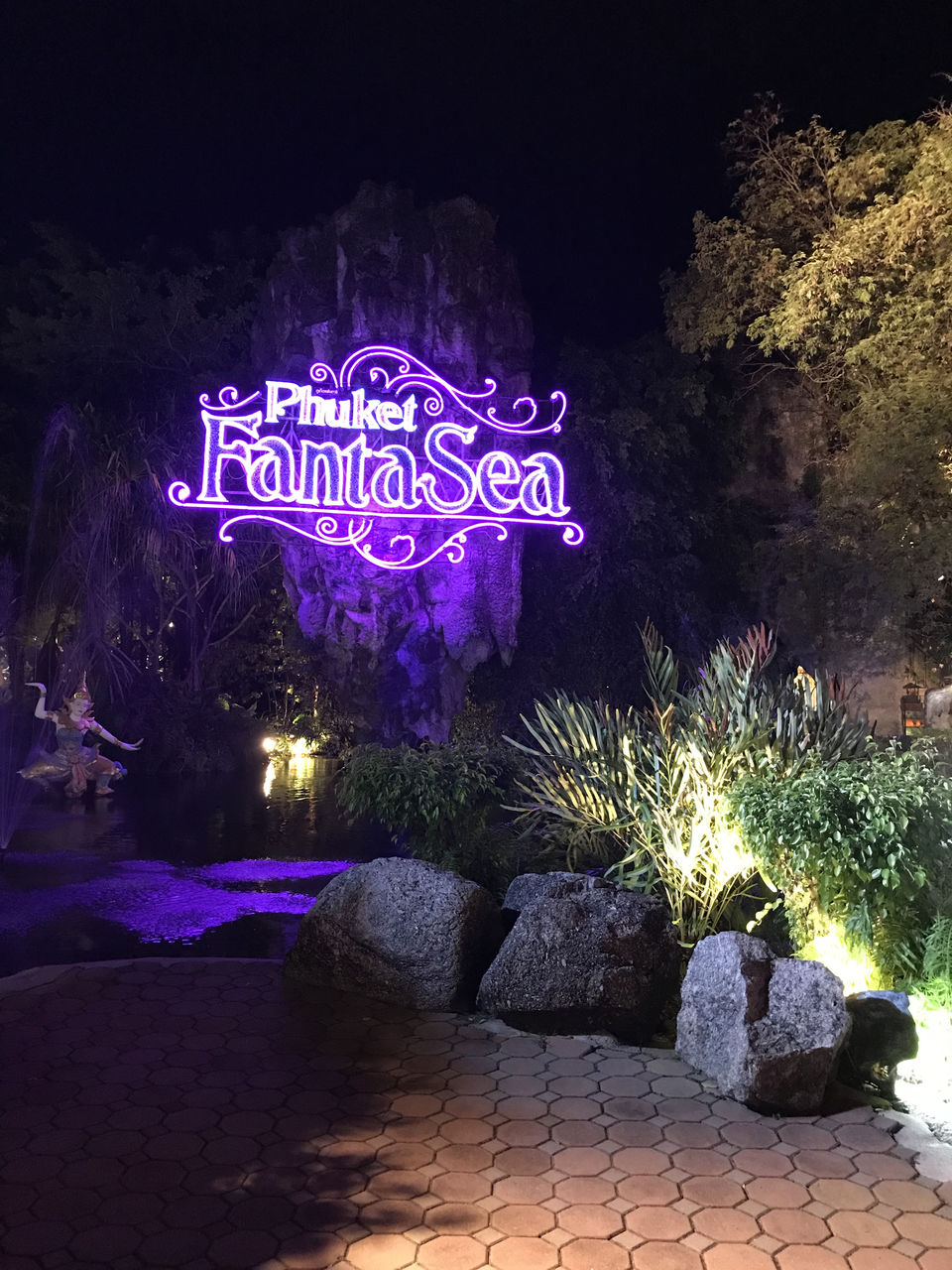 We found this place on one of the access roads called Beyond Night Market. More like an open-air food court, this has a number of stalls offering different kinds of food. We sat outside one called Chick & Chic, and he offered to give us vegetarian versions of the Thai menu he had – the food was decent. I must say, the energy and enthusiasm that people have at 11 in the night was mind-blowing! Anyway, after dinner, we had desserts from an Italian ice-cream parlor just adjacent to this place, and their Oreo ice-cream roll was yummy! With all this, we must have spent a max of about 250 B/person, and I thought that was reasonable.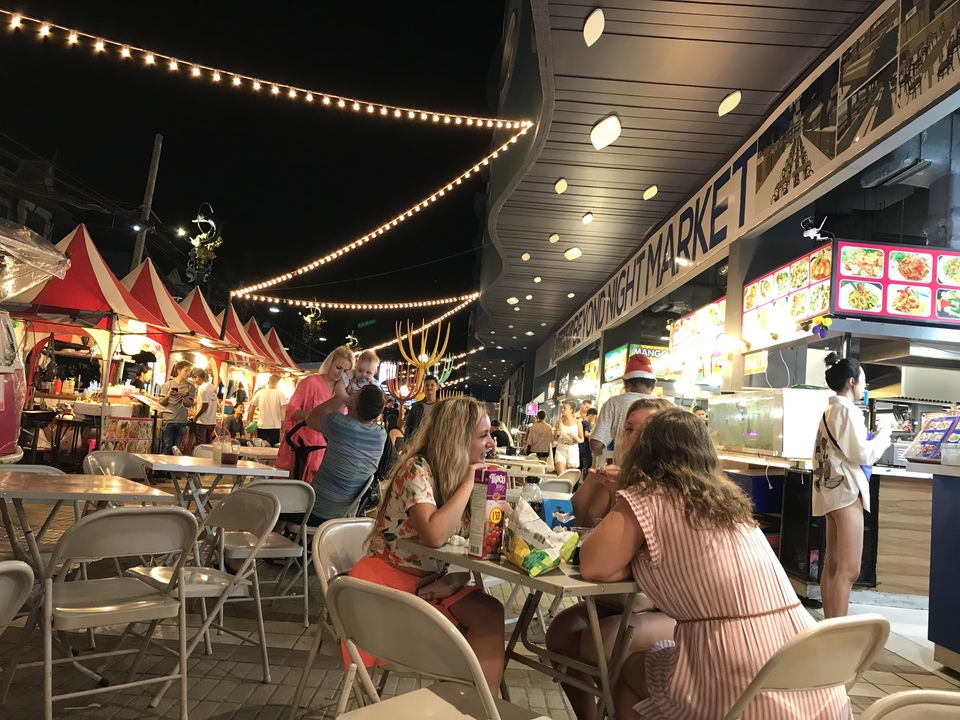 DAY 5:
The next morning we had planned our speed boat tour of Phi Phi Island. We all have our expectations when it comes to a speedboat ride. I mean, we kinda know what's in store – we had a similar understanding as well. This 4-island tour had everything beautiful to offer. The pick-up from the condo was at around 8:00 AM and we reached the pier in 40 mins. At the pier, the instructions were given by someone who I thought to be a great marketeer, and as a result, we ended by buying two of the world's greatest inventions – a waterproof, touch friendly mobile pouch, and beach shoes that protect against sea urchins, extra sand and water! ???? Hurray! While we were initially skeptical, they proved us wrong later.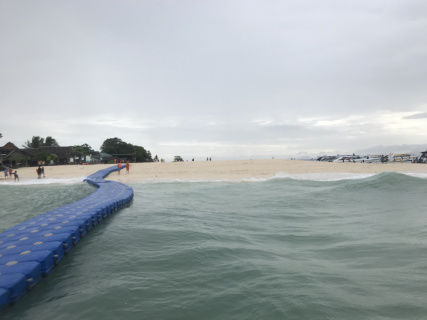 We first reached the Khai Island where water sports were famous, and we did scuba-diving there at 1900 B per person. A mind-blowing 25 mins of our life – the beauty of life under sea is so unimaginable that we instantly fell in love. Oh, and you know, you can find Nemo inside (and he gave me a kiss on my palm – cute, isn't it?) At this island, they serve you refreshments (fruits, water and some soft drinks, and you are free to bring your own food & drinks too). One important note – make sure to carry some change with you while you're here as the toilet costs 20 B.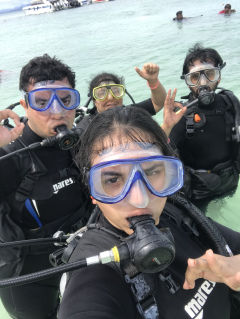 The next stop, or rather cruise-through, was Maya Bay which is now closed for public as they are constructing something out there. From there we headed to the famous Monkey Beach where the boat stopped for us to click pictures of the kingdom that monkeys reign. After a 30 min high-tide, heavy-rain ride from there, we reached Phi Phi Island.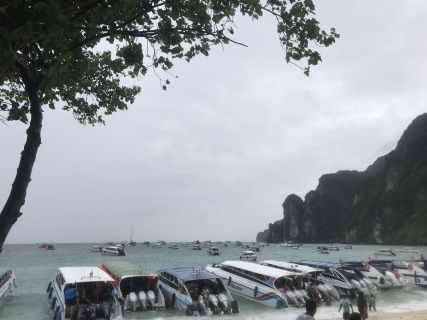 he buffet lunch was served here, and since we mentioned to them earlier about being vegetarian, we had veg options too. Food was pretty okay, and the place was so conservative that we had to remove our shoes outside, wash our feet and then only enter. We were supposed to do snorkeling here, but because of the weather, we couldn't do much. In about an hour, we departed to Phuket, and that 60 min journey was a ride of our lifetime – it was almost as though we were flying on the seas. Can you imagine? Anyway, in all, it was an amazing trip, coupled with a beautiful scuba diving experience and a roller coaster speedboat ride (thanks to our boat Capt Jack Sparrow) amidst high tides and a heavy downpour, and of course to top it all off, a bunch of new acquaintances! What more can one ask for!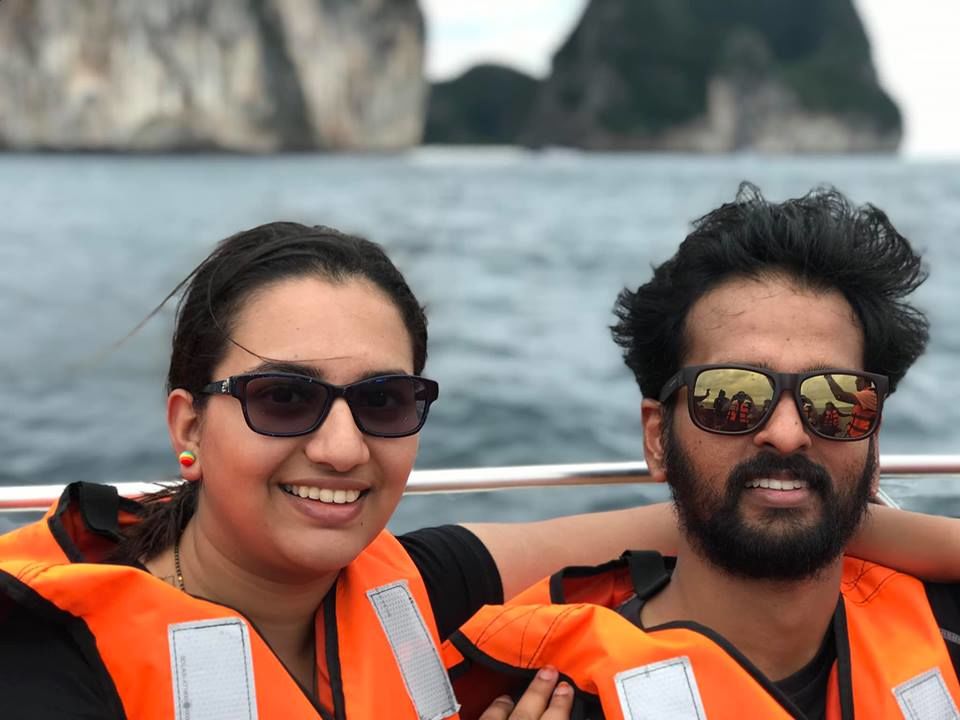 From the pier, we reached our condo in about 30 min, and decided to take it easy that evening as it was too exhausting, and James Bond was awaiting us the following day. So, I decide to call #1112 again to order for Pizza, and you know what? They attended the call, mentioned my name, spoke in English, confirmed the address and also checked if I wanted to go ahead with my previous order. I was like wow! That doesn't happen here! So much clarity and efficiency even in the smallest of places – I was amazed. So, we ordered, and chilled for the rest of the evening at our place.
DAY 6:
The next morning, we had breakfast at the condo (courtesy 7-11 whose butter sandwiches, cheese toasts and garlic bread are yummm), checked out from there and boarded the van that was taking us to the pier for our James Bond Island tour. We had booked this through the same company as Phi Phi, and it cost us 1500 B per person. The best part about this tour was its relaxing and slow-paced nature. We reached the pier in about 30 min, put our bags in the locker room and boarded a mini bus that took us across a bridge to the cruise boat. It was a reasonably sized boat that could accommodate about 50 people, and refreshments and food were served on board throughout the day (vegetarian options were available for lunch and refreshments were unlimited too!). So, this trip had 2 spots where they would take us canoeing through caves and lagoons (which were so beautiful in my opinion), and another spot just before James Bond Island where we could canoe on our own and swim if we liked.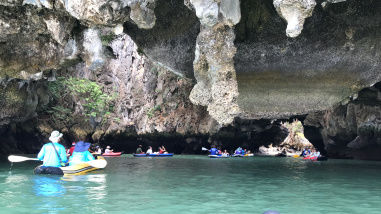 We tried the canoeing, and after multiple rounds of circling around the same area, we managed to move up to the island and back to our boat. From there we moved towards James Bond island, a few hundred metres away from which we had to board a long-tail boat that took us further.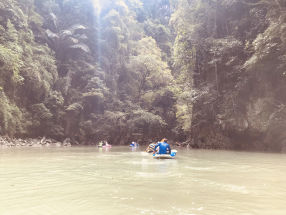 In about 5 min, we reached the world-famous James Bond Island, named so after it was featured in The Man with The Golden Gun, and spent about 40 mins there clicking pictures. There are some options for shopping as well here, but we didn't explore them. There is a small hike that will take you to a view point, and I suggest that you do that – it was beautiful. At an extra cost, the tour folks arranged to drop us off at the airport as we had to take a flight back to Bangkok that night.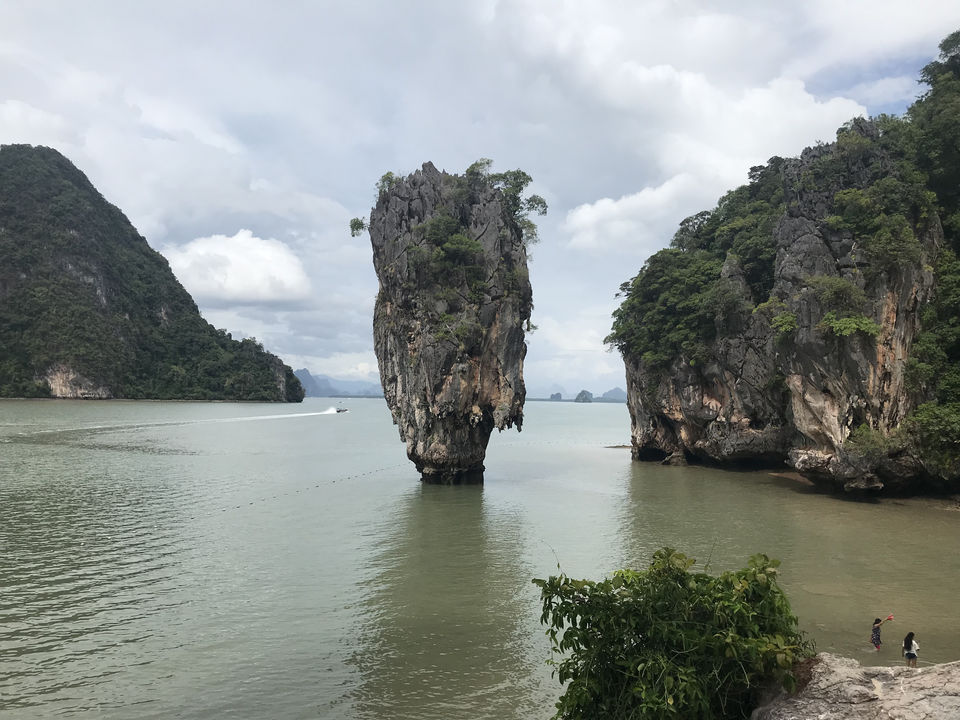 We landed in DMK airport, and our AirBnB host had asked us to pick up our keys from the Airportel counter that. We picked up our keys from there, and then our bags from the Baggage Deposit place, and went out to take a cab to the condo that was situated in the Phra Rama 9 area on the 24th floor, adjacent to Central Plaza mall. Following the typical task of walking up to the balcony and catching the view of the city, we were both shocked and surprised to see the lights and activity at 11:00 PM, despite it being a Wednesday. Since we were all yearning for Indian food, I took to the internet to search for options, and that's when I discovered that Food Panda was in Thailand! Imagine that. Well, I ordered dinner from Indian Tadka, and it was I think one of the best meals we had had in the past week. So we had dinner, relaxed at our condo, enjoyed the night view and buzz and began our countdown to the end of the vacation.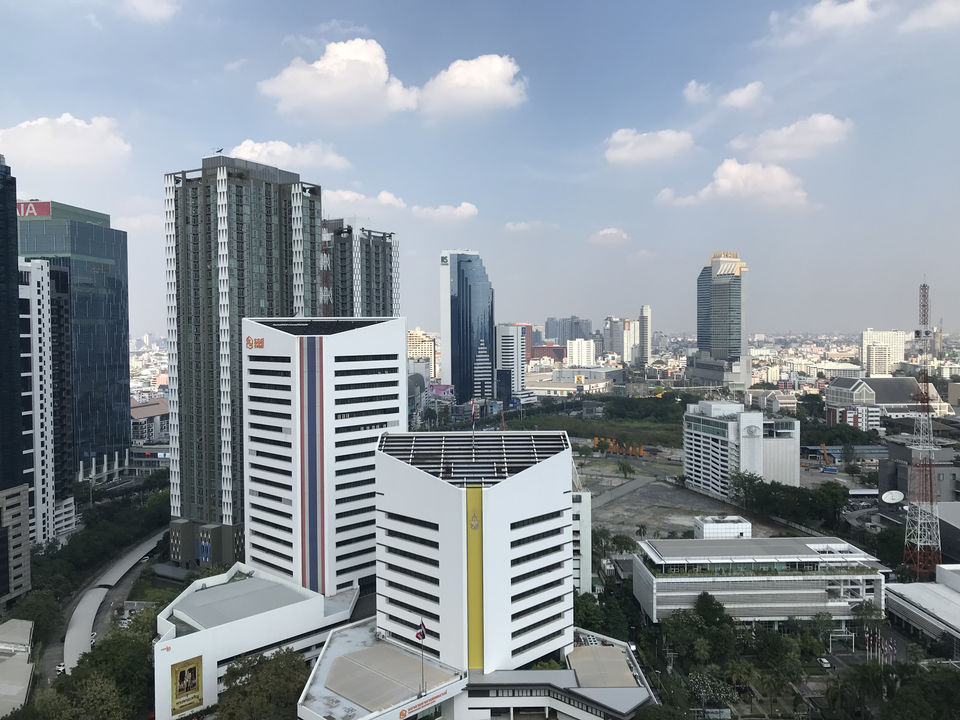 DAY 7:
The last day, I booked luggage pickup services through Klook.com at a reasonable price, and they came at 12:00 noon, just around checkout time to transport the luggage from our condo to the airport. That was a relief, not having to walk around with bags in our hand. Since we had nothing planned for that day, we decided to do the stereotypical mall exploration, and walked over to the Central Plaza, one of the biggest malls in the Phra Ram area, and spent time doing both window and actual shopping and trying out different cuisines. Lucky we were to be there on Smiley Day, as most the stores had amazing discounts, and there were also flea markets inside. Towards half day, we realised that we were in Thailand and didn't do the massage bit, so we walked to a massage parlour in the mall and got the Authentic Thai Massage done. It was ok we thought but didn't realise it was only basis acupressure and did not involve oil or cream – well, lesson learnt. After that was ticked off our list, we went looking for restaurants that offered veg food.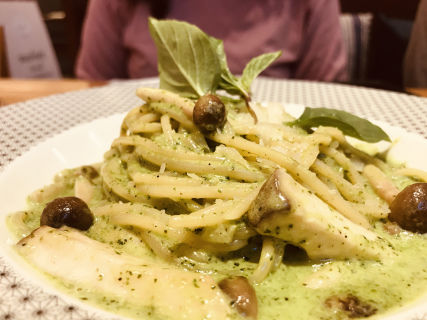 We halted at On The Table, a place that even had a separate veg menu and served different cuisines. I tried Japanese and the others picked options from Italian and American. I must say, we were not disappointed. The lunch cost us about 1000 B and the ice-cream at Cold Stone that followed, was around 250 B.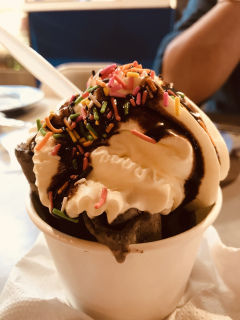 It was already 5:00 PM by then, time just flew, and we knew we had to step out and at least see what the rest of the area is like. We went outside and decided to walk to the MRT station to take a train to the airport – we wanted to try all modes of local transport and this was the only one left. While we waited outside the Phra Ram station, I check the Bangkok Metro App and found that we had to switch trains one stop away. So, we chose to walk towards that station which was only 2 km away. We reached the Makkasan Station where the Airport Link originates, in about 10 min, and bought the tokens at 35 B per person (a cab would have probably cost us around 250 B) to Suvarnabhumi Airport. We reached in 30 min, headed to the Airportel Counter to pick up our luggage and hand over our apartment keys before we collected our 2000 B deposit amount. An important incident to reiterate how safe and responsible people there are – While collecting our luggage, we naturally had to show our passport for verification. So, I gave mine and completed all the formalities before I could pick up my stuff. Immediately after, we left from there with our bags and rushed to find a place to have dinner. In that hurry, I had forgotten to pickup my passport from them. So I ran back to the counter, and to my surprise, they had also sent their stuff in search of me just a few moments ago. Anyway, he found me and I was eternally grateful, and expressed that to the team before leaving.
Despite the fact that we reached over 3 hours prior, the holiday season added to the population, and every queue was crazily long – from check-in all the way to security check and immigration, it took us almost 2 hours. So basically, we had exactly 20 min to have dinner before we boarded the flight. We stopped at The Pizza Company to have our most favourite and preferred pizza (since Phuket) one last time and hopped on our Spice Jet flight back to Hyderabad with lots of memories to cherish. Just to give you an idea, we must have exchanged Baht equivalent to approx. INR 60,000, and we had a comfortable trip. Some places accept cards, but it's always better to have at least that much cash on you, especially if you're interested in street food or shopping.
Reality struck and I'm now back in India looking forward to my next experience. Until then, this is me signing off, or should I say, taking off!