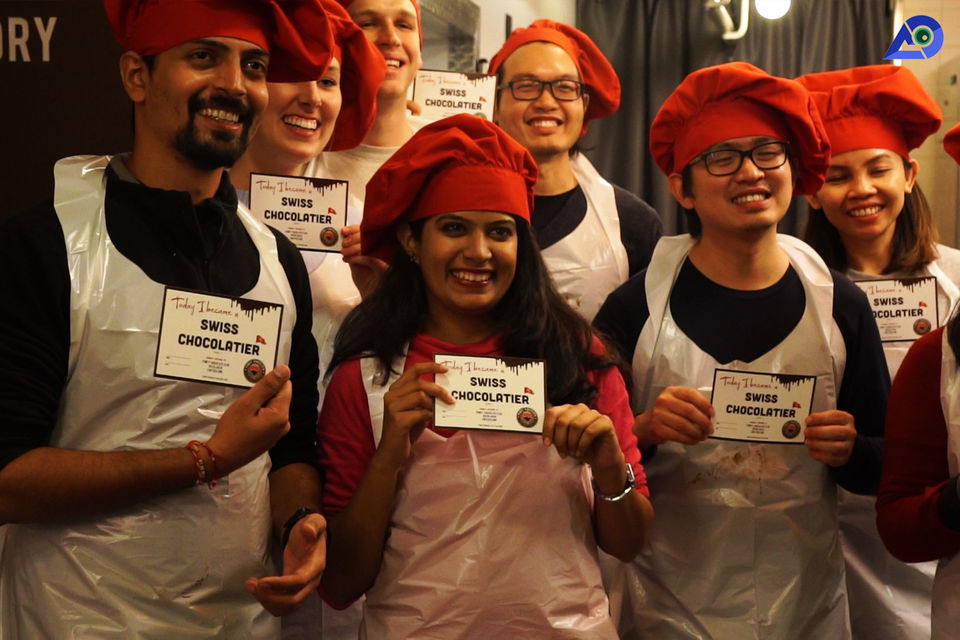 In a typical Indian home, year after year we would wait for guests and relatives coming home after a Europe trip.
Until at least a decade and a half ago, a Europe trip was one of the most exciting events in an Indian household. Even if it was for a honeymoon. Relatives would call each to inform of the upcoming trip and it was looked upon as a matter of achievement. Of course, a Europe trip for the longest time in Indian homes was a reference to a Swiss holiday thanks to DDLJ and Yash Chopra.
So, when these highly awaited relatives/ guests came back, a few bars of Toblerone or Lindt were like an entry fee.
Ever since Indians and Swiss Chocolates have had a silent love story. Of course, many more chocolates followed over the course of years. But unless you brought back some Swiss Chocolates, the relationship wasn't premium enough!
Earlier this year, it was finally my turn after all those years. It was my first trip to Switzerland. And there was no leaving the land of Swiss Chocolates without stocking up. I am not too big on chocolates, but I had to give in to all the Lindts around me. (Am I still debating Belgian Chocolates vs Swiss Chocolates in my head? That's for another story!)
But yes, I definitely wanted to take back a unique Swiss Chocolate memory.
I remember waking up one morning in our hostel in Interlaken and checking out the many activity brochures. I knew I had an agenda on my mind. So, before we set out to explore Interlaken, I had our arrangements for the evening in place.
Basically, I had found the BEST WAY TO EXPLORE INTERLAKEN IN WINTER!
I DECIDED TO BECOME A SWISS CHOCOLATIER & MAKE SWISS CHOCOLATES!
Disclaimer: This post is oozing with lots of chocolate, Swiss Chocolate to be specific. Chocolate is good for your health, so is this post.
Funky Chocolate Club, Interlaken
Not kidding! In the activity brochures, earlier in the morning, I found out all about the Funky Chocolate Club in Interlaken.
I knew this was going to be better than just eating Swiss Chocolate!
That's for people who don't come to Switzerland. But for those who do, what could be better than actually making some!
All excited, I headed to the Funky Chocolate Club at a walking distance from our hostel. I wasn't quite sure what to expect. It was a chilly evening, with the temperatures dipping by the hour! And of course, we were in Switzerland amidst the snow-covered mountains. The fun had just begun.
After reaching well in time, I entered the Funky Chocolate Club. It was like a mini version of Willy Wonka's Chocolate Factory as described in Roald Dahl's book. There were chocolates all over. In different shapes, packaging, flavors and labels. Each looked prettier than the other. There was this sweet, chocolatey aroma in the room. And there were some quirky posters all over the store! Did I need anything more to build up the anticipation? We had arrived to get #chocolatewasted.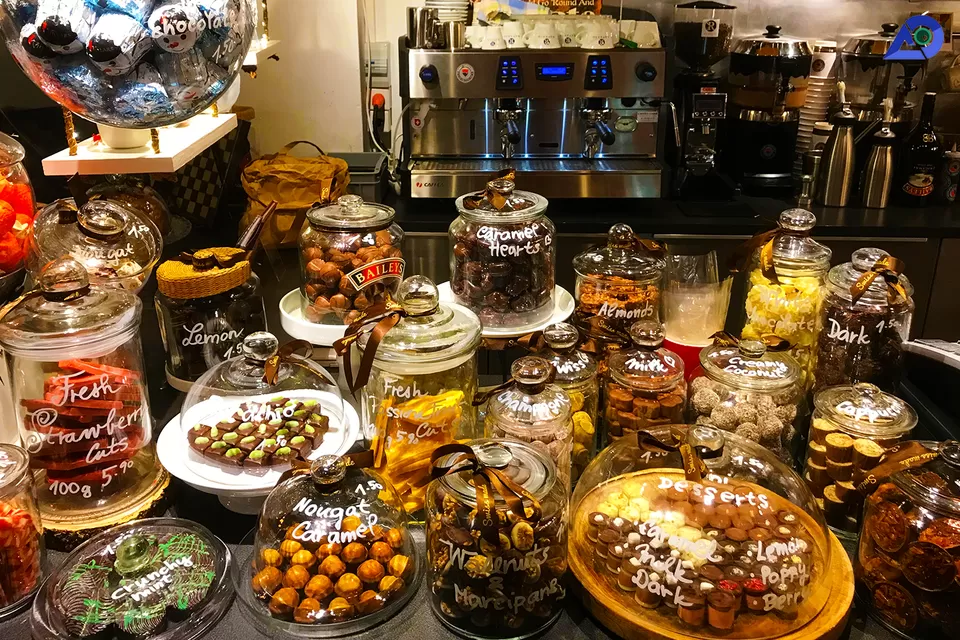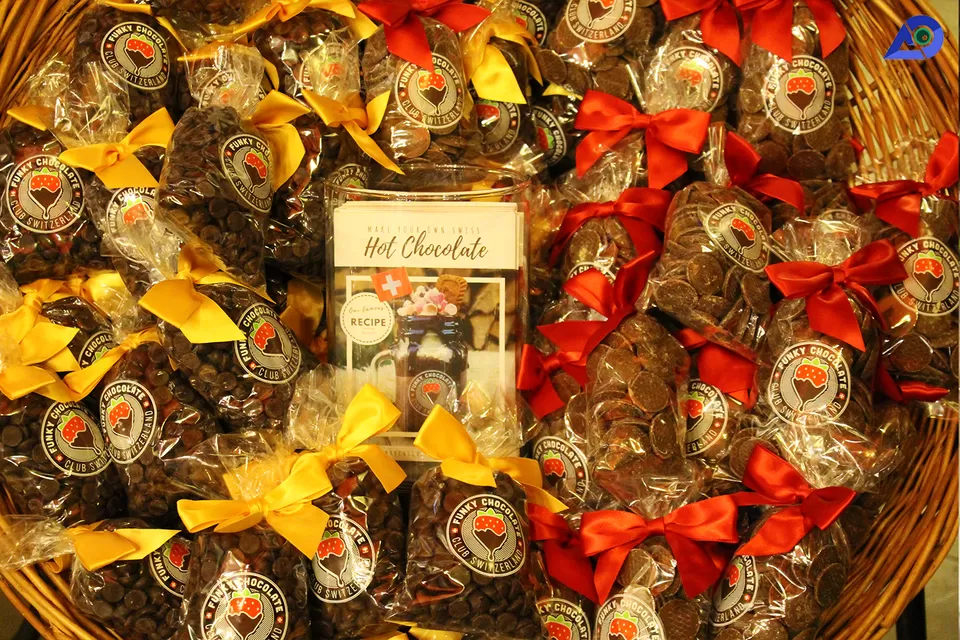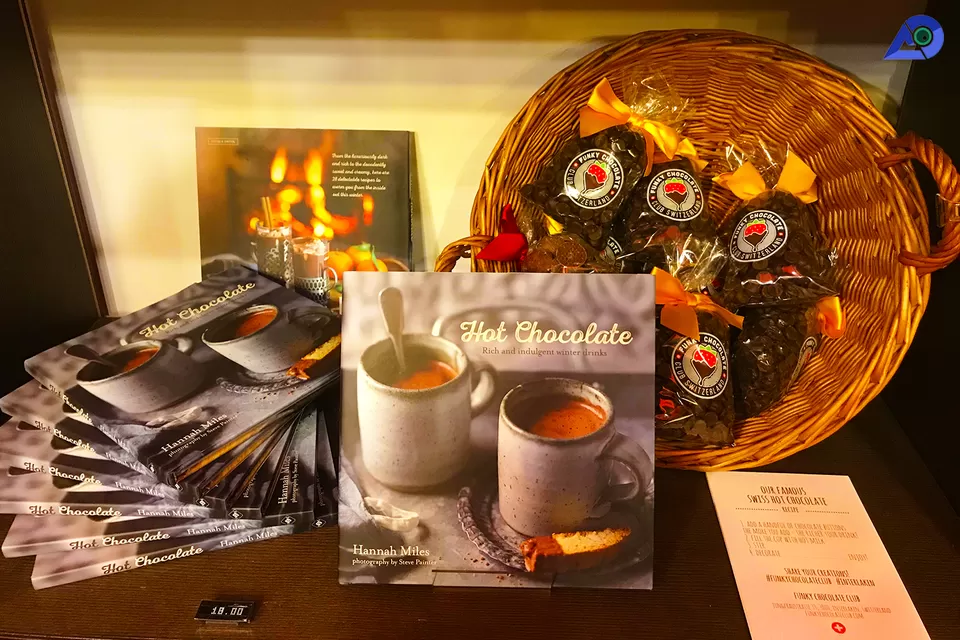 In the next 10 minutes, we had the room filled with another 15 participants who were all set to become certified Swiss Chocolatiers.
We left our bags in the storage and quickly donned our aprons and chef hats.
In no time, 17 people from around the world surrounded a table, all set to come Swiss Chocolatiers.
How to Become a Swiss Chocolatier?
We were in the Funky Chocolate Club's Chocolate Laboratory. The table in front of us was one of the most gorgeous tables I had ever seen. Each one of us had our own containers with a spatula, a mould and various chocolate decorations. There were sprinklers, Choco chips, nuts, and edible decoratives right in front of us. The room was vibrant with the smell of chocolate and enthusiastic participants all set to make Swiss chocolate. Our host for this workshop was the master chocolatier, Vladimir.
Step I: TASTE to Become a Swiss Chocolatier
To create the perfect Swiss Chocolates, we had to know what a perfect Swiss Chocolate tastes like. The workshop had a #EatAllYouCan rule. After a brief round of introduction, we were all set to get started with the workshop. Vladimir, our host and top chocolatier introduced us to the theoretical meaning of Swiss Chocolate. Chocolate gets differentiated by its cocoa beans content.
We tasted chocolates ranging from 90% cocoa to 10% cocoa. We also tasted 100% cocoa, that is the Cocoa beans from Africa.
This is where we learned that Swiss Chocolate is one of the finest chocolates in the world due to the rich quality of milk which is mixed with the cocoa beans to make Swiss Chocolate.
Honestly, I am more of a dark chocolate, bitter chocolate loyalist. But there was something incredibly unique about Swiss Milk Chocolate.
Thanks to Vladimir, we didn't just taste the different types of chocolates but also learned to taste them like professionals.
Step II: CREATE to Become a Swiss Chocolatier
And it was time for the most important step: Making Swiss Chocolate.
This is exactly the reason why we were here! Vladimir asked us to pick the kind of chocolate we would like to make. Our mould had 3 portions to make 3 bars of chocolate.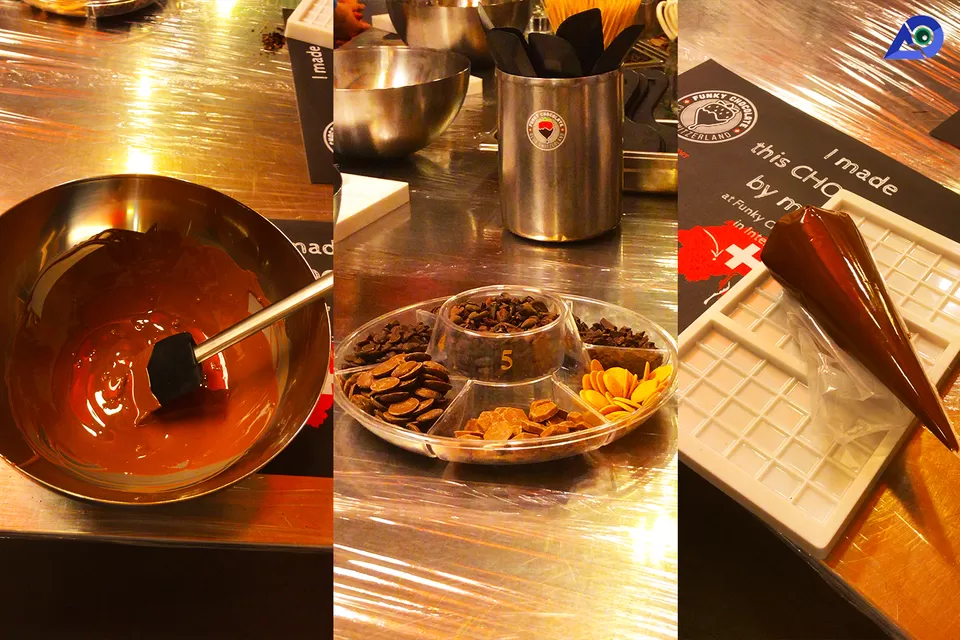 I chose to make 1 portion dark chocolate, 1 portion of milk chocolate and 1 portion with half dark and half milk chocolate.
Our first step was to take the molten chocolate and beat it consistently to free any chunks of chocolate left back in the mix. Subsequently, we learned the techniques, and tricks of tempering the chocolate, melting, pouring and filling moulds.
This was not bad at all for the first time chocolatiers like me!
Of course, to have more fun with chocolate we also had some chocolate trivia pouring in. So we knew where the cacao beans were coming from and how chocolate is made and stored. Of course, the most important part of this I'd say was 'the exercise'. The one where we put chocolate on the tip of our nose, trying to lick it off with our tongues! (You must give this one a shot!)
After we had achieved the perfect consistency for our chocolate after all the mixing, beating and tempering, we filled it up in plastic cones. And next up, we filled our moulds with the Swiss chocolates made by us right then and there.
Step III: DECORATE to Become a Swiss Chocolatier
The final step to our newly created Swiss Chocolates was to sprinkle them with a touch of magic. We mean decorations of course! We had a range of options to decorate the chocolate that we had just made. There was white chocolate, sprinklers, gems, coffee beans, chocolate chips, mint, etc. We could pick any ingredients and get all arty with our chocolate bars!
Told ya', Chocolate Making is an art!
If you ask me, this was the toughest part of chocolate making! Decorating the wet, unsettled chocolate. But of course, with some favourite ingredients, I got through the task! After a lot of struggle, some creativity and lots of attention my chocolate bar was all ready and left for cooling in the Chocolate Lab Fridge!
Was it wrap? Of course not, until I licked the left-over chocolate from my container. With some chocolate left on my face, it was finally a wrap!
Voila! I was now a certified Swiss Chocolatier.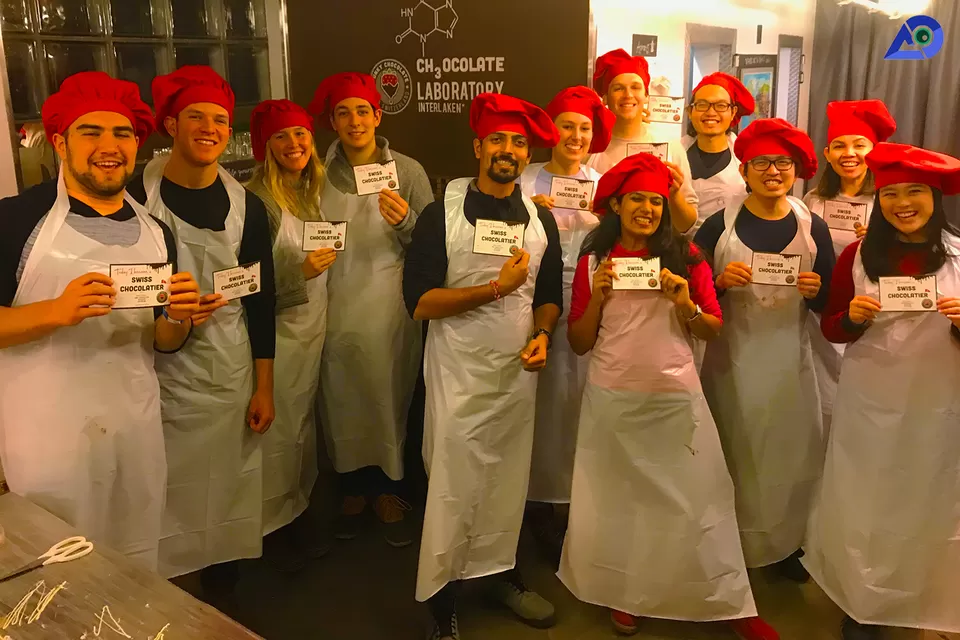 So, what's better than buying Swiss Chocolate? Becoming a Swiss Chocolatier and making all the Swiss Chocolate you can in the world!
The next day, I went back to collect my gift-wrapped chocolates that I could take back home! And the happiest person to eat them was none other than my own granny!
Phew! Mission Accomplished.
Cost Per Adult: 69 CHF (inclusive of an apron, chef hat, and ingredients)
Duration: 60 minutes
Book on: https://funkychocolateclub.com/workshops/
A big thank you to Funky Chocolate Club, Interlaken and Interlaken Tourism for making this dream come true for us! We loved it!
This post was first published on Awara Diaries