The first thing we asked when the opportunity to go to Jungfrau, Switzerland in December arose was - is it going to be too cold? Neither of us has any North-Indian blood in us and we've lived all our lives in Mumbai, a city where the sweaters come out whenever the thermometer dips below 20 degrees Celsius! How on earth would we manage 3454 metres above the sea level in snowy conditions and an unimaginable temperature of -10 degrees Celsius? But you know what, we lived to tell the tale. And by the time it was time to say goodbye, we felt like we could live in winter-time Switzerland all year long!
Zurich to Interlaken
We flew into Zurich airport and stepped straight into a van that would take us to Interlaken by road. The route was picturesque and offered tantalising glimpses of the mountains in the distance. Around half-way through our journey, we stopped near Bern and stepped out gingerly, waiting for impossibly cold weather to strike us down.
It didn't happen. Sure, it was cold but not unbearably so. But we weren't in Interlaken yet, the base to explore the Jungfrau region. That's where the real challenge lay! And it's worth mentioning that with only two layers of clothing, I had to run back to the warmth of the bus after 10-15 minutes.
It was 4 :30 PM in the evening by the time we reached our stunning five-star hotel in the resort town of Interlaken - Victoria-Jungfrau Grand Hotel & Spa. The entire hotel was decked up in Christmas lights and colours and we felt like we'd entered a fairyland. Our room on the seventh floor had a breath-taking view of Interlaken and the surrounding mountains. One morning, when it snowed incessantly all night, we'd wake up to a balcony cloaked in white. That moment was no less magical than the ones at Jungfraujoch and Grindelwald, two destinations we'd experience in the Jungfrau region.
Riding Along the Jungfrau Railway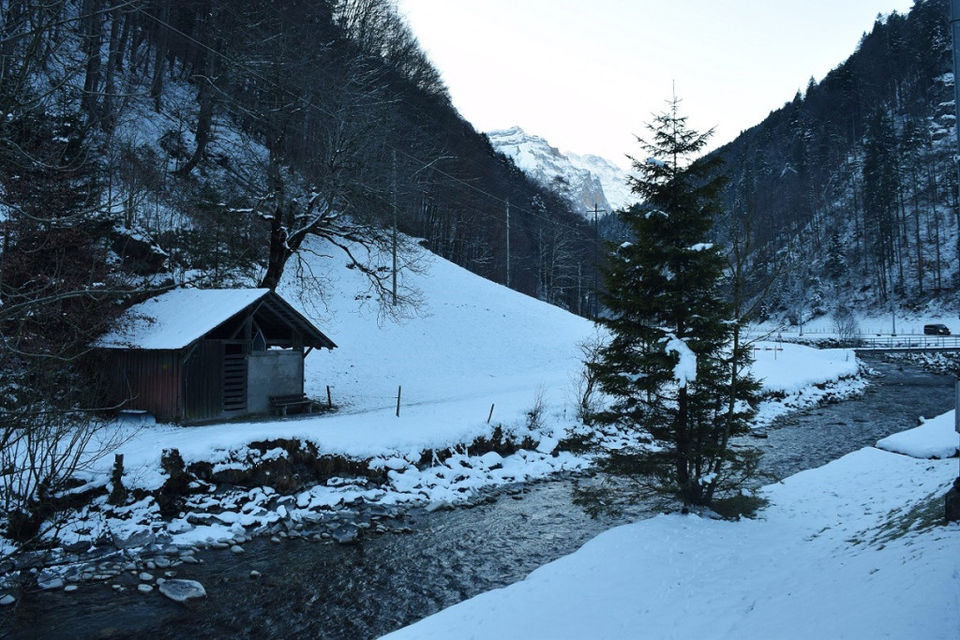 Early next morning, we walked to Interlaken station to board our first train on the Jungfrau Railway network. We were headed to Jungfraujoch, the Top of Europe, and we knew that the view from our windows would be breath-taking. Still, nothing could prepare us for the sheer perfection of the snow-clad mountains, cottages and conifers painted across the landscape. The snow sapped the scenery of colour and everything appeared to be rendered in shades of black, white and grey. We had to change trains once, and the station was chilly and breezy - definitely much colder than Interlaken.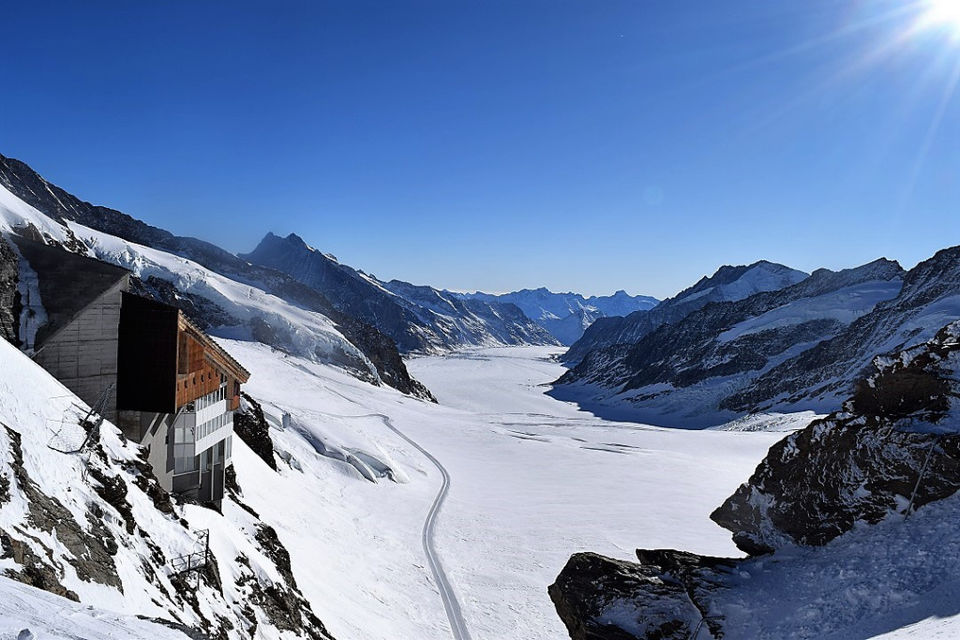 Armed with four layers of clothing (including thermals and jacket), hardy Quechua shoes, woollen cap, gloves and scarf, we stepped out of the train and waited for Jungfraujoch to stupefy us with unbearable iciness. It didn't turn out to be quite that dramatic. First, we enjoyed some hot chocolate and browsed through the souvenir store. Suitably warmed up, we went to the observation deck to play in the snow and feast our eyes on the panoramic peaks. Our cheeks acquired a rosy glow even as the winter sun warmed our palms. We were lucky - it was a beautiful day and so, even in the thick of December, we enjoyed crystal clear views of the mountains.
Adventures in Jungfraujoch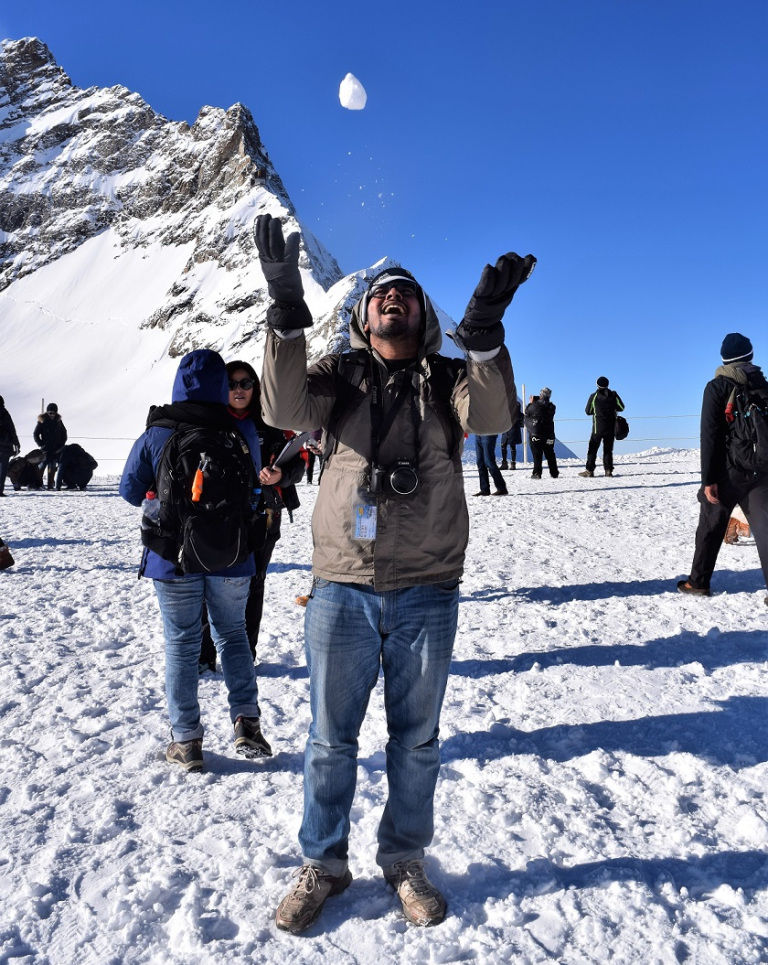 A Christmas tree stood tall in the midst of it all and kids dressed like Charlie Chaplin scampered all around us. We were all part of the Charlie Chaplin crew, as a matter of fact. The main event of the day was an unveiling of an ice sculpture of the legendary comedian to commemorate his 40th death anniversary. This was to take place at the Ice Palace, made entirely of cold, cold ice. Walking on ground that reflected everything above it was an experience like no other. We were warned about maintaining our balance but the ground wasn't all that slippery. Finally, it was time for the unveiling.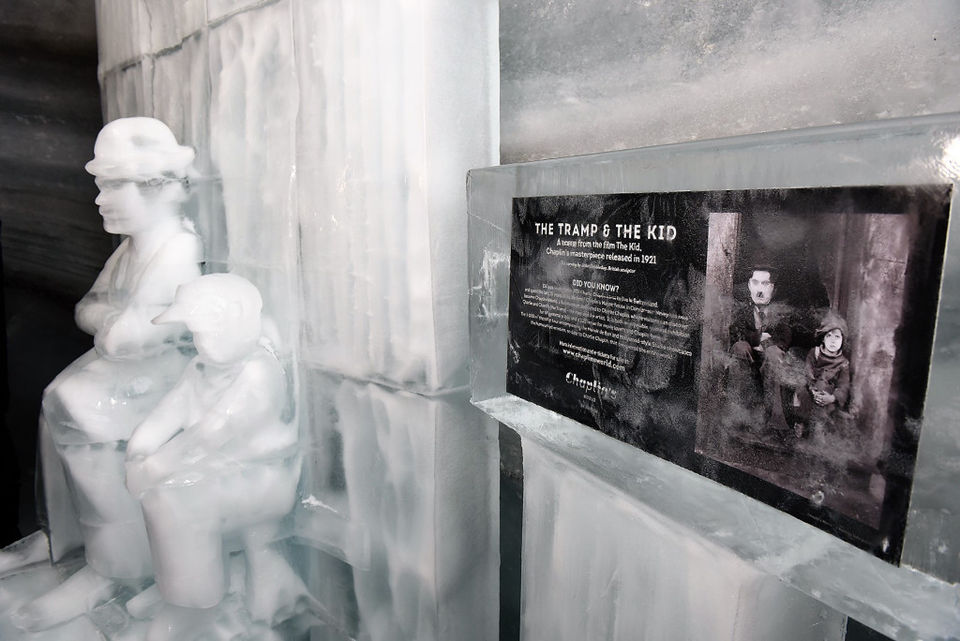 Chaplin's likeness would be sharing his magnificent home with ice sculptures, birds and animals. The occasion was made most memorable by the presence of his fifth child, Eugene Chaplin, a documentary film-maker.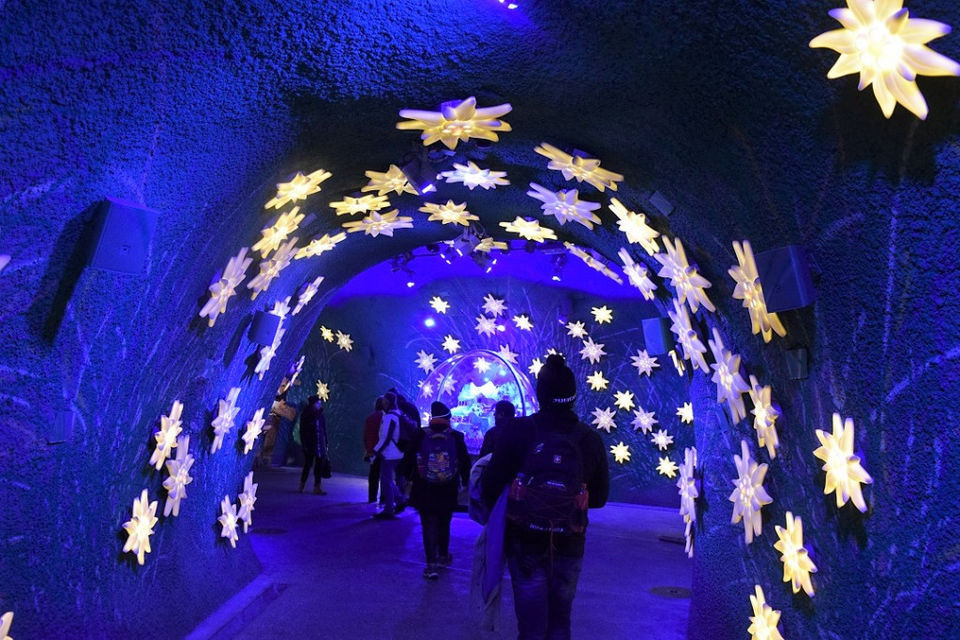 We also explored the Alpine Sensation, a kind of theme park chronicling the travails of the excavators and miners who built the Jungfrau Railway network. Statues of famous excavators, maps and stories encased beyond glass walls glared at us in eerie amber lighting. We were quite glad to enter the happier realm of Lindt Swiss Chocolate Heaven where a recorded film ran us through the delicate process of Swiss chocolate-making. Having gorged on more than our share of Lindt chocolates throughout the train ride, we weren't tempted to buy any.
Winter Storm at Grindelwald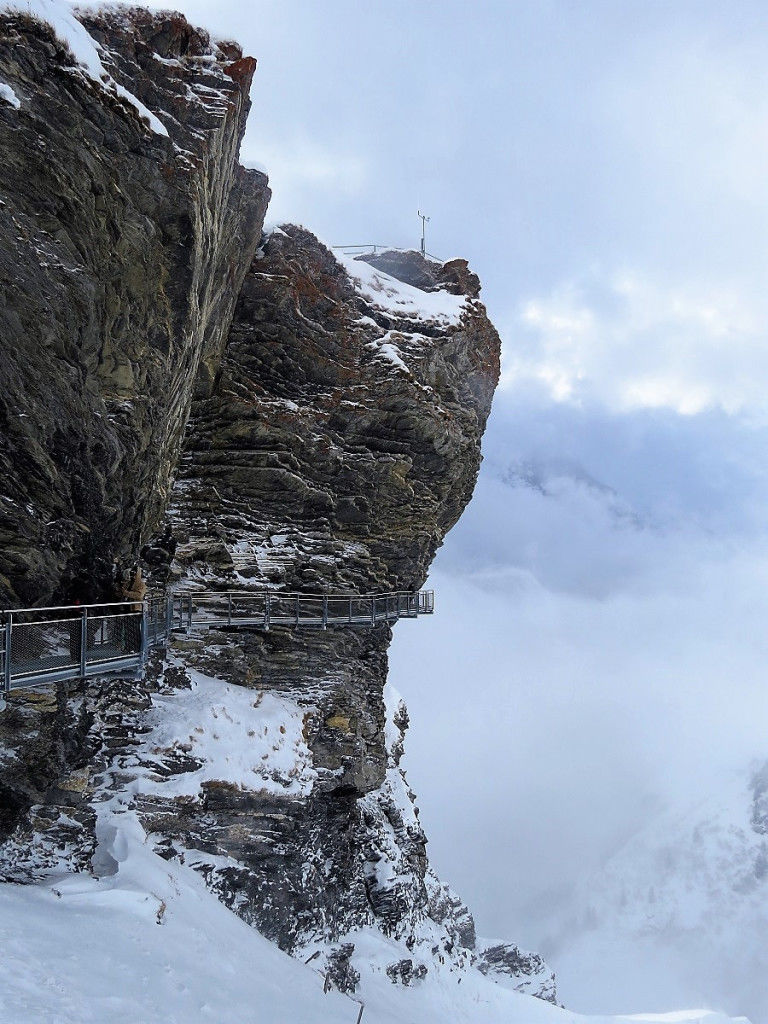 It wasn't actually a snowstorm but the weather we encountered at Grindelwald the next day scared and awed us in equal measure. Think dense sheets of snow unfurling an ivory curtain over everything within eye range and crazy, powerful wind threatening to knock us over the precipice of a cliff. Of course, there was a strong railing to prevent that from happening. We braved the worst of winter weather during the world's First Cliff Walk by Tissot at Grindewald, a pretty village not as high as Jungfraujoch.
Despite the snow blurring the otherwise spectacular views, we managed to glimpse red deer walking nimbly over the valleys below. The harsh wind stung our faces, which was the only visible portion of our bodies! And yet, it was a breath-taking experience. And that moment when we finally finished the walk and walked across a transparent promontory that let us look down on the steep valleys below will stay with us forever. We had a light lunch at a warm and cheerful cafe there, with a tall glass of spiced, honeyed mulled wine to warm our chilled bones.
Flying and Sledging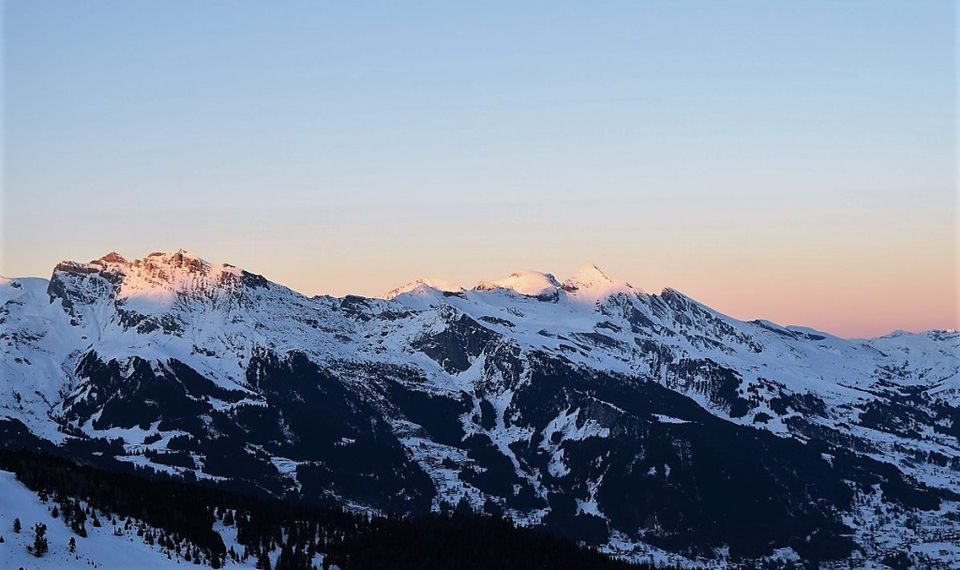 Grindelwald for us was perhaps even more enjoyable than Jungfraujoch because we embraced the winter like never before and got up, close and personal with bewitching, flaky snow. The magic began with the cable car ride we undertook to reach the cliff walk. The car kept ascending higher and higher, until we felt like we were looking down on all of Grindelwald. We flew at eye level with the tops of lofty conifers, the movement so smooth that we could've been Alpine choughs, soaring into the gloomy sky. The window of the cable car could be opened halfway down, allowing us to experience the icy greeting of the Swiss Alps.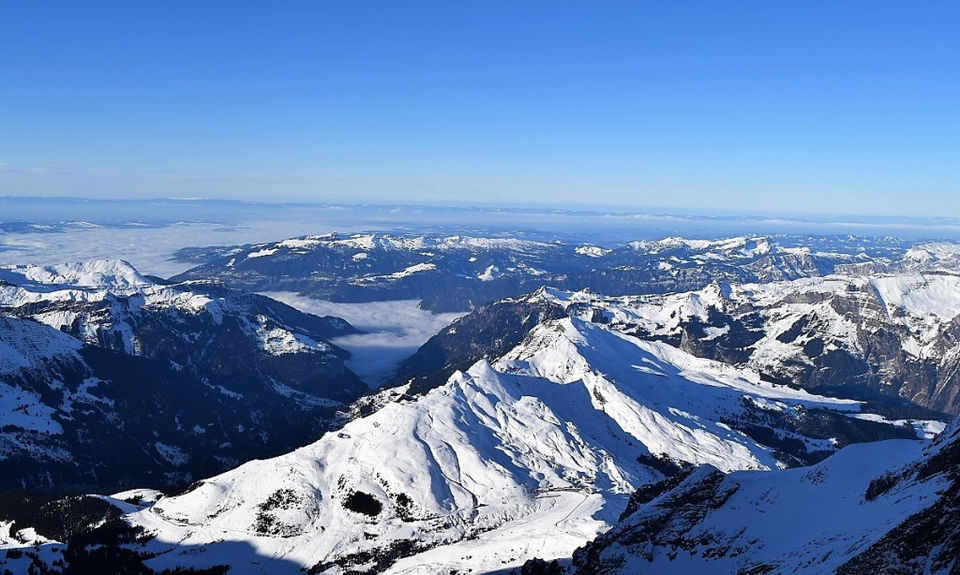 At Grindelwald, we also tried our hand at sledging and snow-walking. While the snow-walk had to be abandoned after a few steps due to thigh-high snow levels, we thoroughly enjoyed sledging over a small slope. Honestly, the toughest part was dragging the sledge to the top so we could slide down merrily like Johanna Spyri's Heidi. We opted not to try zip-gliding as the harsh snow would have hurt our faces but you can certainly do it if you have a face mask.
For the reminder of our trip, we explored Interlaken, Vevey and Zurich. But more about that in another post. Aufwiedersehen!
This blog was originally posted on Travel-stained Fingers.