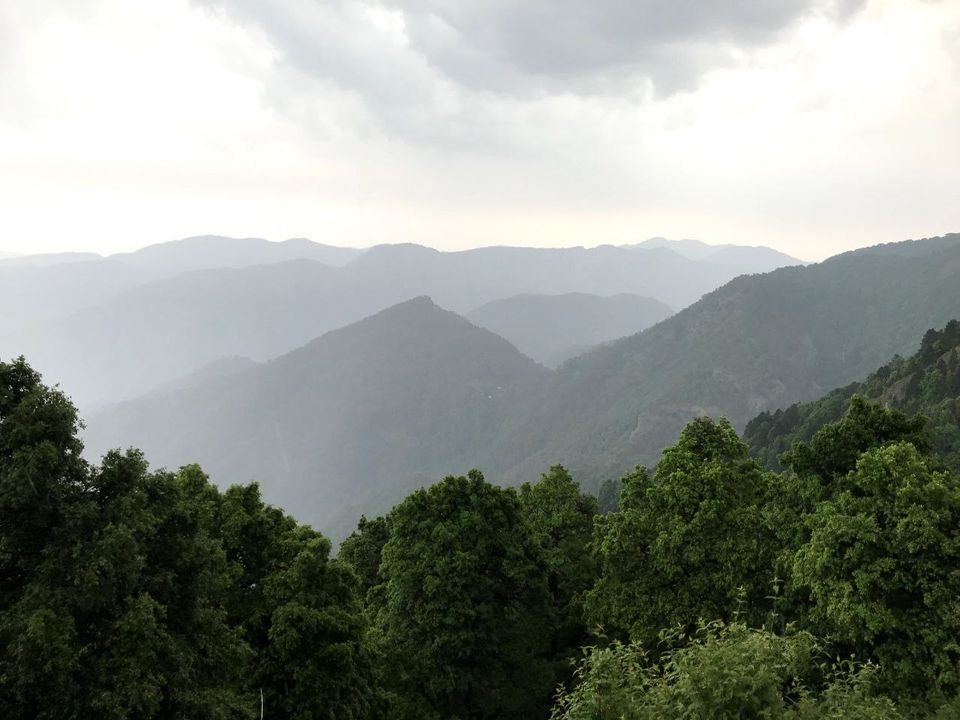 Nainital happens to be a magical hill station, situated in the Kumaon region of Uttarakhand, Surrounded by hills, lakes and temples.
I went to Nainital last year on my birthday and ever since I laid my eyes on the immense beauty,I knew that I will come back again. In the 1st week of May, we decided to spend 3 days 3 nights in Nainital.
Fortunately, we got our seats reserved a day before our trip, on Utr Samprk K Ex train, which leaves from Old Delhi Railway Station at 4:00 PM and reaches Kathgodam around 10:30 pm. 7 Hours Journey was good and comfortable. The last station to reach Nainital is Kathgodam and it takes 1.5 hours from Kathgodam to reach Nainital.
We knew we would be reaching late in the night, we pre-booked a cab for 3 days, which includes pick up, from Kathgodam and 2 days sightseeing. (TIP: One can hire a cab locally with good Bargain, approx. 1000 for covering all points) The way to Nainital was breathtaking with great views and slopes and cold breeze. We finally checked in the Hotel around 12 pm. It was surprising for us to believe the weather was cold in May and we have to take out our sweaters. We jumped on to the balcony to check out the view and all our tiredness was lost in a moment by looking at the direct view of the Naini Lake, which was just below us. That view was blissful to our eyes to view. That was the moment we realized it was a good decision to leave our work behind for a few days and spend time with each other and ourselves in natural wilderness.
We woke up around 6 am. I hopped from my bed, grabbed my favourite cup of coffee and and went straight to the balcony. Good Music with the magnificent view of Naini lake and pleasant cold breeze which made me wrap my cardigan more tightly, people jogging near lake , shops being opened in Mall Road, mountains and sun covered in cloud! Trust me it was awe-inspiring.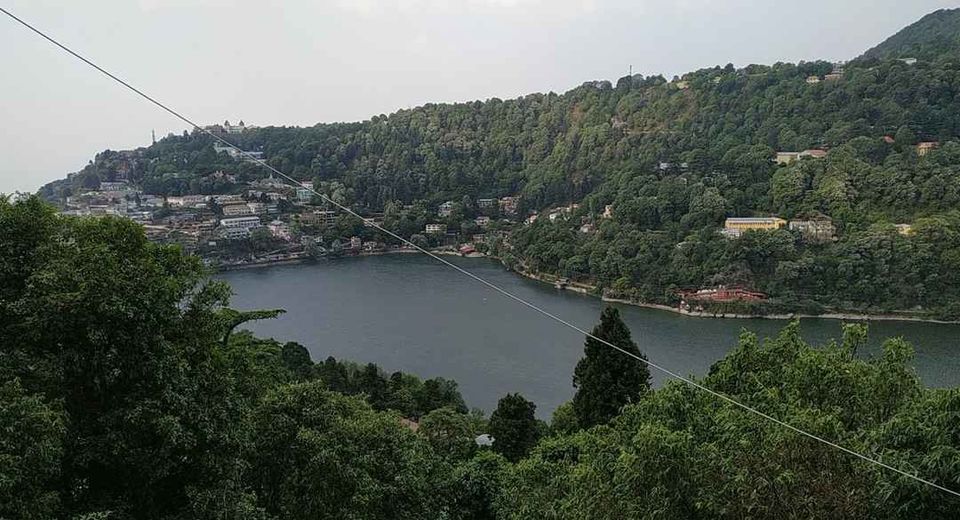 We started around 9:00 am and were ready to explore the city. Our first sightseeing point was the Eco Cave Garden. If you want to see the wild side of Nainital and up for little adventure, than ECO Caves should be a part of your itinerary. It has total 6 caves in shape of various animals, some are easy to pass through while others you will have to crawl. (It took us nearly 45 mins in the Eco Cave Garden) (Entry Ticket – Rs. 60/person, completely worth it!)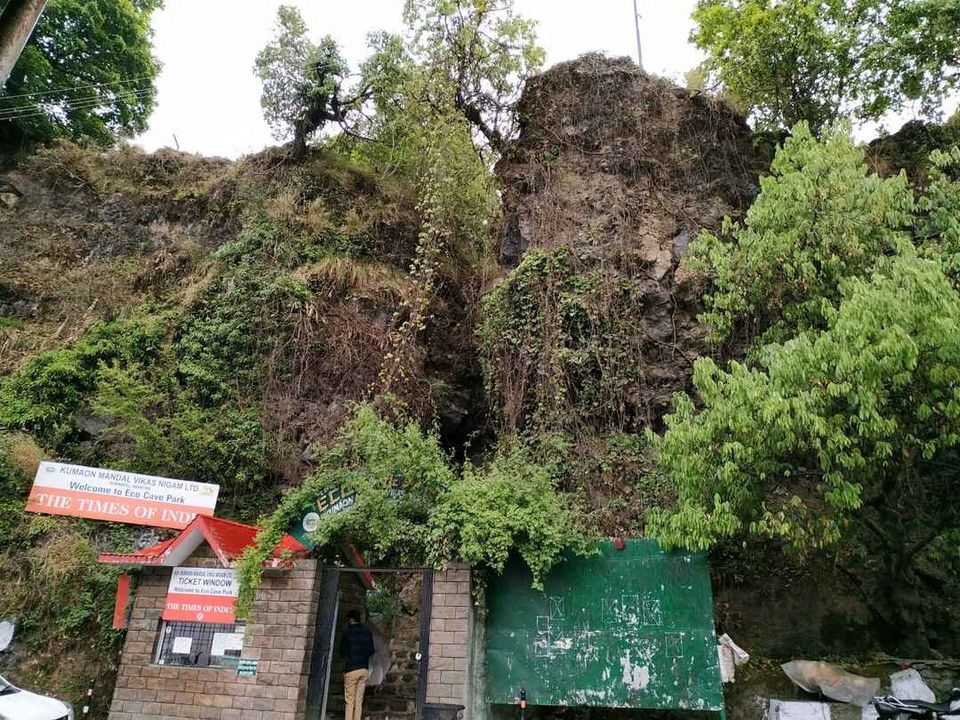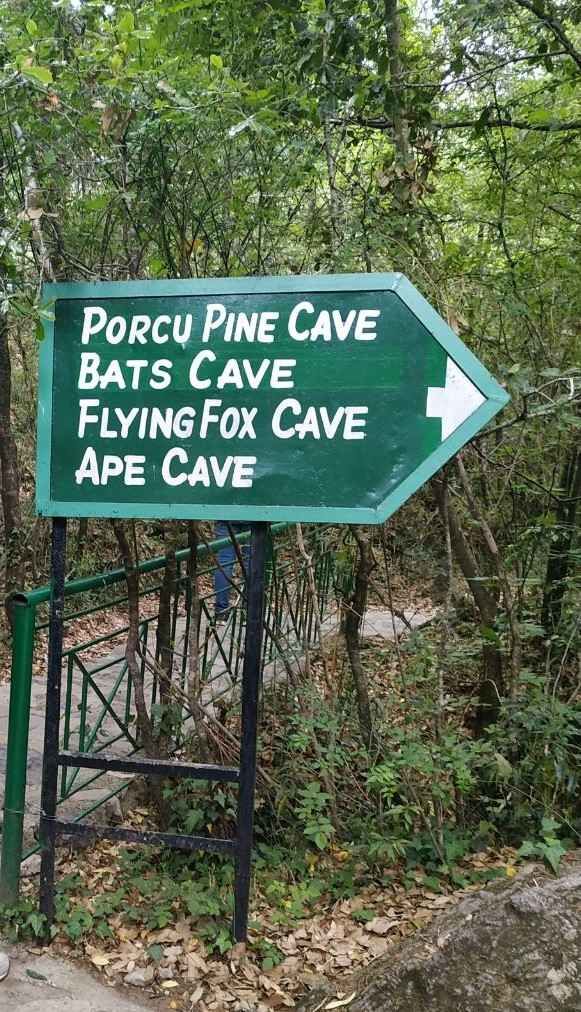 Well! Well! Nature has its way of treating you and it started to rain outside! In no time soon, roads were covered with multiple white layers of hails and I have never seen such thing in my life! We were in our cab and were so mesmerized with the view that we totally forgot to take pictures.
While we headed to our 2nd point which was Himalayan Darshan / Himalayan view point followed by China Peak (Mango Lake View). they are the most famous and beautiful tourist spots in Nainital , giving an excellent view of the Himalayas and Nainital City. Since it was raining, Himalaya's were covered with clouds and we couldn't see anything. I tried taking picture and this is the view, which we got! I was more than just happy because पहाड़ों की बारिश , चाय और मसाला मैगी What else you want. Feel me little?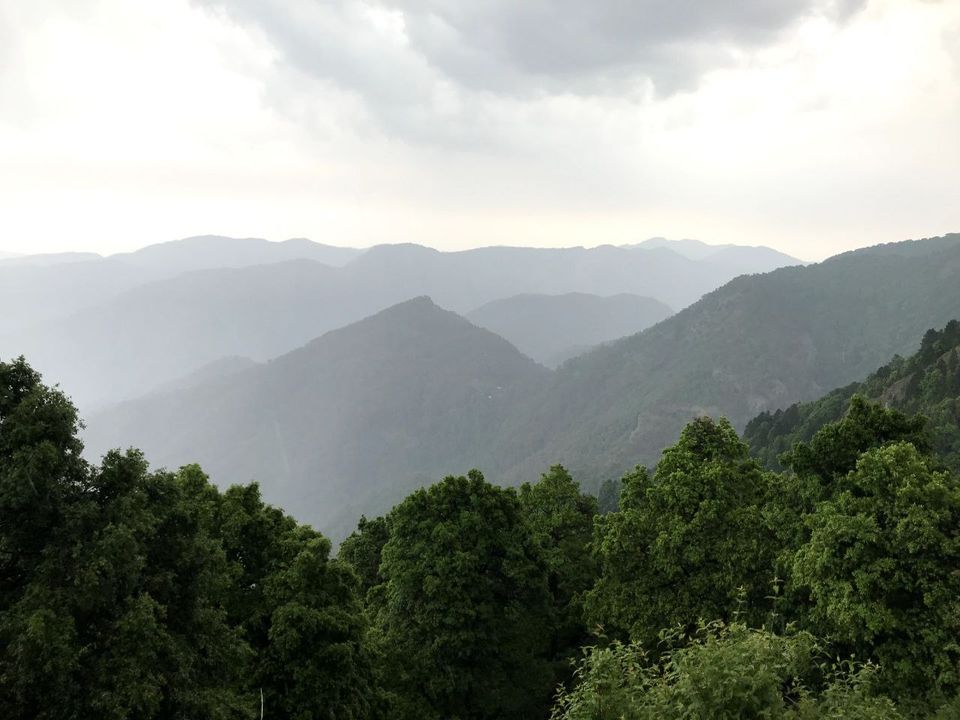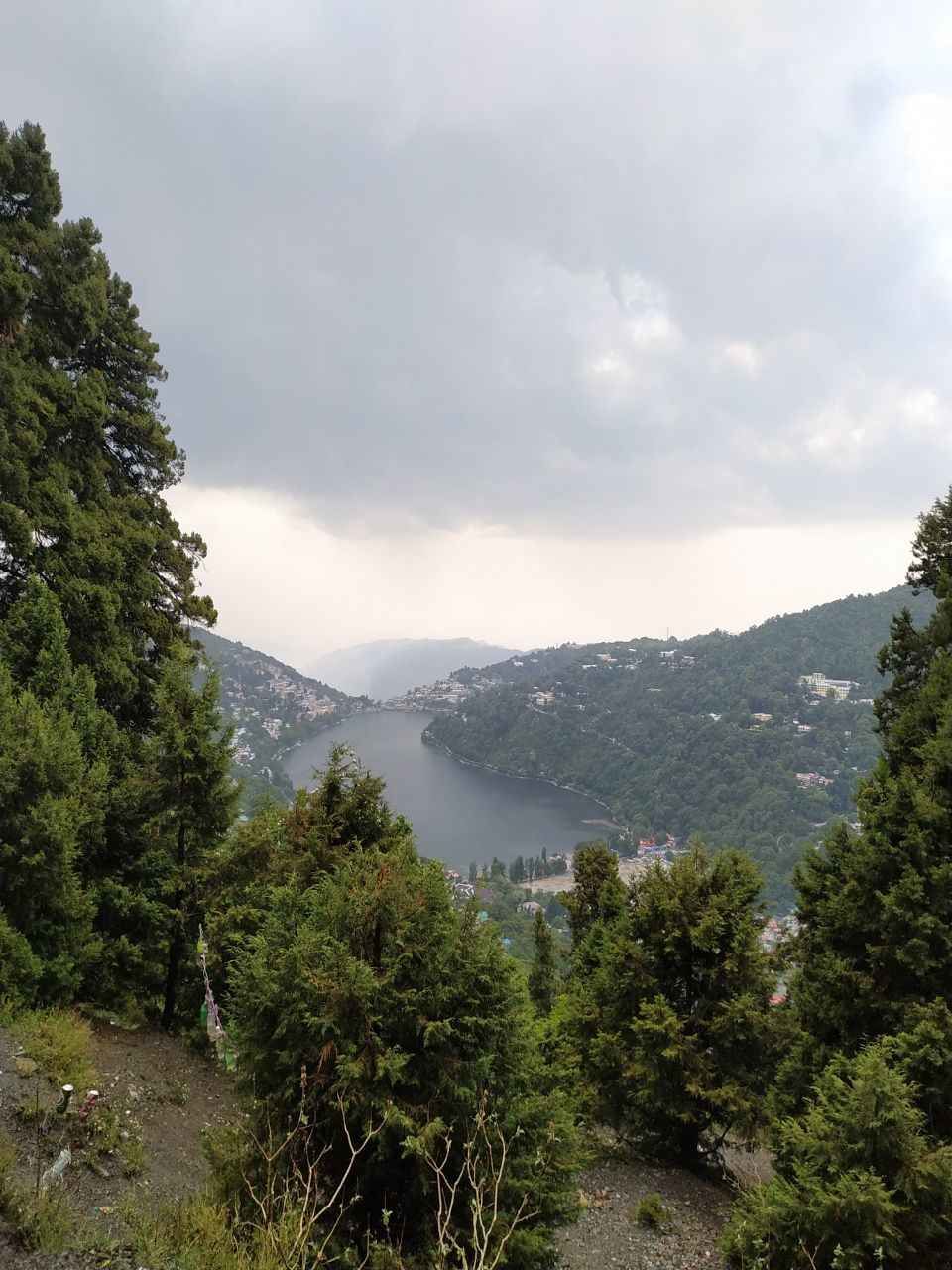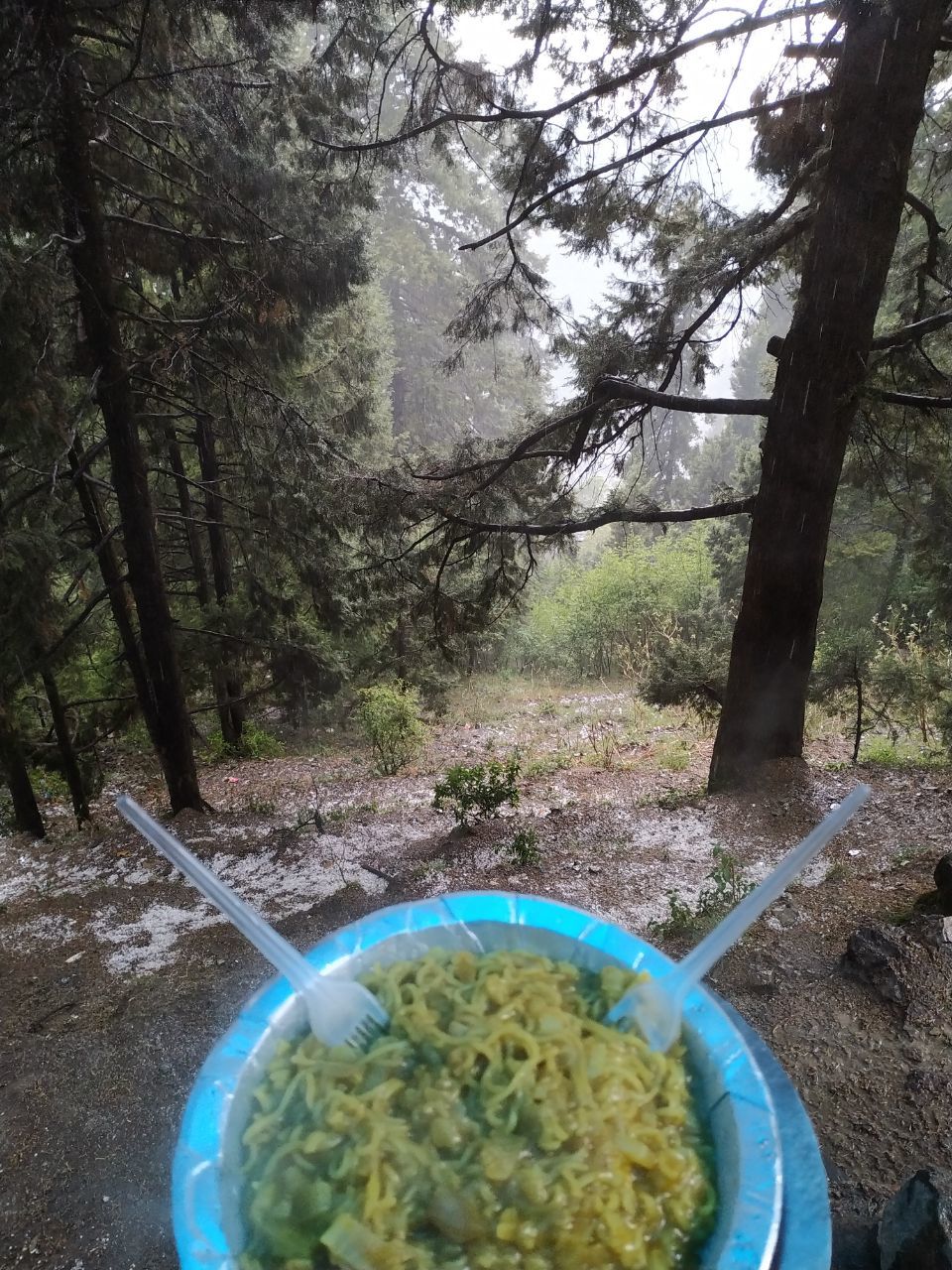 In the next few hours, we covered Lovers point. Suicide point. The sky was clear by then; we stopped to eat hot sweet corns and some Samosas, and enjoying the view of Khurpatal Lake. We kept wandering away from large families, & crowds, to much-isolated places creating paths of our own in the vicinity of these tourist points, little away from the main tourist stop forming in our own private places. At heights breath taking views, we felt so close to the nature and ourselves.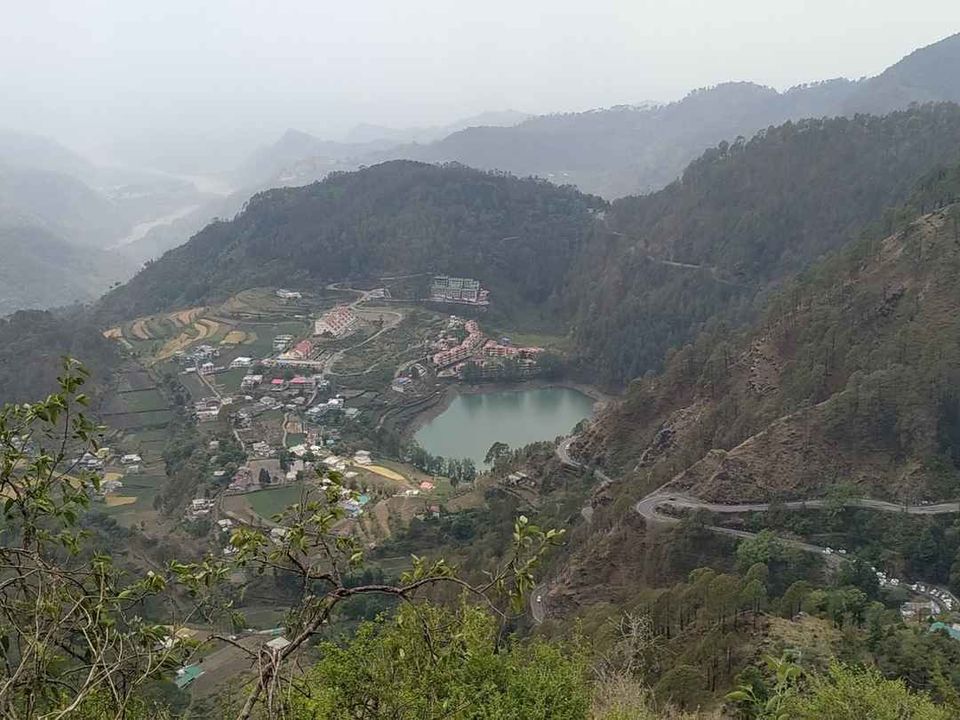 Our next destination was Corbett Falls. The fall is not very huge but we chose not to go inside, as we were able to see the fall from the road. We rather decided to feed our hunger in a cute breezy terrace café just opposite the fall and moved to our next location Sattal.
My most favorite place in the whole city is Sattal. The lake is not at all crowded and one can sit and peacefully enjoy the view of very very beautiful sparkling lake amid huge mountains from all sides. We spend a good 2 hours sitting chit chatting and eating in a nearby café.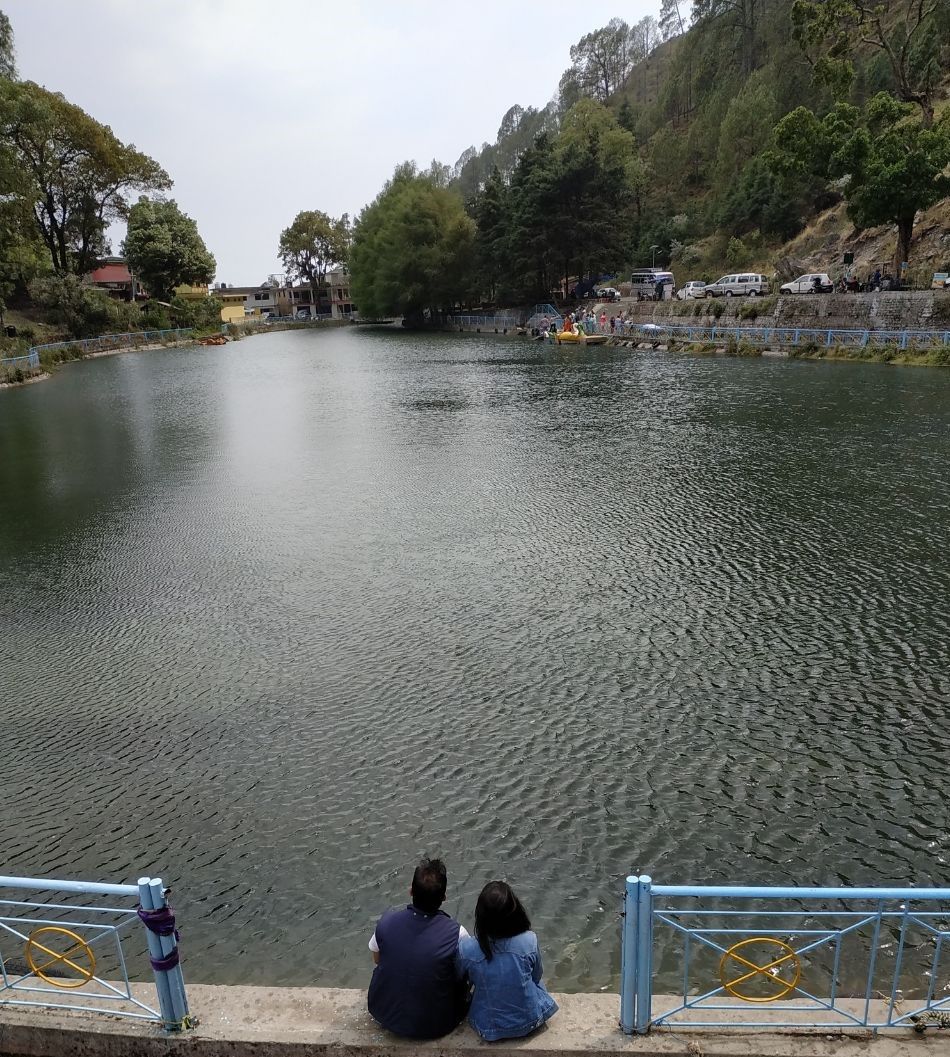 Our next stop was Naukuchiatal. We explored nearby and found our there were lot of water sports activities like Boating, zorbing and kayaking. We had our lunch and took a good walk on cemented pathways uphill. A very nice soothing place to walk around and rest. While exploring water sports activities, he immediately screamed that he wanted to go for Paragliding. I was little reluctant because this was my first time. All right, l admit that I was scared!
After few minutes of convincing, we finally decided to go for Paragliding. I was nervous and Trust me it was a heart-stopping experience. Now, there are very different types of Paragliding, like short Fly, which would be about 3-4 minutes, or high fly, which would be 8-10 mins, eagle view, etc. My pilot was very sweet and he charges 1100 for High Fly, I was flying in the air for more than 20 Minutes and covered 2 mountains 3 valley till Bhimtal as well as Naini lake more than 13 km away!! The moment I landed, I was numb. I don't know why but I cried (Good Tears). While you are up in the air you can feel your heartbeat, your ears can feel wind every milli second. Your body can feel the wind pressure and you have all kind of negative thoughts in your mind. But once you are comfortable, you feel like you are flying, you can see every little house, big mountains and lakes. I have lot to share and I will shortly write a whole blog on my Paragliding experience.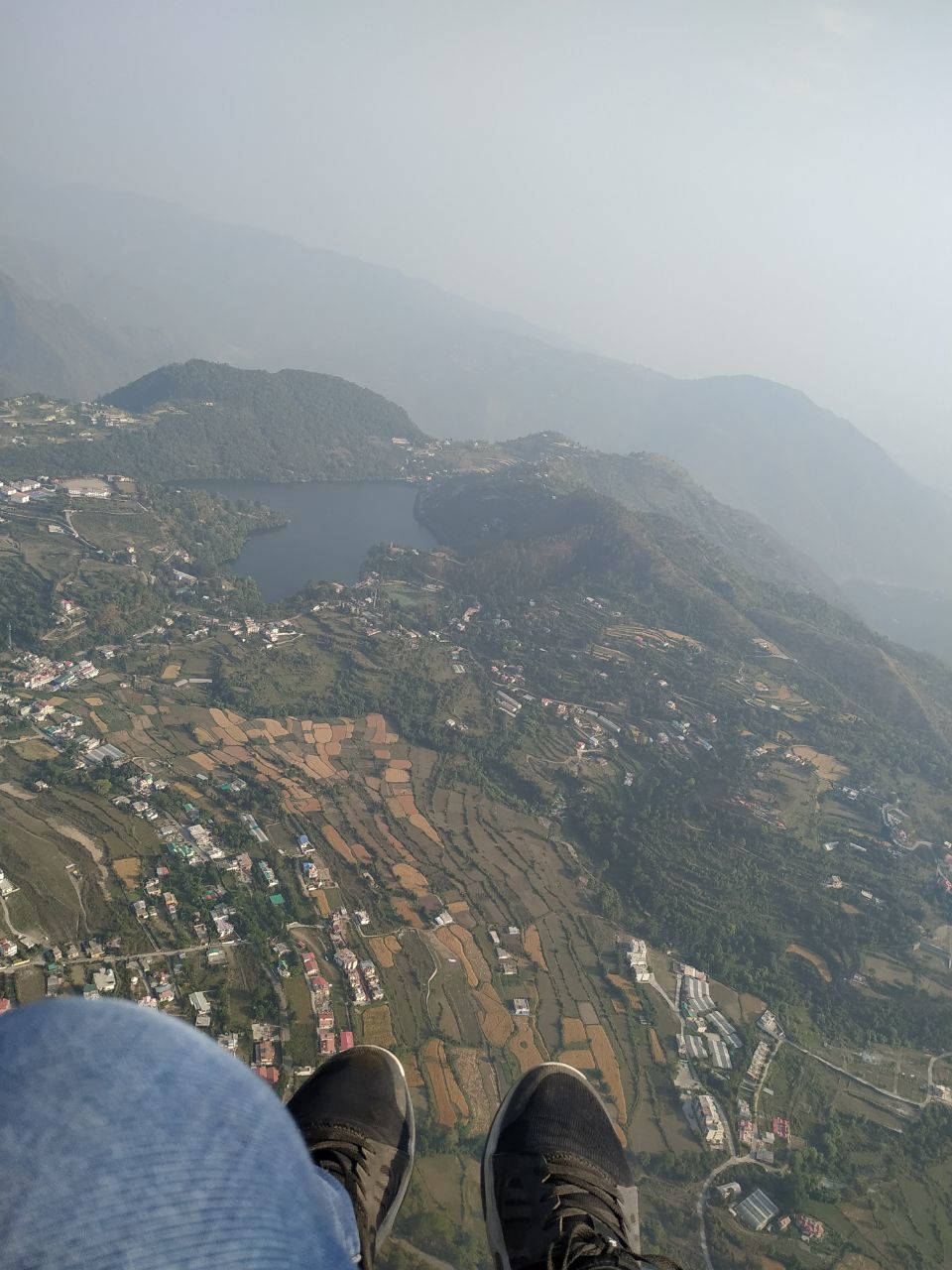 It was 5:00 pm by then, we were tired but we stopped to do kayaking in Bhimtal. (TIP: Our cab driver guided us that we should do a boating/ kayaking in Bhimtal rather than in Naini Lake or Naukuchiatal as it would be much cheaper and less rush with great views between the mountains hovering above the lake)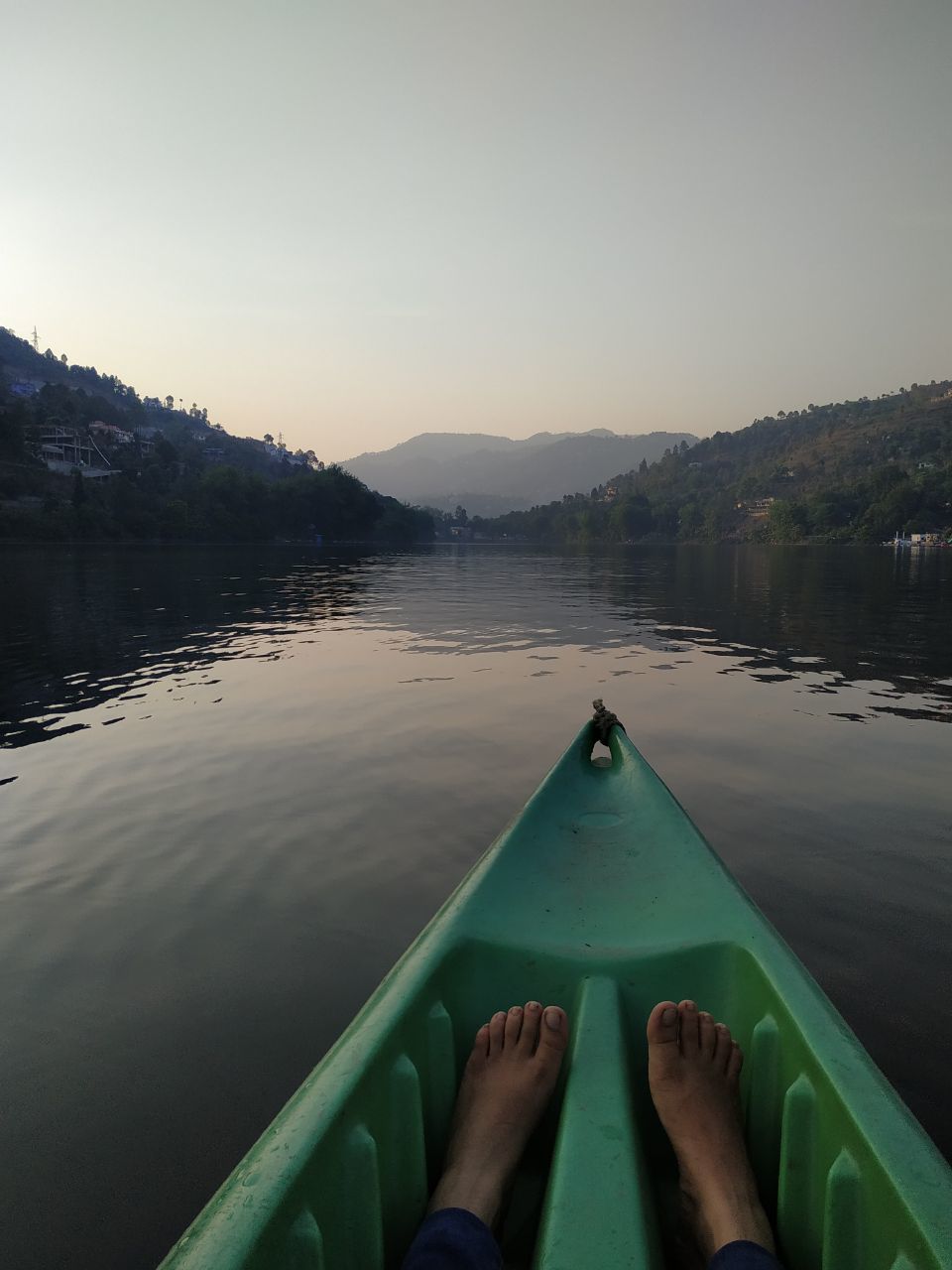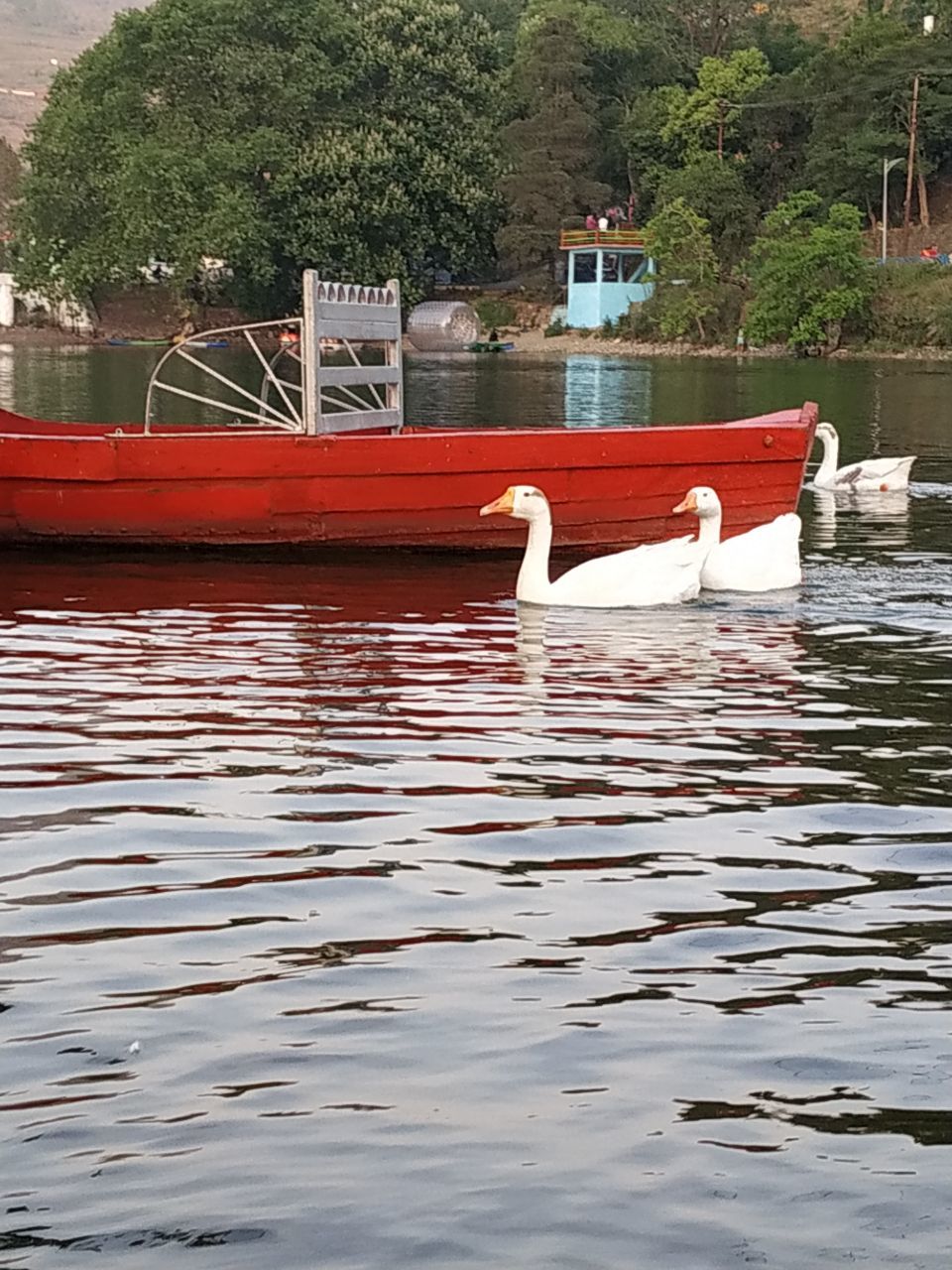 It was already dusk and we headed for Mall Road and visited Naina Devi Temple. We were hungry again! We went on to have some really good Biryani. We roamed around mall road and this Mall road market has Lots of shops and much variety of shopping, eating joints, ice cream parlors street foods, hawkers selling anything and everything. It is a heaven for skilled bargainers with really good stuff being sold. Since vehicle entry in restricted every evening. We grabbed my favorite cup of hot chocolate and decided to walk to our hotel, which was approx. 800ms up from mall road.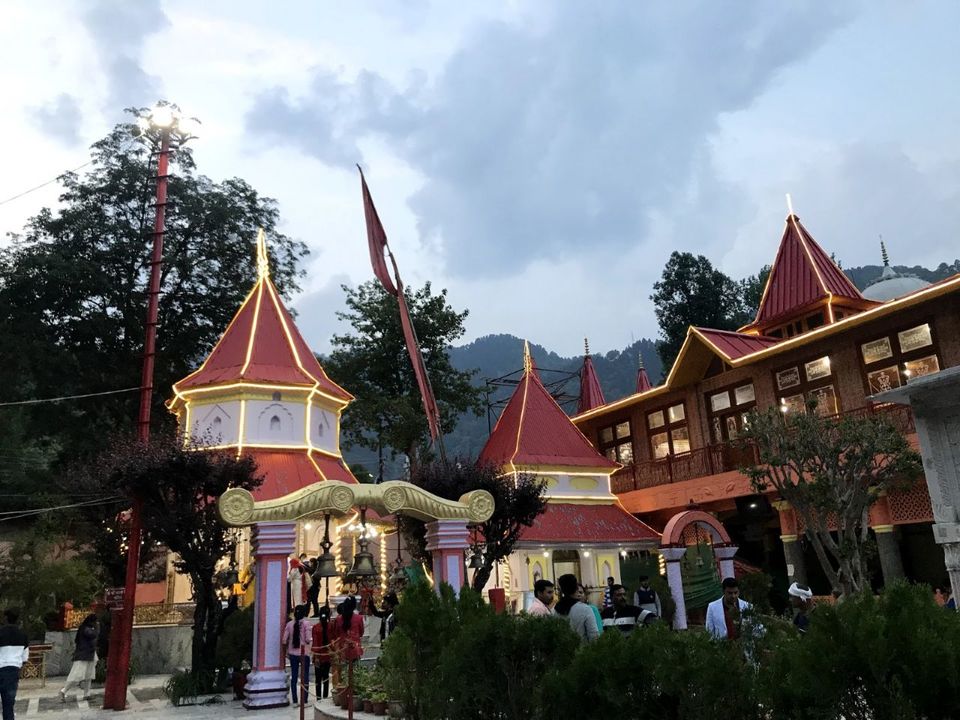 We have never been to a Monastery and we got to know that there is a very beautiful Monastery in Nainital. hopping onto excitement we decided to first hike for Monastery.Not a known tourist place at all, but is a real gem hidden in Mallital, I had lots of my 1st time in Nainital and this is one of them. Approx. 30-minute hike to this peaceful place and it was worth the hike! Such a beautiful and peaceful place where some Monks were worshipping. They were very happy to see a tourist in their place of worship and explained us their cultures and traditions. After worshipping and clicking few pictures we headed to Mukteshwar.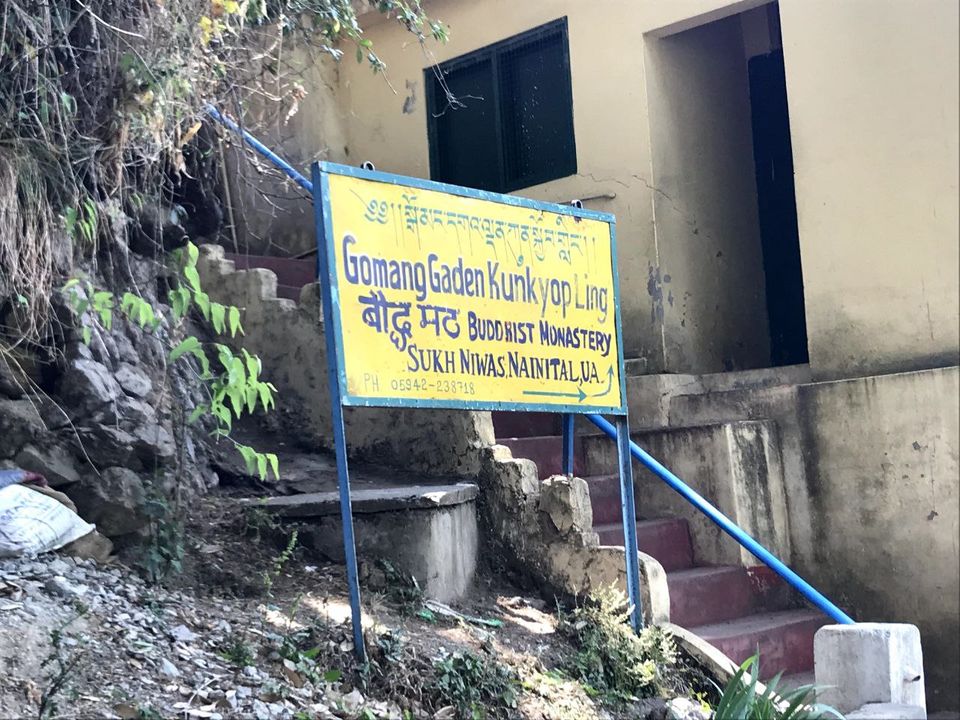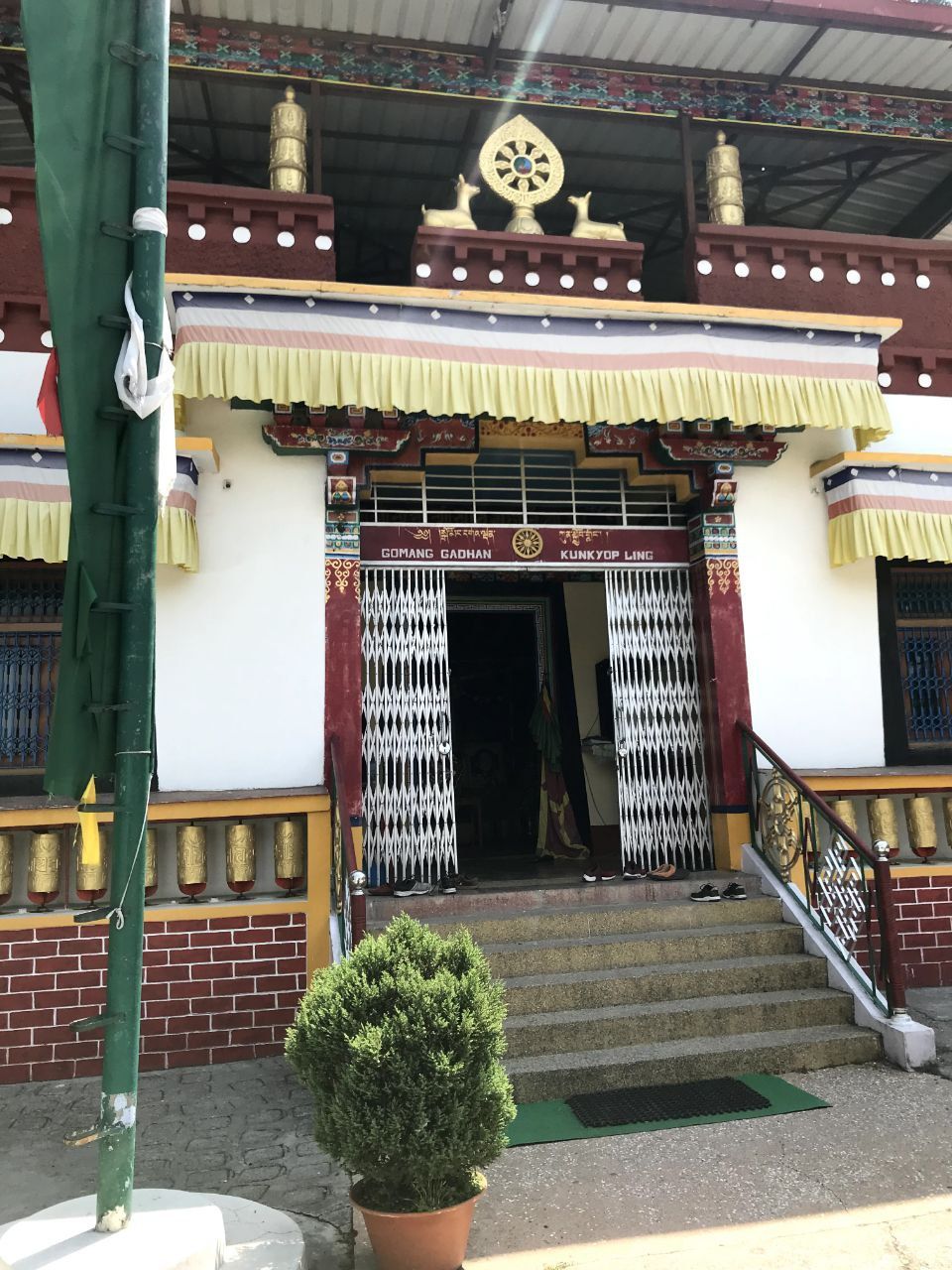 We started with visiting Hanuman Giri temple and then to a very very unique Ghorakhal Golu Devta Temple. Wherein all walls, railings, pillars are covered with bells. Lacs of bells in all kinds shapes. According to belief, people tie these bells along with their wishes written on paper, when they ask something from the deity and remove the bell when they get what they asked for. We were astonished being surrounded by bells all over the place. On interacting with the Panditji and localities in the temple area, we learned about a well-known belief that this temple is known for God of Justice. As per them, wherever u are in your daily lives and being unjustified suffering due to others, remember them and if you are innocent things would eventually fall into your place.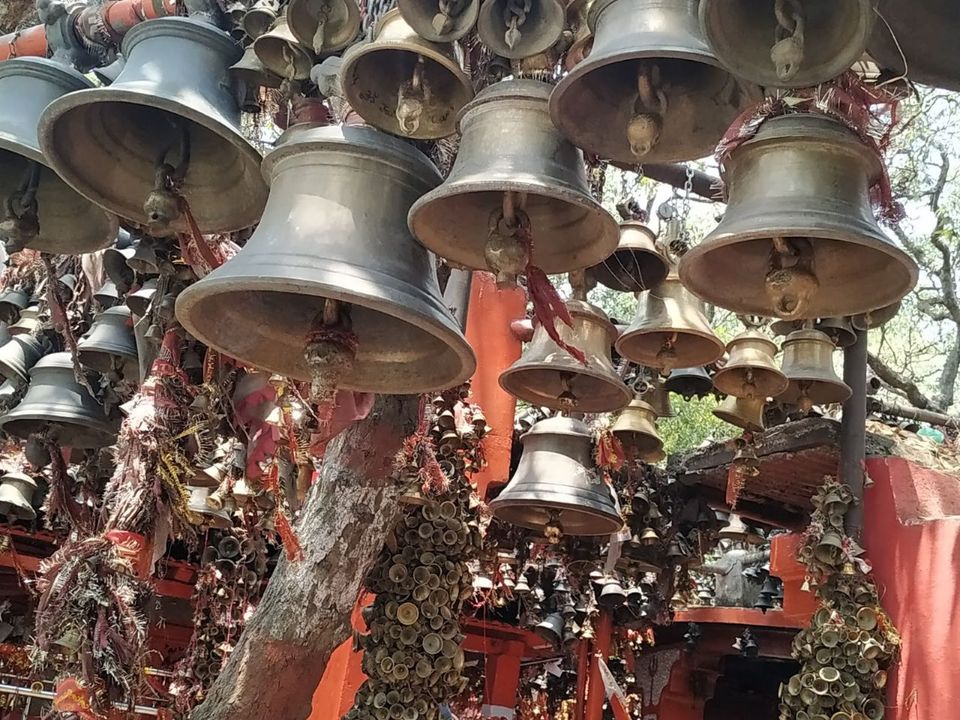 Next, we stopped by to visit Ghorakhal Tea Factory, Mukteshwar and came back to mall road around 4, since we were tired, we went straight to the hotel and slept for 2 hours.
Back to mall road in the evening, we visited Church and walked hand in hand near Naini Lake talking about all random things. Mall road had lots and lots of good eating joints and you can find everything from food to clothes, home decors, Nainital's famous candles at a very reasonable cost. Also, there are lots of cute straight out of Pinterest cafes around mall road.
Back on the roads to Delhi with memories of a lifetime to cherish! Enjoying picturesque landscapes. We were trying to take and save images though our eyes. We also found many langurs on our way and fed them with apples and Bananas.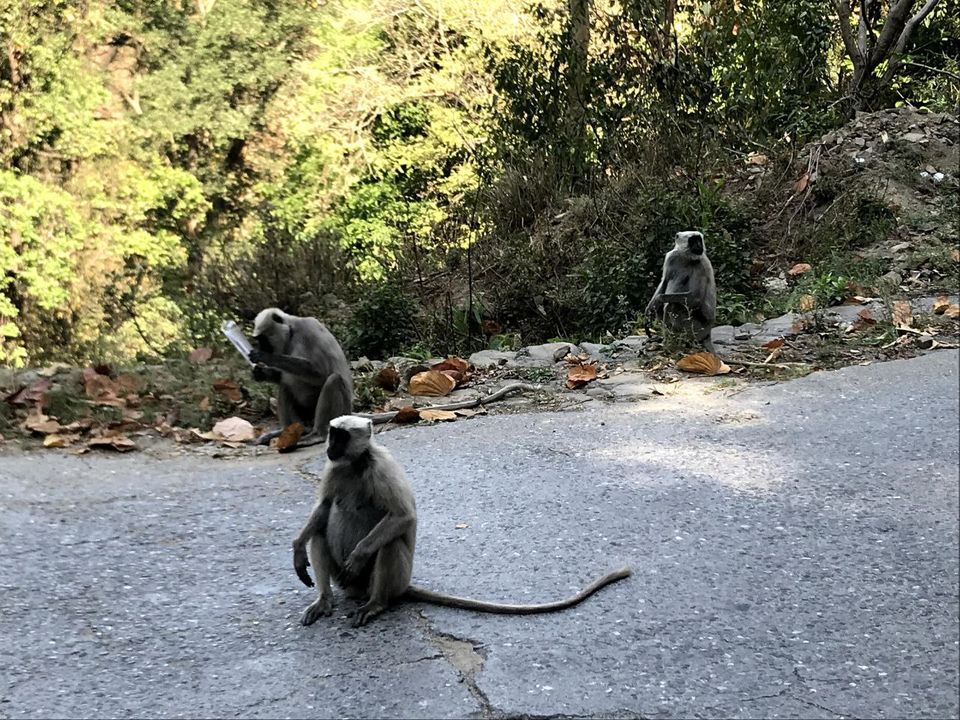 I realized that there are all kinds of time – when we break, when we mend, when we struggle, when we have to prove and when you need each other. A trip once a while helps to find out ourselves helps to find out if we are in a right direction or we have to follow what our heart says and helps to rebuild ourselves with more power.
I have been itching to start travelling again, even though I know that I don't actually leave for another few months!
Frequent Searches Leading To This Page:-
Top Nainital Trip Package, Best Nainital Travel Package, Top Nainital Tourist Place, Best Nainital Hotel Packages, Best Nainital Cheap Tour Packages, Top Nainital Tour Itinerary, Best Nainital India Points Of Interest